ABR's resident green lane experts, Mike Beddows and Simon Ewbank, detail some fantastic lanes in the lake District and Kent
36 Breasthigh road, Lake district
2.74 miles | WoW factor ✪✪✪✪✪ | Words and photos: Mike Beddows
This is a fantastic trail and only a few miles from J38 of the M6, making it a very accessible alternate entrance to the Lake District. The trail is pretty difficult and is really only suited to experienced trail riders. It is possible on large capacity adventure bikes, think KTM 950, Yamaha Ténéré, Honda Africa Twin and BMW F800, all of which I have seen complete the trail. But do not be fooled into thinking that if a large bike can get up then it is easy. It is far from an easy trail. The scenery is fantastic in this area, and it's hard to believe you are only a short mile or two away from the M6. This is my favourite approach to the Lake District trails. This route is possible in both directions. It's possible to start the trail from two locations, both have been detailed here.
1A-2 This is a single track tarmac road. Once you reach the right hand turn the track continues straight-on to a gate. The track becomes very rocky just before the gate.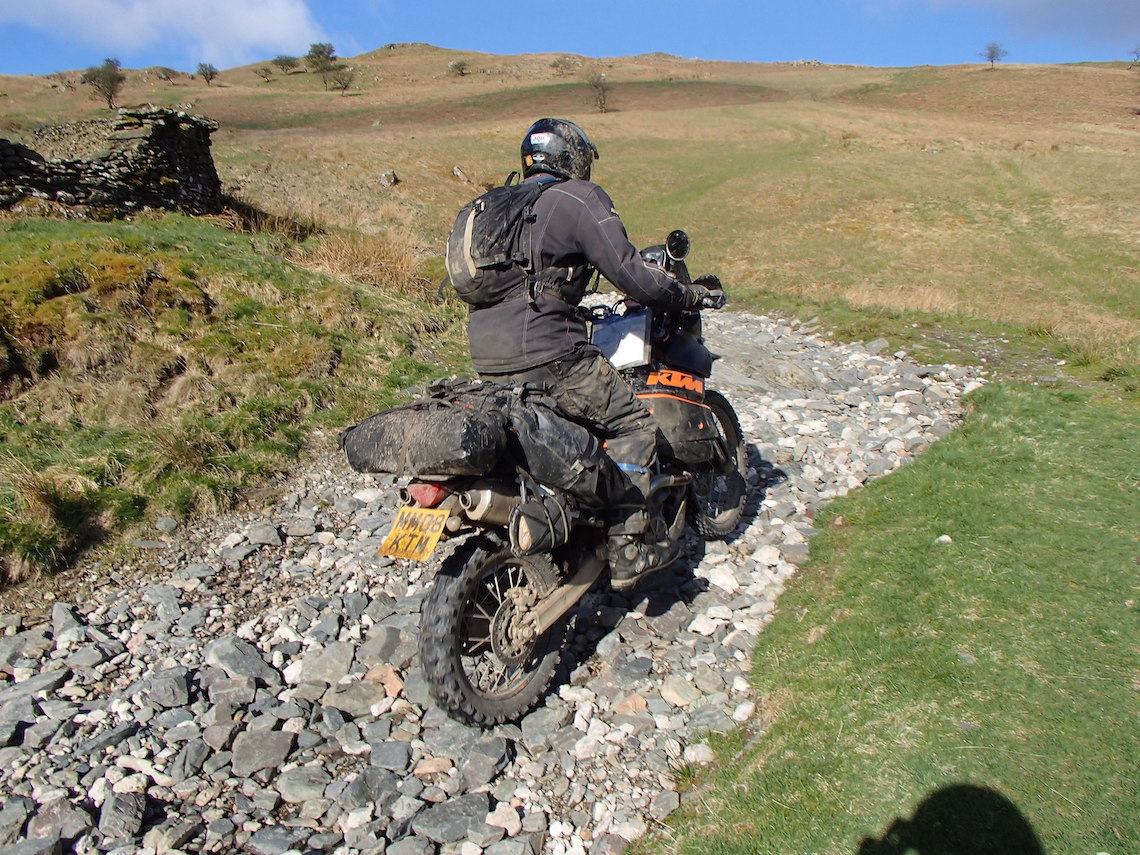 1B-2 This follows the edge of a field at the top of the hill with great views down to the valley below. Once through a gate the track deteriorates and is very rutted, and very slippery. Follow the trail down to a narrow gate that leads into a ford. The ford is littered with small rocks that are very tricky and slippery; be warned. I have done this trail both directions, doing this section in reverse is tougher. Proceed past the derelict farm buildings and to where the trail continues.
2-3 Proceed through a gate and start heading uphill. The going is fairly easy compared to what is about to come. There are still plenty of rocks but these should not cause too much trouble. If they do, I advise proceeding on foot to scope out the rest of the section.
3-4 This part is hard, especially on bigger bikes. The trail is littered with fist to football sized rocks all the way. If you stop here gaining momentum again is hard. As you approach a right hand bend just before the ruin of a building there are some high rock steps at various angles that take you over some drainage pipes. Its best not to think about it, just open the throttle and you will be past them before you know it. If you need a break, take it now. Round the next bend the trail continues and is just as hard and more of the same.
4-5 The trail starts to level out towards a gate at the top. Continue to the gate. The views back down the trail, and forwards, once at the top are spectacular.
5-6 Now start the long decent. This section is fairly steep but is a lot easier than the journey to get here. I have been informed this was once very difficult (in reverse) but it must have been graded (or fixed) as I did not think it was too bad.
6-7 Proceed through the gate and across the ford. The trail is fairly straightforward all the way to the road.
Facts
Distance: 2.74 miles Nearest town: Kendal (11 miles south west) Maps: os explorer ol7 the lake District, se area Start/End grid reference: NY588050 / NY553035 Difficulty rating: 4 Wow factor: 5 Other trails: the lake District has some of the best rocky trails in england and Wales. there's enough here for a good weekend's riding. the scenery is fantastic and i can highly recommend it.
Did you know
There are 103km of routes available for the trail rider in the Lake District National Park. these are made up of 14 byways open to all traffic (19 km) and 60 unclassified country roads (94 km). Please refer to this website which contains a link to download all the lanes. http://www.lakedistrict.gov.uk/visiting/thingstodo/green_roads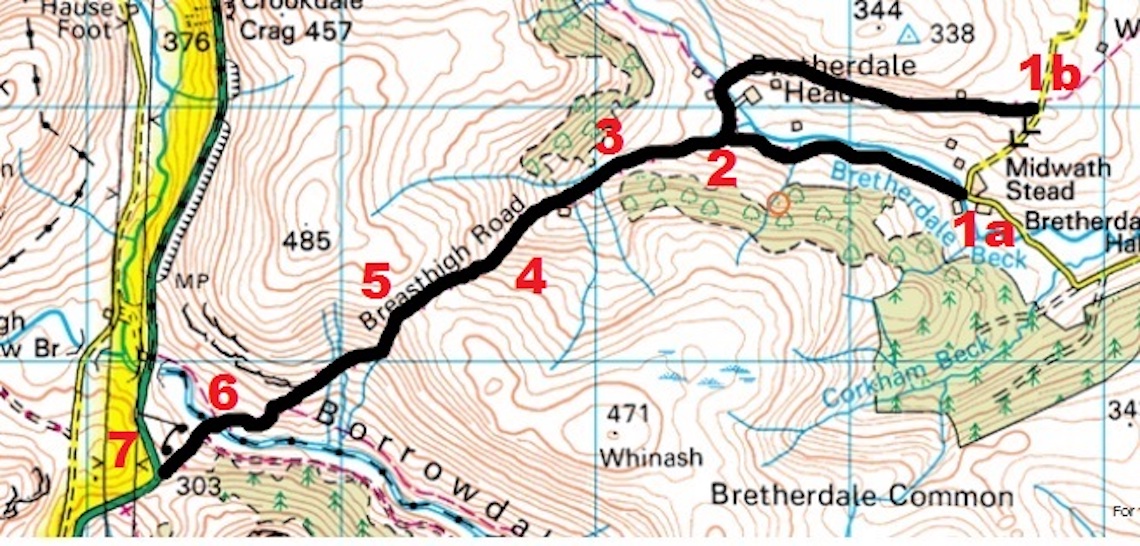 37 Four more Kent Byways
8 miles | Wow factor ✪ and ✪✪✪ | Words and photos: Simon Ewbank
These four lanes complete our summer evening midweek ride, a collection of byways that can be tagged together to make a great 13-lane-run. Use this guide in conjunction with the routes I detailed in Issue 26 and 27 of Adventure Bike Rider magazine, to create our 'Usual Suspects' ride.
This final part of the route starts at Wrotham Village in Kent, only being a quater mile from the popular biker café, The Oakdene. The hardest lane is a steep descent and in the dry has a wow factor of three, in the wet it can be more difficult. The other three lanes are a lot easier, but be aware that the last lane gets trickier in the wet as the weather exposes wet chalk!
Lane One 1-2 This byway is part of the Pilgrims Way. It starts in the small village of Wrotham and is entered at the corner intersection of a road called Battlesfield. This is a great beginner's lane as it is long and flat, the only thing to look out for is dog walkers. The lane consists of several twists and turns (none of which are sharp) and ends with a small incline to Exedown Road. Caution should be taken when exiting the byway as this is a busy B road.
Lane Two 2-3 This lane starts opposite the exit of the previous byway and is quite similar, being made up of hard compacted gravel. It is slightly wider and it's not unknown for 4x4s to be using it, so keep an eye out for other traffic. It is very easy to get carried away on this lane as it can be ridden fast and has panoramic views across the Weald of Kent.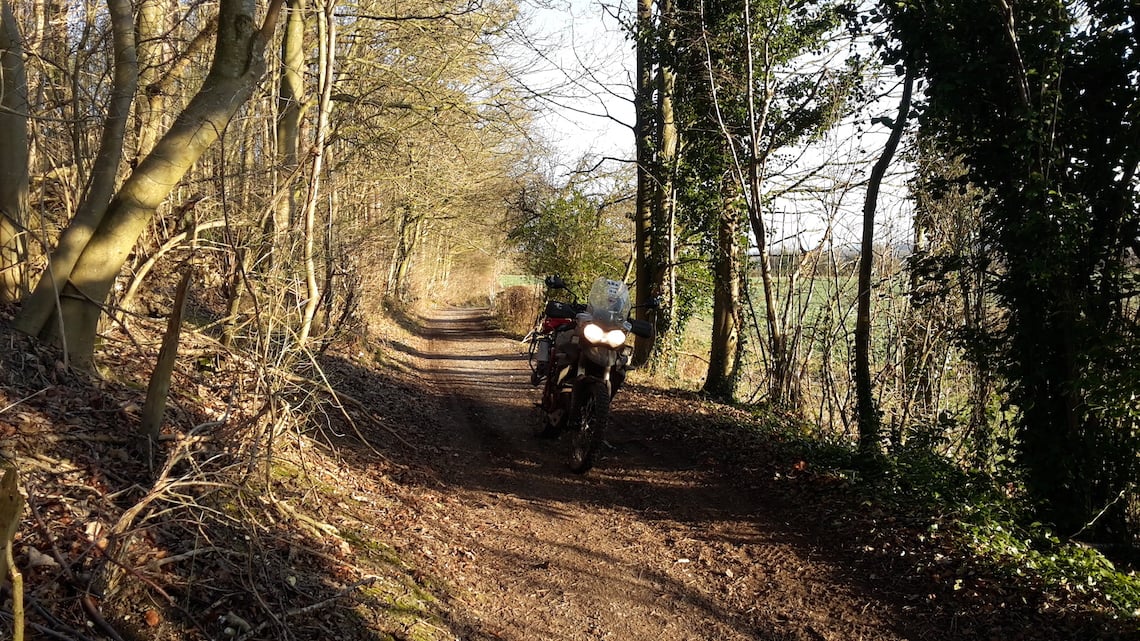 NB: Both lanes one and two are good fun lanes for beginners and a good testing ground for very inexperienced riders. As always they are a little more demanding in wetter conditions, but can be ridden without full knobblies.
3-4 Tarmac section to the start of Lane 3
Lane Three 4-5 This lane is very demanding, even in the dry, and is not suitable for beginners. It starts off through a couple of width restrictions and immediately becomes rutted. The ruts hold a lot of water and can get very muddy in the winter.
5-6 The rutting continues through several more turns until you reach a drop. It's pretty steep and is a first gear descent for all bikes, big or small. There are several overhanging trees on the way down that will dislodge a camera off a helmet if you are not careful. Pay attention to the roots that cross the width of the lane.
The descent carries on for a quarter of a mile and will make you sweat. Coming up the hill is just as much work and it should be reiterated that this is not a beginner's lane and will require trail tyres as a minimum in summer, full knobblies in the winter.
As you reach the bottom of the main drop, the track widens as it goes through a forest. The lane ends again at a width restriction onto Knatts Valley Road, near Woodlands Golf course. This is only a B road, with very light traffic but caution should still be tak- en. You should turn left here as it will point you in the right direction for the fourth byway, Priory Lane.
6-7 Tarmac section to the beginning of Priory Lane
Lane Four 7-8 Priory lane starts off at Knatts Valley Road. The entrance to the lane is a left hand turn if you have just come from the previous byway, just before a little house and opposite a farm building to the right.
The lane starts off with a rise through a small wood and slowly bears to the right near the top, it is a short climb and not too difficult, the ground being well compacted and un-rutted.
8-9 The rest of the lane crosses a farmer's field either side and is slightly rutted.
In the wet this lane is transformed and is a full knobbly lane. The chalk and clay become a mud pit and it becomes extremely slippery. Priory Lane should be ridden with caution as it's exposed to the elements and gets everything Mother Nature can throw at it. This winter I rode it and was reduced to riding at about 2 mph, both feet down!
The lane continues to cross the field and then dips down towards some houses that mark the start of Eynsford, where the track ends.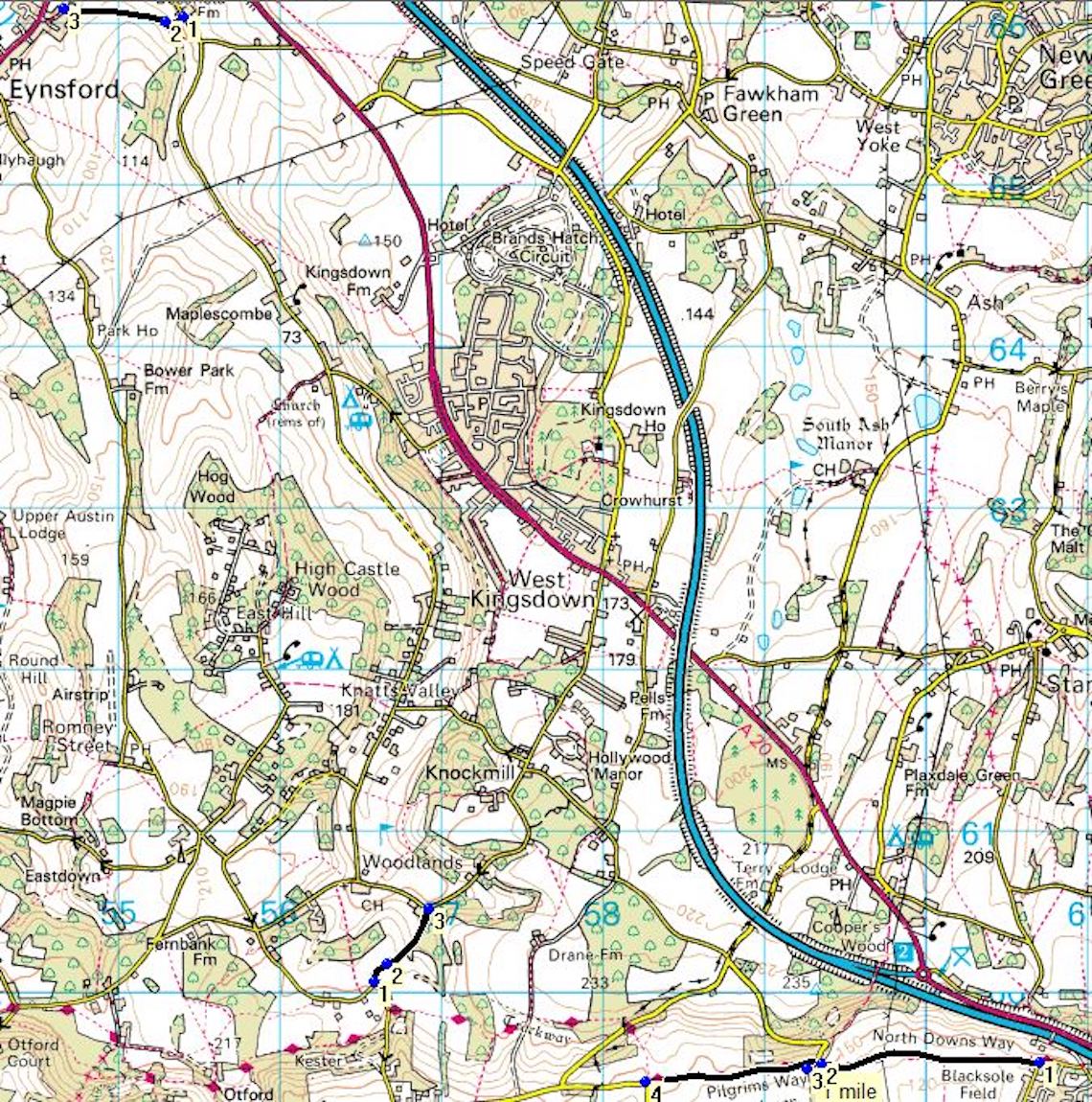 Facts
Distance: 8 miles total with 3 miles of off-road sections. Nearest towns: Wrotham at the start and eynsford at the end. Start/End grid reference: tQ 60718 59570 / tQ 54673 66065 Difficulty rating: lane 1:1, lane 2:1, lane 3:3, lane 4:1 Wow factor: lanes 1, 2 and 4:1, lane 3:3 Other trails: these four byways can be added on to a selection of nine more, as detailed in issues
26 and 27 of adventure Bike rider magazine. riding all 13 makes for a great day of riding and most of the lanes are beginner friendly.
Did you know
The Oakdene Café was voted number 2 in biker cafes in the UK by the Guardian. Oakdene started life as a standard transport café, but has reinvented itself to become a household name in biking circles. the queues for a heart attack on a plate (giant all-day breakfast comes in at £4.95) can go out the door, even just before closing, which is 10pm on a Wednesday. outside, the atmosphere is like a village fair with heavy-booted bikers trading information, arms folded and standing to attention. Plug tN15 7rr into your satNav to get there.