We've teamed up with TomTom to showcase 100 of the greatest riding routes around Europe
Throughout 2017, we've been looking at the 100 greatest riding routes in Europe, as found on the TomTom Rider 410 Great Rides Edition.
We've already featured Great Britain and Ireland, Scandinavia, Switzerland, France, Italy and Austria, and for this issue, in search of sunshine and beaches, we headed south to Spain and Portugal.
Both countries are great adventure motorcycling destinations, offering not just spectacular tarmacked roads, but also vast networks of trails that would keep you busy for years.
While the TomTom Rider 410 Great Rides Edition comes pre-installed with 20 different routes through these two countries, we've decided to focus on just two.
A spectacular adventure along Majorca's mountainous north-west coast, and a perfect circumnavigation of the idyllic Portuguese island of Madeira.
While it's tempting to stick to the obvious routes, like Portugal's wonderful mountain road over Serra de Estrela, which takes you through a land that was sculpted by glaciers tens of thousands of years ago, these two are your unusual suspects.
They might not be too easy to reach, but if you do, you'll be glad you put the effort in because both the roads you'll ride, and the scenery you'll discover, are better than you could ever expect.
And, of course, both offer perfect motorcycling weather all year round.
The architect behind the masterpiece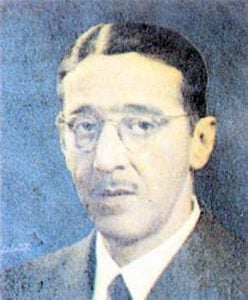 In the UK, we have Thomas Telford, The Colossus of Roads who's engineering feats have left indelible marks on British history, and in Majorca they have Antonio Parietti Coll. Born in Palma de Mallorca in 1899 to an Italian father and a Spanish mother, Parietti Coll studied road engineering in Madrid before going on to create two of the island's, if not Europe's, most impressive stretches of road.
He proposed, and built, the road to Sa Calobra, as featured here, as well as the almost as beautiful road to Cap Formentor, a lighthouse on the east coast of Majorca. Unlike most of the other roads being built in Europe at the time (the 1920s), Parietti Coll's objective was to build roads that would boost the island's tourism – and boy did he succeed.
Majorca's north-west coast, SPAIN
There's no shortage of incredible roads to ride in Spain, whether you're on the mainland or touring around the country's islands, but this route in Majorca takes the plaudits.
When you think of Majorca what do you think of? Sunburnt Brits sizzling on the beach? The party resort of Magaluf, which has become known as Shagaluf due to the place's less-than-glowing public image?
Well, for the adventure motorcyclist, the first thing that comes to your mind from now on should be the Carretera de Sa Calobra, or the road to Sa Calobra. Situated on the island's north coast, this road, which is the only way to access the small village of Port de Sa Calobra, was seemingly designed by a drunk.
At least, that's the impression you get when you first look at the hectic squiggles of lines on a map. In reality it's an astounding display of engineering, as the builders have managed to create a road that takes you along a seemingly impenetrable mountain landscape.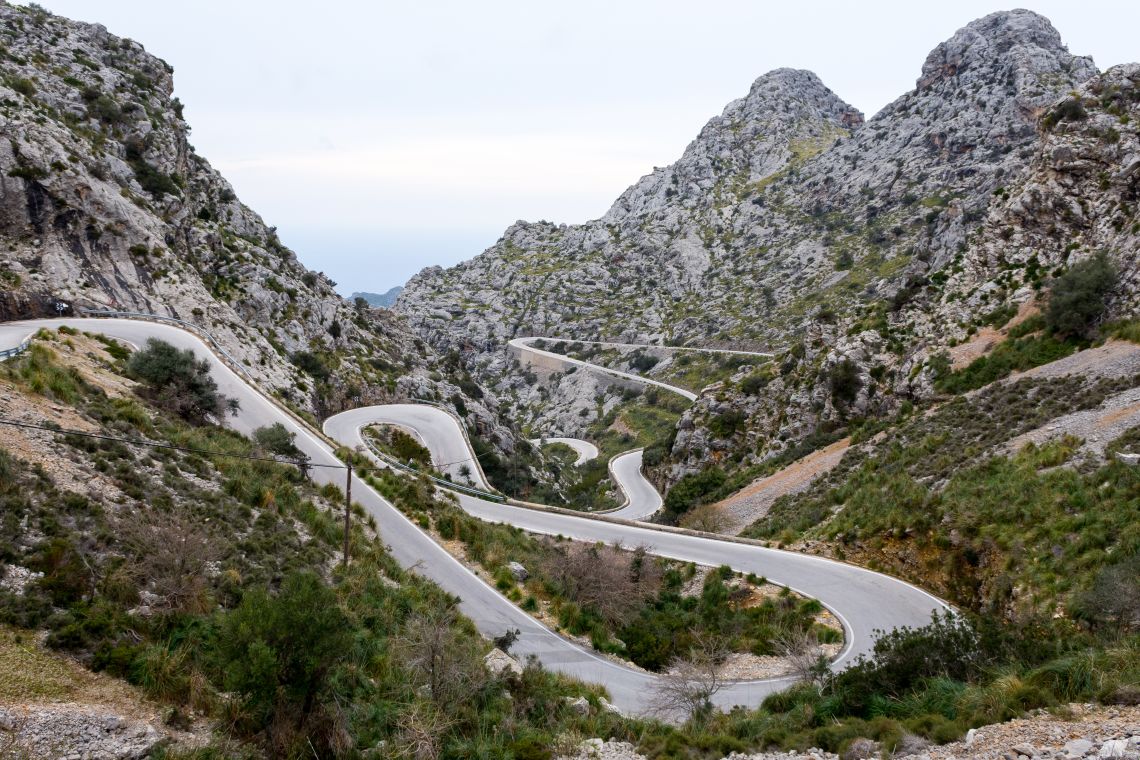 At just eight miles from top to bottom, it's not the longest stretch of road by any means, but you'll want to ride it again and again.
Almost immediately after you turn off the Ma-10 and onto the Ma-2141 (the official name of the road to Sa Calobra), you're thrown into a seemingly endless sequence of bends. From sweeping corners and technically challenging switchbacks to a hair-raising 270-degree bend that loops under itself, you'll be kept on your toes for the duration of the ride.
But the road isn't the only attraction here. As you descend towards the coast you'll have the stunning, rocky landscape of the Tramuntana Mountains on three sides, and the perfect blue Mediterranean Sea stretching out in front of you.
After the excitement of the mountainous twists and turns, the route then takes you through a dramatic natural tunnel between two huge slabs of rock that appear to have fallen against each other.
At the bottom, you can head to the small port, where you'll find a few restaurants, or to a serene beach to cool off. The best part, though, is that the only way out of there is back the way you came.
Fortunately, this perfect stretch of road is included on a longer and almost as epic route that stretches across the northeastern coast of Spain's largest island, and this comes preloaded on the TomTom Rider 410 Great Rides Edition.
The Route
Want to ride these routes? Here's what you'll need to know…
When to go?
Spring and autumn are the best times for good weather in Spain specifically April, May, June, September, and October. Summer months of July and August can get very hot especially in inland cities. While Spain has a reputation for providing year-round sun, this isn't always the case as it was snowing last time I went in winter!
How long to take off work?
A week off work will allow sufficient time for travel (roughly a day each way by ferry) leaving a good few days for some incredible touring. Of course, to fit as much in as possible, between 10 and 14 days would be better.
How much?
Hostels are numerous and cheap in Spain with rooms roughly starting at about €50 a night. For an even cheaper option, you can also find plenty of camping sites especially along the coast and in the Pyrenees. If you'd rather some luxury, then you'll also be well catered for, with well-specced hotels generally being cheaper than their English counterparts.
Is it for you?
If you're looking for a diversity of beautiful mountain ranges and towns, stunning coastal rides, delicious food and wine then Spain is the destination for you.
What gear?
In the hotter months take a relatively light and well-ventilated light jacket. Good base layers that deal with temperature variations and wick sweat well are a good idea. If you're riding during cooler months or heading for the mountains, heated garments and grips will provide much-needed warmth and comfort.
Useful information
The Spanish government has been tightening up road safety regulations in recent years resulting in temporary reduction in speed limits, checkpoints at various junctions and standard documentation checks and breath tests.
How to get your bike to Majorca
There are three ports in Spain which offer easy and relatively short crossings to Majorca; Barcelona, Valencia and the Port of Denia.
---
A circuit of Madeira, Portugal
When you think of ideal motorcycling destinations in Europe, which locations spring to mind? The French Alps? How about Croatia's Dalmatian Coast? The wild and untamed fjords of Norway?
For me, after taking a closer look, the island of Madeira is up there with the best. This Portuguese island, situated in the Atlantic Ocean a few hundred miles west of Morocco, is a place that was described by Samuel Coleridge's nephew, Henry Nelson Coleridge, as "the most enviable on the whole earth".
The interior of the main island, whose capital is Funchal, is a rocky, mountainous landscape rich with wild flora and fauna, thanks to the fertile volcanic soils. And the coastal regions consist of dramatic sea cliffs and perfect beaches.
On its own, the island, which is just 459 sq miles in area, is a tropical paradise of a holiday destination, but when there's a network of roads that run around the perimeter and over the mountainous centre, it's a dream motorcycling destination.
Of course, being isolated in the Atlantic means that getting your own motorcycle there is going to be a bit of a faff, but fortunately, you'll be able to rent a machine when you touch down on the island.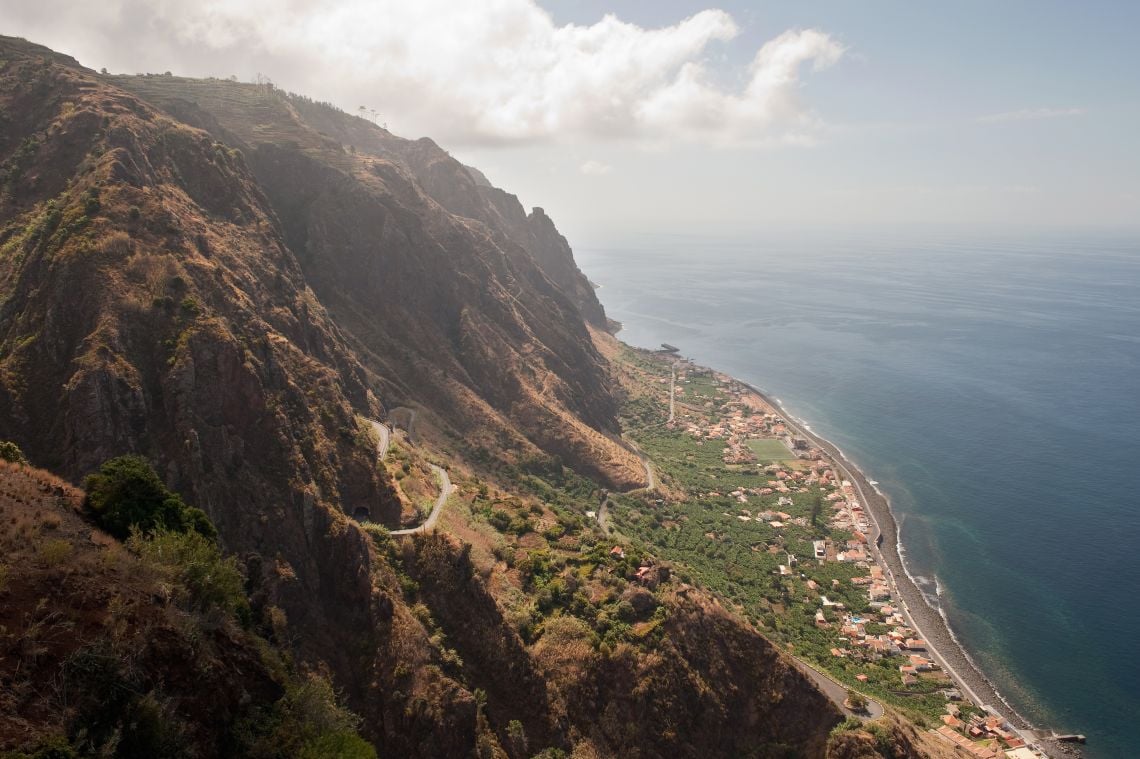 Once there, it seems as though you can't take a bad road, but the route featured here forms a show-stopping circumnavigation of Madeira's main island, taking you along some of the world's best coastal roads, which form the ER101.
Don't believe us? The image on this page showcases a fantastic descent into Paul do Mar on the southwest coast of Madeira, and it's just one of many epic stretches of tarmac that you'll ride when visiting the island.
The north is typically characterised by spectacular twists, turns, climbs and scenery, while to the south, near Funchal, it's faster flowing, but equally as enjoyable.
While the route proposed (which comes pre-installed on the TomTom Rider 410 Great Rides Edition) neglects the island's interior, it's well worth taking some time to deviate from the SatNav's instructions and to explore the high mountain passes.
If you do, you'll be rewarded with views of sensational, jagged peaks that tower over you and lush forests that support a huge and varied ecosystem.
The Route

Want to ride these routes? Here's what you'll need to know…
When to go?
Spring (starting in February) and early Autumn (from October) are probably the best times to go as weather is warm but not too hot, while July and August are the hottest and busiest months and when prices peak.
How long to take off work?
A week will provide ample time for travel to and from Portugal as well as touring. Likewise, if you're heading to Madeira, a week offers plenty of time to explore the roads and sights of the small island.
How much?
Accommodation in Portugal represents good value for money compared with the rest of Western Europe. You can get a double room in a basic guesthouse or small hotel for as little as €40. Even cheaper, there are hundreds of campsites for around eight euros per person per night.
Is it for you?
If you want to ride from hills to sand dunes to beaches all within a short distance (not to mention delicious cuisine and great wine) then head to Portugal!
What gear?
It's going to be hot, so a well-ventilated and armoured mesh jacket is perfect. Likewise, a well-ventilated helmet, boots and gloves will also be welcome.
Any advice?
Ride on the right-hand side of the road and make sure that documents relating to your bike and its insurance are kept with your vehicle.
Useful information
Unfortunately, Portugal has a higher than EU average fatality rate due to high speeds and aggressive driving habits. However, the government has tried to address this in recent years with substantial fines for traffic violations.