From peaceful rice paddies to tumultuous city traffic, no nation has yet managed to conquer this resilient country just south of China. Richard Millington takes a lap of Vietnam and finds riding like nowhere else.
Name me another Asian country that has been so heavily featured in popular films, books and TV shows in the last thirty years. From Full Metal Jacket to Forrest Gump, we've had a constant stream of Vietnam through western eyes, through Hollywood eyes. So to go there, to ride around the whole country and see things for myself has long been a dream.
Yes, I had some preconceptions; some were pretty accurate, some couldn't have been further from the truth. But Robin Williams still made me giggle at breakfast every morning.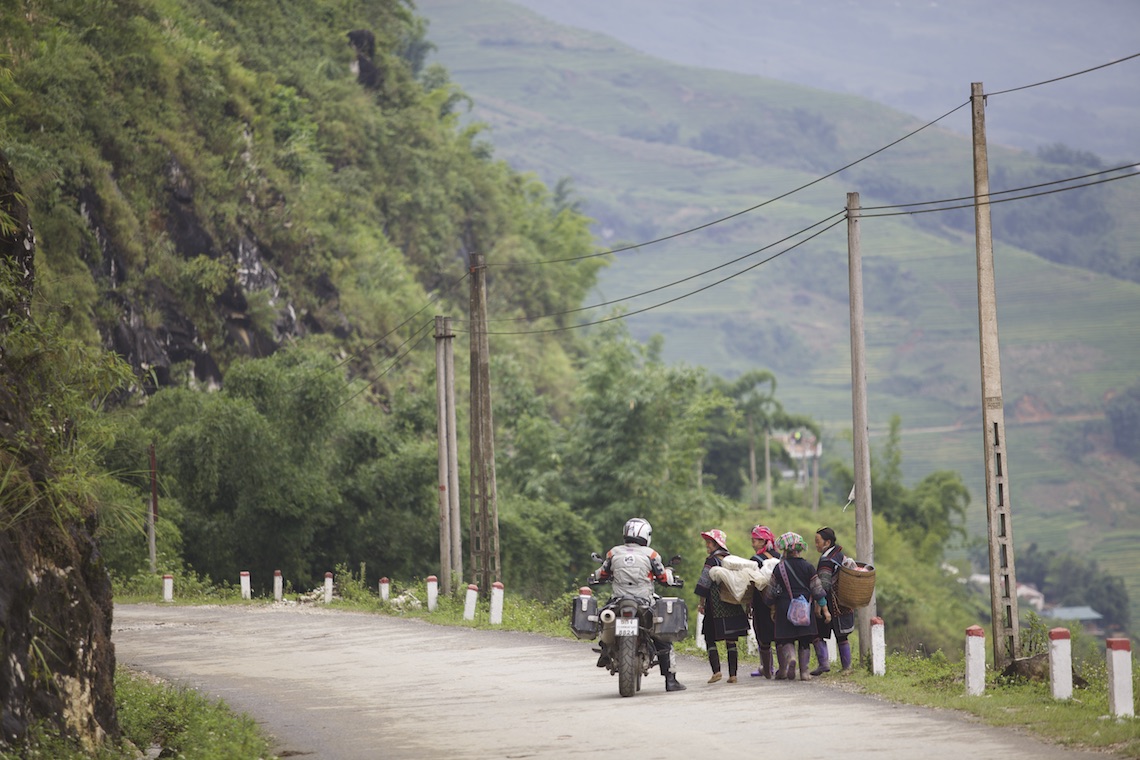 Is that the bridge moving? Or my suspension? Or both? I can't tell, better just focus on missing that scooter, those nails and not ending up in the river. That bamboo barrier ain't gonna stop a GS.
And this is the new bridge, freshly built after a storm wiped the last one out. I hope it took a big storm. The end of the bridge greets me with a sigh of relief, ten miles of dirt track and a three-foot-deep trench across the road. Out of the frying pan and into the rice steamer.
Riding around Vietnam involves plenty of small, sketchy bridges, but definitely topping the charts is the Ganh Da Dia peninsula bridge. Seven hundred and fifty metres of loose planks, bamboo and nails; it's not flat, it's not straight and you definitely wouldn't take a car across it.
The nice thing when you're riding across is that you can't see that the whole bridge is bouncing up and down. There are guardrails but a GS wouldn't even notice them – get it wrong and you're going for a swim.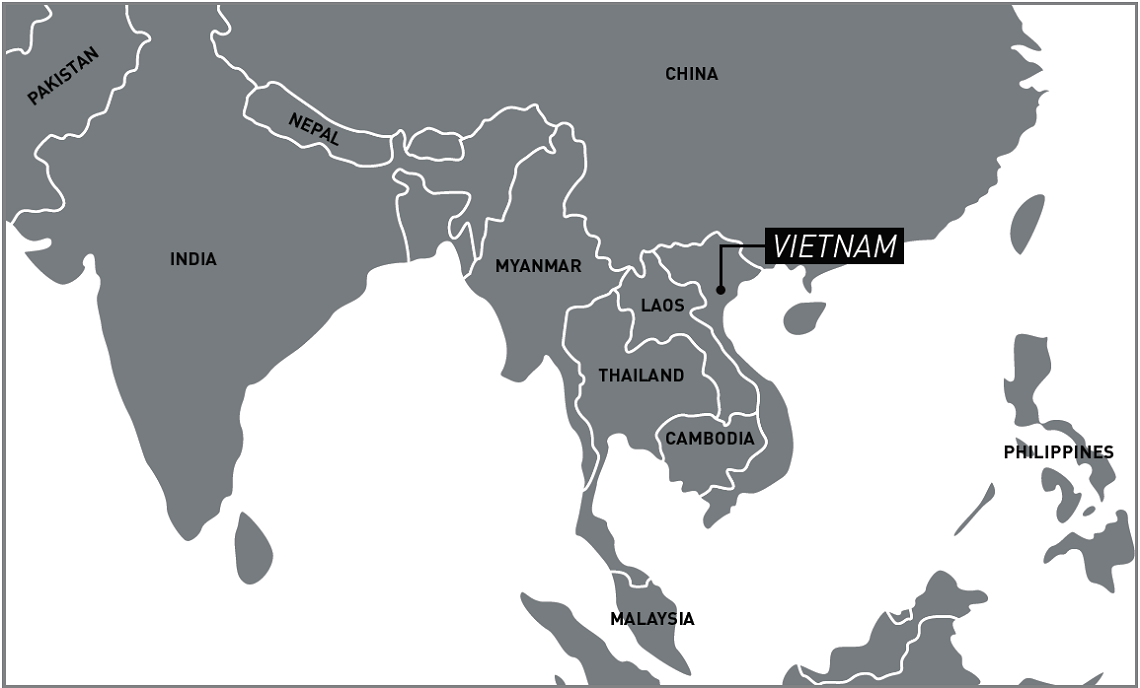 The guy I hired bikes from in Thailand specifically told me not to ride it, but when I saw the bridge from the main road there was no way I was missing out. The biggest concern is actually the nails; the planks are nailed to the twigs underneath, and where everything flexes they work loose. Not crashing off the side of a two-metre-wide bridge gets a whole lot trickier with a flat front tyre.
Then, when you've conquered the bouncy bridge, you head off down the dirt track and find the real challenge. There's a guy whose shack is on the other side of the trail to the river. At some point he decided he needed a drain, so dug a 3ft wide, 3ft deep trench across the road. And then, as a nod to the road users, he's stuck a six-inch-wide bit of wood across it. Nowhere near as high consequence as crashing off the bridge, but Christ does that six-inch margin of error get the old heart pumping.
So why ride a big bike across Vietnam then? Surely a scooter or cheap Chinese trail bike would be a better bet on those sketchy bridges and dirt roads? Sure, but Vietnam is such a diverse country and I wanted to see all of it. Entirely possible on a Chinese Wan Kjing (no, really, that is a brand) two-stroke chopper, but sitting at 40mph on a fast A-road on chopstick forks and oil-free shocks isn't my idea of a good time.
After some fun at the border, we headed north, towards Điện Biên Phủ; a town of some 100,000 people. There was no power for the first five hours. No traffic lights, no electricity at all until it popped back on at 10 pm. Nobody batted an eyelid, that's just normal.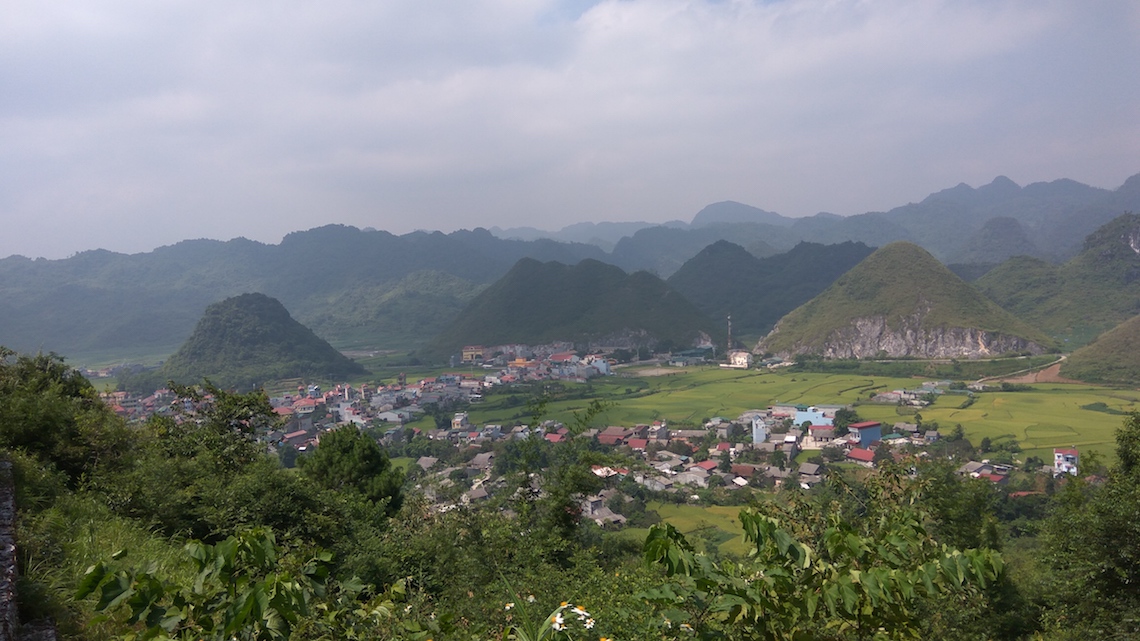 It's a really significant place to the Vietnamese because it's where they finally defeated the French. Weeks of attacks and counterattacks culminated in the Viet Minh blowing up a mineshaft beneath a French stronghold and overrun- ning the command centre.
It was so destructive that it led to the French pulling out of Vietnam and ended French colonialism. It also led to Vietnam being divided up into a communist North and capitalist south – we all know how well that worked out five years later…
From there, I headed to Sa Pa – the famous, romantic city in the mist. It's right up on a hill and it's cold, it's misty. In fairness, when the mist lifts there are terraced paddy fields as far as the eye can see, riding down through them I feel like I've travelled back in time.
Sa Pa is the gateway to the Dong Van Karst plateau and some of the best riding I've ever experienced. You see some scary stuff, from mad scooters to head-on overtakes; people there aren't used to seeing much traffic. I saw just a handful of big bikes the whole time in Vietnam, three of these were up on the Dong Van Karst roads.
There's quite a bit of dirt up there, and some really shite tarmac too. Everything I rode on a GS, these Hanoi lads were doing on great big Superglide Roadking things. They were all hanging it out, two-up, girl on the back in a miniskirt and pisspot helmet, drifting it sideways and giving it large.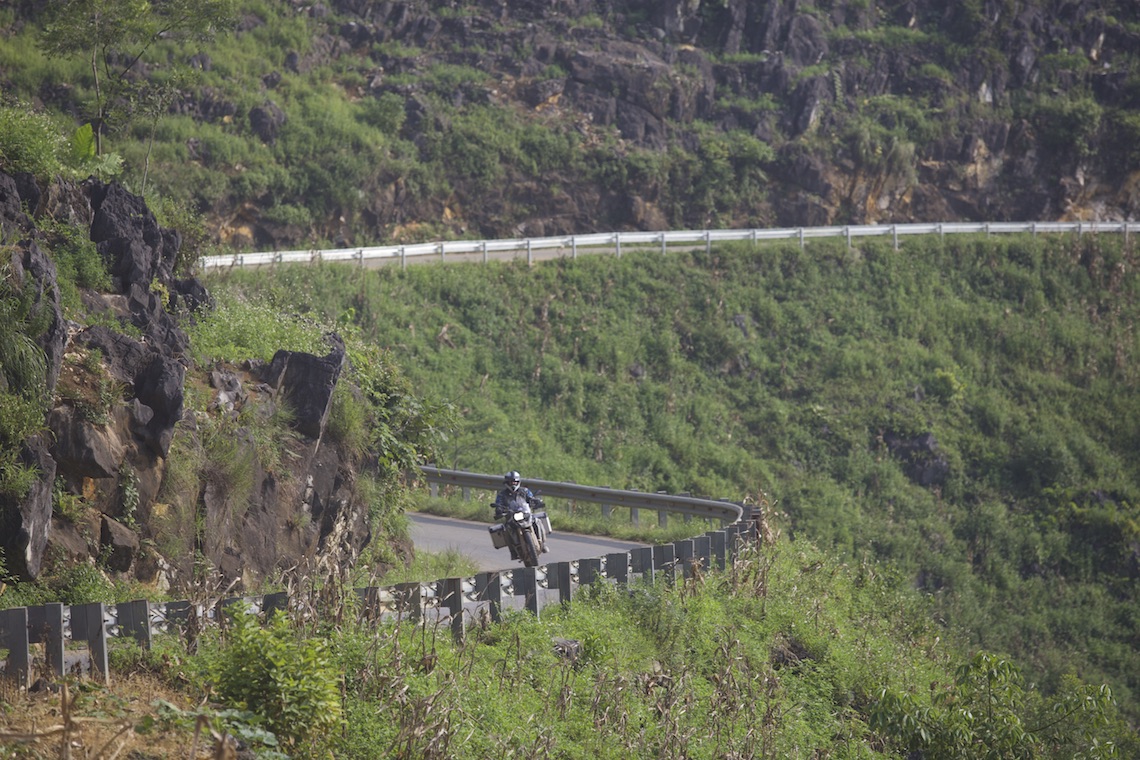 I leave my digs in Ha Giang, sidestand up for 8 am and head out into the hairpins; second gear, third gear, second again – this goes on all day. Not a single straight, not a single flat bit of road, just corner after corner and I only touch fourth gear twice in the whole day. And only cover 110 miles. The area was incredible to ride in – ridiculous hairpins, Communist signs brainwashing you about how good things are, weird pointy mountains vanishing off into the mist and the odd foot deep pothole to keep you on your toes.
I stopped off at the Lung Cu flag tower at the very top of the country; there's not much to do there other than look at a massive flagpole. I was more excited about riding up into the mountains, but I was definitely moved by a group of Vietnamese coming to pay their respects to a retiring soldier after many years of service.
I did have a chat with them through our guide – they said that China views Vietnam as theirs, but sort of a province that's broken away. China invaded all along the Vietnamese border and the Vietnamese repelled them. Don't go and start a war in Vietnam. Everyone loses. They really do have an awesome track record.
Heading back down from the flagpole, I'm pulled out of my political daydreams by a coach on my side of the road, scraping its bodywork around the hairpin. Images really don't do justice to how steep these roads are. The riding is knackering physically and mentally because the driving standards are appalling. Knowing that the madness of Hanoi awaited, I skived off in Ha Long Bay for a couple of days.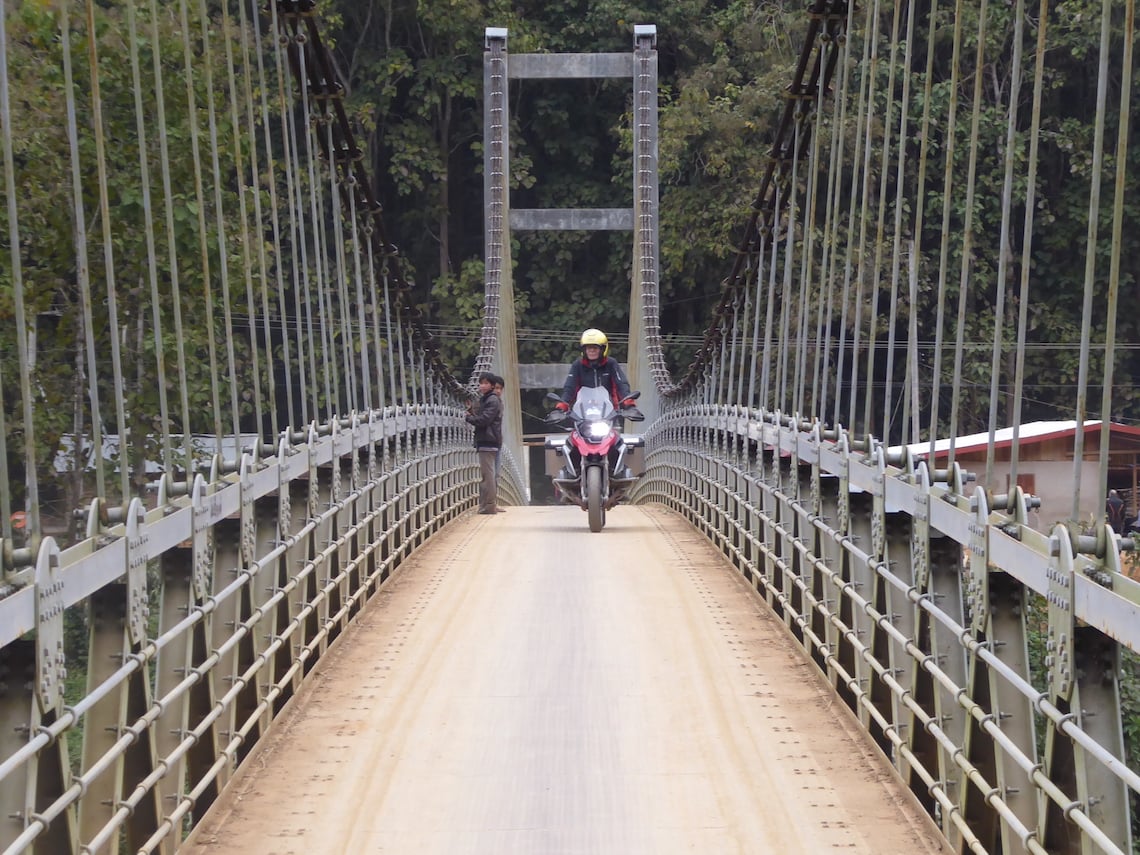 You have to get out on a boat here to appreciate it. It feels like another planet, with giant, towering limestone islands rising out of the water. Ha Long Bay is tranquil, surreal even, and definitely a stark contrast to what awaits in Hanoi.
Hanoi is massive, over seven million people call the city home, and it's something like a 40-50 mile run into the centre. Watch out for minibuses. They will take you out without a moment's thought. As I'm riding into Hanoi, a minibus carving through the traffic clips the timber strapped to the back of a scooter. As the bike spins down the road, the Kenworth truck I'm undertaking drifts over on me.
I'm trying to out-accelerate the truck, as it is trying to miss the spinning scooter and the poor scooter rider is under the minibus. I'm fairly convinced the guy was toast, you know, it was not nice. It's somehow not surprising though when you've ridden there. I don't know what their road deaths numbers are out there, it's pretty horrendous I should think. The funny thing about the amount of traffic is that minibuses aside, it's chaotic but courteous.
After Hanoi, I headed down the coast for a few days towards Ho Chi Min. The coast is really pretty, loads of blue fishing boats, fish villages, fish farms. It's very real there, a bit hand to mouth – a lot of subsistence farming and fishing. And the ride is bookended by another city full of mad traffic – Ho Chi Min city. The ferry in is rammed with scooters – ride on, chaos, crowd, bump, everyone wedges in and stays sat on their bikes for the 10-minute crossing. It costs about 10p.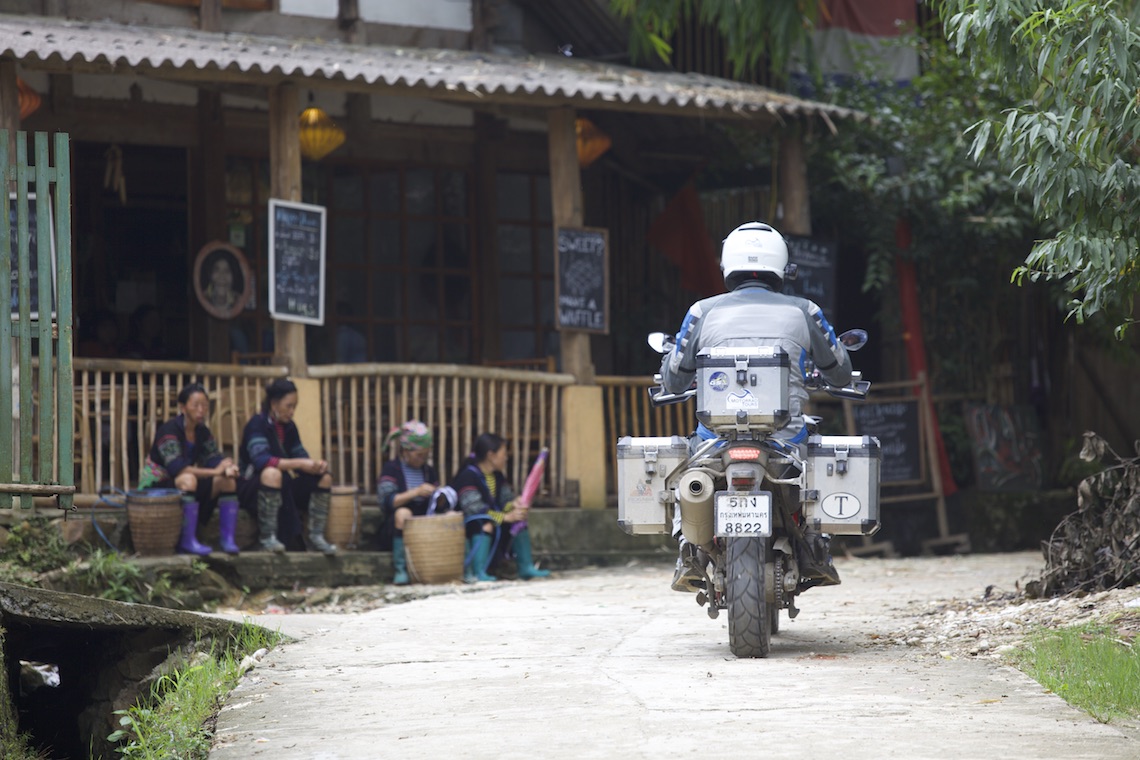 I stayed in the Rex Hotel – the one where all the press briefings were held during the Vietnam war. Or as they call it, the American war – they're all Vietnam wars to the Vietnamese; lord knows they've got a few to distinguish between. I walked in absolutely filthy from the traffic; the trucks by the port pouring out smoke and 40-degree heat left a nice sweaty veneer.
Of the few war sites and museums, I'd dropped into so far, I have to admit that none of them really hit home with me. A crashed bomber here, a monument to a destroyed city there; none of it felt that real. The Cu Chi tunnels and the War Remnants museum south of Ho Chi Min city changed that. It really hammered home the brutal and desperate nature of the fighting here. While Viet Cong troops were in the tunnels, they were carpet-bombed, flooded, gassed and that's before you add the poisonous insects, diseases and lack of food.
To hunt them out, troops dubbed 'tunnel rats' would be sent in with a bit of string tied to their belt, a handgun and a torch. It worked, but only if they managed to avoid the booby traps. If you died in the tunnel, you never came out. The Viet Cong troops had to be clever about how they fought – they had no technology, no decent weapons, so they made man-traps with bamboo. Some had rotating spikes so that as you fell through, you ended up with 15-odd stab wounds, none of them enough to kill you, straight away.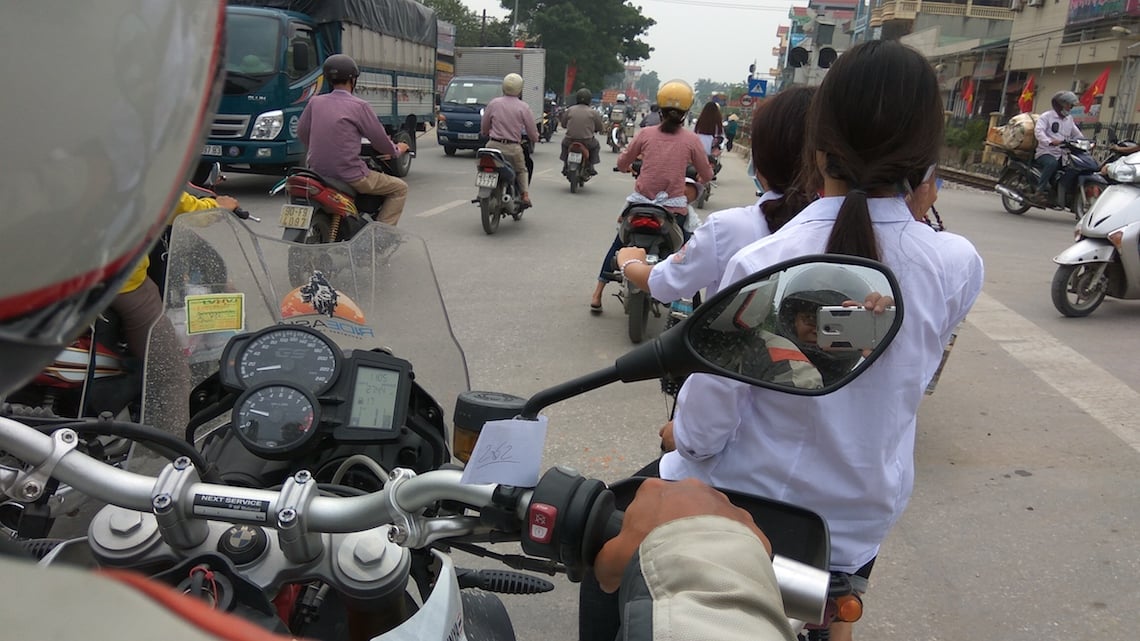 But now you're in the bottom of a pit, screaming, with 15 stab wounds through your, wherever. It was really horrendous warfare. And the problem was the way the Americans responded. You can't condone it, but you can sort of understand how the Americans lost their moral compass because they were getting their arses handed to them by a bunch of peasant farmers with 50-year-old Russian carbines and bamboo sticks. When you go to the war remnants museum there's a whole floor dedicated to Agent Orange and Napalm.
Napalm was bad enough; a chemical firebomb that caused massive damage, massive defoliation and it just incinerated people. But Agent Orange, a defoliant, contaminated the earth, all the food supply and led to a whole generation of people with horrendous birth defects.
Nobody leaves the museum without glassy eyes and a big lump in their throat. And then you meet the guy outside selling books; he's got no arms, he's got half a face and he's selling books because he's got to make a living. But he is a child of the Agent Orange era and it's pretty horrendous. Um, yeah, that certainly brings it home.
After that, I headed out into the central highlands for great riding again, and I needed it at this point. Twisty roads, forestry, some nice trails, but a lot of the jungle has been cleared and turned into coffee plantations. Which is ironic because the coffee in Vietnam is truly terrible. They make this really hot, thick sludge that's like a quarter of the size of an espresso and three times as strong.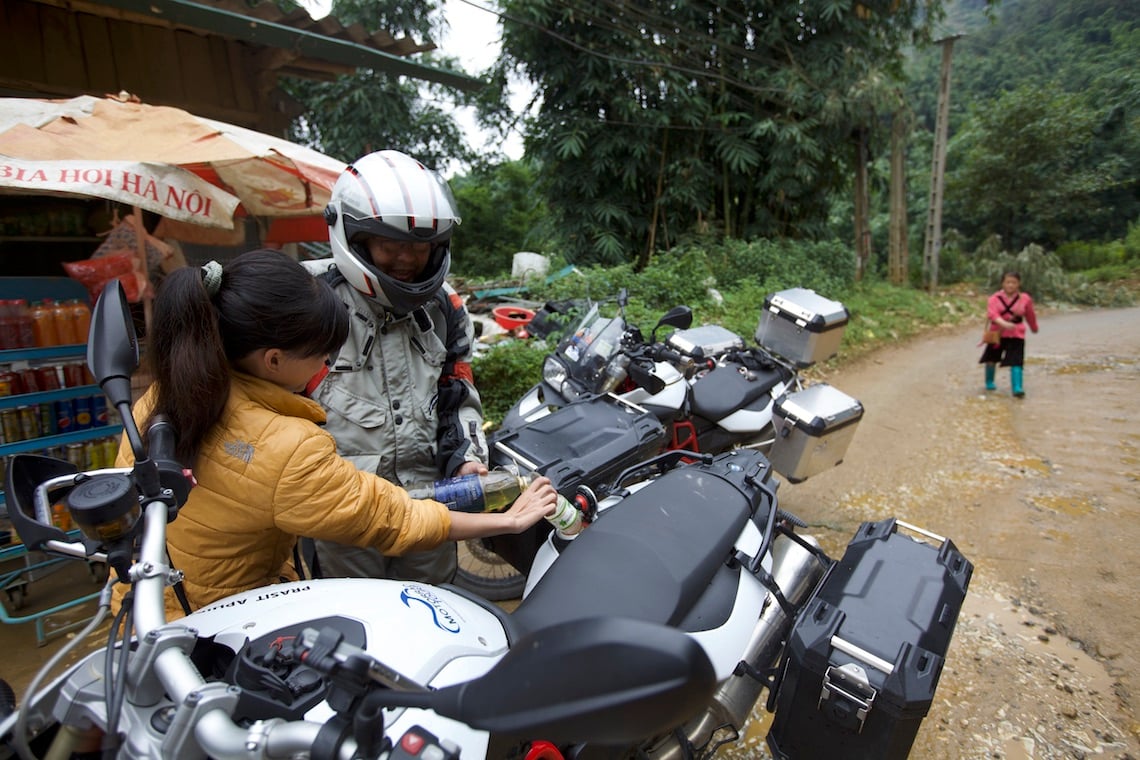 Then you stir ice into it and end up with an espresso-sized cup of double espresso with ice and that nasty chicory stuff from the seventies. And if you want milk, it's condensed milk from a tin. I actually found myself pleased to see a Starbucks in Ho Chi Min city; you know that's a bad sign.
Heading further into the highlands I'm pretty sure I stumbled upon a money-laundering operation. A 400-room hotel, in the middle of nowhere that only turned the lights on when we arrived. I've actually been there again since, and both times there was nobody else there, and both times I stayed on floor five.
I don't think there's anything on the other floors. It's got to be something shady – two tennis courts, a bar in the garden, four hundred rooms and no people.
But there is always a massive breakfast buffet in the morning, it's really weird. Before I got money laundered into the national newspapers, I hopped the border back into Laos and on to Thailand to return the bike.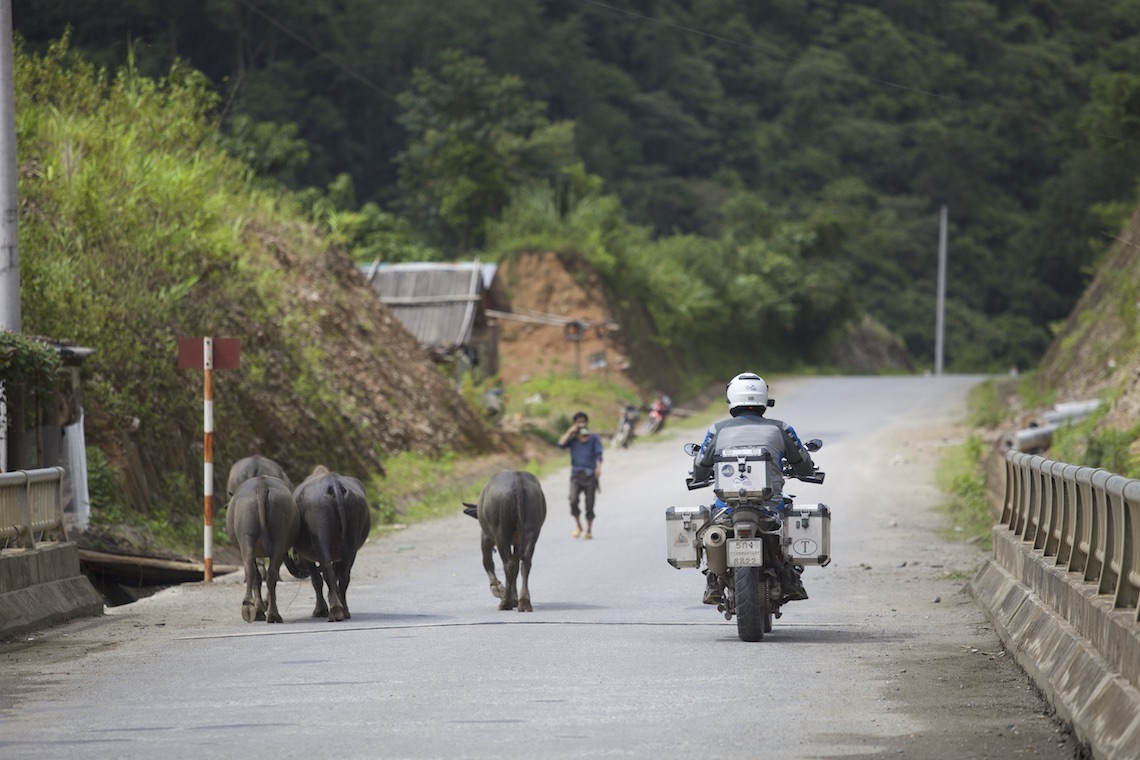 I convinced the hire company that I definitely didn't use that bridge and headed back to the calm, sane traffic of the UK's motorways. I never thought I'd say that. Brain aching from non-stop communist propaganda, the flight home was spent daydreaming about steep hairpins and cows strapped to the back of scooters.
I went to Vietnam full of war stories, movie scenes and catchphrases. I went looking for Vietnamese war veterans and memorabilia. I came back in awe of a country that is so, so much more than a location for a war and a thousand movie remakes. The riding there is simply incredible. The effort of getting there with a proper adventure bike was rewarded time and time again with sweeping roads, stunning views and the ability to cover ground.
You can always find somewhere tricky enough to warrant a nimble off-road trail bike, but for the ability to see so much, the GS couldn't be beaten. I never expected to be dragging footpegs in the mountains up north. I never expected the complete lack of animosity towards Americans or the French. I never expected the mattresses to be so damn hard. Honestly, they were like sleeping on oak board. The fear of police takes some getting used to.
I never expected Vietnam to be so completely different to its neighbours. Compared to the gold Buddhas and temples of Thailand, Vietnam seems to have swapped religion for Communism. The scenery is diverse and breathtaking, the riding is genuinely some of the best I've ever experienced. And they sure know how to build a rickety bridge.
---
Hanoi city traffic
Hanoi traffic is just the best in the world, it's so much fun. There, assume every rule applies to 80% of the people, 80% of the time. Riding down the road the wrong way; fine. Head on overtakes; fine. Going on a red light with three seconds before it goes green; fine. Going after the green light has been red for three seconds; also fine. It takes some getting used to and you need to follow a couple of rules – never look behind you, never look to the side.
If you see somebody, it is your job not to be hit by them. If you haven't seen them, it's their job not to hit you. Just truly, crazy epic. And it just goes on and on. Part of the reason it does work is that clearly one of the lessons of a Vietnamese riding school is 'Do stupid things very slowly'. So they will drift across four lanes of traffic without looking, but they'll do it really, really slowly and assume everybody will go around them.
---
Want to do this?
Travel with the experts
Motorrad Tours, an Official Travel Partner of BMW Motorrad, operate a range of motorcycle tours throughout Europe as well as tours in Africa, the Americas and Asia. If you like the sound of Vietnam, then you're in luck – they can take you there and do it on big bikes, not Chinese scooters.
You are welcome to ride any make of bike on our tours, but they always ride BMWs. The company's touring style is about freedom – they provide route guidance notes, maps and GPS routes so you can choose to ride independently or with the Tour Leader or swap and change; you have the freedom to choose.
For more information about Motorrad Tours head to www.motorrad-tours.com, or give them a shout on 08000 131 282.
Riding a big bike in Vietnam
Renting big bikes in Vietnam is next to impossible, almost as hard as getting your own bike into the country. The easiest option is to hire bikes in Thailand, ride through Laos and on into Vietnam. There are only around six Vietnamese land borders at the moment that will accept foreign large capacity motorcycles and the paperwork is about half an inch thick per bike. It's complex, so I used a local fixer; in fact, you have to have a local communist party approved guide with you if your group is two or more people. It's not corrupt; massively bureaucratic maybe and very heavily controlled and regulated.
That said, those regulations are always down to the interpretation of the local guys, to the extent that it changes with who's on shift when you go through the border. I've been through four Vietnamese land borders in the last six months, some twice, and each time had a slightly different version of the process. It's all about being prepared; if you haven't got your agent, if you haven't got all the paperwork filled in correctly, you ain't going, forget it. There are stories of people being sat at the border for a week with a big capacity bike, waiting for approvals to come back individually signed and approved at the ministry of tourism.