A tent should reflect the character of your trip, so don't automatically go for a tiny pack-size and feather-light weight. Comfortable living space is far more important, says Alun Davies
Nights out in the wilderness (or the local campsite) can be life enhancing. But then reality has a habit of striking back, usually in the form of a sharp rock under the groundsheet, or a river running through the tent, or your partner snoring like a train, and then you find you can't even turn over during the night because of mountains of cold, wet gear clogging up your sleeping space…
The point I'm going to stress here is that wild camping is either an uplifting, unifying experience or an uncomfortable lesson in misery and a blueprint for how to lose friends and piss-off partners; the difference between the two comes down to choosing the right tent for the job.
Lightweight equipment is without doubt the new black when it comes to outdoor adventure gear, and while there's a lot to be said for a tent that packs down to the size of a peanut and weighs about the same comfort and living space are the key to happy camping.
If you and your pillion are bedding down for your third night under canvas in monsoon conditions, you'll soon be craving extra personal space, and regretting listening to the guy in the shop chanting the lightweight mantra.
You need somewhere to stow your gear and boots, which doesn't involve you coming into contact with it during the night, and you need room to cook under cover. If you're travelling as a couple, ABR recommends that the extra weight and bulk of a large two-person tent or even a three-man tent is the way to go. And if you're travelling solo, then we'd still suggest a two-person tent. Trust us, you'll not regret it.
The golden rule for happy camping is this: living space and comfort is far more important than shaving a few grams off the weight.
Stuff that's really useful
Two doors 
An aid to ventilation on balmy nights and, if you're doubling up, your partner can visit the potty without trampling all over you and rearranging the contents of the tent on their way out.
Two porches 
One for storing gear and one for cooking. A valuable feature that makes life on the road more comfortable.
Internal pockets 
A couple of mesh pockets stitched into the inner tent are handy for storing easy-to-lose stuff like torches, glasses, matches, loo paper etc.
Midge netting 
A double-skinned inner tent door with an outer midge net is essential for keeping out beasties while also providing ventilation.
Ease of erection 
Most tents are easy enough to pitch these days, though some are more straightforward than others. For example, colour-coded shock-corded poles with corresponding continuous fabric sleeves are idiot proof.
Repair kit 
No matter what manufacturers say, poles break and fabrics tear. Pack a repair kit.
What's a four-season tent?
In the UK we've invented a range of tent terminology that confuses issues rather than tells it as it is. Put simply, a four-season tent is designed to shed snow – rather than let it pile up on top – and the inner will be constructed to keep out spindrift ie no stand alone mesh panels. A four-season tent will also cope better than a three-season model in high winds.
Size does matter
You've probably already clocked our main criteria for tent selection – we like them big, with enough usable space to overnight with all your stuff while on tour. While some adventurers can't see past living a life of penance in a bivi, we prefer to relax in comfort. We've spent enough time out in the wilds to appreciate that a couple of inches here and there can make all the difference.
A two-person tent should fulfil the following basic size criteria to justify a purchase:
Porch space big enough to accommodate all your gear with enough additional space for cooking and getting in and out.
Enough headroom for two people to sit upright.
Be long enough and wide enough for two people to stretch out comfortably.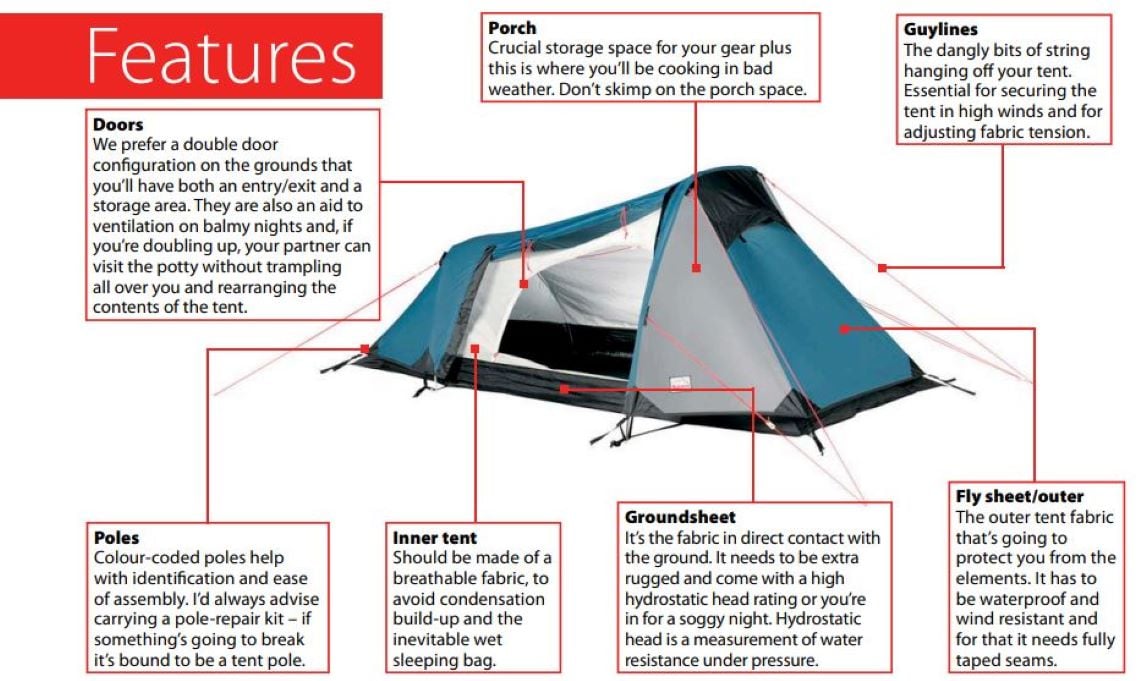 What's all that then?
Bivi bag 
Oversized crisp packet usually made from waterproof breathable fabric. Only worth considering if you're into travelling seriously light or living in sympathy with Spartan foot soldiers. Don't even think about it if you're remotely claustrophobic or value a little comfort.
Single hoop 
If you're travelling on your lonesome and don't fancy a bivi then these mini tents are a reasonably lightweight and more comfortable alternative, though there's still no room to swing the pasta.
Ridge tent 
Think boy scouts, 1960s pop festivals and leave well alone, man.
Tunnel tent 
Rectangular floor space with poles arched over. Near vertical sidewalls mean good useable space. Very stable if pitched tail first into the wind and good weight to internal volume ratio.
Dome tent 
Steep side walls and good headroom with poles curving over to form a dome shape. Free standing and stable, though the fabric tends to flap about in high winds.
Geodesic/semi geodesic tent 
Three or more poles in various configurations, similar in appearance to a dome. Free standing, very stable though tends to be heavier than other designs.
How we rate 'em?
5 – The Best
4 – Great
3 – Good
2 – Fair
1 – S'crap
EUROHIKE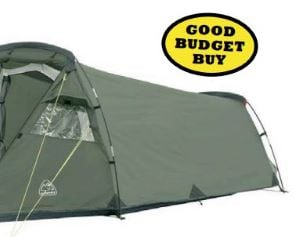 Model: Backpackers Price: £40 Weight: 2.8kg
Eurohike is Millets' own-brand kit which tends to be fine for the occasional trip and for hardcore UK summer rally goers who need something more stable than a Wendy House. This is a smallish two-person tent and in the ideal world we'd like something a little larger. That said, it's cheap, cheerful and if you're on a tight budget it'll do the job – though we wouldn't fancy braving a gale-force night in this one.
In a line: Budget summer trips and weekend rallies only 3/5
COLEMAN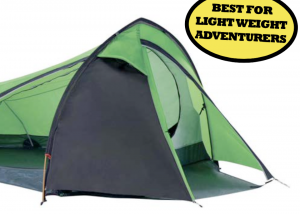 Model: Exponent Avior X3 Price: £120 Weight: 2.95kg
It's been a while since we've checked out the Coleman range though memory tells me we were impressed with past offerings. The Exponent Avoir X3 is marketed as a three-person tent but we reckon that's not quite on unless you're very, very good friends and you're not carrying too much kit. It does make for a cracking two-person tent though, and with a pack weight of 2.95gm and its compact size this is one to check out. It's stable in use, easy to erect, all the components are good quality; the price is competitive too.
In a line: Quality adventure tent, worth checking out 4/5
VANGO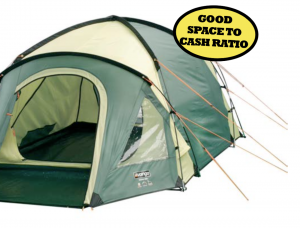 Model: Sigma 300 Price: £70 Weight: 6kg
Vango has a great reputation when it comes to tents, indeed we've spent many a storm bound night up big mountains in the Himalaya in the company's Force 10 range. The Sigma is not in the same stability class as the Force 10 but at £60 it's not in the same price bracket either. It comes with a 'three person' rating, which we reckon makes it spot-on for two with enough space for all the touring kit should you need to fully unload the bike. It's an easy-to-erect dome-style tent with good head-room and the 4.75kg isn't such a cumbersome load either. It's stable enough for all but the worst of conditions.
In a line: Competitive price from respected manufacturer 4/5
VAUDE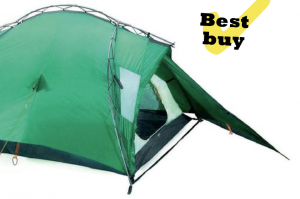 Model: Mark 11 Price: £260 Weight: 4kg
On the three occasions that I've been up Kilimanjaro, the local African tour operators supplied Vaude Mark 11 tents. And there's a good reason for this. The Mark 11's can cope with the worst of the weather and are super durable (they'd need to be on a busy mountain such as Kili). You get double doors and twin porches enough space for three or absolute luxury for two. There is simply nothing bad to say about these tents other than the 4kg weight is bulkier than some. It's not cheap but then this tent is bombproof and will probably outlive you.
In a line: If there's a better all round adventure tent then we've yet to sleep in it 5/5
KHYAM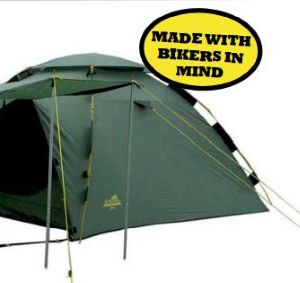 Model: Biker Price: £189 Weight: 6kg
Lightweight fanatics look away now, this tent has been designed for the adventure motorcycle market; it weighs in at 6kg and comes with a substantial pack-size. On the plus side the Khyam features a 'Rapidex' quick-erect pole system which works well, meaning you'll have this tent up in a flash. The marketing blurb reckons it's good for three but we reckon two would be the more comfy rating. The porch space is large and ideal for stashing away gear and there's still plenty of room left over to cook under cover should the conditions turn ugly.
In a line: Goes up in a flash and we like it 4/5
LIGHTWAVE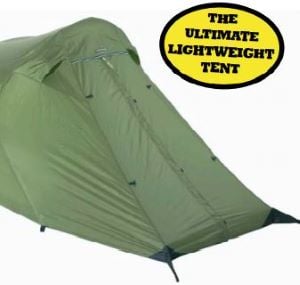 Model: G2 Ultra Price: £395 Weight: 2.3kg
Not so long ago I wrote a feature in which I declared unbridled love for the Lightwave T2 tent – and, just in case you're wondering, that's not something I do often. Lightwave has mastered the art of combining usability, weight, pack-size, stability, ease of erection, durability… I could go on here. Bottom line; the company's tents are expensive but they are excellent, designed by people who use the products and constructed using the best components available. The G2 is big enough for two and at 2.3kg it's as light as you'll find without compromising on space. If you want something bigger, check out the company's T2 model.
In a line: Near perfection comes at a price 5/5
Who's writing?
Alun Davies has climbed in the world's great mountain ranges and led expeditions in remote wilderness regions for over 25 years. He has tested outdoor gear in a professional capacity for the past 15 years.