GOOD HYDRATIONS
Paul Jennison looks at what dehydration means for ABRs and the solutions to staying watered on the go
It feels a little weird to be sat here writing this feature when we're in the middle of one of the wettest UK summers on record. But, hopefully, by the time you read this we'll all be enjoying an Indian summer and it may become more relevant. And of course, there's always the possibility of a trip abroad, to Spain, Morocco, or perhaps even further afield where hotter climes mean hydration is even more important.
If you're just out for the day, chances are you'll factor in plenty of stops for a spot of light refreshment. When touring, however, there's more of a temptation to cram in the miles and take fewer breaks. It's at these times that as riders we're putting ourselves in danger.
I was recently riding in Spain on a very hot day, the roads were awesome and it was great riding. Even though we'd stopped for breakfast, I only drank a small coffee before we set off again. By the time it reached early afternoon the temperatures were in the low-to-mid 30s. I was beginning to feel extremely tired and my concentration wasn't what it should have been.

We finally stopped for a break and went into the shade to cool off and have a drink. For the first few minutes, I was totally lethargic and couldn't even talk. Once I'd cooled down and taken some fluids on I felt a lot better and resumed the ride back to the campsite where I drank about two litres of water, barely stopping for breath.
I realised then that I'd been dehydrated and suffering from the early effects of heat exhaustion. I should have known better. The moral of this tale is to drink fluids often, to keep hydrated, and if you can, carry drinks with you when riding. A good adage to keep in mind is, 'by the time you feel thirsty you're already dehydrated'.
Lost your bottle?
There are numerous devices for carrying fluids while on the move. The most common choice is the kind of plastic water bottle you get from the shop. These can be refilled from the tap in a lot of countries without any bother, but in some places the tap water is best left for washing and cooking. In these instances you'll need to buy fresh water or treat the tap water to make it drinkable.
Carrying large enough bottles to refresh your thirst can be a problem. Water that's strapped on the back of the bike in a hot climate quickly acquires the ambient temperature and is unpleasant to drink.
In these cases some form of thermal flask would be better, to keep the contents cool, but these can be cumbersome and heavy.
A sports bottle is useful for refilling and can be stashed in a pannier or a tank bag. One with an elongated drinking straw, like the Camelbak Performance bottle, is a good choice, as it can be used without removing your helmet. Simply feed the drinking tube around the chin-bar – great for a quick drink on the move.
Then there are bladder systems which can be mounted in a small backpack or even in a jacket. There are a few rucksack-types available on the market and we've reviewed a handful here, to give you some idea of what they offer. There are only a couple of jackets available at the moment that I am aware of which feature a bladder pocket in the back and allow a drinks tube to be fed through to the front for use.
Size of water bladder is another consideration. The most popular size is 2-3 litres, which in my view is big enough, although larger ones are available; here the weight will be a consideration, of course.
Can't stand the heat…
Heat exhaustion is part of the spectrum of heat-related illnesses that also includes heatstroke. Symptoms include profuse sweating, weakness, lethargy, nausea, headache, light-headedness and muscle cramps.
Heat exhaustion occurs when the body's unable to cool itself. Normally, the body cools itself by sweating and allowing that sweat to evaporate. This relies on there being enough fluid in the body to make sweat, and enough cool air circulating across the skin to allow the moisture to evaporate. If there's a lack of fluid intake and a lack of cool air on the skin's surface, such as when you're head-to-toe in textiles or leathers, the body becomes dehydrated and heat exhaustion symptoms start to show.
Heat stroke is a more severe illness and a form of hyperthermia where the body temperature is dramatically elevated. This is a medical emergency and can be fatal if not treated properly and promptly. Some common symptoms include high body temperature, absence of sweating, rapid pulse, difficulty in breathing, strange behaviour, confusion and agitation.
Dehydration / rehydration
Dehydration occurs when more fluid is exiting the body than is entering it. With about 75 percent of the body made up of water, our survival requires a sophisticated water management system. Fortunately, our bodies have such a system and our thirst mechanism tells us when we need to increase fluid intake. Water is constantly lost throughout the day as we breathe, sweat and urinate, more so when it's hot or our bodies are working hard, and we replenish the fluids by drinking.
Most cases of dehydration can be easily reversed by increasing fluid intake, but severe dehydration requires immediate medical treatment. Urine is the best indicator of a person's hydration level. Clear urine means you are well hydrated and darker urine means you are dehydrated. Symptoms of dehydration include thirst, darker urine and decreased urine production. Others are dry mouth, lethargy, weakness, headache and dizziness.
Dehydration is usually treated by replenishing the fluid level in the body. This can be done by consuming clear fluid, clear broths, frozen water or ice pops/lollies and sports drinks such as Powerbar. As well as fluid loss, essential salts and minerals are also lost through sweating. These are usually replaced with our normal diet, but in some cases they can be replaced by adding rehydration salts to water. I often carry these in my medical kit, to assist with diarrhoea, but they also help in dehydration situations.
Coffee stop?
There are two schools of thought regarding caffeine drinks. One states that because caffeine is a diuretic it will increase urine output, therefore increasing fluid loss. The other camp is circumspect in that there's enough fluid being replaced with the drink itself to combat the diuretic effects. The jury's still out!
Ortlieb Water Bags RRP from £13.50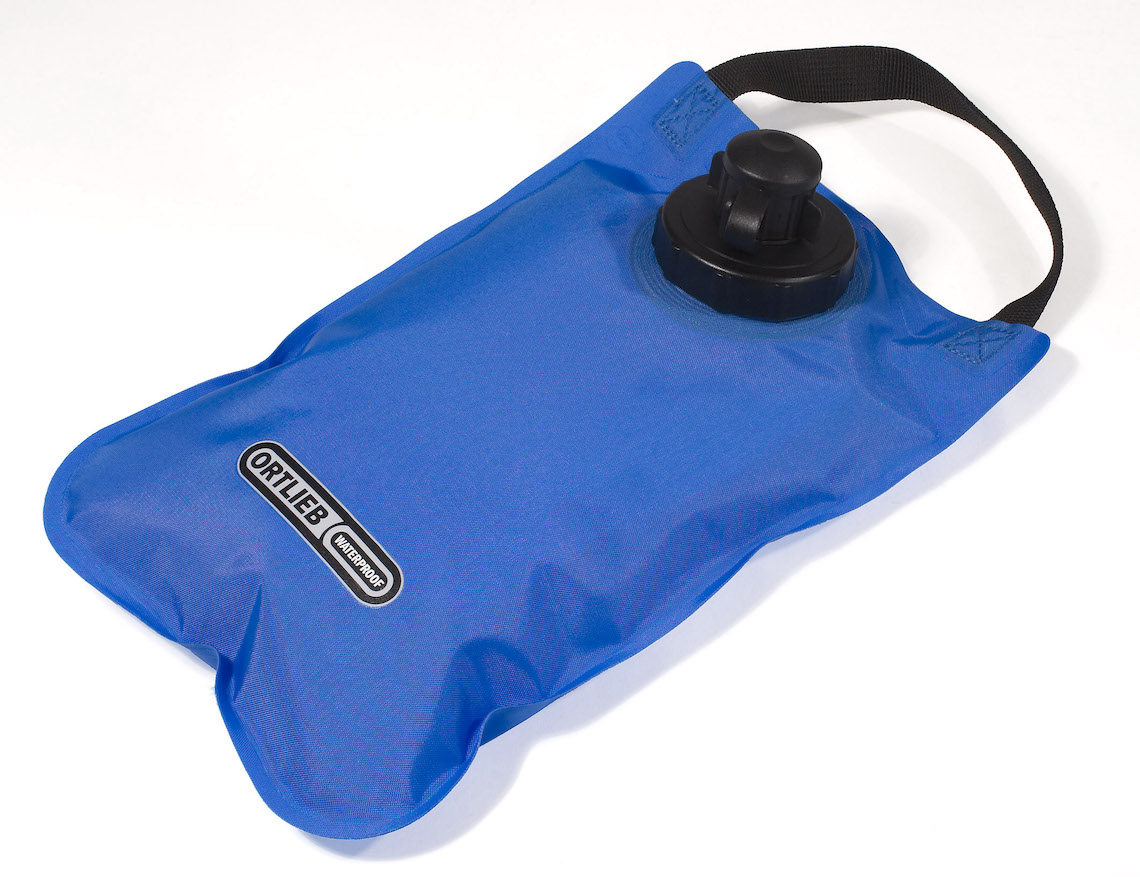 Ortlieb is a well-known manufacturer of luggage systems, in particular motorcycle bags, so it stands to reason that the company has something to offer the hydration market. Ortlieb doesn't make a specific hydration system like the others on test here, which surprises me a little. It does have some decent alternatives, though, and the backpack-style water bladder may not suit everyone, but I do think Ortlieb is missing a trick here.
These water sacks are ideal for use at the campsite as they have strong carry handles. They're constructed from tear-resistant watertight fabric with a hygienic inner treatment, to ensure the water is safe to drink and they're a lot stronger than standard bladders.
Ortlieb's 2-litre water belt (inset right) is designed to carry fluid around the waist.
The company produces a range of water sacks from 2 litres up to 10, although 10 litres may be a bit cumbersome on a bike!
These sacks or the belt could be placed inside a tank bag or similar, or even inside an existing backpack. They can also be fitted with a drinking tube (or a standard hydration tube will fit) as an optional extra, but they're not as convenient as a bespoke hydration system.
In a line:
A reasonable alternative to the backpack hydration system, which may suit some people
ABR Rating 6/10
Camelbak Classic 2ltr SRP £44.99
Camelback is to hydration systems what Hoover is to vacuum cleaners, so it wouldn't feel right if we didn't include one in this review. Camelbak hydration systems are made for virtually every activity, but the Classic is aimed at the minimalist adventurer who just wants a drinks pack.
There's no doubting that Camelbak pays attention to detail. The shoulder straps are light and made from a kind of mesh, which helps spread the load without being too bulky, and the straps have plenty of adjustment. The sternum strap has lots of adjustment, too, so doesn't restrict movement. This allows a nice comfortable fit when the bladder is full.
As I said, the Classic is for the minimalist, so don't expect masses of storage here. There's a small pocket on the outer, but it won't hold a lot, maybe some keys and a bit of loose change.
The 2-litre Antidote bladder that comes inside the backpack has an easy-access filler; just unclip the flap and there it is. A quarter turn anti-clockwise will have it open. The bladder also features a baffle inside, which prevents the contents from sloshing around when you are out on the trails. The drinking tube can exit the pack either side and has a moveable securing clip on the front to locate it. The bite valve is right angled for easier use and has a locking catch to prevent accidental spillage.
In a line: Small and convenient, ideal for the trails
ABR Rating 8/10
The North Face Torrent 8 SRP £75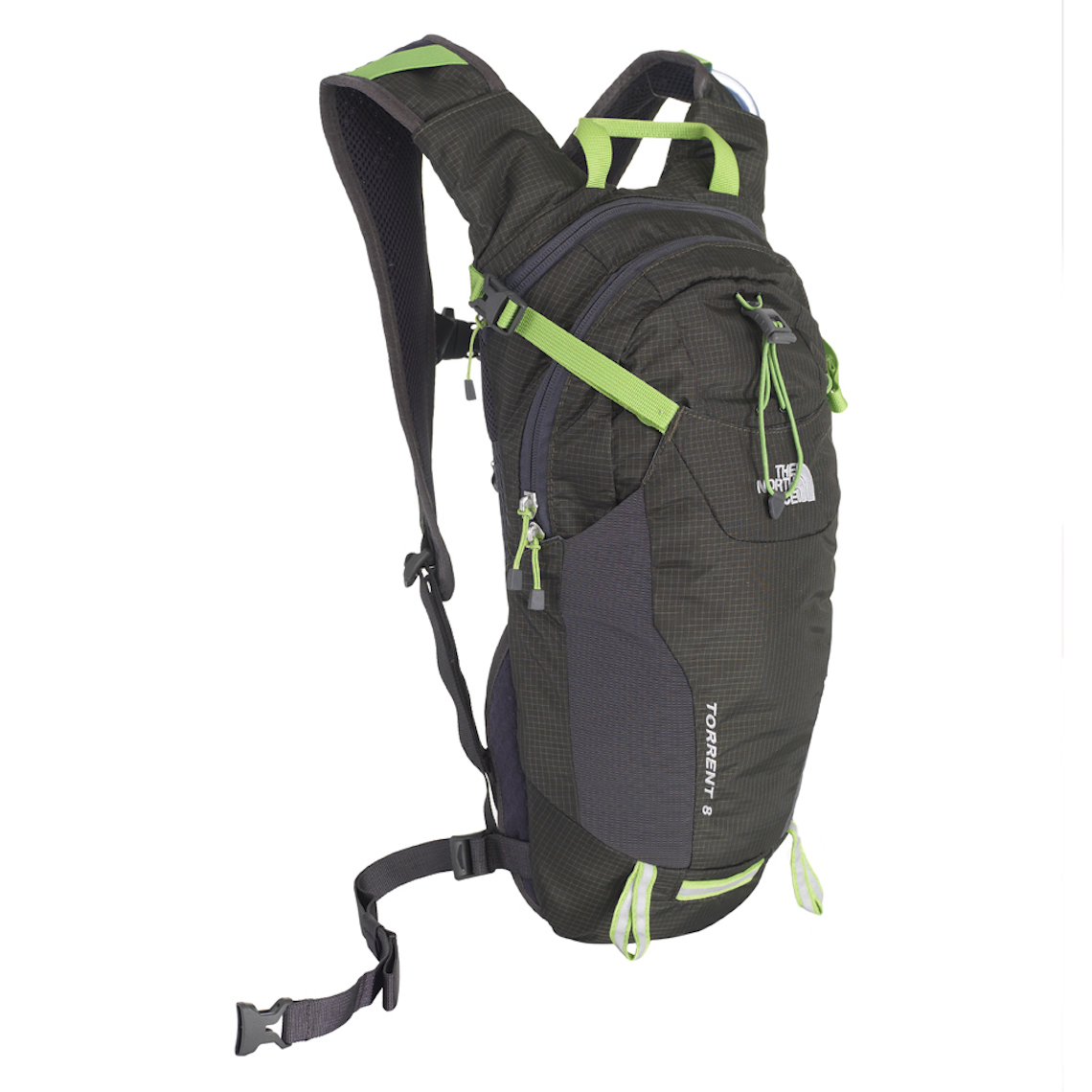 The North Face brand needs little or no introduction. This outdoor activities equipment company produces high-quality products, many of which have become popular fashion items, too.
The Torrent 8 is a hydration pack with an additional 7 litres of storage, enough for extra provisions to take you through the day. The pack features the E-VAP airflow mesh back panel, which will keep you cool, as well as letting cooling air flow to the hydration reservoir.
The wide, thinly padded shoulder straps will support the bag across the shoulders and have plenty of adjustment; this goes for the other straps, too. The sternum fastener also has a built-in magnetic clip, to locate the drinking tube for ease of use.
The Torrent 8 has a large zippered mesh-lined pocket that will hold your bits and pieces and inside that is a zipped pocket, to keep small items handy. Outside of that there's a stuff pocket with pull-down straps, which will hold a thin over jacket.
The Hydrapak bladder has a 2-litre capacity, enough to quench your thirst on a hot day or when working hard on the trails. The roll-top design is really useful when filling and emptying as it prevents any fluid hiding in the corners and it can be turned inside out for drying. The drinks tube can be fitted to either side to suit the wearer and the bite valve is angled for easier operation.
In a line: Good hydration pack with extra storage space
ABR Rating 7/10
Kriega Hydro 3 RRP £85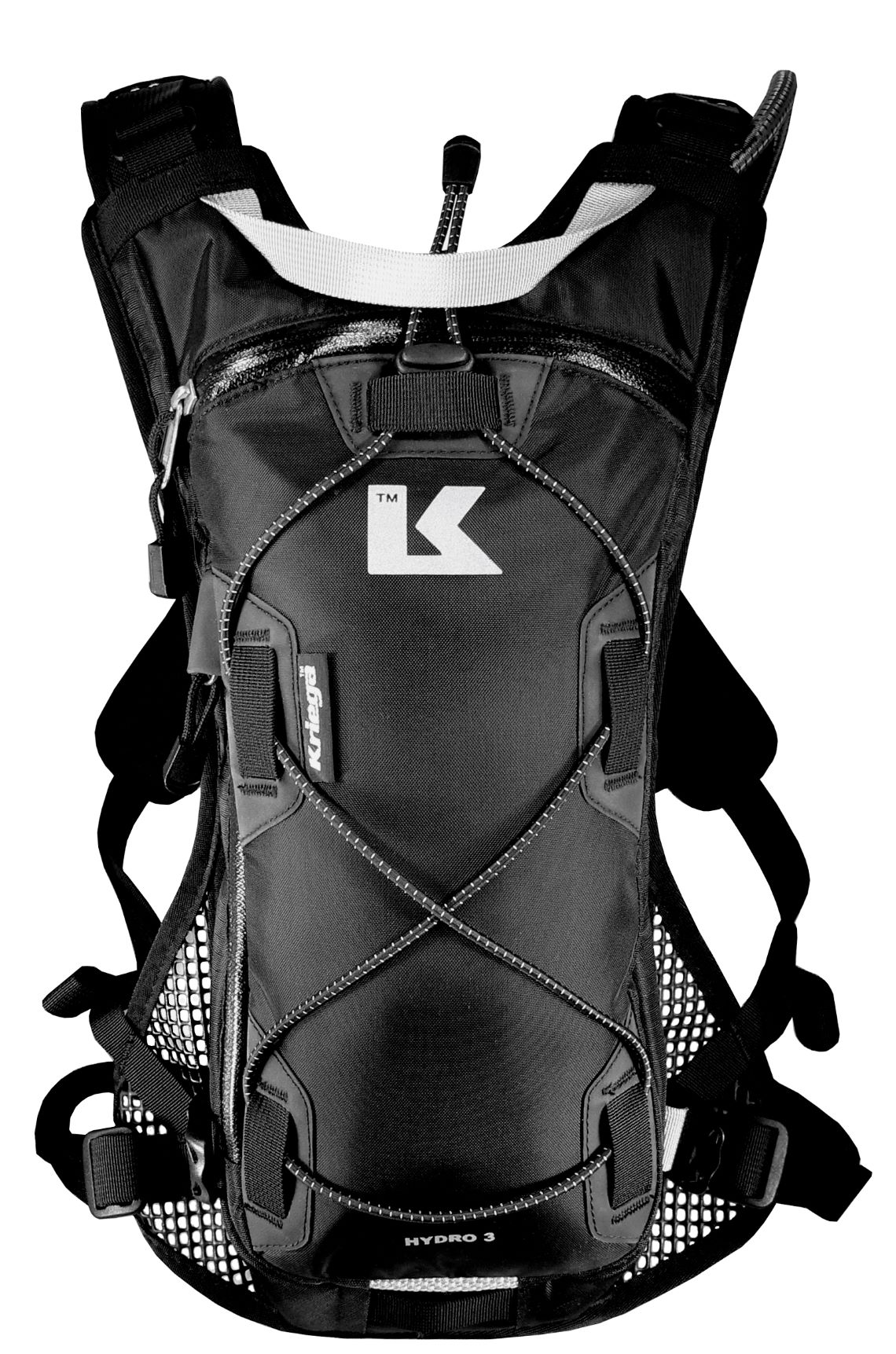 Kriega is a British company manufacturing high-quality equipment for motorcyclists. The Hydro 3 is the only hydration
pack I know of that's been made specifically for bikers and this is evident in its well-thought-out design.
The quality of this back pack is without question. The shoulder straps are wide and deep, which prevents them digging in, and the articulated buckle on the sternum strap moves with the rider. The waist strap has plenty of adjust- ment, too, and fits easily over a bulky jacket. If that's not enough there are further adjustment straps on the sides, to get the perfect fit without it moving around. As you would expect the pack has a padded mesh back pad for more comfort.
There's a 1-litre pocket with a water resistant zip, which is useful for stowing small items. That's it for storage then? Well, no, because you can add some of Kriega's other small bags, like the US5 or US10, to the back to increase the capacity.
The Hydrapak bladder system has a 3-litre capacity and with the roll-top type filling design, it's easy to fill or empty and can be turned inside out to dry. The drinking tube is insulated, so on that hot day you won't get that initial mouthful of tepid water that normally gets spat out, and the bite valve is easy to use.
In a line: Versatile and a very worthy investment
ABR Rating 9/10
Osprey Raptor 10 SRP £85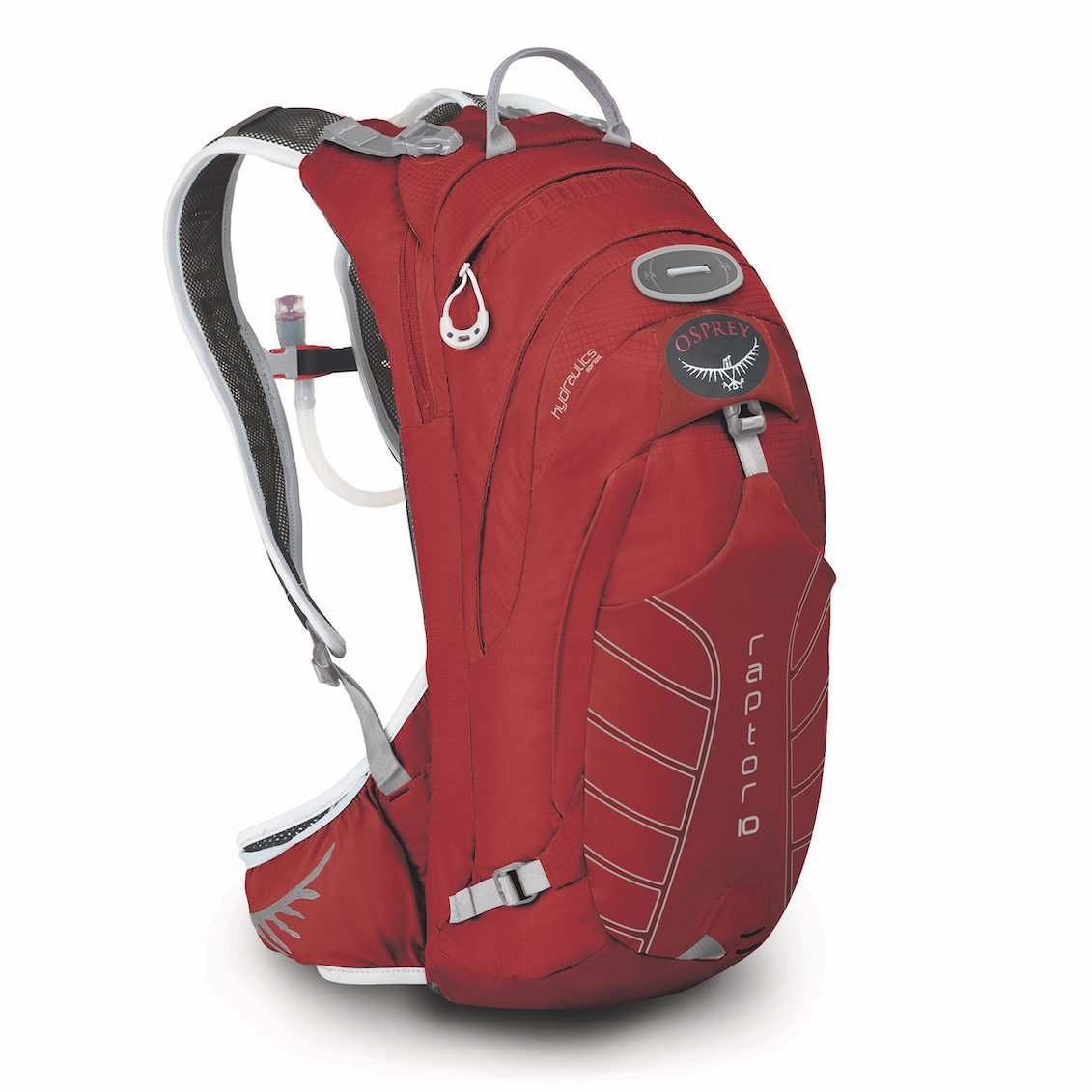 Osprey is an American company that's been designing and manufacturing packs for nearly 40 years. It makes packs for all kinds of outdoor activities and the Raptor series is aimed at the mountain biker and fast, light hiker, so with this in mind the crossover to ABR-ing needs no explanation.
The Raptor 10 has a 3-litre bladder contained within a backpack, which also has plenty of room for storing other essentials like food and tools.
The pack features a hard but flexible foam back plate behind a mesh fabric, which will support the hydration bladder. The Biostretch harness supports the weight across the shoulders without being bulky and all the straps have plenty of adjustment. The sternum strap has a built-in magnet, to locate the bite valve for easy access.
Although it has lots of storage capacity, the weight of the pack without the water reservoir is just 700g. The Raptor has plenty of pockets to stow your belongings, with the bigger one being compartmented to stop stuff rattling around.
The 3-litre Hydraform reservoir has a moulded plastic sheet, to conform to the shape of the rider's back, and a rigid handle and spine to help stabilise the water's load. This is sandwiched in a compression compartment, which is dedicated to the bladder, so the storage space in the rest of the bag isn't affected.
The drinks tube exits over the right shoulder and features a non-return bite valve.
In a line: A good pack with additional storage for a long day out
ABR Rating 8/10
Camelbak Baja LR SRP £99.99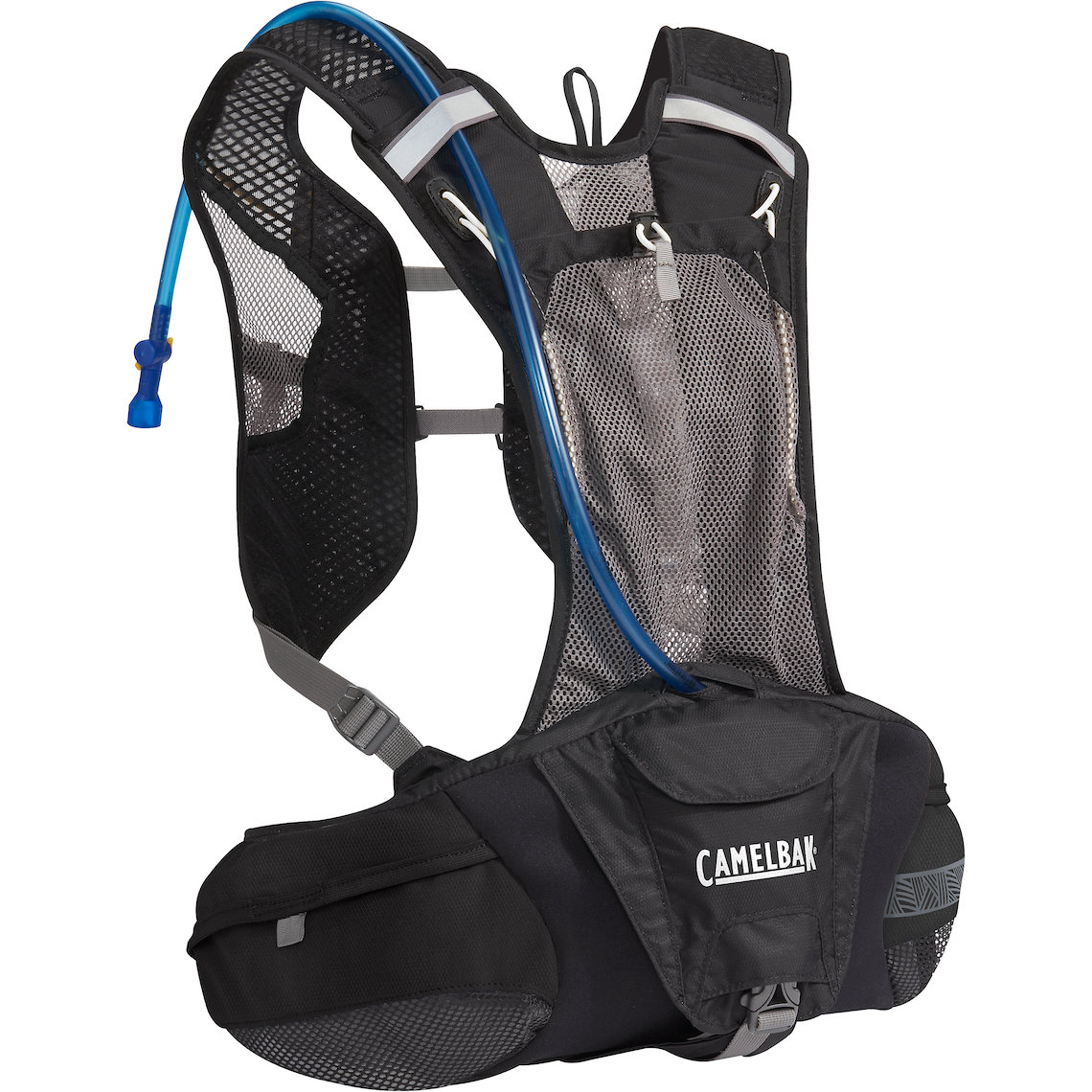 Another offering from Camelbak is the Baja LR. With a name like this you'd be forgiven for thinking it was designed with the classic desert race in mind, but in fact the Baja was developed for water sports – go figure!
Apart from some obvious water- based accessories, like a whistle and a paddle-holder, this pack could be used on the trails. It's a mesh vest that has plenty of adjustment because it was designed to fit over a buoyancy aid, so it'll fit over a jacket or body armour suit, no problem. The clever bit is that the bladder is sited in the lumbar region (lower back) and spreads the load across the small of the back; the vest-type harness supports the weight of the water with ease.
It's not massive on storage but does feature four mesh pockets, two on the waist belt, one on the chest, and a bigger one on the back, which could hold an additional water bottle. There's also a zipped pocket on the chest which will secure small items.
The bladder has a capacity of 2 litres and is accessed via a small clipped flap to the easy-fill cap. The bladder runs across the back and is protected by ample neoprene padding. The drinks tube is longer than most because it has to reach further. It can be used on either side and features a locking bite valve.
In a line: Different, but why not?!
ABR Rating 7/10