Ken Fraser and his pal Iain tackle one of Lesotho's most challenging climbs on a pair of HP2s
For some years now my business partner (and pal) Iain and I have been granted a two-week leave of absence each year by our wives. We regard this as 'time off for good behaviour'.
We usually tell them we are off to trawl the girly bars down Patpong Road, but actually, we head off on the bikes on what now seems to be branded as adventure biking trips.
Iain and I have been riding bikes now for pushing on ninety years between us, but it's only in recent years we have gone off-road, well, deliberately gone off-road that is; the occasional ditch visit surely doesn't count!
We've done a trip in the Pyrenees, but most years we seem to end up in Africa for our adventures. We toured Morocco one year, but the remaining trips have been spent in Southern Africa.
It's a great place to ride a bike as you get nice roads, low traffic density, warm weather and can stay in five-star hotels that don't get shirty with you when you roll up on two wheels all covered in sh*t.
To date, we've been riding our BMW GSs on the trips. I have a Triple Black 1200 and Iain has the GS Adventure model.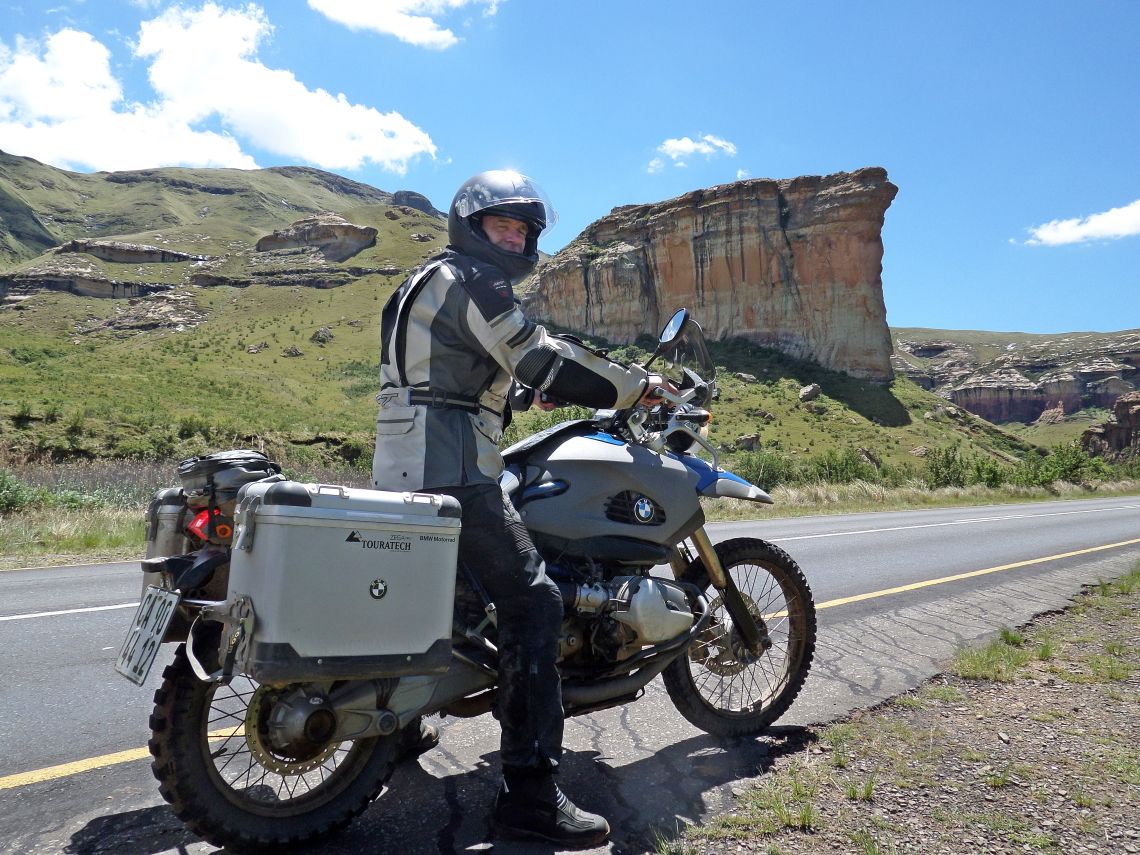 When planning this year's trip we were attracted by a recent documentary in which Charley Boorman (him of Long Way Round/Down with Ewan McGregor) was doing scenic bike routes around Africa.
I take my hat off to anyone who has done a big journey such as what they did on two wheels. It has worn a bit thin though when people hear of our trips we typically get, 'Oh you mean like Ewan and Charley did?'.
Well yes, I suppose so, but they did not invent this genre. What attracted us to the recent Charley bike trip programme was when touring around South Africa he had attempted and failed to get up the Sani Pass into Lesotho.
Mmmmm… Now there's a challenge. Charley is a much better and more experienced rider than Iain or I will ever be, but Iain and I are good at getting stuff done. We researched the pass and figured we could do it if we prepared properly.
If we managed to get up the pass then in future when people likened us to Charley we could then say – "No! We actually go where Charley couldn't!"
For this trip, we used our BMW HP2 Enduros. These are fairly rare bikes (BMW only ever made 3000, between 2005 and 2007, and I strongly suspect at least half of them are either written off or at the bottom of some ravine by now).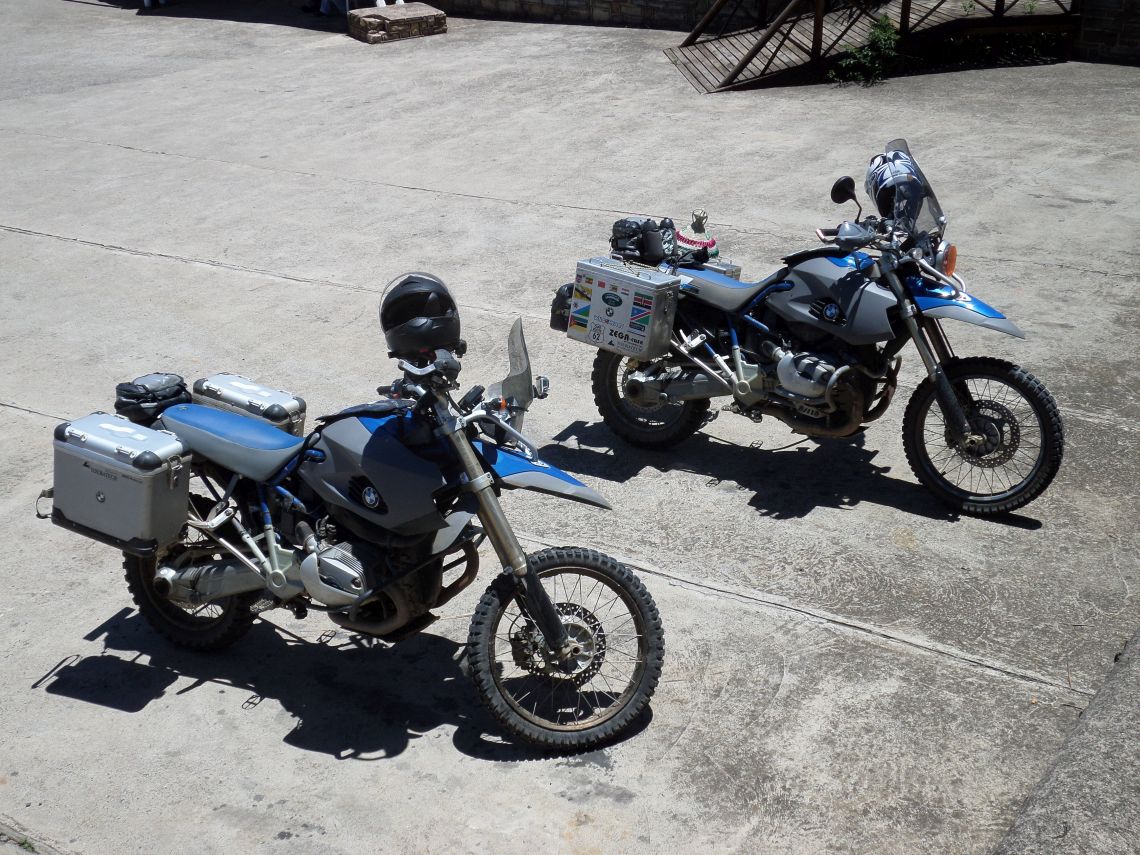 They look a bit like 1200 GSs but weigh in around 40 kilos lighter. BMW was fed up with KTM leaving them for dead in the Paris Dakar Rally, so asked the BMW engineers to create something a bit more competitive.
They are still not as light as a KTM, but the shaft drive means that you don't get sand in your chain HP2s  also have 21-inch front wheels, which is a big help when climbing walls. They have the 1200cc Boxer engine, which, in second gear, is as close as you can get to an automatic transmission on a manual box.
You could get up the Matterhorn in second gear and only need bottom gear on the steeper bits of K2. Yes, we could have used a KTM, but they are so tall my feet don't get close to touching the ground.
When I have asked the KTM dealers if I could get one lowered I get the same response that Charley and Ewan got when they asked KTM for bikes for their initial Long Way Round trip.
Great bikes indeed, but I do wonder about an apparently self-defeating KTM corporate culture. If you read the BMW blogs, people have different views as to the suitability of HP2s for touring like this.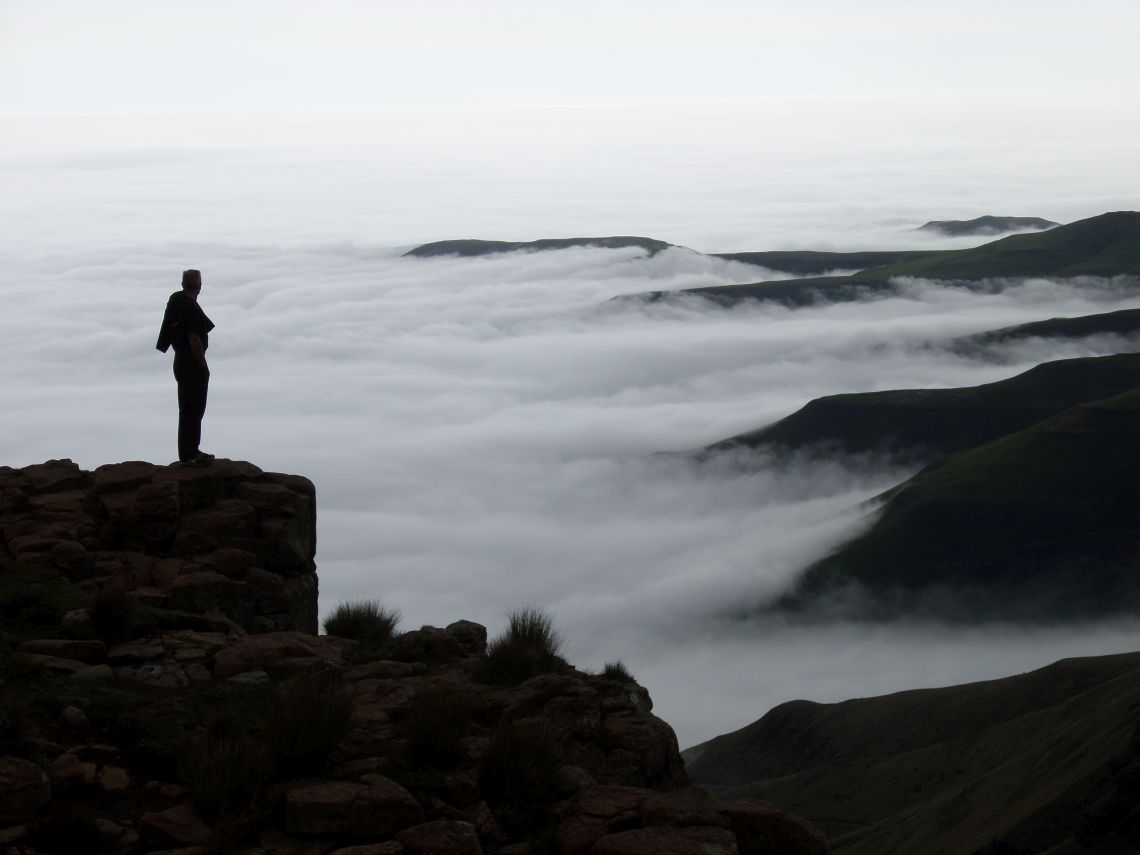 From our perspective, they are very good when you know there's going to be quite a lot of tarmac to ride before you reach the sexy bits.
Our bikes are standard apart from adding cylinder crash bars, pannier boxes and windscreens. The standard HP2 Enduro fuel tank is only 14-litres, but my bike has another 7-litre tank under the seat and another five strapped to the back of the boxes.
If we are going to Namibia (where the last time we went I think we only found three active filling stations in the whole country) we have other fuel tanks that fit in the boxes and/or on the tail rack.
With a windscreen, you can cruise all day at 120-130 kilometres per hour, although when you do this on a bike with knobbly tyres, the vibration you get through the seat means you have to stop and change your underpants every thirty minutes.
I also lowered my HP2 a bit by adding a shorter rear shock, sliding the front forks up through the steering head about an inch then fitting the lower BMW HP2 seat; still not as low as I would like but low enough to stay upright at most traffic lights now.
The Sani Pass
The Sani Pass is the south-eastern approach to Lesotho. Lesotho is a landlocked kingdom surrounded by South Africa. It covers about 30,000km2 and is mostly at high altitude. There are around two million inhabitants with more details about the country available on the official website www.ltdc.org.ls.
The Sani Pass represents a climb of 1,500 metres in fifteen kilometres of track. I have a holiday home in Cape Town, where we keep our 'African' bikes, so this would be the jumping-off point.
Our biking these days tends to be in big splurges, followed by total inactivity. In order to get up Sani Pass we clearly needed to get there (around 1,400km away) but to arrive there with our offroad skills tuned up, ready for the pass.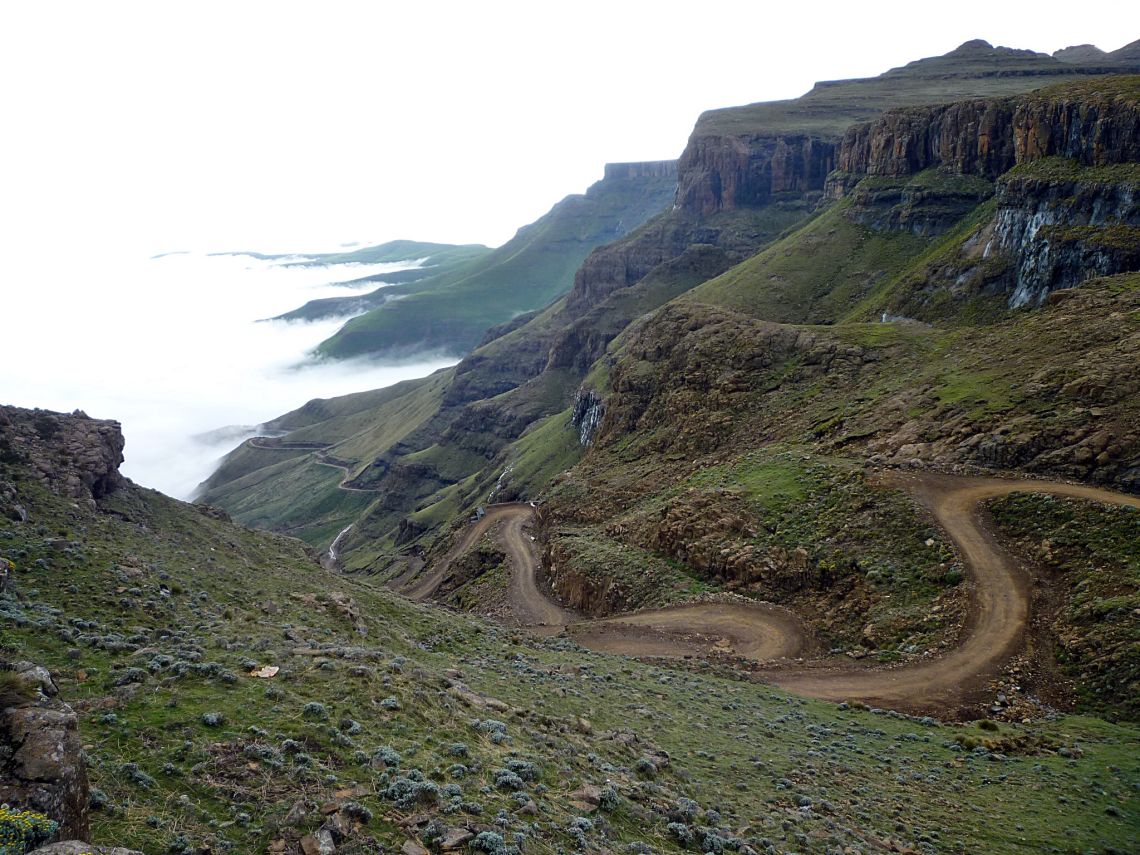 We consequently planned a route that would give us increasing exposure to off-road riding. Getting off-road is not a problem in South Africa. Once out of the cities there will be a dirt road somewhere. On day one we headed east to Prince Albert, before taking to the dirt roads and crossing the Swartberg Pass from north to south. This is just north of Oudtshoorn.
As South African passes go this is not the most technical, but was a good refresher for us to get used to dirt roads. We had done this pass before on the GSs on road tyres, so the HP2s just cruised over the pass. Our confidence was high when we pulled into De Rust for the overnight stop.
Day two took us across the Bavianskloof Wilderness. This should have been a little more technical than Swartberg Pass, but our maps were rubbish and my off-road GPS thought we were in Patagonia, so we ended up horribly lost.
There had been some serious rains there so any track with a gradient had lost its surface filler. These HP2s will climb walls but occasionally, and even with our fantastic off-road skills (ahem), we do fall off.
That day we fell off so often that by the end of the day it was taking both of us to pick up one bike. It was never meant to be that tough, but it was a good tune-up. We survived the day with just a few bruises (Iain) and thorn piercings (me) from when I landed in a thorn bush.
One thing about doing really tough off-road sections is that once you get on a flat smoothish dirt road it feels like an autobahn in comparison We overnighted in Port Elizabeth, which, if you squint, looks a bit like Miami Beach.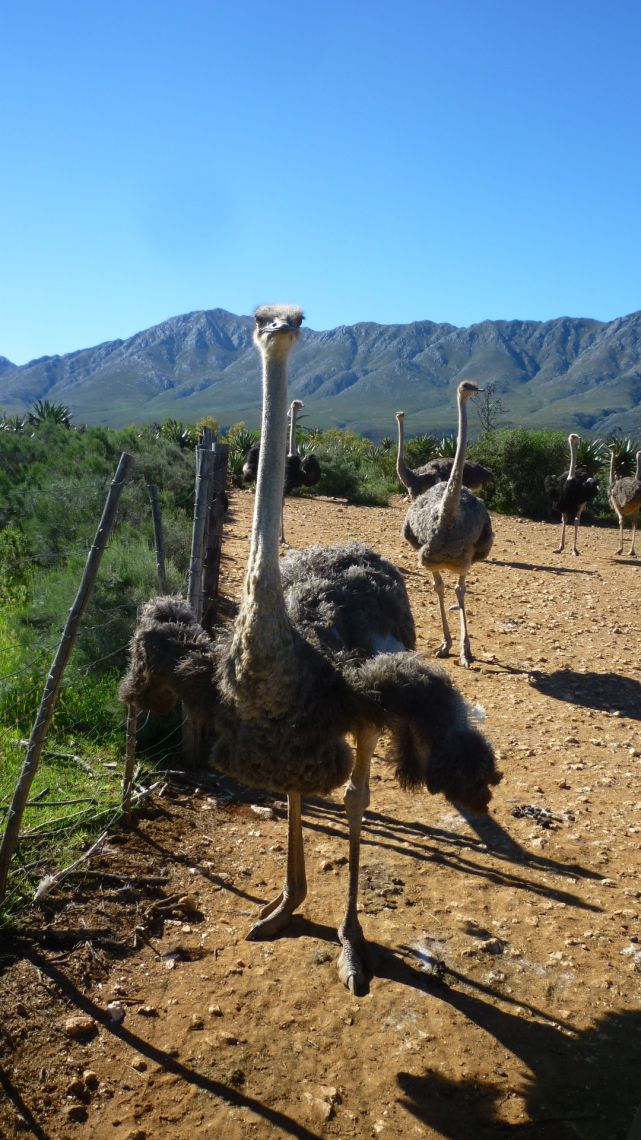 The next day we pressed on to Morgan Bay. Morgan Bay is on what is called the Wild Coast, so you can imagine the scenery.
We needed more dirt road exposure, so took a torturous route crossing the Kei River mouth on a raft, before rattling up as many as 100 kilometres of trails, before hitting tarmac and ending up in Kokstad. The obvious place to jump off for the Sani Pass is Underberg, with this around 100 kilometres to ride the next morning, all on tarmac. We stopped in Underberg for petrol and coffee.
The Sani Pass itself starts maybe 30 kilometres further on from that. You run out of tarmac, then get onto a pretty gentle trail and before too long you hit the South African border post. The Customs' guys clearly don't get a lot of people through, so we're happy to chat and wish us luck.
One of the nice things about South Africans is that they never seem to question why you are doing adventurous (read dumb) things. Everybody seems to be really active and it is assumed that you will run, ride bikes, camp with the wild animals, surf in shark-infested waters etc.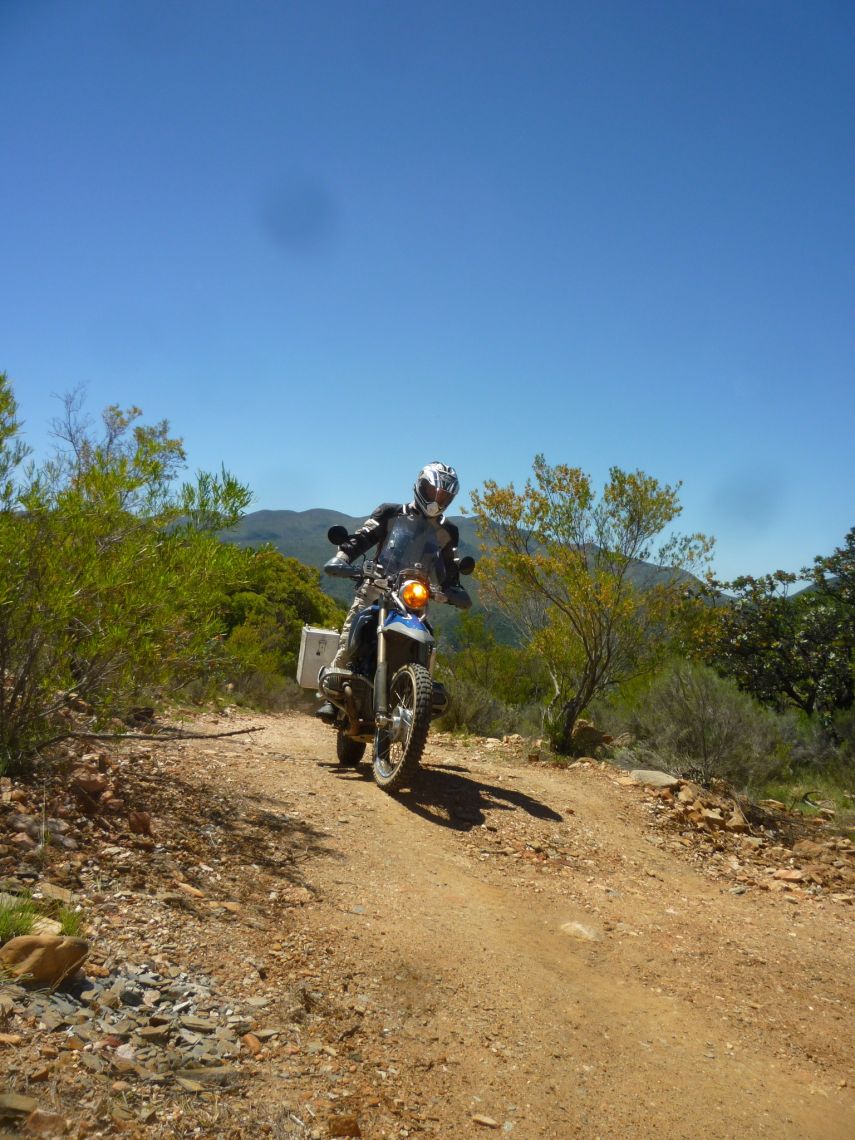 'Elf and safety' clearly hasn't reached South Africa yet and you can still get to hug an elephant. Anyway, to the customs' guys, having two ageing (should that be aged?) bikers heading up a pass with bends named Suicide Bend and Haemorrhoid Hill, seemed like a fairly normal event.
I went off first with Iain left in my dust sorting out his onboard mini camera. It all looked fine, but after only maybe 500 metres I popped over the brow of a hill to find a five-metre water splash facing me.
We have done the BMW Off-road Skills courses and we know the theory, but to just point and go when you can't see how deep the water is and whether there's any boulders in the way still takes a leap of faith.  As usual, you look at a point 50 metres away, hold your nerve and the bike will take you there.
The pass trail isn't actually too bad. It is steep in parts, and there are loads of switchbacks, but once you are rolling (remember second gear) you really just look where you want to be and the bike takes the strain.
One concern however is that typically on dirt roads, you have them to yourself. The Sani Pass is however the only way in and out of Lesotho for miles, so you also have 4WD traffic running both ways.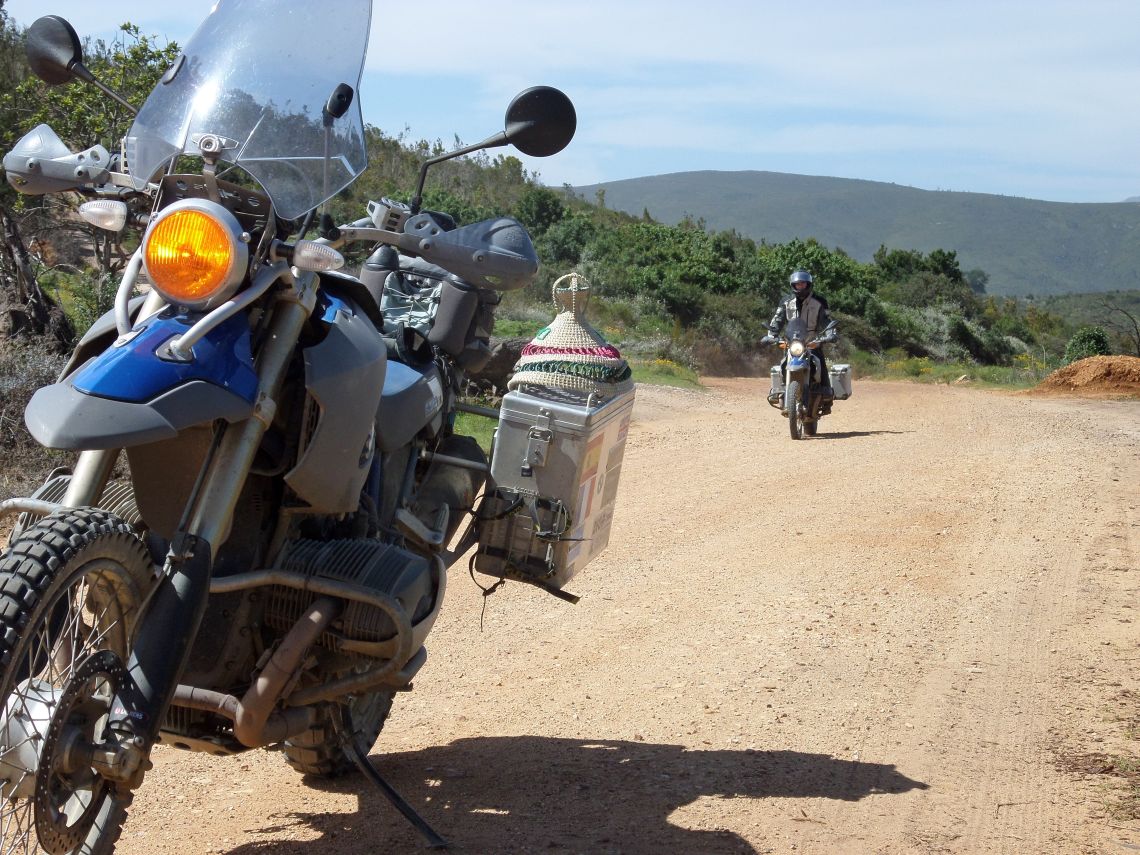 My strategy since my first BSA 125cc Bantam in 1963, has been to be going just a little faster than the traffic (quite hard to do on a 3HP motorcycle), so you are catching up with them and they are not coming up your tail.
By moving a little faster than the climbing traffic in the pass you could select your passing point to be on the short straights rather than the switchbacks, which tended to be blind corners. Descending traffic was more of a concern. These are typically 4WD Land Rovers or Cruisers and are virtually idling down the pass so not making a lot of noise.
You will only detect their presence visually so you need to be ready to dive off to the left. In the event, they weren't much of an issue, but once I reached around 2,500 metres in altitude, my engine started coughing then went to one cylinder.
This still gave me enough torque to climb the hill, but I was having to slip the clutch a lot more than usual. Despite now only having a single-cylinder 600cc asymmetric engine, I chugged to the top without too much difficulty and waited for Iain. He was a bit behind having no doubt stopped for a few 'selfies' en route.
We cleared Lesotho customs, paid a couple of pounds to somebody for something and then checked into the Sani Pass Top Hotel. Our reception band was waiting for us; three young lads waiting for our arrival. Africans are inventive and these guys typified this. One had made a guitar out of a petrol can and another a drum out of a bucket, some wire and some bottle tops.
I am now their manager and they are available for weddings, funerals and hen parties.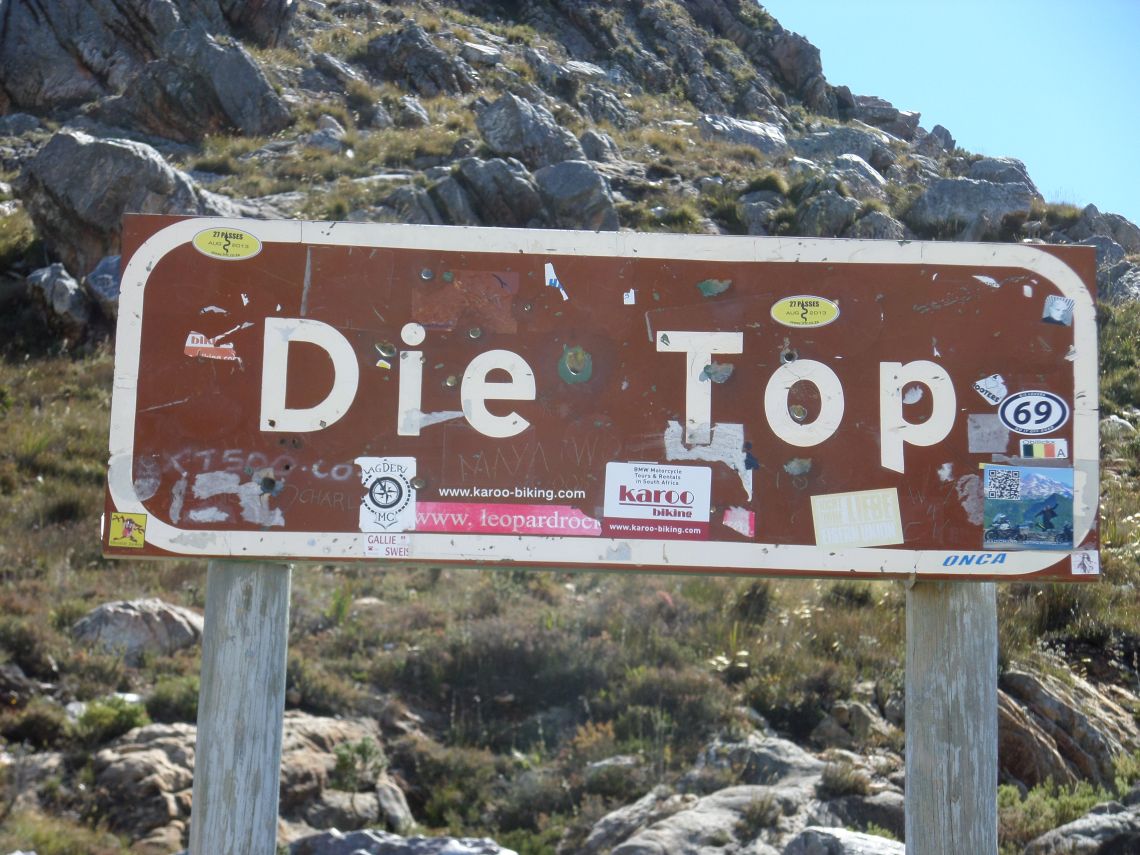 The Sani Pass Top is the highest pub in Africa (they say), and since we had no idea how long we would take to get up the hill we booked in for that night. The views from the top are breathtaking. The Sani pass lies beneath the window. Cloud sweeps in and out as you watch it. The following day we went north through Lesotho and on into South Africa.
We knew the first 40 kilometres or so would be rough, but on the map, the next 100 kilometres or so was meant to be tarmac or pretty near. The manager of the Sani Pass Top Hotel had commented that the Chinese were working on the latter 100 kilometres and we foolishly thought that this meant it was being upgraded.
For sure the Chinese are working on the road, but what they had done mainly was to have ripped off the surface leaving the clay exposed below. Needless to say, it was raining all the time we were in Lesotho so the clay had developed into mud. That 100 kilometres was probably the most nerve-racking ride ever I've done. I came off a couple of times on switchbacks, whilst Iain had a perfect ride (the b*stard).
Most of Lesotho looks like the Lake District or the Grampians. There isn't a lot of foliage and as we did in Morocco, we wondered how anyone eaks out an existence there. We had underestimated how cold and wet it would be and ended up wearing just about every bit of clothing we had under our jackets. It's a pretty desolate landscape. By the time we crossed the border back into South Africa at Caledonspoort, the scenery and climate had changed for the better.
Just beyond Clarens we entered the Golden Gate Park and were left wondering why we had been getting cold, wet and muddy the previous day. But we'd done it, we'd ridden the Sani Pass and lived to tell the tale. How come a couple of shagged out old bikers could go where Charley couldn't?
As I said before, Charley is a better rider than we will ever be, but possibly we can manage risk better. Charley went up in the winter. We went up in summer. Charley stood little chance of getting up Sani when he did unless he had put studded tyres on the bikes (and on his boots too). If he had he done so he would have flown up.
Most bike tyres are useless on ice and in the winter months, you had better assume you will have ice on that road. When we went up there were several streams of water flowing across the track. In winter you can reasonably assume these will be solid Ice (as apparently, they were for Charley).
So what did we learn about Lesotho and the Sani Pass?
1 It gets very cold.
2 It is wet.
3 Water sluices across the tracks.
4 It is at altitude.
5 it can be done by a couple of middle-aged dudes on a pair of HP2s.