After getting divorced and recovering from cancer in the same year, Steve Knights was spurred on to enjoy more motorcycle adventures. For his first solo journey, he headed into the mountains
A few years ago, I went through a divorce and suffered from cancer in the same year. This can't help but change your outlook on life. For me, it fuelled my desire to do more motorcycle trips.
So, after recovering and enjoying some memorable journeys in the UK with my dad, I decided to take the plunge and embark on my first solo ride abroad. My aim was to explore the Picos de Europa mountains in Spain, as well as the French and Spanish Pyrenees. So, I plotted a route that included both of these mountain ranges.
Having not taken a bike abroad by myself before, I was naturally apprehensive, especially with the paperwork involved, border crossings, and a 24-hour ferry sailing from Portsmouth to Bilbao. I even practised puncture repairs on my old tyres two weeks before the trip, just in case.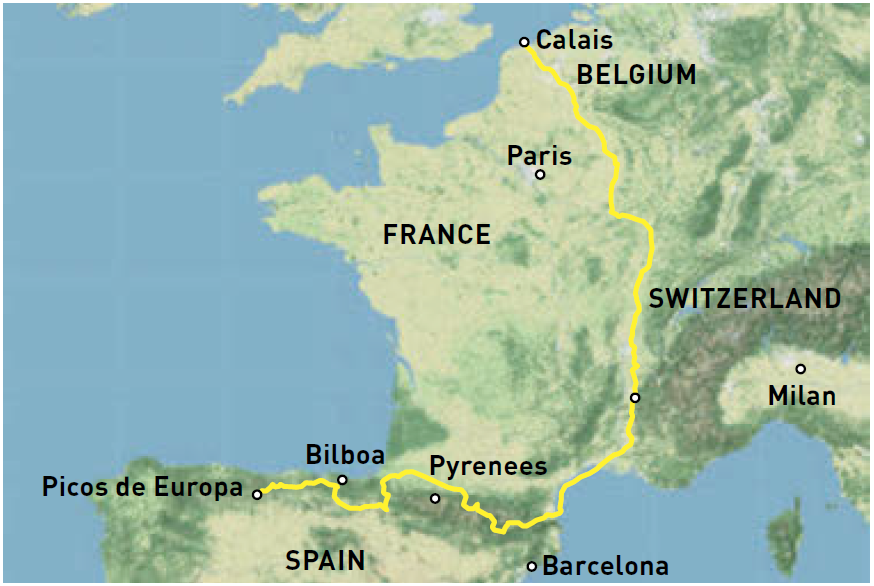 Then, one Saturday morning, I set off on my BMW GS Adventure and arrived at Portsmouth docks at 9.30 am. Immediately, the guy in the queue in front of me started asking me about my destination. He was travelling to southern Spain to see family and gave me tips on my route and where there were some great roads to explore.
Once on board the Brittany Ferries Cap Finistère, I was directed down into the bowels of the boat to the bike parking. As soon as I stopped, a guy with a seat pad and straps appeared and secured my bike. Grabbing my inner bags out of my panniers, I went upstairs to stow my gear in my cabin and went to sit out on deck.
The bar was open so I enjoyed a large bottle of beer and a great view of Portsmouth while watching the last-minute arrivals being ushered onboard. As the ferry started to move, I thought to myself 'this is it, there's no going back now.'
The bikers onboard were all friendly and I was constantly engaged in conversation which made the rest of the day pass quickly. I've never been keen on sleeping on a ferry, but with a couple of whiskies in the bar before bedtime, I nodded off.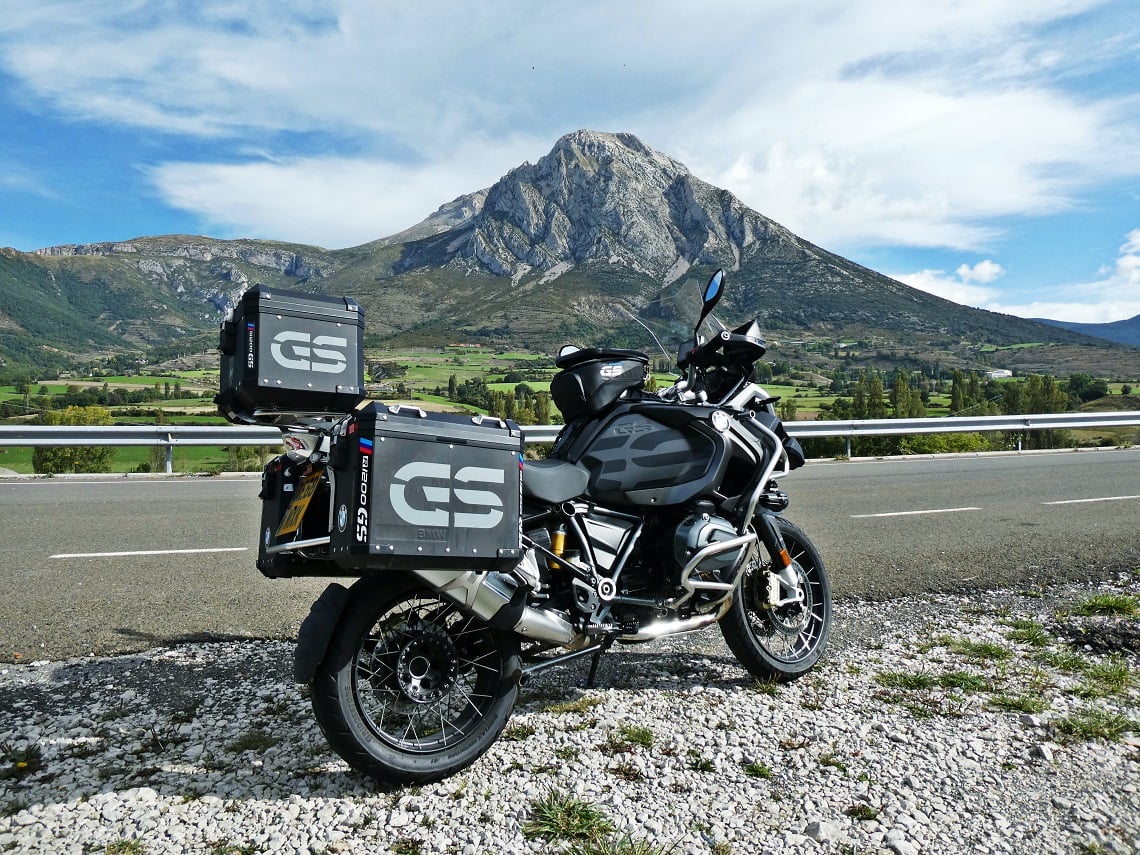 The following morning, I was greeted by calm seas and bright sunshine as I headed outside to enjoy the good weather. I got talking to a few fellow bikers about their trips and we didn't stop chatting until the ferry docked in Spain. The 24-hour crossing had flown by.
Then, I rolled off the ferry, out of the port, and onto the motorway with a huge smile on my face. Not only had everything gone smoothly, but the roads were empty, I had glorious views of the coastline, and my adventure was underway.
Don't shoot
I rode to the Spanish port town of Llanes which was my first overnight stop. I took a stroll around and wondered why the locals kept talking to me somewhat frantically. Then I realised that, rather than simply being friendly, they were warning me I was about to wander into a wooded area where a local hunt was going on. It wasn't even the end of my first day and I nearly got shot.
The following morning, I woke up early and travelled south on the N621 towards the Picos de Europa. My plan was to ride what is known as the Potes Triangle, which would take me along a series of spectacular roads that form a large triangle around the national park. The riding was great from the start as I followed curving roads that sliced their way through towering rock faces.
After climbing through a set of switchbacks in the mountains, I stopped at a statue of a bronze deer overlooking a vast valley. I met three other bikers who had also stopped. Their company was welcome having not spoken to anyone for the first part of the day. They were doing a similar trip to mine but in reverse, so we wished each other good travels.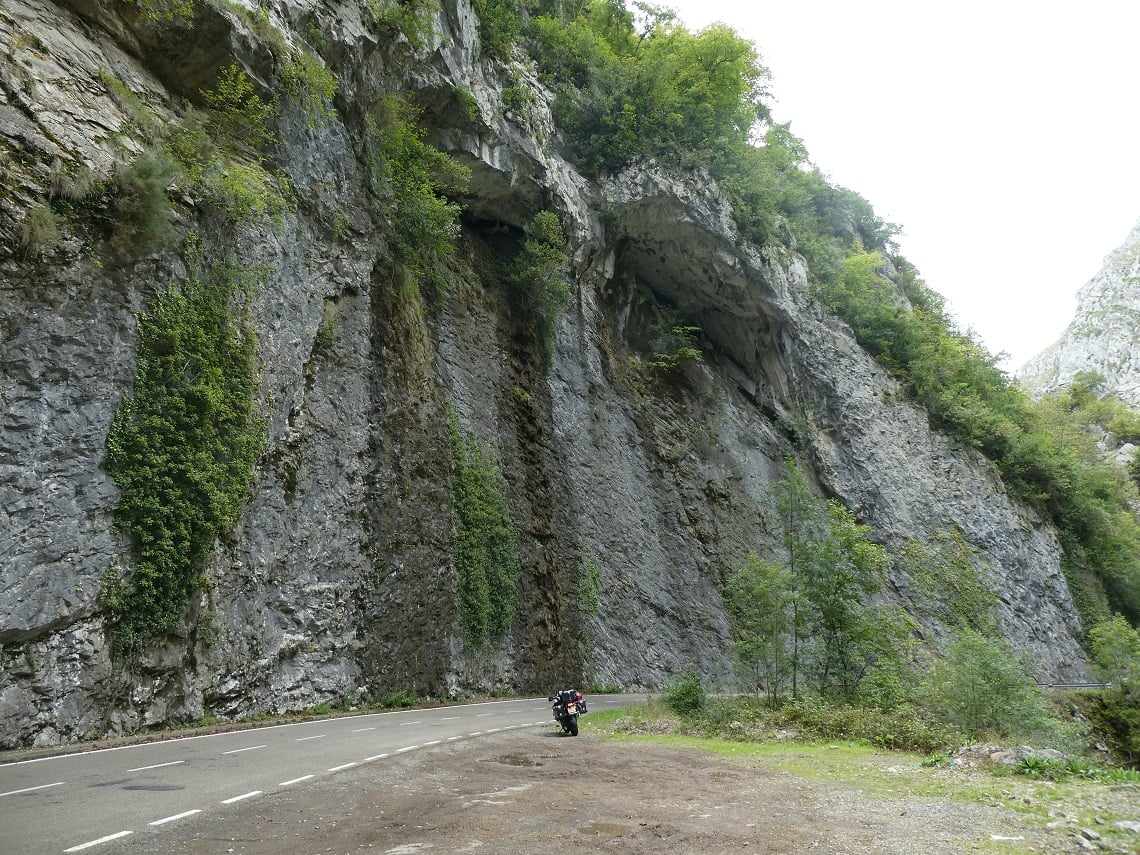 The further I rode, the more spectacular the mountainous scenery became, and I found myself stopping frequently to take photos. After Riano, which represents the southern tip of the Potes Triangle, I turned north-west on the N625 towards Cangas de Onis and the riding got even better.
Again, the road cut through steep rock faces and there were plenty of technical twists and turns which could catch you out if you're not concentrating.
The temperature also got cooler the higher up I went. When I stopped to change to warmer gloves, two riders I'd passed earlier pulled over to ask if everything was OK. As a biker, I was never really alone, even if I was riding solo.
Into the Pyrenees
The following day, I left the Picos behind and travelled to Pamplona, a city famous for its Running of the Bulls festival. This sees the animals let loose in the streets as they chase down groups of people running away from them. The festival wasn't on when I visited, so I experienced a more peaceful Pamplona during an overnight stay at the excellent Hotel El Toro.
After a restful night, I was excited to pack up the bike and head for the Pyrenees, jumping on the motorway to cover some quick miles. This was the only day I managed to get lost, largely due to my SatNav not being fully up to date with the new motorways I was riding. This meant I ended up travelling the same stretch of road three times to get the correct turn off. But finally, I made my way to the Pyrenees mountains and I was blown away by the ever-changing roads and weather.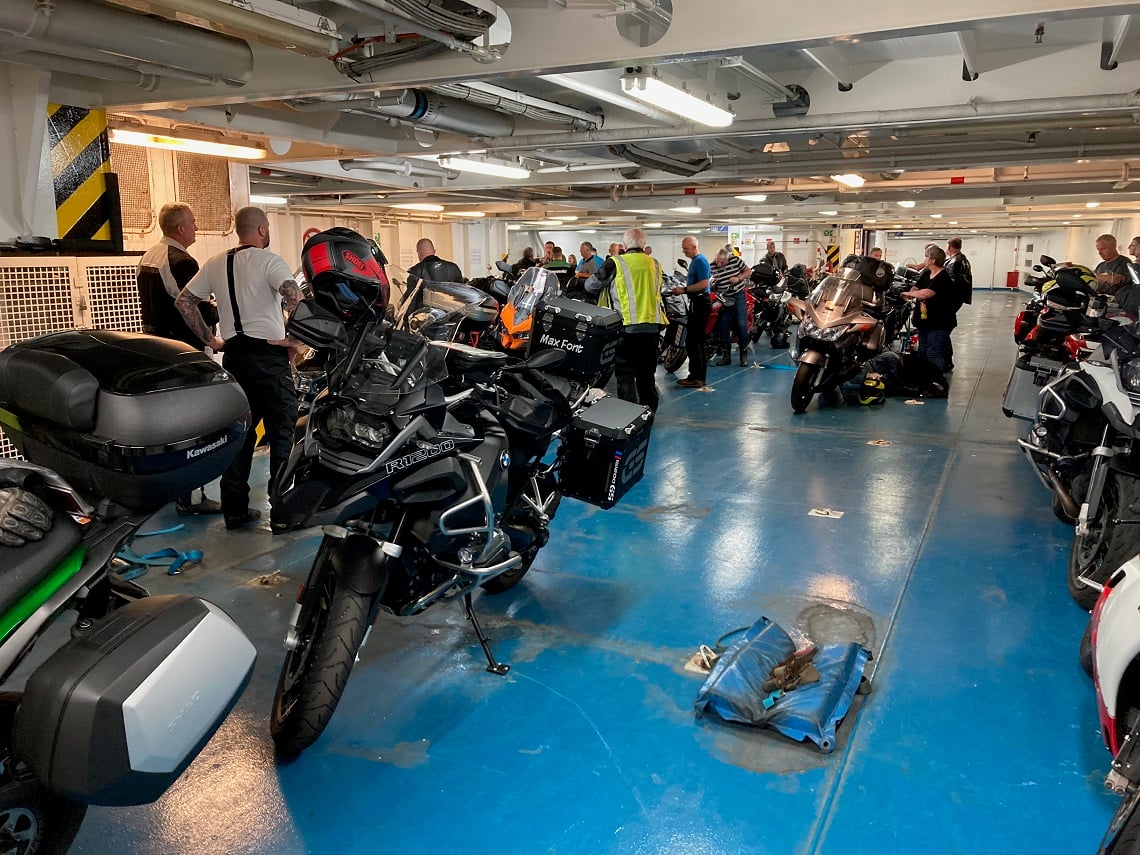 One minute I was riding through thick mist but then I'd break into bright sunshine. I was headed towards the town of Aramits in France along the NA178 and D26. On the Spanish side, I rode smooth sweeping roads surrounded by a barren landscape, but the world became greener as I climbed.
At the top of the pass, I was very much alone. It was only 8C, but I was riding in glorious sunshine and the scenery was absolutely stunning. I could see for miles. As I descended the other side of the mountain, the road became steeper with plenty of switchbacks and a wet surface thanks to the mist lower down. While the dry climb to the top had been a joy to ride, the descent was much slower and more care was needed.
Border crossings
In the Spanish town of Biescas, I stopped by a fountain outside a café where I enjoyed a warm bacon and tomato toastie for breakfast. I then continued along the A136 into France and onto the D918, to the famous Col D'Aubisque mountain road. The climb was wet and misty again with a slippery surface, worsened by roadworks which muddied the road. But, after 20 minutes of careful riding, I was back in the sunshine and the rest of the road up was glorious and thankfully dry.
It was a steep climb and I got the feeling there would be something spectacular at the top, and boy there was. The views were breathtaking with mountains soaring above a line of mist for miles in one direction, and a vast green valley in the other. There was a cafe at the top where there was a gathering of bikers and camper vans, as well as a few cows roaming around.
In the afternoon, I headed for the Col du Tourmalet, which is one of the highest paved mountain passes in the Pyrenees.
I set off and soon got passed by a guy on a Kawasaki ZZR1400 sports bike. The climb wasn't as steep as some of the mountain roads I'd already ridden, but it was just as much fun. The sweeping curves allowed me to build my speed and I was enjoying keeping up with the rider in front.
We parked next to each other and had a chat about the glorious road, enjoying a smoke before I made my way back down the mountain, which was just as enjoyable as the ride up.
That night, I stayed in a ski hotel in Bielsa which offered great views of the mountains in all directions. It had been one of my longer days in the saddle and I had ankle ache from all the gear changes, something that had never happened before. But I didn't mind as it had been one of my all-time best days on a bike.
Towers of rock
I was looking forward to riding the N260 because on the map it looked like it snaked its way across the Pyrenees with plenty of fun bends to ride. I would cover a 134-mile stretch, so it looked like it would be a more relaxing day with lots of time for photos.
Leaving Bielsa behind, I soon joined the N260 which more than lived up to expectations as it included every type of road imaginable. I rode through large open valleys with mountains views either side, up steep climbs with fast sweeping bends and spectacular views, and along roads that cut through the towering walls of rock with some steep switchbacks to play on. It was all so much better than I had hoped.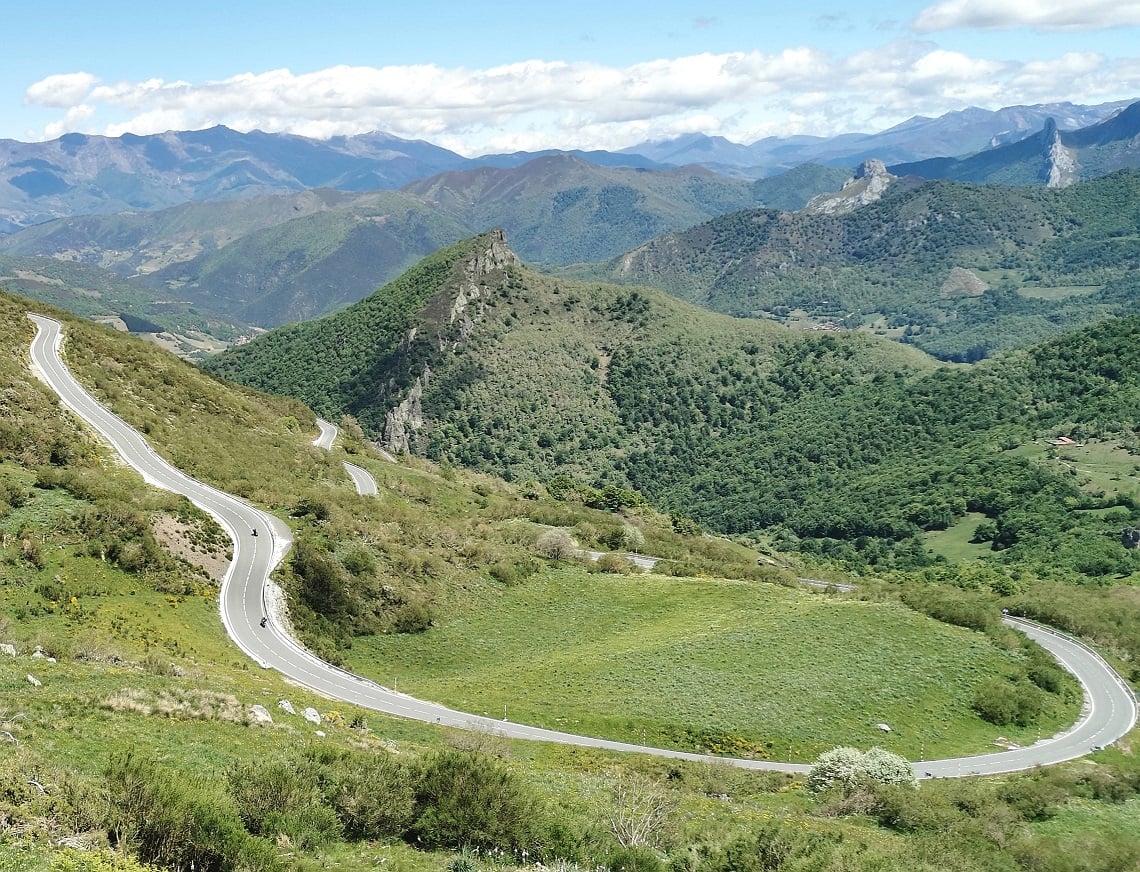 I stopped at a cafe at midday, had a beer, and just sat there for nearly an hour admiring the scenery and the road disappearing off up yet another climb into the distance. I finally roused myself and spent the rest of the day on almost traffic-free roads. Every biker I passed nodded to a fellow rider and no one seemed to be going at any real pace. They must have just been absorbing the scenery like me.
That night I felt content as I spent the evening in the town of La Seu D'Urgell, located a few miles from the border with Andorra. It had been a sensational day of motorcycle touring.
Sublime riding
The following morning, I rode the 15 minutes or so to Andorra. My first stop of the day was a bronze statue of a boy hanging off the edge of a cliff at the town of Canillo. It was only about a 10-minute detour off the main road but certainly worthwhile because to reach it, I needed to ride a steep climb full of switchbacks.
At the top, a short walk takes you to a suspended wooden platform that juts out of the mountainside, with the statue of the boy sat the end.
But it's the panoramic views of Andorra below that are the real attraction. With photos taken, I headed towards the mountain road that would lead me back to France.
If you like fast sweeping roads with spectacular views, then Andorra is the place for you. Parts of it made me feel like I was on a racetrack and it was sublime riding. I crossed the border and joined the road to Perpignan, which proved just as fun as the morning had been.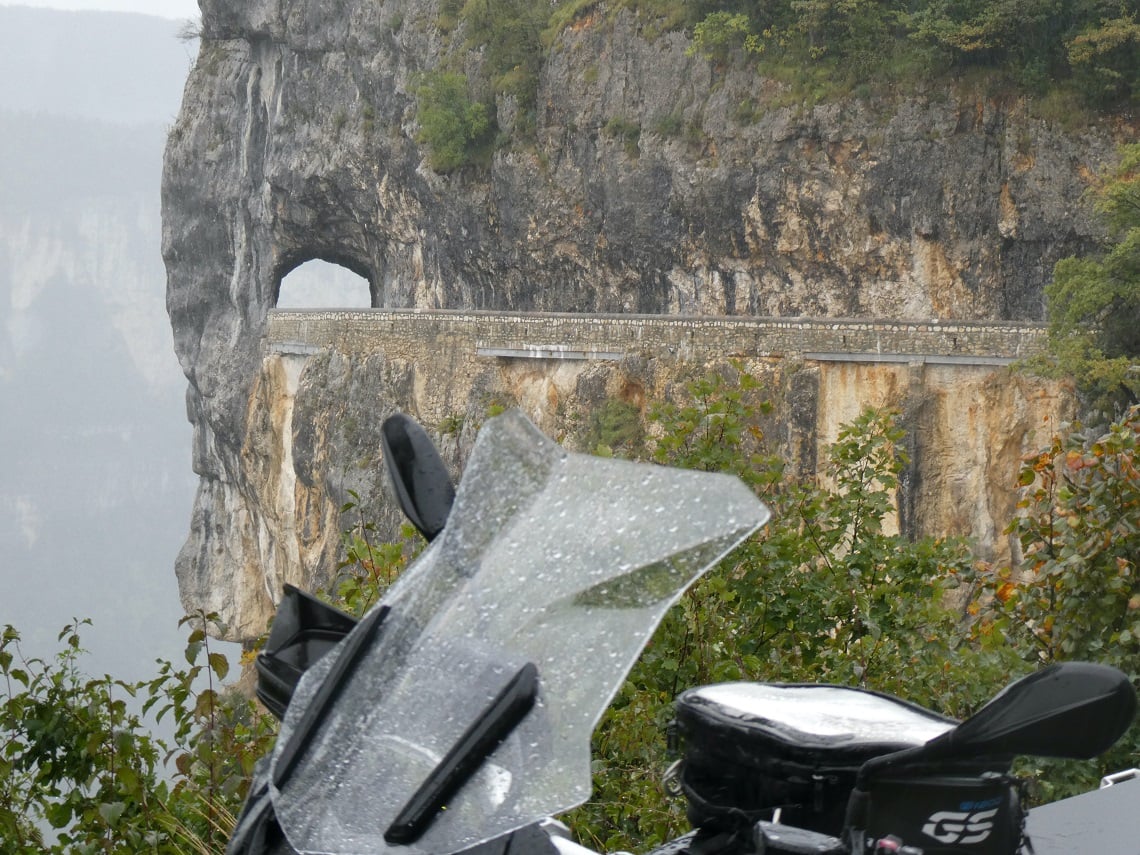 Later that day, the weather took a turn for the worse and, after a stormy night, I awoke to dark skies and fast-moving ominous looking clouds. Wearing my waterproofs, I set off in the direction of the famous Combe Laval scenic balcony road, which I'd reach the following day.
After an overnight stay at a biker friendly hotel called Terre De Sienne, in Charpey, I set off to ride the iconic balcony road which was once on the cover of ABR magazine. It was raining heavily when I left, and a few miles later, I found myself on a single lane road that had a small river running across it at some speed.
Having not crossed a river on a motorbike before, I stopped and thought about what to do. If I came off or slipped, would I be able to get the bike back up on the slippery surface? Or would it end up somewhere downstream? In the end, I just went for it with water splashing over me and the bike. It was over in a few seconds and my GS was perfectly stable, leaving me grinning and wishing someone had been around to take pictures.
Road Closed
Arriving at Saint-Jean-En-Royans, I had seen pictures of this lovely little town but I was greeted by a damp, misty scene and a river that looked ready to burst its bank. I didn't stop as I was keen to get up the mountain to the Combe Laval before it got any colder and wetter. When I finally did arrive, the road was closed. I couldn't believe it.
I got some photos with the famous arch in the background and then stopped for a coffee at the first cafe I came across while mulling over what it would have been like to have ridden the road myself. That would have to wait until my next visit.
With two days left to get back home, I blasted out a 400-mile ride to Laon in northern France where I would stay before catching the Channel Tunnel the following morning. Even though it was raining and strong side winds blew all the way back to Calais, it didn't put a dampener on my trip as I mulled over what I had just seen and done over the past 11 days. To be honest, I would have happily carried on for another week exploring even more places.
Once I finally arrived back home, I was feeling pretty tired but to my surprise, my partner told me how well I looked. It just goes to show that a motorcycle adventure is just the tonic I needed to relax and switch off from everyday life for a while. I was proud of myself for taking my first solo trip abroad. I'm already planning my next trip. Norway here I come.