What's the best way to learn about motorcycle touring? By going on a long ride, of course! Chris Weichel and Ioana Constantin head to Eastern Europe on their maiden voyage and discover what they've been missing
We were both pretty new to this motorcycle travel stuff. 'Both' being Ioana, my fiance, and myself, Chris. Ioana got her motorcycle licence just two months before we embarked on this 3,100-mile round-trip through Eastern Europe.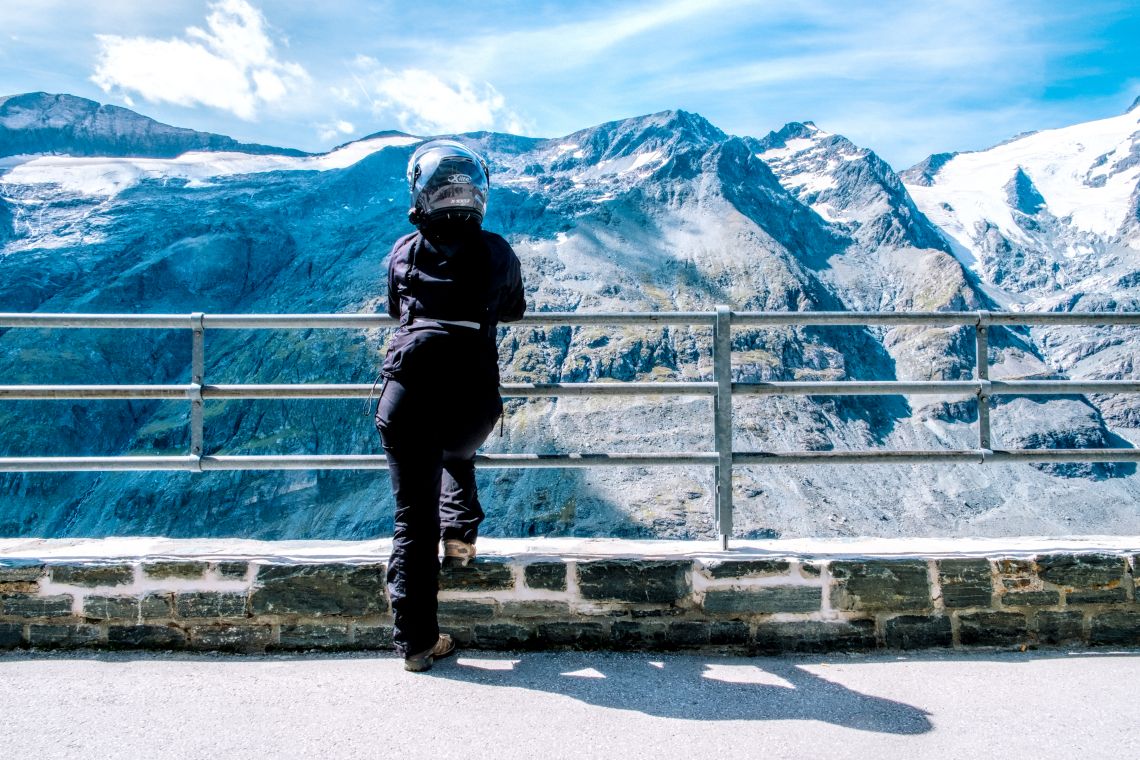 Ceebee, her Honda CB500X, followed just four weeks later and we spent the remaining weeks until we set off hastily replacing the stock windshield, and adding cash bars, a centre stand and some soft luggage.
I had been on Vroomi (a Suzuki V-Strom 650) just a bit longer but had never ridden that far. Together we had done trips to Scotland, Wales and around Cumbria, but being on the road for four weeks was something new altogether.
As you'd imagine, we had plenty of things to learn along the way. The first day began in Stuttgart, Germany with some 300 miles on the Autobahn to reach the Czech Republic – more specifically a music festival called Brutal Assault.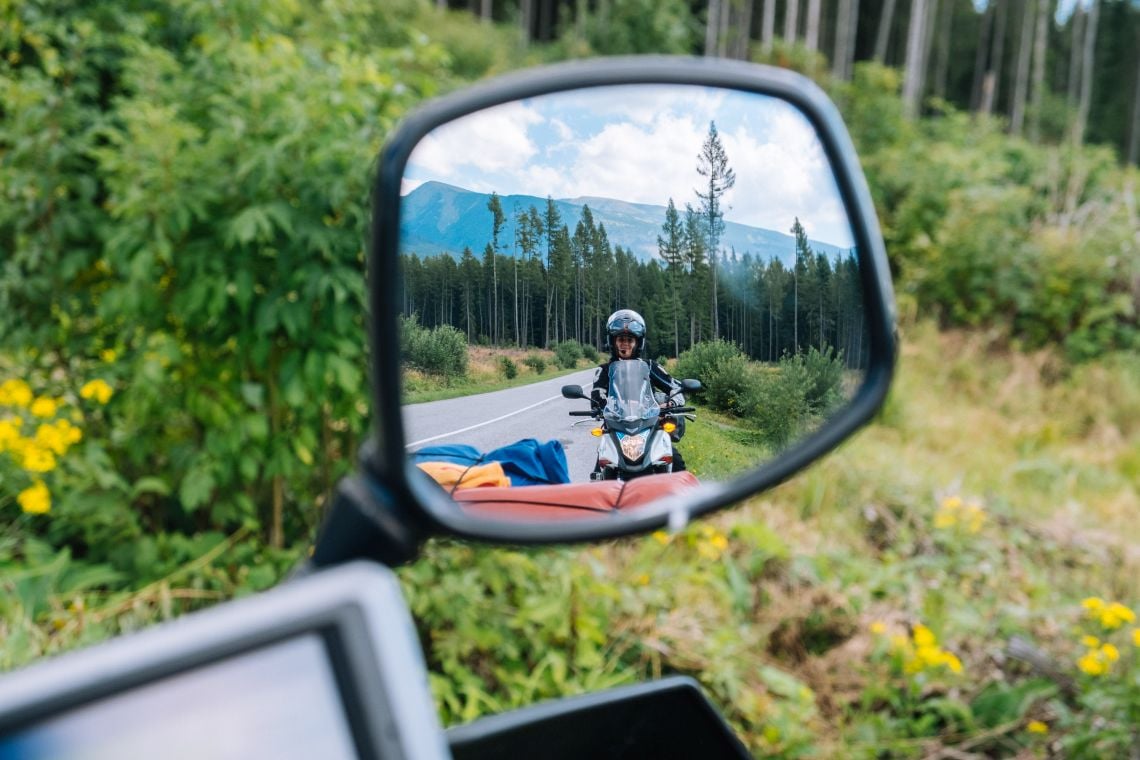 Occupying Jaromer, a Bohemian stronghold built in the 1850s, this place hosted us for four days with an ample supply of music and sunshine. The latter set in right after we had pitched our tent in the pouring rain.
Turns out that putting up a tarp first is useless if you want to pitch your tent in a cloudburst and expect it to be dry afterwards. After spending a few days surrounded by more than 12,000 metal-heads, and a horse which was set on eating our tent, we were in dire need to crack on.
Heading south towards Wallachia, we set up camp just before the mountains and Slovakian border, with trees, rolling hills and motorcycles abound. The campsite, which appeared to have been built in the 70s, had seen little remodelling since then, which made for an 'authentic' experience.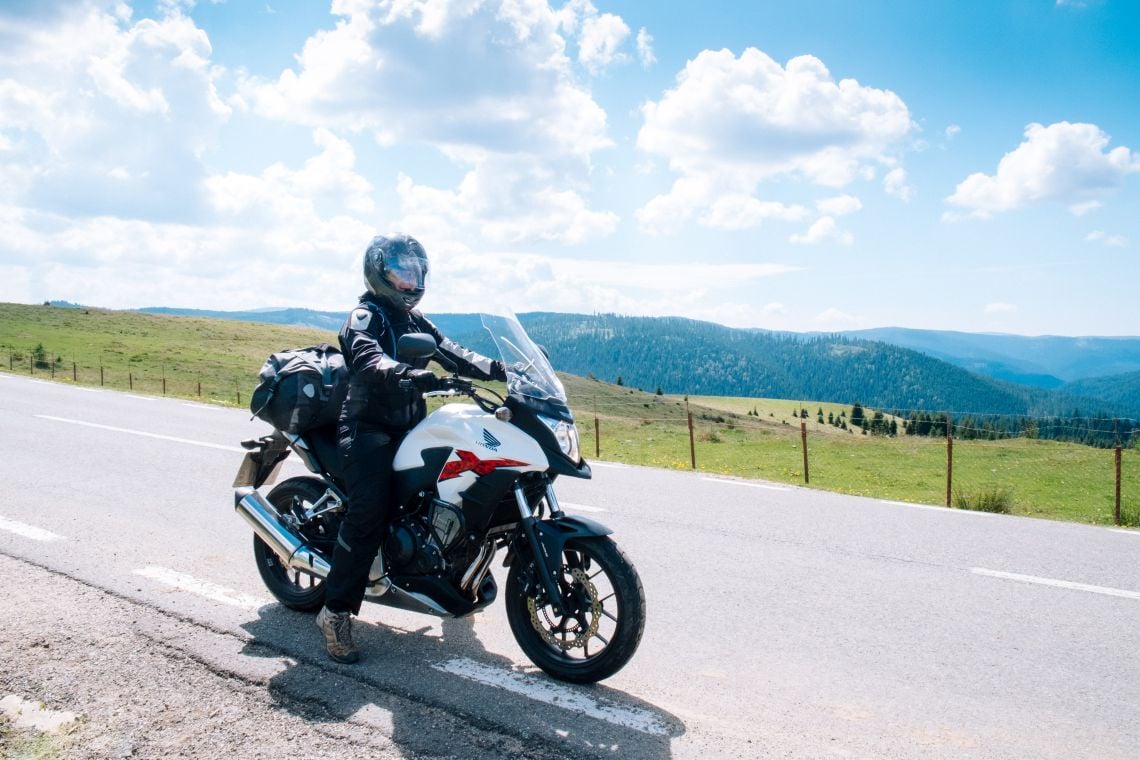 Fortunately, the same cannot be said about Roznov pod Radhostem, the picturesque city on which's outskirts we had pitched our tent. Little did we know this place is home to one of Europe's largest outdoor museums.
Filled to the brim with wooden houses, old churches and plenty of history to ponder, this place promises days of entertainment and education. We experienced none of it.
Due to our entirely uninformed planning, our schedule and route took us south across the Slovakian mountains that day, so, unfortunately, we had to leave before the museum could welcome us for a visit.
Shortly after coffee, packing up and the clock striking 10, we were back on the bikes. There's a lesson to be learned here: "pack early, leave early, arrive early".
We learned another important camping lesson in the 'Slovakian Paradise' Słowacki Raj. Slovakia was home to many 'firsts' for us.
Our first contact with the Carpathian Mountains, the first time the roads got really bad, the first time we were confronted with the ugly slashes deforestation leaves in otherwise densely green hills, and the first time we learned that being smart about choosing your camping spot is key to a good night's sleep.
In the following weeks, we would meet the Carpathians many times, but this was our first contact. Crossing the border at 1,000m above sea, we did not really see those majestic mountains coming.
Suddenly we were surrounded by their rolling beauty, lakes and their majestic posture dominating our view. The Northern Tatras are the northernmost fringes of this mountain range but are just as impressive as their southern cousins.
Our first introduction to the mountains had us wanting more as we rode into the flatlands surrounding Poprad and back into the rocky beauty that is Słowacki Raj.
We arrived at this popular spot around three, and for some odd reason decided not to camp next to the other bikers but close to three cars. Big mistake: when the owners of the cars came back, they brought six kids with them, none of whom saw any need to sleep before midnight.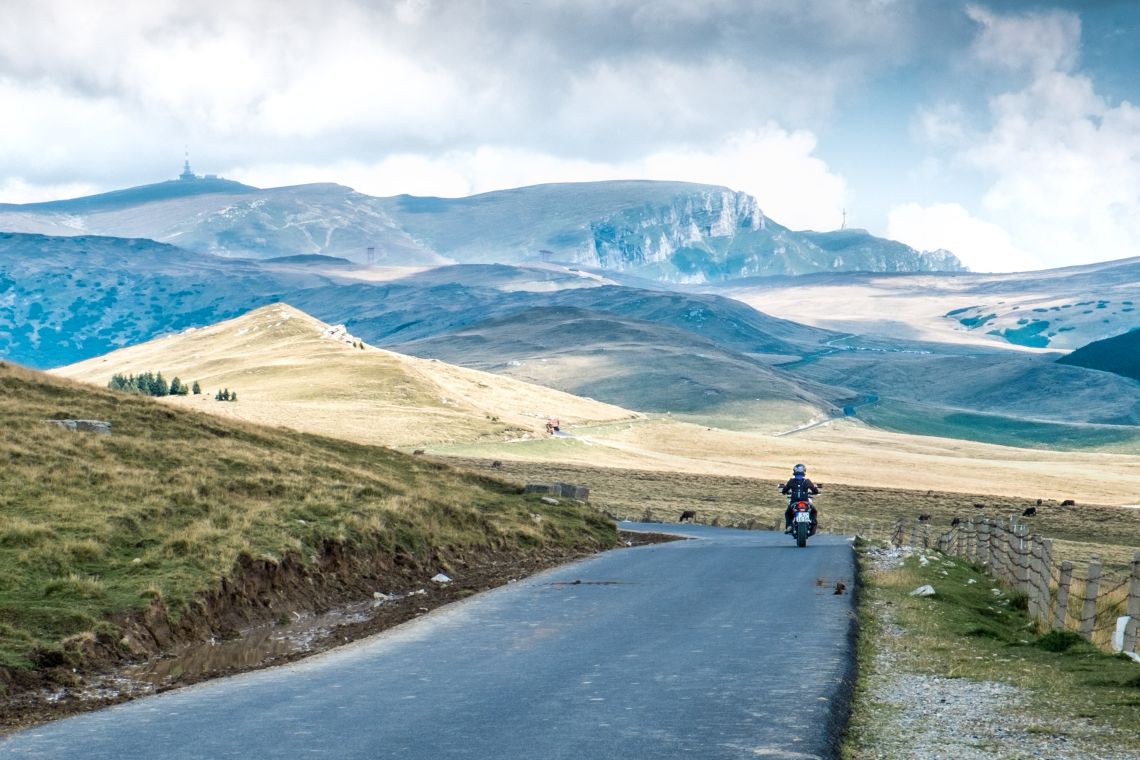 Another lesson learned: choose your camping spot wisely and camp with your fellow motorcyclists.
With some of the portable accommodation stuff figured out, we found roads (and the lack thereof) to be next on our curriculum. Saying farewell to Slovakia, we took the Road 66 heading for the Hungarian border (and yes, even the sign looks like its American counterpart).
Along this famously named road we stopped for petrol in the local gypsy village; friendly people indeed. The men were mostly interested to know if we had an FM radio on the bikes, and the two kids sitting next to checkout said, "thank you" for the 90p bag of sweets in more languages than I will ever know.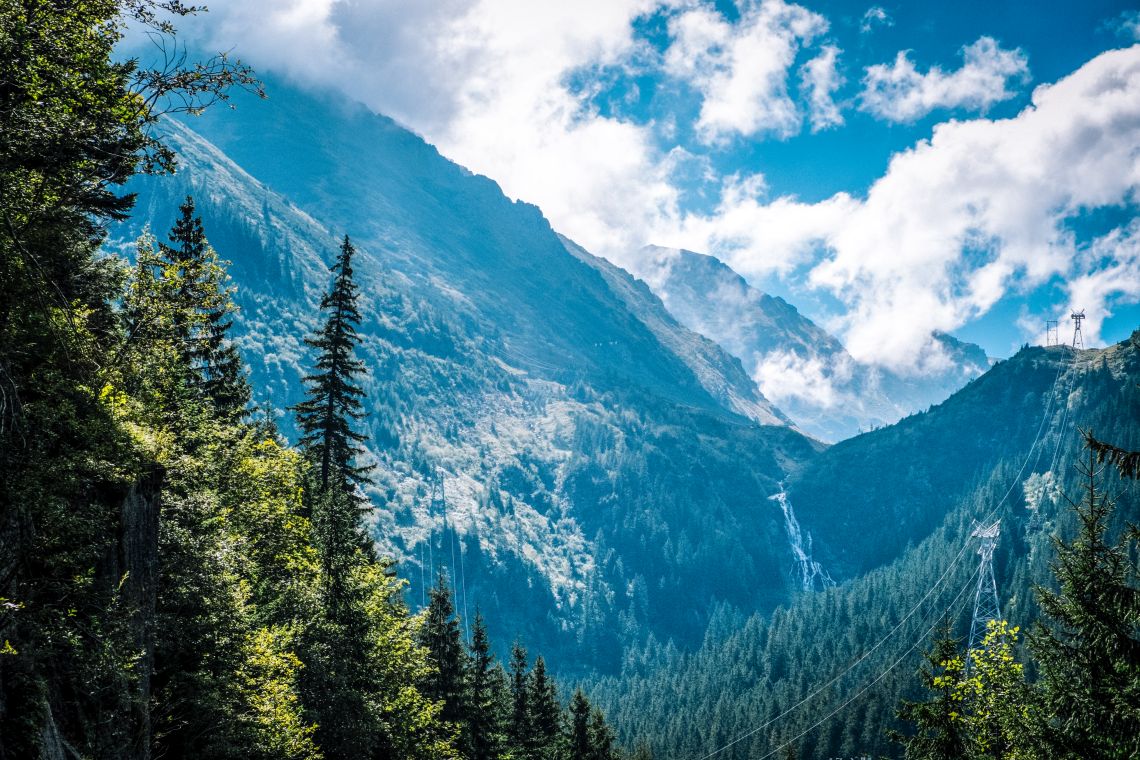 Hungary's lesson was: how to point your handlebars in a straight line for a long time – a lesson that would come in handy in Serbia, too. If I had to summarise our Hungarian experience in three points it would be 'flat land, storks and copious water-parks'.
Ioana and I both have a knack for big birds, with storks definitely in the top two. I don't think I have ever seen so many of them in one spot.
It seemed as if the city council had decided that every single pole needed a feathery occupant, and consequently extended invitations in the shape of metal grids which would ease the nest building.
After a day of squaring out our back tyres going past those stork nests, we were surprised to find ourselves on a campsite sporting a gigantic waterpark. Apparently, during the heydey of communism, these were built as holiday destinations (long-distance travel wasn't much of a thing, mind you).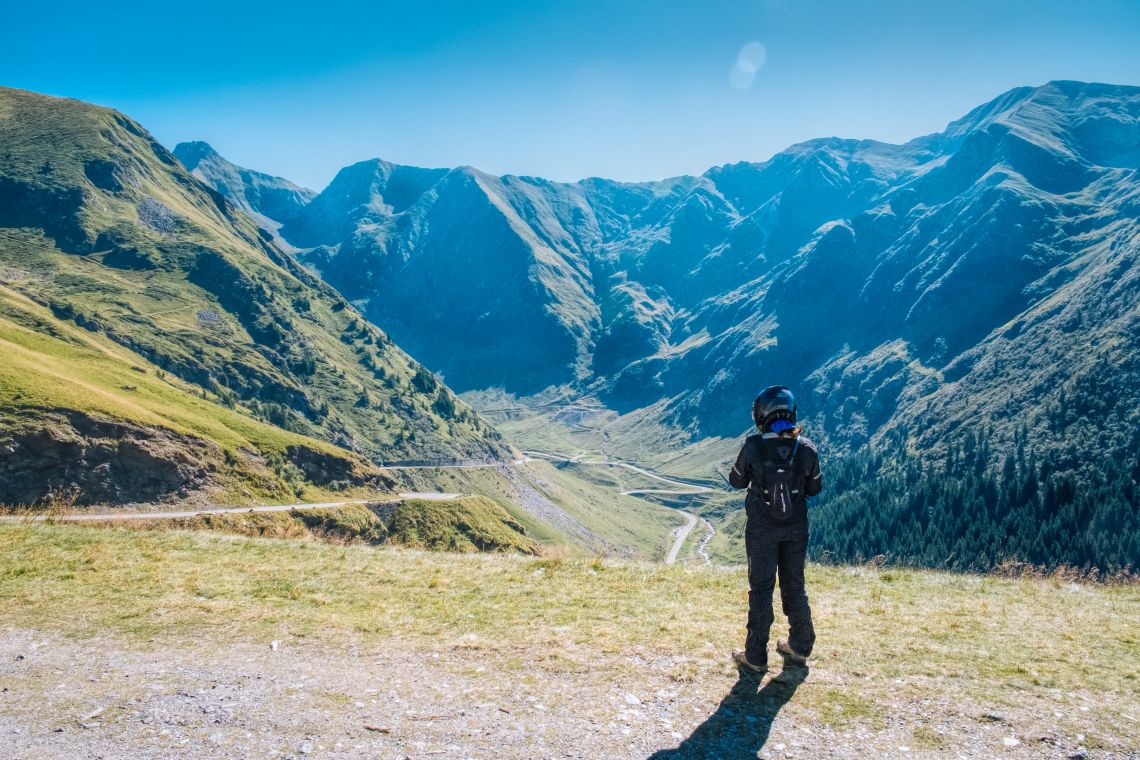 We pitched our tent – in the dry and next to lovely neighbours – and ended the day in what must be the largest thermal water pool we've ever come across.
The next day, shortly after crossing the border into Romania near Oradea we learned that some European roads are still under construction; in the case of the E79 for the last ten years. Every few miles the road surface changed from fresh tarmac to the kind of grooves that make your tyre go everywhere, to no tarmac at all.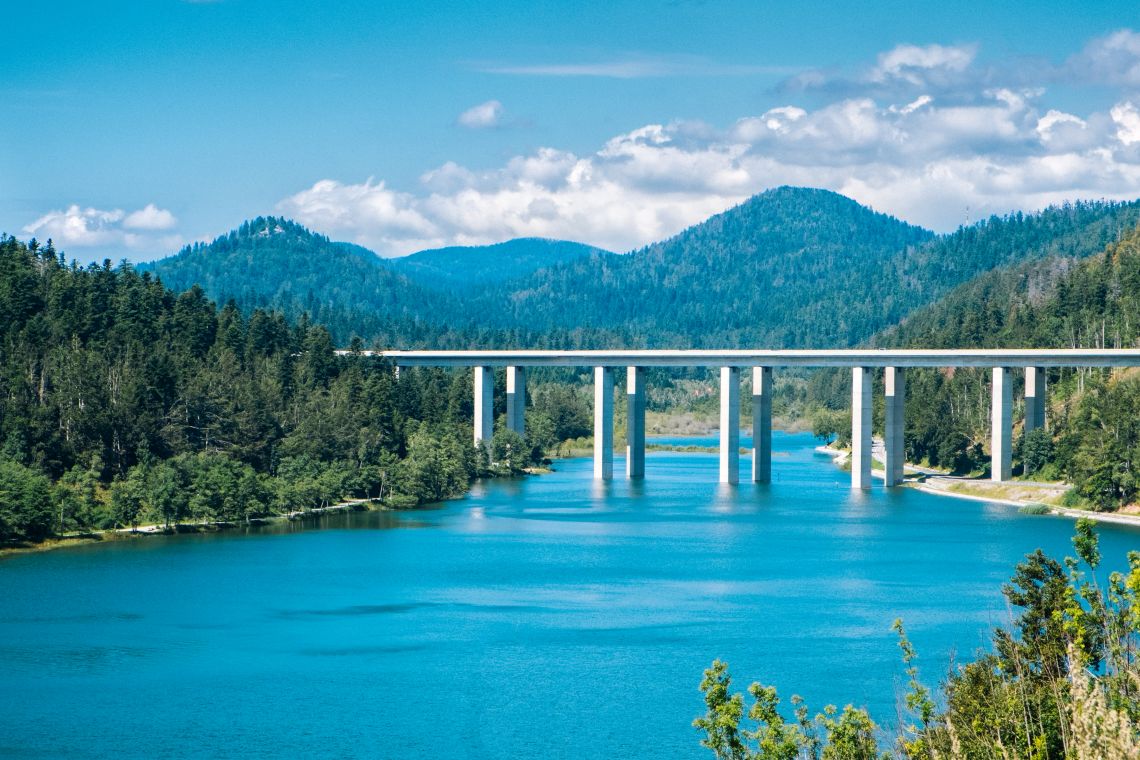 With heavy rain closing in, this turned out to be our off-road introduction much to the delight of the construction workers who were amazed when they heard about Ioana's week-long motorcycling experience.
Romania is a country of stark contrasts: roads of any size can be smooth sailing or rival a technical rally stage (as we had seen). The cities and landscape are equally breathtaking: the former due to their crazy traffic, the latter by its sheer magnificence.
Accommodation ranges from questionable to downright excellent (e.g. Turul Camping where we stayed our first night in the country). Food is either meat all the way or a vegetarian's wet dream. People are either dodgy or very friendly and kind; we met the friendly variety in far greater numbers.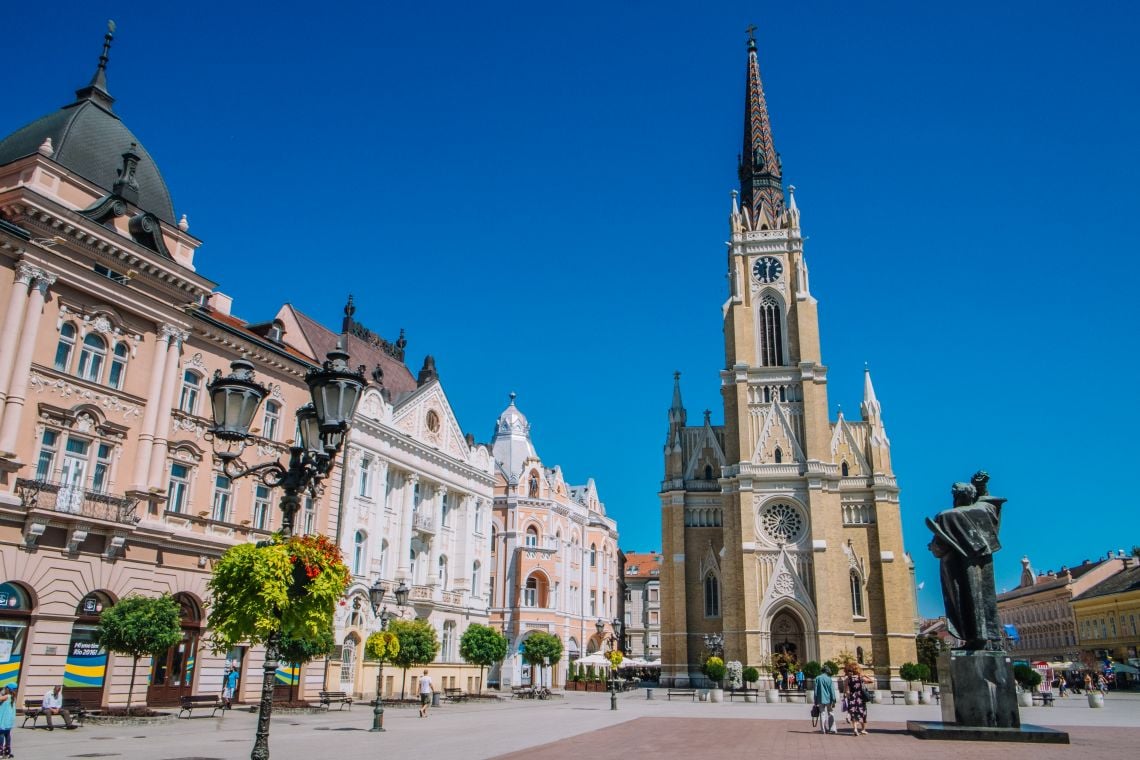 Speaking of people: around Cluj we met up with the great folks publishing the Carpathian Two Wheels Guide, going for a ride through the Apuseni mountains. Absolutely stunning views, roads and company.
Making our way through Transylvania (insert favourite Dracula joke here), we stumbled into the Pro-Ethnica Festival in Sighisoara, got lost in Brasov and stayed with Ioana's mum for a few days exploring the nearby Bucegi mountains. Being 2,000m above sea, covered in more trees than I care to count and with livestock grazing the plains this is a sight to behold.
When riding through this part of the world two roads are mandatory: the Transalpina and the Transfăgărășan, both crossing the same part of the Carpathian Mountains.
Both roads are amongst the highest in Europe, offer bends and stunning views aplenty, and both have seen their ample share of praise. That said, Transalpina had far less traffic, better surface and the views were equally as epic as its communist-period-built cousin, the Transfăgărășan.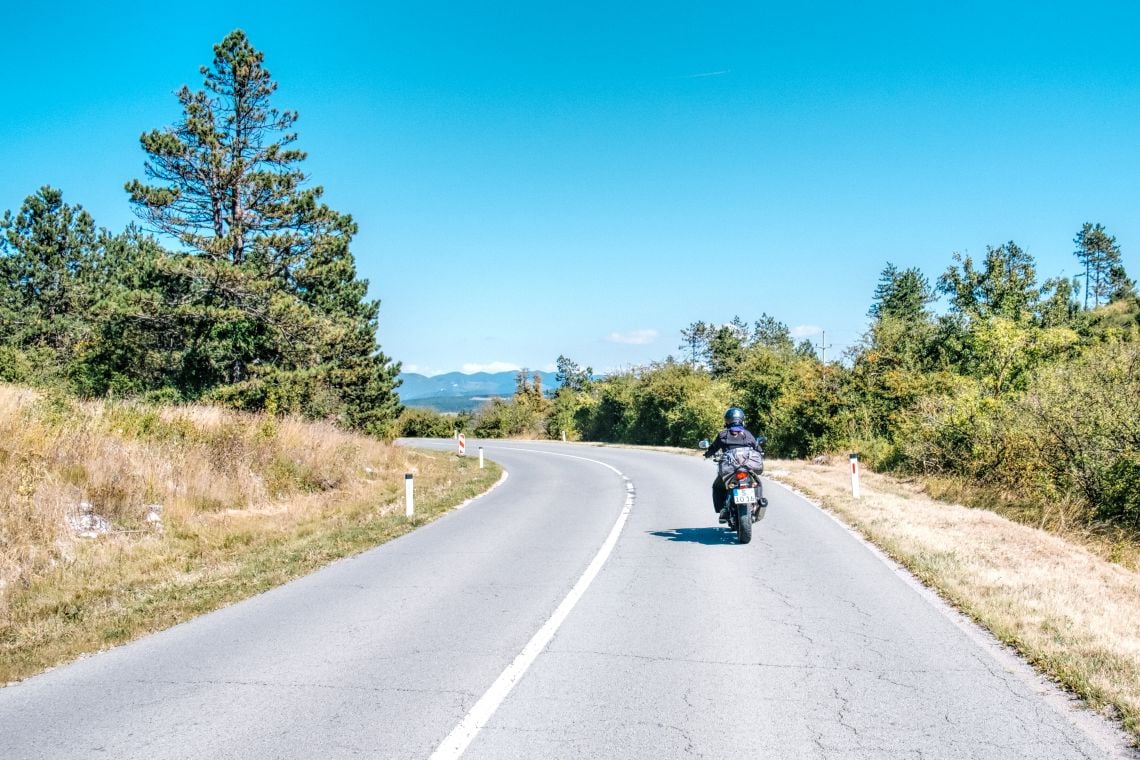 As the sun was setting on our ride back to the campsite near Sibiu, we also must have found the only Italian restaurant in the world that does not serve pizza. No problem, the takeaway next door was happy to oblige.
Having passed the apex of our trip, now going west again, we had planned to stay the night in Timisoara. Unfortunately, the only campsite in town was next to the main road, and one of our former lessons learned, "choose your camping spot wisely", compelled us to press on into Serbia.
Did I mention we were heading west, the kind of direction the sun sets in? We ended up riding about 250 miles facing the sun on roads that really require some pot-hole evasion. Some eight hours later and totally knackered we arrived in the Serbian city of Novi Sad.
With public WiFi available at every petrol station, we abandoned the camping plans in favour of the 40 Euro a night five-star hotel in town. Turning up at the marble-clad reception in our worn motorcycle clothes, we felt a bit out of place.
That soon changed, when we explored the local nightlife and incredible craft beer scene, all of which is very affordable. We ended up staying another night, just to see more of this beautiful city. Along the way, we had become accustomed to beautiful vistas and stunning landscape. Yet, we had one kind of scenery missing on the trip: the sea.
Luckily the name of our sixth country to visit, Croatia, conjures up images of beaches, blue sea and islands. Unless you happen to find yourself inland.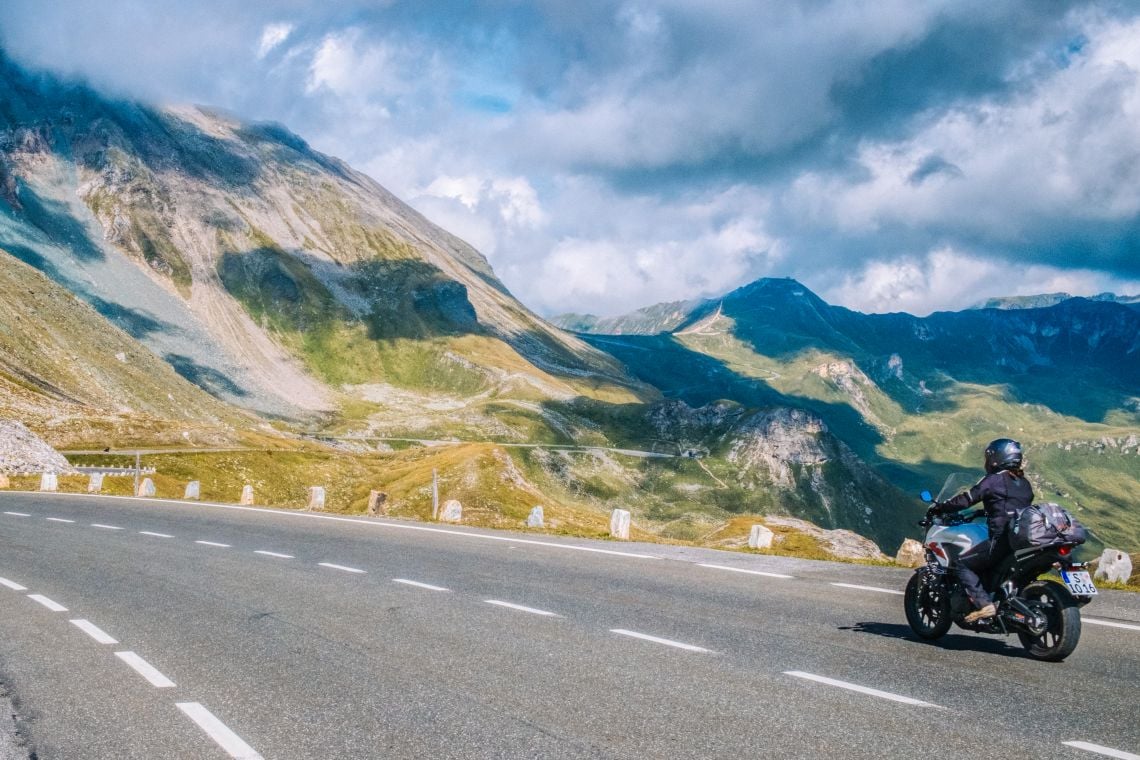 Originally, we planned to see Zagreb and then head north, but while staying a night at the local AA equivalent, who also run accommodation in Croatia, we decided to dip our toes in the Adriatic Sea and made way for Rijeka.
It was nice to get some proper summer feeling, beach and all. But spending the night at a rocky campsite for the price of a five-star hotel elsewhere felt a bit like a rip-off.
During this trip, we've learned that small border crossings are easier than big ones – fewer people crossing means less time to wait. We came across what felt like one of the most remote Croatia/Slovenia border posts in existence: Novokracine Rupa. Even the two people working there were surprised to see anyone.
Back in the mountains we quickly found ourselves in Bled just next to the Triglav National Park; as did countless other bikers… There were so many bikes.
Bled is located next to a lake which in its clarity and splendour rivals Lake Windermere, and a small chapel on an island in the middle of the lake gives it a head start in the 'picturesque' category. We camped in the middle of this fairy-tale landscape together with the 500 other people doing the same.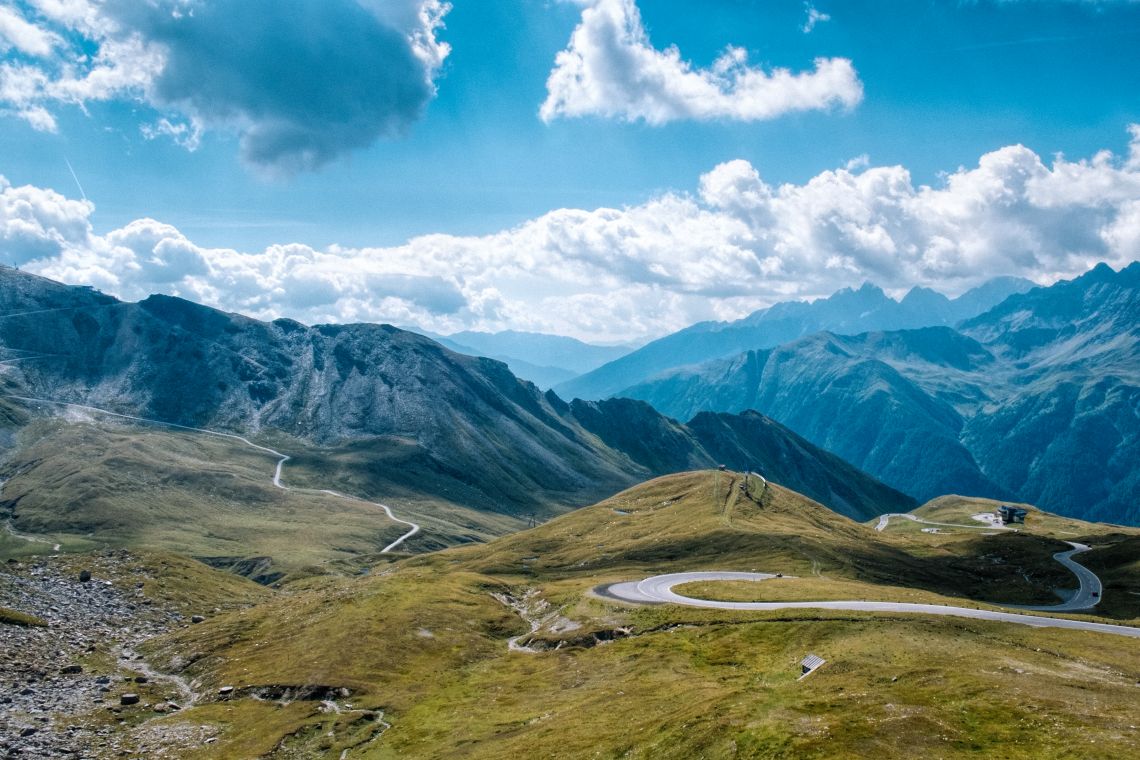 Slowly, the realisation set in that this trip was coming to an end. There was no time for gloom, though, as we entered the last of the eight countries. Expectations were high and Austria did not disappoint.
Along the way, we had seen plenty of gorgeous landscapes, but what this country confronted us with is impressive by any standard. So much so, that after a while the wow-effect of never-ending mountains wore off a little. But only a little.
We made it a point not to use any motorways, in part to avoid paying the tolls, and in part because it would be a shame to blast through this place. Never mind that we spent almost ten times the money for the vignette on the Alpine mountain passes.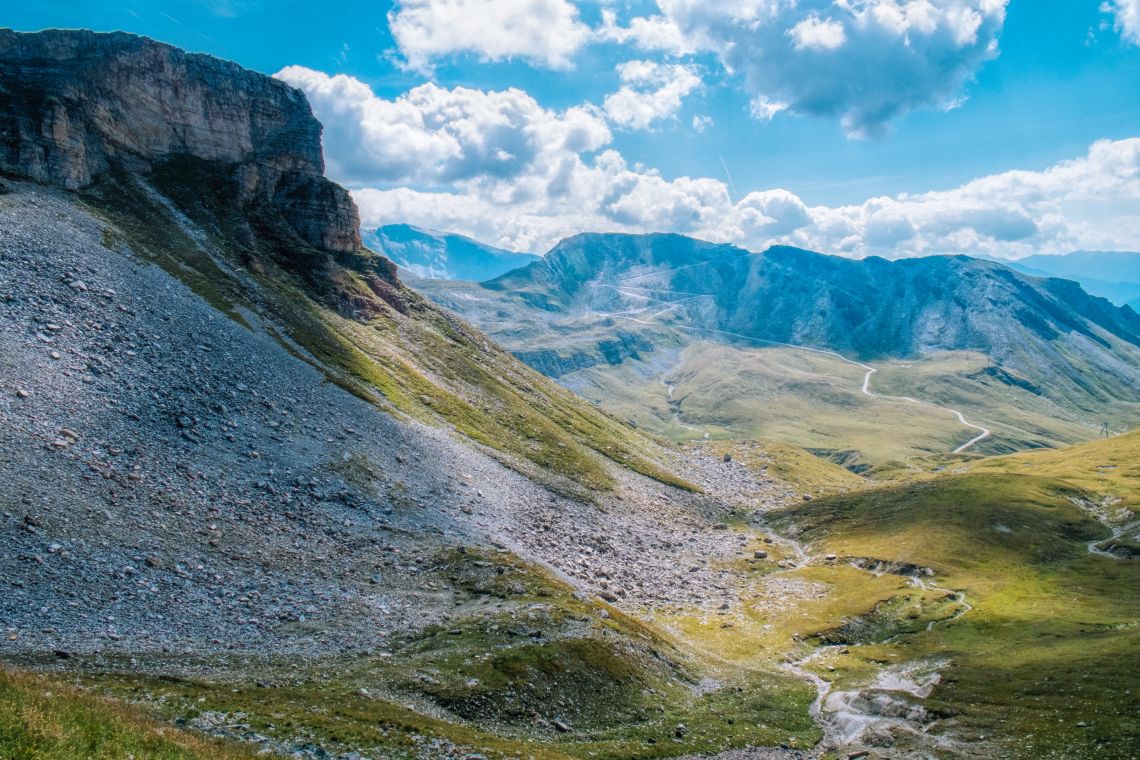 Our final act was the Grossglockner Pass. A legendary and fine high alpine road passing Austria's tallest mountain and providing access to the Pasterze glacier.
It is also home to some of the most challenging serpentines and hairpin bends we've come across so far; Transfăgărășan was good training though.
The last night away we spent camping next to the local public pool, spending the evening with wheat beer and our neighbour who had just driven a similar route in an old Mercedes E190.
This was his second time round, (the first time he did it was in the 1970s when border crossings still required visas). This leads to our last lesson learned: travelling Europe is easier and more enjoyable than ever.
We'll come back for more next year.
---
The bikes?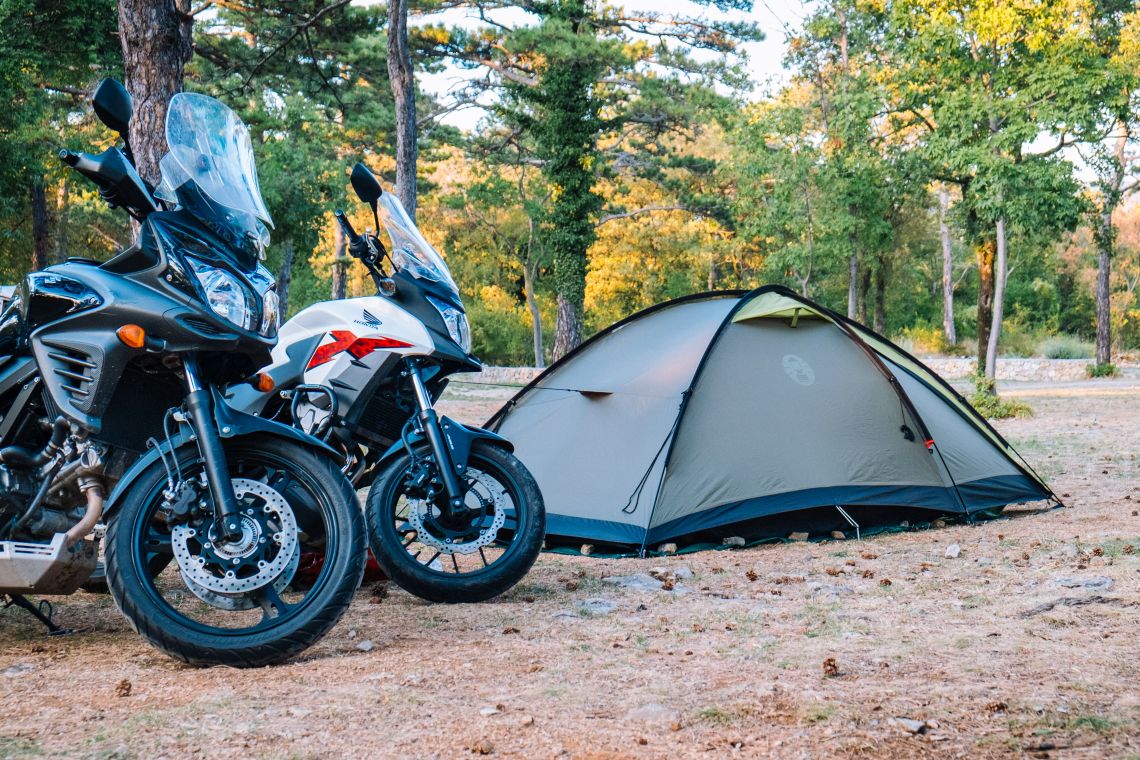 Ioana calls Ceebee, a 2015 Honda CB500X, her own. We bought it a month after she got her license from a friendly chap in the middle of nowhere south of the Danish border. In the meantime, we've replaced the windshield and added crash bars, centre stand and luggage from SW Motech.
Chris rides a 2012 Suzuki V-Strom 650, dubbed Vroomi. We retrofitted it with the amazing Givi Airflow windshield, plastic panniers, Hepco & Becker bash plate and some remodelling of the plastics courtesy of not knowing how to ride in the mud.