With its beautiful scenery, thrilling roads and friendly people, Indonesia is an exciting destination for any motorcyclist. Steve Campbell explores Sumbawa and Flores
Indonesia's southeast islands, Nusa, Tenggara and Timor, had held me under their spell for thirty years. East, the exotic east, who can resist its siren call? The wind in the palm trees, the spicy garlic smells, the tinkling temple bells? Certainly not me!
I'd spent the night at Hu'u Beach, Sumbawa, a mere day's ride from the ferry that would carry me across Sape Strait to Labuhanbajo, the port of the sea-gipsies, in Flores.
My Kawasaki KLX150 was fuelled up and ready to roll. After a refreshing swim I bade farewell to Robbie, manager of Monalisa Hotel, and headed for the highway. Robbie reckoned there was an afternoon ferry from Sape that would get me to Labuhanbajo around midnight, not the best time to make landfall but I was eager to hit Flores after a six-year hiatus.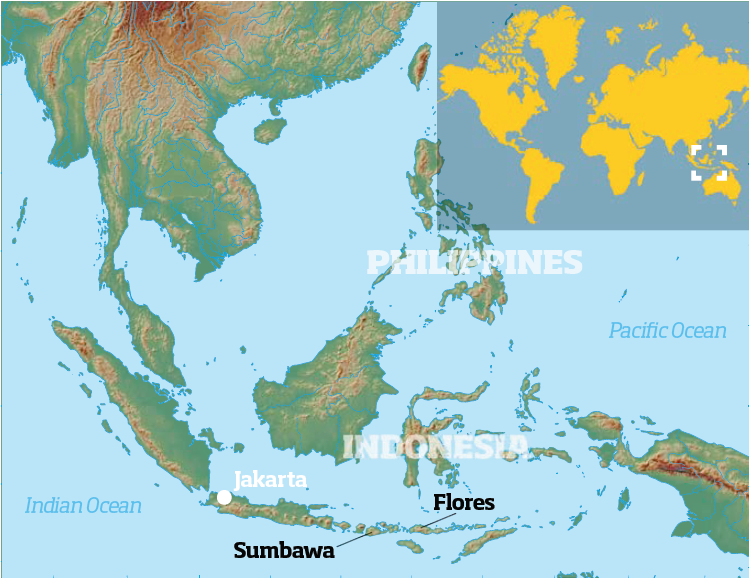 I reached Dompu around 9.00 am. At a stall near the market, I enjoyed breakfast whilst watching the comings and goings of shoppers, traders and idlers. Women lugged their purchases from stall to stall. The meat delivery man arrived, a freshly slaughtered goat slung over his shoulder. Sacks of onions were being thrown from a truck onto a rickety hand cart. Out in the street, a stray cat rummaged through the rubbish in competition with the flies, a mangy dog wandered by in search of whatever. A skeletal man, dressed in singlet and shorts, hosed down the footpath, a hand-rolled smoke clinging to the corner of his mouth. I drained the dregs from my coffee. It was time to go.
Dompu's one-way system disgorged me onto the Bima road; I soon found myself in open country. A series of bends carried me beyond a range of hills to a broad coastal plain. Light traffic and decent tarmac saw me surging east and soon I was in salt making country. A blistered plain, partitioned into evaporation ponds by earthen banks, stretched to the coast.
Between these ponds lay pyramids of harvested salt. Sparkling white, they glistened in the mid-morning light, stark contrast to the cracked brown earth of the dried out ponds. The landscape was dotted with shanties where workers could take shelter from the fierce heat. At the roadside, sacks of salt lay awaiting collection. My boots crunched on the gravel as I walked towards my bike. Surrounded by silence I donned my helmet and gloves, fired up the motor and engaged first gear – time to get moving again.
Time on my side, I cruised east taking in the scenery. Around midday, Bima Bay appeared. This long, narrow inlet had provided safe harbour since ancient times but its normally placid surface was being whipped up by a stiff breeze. Fishing boats at anchor bobbed and swayed, powerless to resist the assault of the whitecaps. I found a track, which ended at a low seawall and dismounted. I took some photos and before long was joined by a pretty, young woman dressed in riding gear. Manda was her name. She'd just returned from a ride to Surabaya on her 200cc Honda Tiger. I took a couple of photos of Manda posing with my bike, Bima Bay looking on. The wind ruffled her thick, black hair. What a pleasant way to waste away a few minutes.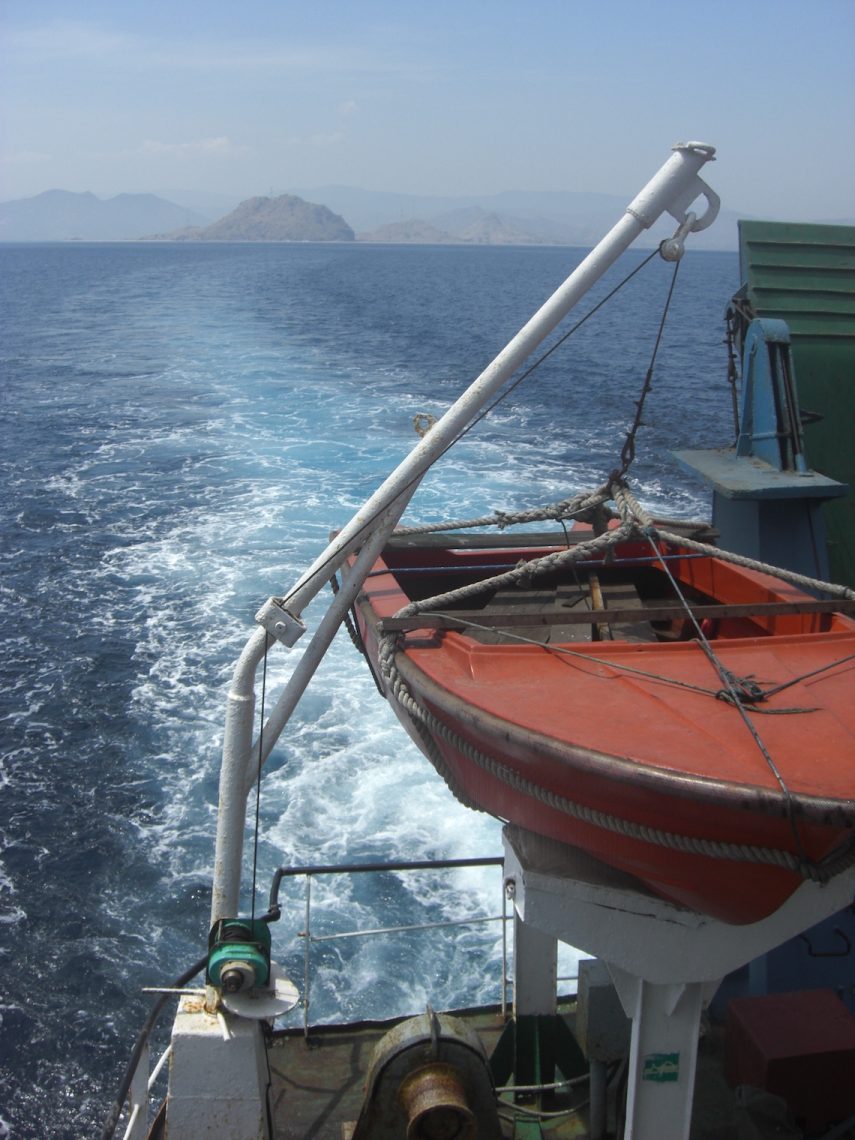 I set off again for Bima. My stomach told me it was lunchtime so I was on the lookout for food. I spotted a large painted sign: 'Bakso Favorit' it proclaimed. I pulled up in the shade beneath an awning. Dining was alfresco and the place was jumping. The crew, dressed in orange tee-shirts buzzed around like wasps on steroids, serving food and cleaning tables all the while laughing and joking with customers.
I took a seat and ordered chicken soup and a glass of hot orange. My meal soon appeared – a big bowl of piping hot soup with lashings of shredded chicken, bean shoots, fried onion flakes, spring onion and a fried boiled egg swimming in delicious spicy liquid. The hot orange served in a huge glass, was so good I ordered another. Appetite sated, and thirst slaked, when I threw my leg over the bike again I felt like a new man.
From Bima to Sape the road climbed and dipped through a range of hills. Passing through a forest I came across a posse of macaques being fed by passengers throwing fruit from their parked bus. The monkeys formed a rolling scrum of flying limbs, each thrown morsel an object of intense desire. Immediately a prize was snared, the winner would scurry off only to be confronted by bully-boy standover merchants. Bared fangs and malevolent grimaces sometimes saw the muscle men off, but, more often, the fruit would be dropped in order to avoid a savage mauling; the alpha male had the cold, emotionless eyes of a serial killer. I don't trust monkeys that have become used to human contact so, when the food ran out and a couple of bovver boys approached me, I left them sucking on dust.
The ferry to Flores leaves from Sape which means 'cow'. This little cattle-exporting port is peopled by Bugis settlers from South Sulawesi. Famous seafarers they still ply their skills in the town, fishing and handcrafting their magnificent pinisi schooners. For centuries they sailed from Makassar to the Gulf of Carpenteria, to collect teripang or sea cucumber. These would be smoked and later traded with China.
Sape, 3.00 pm. I pulled in for petrol. The young pump attendant informed me that the ferry would leave at five and when I breezed through the port gates there it was at the quayside. I paid my AUD$18 and rode aboard.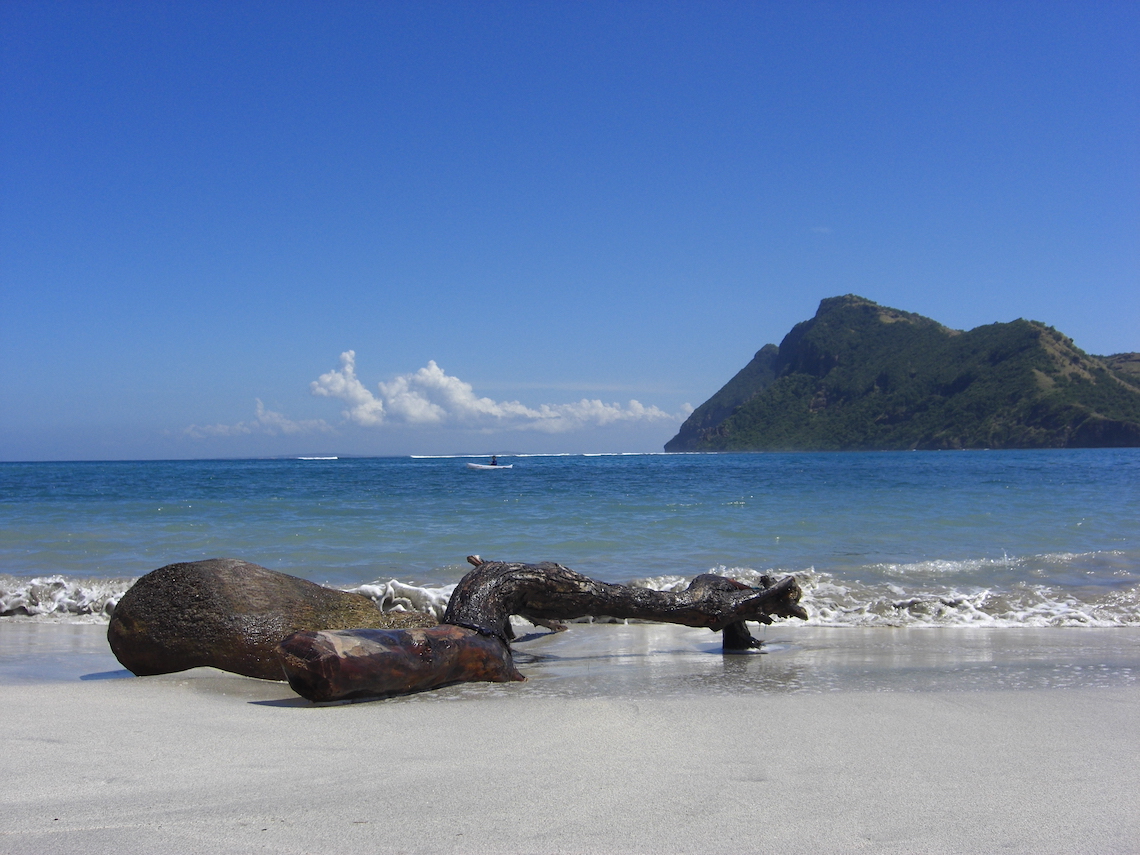 Up on deck I found a vacant bench and made myself comfortable. A few minutes later, to my surprise, a couple of Caucasian faces emerged from the stairwell that led below deck. They belonged to Marta and Veronica, a mother and daughter from Argentina, who were spending a month cruising around Indonesia. They'd got a cheap flight from Bali to Bima and taken a bus to Sape. I admired their pluck. They knew no Indonesian and Marta spoke little English. Veronica was fluent having just spent a year working in Australia.
At six our ferry pulled away. Water taxis chugged by carrying passengers to a distant stilt village. Large fishing boats and slim perahus, rested on the placid waters. As we sailed east the sun sank bathing the sky in a golden radiance which changed by the minute – tangerine, orange, red, blood red, violet; the day was put to rest.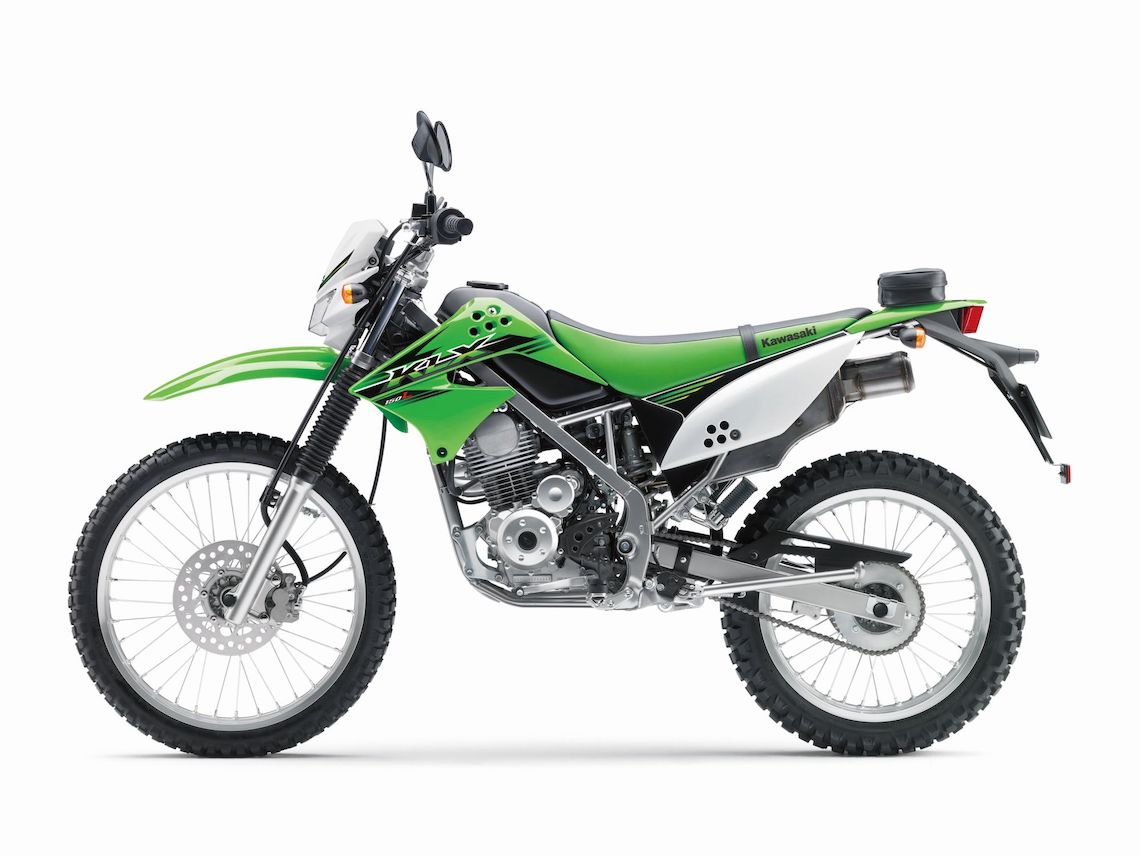 We sailed over a quiet sea. The lights of Sape disappeared, stars blinked overhead and a crescent moon, silver scimitar of the night sky, continued on its endless journey. Passengers slept sprawled out on the benches, sarongs drawn up overheads; others dossed down on the deck atop woven cane mats.
I watched a cockroach snuffle through a pile of peanut shells until it lost interest and returned to the home comforts of its drain.
Vendors made desultory attempts to sell their wares, moving from passenger to passenger, more by force of habit than genuine hope. Marta and Veronica sat knees up, back to back on the bench seat in front of me, chasing sleep.
Lulled by the steady vibration of the engine, and the rhythmic swish of sea against the hull I entered the twilight zone, semi-aware of my surroundings, not sure if my stream of consciousness was real, or if I was dreaming.
It was midnight when we docked in Labuanbajo. I felt beat. Marta and Veronica disembarked and went to look for the nearby Bajo Beach Hotel. I had to wait until I could retrieve my bike from behind a Giza-like pyramid of sacked onions. I waited patiently for them to be loaded onto a pick-up by a team of sweating navvies. Once clear I geared up, ascended the ramp and entered the deserted main street, accompanied by the cackle of my exhaust: Labuhanbajo was sleeping.
I spotted Marta and Veronica standing beneath a street lamp looking forlorn. They couldn't find the hotel and everywhere else was shut. I told them to sit tight and await my return. I did a recce of the main drag scanning the myriad of signs advertising restaurants, dive shops, fishing tours, Komodo dragon spotting, hotels – but no Bajo Beach Hotel.
On my return, I spotted the 'Hotel Komodo Indah' a short distance from where I'd left Marta and Veronica. I parked the bike and opened the door. I expected to find a sleeping peon behind the desk but when I stared over the top, dusty floor tiles stared back at me. I called out – the hollow sound of my voice mocking my optimism. Even the Bates Motel had more life to it. I ventured down the hall and tried some doors – all locked.
I found the stairs and ventured up. The first room I tried opened. It was unoccupied. I found the light switch. It revealed a double bed with mattress sans sheet. Stains of various hue and provenance were concentrated in the expected locations. There was probably enough DNA to keep a lab in work for a month. I went to the next room. It was better if you could call an airless cell with no windows better. There were two single beds with sheets, grayish in colour and an attached bathroom and toilet in fair shape. I figured the women would sleep here for the night. I checked the room over-looking the street. There was a double bed and a mattress even dodgier than the first; fortunately, I had a groundsheet to take care of that problem.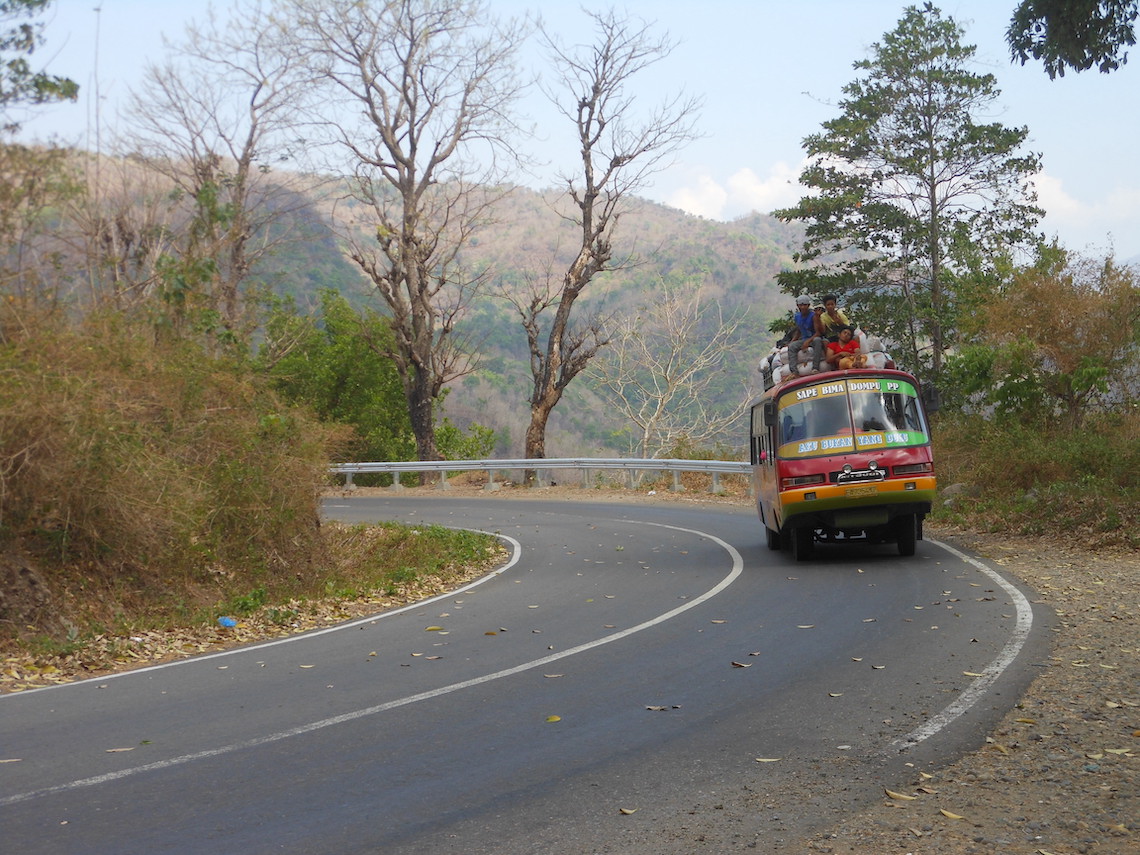 I returned to Marta and Veronica with the news. They picked up their bags and followed me. I took Veronica upstairs to examine the room. She took a nano-second to come to a decision. 'My mother would NEVER sleep here!' she exclaimed vehemently before spinning on her heel and exiting as if frightened she might catch the bubonic plague. I felt a little chastened, but couldn't decide whether my expectation that they might take the room was considered to be a slur on their characters or mine. Without a hint of irony Marta said, 'let's return to the lobby and decide what to do.' As we trundled downstairs I knew what I was going to do.
Marta and Veronica had a short, sharp conversation. Then Veronica turned and asked me: 'What are you going to do?' It was past 1.00 am and I was dog-tired. I felt less than chivalrous abandoning them in this sleeping town but I was past caring. This was a hotel. There were beds, the door could be bolted, I would be sleeping across the hall; they would be safe. There is a time and a place for squeamishness but this was neither. 'I'm sleeping here', I announced flatly. I didn't have to add, 'You can do what you like.' I went outside and unhooked my gear. Marta and Veronica began trudging up the main street because there was nothing else to do. I never saw them again.
I went upstairs to the room with sheets, switched on the fan and undressed. What I wanted more than anything was to feel cool, clean water cascading over my body, washing away the patina of the day's travelling that clung to me like a second skin.
I turned on the tap. There was a gurgle. A trickle of rust-coloured water mocked my optimism. 'Don't you realize?' it was saying, 'This hotel has been abandoned. The owner fled east after his wife caught him in flagrante delecto with the house boy. There are no staff. Nothing works. This is a non-hotel.' Disgusted, I flopped on the bed. A minute later the fan died. I performed a horizontal version of St. Vitus' Dance; sleep came after a struggle.
I woke with a start, the room filled with noise. A mosque next door! It was 4.30 am and the muezzin was marshalling the faithful. He relished his work. Like many who cannot sing, he'd taken as gospel the praise of his fellows who were too polite to confront him with his inadequacies. When he finished his toneless droning, I made a delusional attempt to return to the land of nod but soon threw in the towel. I found a bathroom down the hall. Its water tank was half full so I sluiced away the shroud of drowse that enveloped me. I was on my way east again before sunup.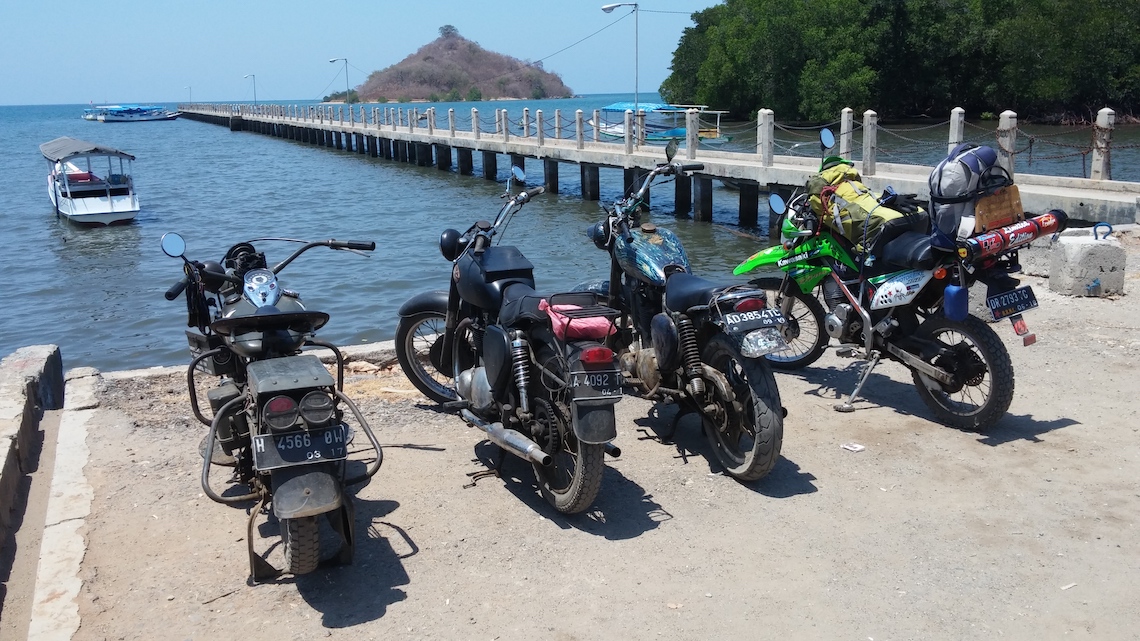 Flores: island of a zillion flowers and a million bends. Colonized by the Portuguese in the 16th Century, 95% of the population is staunchly Catholic. The island's mountainous spine boasts fourteen active volcanoes and countless dormant ones. The main road east is narrow. It twists and turns and climbs and dips. Some hairpins are so tight you find yourself dropping down into first to negotiate them. The nature of the road brings out a sense of fellowship among riders. Everyone toots as they pass. If you stop for a break, others stop to inquire if you're OK.
The early morning air was brisk enough to jolt me into wakefulness, Just as well as the road demanded total concentration. After an hour I came across an accident. An 18-tonne truck had failed to take a downhill bend. It had careered over the edge and now lay, stranded on its side, in a tangle of greenery, ten metres down. Fortunately, no one was injured. The driver was on the phone to his boss – not a pleasant conversation, I imagine.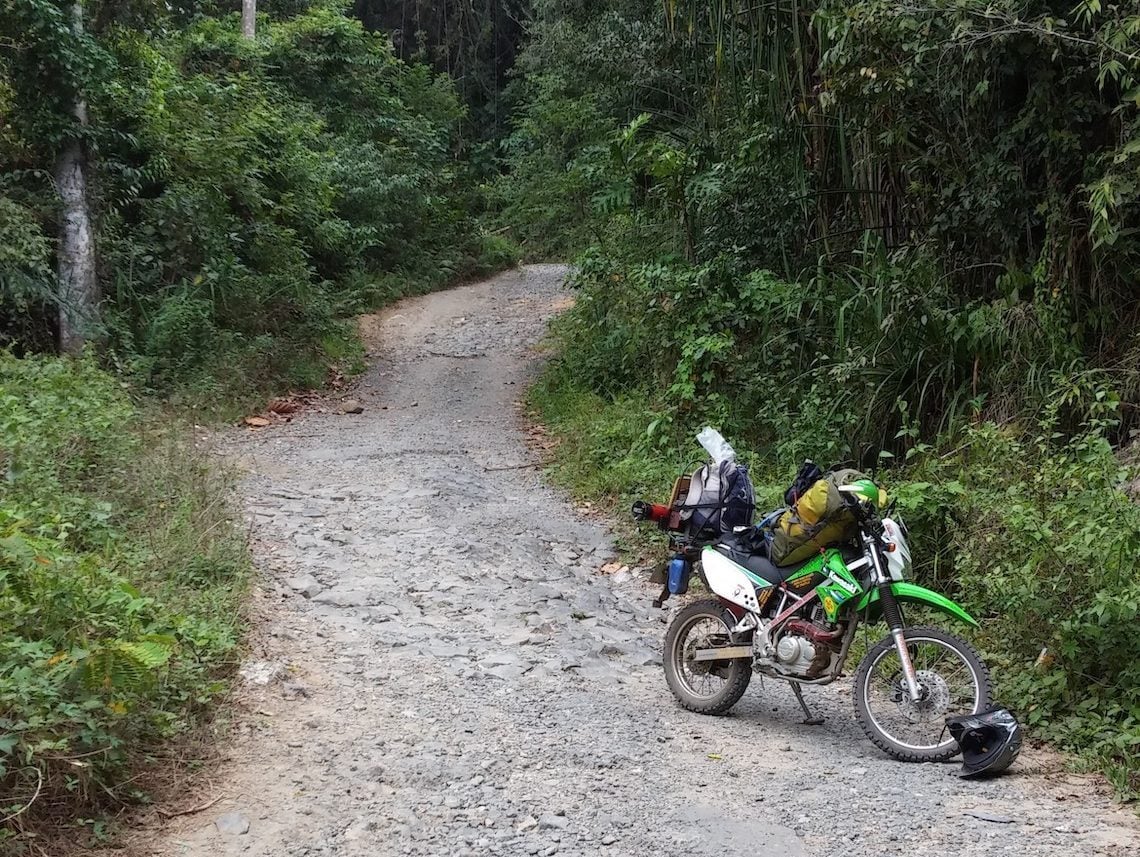 As the morning wore on I realised I needed to charge my phone. I spotted a hoarding advertising cell phones. I pulled up and explained my predicament. 'No problem, you can charge here', I was invited to sit on the veranda. Soon the family gathered. 'Have you eaten?' I was given delicious coffee and banana fritters.
Luis's (the man in charge) daughter had just given birth to a boy and they had yet to name him. Out he came wrapped in a blanket. 'Do you have a name for him?' I thought for a moment. 'What about Lucas?' They began voicing the name among themselves. 'Yes, that sounds good. We'll talk it over with the priest. I'm sure he will like the name too.'
The mountains stretched to the horizon, the volcanoes marched to the sea and the candlenut trees bathed the hillsides with their sugar-coated greenery. What a joy it was to ride that road east.
I skirted the coast, passed through forests of giant bamboo, plunged down canyons to cross rock-strewn river beds and climbed into the clouds to reach upland savannahs where, briefly, the road would straighten before continuing its sinuous journey to Bajawa.
I reached the town in the late afternoon and found the perfect place to stay: Lucas Authentic Homestay and Restaurant. There was a secure spot to park the bike, the room was sparkling new, the restaurant had an extensive menu and the staff had friendly smiles. I'd answered the call of the east and been rewarded richly. What more could a rider want after a day's travel across an island wonderland?