ABR product tester Paul Jennison talks us through the basics when gearing up for your first A1 adventure…
We all started here; longing to get out on two wheels with our newly acquired machine, just a matter of putting a lid on to meet the legal requirements and that's it I'm outta here! It really was that simple back in the day because unless someone had bequeathed you a leather jacket the odds were that you wore what you normally wore every day as there was very little choice of gear for the biker.
Wax cotton stuff for rain protection, a pair of gauntlets that used to fill up with rainwater purely by design, and a nice pair of shiny hi-top boots with the obligatory white seaman's socks rolled over the top to complete the look. There just wasn't the choice that we enjoy today, let alone it having some level of protection.
It's fair to say that these days getting out on two wheels takes a bit more in the way of training and bureaucracy than it used to and that's no bad thing for safety reasons if nothing else.
However it's strange that after all these years the only legal safety gear requirement is a Helmet… I hate the term 'Crash Helmet' but I suppose that's what it's on your head to protect you from and it is the vital part of the body to protect, but I'm a keen advocate that the rest of your body should have some measure of protection to reduce to some degree the severity of injuries should the worst thing happen and you and your pride and joy part company and both hit the deck.
Having the money to buy the very best kit isn't something we are all blessed with, but you can still get clobber that will give you good protection levels without you having to sell a kidney to fund it. To help I've put together a little guide on what to look for when choosing your kit with an eye on value for money.
UBER Adventure Kit
Distributed by Demon Tweeks, the Uber range, like a few others out there including ARMR, give budget riders a chance to get into some decent kit for not a lot of money. The Uber Baja dual sport helmet costs just £51.49, the Brenner jacket £55.99, the Julier trousers £47.98, the Uber Siberia waterproof boots £89.94 and Davos gloves for £18.39, meaning that to kit yourself out in new adventure gear is a very reasonable £263.79. We have all the stuff in the office. We'll see how it fares with a report next issue.
Jacket & Trousers
These days, the textile suits have taken over from leather as the gear of choice for any ABR. That's because they have good protection built-in and are invariably waterproof, negating the need to carry or indeed wear an over suit. When buying these make sure the armour in the garment has CE marking and importantly it sits over the area it's intended to protect and will stay in place in the event of a spill. There are some really good suits out there which are easily in reach of anyone on a restricted budget.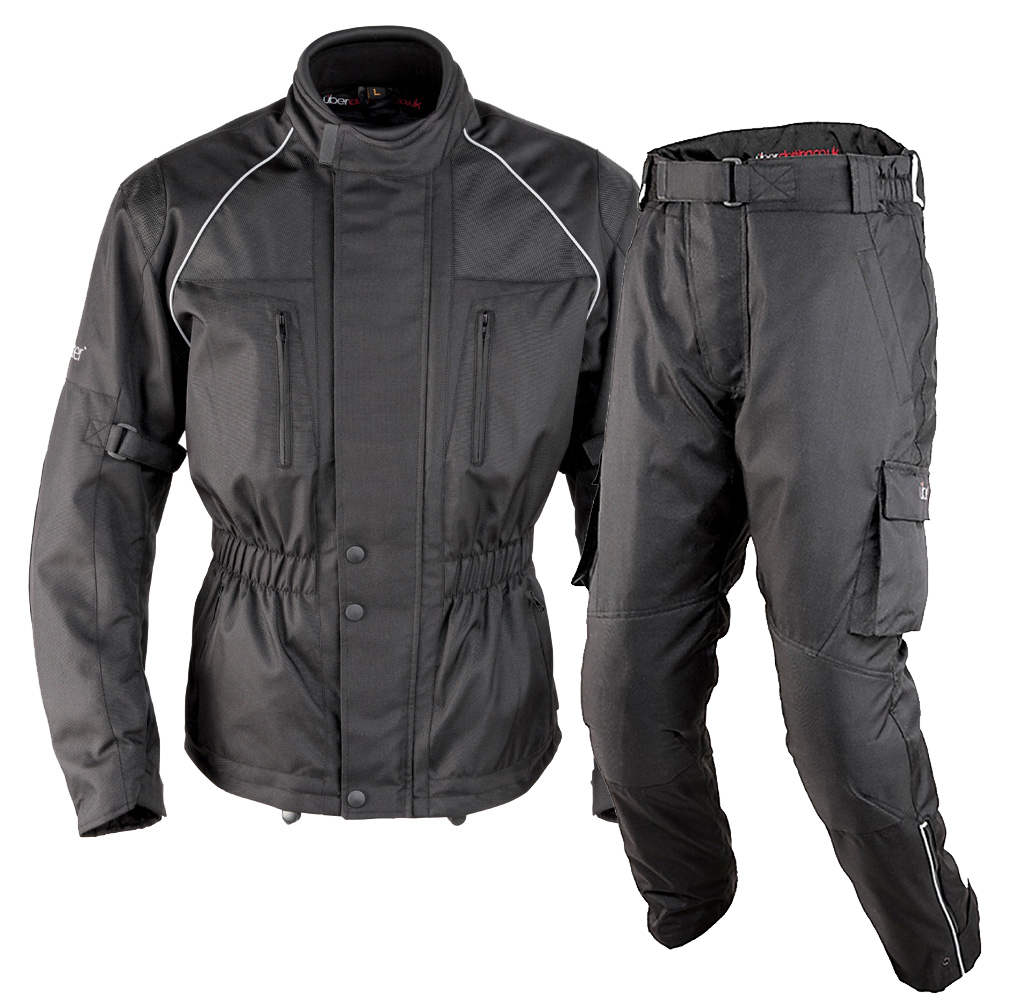 Helmet
As already mentioned, this is the only legal requirement that you have to adhere to, you have to wear one and it must be fastened, as that's the law. Always buy new and not second hand as you do not know what has happened to it before, even if the previous owner insists it's fine, a minor drop can compromise the shell and therefore the integrity and safety. Always try before you buy as getting the size correct is crucial. If you spot a deal on the tinterweb go and find one to try before you order online. The style of helmet is down to personal choice, but the construction follows the same basic procedures.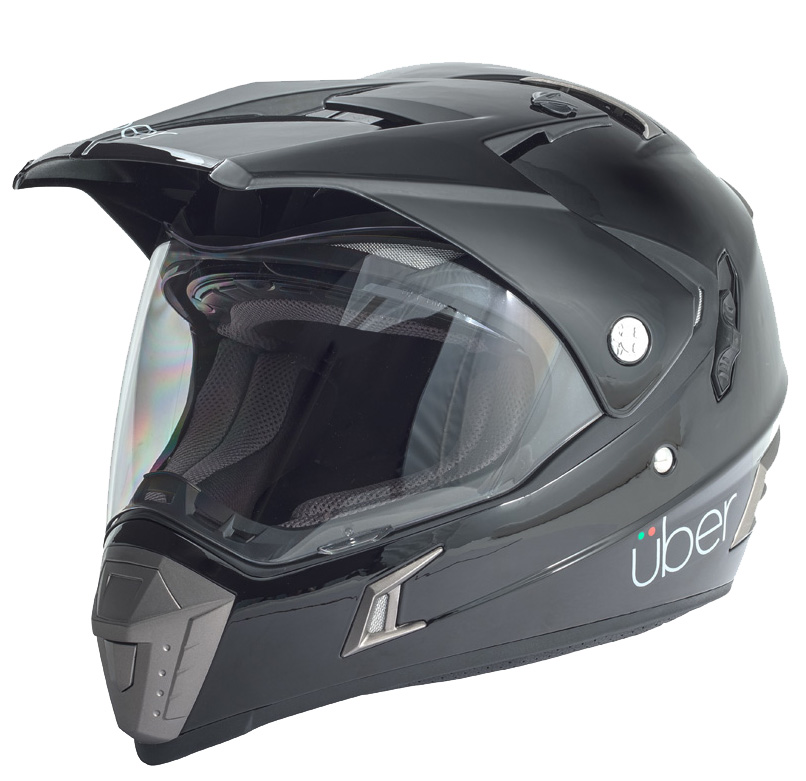 The best lids have a shell which is made from composite fibres such as fibreglass or carbon fibre; these are the strongest and will give a high level of protection but will also be the most expensive. The budget buys are going to be undoubtedly moulded plastic or polycarbonate. These can look really good and will have passed stringent testing to gain the CE marking E22 05 that all helmets being sold in the UK and Europe should display. These will do their job but they will not be as strong as a composite fibre helmet. The inner shell will be a dense EPS (expanded polystyrene), which is bonded to the outer shell, this absorbs and distributes any impact forces. Look for one that has a detachable lining that can be easily removed for cleaning and has a good fitting visor that seals all around the aperture to keep the rain out. ­
Do your Research
Have a look at SHARP the government's Helmet safety scheme: www.direct.gov.uk/sharp. They were set up in 2007 after the Department of Transport saw that there were many differences with safety performances of available helmets in the UK. This is a guide to the safety features of many helmets and can help you choose a good one.
Gloves
It's a natural reaction to put your hands out to break any fall, they are likely to be the first point of impact with the ground, so something that will withstand that without falling apart would be beneficial so avoid the cheap ones (the ones that cost a tenner at bike shows) they just won't cut it. Double leather or Kevlar layering over the palm area really works as the best friction resistant materials. Also look for good protection across the back of the hand and fingers as this will help to reduce impact injuries too.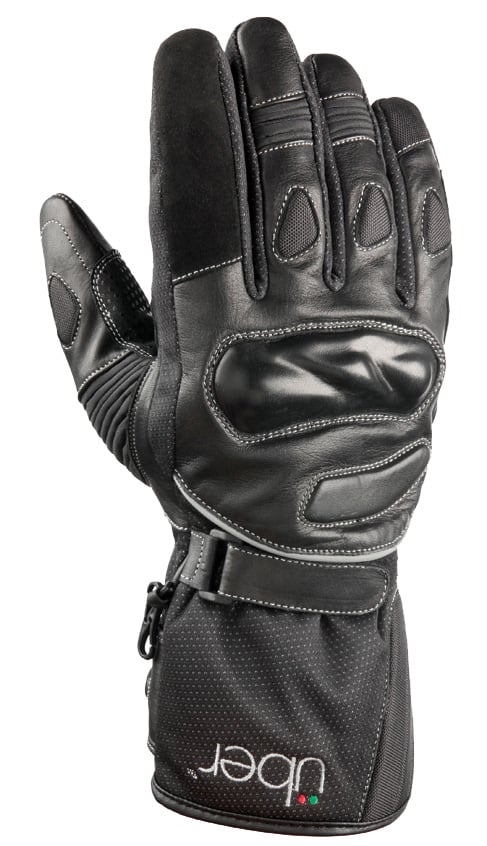 Boots
These need to be comfortable both on and off the bike. They should be fastened securely and cover over the ankle at the very least. They should have strong and durable sole units that have a good amount of grip for loose surfaces when off road riding or moving the bike manually. Anything with a waterproof lining is going to be good for year-round riding and the armour should protect the ankle and shin from impacts.