It's a tiny little country with a bit of a bad rep, but there's so much more to Georgia, says Ian Lane
There are some who set off on a bike trip with enough medical kit to carry out vasectomies, and others who have enough spare parts to carry out a full top-end rebuild. George and I belonged to neither camp, yet somehow we managed to ride our bikes, a Yamaha TT600R (mine) and KTM 620 Adventure (his), to Baku, the capital of Azerbaijan on the Caspian Sea.
George was working in Baku at the time and our ride raised quite a bit of cash for a local orphanage. That story's for another time, but it goes some way to explaining how the two of us and our bikes came to be in Azerbaijan. Besides our own bikes, a Duke had also been imported for our day-to-day transport (a 'natural' choice, thought George, for the manic tra. c and potholed roads of Baku). This gave us a third bike and the means to enrol our mate Larry for a proper exploration of Georgia.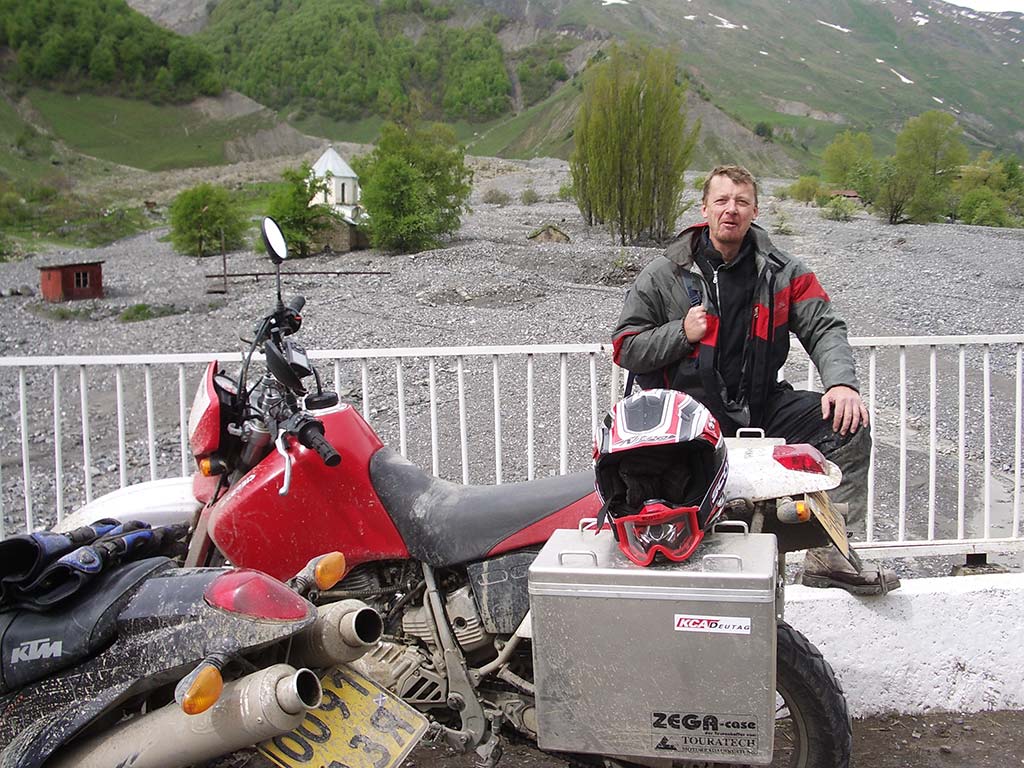 "Velcome to Georgia"
The scenery changed from desert to alpine as we left the environs of Baku and headed towards the Caucasus Mountains and the border with Georgia, ignoring the half-hearted attempts by local police to flag us down and '. ne' us. We spent our first night in a converted caravanserai, lodgings which were at one time used by camel traders plying the Silk Road. They now serve 'wealthy' Azerbaijanis, with rooms at a dizzying $15 (£9.50) a night. The next day we tackled the border.
We were expecting the usual hassle but were pleasantly surprised. After being invited to take tea with the Azerbaijani officials, we were waved through the border and then greeted by an equally friendly Kalashnikov-toting soldier on the other side. "Velcome to Georgia," he grinned as we handed over our passports for inspection, his gold-capped teeth glinting in the sunshine.
Since we were making good time we decided to take a little detour to Kvareli, a small village known for its wine. Our impromptu jaunt was cut short however when an unmarked car slew in front of us like the Dukes of Hazzard. As the car skidded to a halt, four armed men got out.
They were all sporting blue waistcoats with the words 'criminal police' on the back. In no time at all we found ourselves following their car back the way we'd just come. 'Is this how expats are lifted in Georgia?' I wondered. No, turns out not.
These guys were just making sure we didn't stray in to South Ossetia, a region over which the Georgian government in Tbilisi and the Russians in Moscow were having a little local difficulty.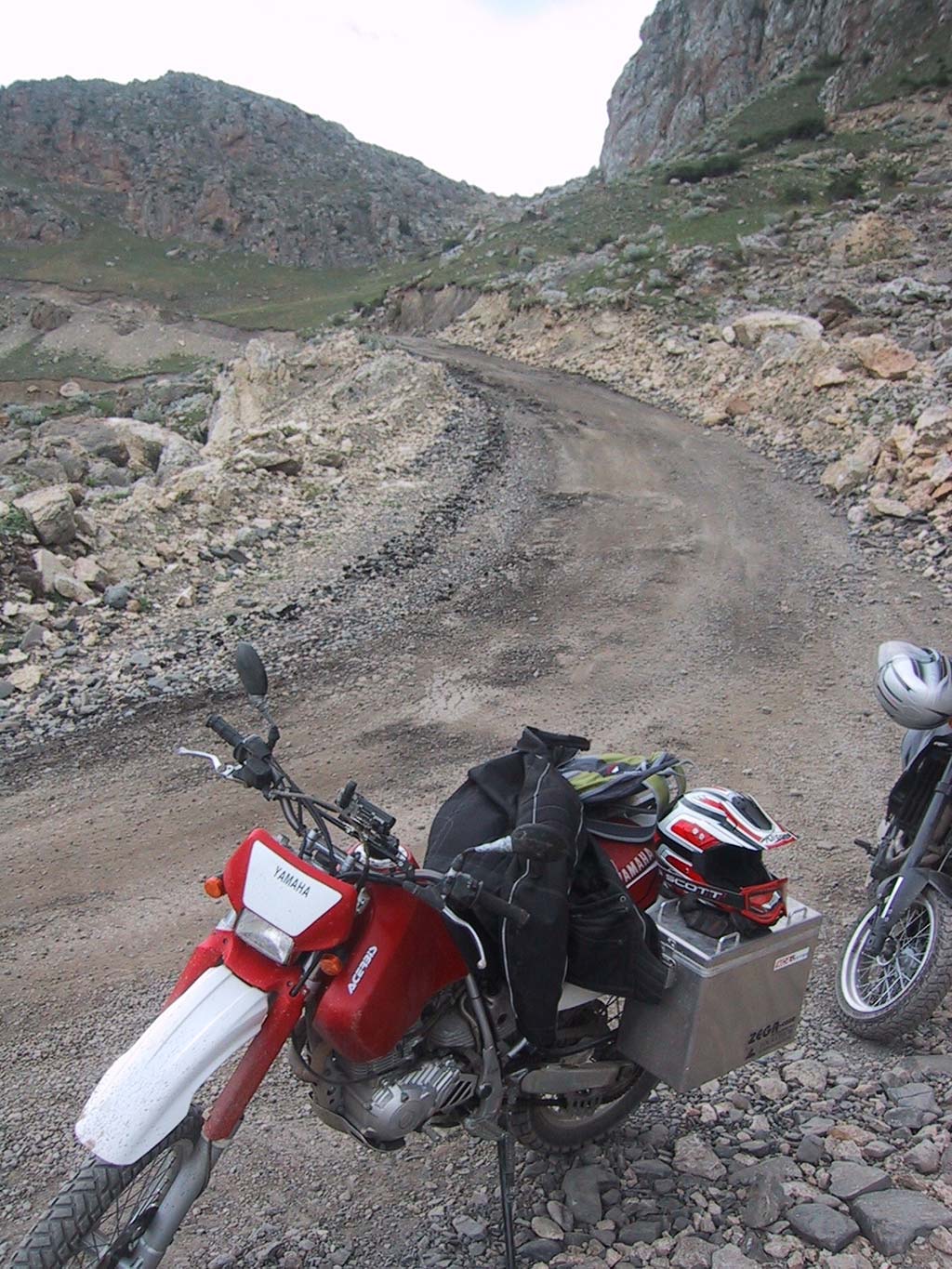 Washout
After thanking our escort we carried on to Telavi. We'd booked rooms in a homestay, which we'd found in the Lonely Planet guidebook. After dumping our stuff, we dined out at the town's only restaurant. On the menu was khachipuri, a sort of cheese pie, which is the staple in Georgia – very tasty but highly calorific, and we bought our drinks from the shop across the road. A request for after-dinner drinks elicited a Nyet (no) as by this time the shop across the road was shut. Damn.
As we got ready to depart the next day, our landlady expressed grave misgivings about our being able to reach Kazbegi. The road had been washed out by recent heavy rains, she said, and numerous mudslides had made the route impassable. 'Pah!' we thought. 'What do women know? Especially those that wear socks!' Quite a lot, as it turns out. We rode 25 miles on decent roads before turning o. through a sodden . eld on to a track churned up by Russian UAZ 4×4 minibuses, the ruts from which were impossible to escape. Top tip: before embarking, make sure the bottom of your aluminium panniers is above the height of any ruts. Keep your feet on the pegs too, or you may need that vasectomy kit after all.
Eventually we reached the recently resurfaced Georgian Military Highway (which isn't a highway at all, in fact) and began heading north to Kazbegi, a pretty enough village high in the Caucasus on the Russian-Chechnyan border. The village is above the snowline in May and we stayed in a comfortable homestay for the princely sum of $5 (£3.17) a night.
The bikes were stowed inside a cowshed (good) in to which were later driven several cows (bad). However, the price included soup and khachipuri, and the beds were bug-free.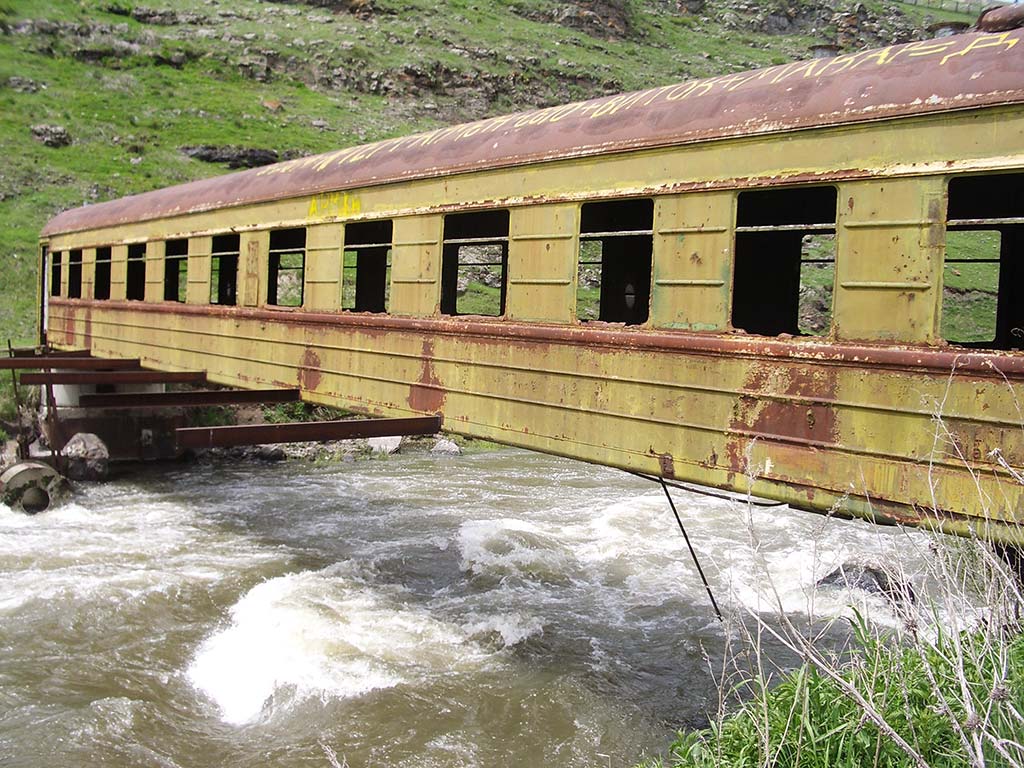 Great Scott, you're right!
The next day we fueled up at a local petrol station run by two old ladies, one of whom held the nozzle while her companion in the 'office' controlled the pump. The deal was you had to tell the old dear in the 'control room' how much petrol you wanted – and 'full' wasn't on the list of options. I took a punt at 10 litres (this being the number of digits on my hands) only to find I had insufficient space for said fuel, which duly overflowed all over the tank and exhaust. Luckily the octane rating of Georgian fuel renders it non-flammable without the aid of a blow lamp, so no harm was done.
Next we rode out on the main (read: proper) highway towards Tbilisi before heading west to Akhaltsikhe. As the old jokes goes, the Georgians drive on the right and yield to traffic approaching from the right. In practice, they drive in the middle and yield to no one. So long as you know the 'rules' it's all eminently manageable.
After stopping overnight in a soviet-style hotel (with the bikes stored in the lobby) we were escorted out of town the following morning by a squadron of enthusiastic locals, wheelying a variety of unidentified two-strokes alongside us as we made our way to the famous cave city of Vardzia.
Prior to the trip, I'd plotted the route by reading UTM coordinates o. an old Russian map and plugging these into the GPS. Surprisingly, mapping software didn't extend to Georgia's back roads at the time. This meant I always got to ride in the front, befitting my status as a natural leader of men. Or so I thought. As the sole Englishman riding with two Scots, I began to realise that I may have also been in front for sacrificial purposes, attracting all the local rabid dogs; finding all the big potholes and being the first to be confronted by any speeding, out-of-control vehicles on the wrong side of the road. Who says the Scots aren't canny?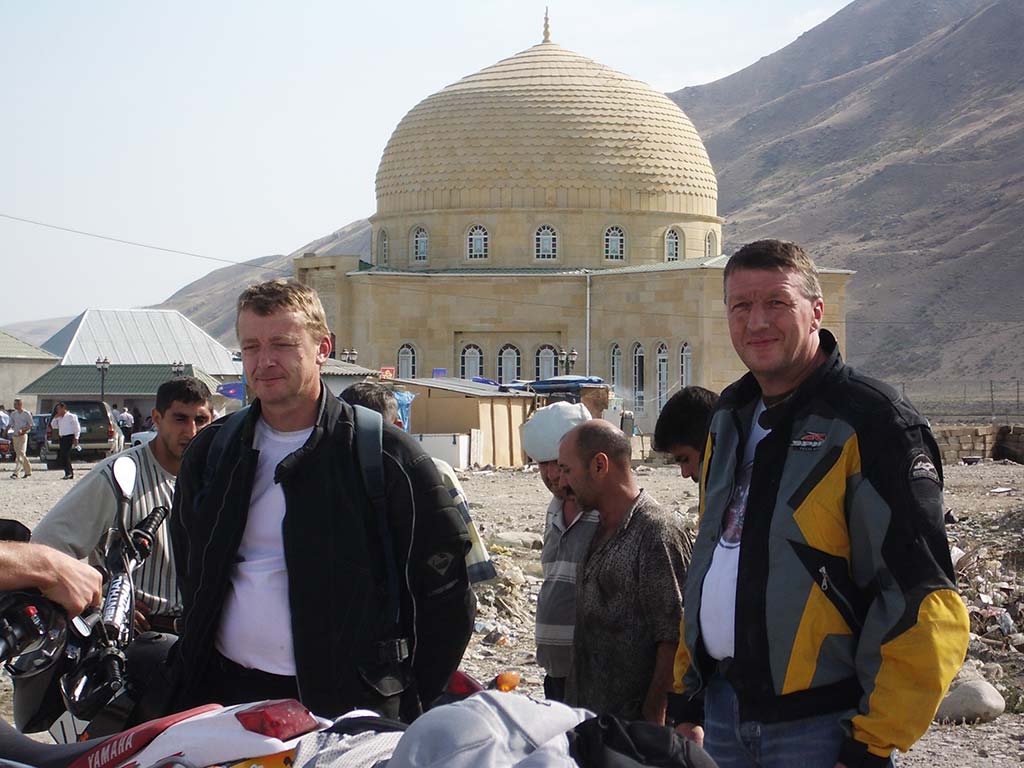 Chickening out
A day or so later our circular route took us on a 75-mile rubble track back towards Tbilisi. Half way along this, George's Duke died. It's a popular belief among German BWM afficionados that KTM stands for kein tausend meter ('only a thousand metres'), though it must be said that few streetmotos would be expected to withstand the abuse the poor old Duke had been through. Anyhow, it turned out that the rear section of the sub-frame to which the battery earth was attached had parted company with the body politic, rendering said earthing ineffective. 'Thank god the TTR makes do without such hi-tech nonsense as batteries,' I thought.
After splinting the frame using tiewraps and tyre-levers and transferring the earth to the main part of the frame, we were able to limp onwards to the village of Tsalka. There we found a qualified welder who generated his own acetylene using lumps of carbide in water, even using the milky residue to paint his shed walls. Where he got the asbestos paste to use as a heat barrier we'll never know, as his English and our Georgian didn't stretch that far.
By now our schedule to reach Tbilisi was shot. My personal risk envelope doesn't extend to riding on poor, pitch-black roads in the middle of nowhere (well, with the Yam's headlight who would?), so we stopped at the next village, Manglesi, and asked for a gastinitse or hotel to you and me. Everywhere we went the answer was the same: nyet.
Bugger. Ted Simon said in Jupiter's Travels that over time he came to believe that whatever misfortune befell him, help would always be around the corner. And so it proved with us when a teenager motioned us to follow him to his house, where his parents, grandparents, and uncle lived with their pigs and chickens.
I'm not sure who was turfed out of where, but we each got a bed, and were royally treated to dinner, washed down with a very acceptable red (served out of a 2-litre Pepsi bottle). Much toasting was done with chacha, a walnut-based paint stripper masquerading as liquor, and although none of us spoke the others' language, this evening of Georgian hospitality definitely proved the highlight of the trip.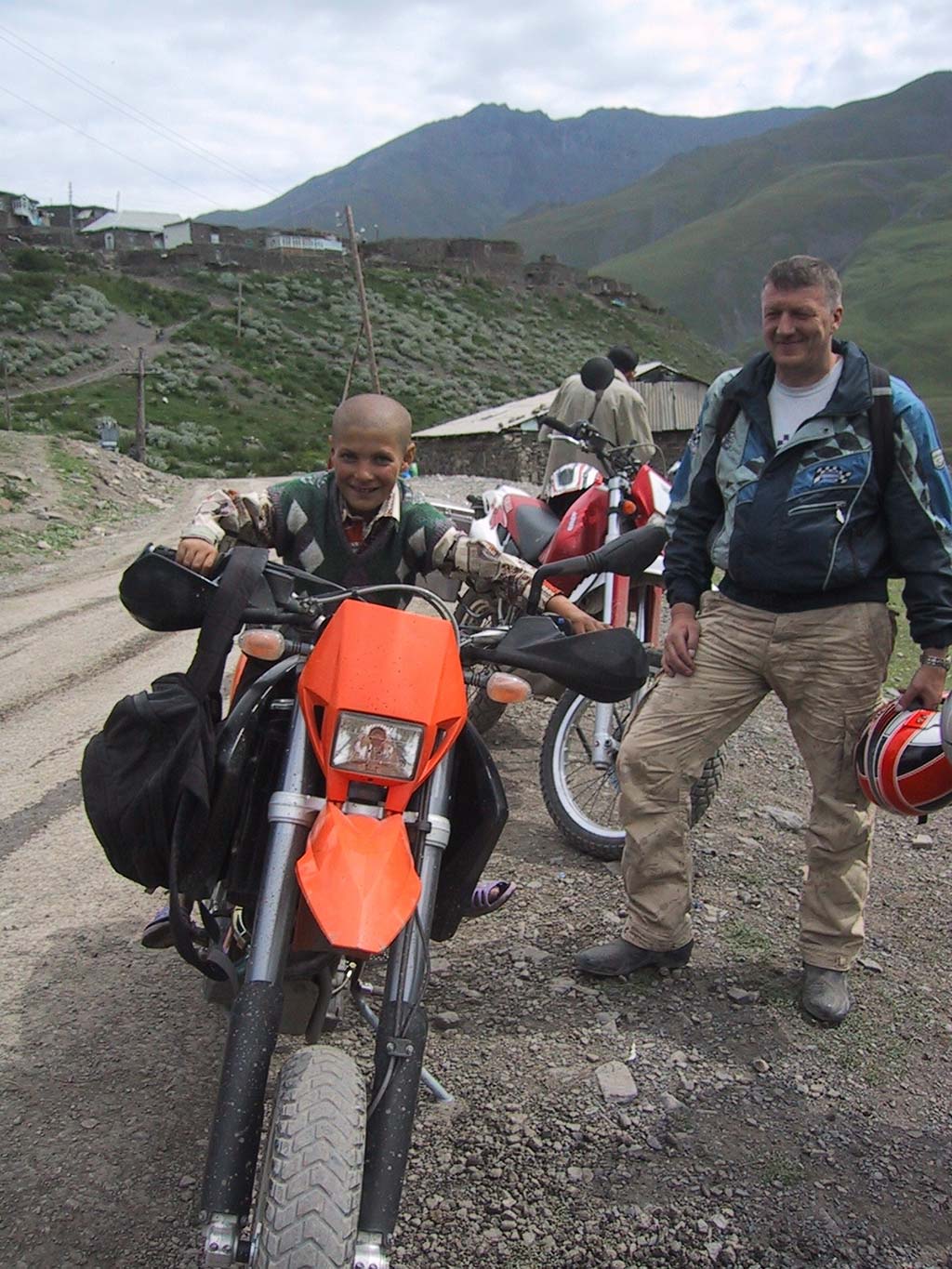 Goolie gotcha
The next day found us in Tbilisi, and like most cities, this place is di. cult to get to grips with in 24 hours. Checking out of the hotel we asked the desk clerk for rough directions out of the city. "There are many roads out of Tbilisi", he advised us, sagely. "You will guess". And he was right. It still took us the best part of two hours to escape the city limits, but eventually we rocked up at the Azeri border, where things proved less straightforward than before. Despite handing over passports, bike registration documents and Blockbuster cards, there appeared to be a 'problem'. Reluctant to offer a monetary incentive to smooth matters over – this can rapidly escalate the 'problem' if it's inappropriately received – we decided to tough it out and wait. Five hours later we were still waiting.
During a military campaign in Afghanistan several generations ago, servicemen captured by the Mujaheddin were routinely despatched to meet their maker, having first had their testicles removed among other things. In an e. ort to try to avoid this fate, servicemen carried something called a 'goolie chit', a piece of paper offering a small financial reward if the bearer was released by the Mujaheddin, complete with said testicles.
In anticipation of border issues (castration aside), I had prepared a letter purporting to be from the Anglo Azerbaijan Society explaining in both Azeri and Russian how our little trip should be seen as a cultural exchange, promoting goodwill between our two peoples etc. If ever there was a time to flourish our own 'goolie chit', this was surely it. Without further ado I passed the letter on to the man with the most braid on his uniform. Rather than prompting the official to let us through with a smile and a wave, the letter unfortunately made the man very angry. Something lost in the translation, perhaps? Eventually, however, some point having been made, we were waved through just before the border closed (goolies mercifully intact).
So that was Georgia, one of many countries with an ill-deserved reputation for dangerous travel. It is in fact a beautiful place peopled by friendly, helpful folk and bursting with great adventure riding opportunities. Go there if you can. George Grant, Larry McKay and I made this trip a few years ago. Sadly, George lost his life just before Christmas 2011, apparently falling from a building which he was inspecting in Libreville, Gabon. This article is dedicated to him, and for those ABRs who are contemplating the 'big trip' but are too afraid of the 'what ifs', just do it. Make the most of your life, like George did. You won't regret it.
Flag this up
The Georgian flag looks very much like the English one, which is unsurprising as Saint George is patron saint of both England and Georgia. In addition to the Cross of St George, the Georgian flag also has four smaller crosses in each of the four quadrats. These are Jerusalem crosses (wider at the tips than in the centre), a popular symbol used during the crusades. The four 'crosslets' are thought to have been added to the flag during the reign of King George V of Georgia, who was also known as 'The Brillinat' or 'The Splendid' for his success in driving out the Mongols and restoring the country's Christian values; the five crosses on the Georgian flag are said to represent the five holy wounds of Christ
Georgian facts
Georgia is a sovereign state in the Caucasus region of Eurasia. Situated at the intersection between Eastern Europe and Western Asia, Turkey lies to the south, Russia to the north, and the Black Sea is on Georgia's west coast
The country covers 26,216 square miles and has a population of nearly 7.4m, 1.5m of which live in its capital city, Tbilisi, which can be found in the south Caucasus on the banks of the Kura River
Currency in Georgia is the lari, which is divided in to 100 tetri. At the current rate of exchange, one lari is worth around 39p
Georgia's a very mountainous place. The Likhi Range splits the country east-west while the Greater Caucasus Mountain Range forms the northern border of Georgia with Russia. The highest mountain in Georgia is Mount Shkhara at 5,068 meters. The country's also dense with forestry; over 40 percent of Georgia's land mass is covered in trees
The terrain plays a big part in nurturing Georgia's climate, which is warm in low-lying areas and cool in the foothills and mountains. Rainfall tends to be particularly heavy during spring and autumn; the east of the country enjoys hot summers, but cold winters, and the mountains are often snow-bound during winter months
A fine vintage
With over 500 varieties of endemic grapes and the world's first cultivates grapevines, the art of viticulture is a big part of Georgia's national identity. In 2003, Scientists unearthed the world's oldest wine – a vintage produced 8,000 years ago in in Shulaveri, Georgia. Although no liquid wine from the period has survived, scientists were able to salvage and test red wine residues discovered on the inner surfaces of 8,000-year-old ceramic storage jars, proving that Neolithic man had both the means and the know-how to make vino. This discovery when it was made pushed back the previous known history of wine by several hundred years. Cheers, Georgia!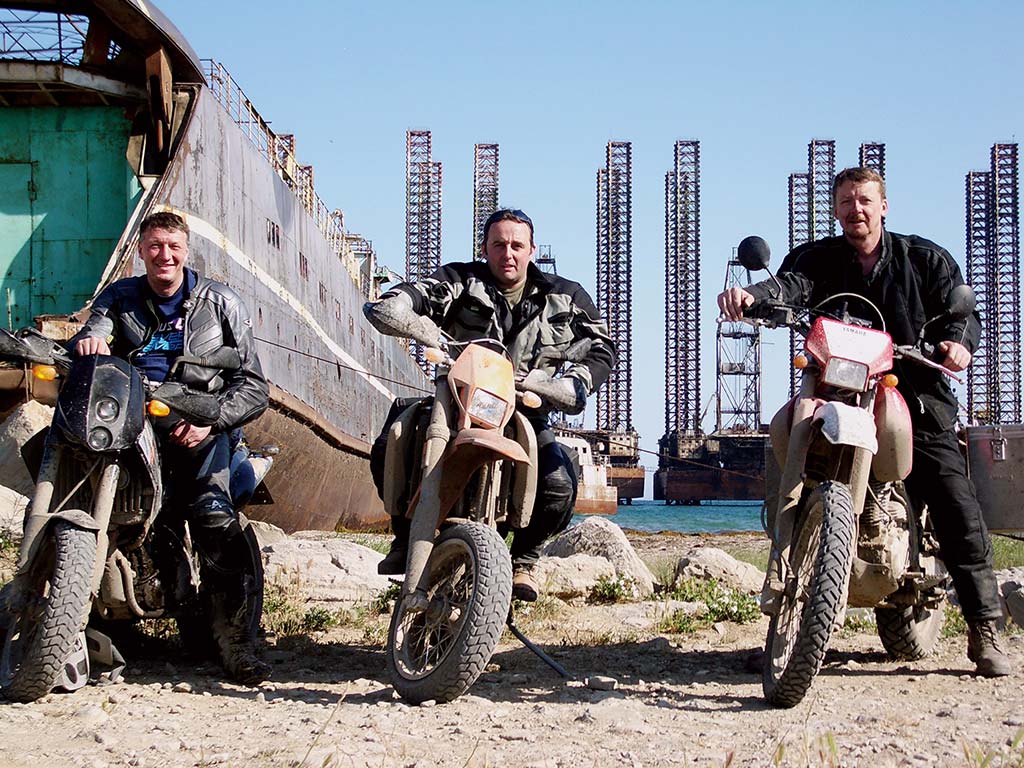 The bikes
Yamaha TT 600 R (1999): Vintage, simple and robust. Ideal for this sort of stu. ; horrible on motorways
KTM 620 Adventure (2006): A great bit of kit if it's properly looked after, Istanbul was its inaugural trip
KTM 620 Duke (circa 2007): Amazing bike. Did what it was meant to, only problem was a broken sub-frame. As it wasn't carrying any luggage, just a stainless exhaust and George, it must have been the exhaust that did it…