With the post-travel blues hitting them hard, Steve and Sue Frew head to Corsica for fantastic riding, stunning views and an injection of culture
Anyone that has travelled a good distance over an extended time by bike knows that the worst thing that happens is that feeling when you get home and it's all over. I recall a story in issue 32 of ABR (Jan/Feb 2016) about Dan Skeates and his return to reality.
"I travelled through 37 countries and covered over 32,000 miles and then, before I realised what was happening, it was a cold and wet Tuesday morning at home and I had to put the wheelie bin out before 7 am." It sounds trite perhaps, except for the fact that it is true.
Reality sneaks up and belts you across the chops like that sometimes. My wife Sue and I achieved a life's dream in 2013 when we shipped our Ducatis to Felixstowe in the UK for a four and a half month adventure of a lifetime. We clocked up over 13,000 miles through 17 countries and it was the best experience either of us had ever had, but in August 2013 it was over and we were back at work.

Life got slow. We rode as much as we could in 2014 around southern Australia, but one thing had changed. We no longer really looked forward to the 'Sunday ride'. It worked for us if we could escape for a few days, but if it wasn't proper travel, we simply couldn't get motivated.
By the end of 2014, we'd had enough, so we called our friend Dave Milligan from Australia's best-known bike shipper 'Get Routed' and booked to do it all again in 2015.  The next six months saw us re-energised, eagerly awaiting our return to Europe.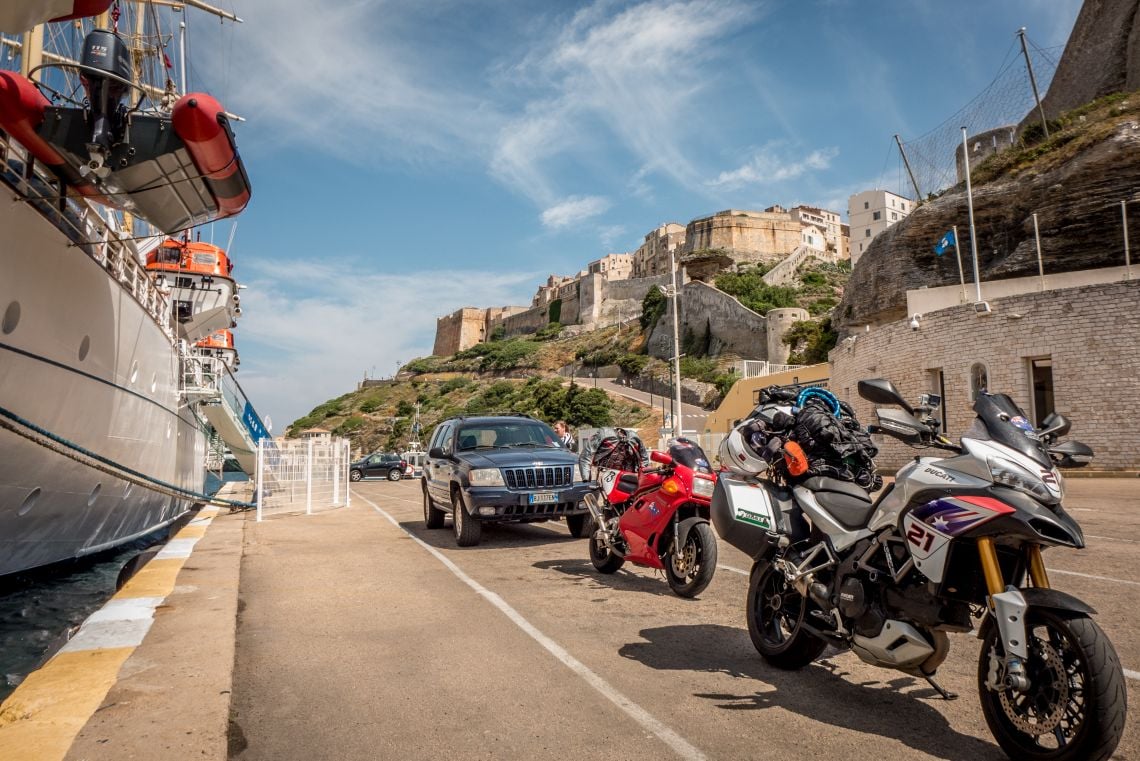 In 2013, we'd only ridden as far south in Italy as Bologna. We wanted to do more of Italy this time, so it was decided we'd ferry-hop the French island of Corsica before heading onto Sardinia and Sicily.  From there, we'd ride north through Italy and into Slovenia. All three islands are memorable, but Corsica was our first.
Having left Spain riding the length of the N260 through the Pyrenees, we rode along the south coast of France and, avoiding cities as we try to, stayed in Barcelonnette to avoid Marseille and Nice. The choices for ferry departure points to Corsica are many; from the French Alps, Genoa in Italy was the logical one for us and offered a great ride out of the Alps.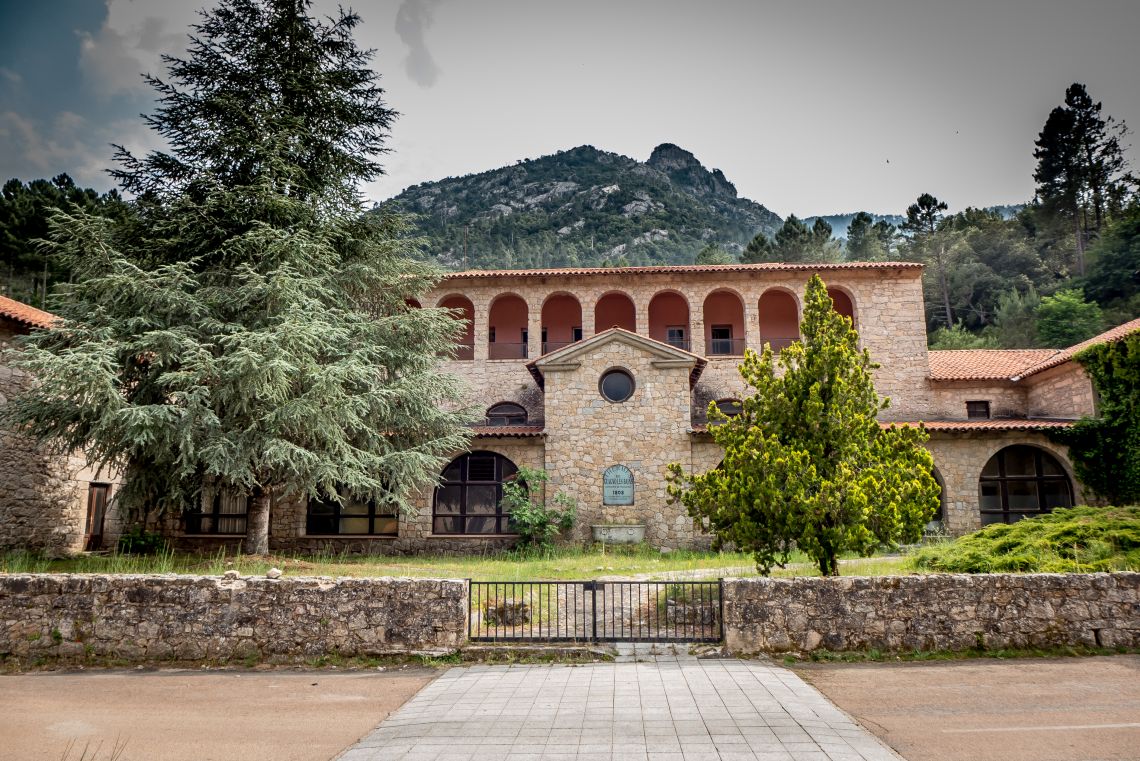 After a day of walking around discovering Genoa, we dressed in our gear and headed for the ferry terminal. The Italians queue differently to the rest of the world and there were cars everywhere. Only half an hour in, with us sitting orderly in the queue, bikes started filtering through toward the front.
In Australia, that's fine in traffic, but in a queue, it is clearly queue jumping. Still, when in Rome, as they say. We quickly found the front of the line and boarded before many of the cars. We couldn't wait to get rid of the leathers.
Beer in hand on the aft deck, the lights of Genoa faded into the distance at nightfall and the storm clouds and lightning flashes over the Alps closed in on the city as we sailed south.
We arrived at Bastia at 8 am on the Friday morning and, if we'd thought the traffic boarding the ferry was bad, what we experienced getting out of the terminal onto Corsican soil took it to a new level. In hindsight, we should have stopped in Bastia for a look around, but once we picked a gap to get out of the traffic we were gone! It was all too much.
The coast road took us north to Ersa where we stopped for a late breakfast.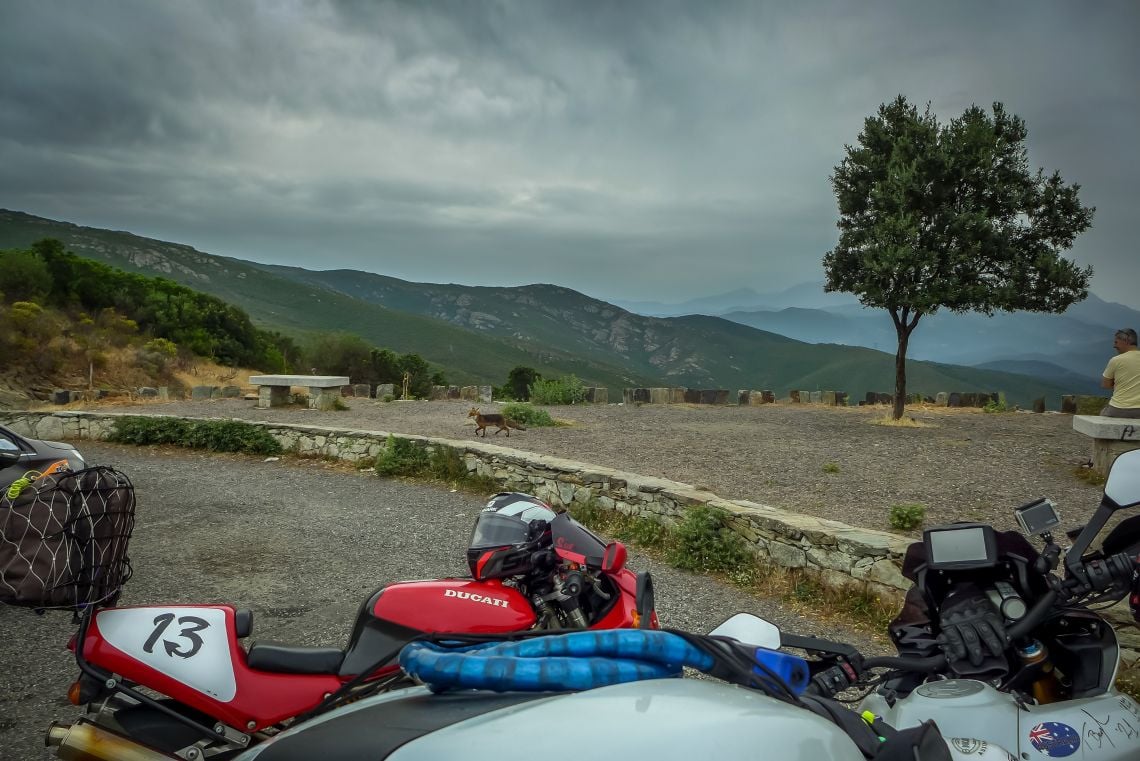 One-stop at a magnificent scenic spot saw us with a few others fascinated by a 'tamed' fox. It was curious, but comfortable and less than absolutely trusting of us humans. Some around us tried to feed it while the rest photographed and filmed it. It's a shame animals become trusting of people like this. It will ultimately be to the detriment of the animal's survival skills.
Still, for us it was indeed a new experience.
Following the west coast (southbound) through Calvi we left the coast at Porto, heading inland for our cleverly picked 'ideal location' for our three days in Corsica; Guagno les Bains. The hotel was spectacular.
The setting in the mountains lush and green as the mountain tops disappeared into the clouds. We'd done all right. The road in was astounding and I don't know when I've done more bends in one sitting. Of course, the scenery was absolutely outstanding.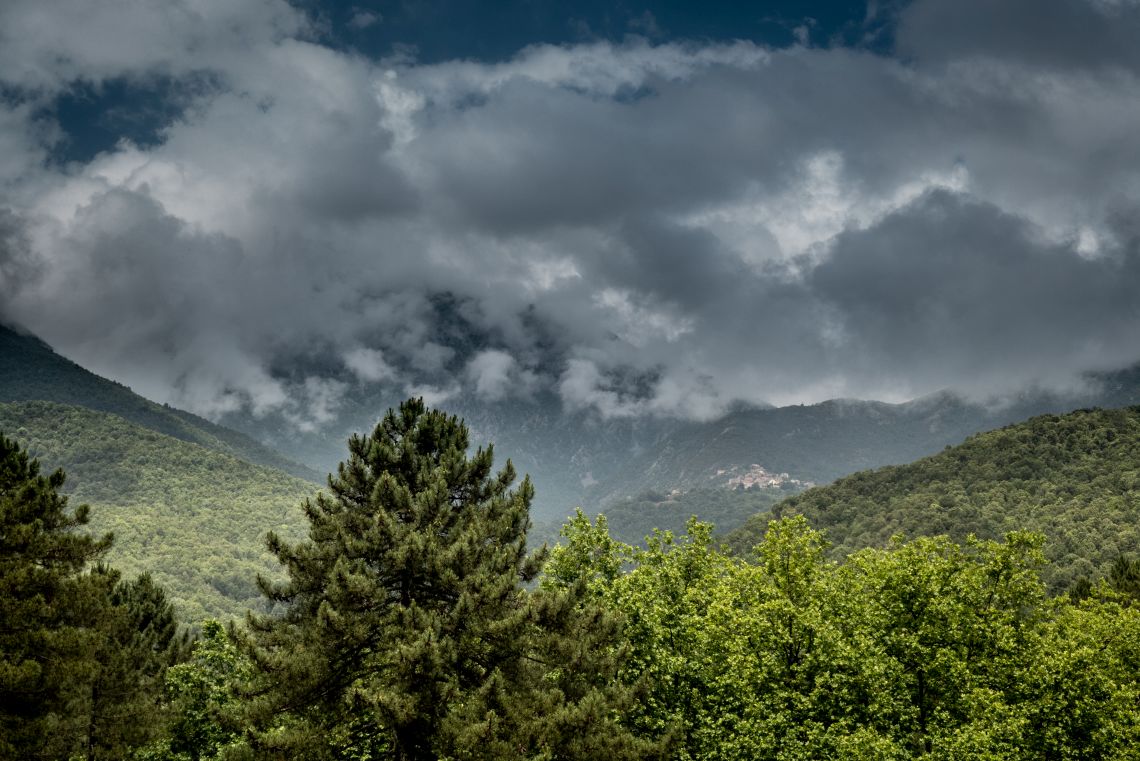 Over a few drinks and a memorable meal, we planned our Saturday and Sunday rides. Corsica is a small island, so we should have been able to nail it easily. What we discovered that night, however, is that our perfectly placed, centrally located hotel base could only be accessed from the west coast.  Access to the east coast was well outside our capacity in the two days we planned to explore Corsica.
Saturday came and undeterred we took off on our discovery route. Taking in Murzo, Rosazia, Azzana, Lopigna, Casaglione, Masorchia, Tiuccia, Cargese, Piana, Porto, Ota, Letia and finally back to Guagno les Bains. At one point in the day we rounded a bend to find a small herd of goats, simply lazing about the road and absolutely unfazed by the presence of our booming Ducatis.
It was a good thing we were in touring mode! We weaved our way through them OK, but we had to wonder how the campervan coming from the other direction was going to deal with them; they weren't ready to move.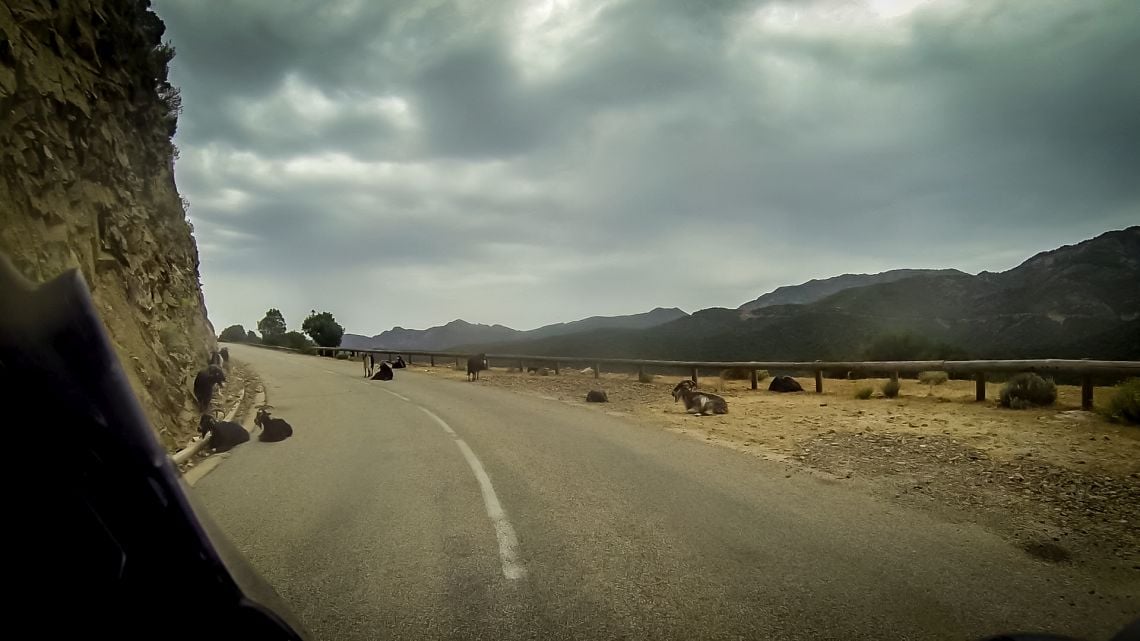 The star of the day was Les Calanques de Piana, a stunning red rocks cliff and rock formation overlooking the Golfe de Porto.  There were cars and people everywhere. I had a GoPro mounted on the Multistrada handlebar and figured it would capture what we needed for visual memories.
Unfortunately, as the camera was mounted on the right bar and the scenery was on our left, the camera missed much of the spectacle. Parking wasn't easy and neither of us likes the crowds that come with popular tourist spots, so given the day's temperature and the fact that we were in leather and not really dressed for walking, we pressed on.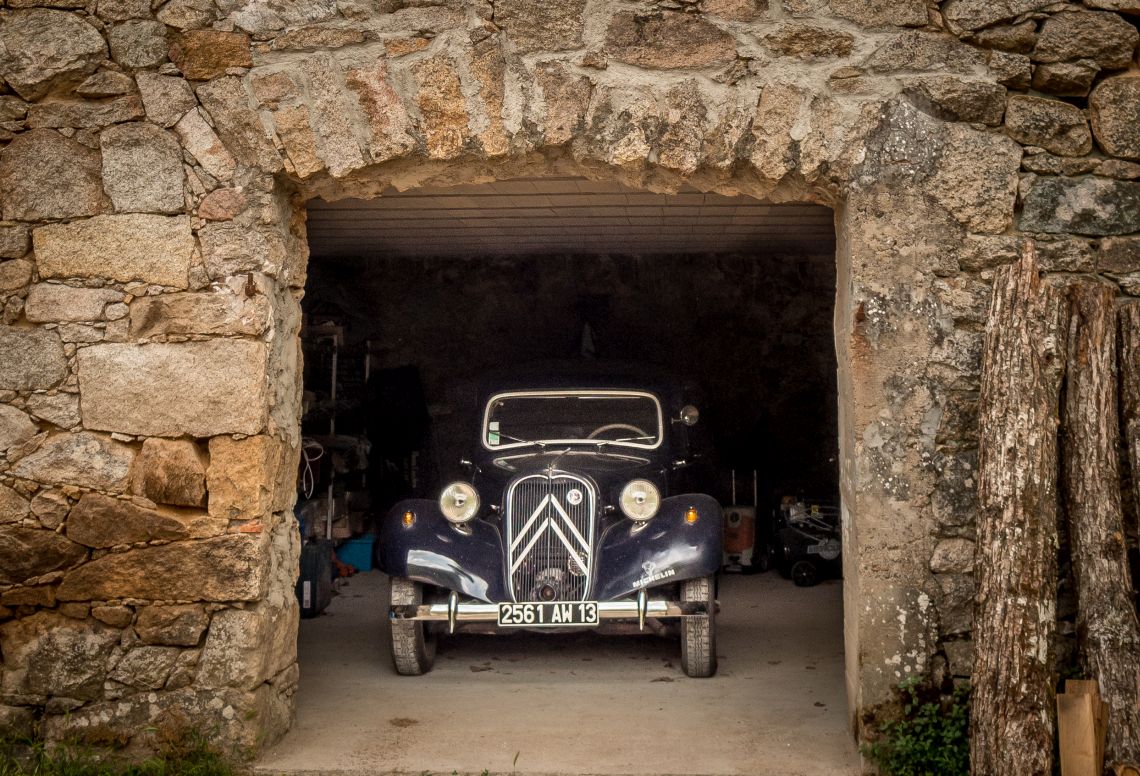 If there is a downside to riding a trip like we were doing, it's that stopping and looking 'en-route' is made more difficult, with leathers, boots and securing your gear when you leave it all on the mind. With all that said, we wouldn't swap all the tourist traps for the experiences we've had. If it weren't for the fact that we are riding, we wouldn't have been there in the first place.
The riding, as expected, was sensational, although we did discover one of the worst roads in Corsica. It was absolutely at odds with the road quality we'd read and been told about. Having said that, it needs to be kept in mind that I was fine on the Multistrada. It was the near 20-year-old 900SS Ducati of Sue's that was giving her grief on the second rate roads.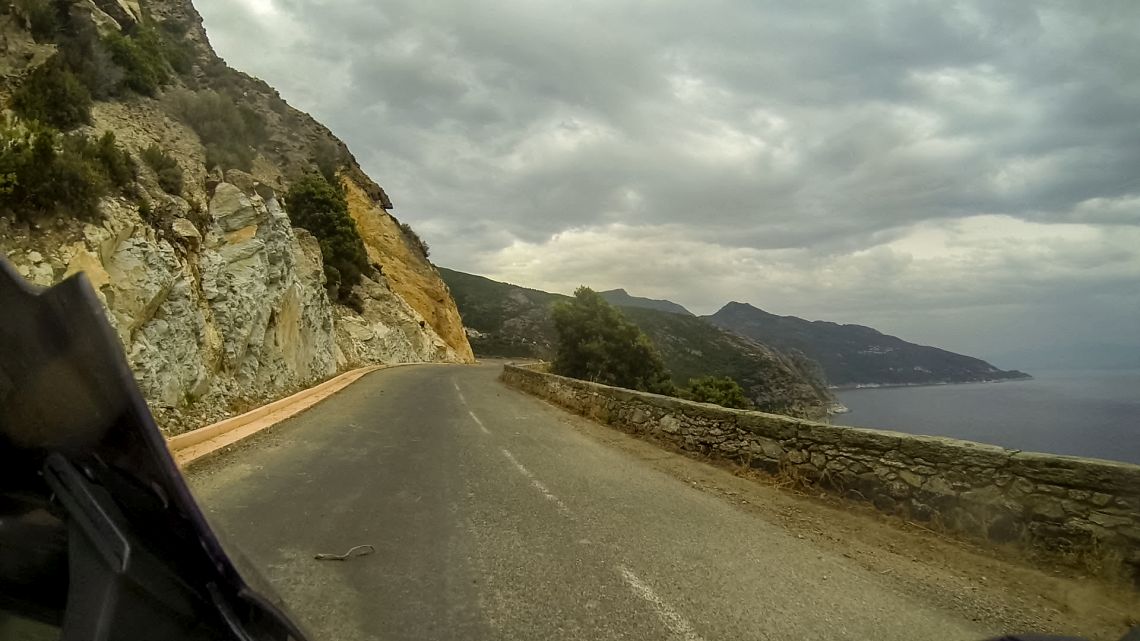 Sunday morning arrived and guess what? It was raining. It didn't stop; well, perhaps for an hour or so. As a result, we gave the bikes a miss and took a walk into the centre of Guagno les Bains. The town was a special spa town in its day, surrounded by and built on thermal mineral springs.
The water here is said to be 42C! The plaque on the old bathhouse (les bains is 'the bath' in French) says it was founded in 1808; that seems like a long time ago for us antipodeans, from a land discovered only 38 years earlier.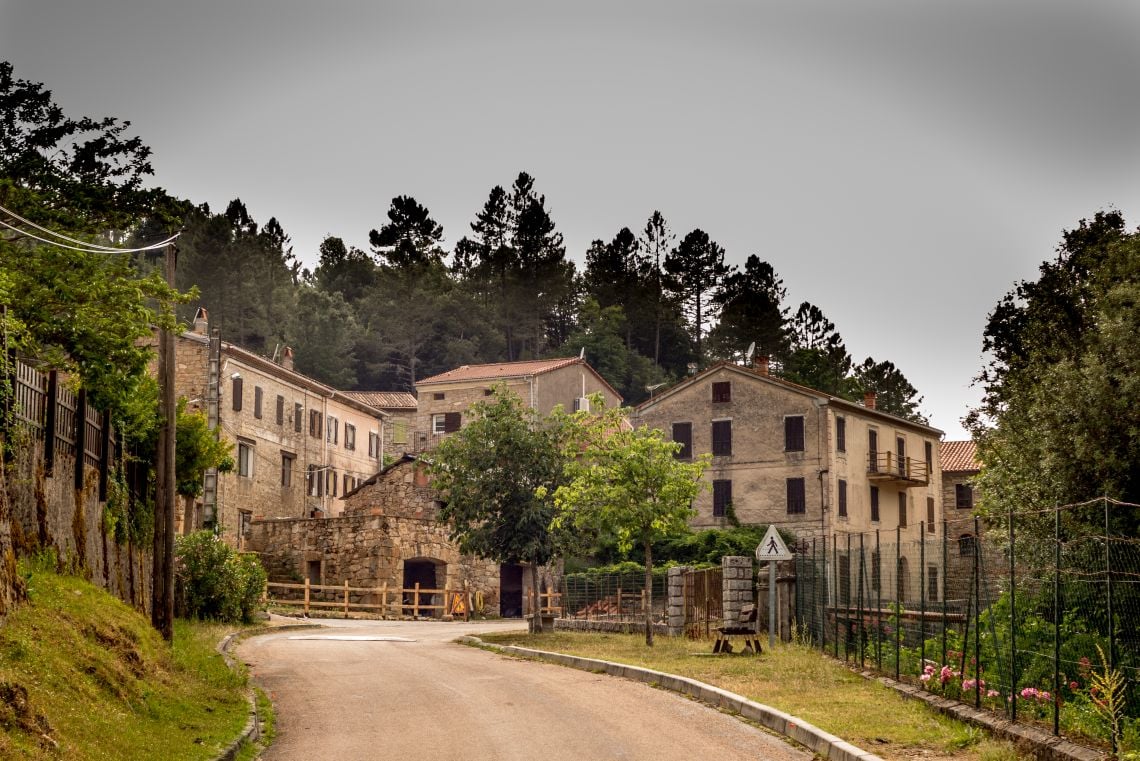 Unfortunately, in recent years it had closed, presumably for economic reasons and a lessening belief in the healing powers of thermal springs. I've no doubt if it were in Australia you'd need to book months ahead to get in, though. It was a short day and I was thankful there was a bar in the hotel. Still, when you are travelling for so long, a little downtime isn't a bad thing.
Monday morning soon came and we packed the bikes before heading south in more rain to Bonifacio for the ferry. Being only 125 odd miles, we made it in time for lunch. The rain had cleared and it was now in the mid-30s.  Sitting in the marina, we feasted on the French favourite of moules and frites (mussels and French fries).
The photos I took simply can't do the place justice. We will go back to Corsica and we will undoubtedly stay in Bonifacio. If you have internet handy, look at the Port of Bonifacio website (www.port-bonifacio.corsica/en). You will want to go there… and you should. By mid-afternoon, the ferry was in and we were riding aboard heading to the northern port of Palau in Sardinia.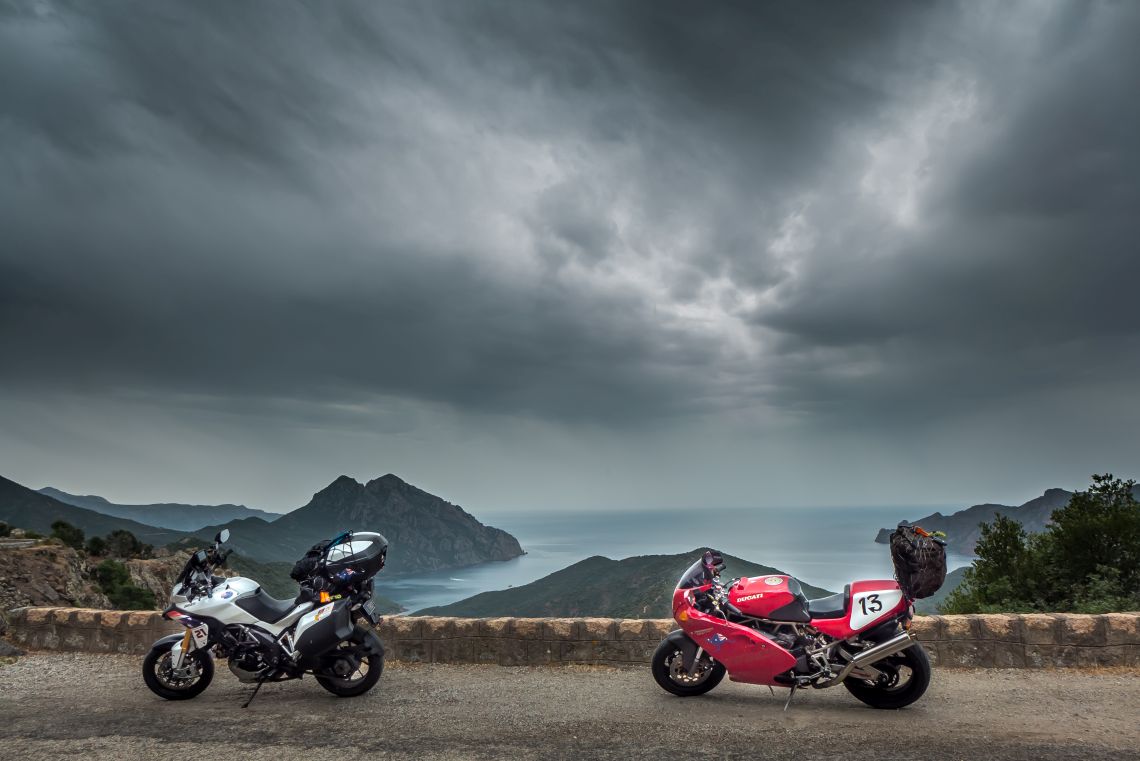 It wasn't until we arrive back in Australia that we noted a photograph above our bed entitled 'Corniche de Bonifacio' by photographer Guillaume Plisson. We bought it 10 years earlier because we liked it. Some research showed us that it is an aerial shot looking towards the harbour and castle of Bonifacio; we didn't even know until we got home and saw it.
Short as it was, we enjoyed our Corsican adventure. We'd been told that some of Europe's best riding roads were in Corsica, although we only managed to enjoy a small taste of them. It is the nature of travel though… you simply can't see everything. What you can do is plan, but that isn't what we do.
I don't think you can plan an adventure. The two words should remain mutually exclusive. Both of our trips consisted loosely of a 'mud-map'…  we didn't plan properly and each day we'd work out what tomorrow's plan would be.  We did this in 2015 for 136 days. We rode through 27 countries and clocked up over 17,000 miles riding as far from the UK as Turkey and Bulgaria.
Today, like Dan Skeates, we concentrate once again on wheelie bins schedules, but the European roads call us as we look toward retirement.