When time's not on your side it can be hard to see the world. Colin, Andrew and David think they've struck the perfect balance by heading off to a different country for a week each year, this time they rode Vietnam, from Hanoi to Hue.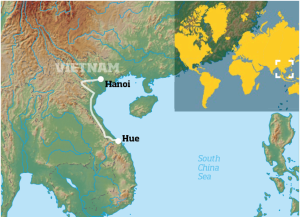 Like most middle-aged blokes who rode bikes when they were teenagers we always harked back to the good old days of riding our fizzy 50s around town. Wives, mortgages and children come along and the days of riding bikes seem a long way behind us. I'm not sure how we started but about a decade ago we decided to try and change things and see if we could fit some biking adventures into our lives.
We are three ordinary guys, Colin, Andrew and David. Colin is the most 'hardcore' biker having owned and ridden bikes since he was 17, including many touring holidays in Europe going back to the 1970s. He and David both live in Sunderland and have been friends for 35 years although not through biking. Andy came on the scene about 10 years ago when he started working for the same company although he's based in Glasgow.
We are all hard working with the usual family commitments and, like most of us, always short of time. We decided we should try and set aside one week a year to see some of the world from the seat of a motorbike. Of course, it wasn't easy to persuade our partners that this was a good idea but once that hurdle was jumped we were on our way. To be fair it gets easier every year and the trips get a day longer and a little further afield every time. We knew we had won them over when the wives would start asking where we were going next!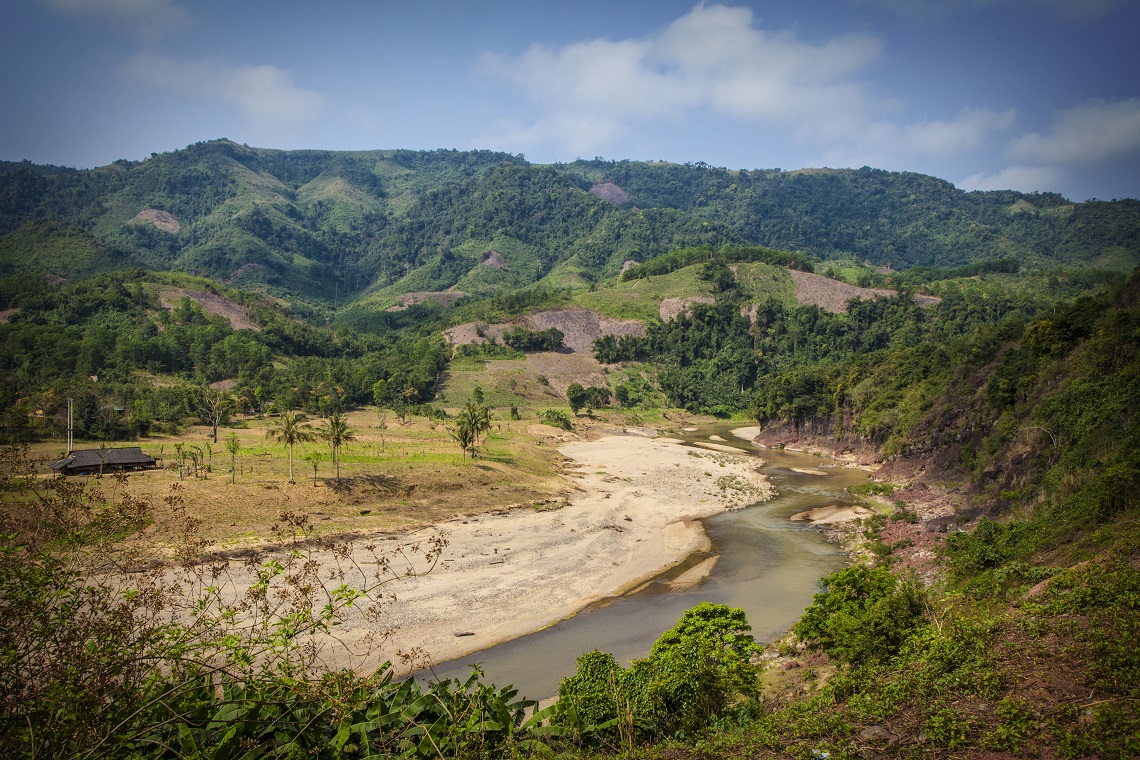 We started easy with Route 66 and graduated to Greece and Albania, an enduro trip in Thailand and Burma, including an emotional visit to a Red Cross refugee camp housing 20,000 displaced people then into the civil warzone in Shan State. More trips to different parts of the USA than the last couple of years Nepal and the Himalayas and our latest trip to Vietnam.
Our biking adventures are always very different but the comments we get are exactly the same. 'You lucky beggar', 'I've always wanted to do that', 'that's my dream trip' – well here's a newsflash, anyone can do it! I think we all secretly envy the people who set off on trips that last for months or even years but we can't all make that sacrifice. The way we've chosen to do it is week by week and hope that as the years pass by we will have managed to see most of the world.
The process is always the same. We agree 7-8 days we can all manage then look for a destination that works at that time of the year and everyone likes the sound of. Once we agree, we take turns setting the trip up. We don't do organised group trips, but as time is usually tight we sometimes find a local guide to ensure we get around efficiently. Bikes are always hired locally before we set off, Harleys to cruise the USA, GS1200s to cover the miles in Greece, Enfields in Nepal (of course) and Honda XR250s for Vietnam.
Naturally most of the planning and research is done online and to be honest you do have to take a bit of a risk when you're booking your bikes and guides and sending deposits, it's always good to give prospective local guides and the bike hire companies a phone call and check reviews to try and lessen the risk.
We budget £1,500 per trip although to be fair this can get stretched sometimes with long haul flights and big city hotels at the start or end of a trip.
In any event, even 'dream trips' are certainly not out of reach for any reasonably determined bikers in terms of either time or cost.
For our trip this year we chose Vietnam. Over the years we have become more and more adventurous and we like a mix of on and off-road riding. The best area for this is the Northern Highlands starting from Hanoi. We found a local guide online who was happy to fit a tour around our tight schedule. We only had eight days altogether, so after the travel time, we only had five days left for riding.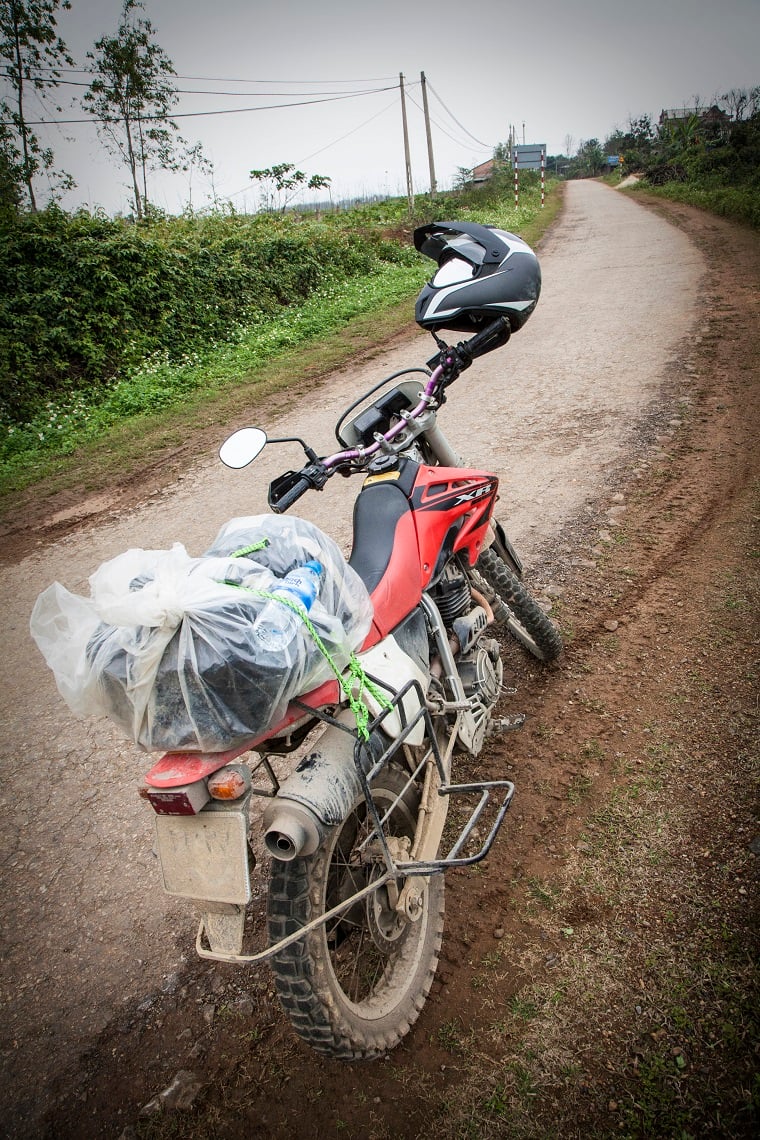 We designed a tour that included mountain passes, historic sites, remote villages, natural wonders and spectacular views.
News spread of our upcoming adventure and this year we added two newbies, Dave and Craig to the trip, friends of Andrew who wanted to try something different. Craig had ridden bikes when he was young but had never passed his test. To save arguments with insurance companies Craig completed an intensive training course and got his licence a week before we set off.
A note on insurance – it's always worth checking you're covered if you go off-road or on unofficial tours. You can be a long way from medical help if you are unfortunate to hurt yourself!
Flying into Hanoi was three flights from Newcastle but done in a day. A minibus from the airport gave us our first experience of Vietnam traffic. Our driver was pulled over and 'fined' on the spot by police for something. On pulling away he was clearly unhappy, accelerated into the traffic and knocked a lady straight off her moped! She seemed ok but the bike was a bit bent.
We overnighted in Hanoi and picked the bikes up the following morning on the outskirts of the city. Asking about the traffic we were told there are 90 million people in Vietnam and an estimated 60 million mopeds – mostly unlicensed! The government had recently brought in a compulsory helmet law to lower the number of road traffic injuries.
Unfortunately, helmets are relatively expensive and most Vietnamese use their mopeds to ferry their large families around and couldn't afford to comply. The compromise was agreed that only adults need helmets so you see thousands of mopeds carrying four or five children with only the driver wearing a helmet!
Perhaps the best piece of advice we heard was to think of the roads as rivers. Rivers that never stop and start but constantly flow around obstacles taking the traffic along with them. With this solid knowledge on board, we set off and headed to Mai Chau (180Km). The initial miles are always the most difficult as we try to adapt to hired bikes and the local road and traffic conditions. This trip was no different as we started the bikes and threw ourselves into the teaming traffic just as the rain got heavier.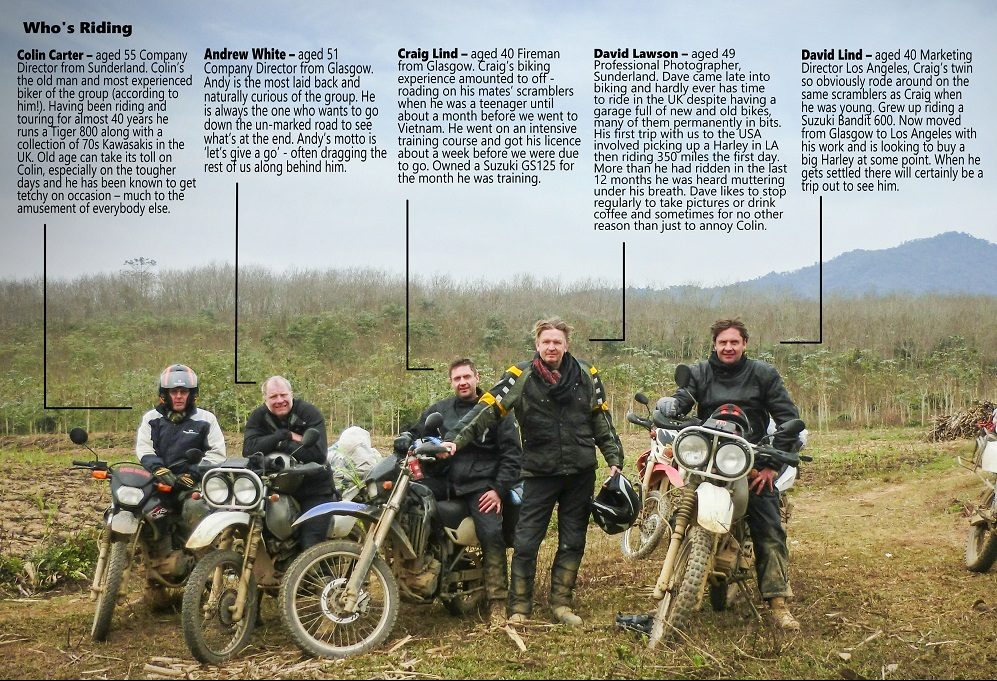 This time we had five guys to keep in sight as getting lost or left behind is not an option for a few reasons; a) it'll slow us down and b) the unlucky guy will get ribbed constantly for the next seven days. Breaking out of the city took around 45 minutes then we were clear and heading through the beautiful mountain passes of the Northern Highlands.
It was cold and it rained heavily but that gave the mountains a beautiful ghostly cover. Grip was scarce in places and the combination of off-road tyres and less than perfect brakes gave more than the occasional heart-in-mouth moment. Stopping for coffee at the side of the road gave us a chance to swap stories and bolstered our confidence.
Craig was the newest to biking and I'm sure at this point he was wondering what he had got himself into although it never showed in his riding or enthusiasm. We ended the day's riding soaking wet, cold and tired but pumped up that the first day was behind us and everyone was in one piece. We overnighted in a homestay, which was a mattress on the floor covered by a mosquito net! A quick-dry down then a home-cooked meal with a couple of beers swiftly followed. Reliving the day's ride every evening is always the tradition and that's when the laughter starts and the mickey-taking begins!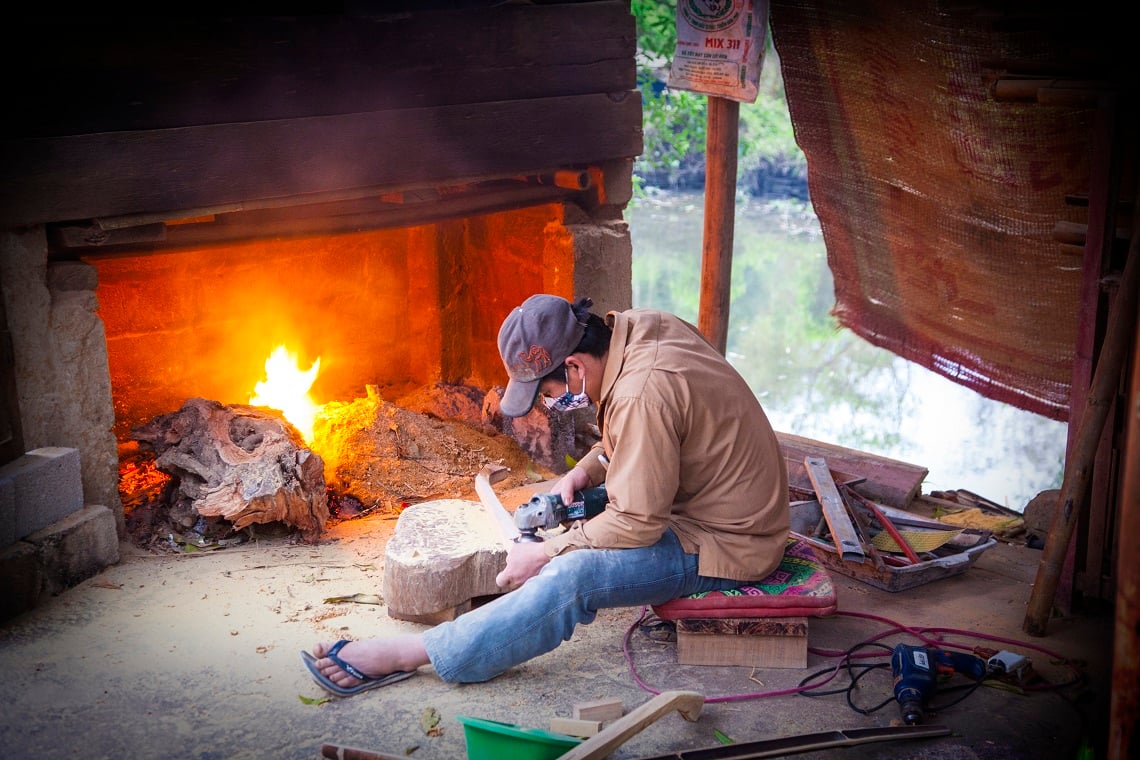 Homestay accommodation is plentiful, friendly and costs about £8 a night for bed and breakfast with local beer provided by your host at 30p a can. Hot water was an occasional bonus but the view in the mornings made up for it. Small rice fields with the entire family knee-deep in water planting long before the day begins for most of us.
The following morning we pulled on our wet gear and headed onwards to Tan Ky on small fire trails along the Ma River until we hit the Ho Chi Minh trail (290kms). The weather was chilly but turned reasonably dry which lifted our spirits and sped up our pace. We tried some off-roading up to the border with Laos and it was great fun but unfortunately, the crossing was closed that day. We briefly thought about entering unofficially over the mountains but decided against it and instead pressed on to Phong Nha (280km).
We visited Ke Bang the biggest and most beautiful cave in Indochina and now a UNESCO World Heritage Site. Amazing stalactites and stalagmites set against deep pools of mirror-like water. It's a bit of a hike up the mountain to gain entry then deep into the caves but it was well worth it. Just remember you have to walk back out again!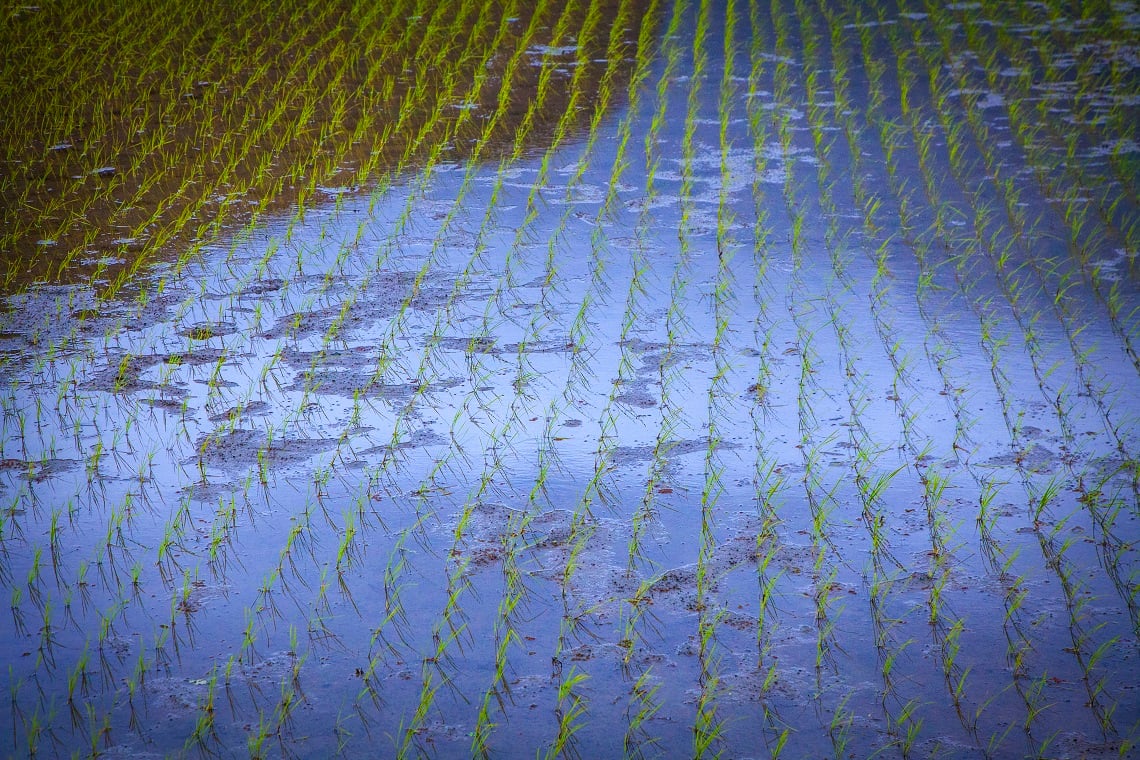 Riding through the Phong Nha-Ke Bang National Park was incredible with little traffic other than the odd moped and more common ox and cart. The roads ranged from decent to pretty awful with the change often coming up quickly so some concentration was needed. They twisted, rose and dipped, writhing around the mountains which loomed everywhere about us like a landlocked Halong Bay. It was a memorable ride!
The usual consequence of off-roading is punctures, and sure enough, David suffered a rear. We pulled into a village and, as usual in these circumstances, the locals came up trumps, directing us to a man who fixed the endless battered mopeds. With two of us holding up the bike the rear wheel was dropped and a suitable inner tube found and fitted. Ten minutes later, and a few dollars lighter we were waved on our way by the crowd that gathered to watch.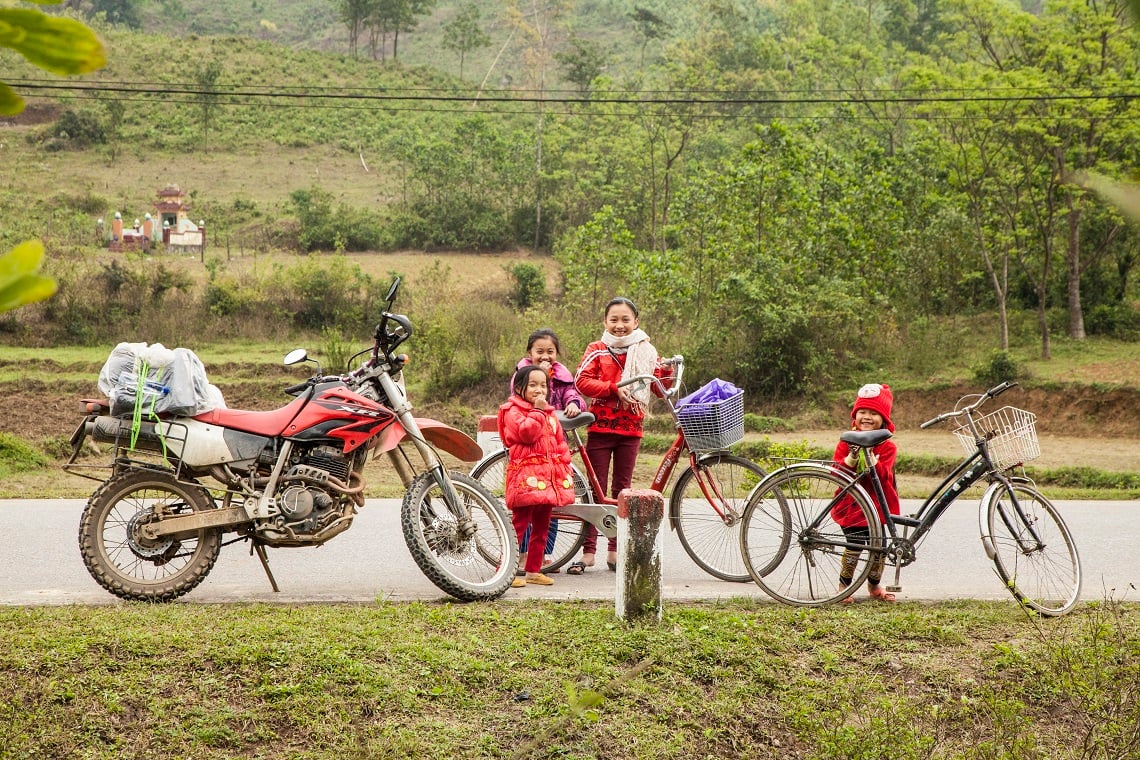 By now we had mastered the bikes and decided to swap around and try each others. Handling, speed and comfort opinions were all thrown around, usually accompanied by disparaging comments about the lack of skill of the previous rider who blamed the bike. During the messing about the Suzuki took offence and refused to start or run properly. The rest of the day was spent starting the bike by pushing it up the road with another bike and a foot on the crash bar until it spluttered into life.
Once started the throttle had to be kept full-on to avoid cutting out which led to much hilarity from the audience but some scary moments for the rider! Eventually, a carb strip down revealed blocked jets and a bowl full of sand and water contamination. 20 minutes with a couple of spanners and a pair of pliers seemed to do the trick and we were on our way with a much happier if still far from perfect DR.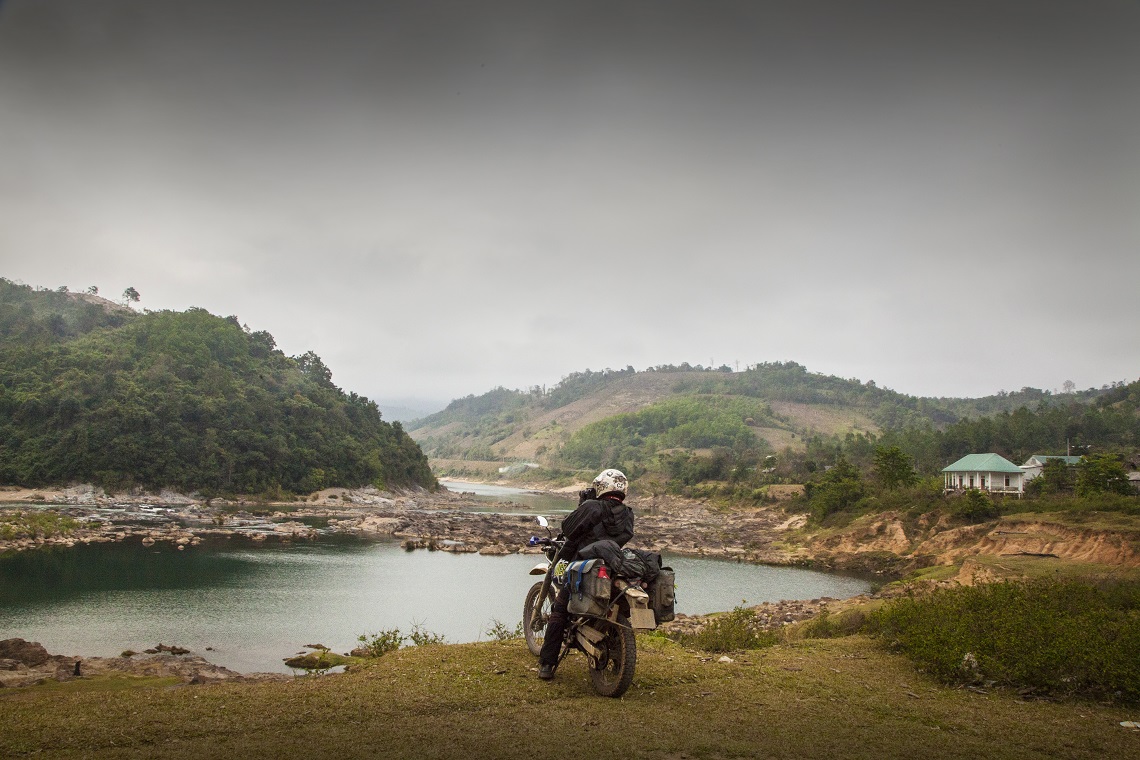 That night we stayed in Phong Nha, a small town with one local restaurant, a few shops and quite bizarrely an absolutely fantastic, well-equipped tennis club complete with an all-weather court. The locals took the chance to show off their talents and quickly challenged Andy to a game, which he lost on purpose (of course) just to keep international relations peaceful.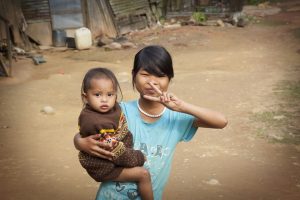 Our experience of the Vietnamese people is that they are some of the friendliest you will ever meet. They are very proud of their nation and their country's natural beauty but are also exceptionally open to other cultures. One day, out of the blue our guide pulled off the main road, up a dirt track for a few miles and stopped outside a run-down old shack. It was the home of his parents and we were welcomed like lost relatives. After delicious hot, sweet, coffee we were even introduced to the family's pet deer whose antlers are harvested and sold to the local doctors for medicine every year.
Looking for some history of the war we turned to Khe Sanh (220kms) and the 17th parallel which formed the frontline for much of the conflict with the US in the 60's and 70's. Visits to the Ho Chi Minh Monument and museum followed by an abandoned US airforce base filled an afternoon. The airfield looked like it had been hastily abandoned only the day before with tanks and aircraft seemingly just left behind in the rush. Another highlight and must-see is the tunnel village complex at Vinh Moc.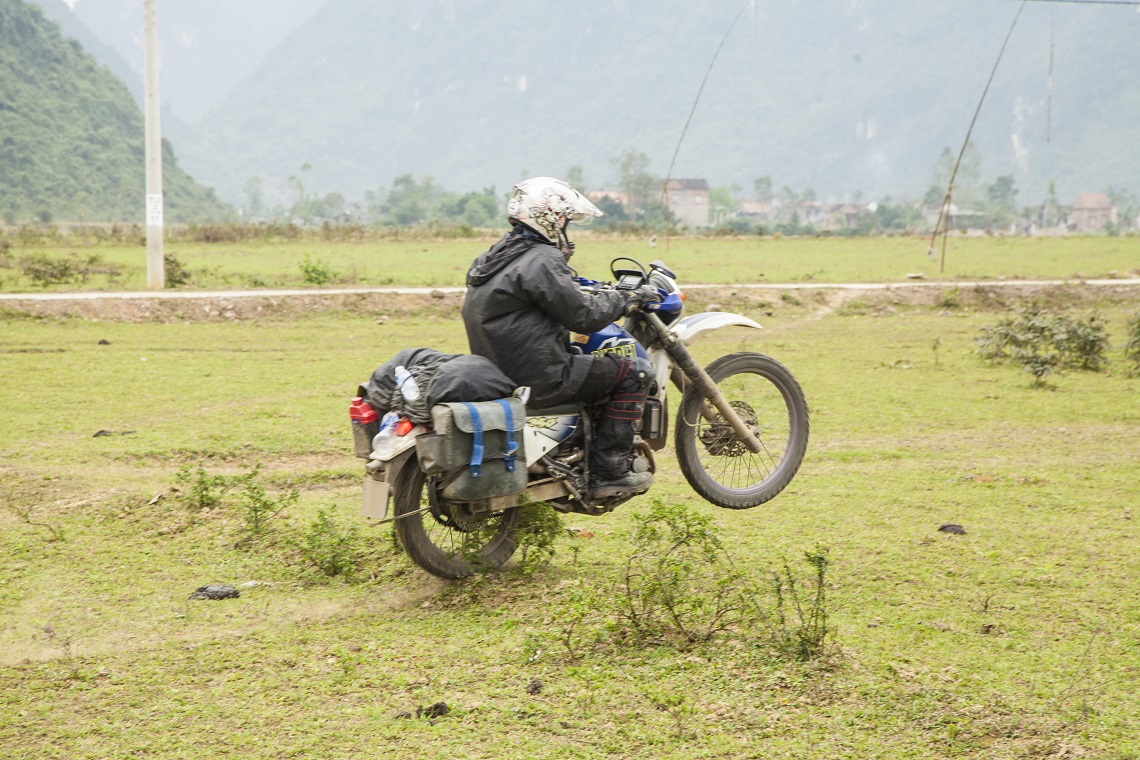 An entire village was built 30 – 45m underground sheltering 60 families from the carpet bombing campaigns of the increasingly frustrated US Air Force. Incredible, completely free of tourists, or even local visitors come to that, and very claustrophobic! Dave who's about 6'3" couldn't stand being down in the tunnels for more than five minutes never mind being down there with your family for years whilst bombs are raining down above you. Forget the tourist trap that is the Cu Chi tunnels just north of Ho Chi Minh City – these are the real deal, complete, intact, stretching forever and best of all, deserted.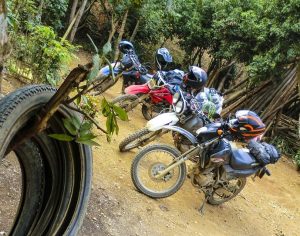 The final day saw us ending our trip with a scenic run into Hue (200km), the old colonial capital of the powerful Nguyen Dynasty.
We hit the beach and followed the beautiful coastal route probably most famous for the Top Gear Vietnam special.
The sun was shining and it was a fitting end to our all-too-short adventure. Reluctantly we left the bikes and flew home via a memorable night out in Ho Chi Minh City.
Our main memories from Vietnam were incredible roads and stunning scenery, friendly people, the military history and scores of happy, waving children everywhere we went.
The food was generally good although it's often best to avoid meat if you have a long day in the saddle the following day. Beer is commonly drunk and widely available as is the local coffee. It comes in sachets of powdered coffee, powdered milk and lots of sugar all in one. Locals mix this with lukewarm water and drink it as a treat – it's certainly an acquired taste to people brought up on Starbucks finest!
We usually have a farewell beer or two at the airport before we go our separate ways. Much talk of the trip just completed, the high points and sometimes low points, all of which turnout OK and usually provide the best memories with the passing of time. Inevitably talk finally turns to next year and the process begins again. Peru and southern India seem favourites and that gives us something to plan and look forward to for another day. Our advice to anybody who will ask, why don't you just try it yourself!
---
Want to ride Vietnam? Here's how you can…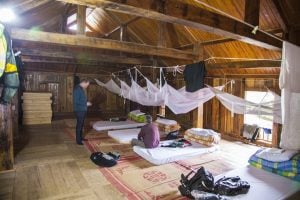 How long to take off work:
Travel from Newcastle to Vietnam took a day and then we spent five days riding, plus a further day of travelling back so you could, technically, just about do it with a week off. Though best to book two.
When to go:
The weather in Vietnam differs significantly from north to south. The north can have cold winters and the summers tend to be hot but very wet. Spring is probably the best time for a biking trip if you want the best of the weather with March/April normally pleasantly warm but dry. The south has its own climate and March/ April is usually hot and dry before turning rainy in the summer.
How to get there:
We flew from Newcastle and Glasgow to Bangkok and then from there to Hanoi, though Vietnam Airlines (www.vietnamairlines.com) offer direct return flights to Hanoi from London Gatwick for roughly £750. Flights from Newcastle or Glasgow to Bangkok worked out at about £800 per person (returns) with British Airways and a further £100 for our flights from Bangkok to Hanoi.
What to take:
The weather in the north stayed around the 20C mark and it was humid. As we rode south it got warmer and there'll always be a chance of rain. We made sure we wore all the gear all the time as we saw that it could be very easy to have an off. A motorcycle jacket, suitable layers underneath (technical base layer), protective trousers, riding boots and thin protective gloves. Make sure you bring your own helmet as well, it's best to have kit that you trust.
Where to stay:
We stayed in a mixture of hotels and homestays. Hotels in Hanoi, Ho Chi Minh and Bangkok were booked ahead of time and it's wise to budget about £50 per person per night for these stays. B&Bs (homestays) are plentiful and very cheap (less than £10 a night) and we found these better as you get to experience the 'real' Vietnamese people, food and culture.
Vaccination and insurance:
It's best to talk to your GP about the vaccinations you'll need when visiting Vietnam but we had Hepatitis A, Typhoid and Tetanus jabs. In terms of insurance, our guide took us on paved mountain roads and normal, tarmacked roads. There was no plan for true off-roading but make sure your travel insurance covers you for riding a hired motorcycle in Vietnam. From experience, we can tell you that the Post Office insurance does cover Vietnam.
Paperwork:
You need a visa before you travel and you can get it from the Vietnamese Embassy in London before you go.
It costs £75 and takes about 4-5 days to process and you can get it from: https://vietnamembassy.org.uk/consular-services/
When it came to hiring bikes all we needed to show were our passports as a form of identification.
How much money do you need?
♦. Return flights from Glasgow/Newcastle to Bangkok with BA £800, though usually cheaper on other routes.
♦. Flights Bangkok to Hanoi, Hue to Ho Chi Minh and Ho Chi Minh to Bangkok about £100 with Vietjet
♦. The total cost of bike hire, guide and mechanic for the 5 days is about £500. Our guide was Motorbike Tour Expert, Hanoi www.motorbiketourexpert.com. Includes all accommodation, all meals on the trip, entry into national parks, airport pick up and drop off.
♦. Other expenses food and accommodation at either end of the trip, drinks during the tour, budget £300 in total.
♦. Total: £1,700