Paolo Deliperi heads deep into the Namibian wilderness on his KTM 990 Adventure in search of the mighty and spectacular Messum Crater
It was just after midnight when we off-loaded the bike from the trailer a hundred-or-so miles southwest of Windhoek, Namibia. We were tired after a somewhat tedious, non-stop 20-hour road trip from Cape Town. But we had arrived, and we were elated. Our real journey would begin at first light later that same morning.
We were blessed to start our adventure at the Khomas Hochland region just three weeks after the heavens opened, ending a devastating drought which had ravaged the country for the last five years. The landscape responded in kind and exploded into life, offering verdant hills as far as the eye could see.
Straight away, the riding was sublime and I was in my element. Namibian roads are graded A descending to D. The former being well-maintained national roads and the latter being rough jeep tracks.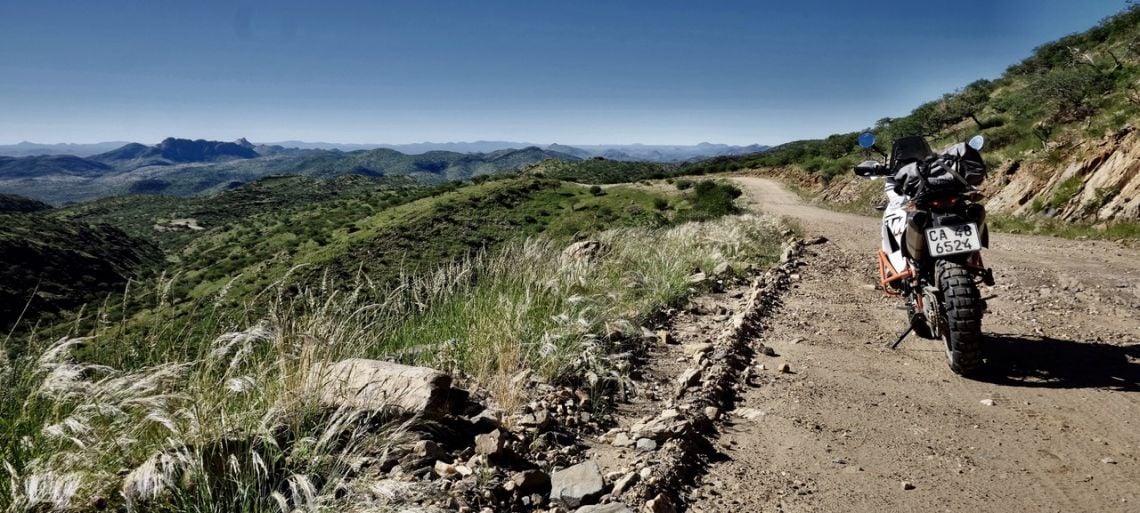 We focused on these and even tracks that were long forgotten, without the dignity of a grading they just appeared as faintly dotted lines on the map. These roads less travelled rewarded us with steep, rocky climbs, river crossings, deep sand, loose stone, hard pack and narrow jeep tracks. I was acclimatising to the riding conditions, finding those sublime moments when you get yourself in a state of flow, where discipline and surrender meet, and you are at one with the bike.
Eleven saddle hours later and my poetic flow started to drain my energy reserves. A reality check of the challenge we had set ourselves.  Welcome to the vast barren wilderness that is Namibia. I say saddle hours, yet the saddle was barely touched as I prefer riding standing on my pegs where I'm able to see far ahead and, on rough terrain, let the bike do all the work saving valuable energy.
Completing well over 300 miles of challenging off-road terrain in a single day demands your full attention. Your mind very quickly shifts from living in your head to living in the moment; like a moving meditation, it is one of the things I love most about riding.
Our travel time estimates were a tad off to say the least and pitching our tents in complete darkness became the norm. Given that we had a small window of only a week to complete this leg of our journey, we soon learned that this adventure was not going to be about each day's destination, but rather about being fully immersed in the journey itself, present in every moment that unfolded before us.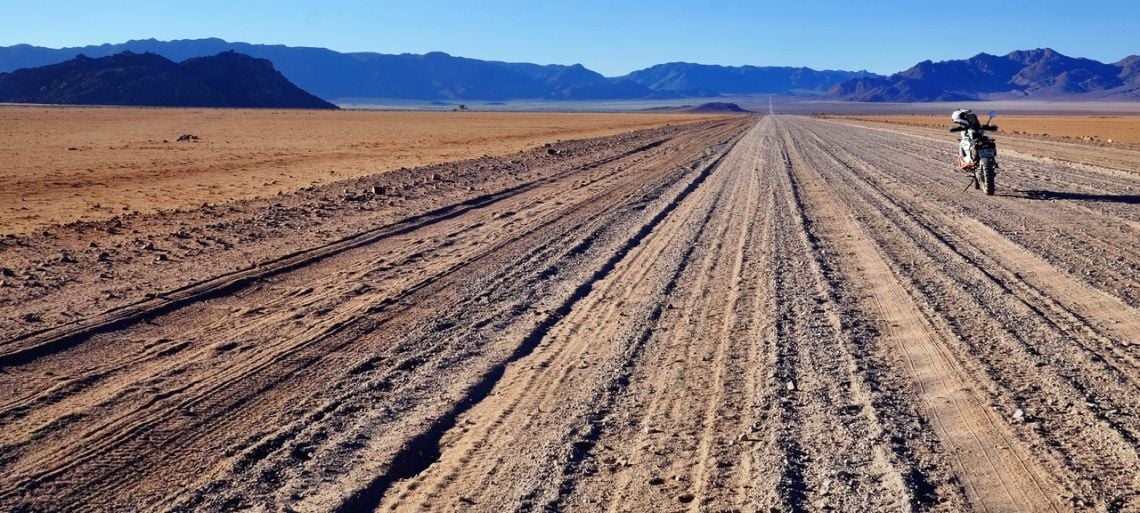 Being comfortable with the uncertainty of it all soon became our motto. Two weeks prior, my experienced riding partner, Thoby, withdrew from the project, on the grounds that the distance was just too ambitious given the time we had available: a total of just over 3,000 miles in nine days. He had a point.
But it was my 50th present to myself, and I had tunnel vision. A mate I play football with got wind of my trip and casually suggested that although he did not ride, he would relish the opportunity to follow me in his 4×4.
I am not the 'back-up crew' kind of motorcycle adventurer, preferring to carry the kitchen sink on my shoulders, but this opened up a world of opportunity and, for me, a new way to adventure ride.
Now, fuel, water, food and camping gear could all be stashed in the back-up vehicle making my bike light and nimble. Moreover, we could now explore very remote areas without a moment's worry about distance and fuel stops for my thirsty steed.
Having to leave from Cape Town, a further advantage was that we could trailer the bike for the many miles of monotonous tarmac that lay ahead. Matt's caveat was that if we were going to do this, we had to leave a lot sooner than my intended departure date due to his work commitments.
Minimal planning is always a recipe for a good adventure it seems. And so it was that, given these new circumstances, my search began on Google Earth for the most remote region in a country famed for its remoteness.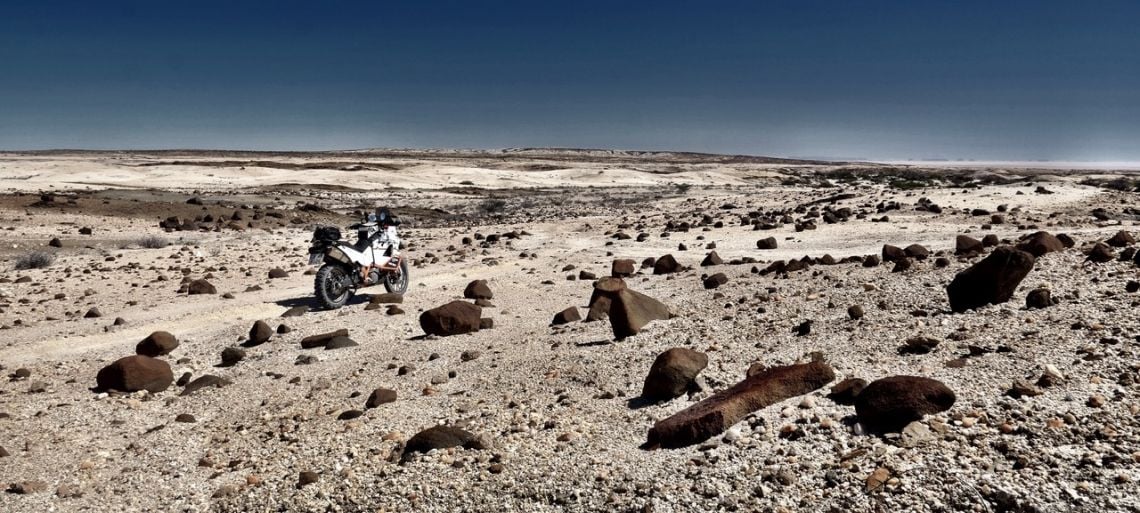 I came across a region appropriately named Desolation Valley, which lies in central Damaraland. It is a very secluded and remote landscape, known for its spectacular wild camping and herds of wild desert elephants.
Scanning the satellite image further, to my astonishment, I came across a massive alien-looking ring in the scarred landscape. This, I learned, was the Messum Crater. It is not a meteorite crater but the remainder of a gigantic volcanic eruption that occurred before the continents of Africa and South America divided.
The eruption, which happened around 130 million years ago, is thought to have been the largest in our planet's history. I Skyped a friend of a friend named Hugo, a local Geologist, who offered some valuable insight having flown over in a microlight, landing in the crater where he spent the night.
He pointed out the location of little-known rock paintings by the ancient Damara nomadic people. These are thousands of years old and set deep in the rocky volcanic overhangs. My excitement grew, and I could not think of a better target destination for our desert meander and was now counting the sleeps.
If there is an advantage of arriving at camp in pitch darkness it is that you have no idea what delight awaits you as you unzip your tent the following morning. Such was the case at the phenomenal Spitzkoppe, a group of spectacular, giant bald granite peaks located deep in the Namib Desert.
After a chilly early morning swim in an elevated natural rock pool overlooking the endless landscape, it was time to pack up, excited for what lay ahead in search of the Messum Crater. The plan was to approach the crater from the east.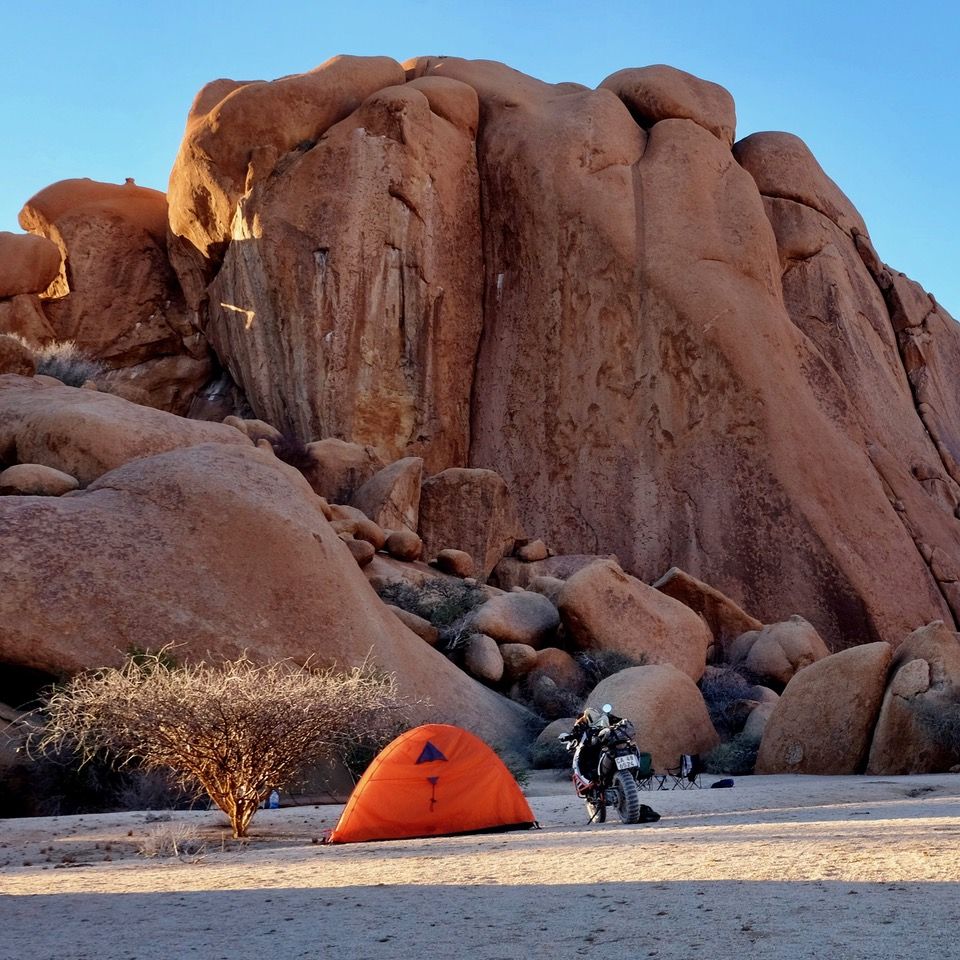 In what can only be described as riding on a Martian landscape, our progress was steady and our spirits were high. It was a good plan until it wasn't. Mars eventually turned to sand and the further we travelled the dunes grew deeper like waves in the ocean. After many hours of wearing full protective gear under the desert sun, I Messumwas once again running low on energy, not to mention talent. Now, I enjoy a bit of a challenge just as much as the next bloke but I am no Marc Coma.
So, in desperation to reach the crater I made the call to ditch the bike and wait for the 4×4. I was gutted for a while since it had been my vision to reach the mystical site on two wheels, but I had to accept defeat. Today the desert had won. We would collect the bike the following morning. I was relieved, however, to strip my kit off and feel the cool breeze as we travelled with windows wide open. It did not take long before we got disorientated as we scanned the vast featureless landscape.
I had lost my bike-mounted GPS on a previous trip, so we were relying on a combination of a dodgy mobile phone satellite GPS, paper maps and our gut. It was at this point that it dawned on me that I broke my number one rule for this part of the trip; two vehicles all of the time. No sooner had the thought entered my mind that the 4×4 engine management warning light came on.
My travel companion was (and still is, funnily enough) almost 20 years my junior and I felt responsible for this oversight. If we broke down, we were about as far from civilisation as man can get.
Though I was comforted by the fact that we had enough water and food for a month on board and, in the worst-case scenario, we could always hike the 50-or-so miles back to the bike and take it from there. But the old Pajero soldiered on, and we saluted the engineers that built the multi-Dakar winner.
The further we travelled, the more lifeless the landscape became. The last living entity we came across was the Welwitschia plant, an endemic living fossil the size of a rhino. Not the prettiest sight to be sure, but when you consider it has survived some 2,000 years under the sweltering African sun and it is still ticking, then you can forgive its compromised looks.
Finally, cresting a steep dune, the engine in full cry, we penetrated the circumference of the crater. The sight before us was so unmistakable it took our breath away. Not so much for what was present, but for what was absent. Jagged sky-bound peaks of volcanic rock formed an almost perfect circle in the desert sand.
At 11 miles in diameter, the scale is so vast that our attempts to capture the scene on panorama mode was futile, at best framing only a tiny slice of the pie. Descending the rocky peak and crossing the sandy plain below we finally reached the crater's bulls-eye.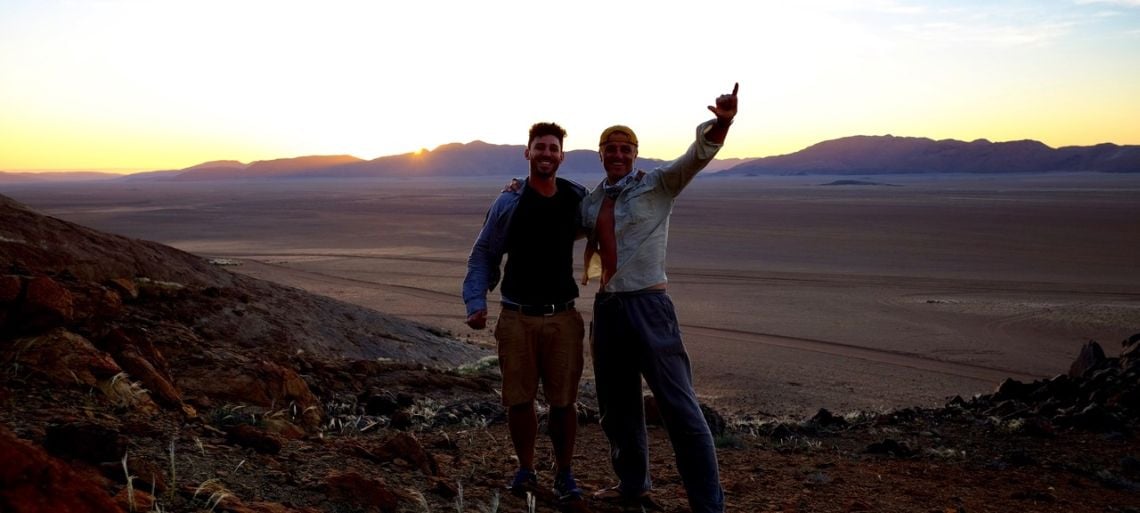 A rocky island outcrop about 150m high and surrounded by a sea of flat desert sand. We managed to climb to the top and were rewarded with a 360-degree view of the edge of the crater's circumference in the distance. The air was breathless, with no living creature in sight, no bird in the sky and no bug on the ground. Not even a single jet trail above. Nothing. The silence was so acute it was deafening. The stars at night made us feel as though we could touch the universe itself.
This was as surreal a landscape as I had ever experienced, for never before have I been so physically distant from my fellow man yet felt so connected to something bigger… Eerie and blissful in equal measure. Delighted to be back on the saddle the following day, we continued our journey, now heading south via the great metropolis of Henties Bay. The coastal air cooled the temperature by some 15C as we approached the fishing village. After filling up the bike, the 4×4 and the jerry cans, I clumsily reached for my keys and turned the ignition.
Like most I suspect, I don't read manuals. I should have. The key I used was not the standard black KTM key, but the orange key. This is the master key and it is used to program all the spare black keys. Both keys rendered useless, the bike was now dead.
No amount of push-starting would get the bike going. Is this where it all ends? There was a glimmer of hope since we had sporadic cell phone reception for the first time in days. That is what you get when you hang out in a metropolis. However, my world came crashing down when I learned that I would have to order a new key from Austria since the bike needed re-mapping. Not ideal under the circumstances.
Eventually, I reached KTM in Cape Town which might as well have been a million miles away. A chief mechanic instructed me to turn both keys this way and then that way for a variable number of seconds each time. I followed his instructions diligently on the broken line. Now I am an optimist by nature, but frankly, at the back of my mind, I thought to myself, 'what are the chances of this actually working?'. It seemed like an arbitrary and futile endeavour.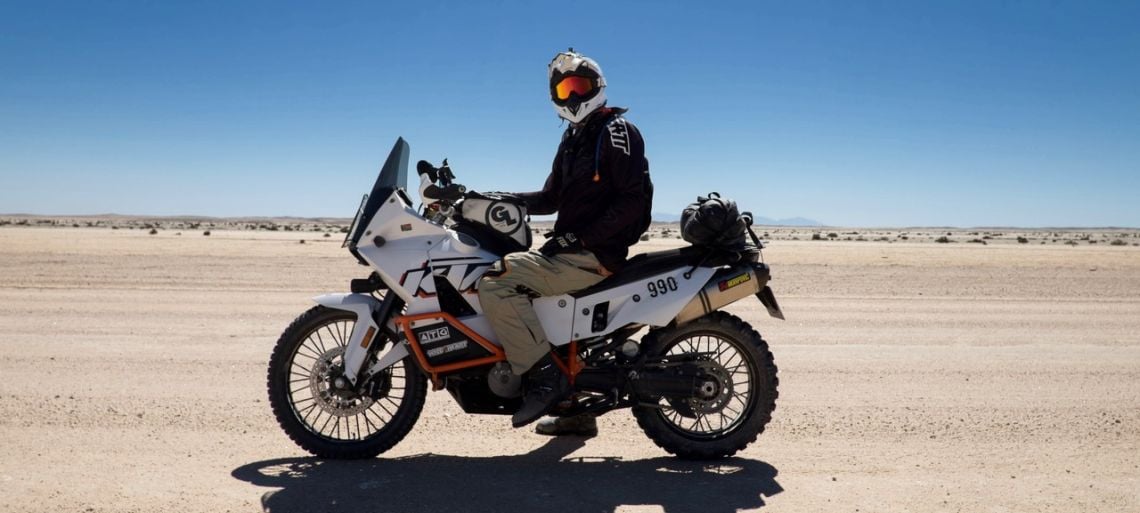 Eventually, the mechanic said; "OK, now put the black key back in and try start it." Behold! The Goat (my KTM) roared into life. For the second time this trip I felt that there must be a God. Elated and with enough fuel for a small army, we headed further south into the great unknown.
Yet again, day became night and I still had four hours riding to get to our next overnight camp. Fortunately, my 990 is fitted with an aftermarket xenon headlamp; it is so bright that on a clear night folks on the International Space Station could spot me.
The issue is not so much the pitch darkness, but that for an hour or so after sunset, when natural light has faded, and artificial light has not come into full effect to cast shadows in the rippled sand. This makes for very tricky riding on the sandy tracks.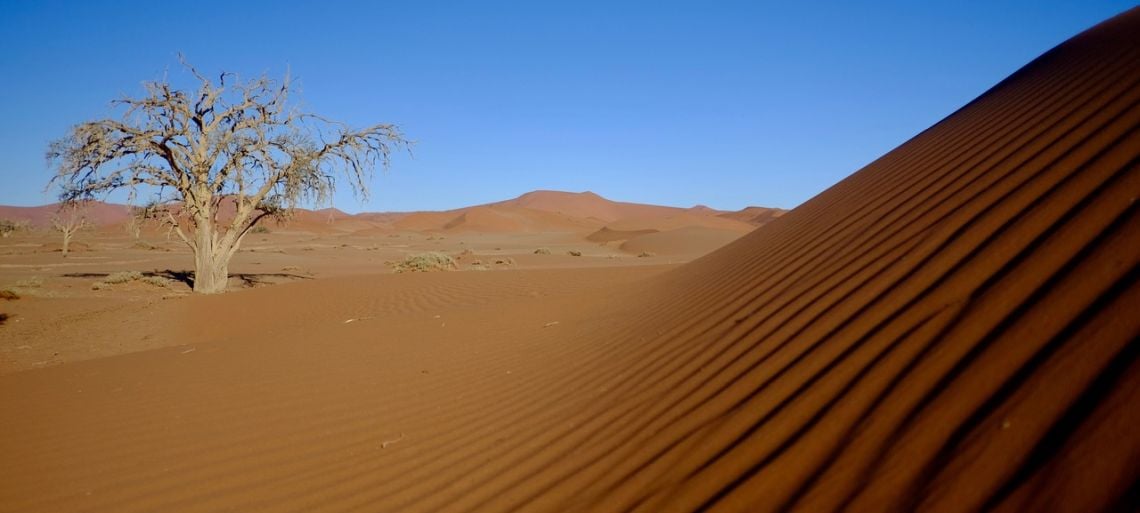 Exacerbated by the fact that my goggle lenses are for bright sunlight only, so now riding many hours with no goggles was my only option. Attracting half of Namibia's bugs, my eyes were now swollen and more bloodshot than Bob Marley's. With its sharp bends and steep gradient, the plan was to reach the spectacular Spreetshoogte Pass in the afternoon in order to bathe in the unrivalled views of the dramatic landscape far below.
However, despite my pleas, the sun did not hang around and we ascended the apparently vertiginous pass in complete darkness. The other danger of night riding in Namibia is the wildlife and the limited reaction time you get when you are faced with a startled 300kg Gemsbok. Namibia is simply too vast and remote a country to fence in the wildlife although, on some of the wider gravel roads there are fences for long stretches to keep the game away. The problem is, all too often, a Gemsbok will leap over a fence, perhaps in panic, and find herself on the road trapped between two fences with no way out.
The next day, I spotted a Gemsbok far ahead of me in just such a predicament. She nervously looked back towards me as I approached, gingerly trying not to startle the poor beast more than I already had. The problem was, as I approached to get past, she got into a frenzy and ran even faster ahead, darting unpredictably across the track, this way and that, from one fence to the other. I was probably as distressed as she was since I wanted to end her ordeal.
Finally, I positioned myself parallel to her, barely 2m away, I could have sworn I could see my reflection in those beautiful eyes. Throttle wide open, I tried to get past her as quickly as possible. Instinctively, she decided to do the same, head down with those incredible horns, she was now in full stride and a sight to behold.
She accelerated to 40mph before I managed to finally get away from her. The whole dance must have lasted for at least a couple of miles. In the searing desert heat you wonder how these majestic beasts can thrive with so little water. The will to survive is so great that they hydrate themselves finding underground bulbs and roots enabling them to survive days and even weeks before finding a watering hole.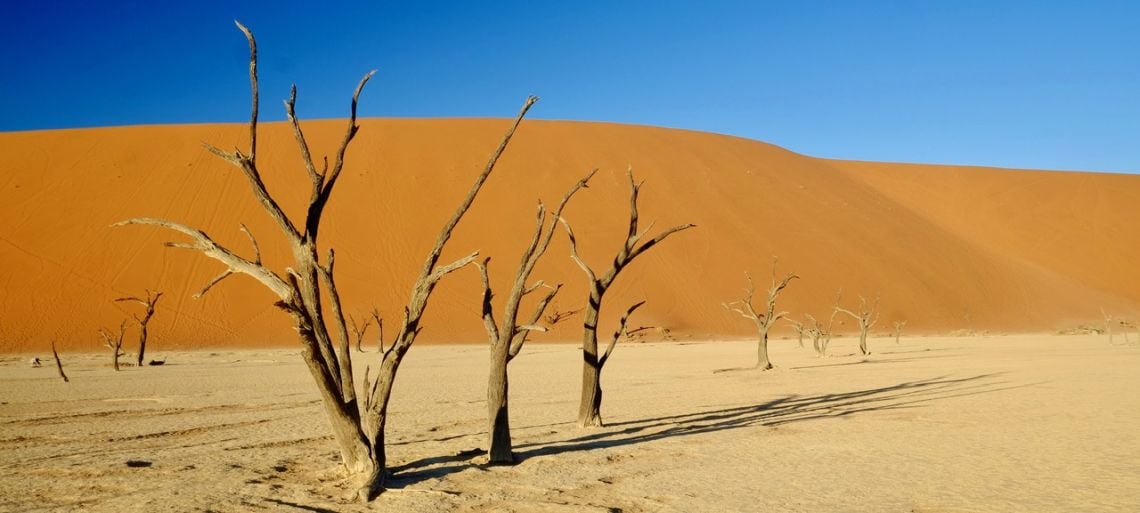 As one of the planet's least populated countries, you get the sense that if you own a farm with a house or two in Namibia and your wife happens to sell milk and some supplies on the side, then the government proudly bestows you with a town name and you are officially on the map. I say this for when travelling on the smaller jeep tracks you need to be able to repair your bike or fix a puncture or you are going to be stranded for a long time.
Luckily for me, the bike did not suffer from a single puncture, the Pajero however, was not so lucky, suffering a total of five during our trip. No sooner had our minds, body and soul grown accustomed to this mode of travel, we once again reached the South African border. Having come from the most remote region in Namibia we now headed for the most remote region in South Africa on our way back to Cape Town.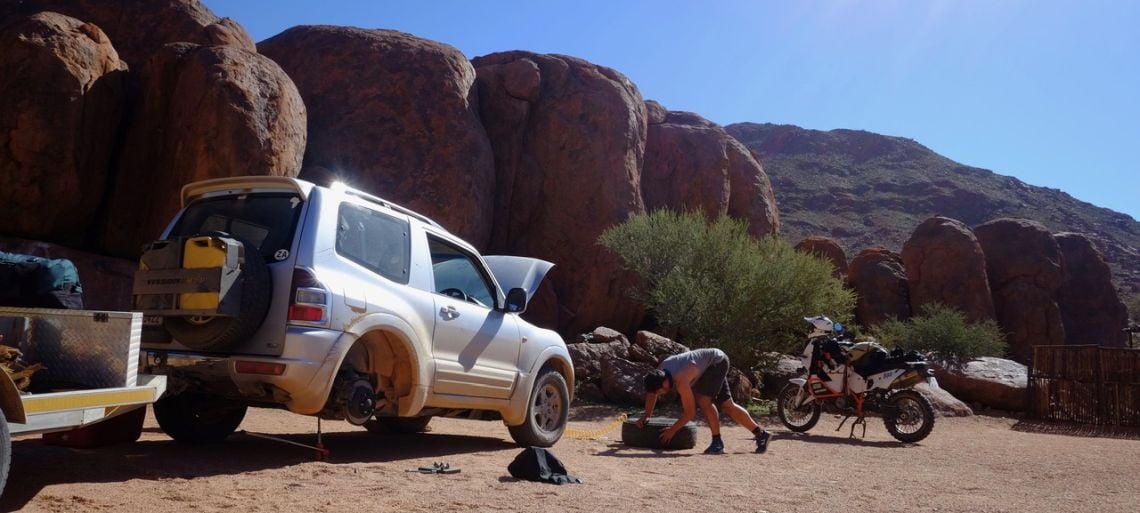 Battle-scarred and looking like wild men, our route took us past the AfrikaBurn site (a Burning Man regional event), set in the middle of the Tankwa Karoo, the country's most isolated region. The main sculpture at the event is called the San Clan, designed to look like a San rock art glyph of a group of people with the intention of conveying the idea of community and unity as it is set ablaze. How fitting then, to be back home, with our fellow man, having travelled from crater to clan.