With roads that wind their way through some of the world's most spectacular scenery, the Canadian Rockies make a great adventure bike playground, Ian Neubauer heads into the mountains to find out what all the fuss is about
I should've paid attention to the sign. Not the one that said 'Avalanche Zone' or 'You Are Now Entering Grizzly Bear Country', but the one that said 'Road Under Construction – Do Not Enter'. Yet I was on a mission, well, a mission within a mission to divert off the highway between the towns of Pemberton and Lillooet, a gravel track that crosses the Hurley Pass and is marked on my roadmap as 'summer only'.
I wasn't going in blind. It was August, the middle of the Canadian summer. My ride, an olive-green BMW F800GS Adventure, had been fitted with brand new knobbly tyres. I'd discussed the detour with a Harley rider I'd met at a gas station in Pemberton and then again with a motorist at a junction on the outskirts of town. I had plenty of water, a tank full of gas and more than a decade's worth of off-road riding experience.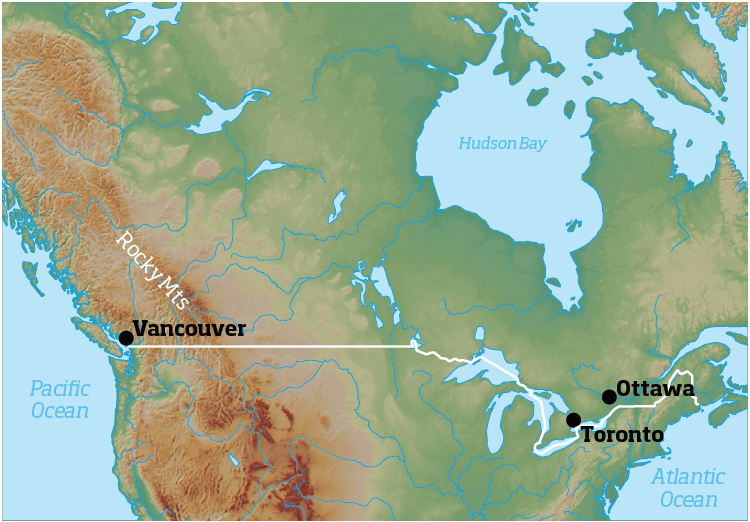 So after an hour and a half of charging down what was becoming an increasingly technical fire trail riddled with washouts, avalanche detritus and logs, I assumed the sign urging me to turn around was a misnomer or simply didn't apply to a hardcore motherfucker like me.
So there I was, fanging it in second up a pretty steep hill, totally unaware of the soaring cliff cut straight out of a Road Runner cartoon awaiting me on the other side of the upcoming crest. There were no barriers, no additional signs, just a sheer drop off and a vast river-sluiced gorge below it.
When I finally registered the drop I slammed on the brakes, coming to a stall only a few metres from the edge. "Way to go, Bear Grylls," said the voice of reason in my head. "Why can't you stick to the script like everyone else?"
Canyons, Lakes & Rednecks
Self-guided motorcycle tours fill a very lucrative niche: one that rides the void between guided tours for riders who don't want to think about logistics, mechanics, navigation; and the often challenging art and science of touring solo.
In years passed I'd signed up for self-guided tours in New Zealand and Spain and now I had Canada's Rocky Mountains in my sights. A pre-trip investigation led me to Cycles BC, a Vancouver-based company that offers an epic 10-day 'Wild Canada West' tour taking in the alpine resort town of Whistler, Canada's historic Gold Rush Trail, hot springs, glaciers and the Rockies.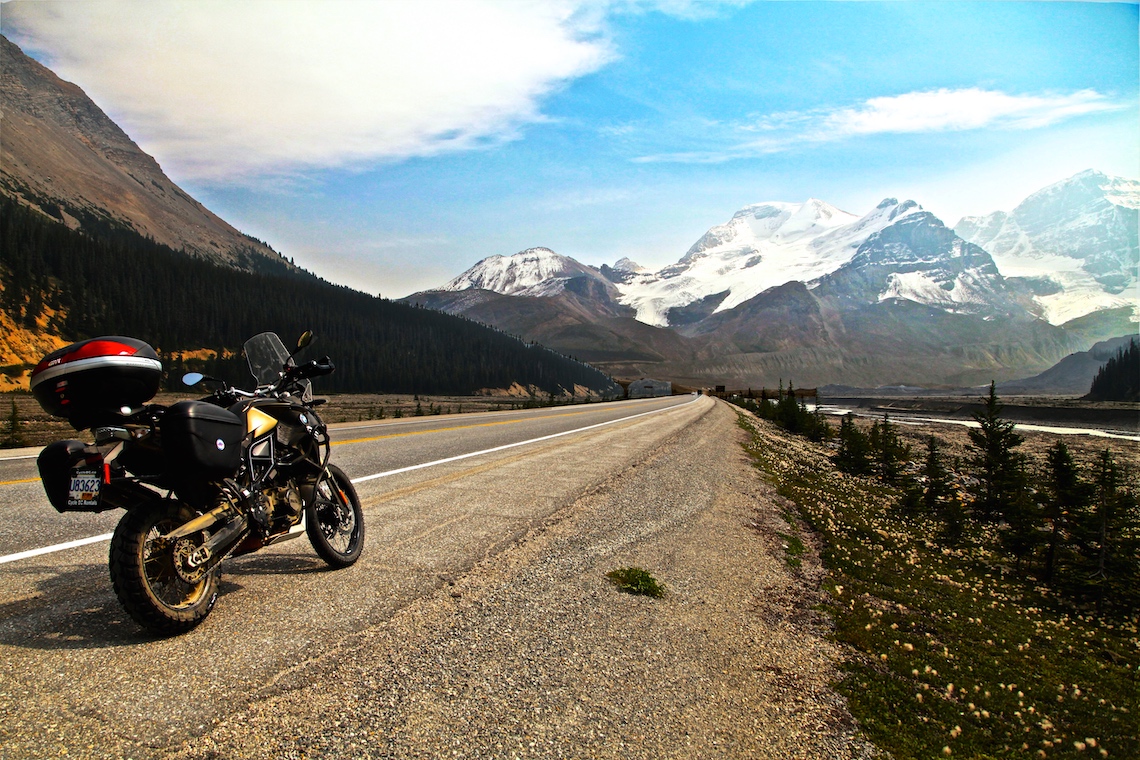 But rather than go the whole hog with a package that includes pre-booked accommodation and GPS pre-programmed route, I opted for a straight rental that would allow me to more-or-less follow the Wild Canada West route while at the same time staying longer at places that appealed to me (I spent two days smashing the downhill mountain bike park at Whistler), skipping crap that makes me yawn (hot springs) and diverting off-road whenever I felt the urge – without the commitment of pre-booked accommodation.
And while I did nearly ride off a cliff and die only a few hours after leaving Whistler, I got back on track by reversing course and getting directions from the first person I saw: an inebriated gent in dirty denim overalls with red colouration in the vicinity of his neck. Between gulps of beer, he schooled me in regards to an unmarked turnoff I'd missed some 30 miles yonder and sent me on my way.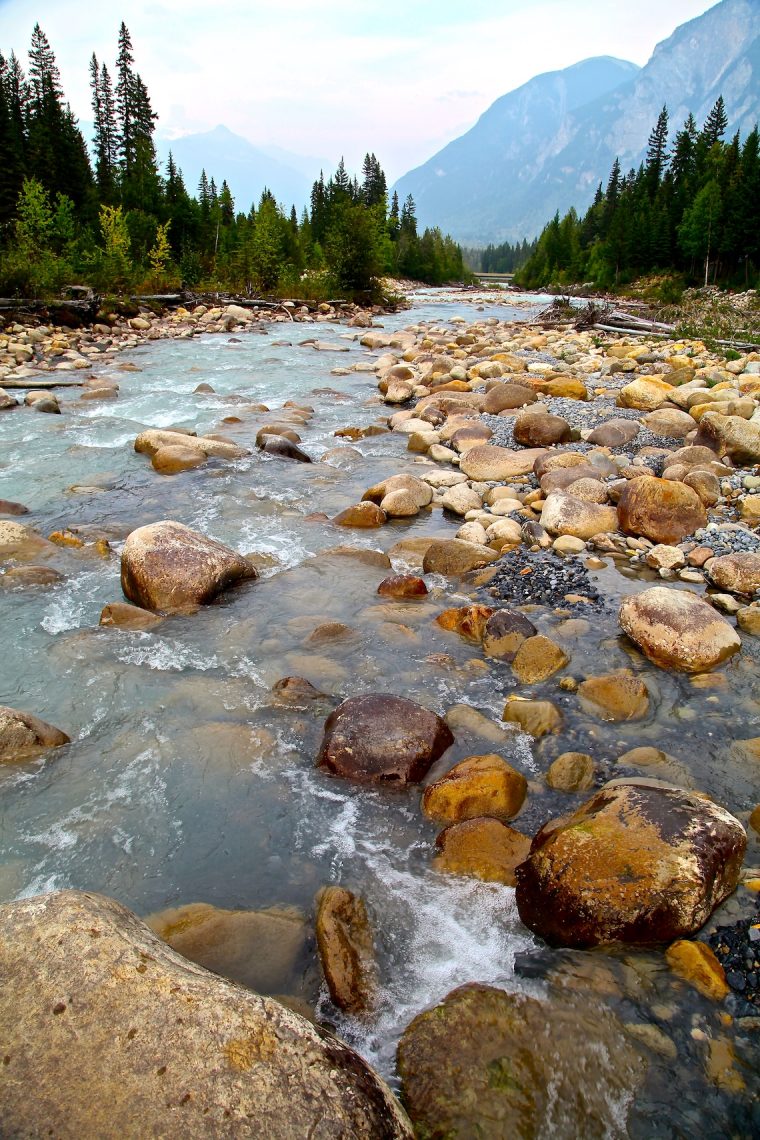 It was mid-afternoon when I reached the hamlet of Gold Bridge – the halfway mark to Lillooet. From there it took me another two hours to cover 60 miles of partly sealed road hugging the undulating banks of Carpenter Lake, one of Canada's many glacier-fed lakes.
At Lillooet I rejoined the highway, crossing a huge suspension bridge and followed a twisty-turny road before going off-script again – this time cutting onto a switchback-laden fire trail that climbed over a summit and dropped like a bomb into a vast green valley before spitting me out onto the Caribou Highway.
At that stage I had under one hour's daylight left – just enough time to scramble up to a truck stop called 70 Mile where an inebriated lady named CC, whose neck was also quite red, sold me a night in the dodgiest motel room in Canada for only $50. The sound of trucks screaming past the shuddering windows would've kept me up all night if I hadn't been so exhausted. 11 hours on a motorbike will do that to you.
Deer, Big Horns & a Bear
Early the next morning I charged out of 70 Mile onto another gravel road, bypassing more than 60 miles of tarmac. With only one way in and one way out, there was no risk of getting lost on a route that cut a path along the shore of another picture-perfect blue lake dotted with log cabins. It also brought me up close to some of Canada's iconic wildlife: small herds of deer, two eye-catching bighorn sheep and a bear! Not a man-eating grizzly bear but a juvenile black bear that barrelled into the forest the second it clocked my bike.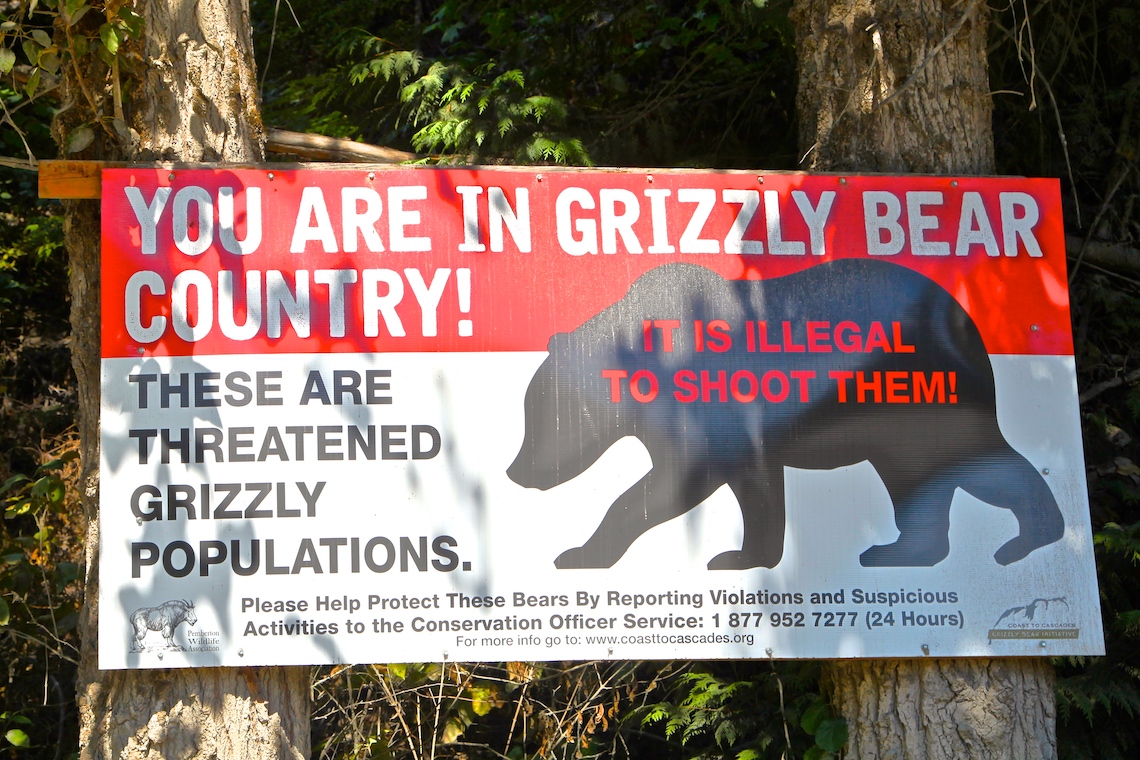 Photo opportunities aside, Canada's wildlife is a serious threat to bikers. There are four to eight large animal collisions every hour in the country. In a typical year, five motorists are killed and another 450 are seriously injured, according to the Wildlife Collision Prevention Program.
The worse offenders are deer, which account for 80% of collisions, while moose, elk and bears make up the rest. Moose are also the deadliest – great lumbering beasts that weigh up to 700kg and literally saw the roofs off of any vehicle that hits them at speed. See the box out on how to not get killed by one.
After rejoining the tarmac at Bridge Port I fanged it to Little Fort, a juncture on the Yellowhead Highway. Running dead straight for hundreds of miles along the uninspiring western divide of the Rocky Mountains, the six-lane carriageway was chock-a-block with summer holiday traffic: RVs, urban SUVs towing caravans and huge souped-up SUVs with shaker scoops.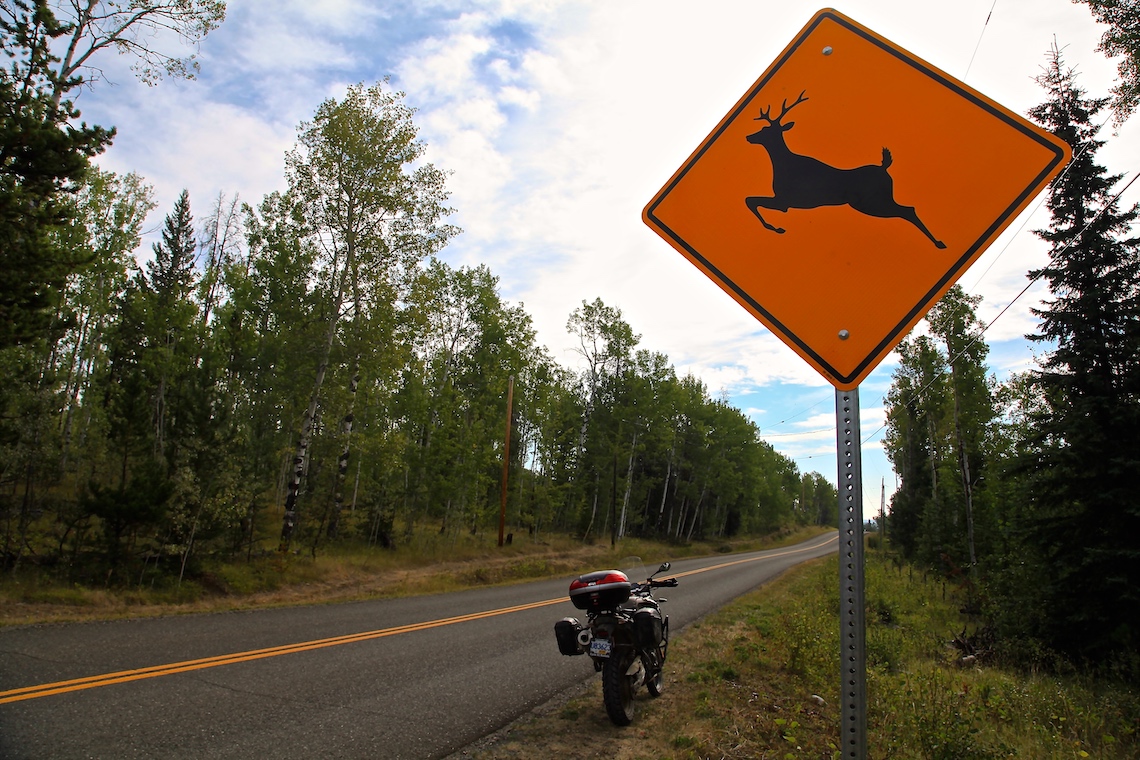 Then there were the bikers. Hundreds upon hundreds of them riding in small groups and mounted for the most part on noisy Harleys and Indians. Many said g'day to me as they rode past – not by nodding their heads as we do in Australia but by suspending their left hand in mid-air.
Keen to share my cultural cursor, I replied on almost every occasion with a nod as I sprinted into the future on my sexy, sublime, near-silent Beamer. Give me German engineering over American muscle any day of the year.
The Trophy Route
The Wild Canada West tour factors in accommodation at Valemount, a small town that lies right on the Yellowhead Highway. Yet I found it to be a charmless place and so kept riding 30km north to the next turn off – the first turn-off in 300km – the Yellowhead Pass. From there my route flowed southeast along the infinitely more spectacular eastern divide of the Rocky Mountains. "It's Canada's trophy route," said Mike Gat of Cycles BC, "because of all the mountains, lakes and glaciers riders get to see there."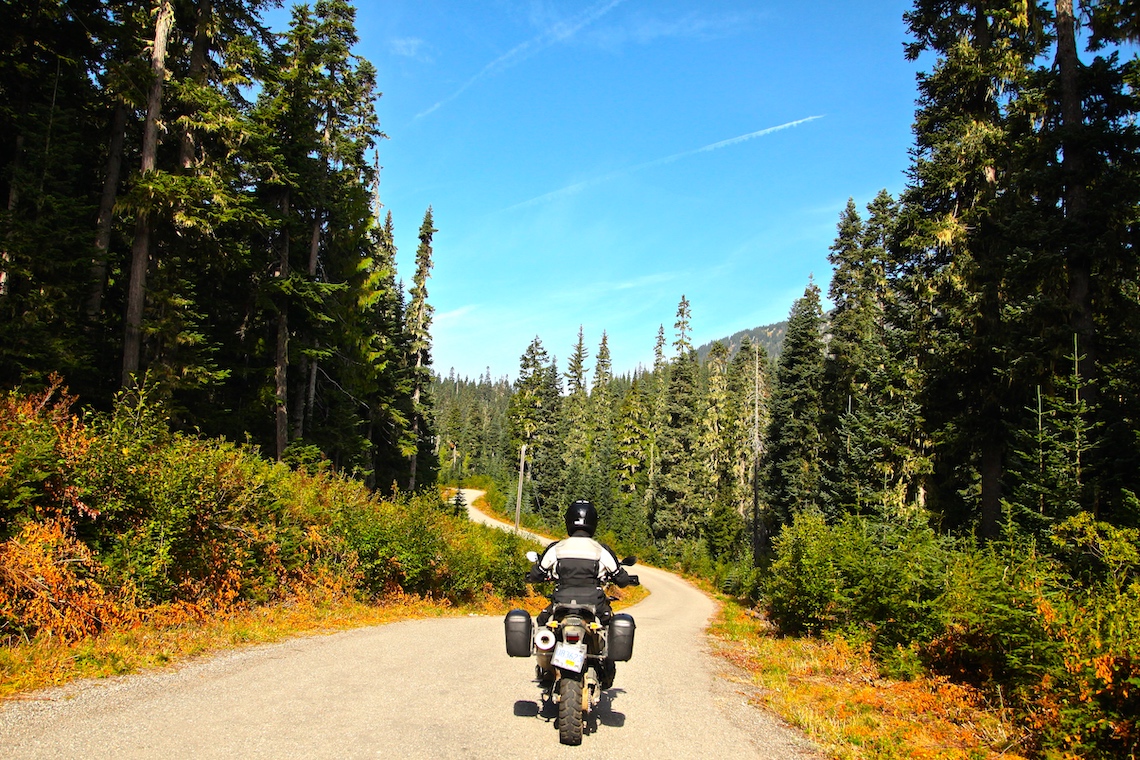 Five minutes into the so-called 'trophy route' I saw the biggest, baddest, most spectacularly awesome mountain I've seen. At 3,954m, Mount Robson is the highest peak in the Canadian Rockies, a mountain among mountains dusted in snow and capped with glaciers all year. I'd pulled over to take a photo of it when I noticed a sign that read 'Turn Here For Mt Robson River Lodge'.
Perfect, I thought, following said sign down a narrow gravel track. It led to a clearing in a pine forest where there stood a large woodsy home and a few log cabins overlooking a whitewater river with reach-out-and-touch-it views of Mt Robson. Absolute heaven.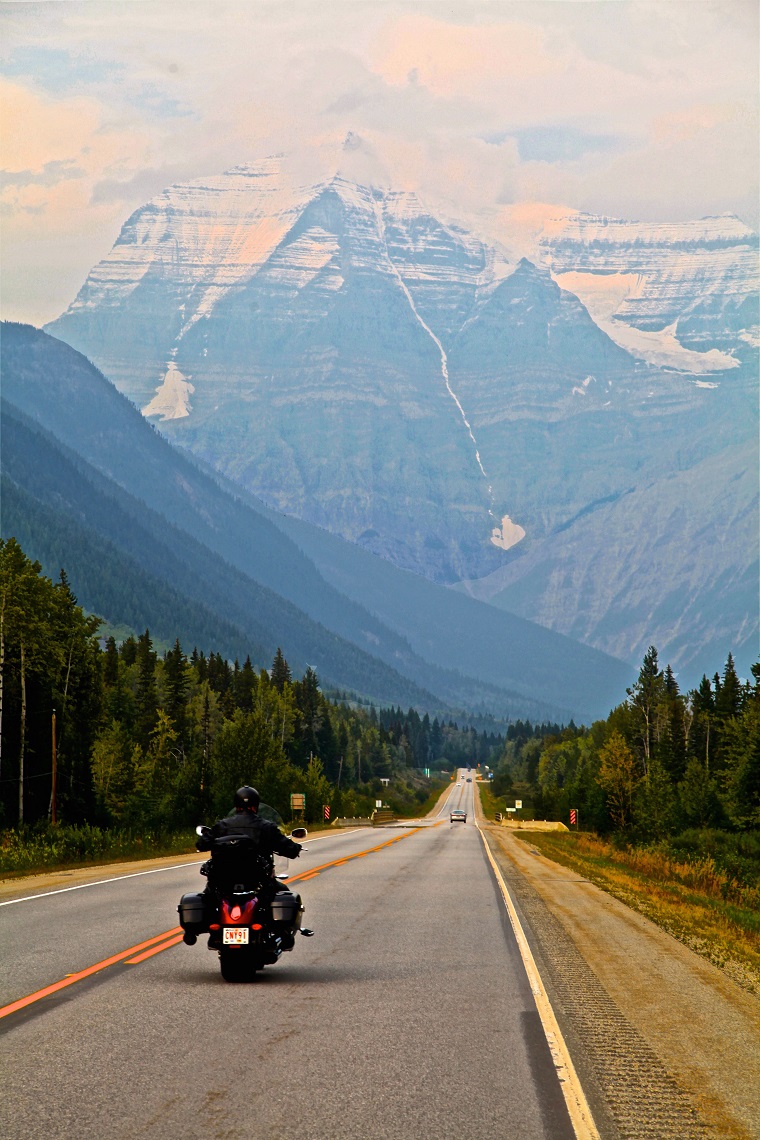 I dismounted, walked up the staircase and onto a verandah where I met the owner, a friendly bloke called Curtis. When I asked if he had a room, he said the lodge was normally booked out years in advance. But he'd received a cancellation only a few hours ago and, yes, a cabin was now free.
"We're the only lodge under the mountain where you can't hear the highway so our rooms are in high demand," Curtis said. "This is also probably the most beautiful part of Canada. There's great horseback riding, bird watching, we get moose and bears visiting our backyard and the hiking is unbeatable.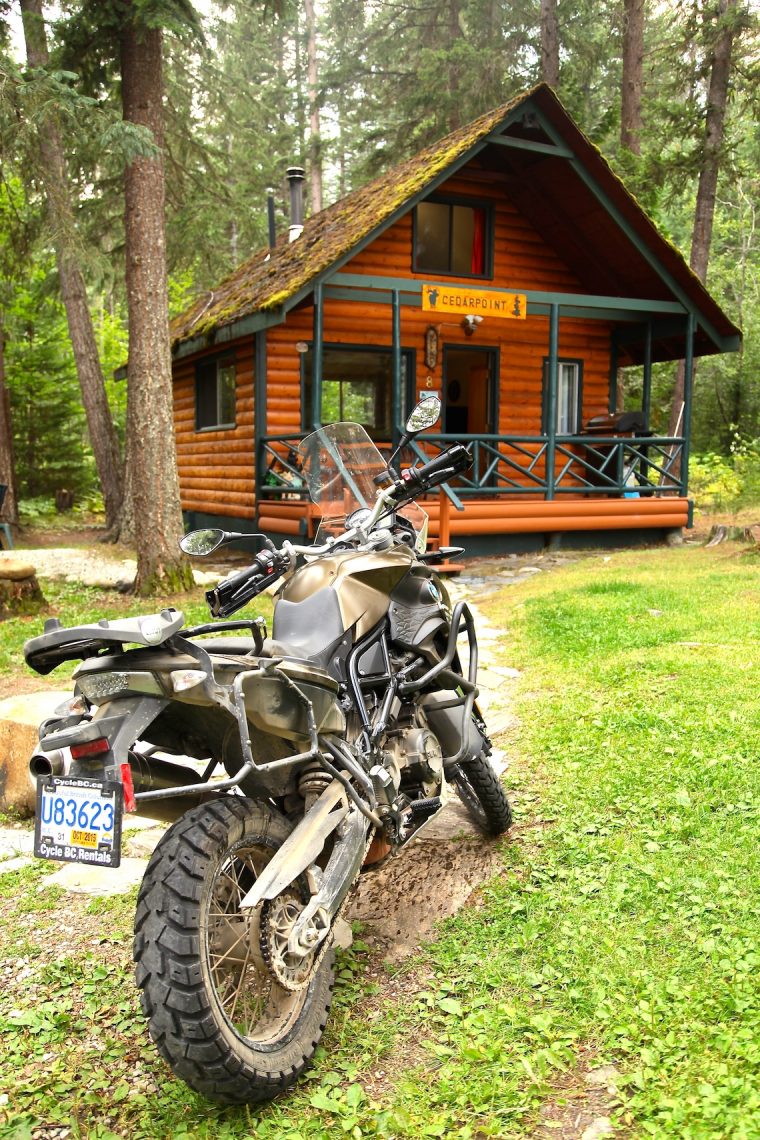 From the base camp to the peak of Mt Robson it's actually the same elevation prominence that Mount Everest has. That's why it looks so big. 'Bigger than any mountain they've ever seen', most people say."
That evening I fell asleep to the sound of whitewater, dreaming of the riding nirvana that lay ahead of me on the road.
Holy Smoke
The following morning I awoke to an eerie sight. Mt Robson was gone – hidden behind a smoky haze that was so thick it'd blocked out the sun. The entire sky had taken on a post-apocalyptic orange colour.
I pulled out my smartphone, googled 'Canada smoke' and discovered 865 separate wildfires had banded together to blanket most of western Canada in a haze of ash and smoke so big it could be seen from space. The air quality index was off the chart and health officials were advising people to stay indoors. But there was no way I was missing out on a day's riding. So, after a hearty cooked breakfast, I packed my panniers and made a beeline for the next leg of my route: the Icefield's Parkway.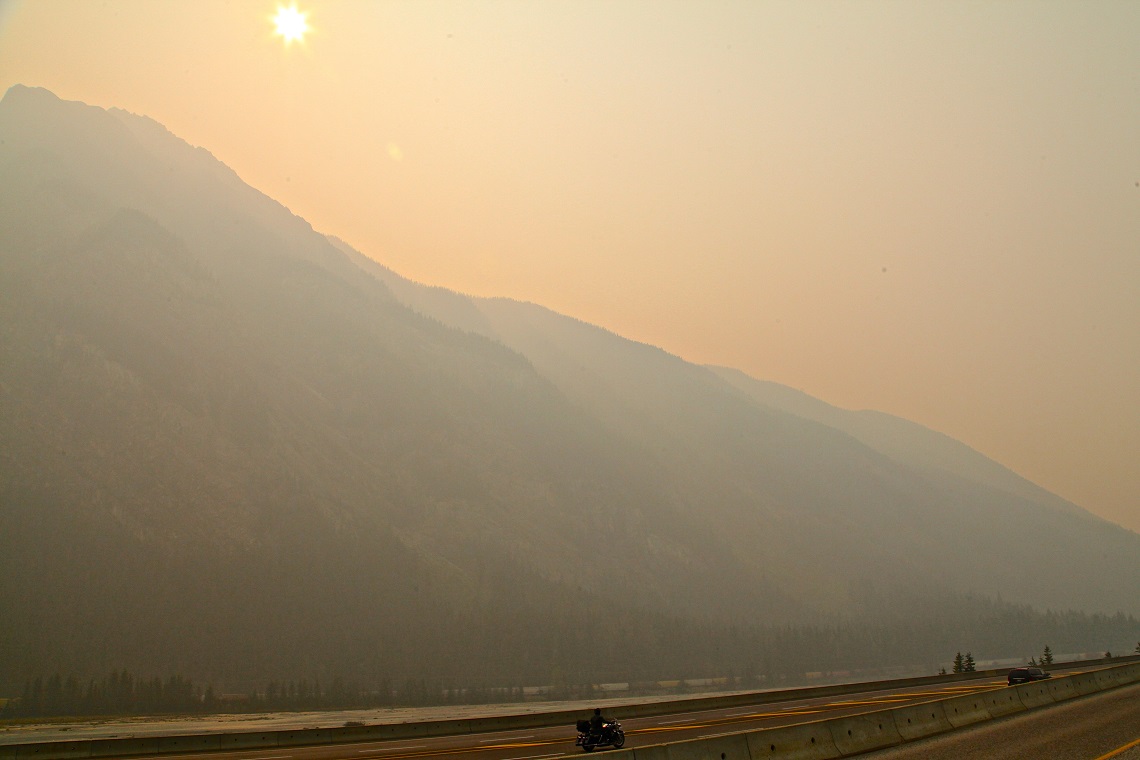 Consistently recognised as one of the top 10 scenic routes in the world, the 150 mile-long ride offers jaw-dropping views of the largest concentration of snow-capped mountains, turquoise lakes, rivers, waterfalls and glaciers in North America.
But on this particular day, the mountains appeared as nothing more than faint outlines. And as the day progressed, the haze intensified. I'd be lying if I said I wasn't disappointed, yet by sparing a thought for all the poor people who would ultimately lose their homes and farms to the fires, I put my measly problems into perspective and made the best of it.
And the haze didn't impact upon my ability to stop at some of the Icefield's Parkway's best attractions. Places like Catharsis Falls, a great big smashing waterfall in Jasper National Park that's so strong it's carved potholes and other intricate features into a limestone canyon; and the Athabasca Glacier, a three-square-mile sheet of Arctic-blue ice that's as thick as the Eiffel Tower is tall.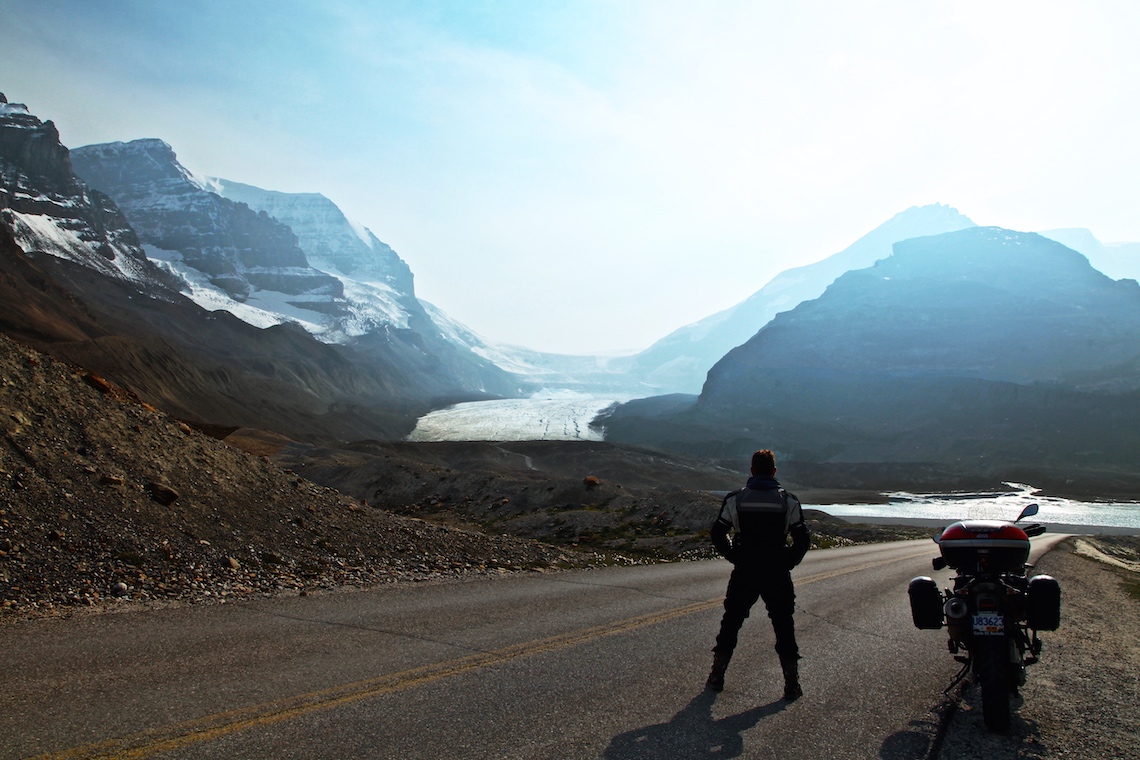 I careered around dozens of green and blue glacial lakes and had lunch at a truck stop with a group of Harley riders from Brazil. I rode all the way up the Bow Pass to a height of 2,067m and then headed down into a valley so vast and wide in scale and size it would've made a suitable set for Jurassic Park.
It was 9 pm and I was beyond exhausted when I finally pulled into Banff, the largest tourist town in the Canadian Rockies. And I'd only reached the halfway mark of my 2,700km-long adventure, with plenty more off-script adventures to look forward to.
---
Surviving Canada's Wildlife
Bears. Deer. Elk. Moose. Canada's abundant wildlife is a major drawcard for tourism. But the last place you ever want to see any of these magnificent animals is in the middle of the road.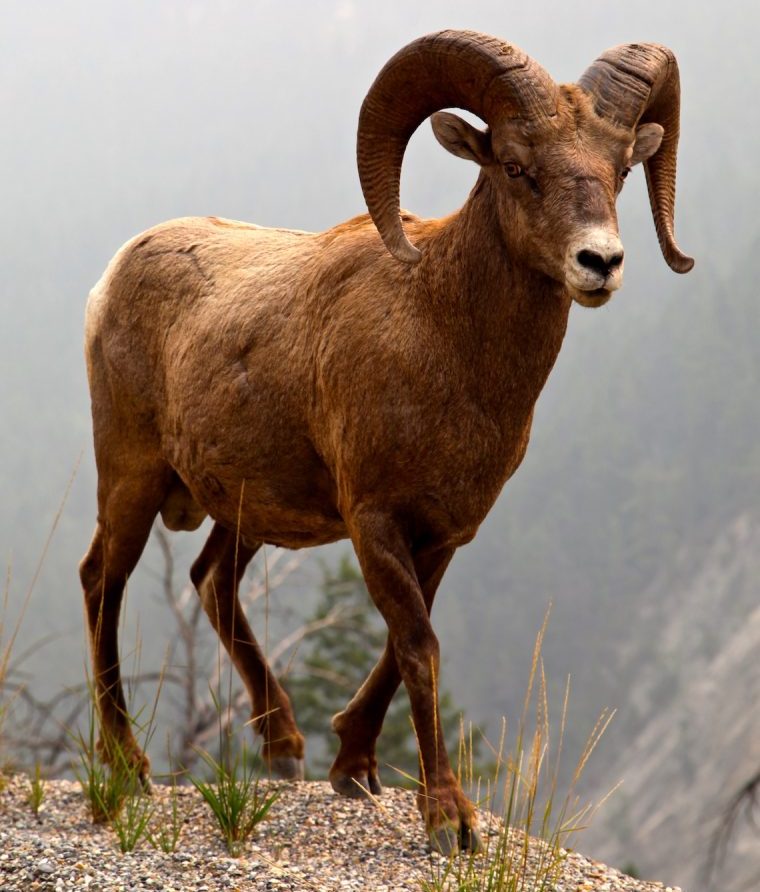 Here are a few pointers to help you avoid collisions:
1. Be aware of your location.
Data collected by the British Columbia Ministry of Transportation of wildlife kill zones in Canada's National Mountain Parks shows a higher number of collisions occur where water sources like creeks and drainages intersect roads, where there's good habitat for foraging and on long stretches of road where motorists tend to accelerate. Be extra aware when riding in these areas.
2. Avoid riding at dawn, dusk and at night.
Claims tallied by the Insurance Corporation of British Columbia shows nearly half of all wildlife collisions occur between 7 pm and midnight when animals are more active. If you have to ride at night, ensure your headlight is free of dust, road salt and mud. Look out for shining eyes (your headlight reflecting off animals' eyes) and roadside reflectors that disappear/reappear (which might indicate an animal crossing in front of them).
3. Slow down at wildlife warning signs.
Slow down when you see wildlife warning signs even though these signs don't legally require you to do so. They have been placed there because the location suffers an above-average wildlife collision rate.
4. Mentally prepare for a collision.
If an animal darts out in front of you, should you swerve, slam on the brakes or bail? "If you're riding slow enough and can avoid a collision by swerving, your best bet is to do so and not hit an animal," says Mike Gat of Cycles BC. "But if a collision is inevitable, brake as hard as you can while remaining upright and try to take the collision head-on. It's better to have the bike take the brunt of the impact than low siding and going off the road."
---
Travelling in Canada
Documents – Passport, no Visa
Medical – Routine vaccinations and a yearly flu shot
Language – English/French
Currency – Canadian dollar
Where to Go – More sights and activities
Athabasca Glacier Ice Walk
Vancouver Seaplane Tours
Banff National Park
Sea to Sky Gondola, Squamish
Berg Lake Helicopter drops
Whistler Mountain Bike Park
Fly fishing on the Pit River
When To Go
Spring and fall can oſten be very warm and pleasant, especially in June and September. daytime temperatures can be mild but drop in the evening. Summer, July and august, are hot and sultry, especially on the coast.
Foods To Try
Canadian wine – who even knew they made any? The industry is in its infancy and the reds can lack depth but the whites are interesting, especially the 'ice wine' – a super-sweet desert wine.
Tojo's – This large Japanese restaurant in Vancouver is where the Californian or inside-out roll (crab, avocado, sushi rice and seaweed) was invented. The menu is adventurous – anything but the usual Japanese fare.
Wild Pacific salmon; salmon roe caviar, salmon jerky
Butter tarts – Canada's only real desert, taste as good as it sounds
Tipping
A minimum 15 percent tip is expected for good service in most restaurants but not required as, unlike the U.S., food servers make real wages in Canada.
Taxi metres are set and tipping is not customary.
C$5 for a bellboy is sufficient
The Law
The Canadian Constitution grants individuals significant legal rights to question or disobey authorities whom they have reason to believe are being unjust.
Punctuality
Canadians are very literal about time and schedules. Lateness of more than 15 minutes is considered rude.
---
Want to ride the Canadian Rockies? Here's how you can…
Getting there
Air Canada (book.aircanada.com) flies daily from London to Vancouver with return flights from £1242.
Staying there
Mount Robson Mountain River Lodge (mtrobson.com) and the Glacier House Resort (glacierhouse.com) near Revelstoke offer rooms from £89. Corbett Lake Lodge (corbettlake.ca) near Merritt offer bed breakfast for £53, while bed and breakfast at Banff Coribou Lodge & Spa (banffcariboulodge.com) is £65.
Bike rental
Cycles BC's 10-day Wild Canada West self-guided tour on a BMW GS 800 costs £1,500. The price includes accommodation, breakfasts, pre-programmed GPS with routes, panniers, a day planner and road maps. Rates vary for shared accommodation and motorcycle type: Harley, Honda and Suzuki are also available. Or you can simply rent an BMW 800GS for 10 days for £850 and sort out your own accommodation like Ian did. For more information visit vancouver.cyclebc.ca.