EUROPE'S BEST-KEPT SECRET…
Slovenia wasn't part of Kevin Padmore's plan, but as we all know, life's about the journey…
Slovenia looks rather insignificant when viewed on a map. Roughly the size of Wales, it's a country that's more often passed through en route to elsewhere as opposed to being a destination of choice. Initially we planned to do exactly that; an overnight stop in Ljublijana on our way to Croatia, the main focus of our trip. The general impression we were given of Slovenia before the off was of a third-world country full of thieves and cheats, where all belongings and bikes should be locked up (sound familiar?). However, after a conversation with a certain editor at the ABR Midlands rally, we decided to change our plans, view Slovenia with an open mind and spend a little more time there.
It was misty on the morning we departed Waidegg, Austria. This was an emergency overnight stop which came about due to torrential rain, thunderstorms and our reluctance to ride through them. The sun was now out, though, and very welcome after the previous day's soaking; at least the riding gear would have time to dry out, we thought.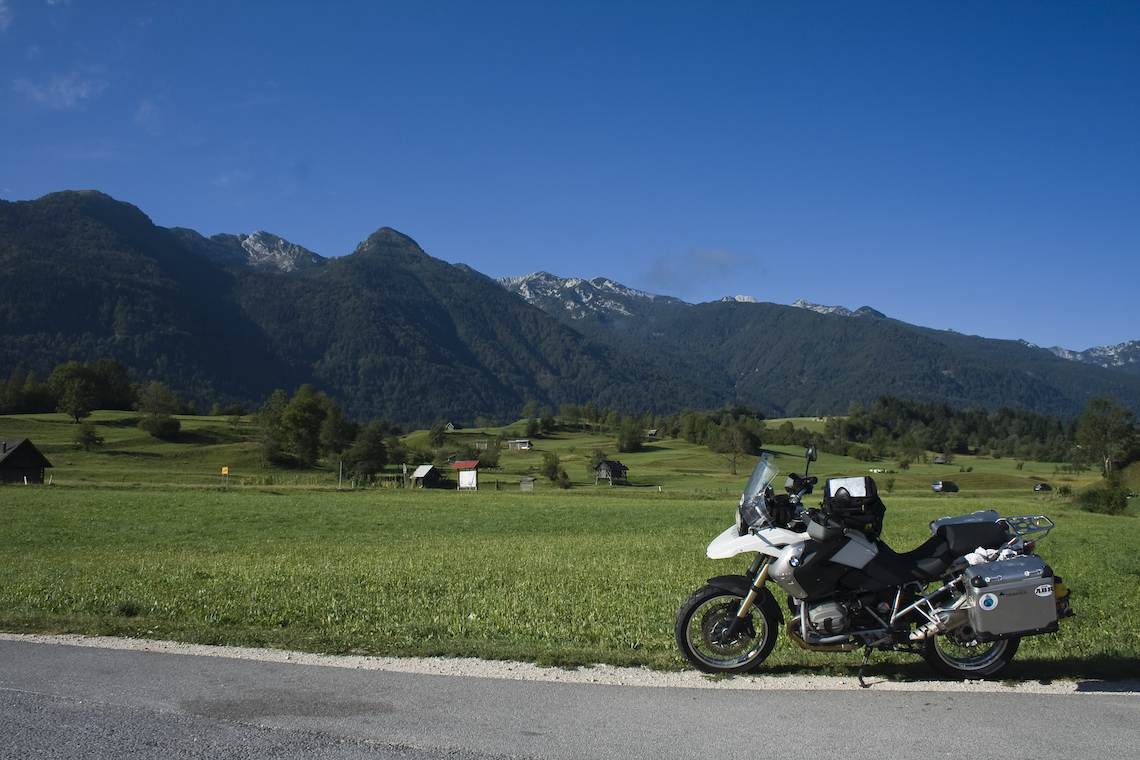 The route we'd planned would take us to Arnoldstein and then into Slovenia via the Wurzenpass, a typical mountain trail packed with tricky switchbacks, sweeping bends and sporting a poor road surface right up to the Slovenian border. Now that Slovenia is in the EU, the border post has been all but deserted and all that remains is a cafe-cum-souvenir shop, which we found closed as it was a Sunday. After the usual photo opportunity we moved on towards Kranskja Gora, and were treated to another Wurzenpass, this time with a much improved road surface and some wonderful scenery.
Sunday, Bled-dy Sunday
Kranskja Gora is a town we both wanted to visit as we're both keen skiers and during the winter season this town transforms into a ski resort with world-championship downhill and slalom slopes. We wanted to see if Kranskja Gora might be a potential alternative to the French Alps. From the plan of the ski runs, it certainly looked to have a good mix of slopes.
It's quite a small town, but we found it very busy for a Sunday, with a small market selling mainly souvenirs, a number of very lively cafes and a haven for motorcycles – think Slovenia's answer to Matlock Bath.
After a walk around and a coffee break, it was time to move on to Bohinjskega Jezera, to look out a campsite for the next couple of days. The route from Kranskja Gora to Blejsko jezero (Lake Bled) – Slovenia's largest lake – skirts the outer perimeter of Triglavski National Park and again the roads were very smooth and scenic.
The road to Bohinjskega Jezera was again typical of what we had already experienced earlier that day, with the added twist of riding through some very small and picturesque villages. As the lake came into view, it was clear that the decision to pass through Bled was the right one. We found Bohinskja a lot less hectic, less touristy, but equally beautiful.
Slap dash
The temperature was now rising considerably, so we decided to make camp early. We stopped in Bohinskja Bistrica, a sizeable village-cum-ski resort 6km east of Lake Bled.
After making camp and a late lunch, we took a 20-minute blast up to Slap Savica – slap meaning 'waterfall'. The brochure promised that the falls would take our breath away. This point proved to be partly true, as the steep, 20-minute climb up to the falls (wearing mostly bike gear) certainly left us gasping for air.
The falls themselves were slightly disappointing, mainly due to a lack of rainfall, but after the winter snows have melted I can imagine it would be a totally different scene. The vista over the lake from the top of the viewing area made the climb well worth the effort though.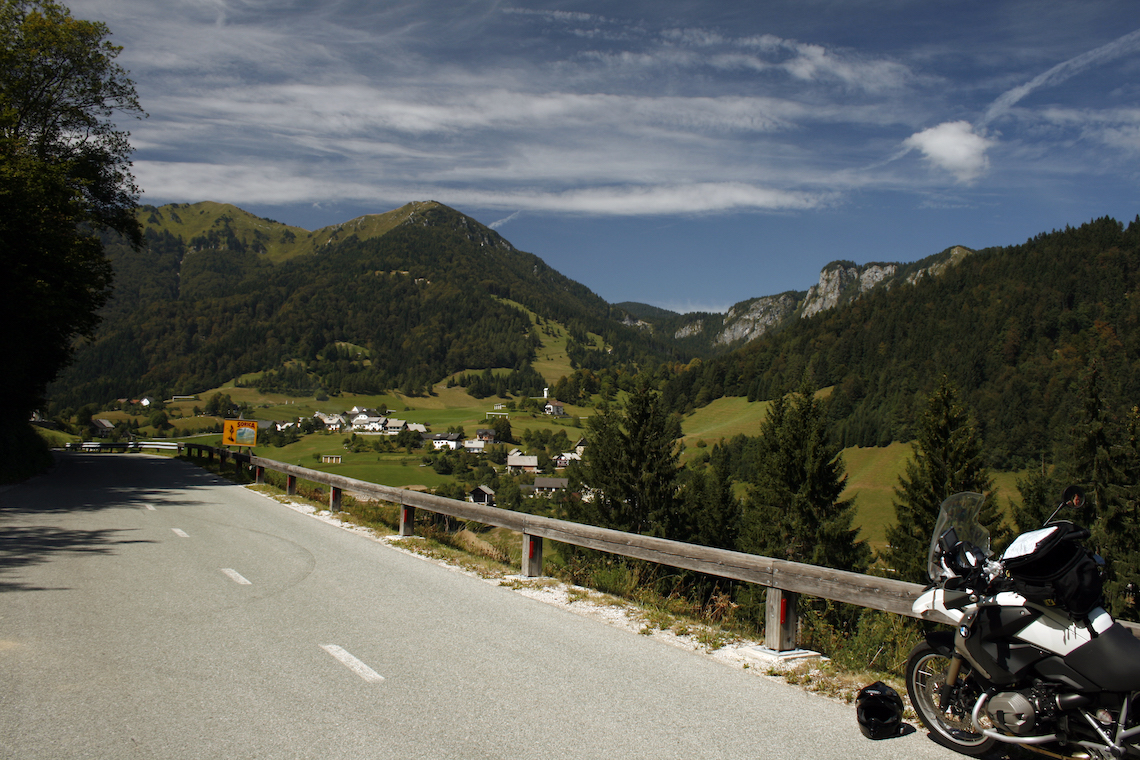 Early riders
The next day we were woken by the 'bloody bells at seven', a recurring theme for nearly the whole two-and-a-half weeks' holiday. This gave us a good excuse to head off and visit Slovenia's capital, Ljubljana, before the temperature got too high for exploring on foot.
The outskirts of the city are what you'd expect of any capital – industrial estates, shopping centres and high-rise apartment blocks. As we got closer to the centre, we could sense a city that was making the most of its place as a capital within an EU country.
The 'old city', however, is an entirely different story. It's packed with character and walking around it we got a real feel for Ljubljana's rich heritage. The old part of the city runs along the banks of the river Ljubljanica. At the heart of it is the Tromostovje (triple bridge), which is overlooked by the medieval castle and surrounded by buzzing restaurants, cafes, bars, shops and a very busy market selling all manner of local produce.
Within the confines of the town hall was a small open plaza with a map of the old city engraved into one of the walls, which was highlighted by the sunlight streaming onto it. We followed the map to St Nicholas Cathedral, which, if I'm honest, is nothing very special from the outside. There's no obvious entry point either and after walking around it several times we were about to give up when we caught sight of a group of people stumbling in though a well-disguised door which had been opened from the other side.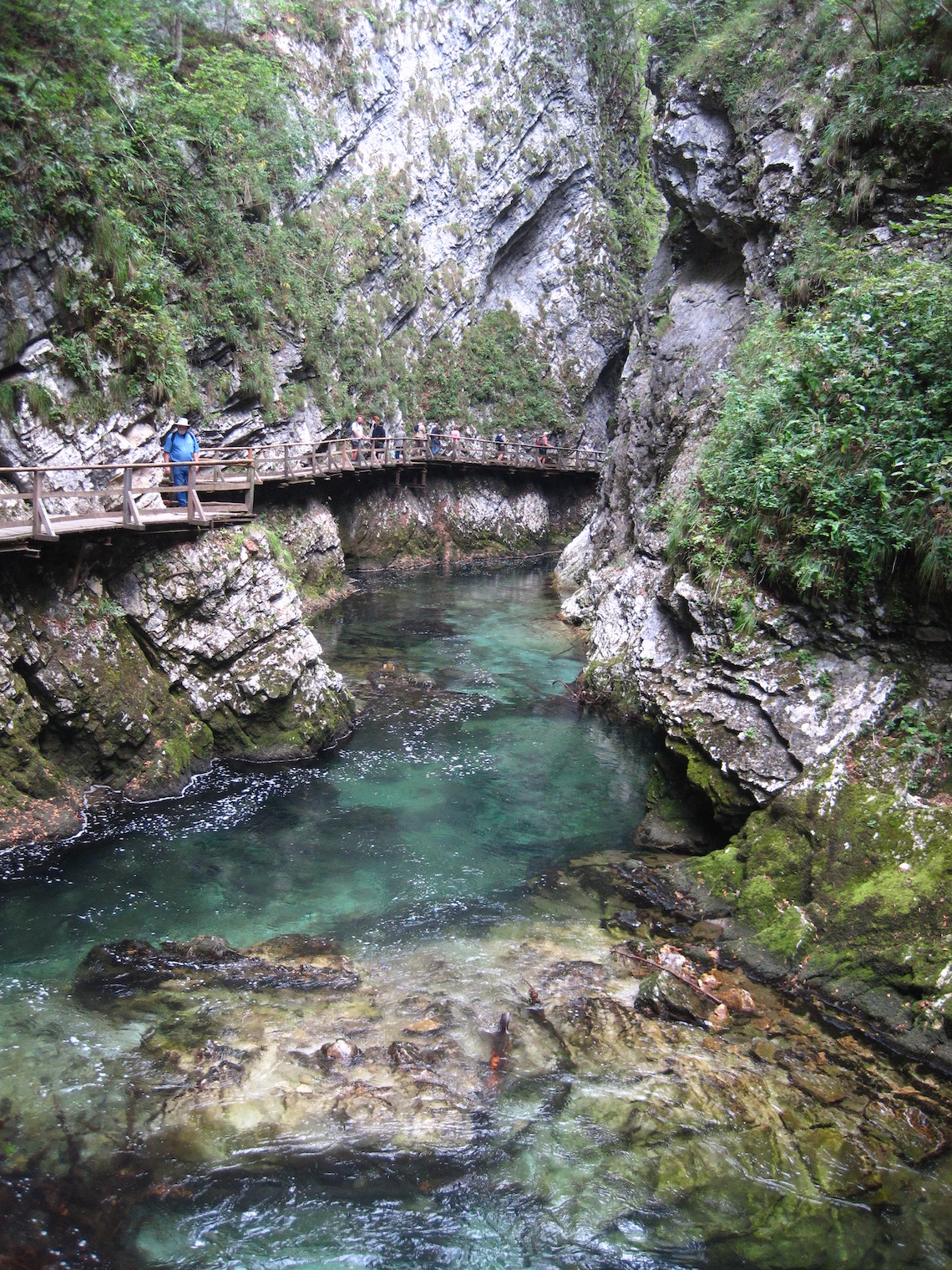 Once inside St Nicholas, it's hard to believe it's the same building. The amount of gold everywhere is quite breathtaking and all the artwork and painted ceilings are a visual delight.
Mystery tour
As the temperature was now in the low-to-mid 30s, it was definitely time to get back on the bike and move on to try and cool down a little. Setting the GPS to 'shortest route back to camp' we followed it on a magical mystery tour out of the suburbs and along a number of minor roads through rural communities, villages and hamlets, which were a lot more traditional than those near the larger towns and cities of Slovenia.
At times the road changed from being wide and open with fast bends, to single track as it passed through the tiny villages hugging the river. Eventually we were guided along a mountain pass (road 909), with a lot of roadworks taking place. Once over the top, however, we were welcomed with some of the most stunning scenery we had seen yet.
The road descended to Zgornja Sorica, a picture-postcard perfect village, which for the artists out there was the birthplace of Slovenian impressionist painter, Ivan Grohor. The road continued in this vein all the way back to the campsite, where it was now time for a very welcome cold beer or two.
Following our now-familiar 7am alarm, we broke camp the next morning and headed back along the roads towards Ljubljana. Once clear of the capital's outskirts and 30 minutes of motorway we turned off the main roads again and rode back into Slovenia for the border with Croatia and the next leg of our trip.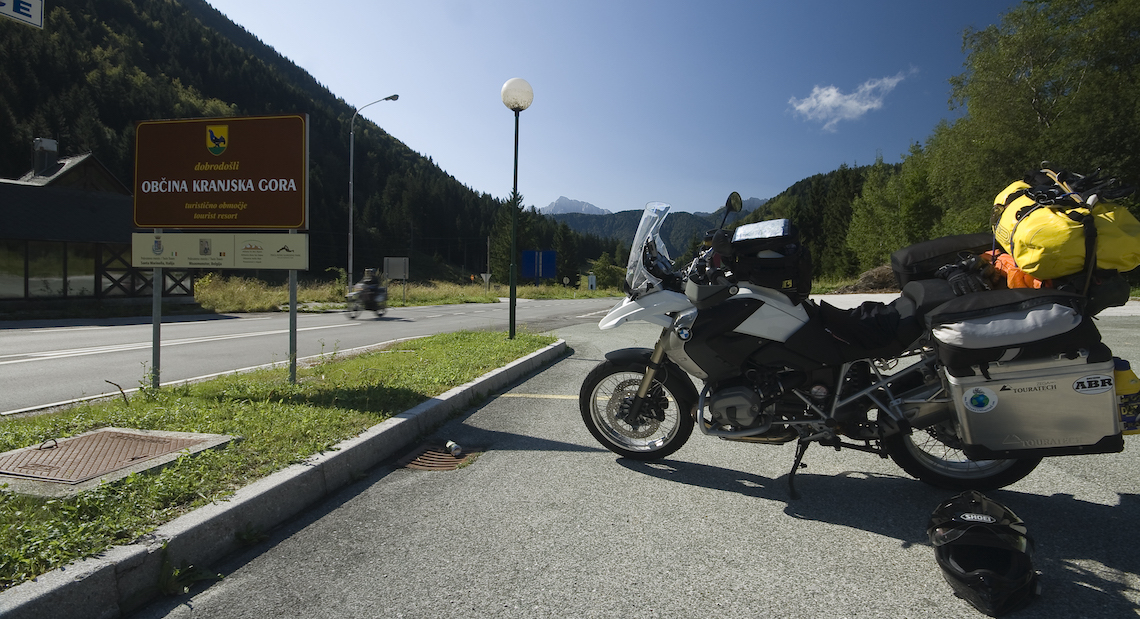 Slovenia had taken us both by surprise. Rather than the impression of a third-world country we'd been given, we found a country full of stunning scenery, great roads, friendly welcoming people, diverse buildings – and bells! Our biggest regret is that we didn't allow enough time to see more of it, but then, that's a good enough excuse to make a return trip, I reckon. For anyone passing through Slovenia on their way to elsewhere, take my advice and allow enough time to enjoy this small, but delightful country. Just be sure to keep it to yourself, though!
Determined to see more of local village life, I programmed the SatNav to take me to Idrija, a town renowned for mining mercury. After 10km of scenic back roads I veered right onto a rough gravel track. Thinking this was incorrect I branched left, taking the only other exit out of the village, but this landed me in someone's front garden! After seeking directions I retraced my journey to the motorway then headed north-west to Bled where I had pre-booked another hostel bed.
The owner, Jani, greeted me warmly and after clearing space in the garage for my bike, he enthusiastically supplied me with maps of the region, highlighting locations to visit. Over the next couple of days, I explored the region around the Triglav National Park.
Nearby Bohinj is prettier than Bled and I took the Vogel cable car to enjoy the view of the lake and Mount Triglav (2864m). It's possible to climb higher by chairlift but as time was of the essence, I headed back in Bohinj through pretty villages and mountain twisties, stopping en-route for a traditional beer and a huge pork steak.
After a morning stroll around the welcome cool of Vintgar Gorge, I was back on the CBF and riding to the town of Kranjska Gora where I turned south to ride up the infamous Vrsic pass. This road was originally built by Russian WWI prisoners and still retains over 20 cobblestone hairpin bends on the northern side. I was a little apprehensive, but found them to be well constructed and in good condition. The descent into the Soca Gorge is breathtaking with the azure river passing through traditional villages that resemble those found in the southern Alps (unsurprising given Slovenia's proximity to Austria). Bear in mind, though, that the road's frequently closed during winter as this is skiing country.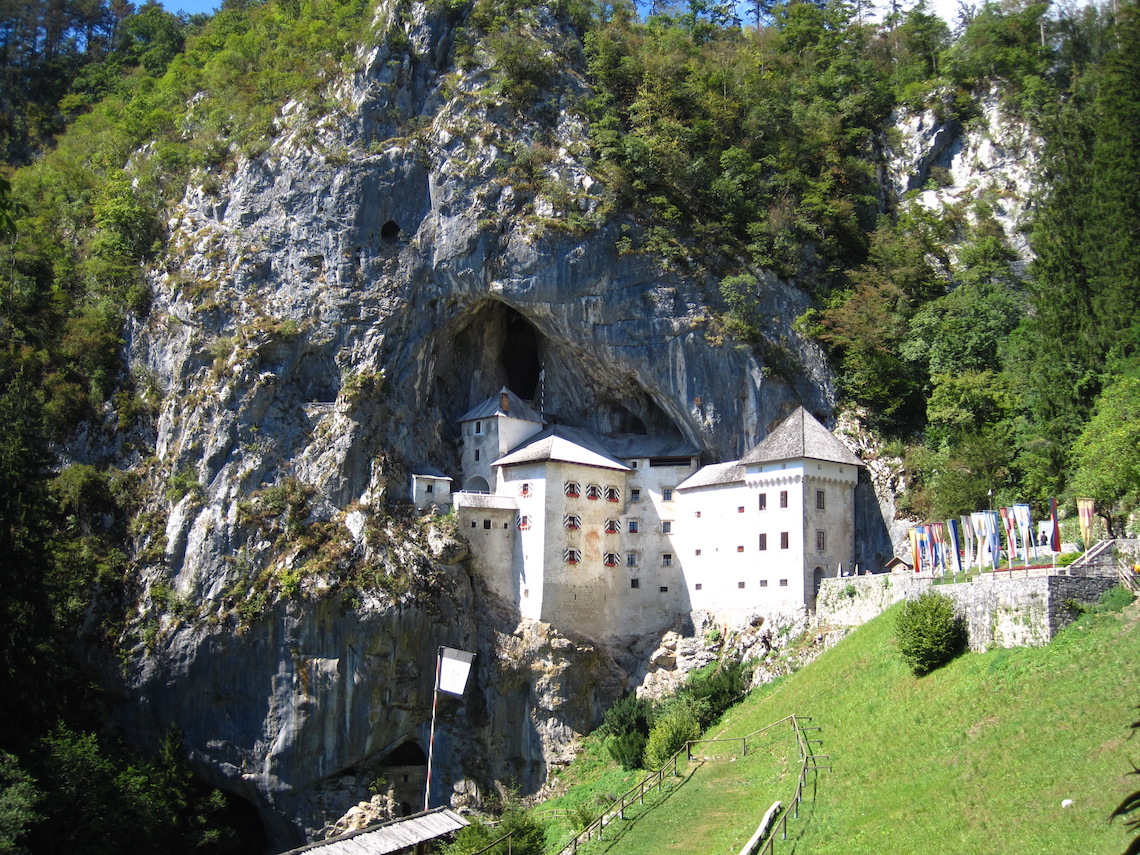 On my second night at the hostel, I felt brave enough to visit Jani's bar. One guy in particular was very welcoming and encouraged me to join him and his mates for a beer. He spoke a little English and attempted to involve me in their conversation. They all agreed that life in Slovenia has improved since the fall of Yugoslavia but the arrival of the Euro has had a huge impact on the cost of living there. Yet, when I asked for the drinks bill, the barmaid claimed it had already been paid; I never knew who by. Slovenian hospitality is truly humbling.
Who's riding?
Name: Kevin Padmore
Age: 51
From: Hilton, Derbyshire
Apart from the obvious bikes and travel, I like music, photography, cooking and skiing and get really frustrated when bored. Linda Padmore, 49, my long-suffering wife of 30 years was pillion for this trip, but is now riding her own 125cc Yamaha and plans to take her full test in 2012 once confident enough.
Our plan is to travel as much and as far as we can on the bike, initially through Europe, but then if money and health allow through various parts of the world. A return to Australia and New Zealand for a six-month trip is high on the agenda!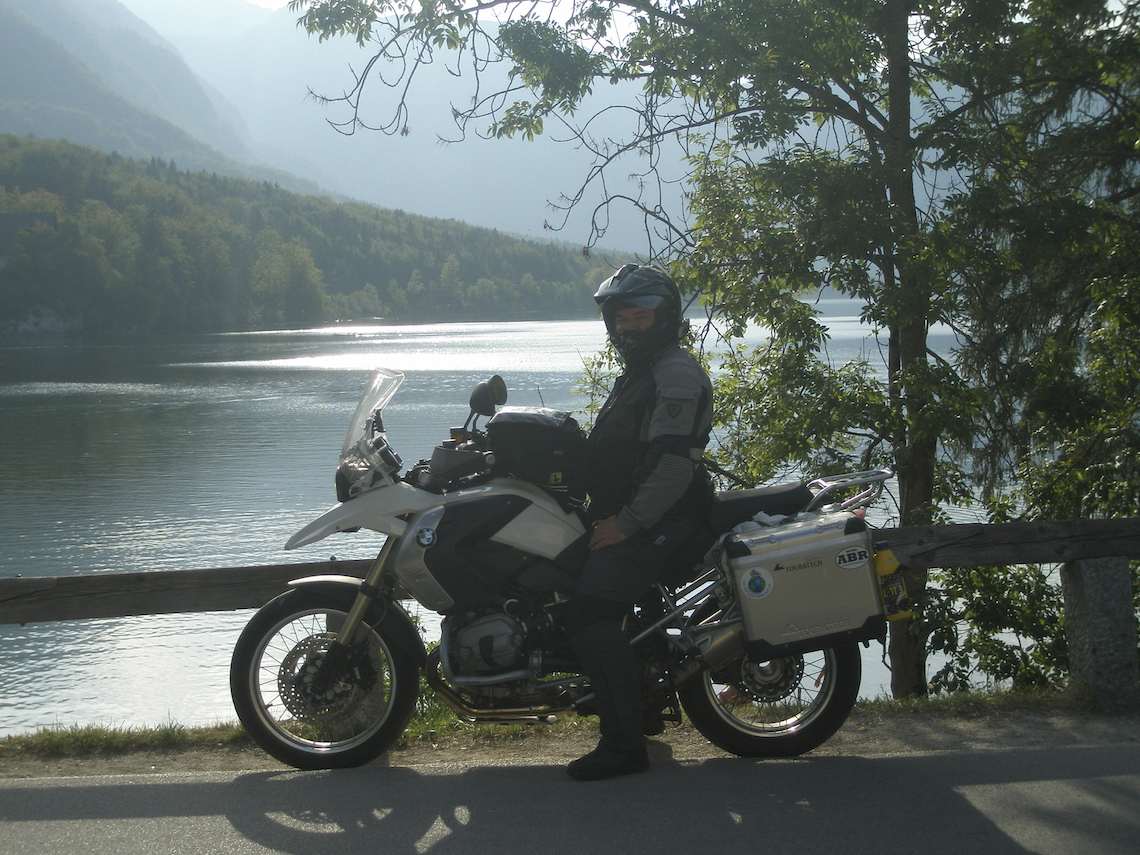 The bike
We did this trip on my BMW R1200 GS, 2010 model. I had to think long and hard before going for this bike, as I knew I'd be in for some serious leg-pulling from mates who said I'd be the first to buy a BMW. I didn't fully understand the GS thing, until now…
It does what it says on the tin; it's great for touring two-up with camping gear, but also capable off-road (although my experience is limited). So far I'm totally happy with it. Farkles include crash bars, TT Zega panniers (I couldn't get on with the BMW ones), extra 12-volt socket, tool tube and GPS.
My Slovenia
ABR Elaine Clark shares some of the highlights of her solo Slovenian adventure…
From Maribor in the north-east of Slovenia, I set the SatNav to a non-motorway route to the town of Ptuj, a picturesque place set on the banks of the river Drava. There's little to do in the town but I definitely recommend having a wander around its beautifully preserved castle, which dominates the hillside. After picking up a motorway vignette from a gas station, €7.50 (£6.50) for one week, I headed for Ljubljana, passing through the southern end of the Savinja Alps on wet roads steamed dry by the heat of the sun. I by-passed the capital and instead rode south to the caves of Postojna. I last visited the caves in 1982 when Slovenia was part of Yugoslavia and it's bemusing to think that familiar structures still remain in place today, despite all the changes which have taken place. The cave network is so vast that there's a small train to take visitors to the start of the guided tour, which lasts about 90 minutes. Although very touristy, the sheer scale of these caves makes it well worth the excursion.
Triglav National Park
The Triglav National Park (TNP) is Slovenia's only national park. Extending along the Italian border and close to the Austrian border in the north-west of Slovenia, it covers over 880 square km. The park takes its name from Triglav, the highest summit in Slovenia at 2864m which can be found in the heart of the park. The name Triglav (three-headed) is thought to come from the peak's distinctive 'three-headed' appearance as seen from its south-east side; a Slavic deity of the same name was also thought to have a throne on the mountain. Triglav is a true national symbol and appears on the Slovenian flag and coat of arms.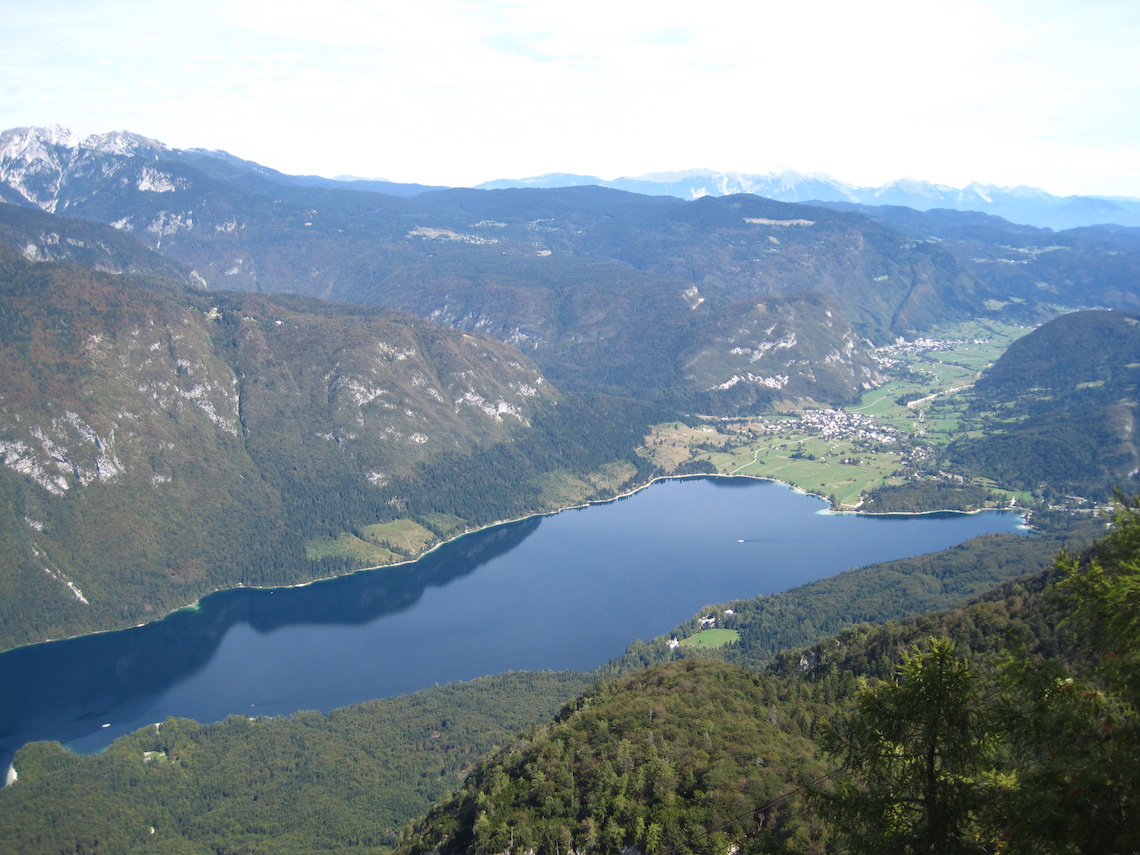 Lake Bled
Or Blejsko jezero as the locals call it is a glacial lake in the Julian Alps in north-western Slovenia. At 2,120m long, 1,380m wide and over 60m deep Bled is an impressive body of water made even more so by its breathtaking mountain scenery. In the centre of the lake is Slovenia's only natural island, which houses the romantic Pilgrimage Church of the Assumption of Mary. This 15th-Century building is popular for nuptials owing to its fairytale setting and tower vantage point over the lake (a good place to score bonus points with the other half, this). Explore the lake by boat or, if it's hot enough, whip out your Speedos and get involved in the 27oc waters!
Photos: Kevin Padmore