After kicking his heels at home for months, Ian Lloyd Neubauer jumps on his bike and escapes to an island paradise. Freedom never felt so good.
Like a thief in the night. That's how I feel as I tear out of my home in Bali at 10 pm to catch an overnight ferry to the neighbouring island of Lombok. From there, I'll make a two-hour dash across Lombok and board a second ferry for a 10-day adventure around Sumbawa, one of the least visited large islands of the Indonesian archipelago.
In 2019, I chalked up eight rides around Southeast Asia. It's not just for fun, it's part of my job, or better said my former job as a travel writer. But since the world was rocked by a pandemic, I haven't ridden much further than the bloody supermarket. After going into cockroach mode at the start of the year, I've come to believe that life must go on, and there are few greater affirmations of life than travel and adventure.
Storm clouds ahead
I feel a slight rush of adrenaline as the ferry from Lombok approaches Poto Tano port on Sumbawa's west coast. The tin roofs of buildings sparkle like diamonds on the foreshore where powder-white beaches meet the turquoise sea, a setting cut straight out of the Pirates of the Caribbean. I see few signs of life as I ride south along Sumbawa's palm-fringed west coast, passing sleepy fishing villages that have been frozen in time and resorts that have stood empty since Indonesia stopped issuing tourist visas to prevent the further import of Covid-19.
However later in the day, I see a surfer dude with dreadlocks sitting on a moped eating an ice cream outside a convenience store. I pull over to say hello. His name is Adam, a Californian, and he's cruising around Indonesia on a yacht chasing the perfect wave. And he's not the only one.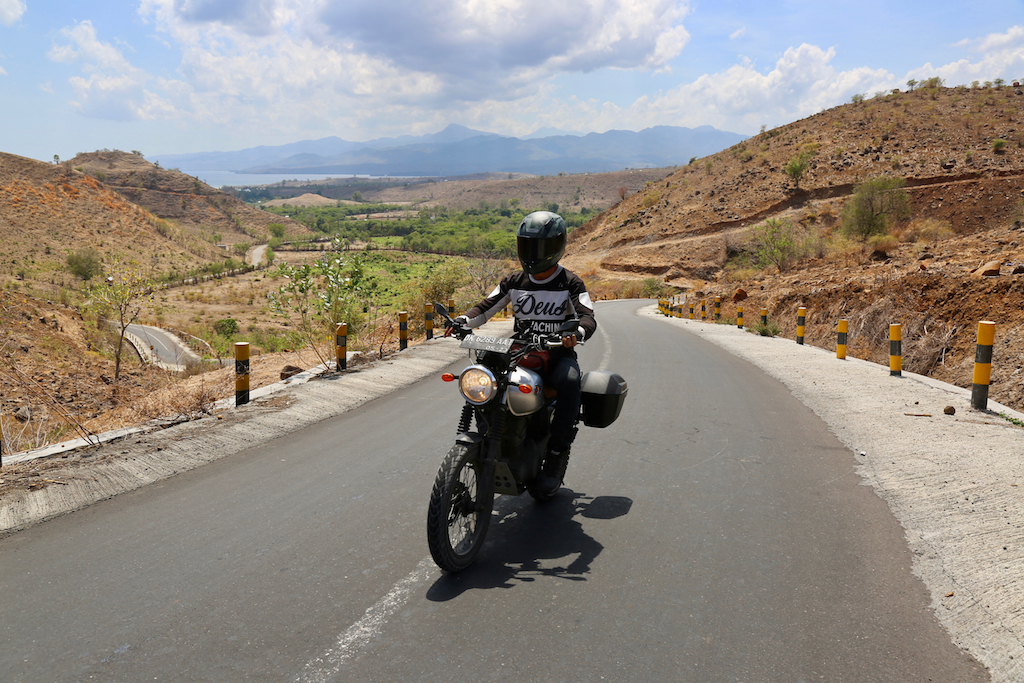 "A few days ago, I was at a surf break not far from here called Scar Reef where I saw (American surfing champion) Kelly Slater. I was like WTF," Adam tells me.
He recommends I spend the night at Sekongkang Beach about an hour down the coast. Bookmarked by towering sea cliffs with a blue lagoon in the centre edged by reef breaks, Sekongkang reminds me of the wide empty beaches of Australia.
The following morning, I take in a long swim in the lagoon where I see two green turtles, one as big as a truck tyre. I spend the rest of the day chilling under a pavilion reading The Road, a novel about a father and son travelling through a post-apocalyptic world ruled by cannibals, as well as napping, and getting to know the other guests.
There's Jean-Daniele, a yoga instructor from France who's been living in Sekongkang for around a year. Then there's Yaneck, a Polish-Australian guy who has been working at a nearby copper mine, and a Canadian called Mike who rocks up on a moped which is heavily loaded with two surfboards, a kiteboard and, get this, a pedestal fan of all things.
"The hotels are mostly air-conditioned in Indonesia. I hate sleeping with air conditioning, it gives me the chills, so I carry around this fan to keep cool at night," he explains. Over a few beers, Mike, who's been travelling around Sumbawa for the past two months, gives me a shortlist of places to visit on the island. This is one of the things I've missed most about travel, making friends with total strangers and sharing stories from the road.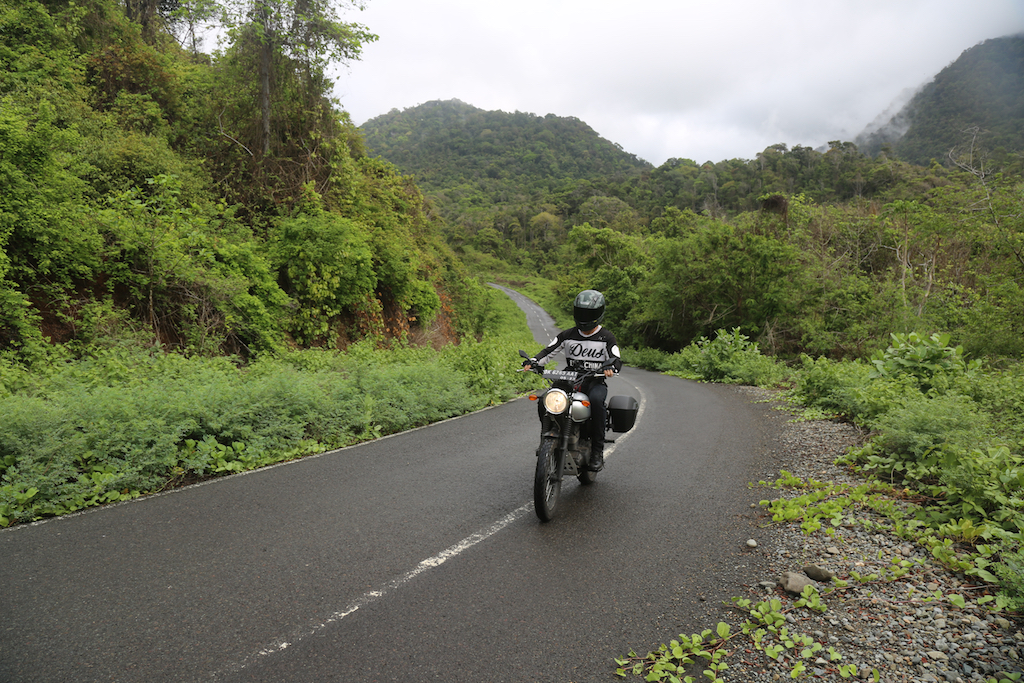 Dark tropical clouds hover overhead as I tear out of Sekongkang the following morning. Then the heavens open up and monsoon rain lashes me from every direction. A few minutes later, I find shelter under a farmer's hut where I wait for the storm to pass along with four or five locals, while sharing cigarettes and conversation in my broken Indonesian.
The downpour stops within half an hour but returns in short angry bursts as I motor along a road that curls like a snake through the pristine rainforests of southern Sumbawa. Things get even hairier when the asphalt comes to an end and I find myself plotting a course through a quagmire of rock gardens, down slippery clay hills, and across flooded fords. I'm shivering cold, wet to the core and covered in warm gooey mud. But it's all part of the adventure.
No water just vodka
At around midday, I hit a village on Sumbawa's windswept south coast where I warm up with a bowl of delicious chicken and egg noodle soup. Reinvigorated, I jump back on my bike and ride north along a road with potholes the size of bomb craters that skirts the lip of a long ravine with a raging river down below. Tribes of monkeys scurry out of my way but the goats, of which there are millions in Sumbawa, don't give a stuff. I lose count of how many times I have to slam on the brakes when the damn things dash across the road. The rain continues to annoy me until I finally reach Sumbawa City on the north coast.
I'm dying to get out of my wet clothes and grab a hot shower but finding a decent place to stay proves a challenge. I inspect half a dozen damp, dirty hotel rooms with garish bedspreads cut out of a painting by Hieronymus Bosch, until I find a place near the airport with crisp white bedsheets and windows that actually open. Getting a good feed is a lot easier. At a restaurant next door, I buy a whole snapper grilled over coconut husks with wok-fried vegetables, rice and homemade chilli for the equivalent of £2.80.
There's not a cloud in the sky the next day when I ride east out of the city along the Trans-Sumbawa Highway. There's plenty of traffic on the road and more than a few drivers who seem intent on making roadkill out of me. On one occasion, a truck overloaded with cargo overtakes around a blind corner and nearly tips over before correcting into its lane, almost wiping me out in the process. When I pull over to regroup seconds later, I am so flustered I can feel my heart beating through my palms.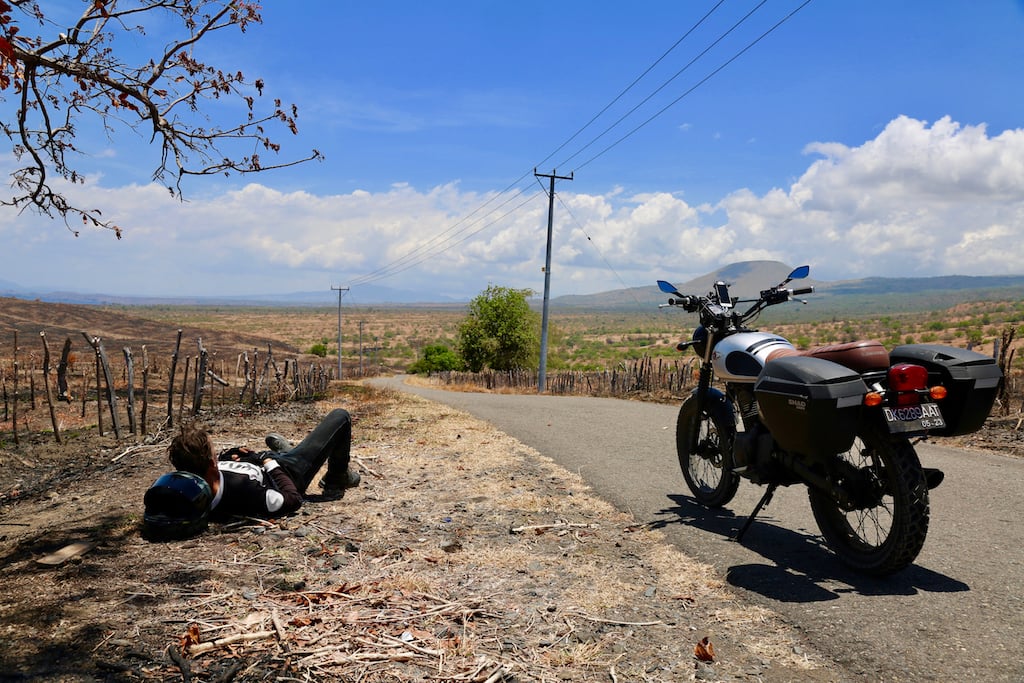 The traffic thins out when I hit Saleh Bay, a massive body of water that has recently been identified as a breeding ground for whale sharks, the world's biggest fish. Here, the road becomes an absolute dream. It's a smooth and empty ribbon of asphalt that ebbs and flows along the coast, often rising to peaks that offer bird's eye views of the pyramid-shaped islands pockmarking the bay. The road takes me into the heart of eastern Sumbawa, the poorer and least developed half of the island. Its most dominant geological feature is Mount Tambora, site of the most destructive volcanic eruption in human history.
When Tambora blew its top in 1815, it instantly killed 10,000 people and all vegetation on the island. In the city of Jakarta, 1,118 miles away, the British Governor Sir Thomas Stamford Raffles, thought the city was being attacked by canons. Ash from the eruption temporarily blocked out the sun and caused worldwide climate change, an event known as the 'year without a summer'. In 1816, it led to famine and disease in lands as distant as Canada and France and claimed another 90,000 lives.
Before the eruption, Tambora was 4,600m high, which is double that of Mount Kosciuszko, the tallest mountain in Australia. Now it is only 2,851m, with its kilometre-wide crater nearly always shrouded in clouds. Close to no rain falls on Tambora's flanks, creating a desert-like landscape where temperatures regularly surpass 40C.
Friendly folk without temptation
Dry hot air blasts into my helmet as I burn down straits and zigzag around the hairpin turns of the 125-mile road that rings the volcano. But I have no water to drink as my thermos is full of vodka, an important additive one cannot acquire on Sumbawa, a majority-Muslim island.
When I hit a flyblown village at the half-way mark, I park in front of the first shop I see and gulp down three bottles of water. A family sitting under the shade of a solitary tree stare quizzically at me, wondering what my mission could possibly be. Few foreigners ever passed here. Now, it's the literally arse end of the world. I throw a few notes on the countertop and get back on the bike.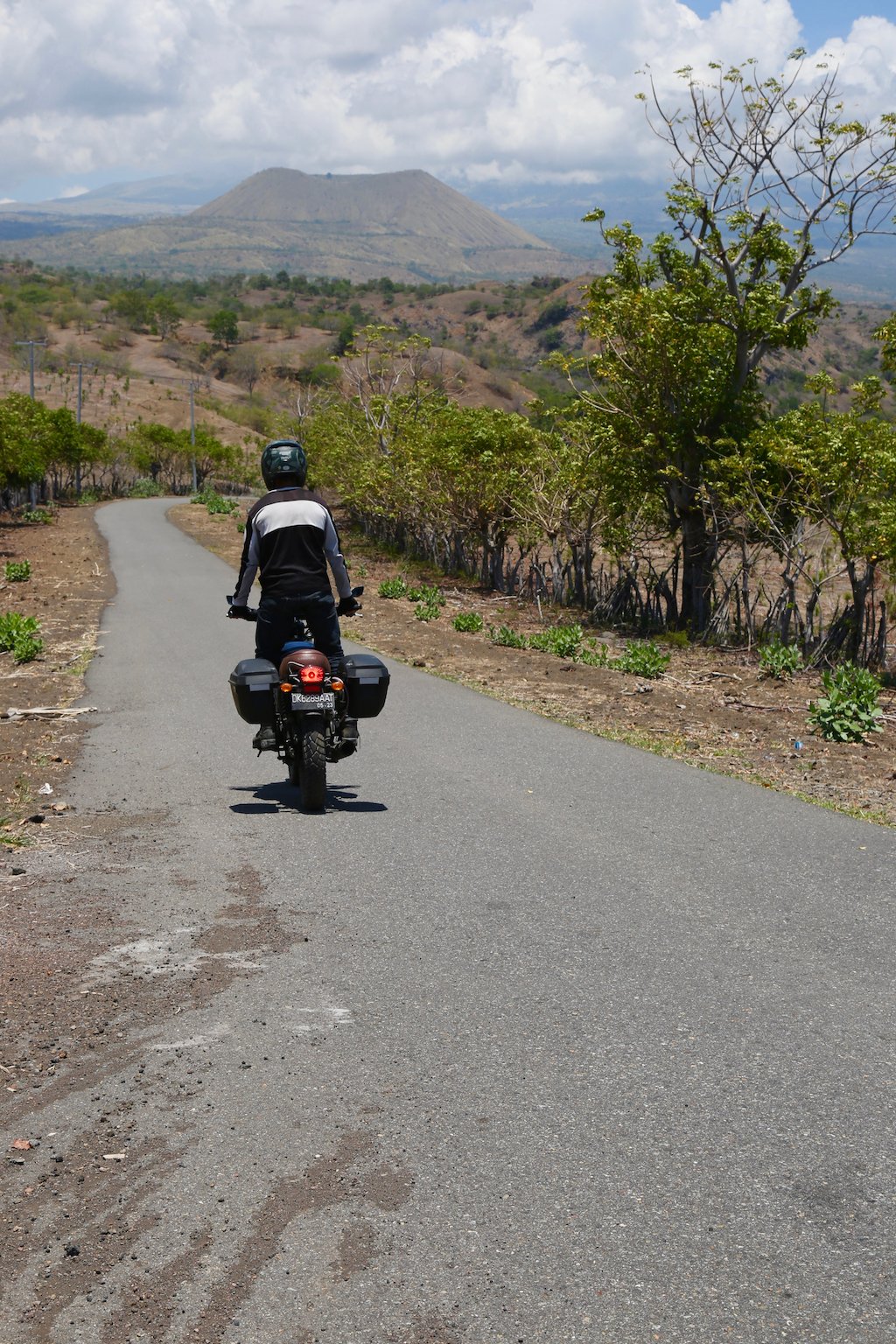 At this point, the road becomes an outright mess with slabs of broken asphalt, deep dusty ruts, and sandpits that make me drop my bike twice. I progress at a snail's pace in the stifling heat and it doesn't take long until both bottles of water I bought at the village are gone. I'm considering doubling back to get some more when I see a mud puddle ahead on the road. More puddles appear further on, signalling a nearby water source. Minutes later I reach a flooded gorge. I can't drink it without risking a dangerous case of Bali Belly but I sure as hell can swim in it to cool down. I am so bloody over-heated, I wade right in without taking off any of my clothes. They needed a wash anyway.
It's late in the afternoon when I reach the Tambora Trekking Centre at the end of an access road that intersects the volcano's eastern flank. From here it's a two-day walk to the top but the trekking centre, where one is supposed to hire a guide, is closed. The mountaintop lodge I hoped to spend the night is also closed, so I ride back to the coast and crash at a stilt guesthouse overlooking a beach. The views are epic, as are the ice-cold vodka and sodas I pour myself at sundown.
From Tambora, I head south through the crossroads town of Dompu where I encounter my first and only traffic jam of the trip. The Indonesian government had just announced a major overhaul of its outdated labour laws, reducing severance pay for labourers from 32 to 19 months. Protests erupted across the country and turned violent in Jakarta and other big cities around the country of 270 million people. But in Dompu, protests take the form of colourful street parades. People wave flags from the back of flatbed trucks, and when I take off my helmet to snap a few pics, a few ladies blow kisses at me.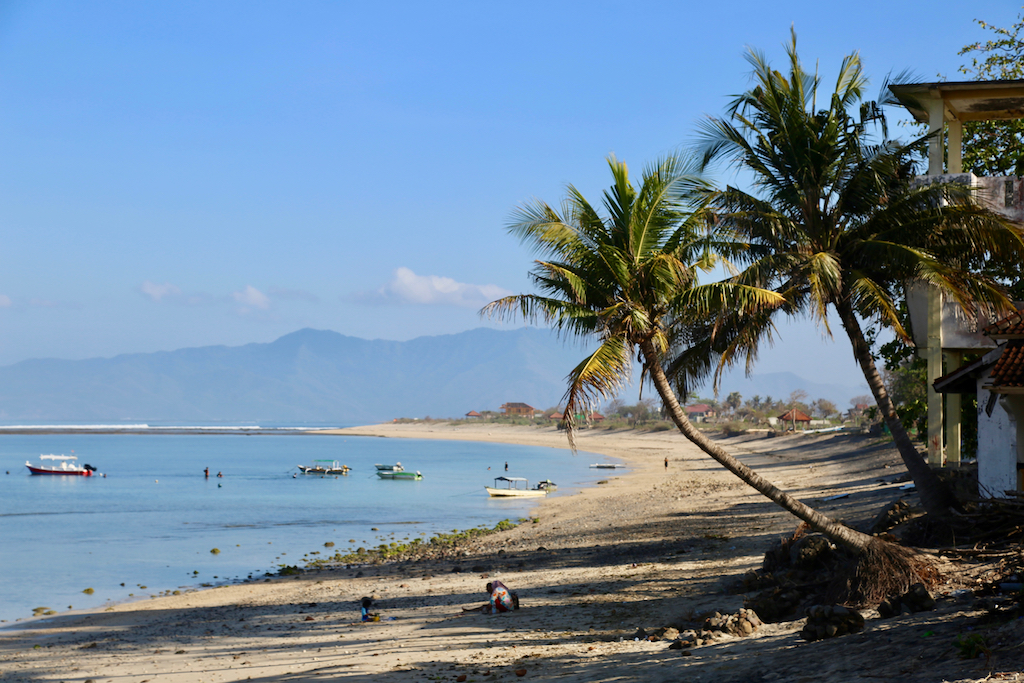 Familiar faces
My final destination in eastern Sumbawa is Lakey Beach, a world-famous surfing spot that, like Sekongkang and so many other beach resorts around the world, has reverted to an idyllic fishing village during the pandemic. As hard as it is on locals who used to make good livings from tourism dollars, visiting Lakey Beach in this state, without the annoying hawkers and beer-swilling crowds, is a benediction and a privilege.
I'm sitting on the boardwalk, watching people collect molluscs and seaweed from a reef exposed by the low tide, when two acquaintances from Bali paddle out of the surf. They've flown in for the weekend to catch a few waves and are as surprised to see me as I am to see them. Later that evening, we share a seafood feast of tuna sashimi, grilled octopus, fish sate, sweet potatoes and fried bananas at a small restaurant on the strip, before heading down to a beach bar to sink a few beers.
It's Saturday night and the place is pumping with a band on stage singing '80s hits like Take on Me by A-ha and You Give Love a Bad Name by Bon Jovi. We're the only foreigners there. The other patrons are locals or tourists from other parts of Indonesia, but we're greeted with wide smiles and offered the best table in the house. Beyond the warm weather and stunning scenery, this is why I have chosen to live in Indonesia. It's home to some of the friendliest and most inviting people anywhere in the world. If you've never been here, or never ventured further afield than Bali, do yourself a favour and check it out.
Want to ride on Sumbawa
There are regular flights from the UK to Bali which cost from around £450-£650 depending on the time of year you travel. From there, you'll need to catch a ferry to Lombok, and then another to Sumbawa.
Travelling in Indonesia is relatively cheap compared to western countries. On Sumbawa, fuel costs around 47p per litre, a good meal will set you back around £5, and a hotel around £20-30, although cheaper accommodation is available, including hostels.

The Bikes
I rode a Kawasaki W175. It's a retro beauty with a 177cc, single-cylinder engine. It's a stylish and affordable road bike but not suited to long-distance rides because of the hunched-forward riding position.
I remedied this by adding a lift kit, enduro-style bars, upgrading the wheels to 18 inches, adding dual-purpose tyres, a bash-plate, plus lockable panniers. It is now a very capable, lightweight and economical adventure-spec motorcycle.