DUMB AND DUMBO
Alun Davies rides 1,900 miles across Europe in temperatures below freezing, to camp on a remote snow-covered Bavarian hillside… because it's there
I've recently developed a few behavioural theories about international motorcycle rallies. None of these theories are particularly good, nor would I be on firm debating ground if a six year old called me out on any of them. In fact, the best one goes like this: if the Russian contingent opens fire with motor bombs then the Italians will always respond with well-rehearsed opera.
These theories are based on a single point of reference; my observations from the 2011 Elephant Rally. The Elefantentreffen, to give it its proper name, is a winter motorcycle meet that takes place annually on the last weekend of January (or first weekend in February) in the Bavarian hills of Germany near the Czech border. The time of year, central European location and moderately high altitude are enough to ensure that the Elephant is no balmy, sun kissed-festival. Come to think of it, if you ever visit the Elephant, you'd thereafter consider a foul November day in Grimsby to be positively tropical.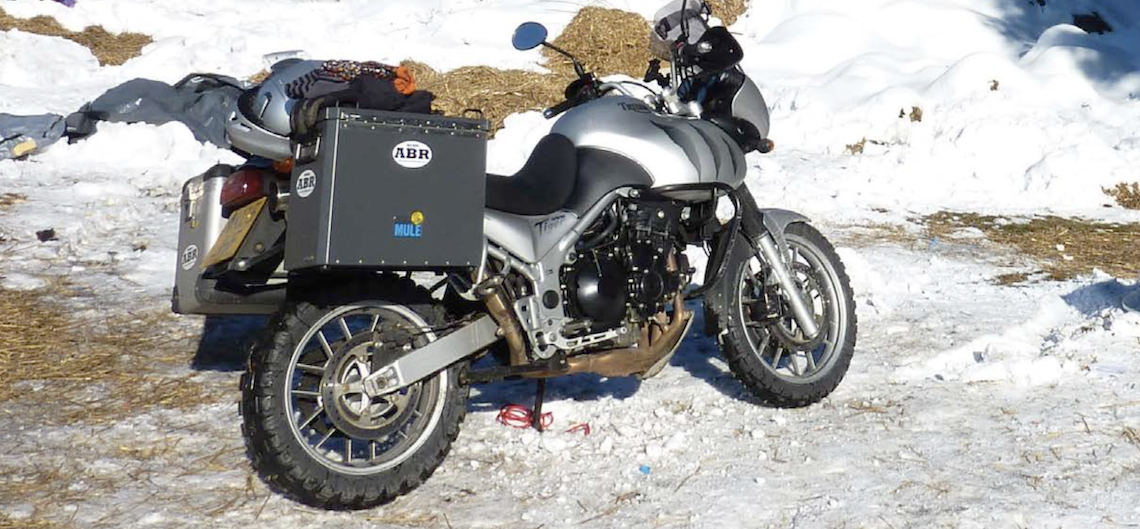 In 2010 there was 90cm of snow to welcome bikers and in 2011, while the snow cover was less than a foot deep, the temperatures were well below -10 at night and probably not above freezing during the day. With the campsite situated in a heavily wooded area, and the Russians operating an Eastern Front, attending the Elephant can feel more like being on the front line at the siege of Bastogne (check out Band of Brothers episode seven for details) than a bikers' rally.
At a guess I'd reckon that 99.99% of the UK population would consider it a strange kind of passion that compels a biker to ride 1,900 miles across Europe in full-on winter weather. Stranger still to then set up camp on a frozen hillside in conditions which would have Bear Grylls hibernating. But that passion hit me full square-on the morning of Tuesday 25 January, just two days before the start of the 2011 rally. The call of the frozen Bavarian wild was irresistible and there was nothing to do other than shod the Tiger with a set of knobblies, buy a few-dozen heated jackets and hope that maybe the ferries were all fully booked.
Mind you, when I say 'nothing to do', I'm overlooking the subtle act of informing the better half that I'd be unavailable for the Tesco run on Saturday morning. When I told her I'd be otherwise engaged in a tent on a remote forested hillside on the far side of Germany, I must confess to feeling slightly unloved and suspicious when her response was simply that she 'understood'.
Anyway, by late morning on Thursday 27 January the thermometer was showing -3 as I set off from Stratford upon Avon, and the mercury hadn't budged as I parked up in the P&O line at Dover. By the time the ferry docked in Calais the sun had set and the temperature had taken a dive. What followed next was a four-hour ride up the French motorway and on into Belgium where the main point of interest was a blue-and-yellow neon Ikea sign on the outskirts of Gent. That said, riding at night has its advantages, one of which being the busy and confusing Brussels ring road was empty, plus I didn't have to talk to many Belgians.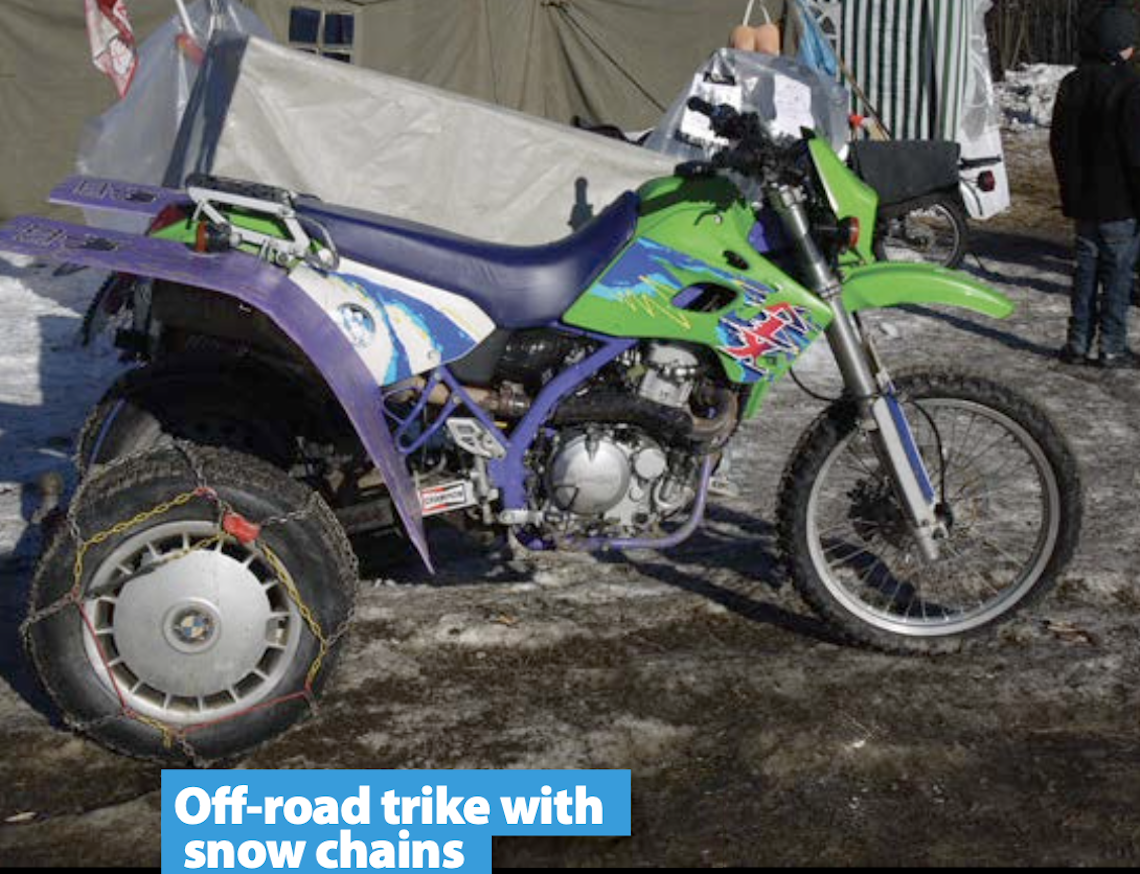 About 10 miles to the east of Brussels is the town of Leuven and having lost four toes to frostbite since Calais I thought it a wise place to stop and hole up for the night in the hope of saving the other eight. In retrospect, having paid €100 to sleep in the dilapidated wardrobe that constitutes an Ibis Hotel room, if I ever pass this way again in winter, I'll settle for amputation below the knee and ride on into Holland where their idea of a hotel room resembles mine. By the way, I didn't exactly tell you the truth about the toes, I did in fact manage to save the other 12.
Thursday had been cold but Friday was brutal and by the time I'd crossed the Rhine at Cologne it was pretty obvious I'd not be riding the 622kms to the rally by evening. Even with heated grips my fingers would numb out within 20 minutes and the only way to tell if I had feet on the end of my legs was to change gear or brake – it wasn't a case of my feet numbing out, they were permanently frozen. I was having to stop every hour to warm up, change socks, and generally faff around and with the short winter days the thought of riding through snow and ice in the dark to reach the campsite just didn't appeal.
A quick check on the map and Nuremberg looked spot on for overnighting leaving just under 100 miles to the rally location, which I reckoned could be knocked off in a couple of hours on Saturday morning.
Somewhere in between Cologne and Frankfurt the sun came out and the temperature rose to a level which was hardly comfortable but definitely more bearable. I'd also met up with a German biker by the name of Ian (pronounced Jan) who was also heading to the Elephant. He too was busy changing his socks in a service station, along with another German biker heading down into Switzerland. It was comforting to know that the German foot was just as susceptible to the cold.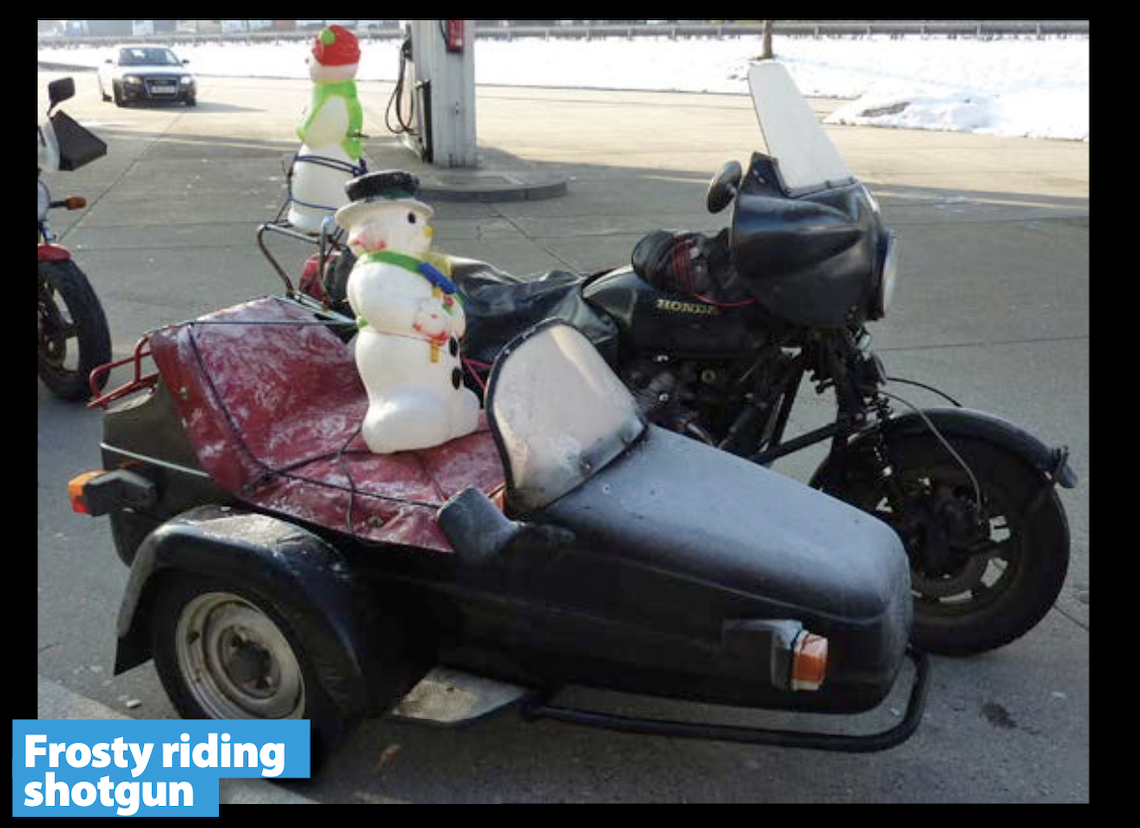 The hotel on the outskirts of Nuremberg was in complete contrast to the abomination in Leuven. €40 bought me a room of a size that the Ibis management would consider fit for the population of the Isle of White plus a generous three-course evening meal and a full cooked breakfast. On top of that the staff was welcoming and friendly and the owner insisted I park the Triumph in his personal garage, even moving his car out to accommodate me.
I was on the road to Passau by 8am the following morning and soon riding with Joaquin from Spain who I found changing his socks (popular pass time, eh) in a service station on route to the rally. By 11am I was standing on a snowy Bavarian hillside overlooking a spectacular natural amphitheatre in a wooded valley just outside the small village of Solla.
Smoke was rising from hundreds of camp fires into a crisp, clear blue sky in a scene that was both surreal and heart-warming. This was it, the Elephant Rally camp site, with over 5,000 bikers going about their business in the snow. It was an amazing sight, a sort of Mad Max meets Shackleton combo and impressive enough to instantly banish the pain of the past two days and make a 1,900 mile ride across Europe in winter seam a very logical thing to do.
The knobblies I'd fitted to the Tiger paid their way by allowing me to ride into the site and climb through the snow, ice and mud to a pitch that gave me a full view of the rally – think back row of an old music hall. The bike was unpacked and the tent pitched in minutes. A quick hello to the neighbours revealed that I was surrounded by Czechs and Hungarians, and what a friendly bunch they were too, instantly offering up a beer and burger.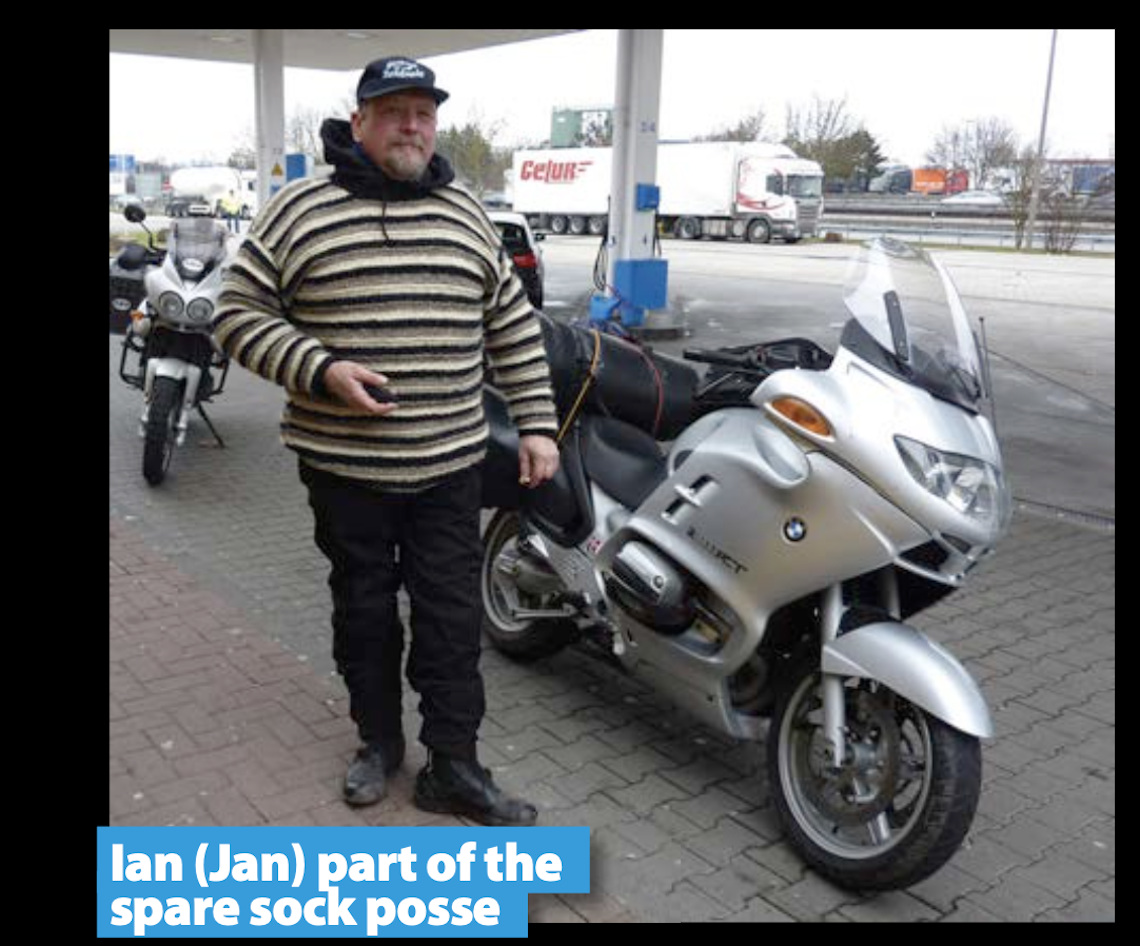 I spent the next two hours walking around the site. The range of bikes on show was the most extensive and interesting I've come across at any rally. Russian combos complete with machine guns, a DRZ with the front forks buried in the ground and a circular saw for cutting logs instead of a back wheel. Adventure-style bikes ruled the roost but you name it and it was there; 40-year-old Jawas and CZs, Honda C90s, homemade trikes and combo outfits, and a few bikes I'd never even heard of.
I would have spent the next two hours just walking around quite happily, but then I bumped into Ian (Jan) at one of the outside bars and things became serious. By serious I mean a spontaneous hill climb event started up within meters of where we were supping. The slope was steep and soon enough the covering layer of snow was stripped and a mud-fest was under way. Huge streams of thick, gloopy Bavarian hillside was being sprayed all over the place; on the drinkers, on the surrounding tents and anyone and everyone who stopped to take a look. But everyone seemed to love it.
A few pints later and I found myself attacking the hill climb in a chair attached to an FJR which was fitted with knobblies and piloted by a tipsy Kiwi from Portsmouth – he also had a spare pair of socks in his pocket. We didn't make it up and we almost didn't make it back down either, barley missing a very steep drop-off by the width of a can of Stella.
As the sun dropped below the western hills the site soon became one big deep freeze. Camp fires were appearing all over the hillside and impressive firework displays lit up the night sky. Groups of people were singing, guitars were being strummed and a jazzy clarinet and sax duo started up outside one of the tents just below. And then, 'buuuddddoooooom!'…a huge noise filled the valley, shaking the surrounding hills and reverberating in the depths of my chest. The Russians had started firing their mortars and immediately a large group of Italians about 50 yards away responded by breaking into opera. And that's how it kept going until about 2am when the beer or cold or more likely a combination of both forced rally-goers into the warmth of their tents and sleeping bags.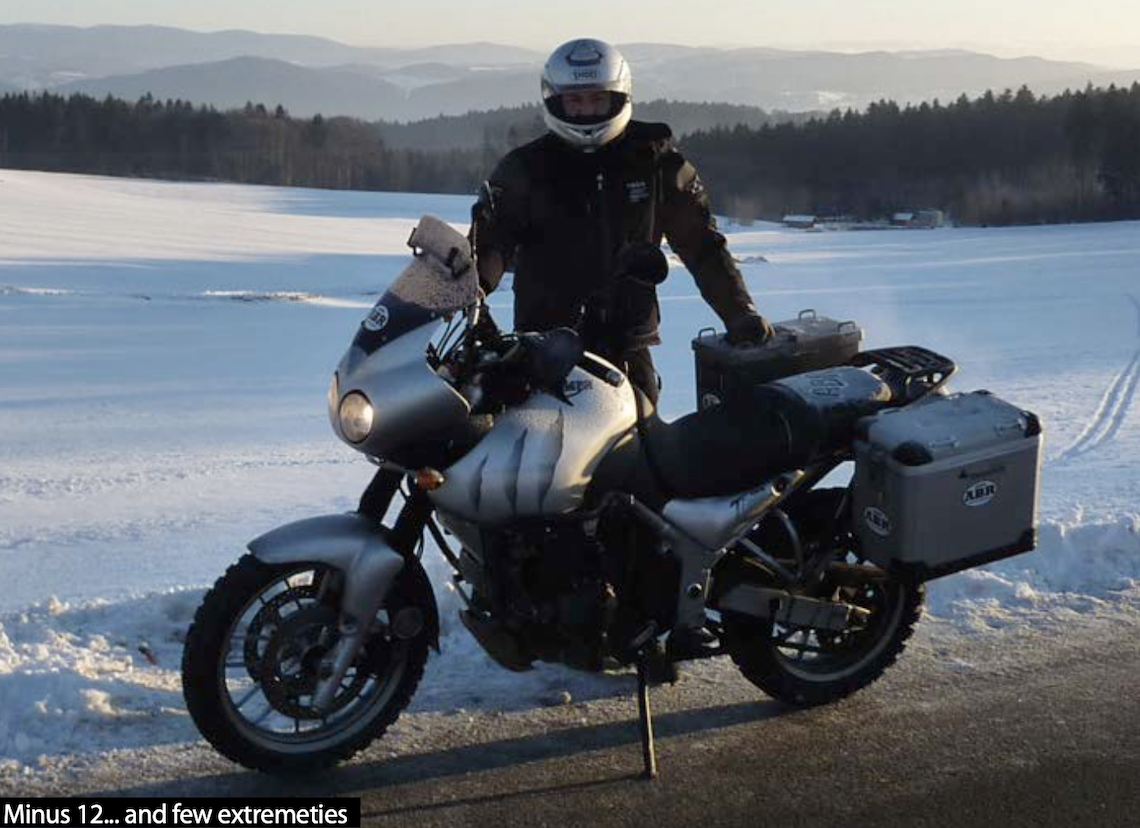 The next morning I was up at 6am and on the road by 7am. At 8am I was sitting beside the bike in a motorway service station waiting for the lock on the petrol cap to defrost in the sun. An hour later the tank was full and I was on the way back to Calais with a couple of gents from Blackpool who I met… while changing my socks, funnily enough. Which brings me nicely onto my second theory regarding international motorcycle rallies: if you want to meet like-minded bikers, always carry a spare pair of foot-warmers.
You need only one phrase to get by at the Elly: "Do you have a spare pair of socks?"
Avez-vous une paire de chauss rechange (French)
Hast du einen ersatz-paar socken (German)
Tienes un par de calcetines de repuesto (Spanish)
Avete un paio di calzini di ricambio (Italian)
Heb je een extra paar sokken (Dutch)
Máš náhradní pár ponožek (Czech)
У вас есть запасная пара носков (Russian)
Van egy tartalék zokni (Hungarian)
Имате ли резервен чифт чорапи (Bulgarian)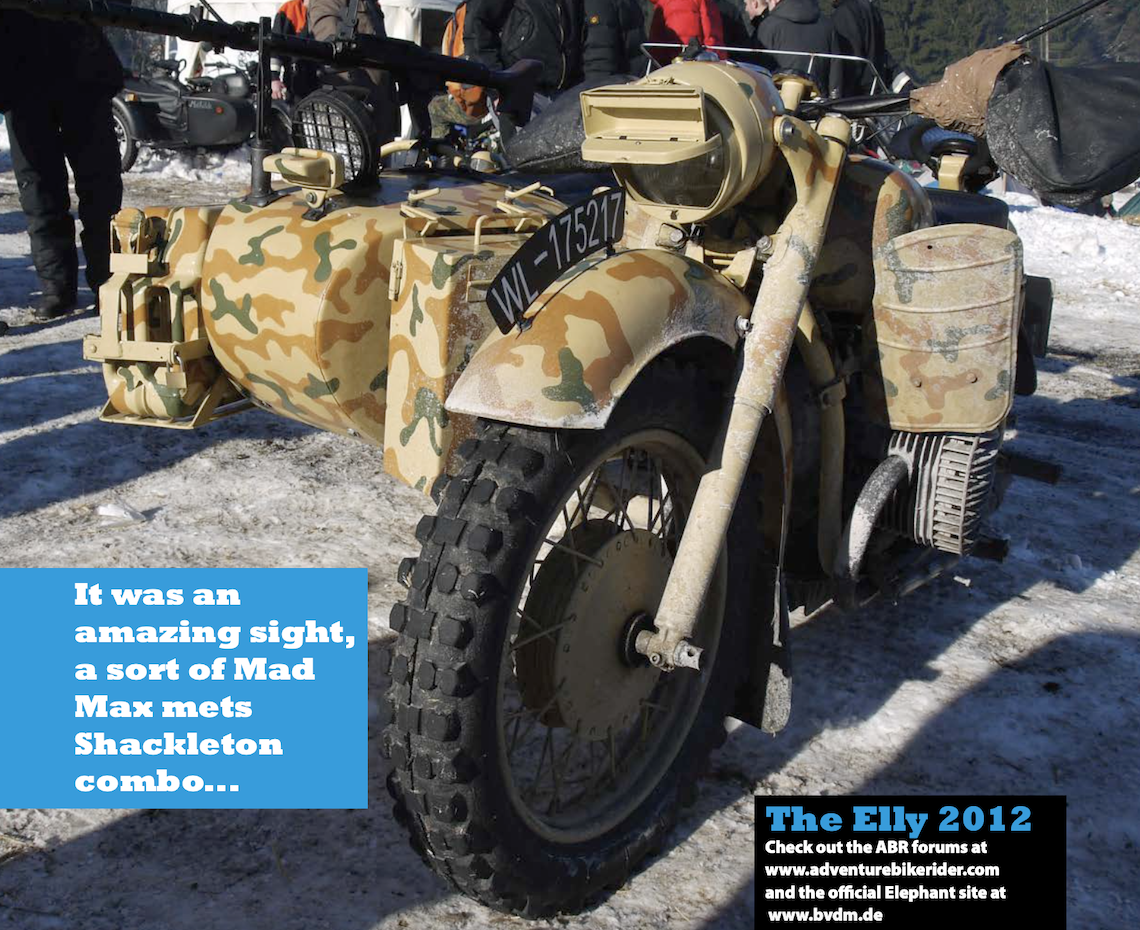 Pack your trunk!
ABR Mike Stevens, retail director of Cotswolds Outdoors, has a BMW R1150 GS; here are his essential gear tips for Elephanteers…
TENT • Vaude MK 2 £325 A great tent for the adventure bike rider, with two large entrances and generous living space. It's also uber tough and a doddle to pitch
KIP MATS • Multimat trekker 75 £65 Mega comfy 7.5cm-thick self-inflating mat, and at 60cm-wide it's great for riders of a larger build • Mountain Equipment Helium 3.8 £45 SRP £75 Budget luxury when sleeping in the outdoors, superb pack size, lightweight and a superb price
STOVES • Primus Omni fuel £145 Superb Multifuel stove – it'll brew up no matter how cold it gets. Powered by gas, petrol, diesel, even aviation fuel, this stove is easy to use, maintain and is very versatile. • MSR Whisperlite International 600 £90 The MSR classic Multifuel stove – still as reliable and versatile as ever, a solid favourite with adventure bikers at Cotswold
SLEEPING BAGS • Rab Ascent 700 £200 Possibly your most important investment! A great four-season down bag providing superb warmth-to-weight ratio and performs well at really low temperatures. This bag also benefits from a wider shape • Mountain Hardwear Lamina 0 £120 Super-thick synthetic bag – a slightly larger pack size than a down bag but seriously warm and a great all-year-round performer.
LUXURY ITEM • Rab Generator Vest £75 Layering at its best! Weighing in at 290g this primaloft insulated vest is a great favourite of ours. Pull it on in the evenings as a boosting extra layer or wear it all day under your bike jacket. This vest provides warmth without the bulk associated with other insulated products; it even packs into its own pocket.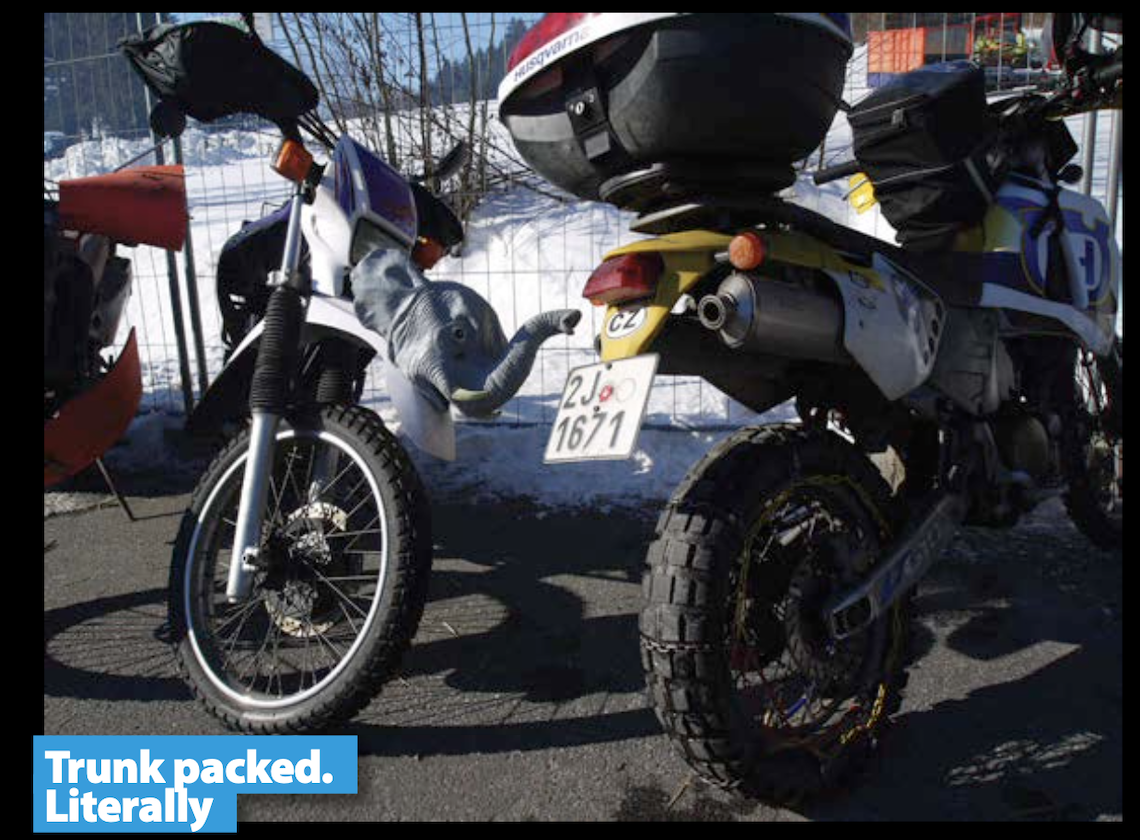 Things that saved my life
Heated grips I might even consider heated gloves in addition to heated grips if I travel to the Elephant in the future. Don't even think about setting off without them.
Heated Jacket I'd always considered heated jackets to be for wimps. Not any more, the Gerbings heated jacket liner is the single best investment I've made in motorcycle clothing over the past five years. I don't even want to think what the ride would have been like without it.
Mitas e10 tyres The roads were clear of snow right up until the last mile, but without these chunky bits of rubber I'd never have got the Tiger onto or off the Elephant campsite. On the road they proved their worth, cruising steadily between 85 and 100mph with no worries – apart from the odd white line shuffle. I rode them hard and the back tyre has lasted a good 3,300 miles and the front's got a long way left to go before I'll need to change.
The Elly 2012
Check out the ABR forums at www.adventurebikerider.com and the official elephant site at www.bvdm.de
Why The Elephant?
The first rally took place in 1956 as a winter meeting for owners of the Zundapp KS601 motorcycle sidecar combination. The KS 601 was otherwise known as the 'Green Elephant', hence The Elephant Rally.