After spending almost a year in the ABR long-term fleet, James Oxley reveals what it's like to live with Ducati's monster of an adventure bike, the Multistrada 1260 Enduro.
As a young newspaper reporter starting my career in a seaside town that had seen better days, I once had the privilege of interviewing the British actress and Holly- wood icon Joan Collins. The star of Land of the Pharaohs, The Stud, and perhaps most famously the American television drama Dynasty, was appearing in a play at the Cliffs Pavilion Theatre in Southend-on-Sea. Celebrities don't visit Southend that often, so it was the perfect opportunity for a cub reporter eager to make his way in the newspaper industry to get a celebrity scoop. Maybe even a story that would be good enough to appear in a national newspaper.
I sat through the play, studiously making illegible notes in the darkness of the theatre for my review before I was ushered into a VIP area for an audience with Joan. It was at that moment my plan to disarm her with my charm and obtain a juicy quote was torpedoed by something I hadn't experienced in person until that moment – star quality.
Joan was mesmerising. If I hadn't known better, I would have sworn one of the spotlights from the stage was still focused on her. She commanded the attention of the entire room and, when she spoke to me, I couldn't help but feel a swelling sense of pride that I was the focus of her attention. She was sprinkling a little Hollywood glamour in my direction and I felt a million dollars because of it.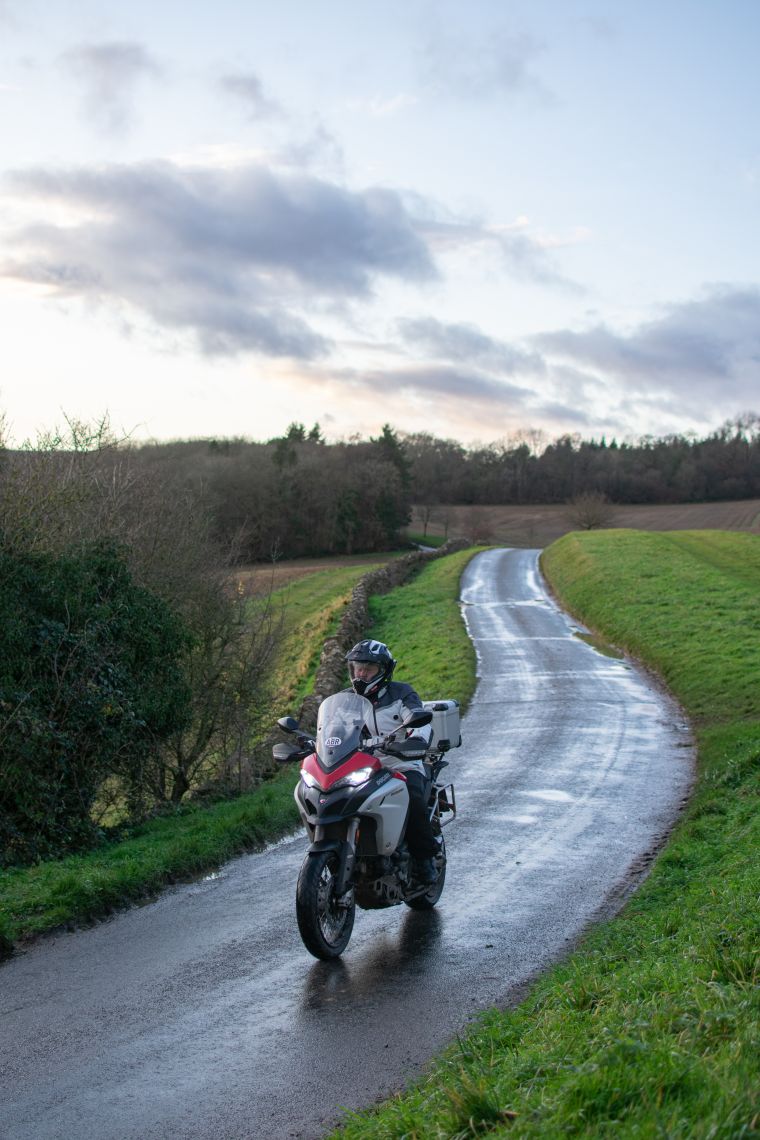 It's safe to say I didn't get my scoop, but I didn't care. I'd met a bona fide superstar while learning a valuable lesson about human nature that would serve me well in the future. And anyway, I don't think my slippery tabloid journalist persona was helped by the fact I took my mum along to the interview (she's a big fan and you should always do nice things for your mum).
So, what's a meeting with Joan Collins got to do with the Ducati Multistrada 1260 Enduro I hear you ask? Well, it's all to do with star quality. It's not something that can be acquired, it's something you either have or you don't and, like Joan, the big Italian adventure bike has it in spades.
This was apparent when the 1260 Enduro arrived at the ABR offices for the first time earlier this year. Usually, when a new long-term bike arrives in the car park, the motorcycle-riding members of the team will check it out and indulge in a few minutes of bike chatter, before returning to their desks. However, the big Ducati's entrance was a grander affair altogether. At the sound of that throaty engine roaring into life, we leapt up from our desks and dashed outside to get our first look at the latest version of Ducati's big off-roader.
We stood there basking in its glory, marvelling at the flowing lines of the meticulous Italian design and craftsmanship. We all took turns sitting on the bike and revving the engine with huge grins, before taking it for spins around the car park. Even one or two of the ABR team without a bike licence emerged to cast admiring glances at a machine that had all the glitz and glamour of Joan Collins at the Cliffs Pavilion.
One thing became clear. The Ducati Multistrada 1260 Enduro has star quality, unlike any other adventure bike I can think of. However, the real treat is reserved for when you ride this A-lister of a motorbike. Just as I felt a million dollars when Joan gave me her undivided attention in a room full of people, being the guy at the controls of the 1260 Enduro makes you feel very special indeed. People can't help but look up as you cruise through town, other bikers give admiring nods, and I'm certain I've become more attractive to the opposite sex thanks to a little of the Ducati's star quality rubbing off on me.
In fact, the bike has proven so popular in the office that three of the team all made sure we got to spend plenty of quality time on it. But as our time with the 1260 Enduro nears an end, did its performance live up to its star billing or was it an expensive flop? This is the definitive ABR verdict on a year spent riding Ducati's premium adventure bike.
As a commuter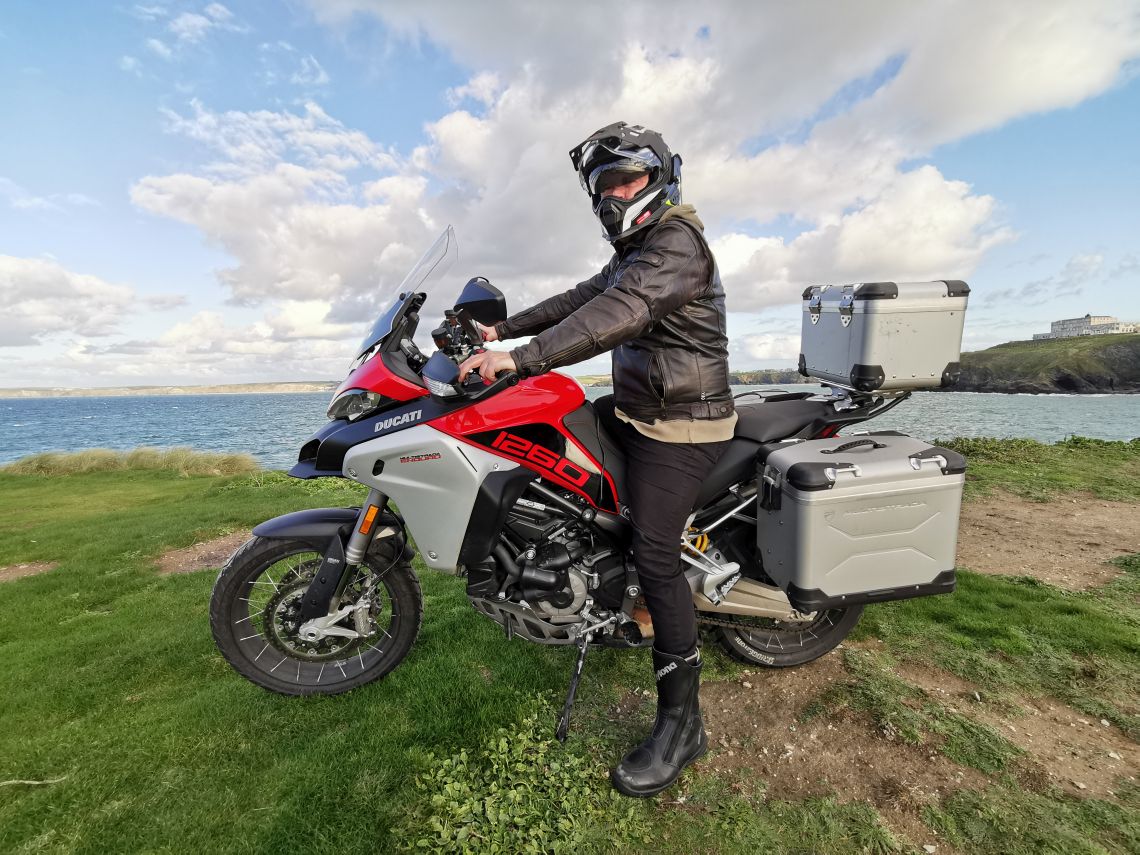 It seems a shame to kick off a review of a bike as brilliant as the Ducati Multistrada 1260 Enduro with its biggest flaw, but there's no getting away from the fact that this is a huge motorcycle. It weighs in at 254 kg, which isn't helped by the fact it has a whopping 30l fuel tank. In fact, the bike is so heavy, I had to get some help pushing it forward off its centre stand the other day after I'd parked it on a slope facing uphill.
That big fuel tank also makes the bike wide up top too. With this in mind, if your idea of commuting is scything through snarling city traffic at rush hour, you'll find yourself regularly second-guessing whether you can squeeze through that gap between a bus and a white van.
However, if you're comfortable slipping between lines of angry commuters on a big bike, the Ducati's height and upright riding position provides a commanding view of the chaos unfolding in front of you. That 158 bhp engine ensures you'll win the race away from traffic lights every time, and there is more than enough suspension travel to soak up the plentiful supply of potholes on UK roads. Putting the bike into 'Urban' mode softens the acceleration and makes controlling a fiercely powerful bike more manageable at slow filtering speeds.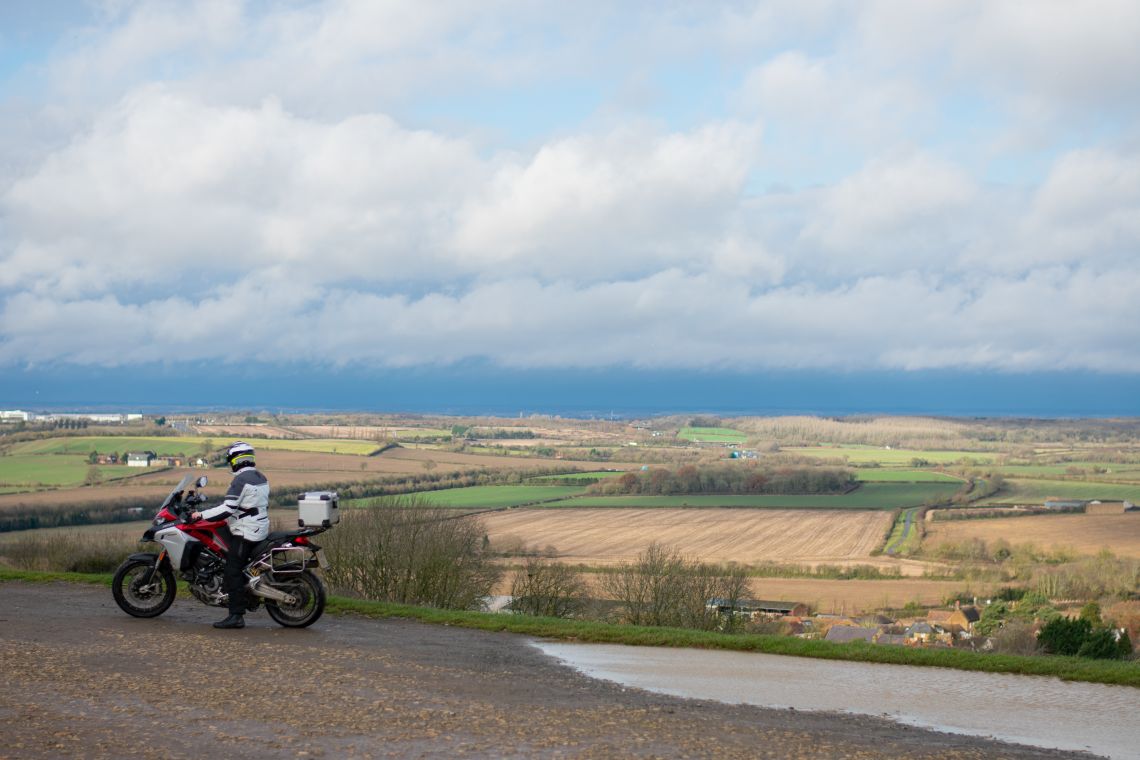 My main issue with confining the 1260 Enduro to commuting duties is the fact it feels a bit like capturing a mustang from the wild and forcing it into a life of servitude plodding up and down Blackpool Pleasure Beach. Quite frankly, it feels like a crime against motorcycling each time I ride the two miles from my flat in Stratford-up- on-Avon to the ABR offices, barely getting out of third gear. And speaking of crime, I have heart palpitations each time I leave a £20,000 motorcycle parked up in a city motorcycle bay in plain sight of prospective thieves.
But what if your commute isn't in a city or town? Mine, for example, also involves spending many hours each weekend on motorways and A-roads riding to and from the South West of England. At this task, the big Ducati is formidable. It cruises effortlessly way beyond legal speed limits, it's supremely comfortable, and the primal roar emitted by the exhaust sees lines of traffic part in front of me like Moses parting the Red Sea. I'll also admit to feeling as cool as Steve McQueen each time I park up the handsome Ducati, and that's a good feeling to start the day with.
As a weekend tourer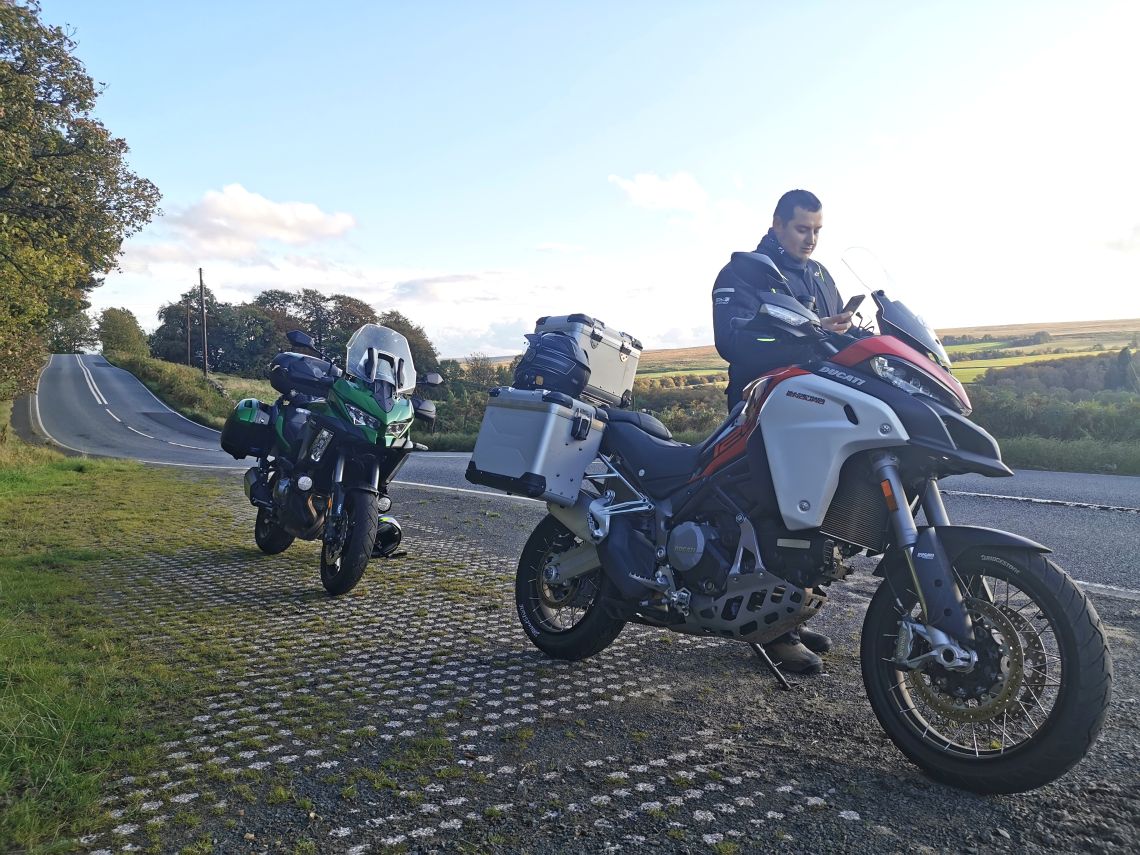 A massive enduro bike may not seem the obvious choice for cruising along country lanes on a weekend break, but the 1260 Enduro's impeccable road manners have made it an absolute pleasure to ride in these circumstances. That's not to say the Ducati is in anyway tame, hell no. Open up that 1,262cc engine and the wildest of beasts is unleashed. I've never ridden on the back of a fire-breathing dragon in a bad mood but I bet the experience isn't far off clinging to a wide-open throttle on the 1260 Enduro. Feeling the bike's supersonic surge of acceleration is just as thrilling and terrifying now as it was the first time I rode the bike. Some might say you don't need 158 bhp on a motorcycle, and they'd probably be right, but boy, it's a lot of fun if you do.
However, by far my favourite aspect of the liquid-cooled Testastretta engine is the fact it has an abundance of power available absolutely everywhere. Twist the throttle at motorway speeds and you'll get a primal surge of acceleration that has genuinely left me whooping with joy into my helmet. The bike is also brilliant fun to ride while scratching around twisting A-roads on a weekend. Select 'Sport' mode and you'll have access to all the power the 1260 Enduro has to offer.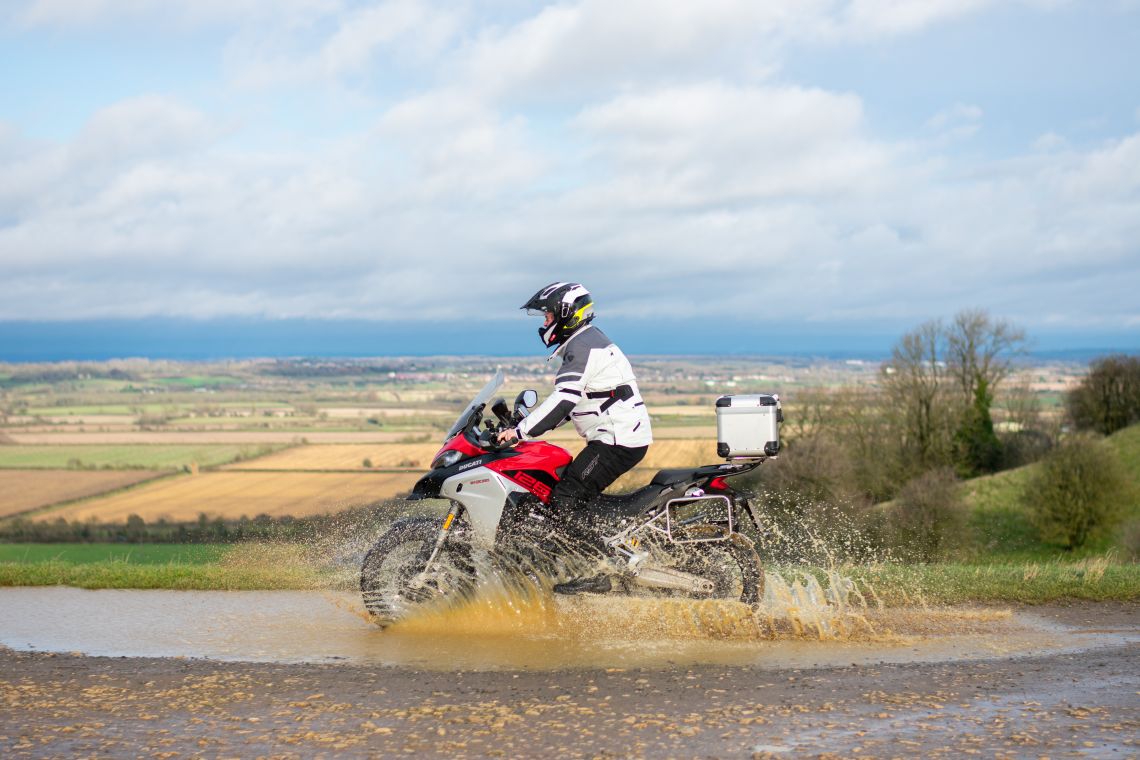 This would be a guaranteed shortcut to an early grave if it wasn't for the sophisticated suite of electronics working overtime to reduce the chances of things going very wrong. Say what you will about the amount of electronics crammed into modern motorcycles, but in a machine as big and powerful as this, I'm grateful to have the three-level cornering ABS, traction control, semi-active suspension and wheelie control looking out for me, particularly on slippery winter roads.
There are lighter and more agile adventure bikes out there if you like to spend your weekends with your knee down (the more road-focused Multistrada 1260 S being one of them), for those of us who enjoy taking on a few twisty turns as part of a wider riding mix, the Multistrada Enduro does a great job. That wider riding mix will also likely involve more relaxed weekend touring, perhaps with your better half on board. Here again, the 1260 Enduro excels.
The fact it is so well behaved at more sedate speeds surprised me. I expected this Italian stallion to constantly be straining at the leash to go faster, but in actual fact the bike is happy to canter along sun-dappled lanes effortlessly. The 1260 Enduro has the manners of a gentleman and the heart of a cage fighter, which is a recipe for a fun weekend.
As a continental road tourer
Perhaps surprisingly for a bike designed to be ridden off-road, the Multistrada Enduro makes for a superb continental road tourer. In fact, I'd rank it below only the Honda Goldwing as the most comfortable bike I've ridden over long distances. The comfy seat, upright riding position, and near-perfect hands, feet, backside position makes long days in the saddle a pleasure, not a chore. I've regularly ridden 250-mile stints without a stop and I've never experienced any muscular pain from riding the Ducati, just the usual aches from not having stretched in a while.
Those long stints in between stops are made possible by the huge 30l fuel tank which has taken me more than 300 miles without the need to be gentle on the throttle. Until you've ridden a bike with such a large fuel capacity, you don't realise what a luxury it is not having to stop to fill up as often as you usually would, or worry about running out of fuel.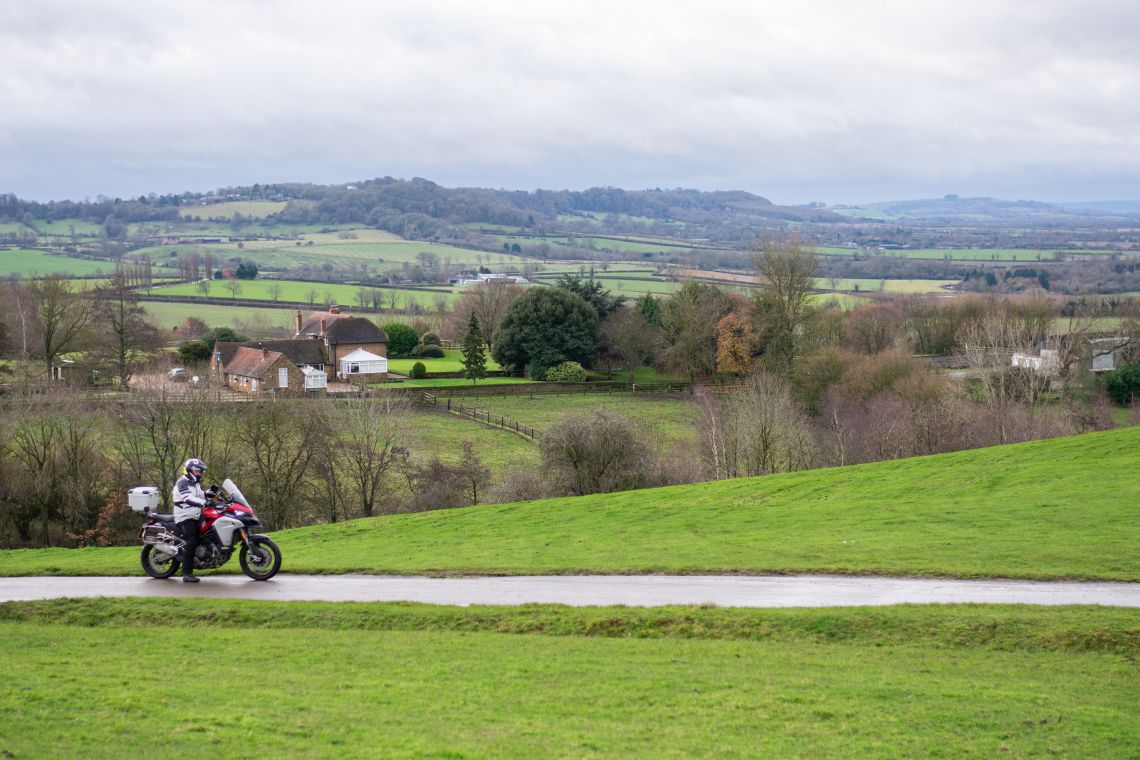 Pop the 1260 Enduro's 158 bhp engine, into 'Touring' mode and the bike will propel you, your luggage and a loved one over long distances effortlessly. Trust me, I've spent plenty of days rinsing the last few ponies out of lower-powered bikes along French Toll roads and it's an exhausting experience. I'll take the power of the 1260 any day.
All that poke means the bike doesn't struggle to carry a heavy payload, which is handy because the Ducati-branded Touratech panniers are huge. Ours has 40l storage capacity on the right and 45l on the left, which is more than enough room to fit a couple of weeks' worth of touring kit inside, including a tent if that's your thing.
Ride comfort isn't adversely affected by the extra weight thanks to the electronically controlled semi-active suspension which you can tune to compensate for the extra weight. The addition of cruise control, a very good quickshifter, keyless ignition and an electronic steering lock all make touring a more relaxed affair.
The only gripe I have with the Multistrada Enduro's long-distance credentials is with the size of the screen. Despite the fact it is wonderfully simple to adjust on the move, I find as a 6ft-tall man it isn't quite wide enough at the bottom, resulting in a fair amount of wind buffeting to the sides of my helmet, to the extent that I struggle to hear my intercom.
This could be fixed with the addition of some wind deflectors that would help improve what is already a formidable continental road tourer. However, if you don't have any ambitions to stray away from the tarmac, you may also want to check out the road-focused Multistrada 1260 S Grand Tour.
As an RTW overlander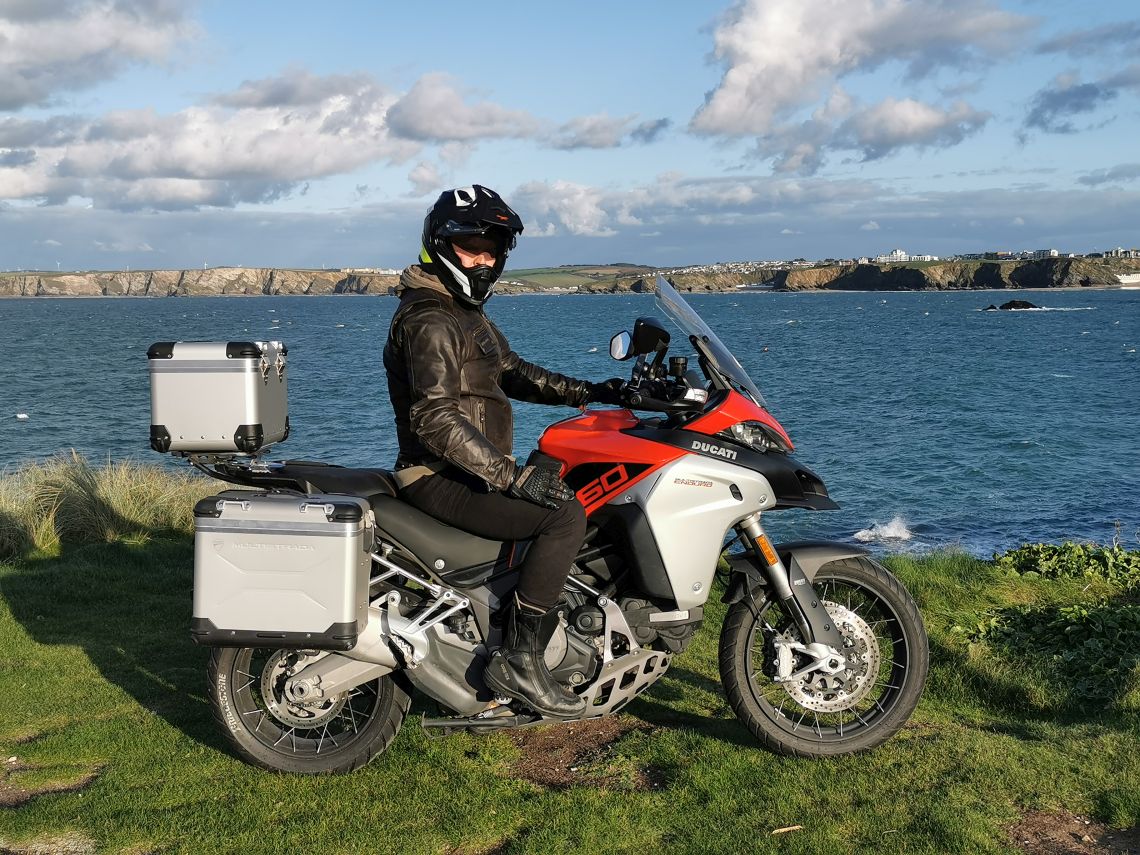 Unfortunately, I haven't had the chance to ride the 1260 Enduro around the globe but I'm confident it would make for a very capable RTW machine. Its long-distance touring credentials previously outlined would make covering vast swathes of the globe a very civilised affair. That 30l fuel tank would also prove extremely useful in more remote parts of the world where stops between petrol stations can be hundreds of miles apart. But what makes the 1260 Enduro a world-beater is its genuine off-road capability. The bike has a wonderfully natural standing position and genuinely feels light and agile on loose ground. There is also plenty of ground clearance and suspension travel to help navigate rough sur- faces, and the engine is suitably tractable at slower speeds to navigate trickier terrain.
However, there is an elephant in the room, and that is once again the size of the bike. While it is a very capable machine off-road in the right hands, for the average rider, and I count myself in this group, I can imagine navigating through areas of deep sand or mud in remote parts of the world would become a torturous exercise in picking up a downed big adventure bike multiple times. In these circumstances, I'd want a smaller, lighter motorcycle.
In short, stick to the tarmac and the 1260 Enduro would make for a superb RTW over-lander. Throw in rocky, sandy or gravelly terrain and you'll conquer all in your path. However, if you plan to travel the gnarly way round, I'd want to be confident I could handle a big, heavy bike in the toughest of terrains before heading off around the world on the 1260 Enduro.
As a pillion carrier
I loathe riding a pillion on a motorcycle. Perhaps it's because I have trust issues, but the thought of someone else being in control of a bike while I'm perched helplessly on the back brings me out in a cold sweat. That said, if I was to ride pillion on an adventure bike, the 1260 Enduro would be my choice.
I've had particularly good feedback about the comfort of the seat and the fact there is plenty of space between the rider and pillion, which means you and your beloved don't need to be squashed together for hours on end on the road. The grab rails and footpegs have also been positioned for both ease of use and comfort, which all help make for a happy passenger and an enjoyable touring experience.
From a rider's perspective, the ability to electronically adjust the suspension to compensate for the extra weight a pillion rider brings is great and has meant I haven't felt any front-end vagueness in the steering associated with weighing down a bike at the rear. There is also more than enough power on hand to ensure that the extra weight of a passenger and their luggage isn't particularly noticeable under acceleration. In short, the 1260 Enduro is a big bike that easily accommodates the addition of a passenger in comfort with little impact on ride quality. It would be my number one choice for my next tour with my wife.