John Norris heads to Devon to detail a fantastic route of discovery through the haunting yet beautiful Dartmoor National Park.
Dartmoor. A place name that conjures up images of wilderness, myths, legends and wild weather. This national park which consists of nearly 370-square miles, is the largest, wildest area of open country in the south of England and is scattered with archaeological interest and unique scenery. It is also used to train and test UK military troops to their limits in the extreme conditions. 
Much of it is sodden bog land that is reputed to be dangerously capable of swallowing a horse, its rider and hat in one go! There are ghost stories too, some of which should specifically concern us motorcyclists.
Around 1910 on the B3212 near Postbridge, drivers and cyclists reported incidents where they said their vehicle had been violently jolted or made to swerve off the road as if something had taken hold of it.
In 1921 Dr EH Helby, a medical officer for Dartmoor prison died when he lost control of his sidecar outfit and then, a couple of months after this, an Army Captain on a motorcycle claimed a pair of hands had taken hold of him and forced his motorbike off the road.
Never mind the Hairy Bikers, these stories lead to the notorious myth of The Hairy Hands. Don't let this put you off though, because nowadays Dartmoor really is a great area to explore by motorcycle. 
One January morning, suffering from cabin fever after what felt like weeks of foul weather, I decided to head off on this route of discovery before daylight, from my home in Bridport.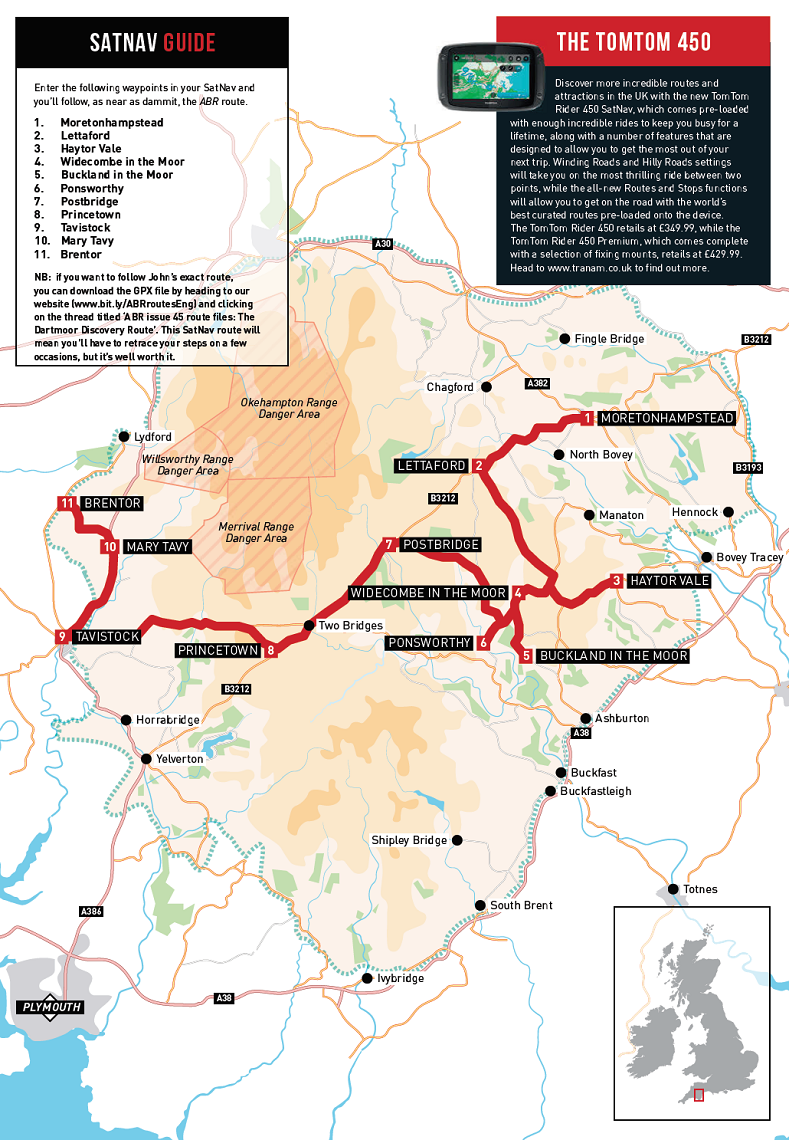 Despite the forecast for a fairly cold day I had not anticipated the sub-zero start, nor the biting northeast wind. 
As soon as I hit the A382 towards Moretonhampstead, I thought I might have made a serious misjudgement. Numerous streams had flooded across the roads and then had frozen where the salt had been washed away.
There was ice across the road on almost every corner through the shadowy woodland. I had perfectly rational visions of dropping my recently acquired and still shiny GS before I even reached any moorland! 
It was thoughts of the sunny day that I felt must surely materialise that kept me going (very carefully) until I climbed out of the woods up to Hound Tor, where the roads finally dried out. Progressively the clouds blew away culminating in a magnificent sunset at the spectacular Brent Tor by which time I was utterly smitten.
1.Hound Tor 
From Moretonhampstead, I turned off the B3212 after the Miniature Pony Centre towards Hay Tor, and this was the first of the many characteristic Dartmoor granite outcrops (tors) that I came across as I entered the park. It dominates the skyline with its strange sculptural forms.
I was happy to stretch my legs for the short climb up from a nearby carpark. Luckily, as it was still early, I had it to myself and scrambling to the top of one of the large boulders I was rewarded with fabulous views of nearby hills. Apparently, among other creative works it has inspired both Sir Arthur Conan Doyle's The Hound of the Baskervilles and an episode of Doctor Who!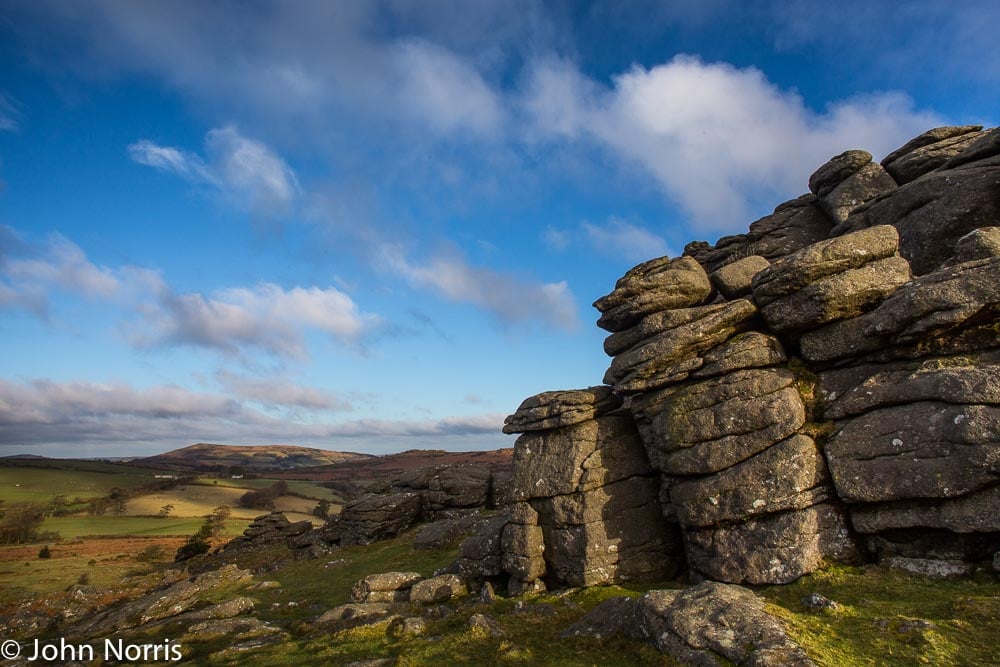 2.The Moor 
From Hound Tor I rode up onto the high barren moorland I always imagine of Dartmoor, the big skies, orangey-brown land dotted with various tors and a great biking road sweeping across it all. It feels wild and exposed.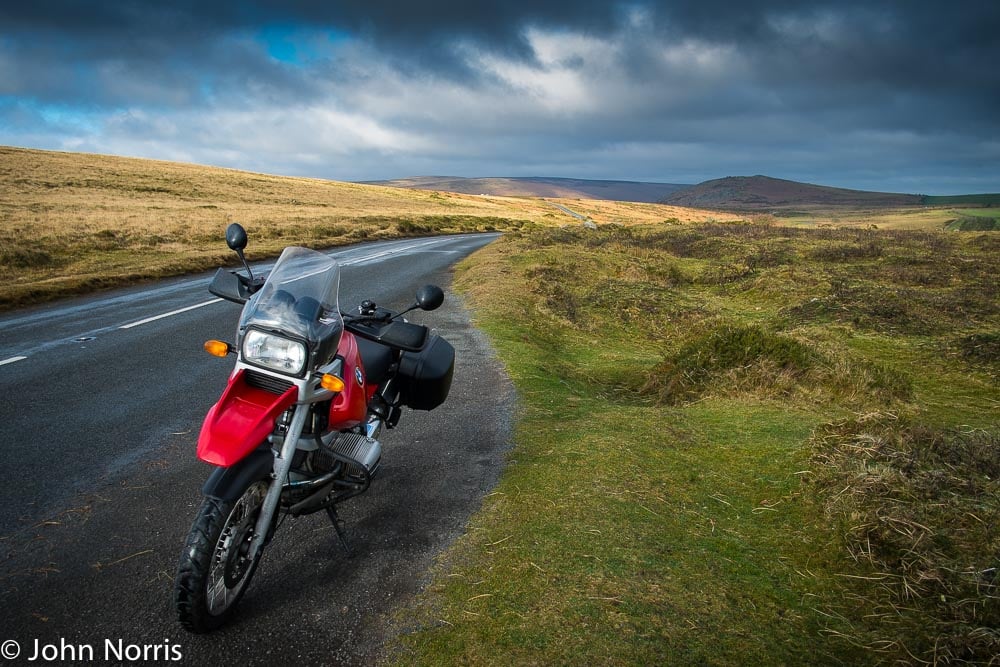 3.Haytor Rocks 
I passed Saddle Tor and saw a few people already hiking the footpath up to it. A short distance further on is Haytor Rocks, one of Dartmoor's most famous sights, and therefore best visited outside high season. It is popular with rock climbers for some quality routes.
Below the rocks is the excellent Home Farm Cafe van which has a real coffee machine. I sampled a smoked bacon butty on granary bread with local chutney while trying to warm up in the windy carpark. There is also an excellent little visitor's centre offering advice on places to see in the park.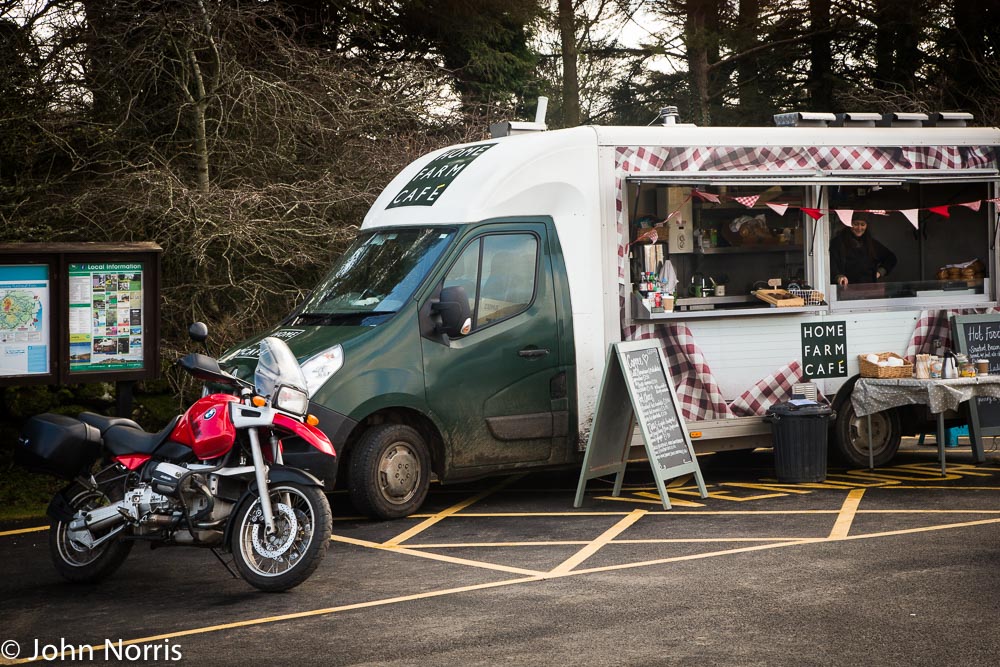 4.Widecombe in the Moor 
From Haytor I doubled back along the B3387 a couple of miles and then headed towards Widecombe over a nice stretch of moor where I saw Dartmoor ponies grazing with backs to the wind. Dropping down towards a patchwork of stone-walled fields, it was vaguely reminiscent of the Yorkshire Dales, and below in a hollow between hills lay Widecombe in the Moor, a quintessential little Dartmoor village.
Massive sycamore trees dominate the village green where there is a church, a village shop, The Old Inn and opposite the pub a 16th-century alehouse known as Church House, now owned by the National Trust.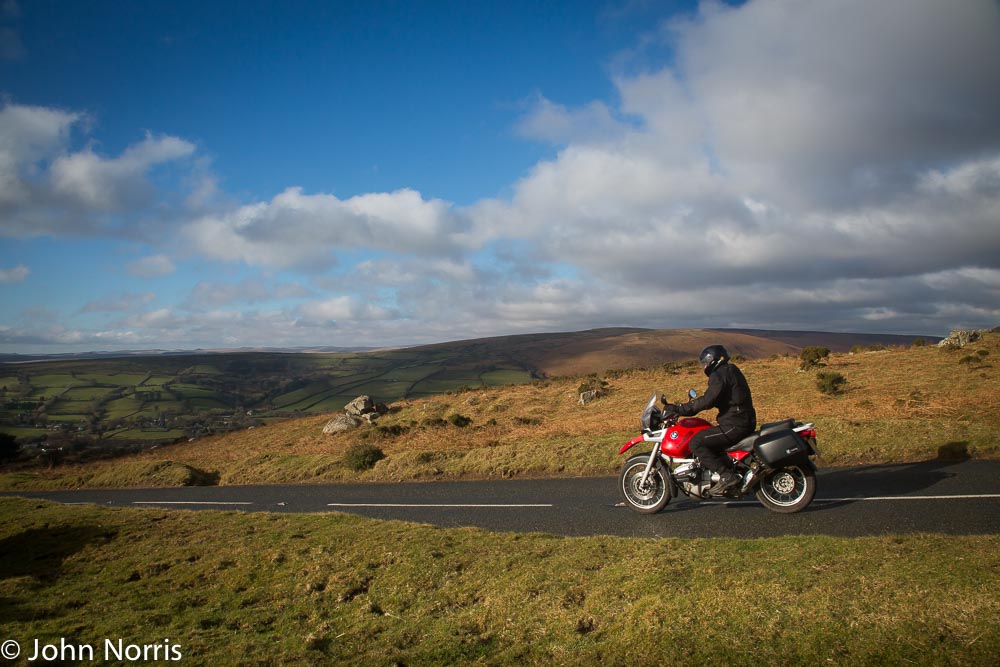 5.Buckland in the Moor 
At times route finding is tricky in Dartmoor as occasionally there are no signposts or, when there are, they indicate the places you aren't looking for, but if you follow them you might find your place anyway! Far out of the reach of coach parties lies this tiny village, and visiting it was partly just an excuse for me to get lost in the windy narrow back lanes that give the moor much of its special character.
You pass through ancient woodland and moss-covered stone walls and glimpse thatched cottages that seem lost in time (besides the 4X4 parked outside). In the village itself is a group of unusual thatched buildings and a small church. It's worth a peek inside.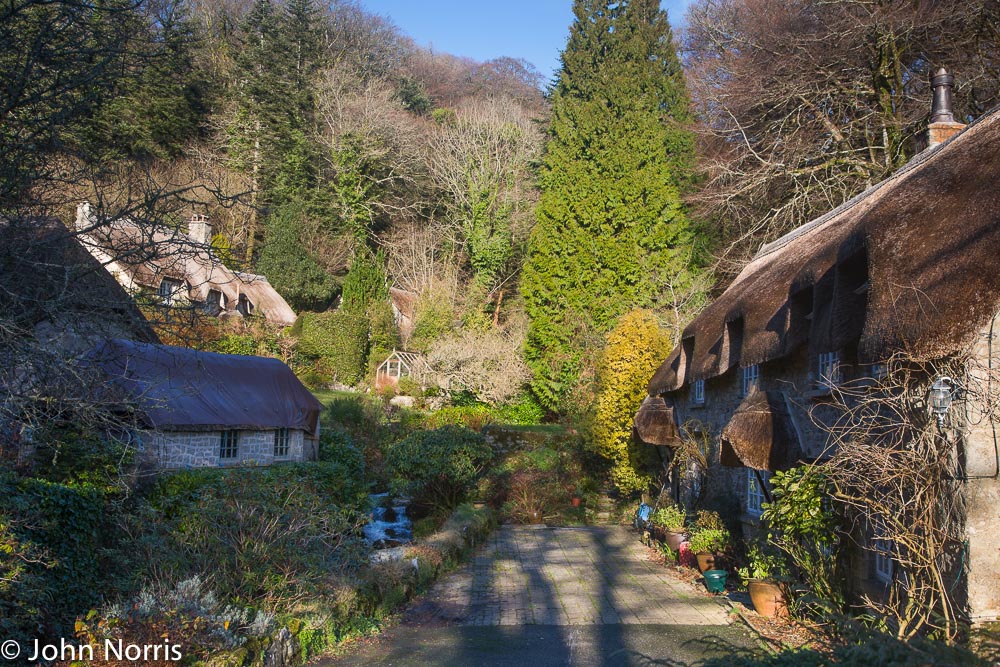 6.Ponsworthy to Postbridge  
This is a lovely by-road that I almost missed, and it climbs up between dry stone walls and onto the high moorland again. I rode it in the late afternoon sunshine and it was a cracking section of single track road.
At Postbridge, there is a great example of a clapper bridge, these are renowned features of the park that date back to medieval times. This one is next to the more recent stone bridge you ride across on your way to Princetown, and the two bridges together are very picturesque.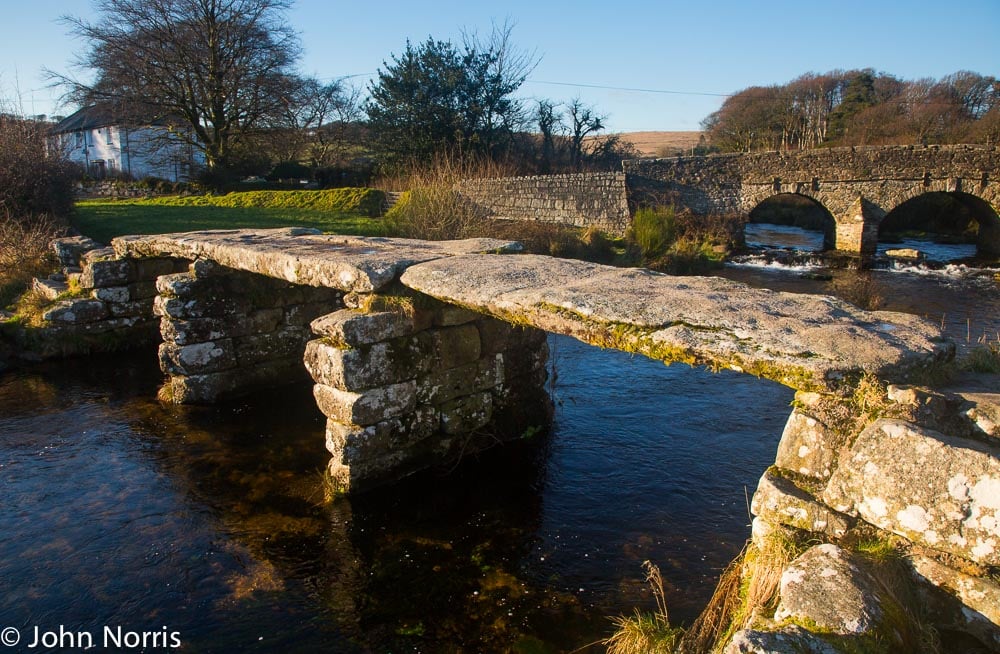 7.Dartmoor Prison 
You can see this notorious and imposing building from a layby on the B3212, and the historic main gate from close up by the B3357 heading through Princetown.
Its claimed the prison is inescapable, but in the 1800's prisoners from the war with America (no special relationship?) got through a hole in the wall during a mutiny and then broke out of a gateway to the market square.
The commotion was quickly calmed down by guards shooting live ammo at the escapees killing several and wounding many. Now, it houses mainly white-collar criminals but still has a certain reputation, probably in part due to its austere appearance and isolated location.
It's well worth taking the time to have a quick walk around the museum here to learn the history of the prison, while there are also fantastic displays, like one of weapons that have been found on inmates.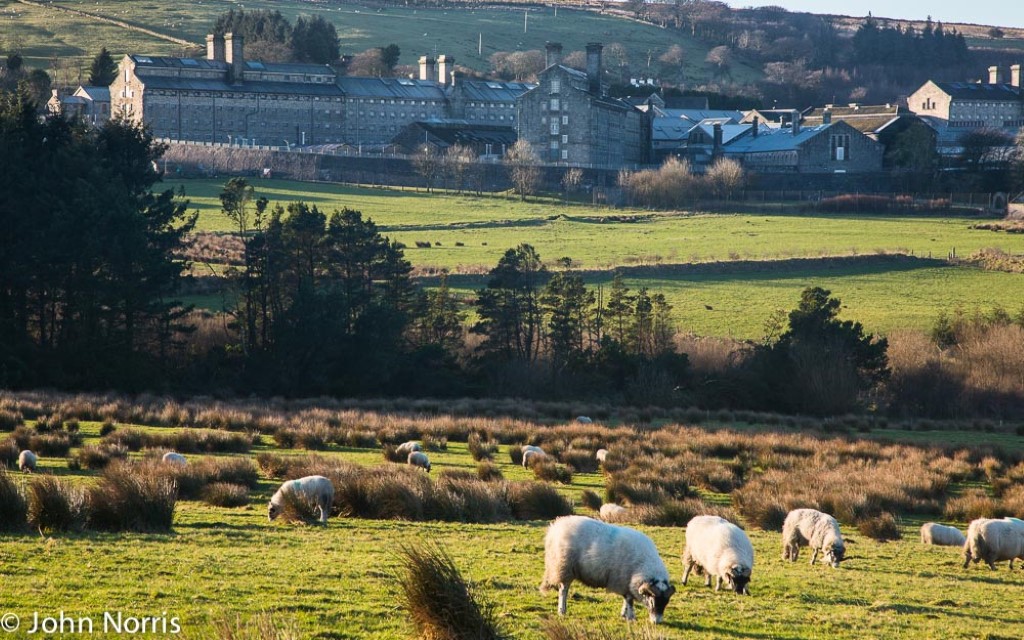 8.Tavistock
This is the largest market town in the west of the moor. It was important in the heyday of the tin mining boom and was also a popular agricultural market. In 1542, Sir Francis Drake who was from the area, left here to go off to Plymouth and sail to sort out the Spanish Armada.
It has a grand town hall and plenty to visit if you are staying for a few days rather than just passing through as I was. Worth researching would be Morwellham Quay Museum and nearby Buckland Abbey.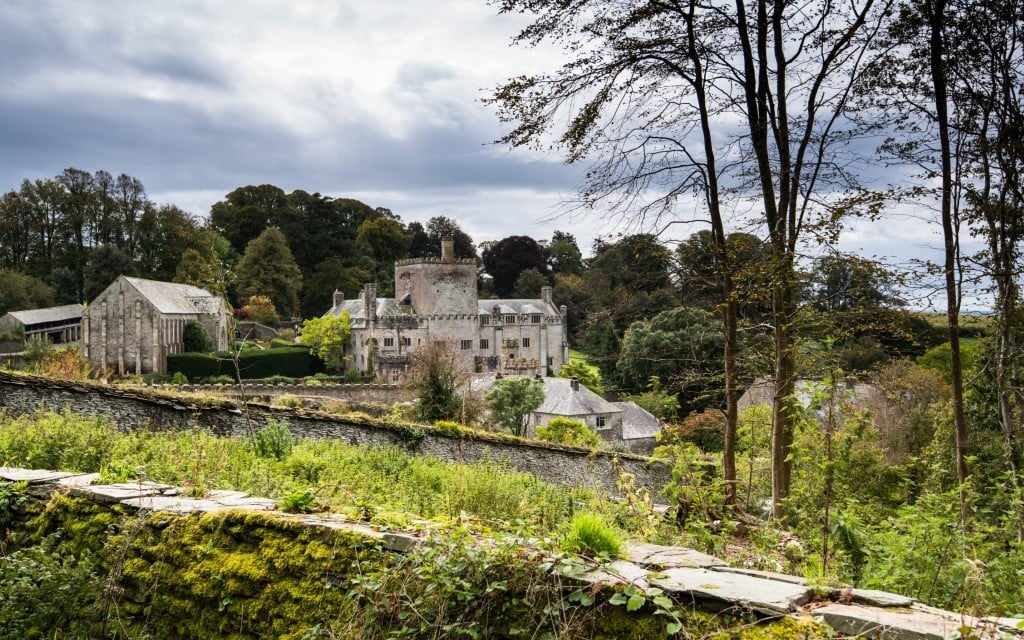 9.North Brentor 
Way out on the western border of the National park there is a turn off the A386 to North Brentor. As you ride along you get glimpses of a hill in the distance out on its own. On the summit of this 335m-high volcanic crag sits the 13th century church of St Michael de Rupe.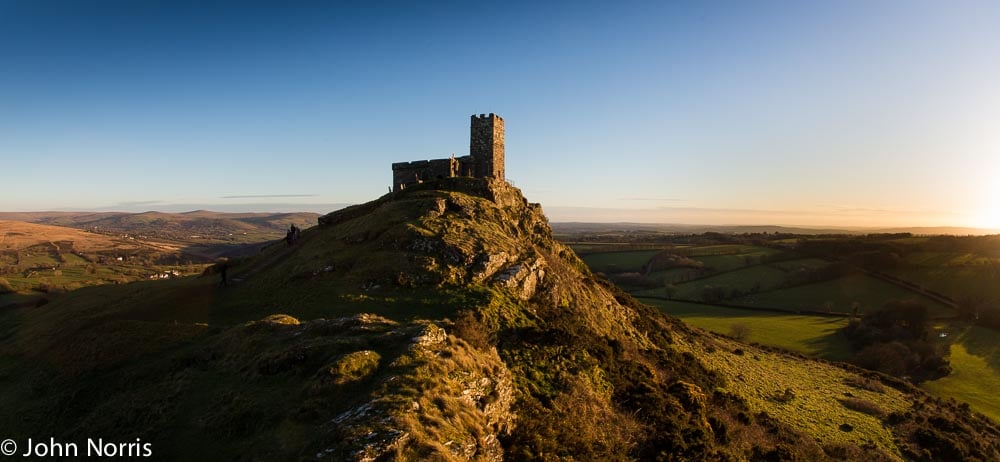 I thought this would be a good place to finish my ride through Dartmoor and watch the sunset. From the top I could see north further into Devon, back east towards the moors I'd travelled through, south towards the coast and west to the setting sun. Perfection.