Octogenarian Simon Gandolfi has been riding various parts of the world on 125s for quite some time. Here he explains the appeal…
A posse of leather-clad German bikers stopped at a tea house on the climb to Shimla in Madhya Pradesh. Their mounts were new 500cc Enfields with panniers and top boxes. A backup truck driven by a mechanic carried their backpacks. An overweight ancient Brit pulled in for a chat. The Brit rode a 125cc TVS Phoenix. Dress; raggedy chinos supported by black braces over a Horizons Unlimited T-shirt and Church's walking shoes. Baggage; a small backpack and plastic wheelie suitcase strapped across the seat. Clearly, the Brit wasn't a proper biker. Worse, he was an irritant, his minimalist equipment a mockery of the Germans' great adventure…
True, I'm not a proper biker. I don't own a bike. I haven't ridden in England since the early 50s (BSA Bantam); English weather is vile, Herefordshire lanes too narrow and infested with terrifyingly overconfident teenagers let loose in their first cars. So, no thank you – safety, back home, is four wheels…
Yet, at the age of 70, and switching from writing fiction to writing travel, a bike seemed as necessary a tool as a camera and laptop. Here was freedom to stop where I willed, take what road struck my fancy, escape the prison of bus and train timetables, be open to country and people.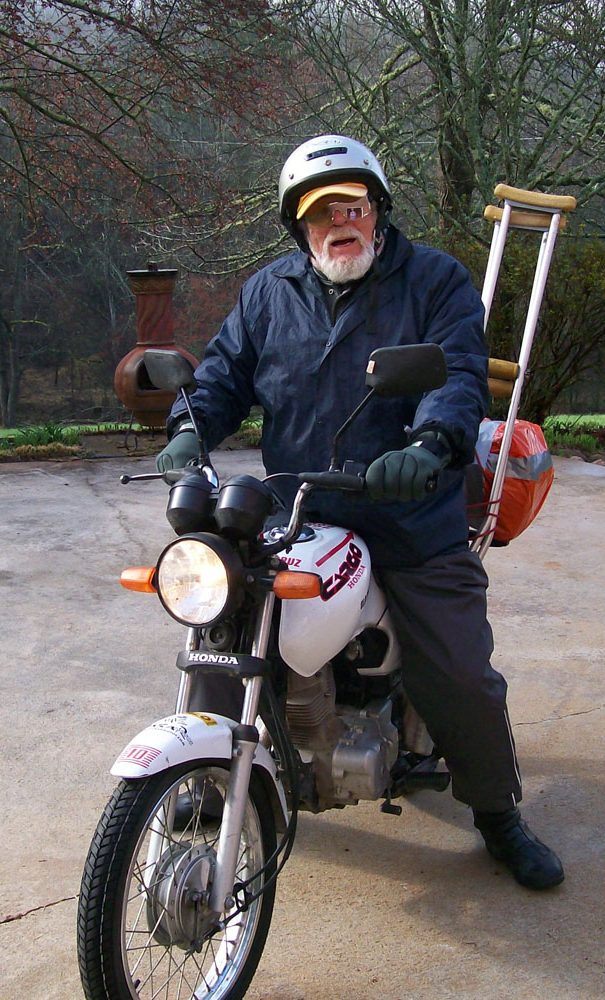 A big bike would have been a flag of affluence in lands of the poor, a temptation to impecunious police, border officials and bandits. Instead, 125s are cheap and reliable, petrol consumption 150 miles to the gallon. Ride locally manufactured and spare parts are readily available.
A Brazilian Honda 125 Cargo took me from Mexico to Tierra del Fuego and back north to New York. I rode an Indian Honda 125 Stunner on my first India exploration; last year, again in India, the TVS. As to a 125s capability, I've ridden across the Andes, crossed the Sela Pass in Arunachal Pradesh and ridden the Manali Leh Srinigar road – in all, some 80,000 miles, maximum altitude 17,582 feet, and never a mechanical fault, never a hesitation. When I fall (loose gravel, soft sand, ice or oil on the road), I can lift a 125; damage, at most, will be a broken mirror. The rebuild after being run down by a truck in Tierra del Fuego came to $100.
The TVS has four gears rather than the Honda's five. Four gears were less tiring in the mountains,  frustrating when cruising the National highways. I blew £20 on a fat broad custom seat for the TVS – heaven! Now in my 80s, I tire easily. The wheelie suitcase is light, strong and easy to handle when transiting through airports. What more could I need?
Let me finish with a second scenario. Eight brigands waiting on a mountain pass in Colombia: Along comes a rider, full-face helmet and leathers, on a monster Harley or BMW, steel panniers and top box. Pray he has lots of loot in one of the panniers or he's in trouble! Here comes the Ancient Brit on his 125, open face helmet, $7 Wallmart waterproof pants and a charity-shop sweater; the brigands wave him down, it's to feed him a bowl of hot soup…
_____________________________
Simon recently celebrated his 81st birthday and is still going strong, as are his 125 motorcycle adventures.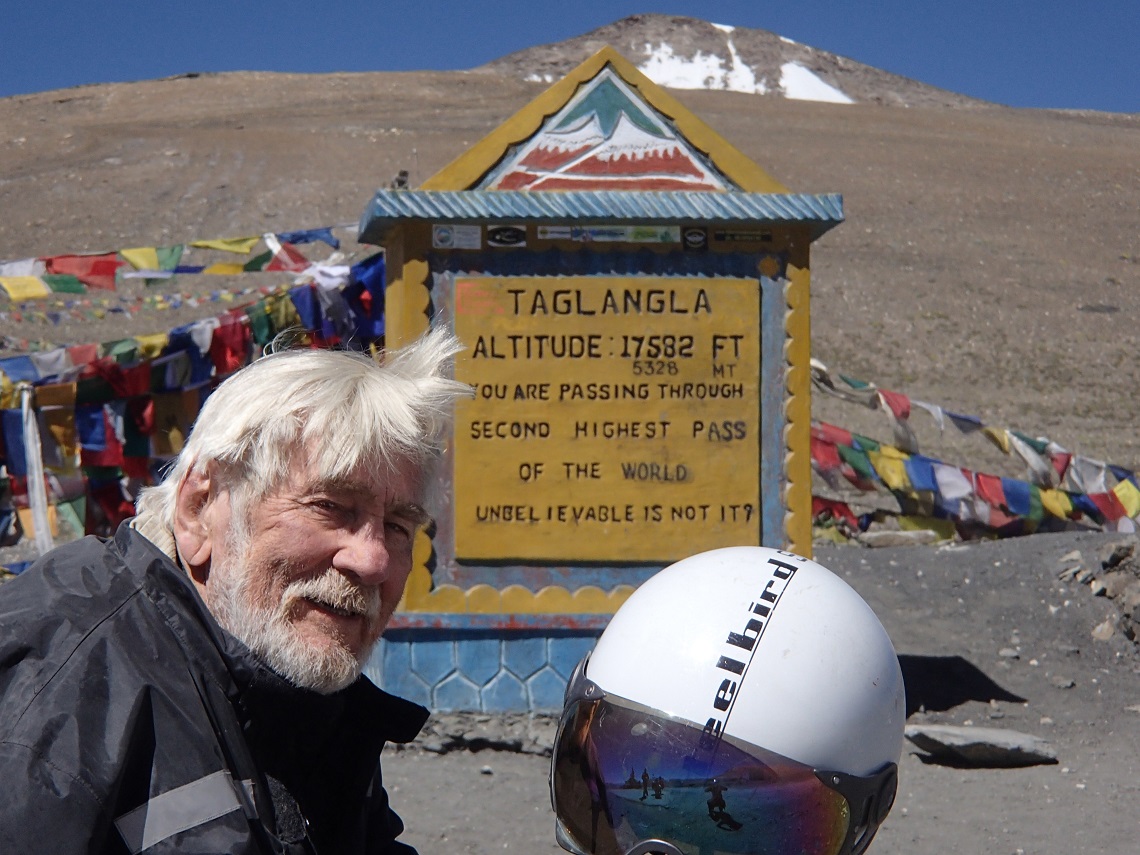 Photos: Simon Gandolfi