When his maiden voyage to the Alps gets thwarted by bad weather, James Oxley heads south and unwittingly finds himself in the infamous resort of Benidorm
How the hell did we end up in Benidorm? It's not the sort of place adventure bike riders are supposed to go, right? But the road gods conspired and there we found ourselves, at the beach in the dark of night.
My friend and fellow biker Pierre was passed out on a sun lounger after too many €1.50 drinks, while I stood watching the moonlight dancing on the surface of the Balearic Sea, trying to make sense of the past few days on the road.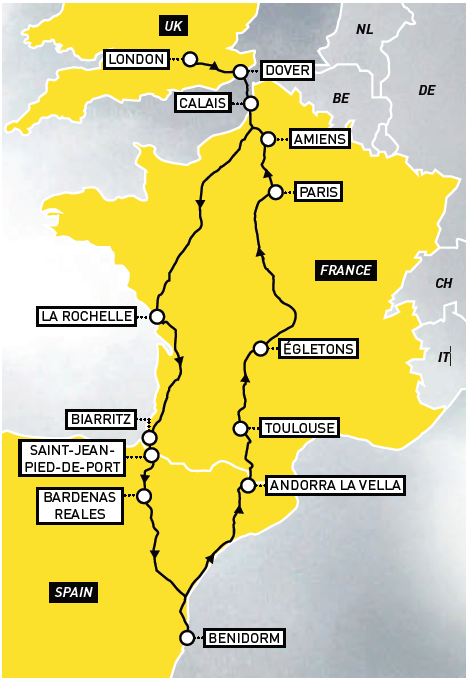 Any approaching epiphany was soon interrupted by a series of pleasure-induced groans emanating from a couple also making good use of the sun loungers under cover of darkness. I gave Pierre a nudge. We had a long walk back to our tent and a new dawn was fast approaching.
A week earlier we had excitedly begun our adventure on the worst day possible to undertake a motorcycle journey in Europe since 1 September 1939. According to the BBC News website, France's petrol stations were running dry following strikes at major oil refineries.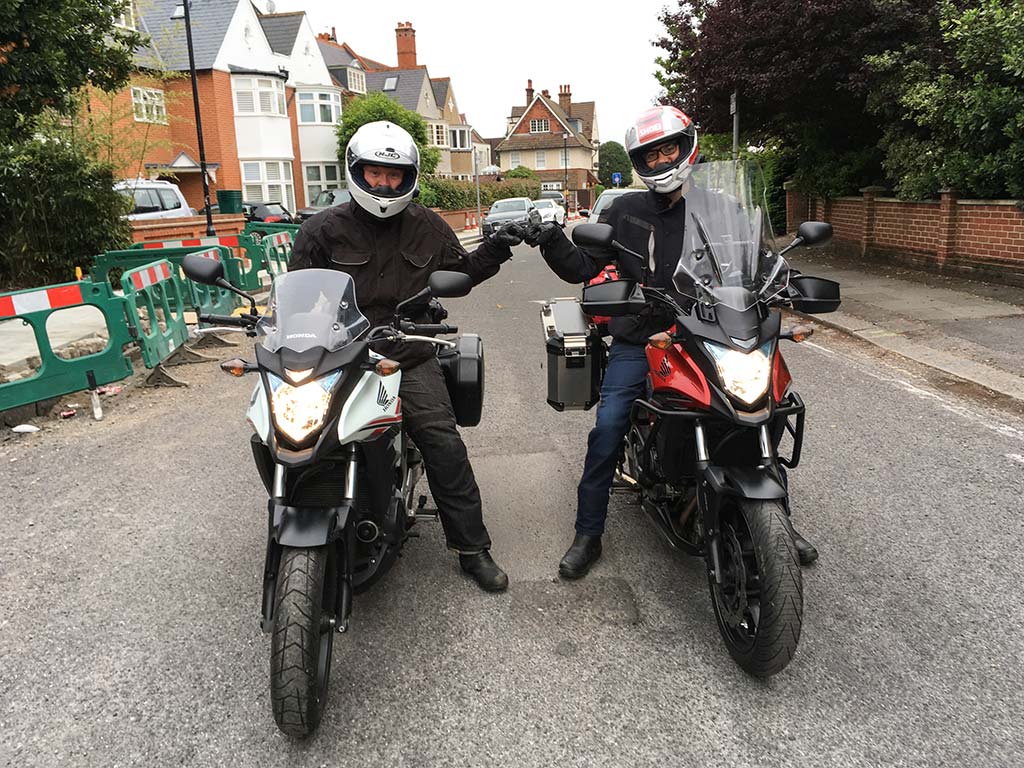 Football fans were on a violent rampage across the country as they enjoyed Euro 2016. And to cap it all off, Western Europe was forecast to become a cauldron of torrential rain, thunder and lightning over the coming week.
But, blissfully choosing not to believe everything we read, we set forth from my home in Wimbledon, side-by-side on our pair of Honda CB500Xs, ready to let the adventure begin. Our only concession to the doom-mongers of the BBC was due to the truly awful weather forecast.
After disembarking the ferry at Calais, we scrapped our original plan to turn left and ride towards the Alps, Italy and Switzerland, instead choosing to turn right and explore the potentially sunnier climes of the Pyrenees.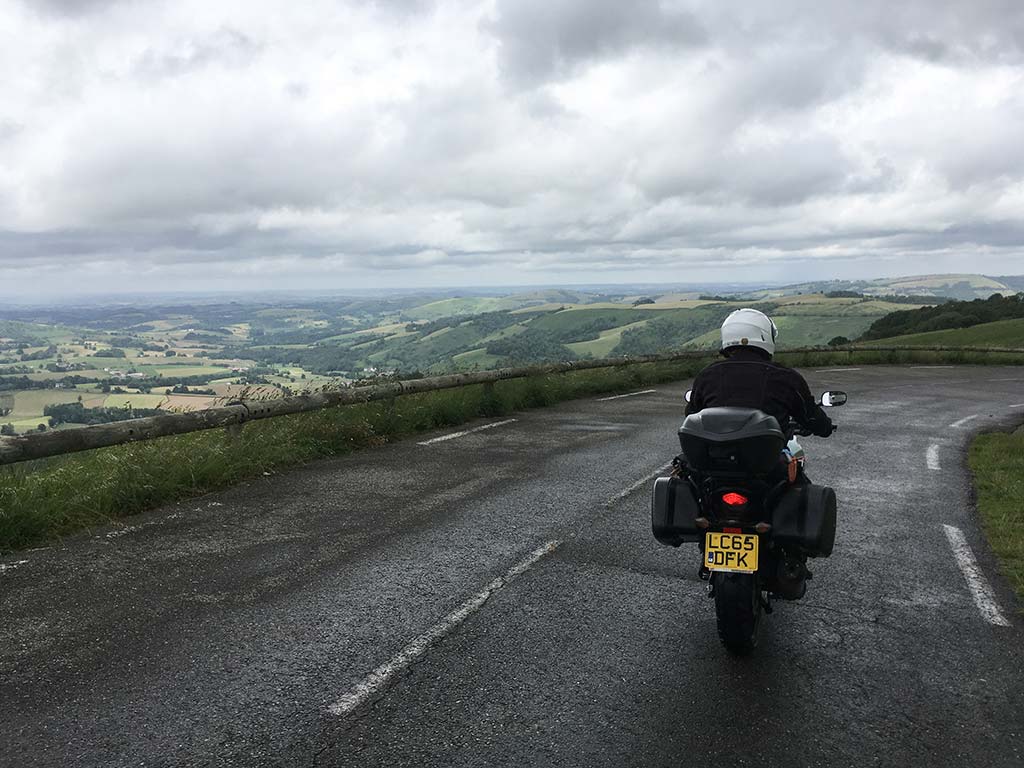 Having only passed my motorbike test six months earlier, I was nervous about riding on the right-hand side of the road. But that turned out to be the least of my worries as a torrential rainstorm of biblical proportions made northern France's highspeed toll roads look more like rivers than motorways, with heavy spray reducing visibility almost completely.
Pierre, with five years' motorcycling experience to draw upon, took the lead while I clung on for dear life behind.
A hundred-or-so butt-clenching miles later, the rain eased up and we zoomed toward our destination for the night, La Rochelle, about 400 miles from Calais on the west coast of France.
With only a week off work and a thirst for mountain passes, we had decided to sacrifice exploring northern France and initially stick to toll roads to get some distance under our belts. Despite only having 47bhp, our plucky Honda CB500Xs weighed down by panniers ate up the miles without complaint.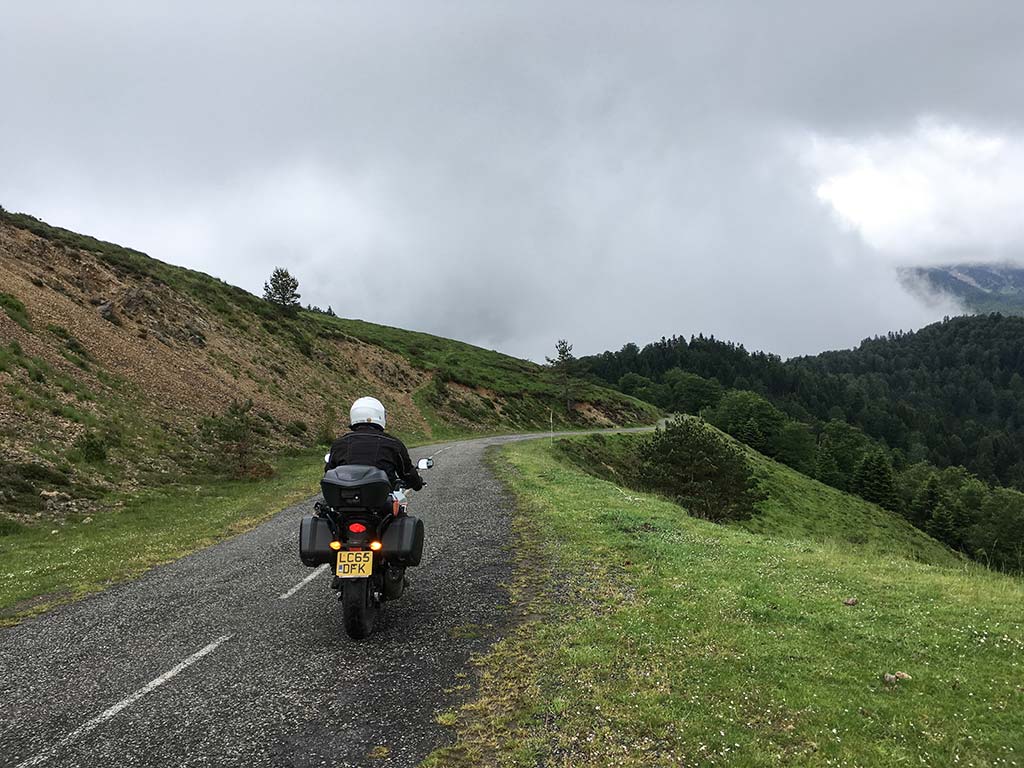 Following a brief look around La Rochelle, including a pit stop at a very swanky McDonald's, we hit the road early the next morning. We were heading towards the surf town of Biarritz, described to me once as a posh Newquay.
With toll roads now banished to soggy memory, we weaved our way along France's Atlantic Coast on beautifully smooth surfaces, inhabited by a tenth of the traffic you would likely find back home, before arriving at the ferry crossing between Royan and Pointe de Grave.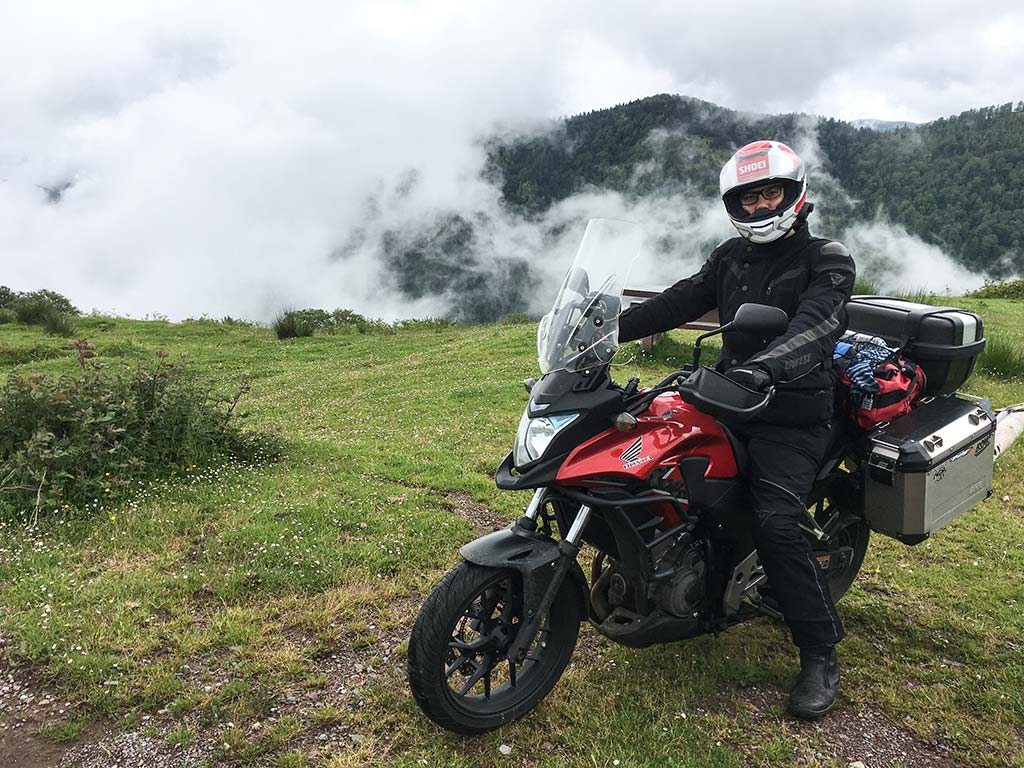 The stretch of sea may have been scenic, but we will never know. Rough seas and an absence of straps to secure our bikes meant we spent the crossing on the car deck below, ensuring the bikes did not roll off their stands. Despite being in gear, they came perilously close on more than one occasion.
Arriving in Biarritz, we caught the end of the Wheels and Waves festival, an orgy of custom bikes, fashion, surf, music and art. Strolling through the crowd in our textiles, we were clearly the odd ones out amid a throng of hipster facial hair, fashionable leathers and beautiful custom motorcycles – there wasn't a GS in sight! But it's a friendly scene and we soon bumped into a couple of familiar faces from London who recommended a campsite for the night.
It would have been easy to spend a week relaxing in Biarritz, but we had a date with the Pyrenees to keep. Smooth meandering roads mimicked the sweeping flow of the River Nive as we cruised towards Saint-Jean-Pied-de-Port, a picturesque town in the foothills of the mountains, famous as a popular starting point for the Camino de Santiago pilgrimage walk across northern Spain.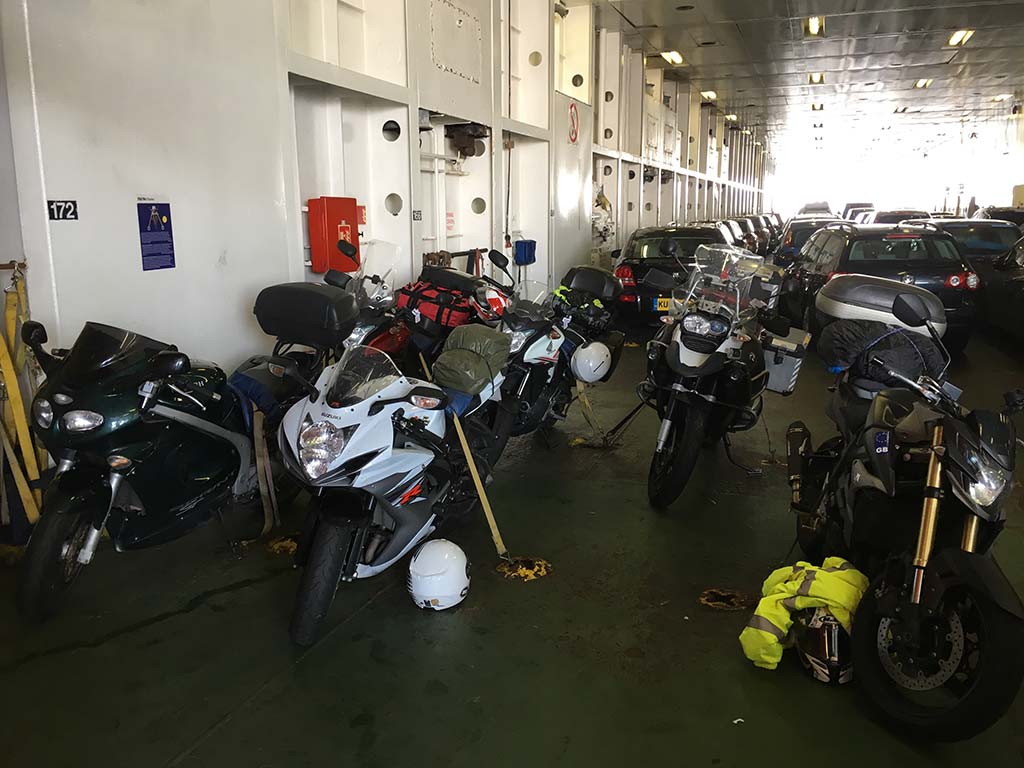 As we rode, I took the opportunity to study the way Pierre leant into the corners, connecting each series of turns so they flowed together as one, similar to the way the surfers had carved gently along the waves at Biarritz last night. I began trying this for myself, at first lowering my speed and it immediately became so much more rewarding than the point and squirt style of riding I had developed commuting through London.
We had been keeping ahead of the foul weather that was engulfing Western Europe, but it was catching up fast. As we sat in Saint-Jean-Pied-de-Port studying our maps and sipping espressos, the only option to avoid the rain was to cross the Pyrenees today and head south into Spain where the sun was shining.
We traced our fingers over the wiggliest little roads we could find. We were keen to get stuck into some proper mountainous twists and turns. But, as the saying goes, you should be careful what you ask for. An hour or so later we were plunged into thick cloud and fog, dodging patches of loose gravel on a tiny twisting mountain road with no barrier.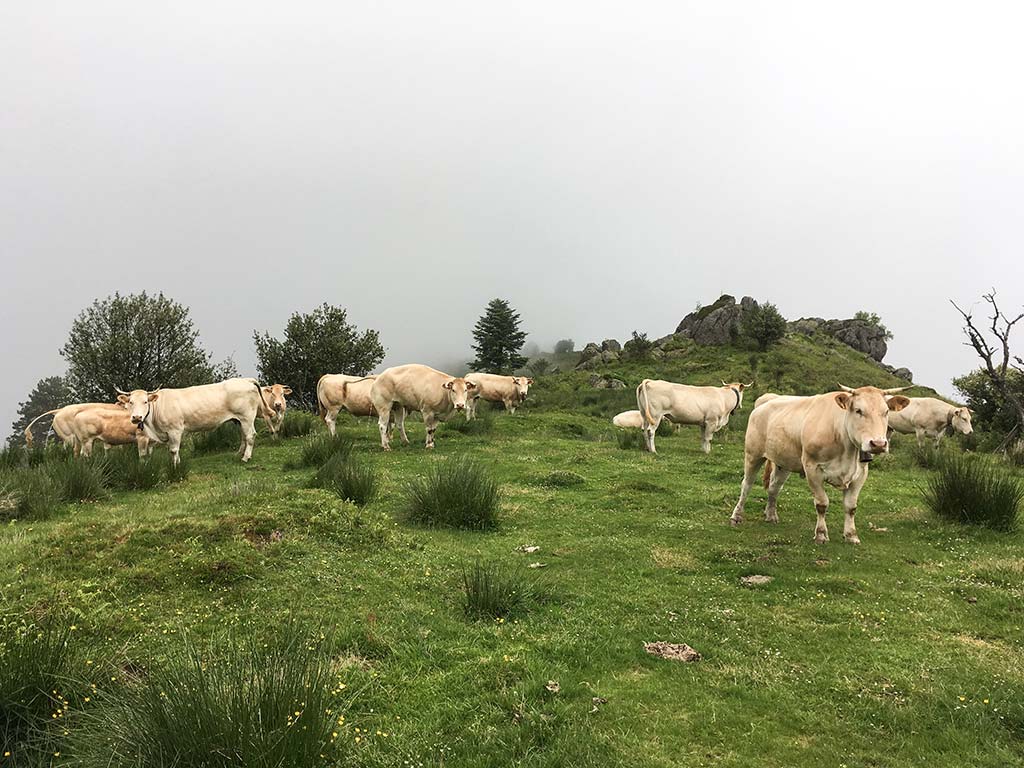 I was well out of my comfort zone and suddenly London's South Circular didn't seem quite so bad after all.
The road was in the early stages of repair with loose gravel having been used to fill potholes every few metres. The surface was wet and the fog reduced visibility to a couple of bike lengths at most. This all made it tough to spot the slightly darker patches of loose ground before they caused our wheels to slip out from under us.
I had no choice but to quickly work out how to control slides from the rear, but I was desperate not to lose control of the front which would result in my four-month-old bike toppling over. It was a baptism of fire into mountain pass riding which looked nothing like the gorgeous ribbons of tarmac I had drooled over in Adventure Bike Rider magazine, but as we reach the top without dropping the bikes we felt elated and fell in love with our little Hondas even more.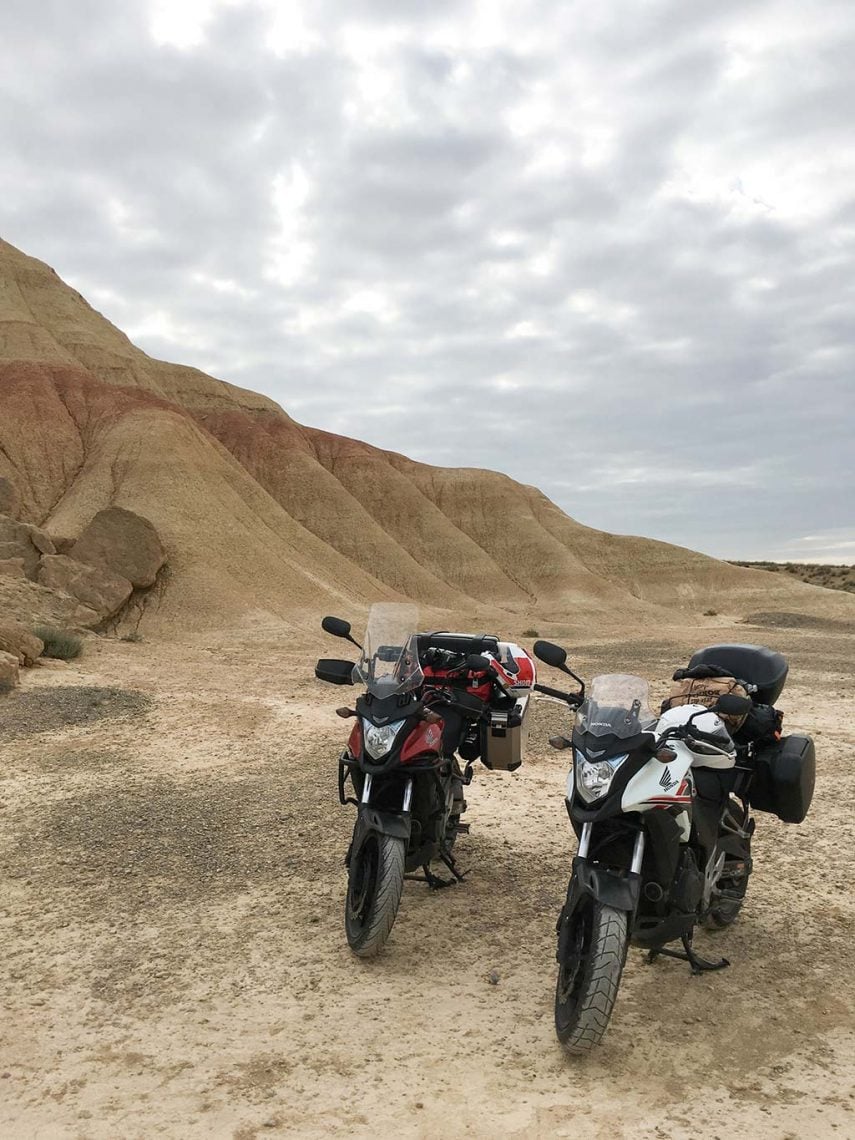 Craving sunshine, we decided a desert was as good a place as any to escape the rain, so we zig-zagged our way across northern Spain towards Bardenas Reales National Park in Navarre. The area was used as a setting for countless spaghetti western movies due to it's incredible rock formations and sparse landscape resembling America's Wild West.
Perhaps unsurprisingly, deserts aren't particularly well signposted and our NavMii SatNav, downloaded online for free, was struggling to get us there. But as is often the case, a little adversity was a blessing in disguise as we found ourselves weaving our way along obscure back roads, dodging potholes but enjoying being off the beaten track.
With the sun beginning to set, we finally discovered our desert. A sparse expanse of barren beauty existing in majestic isolation from the modern world. The paved road soon came to an end and we felt our tyres scramble for grip on the loose trail surface below.
There aren't many better feelings than riding through a desert alongside your best mate as the setting sun floods the world with a thousand shades of golden light. Smiling from ear to ear we found a spot to camp, cooked up a meal and spent an evening talking about everything and nothing under an infinite canopy of stars. It was the best of times.
The Honda CB500X is styled and marketed as an adventure bike.

In reality, it's a fantastic little road bike that, for very little money, will take you most places you want to go, but it will balk at the really rough stuff. The dual sport credentials of the Pirelli Scorpion Trail tyres sum up well what most people will use their CB500X for – 90% road, 10% off-road.
The following morning we made the most of our 10%, kicking up dust trails as we explored the national park, revelling in the loose trail surfaces and sand. We could have played all day but by mid-morning the searing desert heat had turned our textile suits into ovens. We needed bikers' air conditioning – fast roads to blast air through our vents.
First we needed to work out where to go. Bathing in our own sweat by the side of the road, we studied the maps on our phones. The night before, we had talked about going back up to the Pyrenees, enjoying a couple of days playing in the mountains and then spending some time in Barcelona.
But the weather had other plans. A curtain of rain running the width of the border between France and Spain was about to engulf the Pyrenees for a few days, accompanied by high winds and storms. It was also heading south towards us.

Feeling hot, thirsty and a little dizzy from the intense heat, we looked at the myriad of unknown towns within a day's ride, not really having a clue where to go. I was so hot I began hallucinating that the wiggly lines of the road on the map were moving around like snakes on their own.
We suddenly became very road-weary, exasperated that fate was conspiring to try and ruin our plans of adventure at every turn. We had managed to avoid fuel shortages and rampaging football fans, but we could not escape the weather.
It was then, at a low point in morale, I spotted it. A name that ignited a spark of familiarity at the back of my mind. Benidorm. "How about Benidorm?" I said.
Pierre shot me a look of disapproval. His brain no doubt conjuring images of drunken Brits abroad and cafes offering full English breakfasts on every street corner.
"It's far enough south to escape the rain once and for all. We can take a day off, go to the beach and cool off in the sea. And it's a tourist resort so we can go out for a couple of cold beers?" I was trying to convince myself as well as Pierre, but I think the mental image of the cold beer sealed the deal as we stood in a searing hot desert.
We blasted down the Spanish toll roads at speed, glad to have the wind in our faces and a destination in mind. We had about 330 miles to cover which was a long slog, but a combination of sunshine, almost empty motorways and a sense of purpose made it an easy cruise.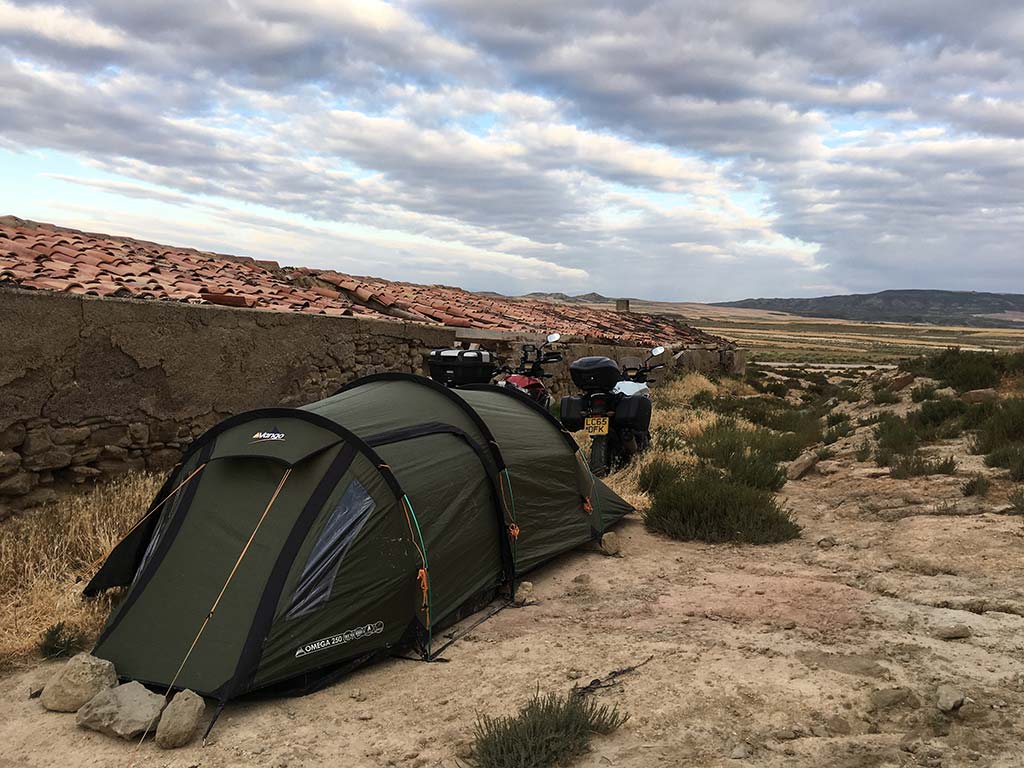 We talked over the intercom for a while but soon switched to music and settled into that strange meditative biker state, mentally ready to react to anything in a split second but able to let your mind drift a million miles away.
At a petrol station, we pulled up next to a group of Harley riders taking a break from the road. They were on Fat Boys and Sportsters, mostly two-up wearing a lot of leather and oozed that 'don't fuck with me' attitude that people who buy Harley Davidson motorcycles must spend a lot of time perfecting.
As ever, the shared love of two wheels sparked conversation and they asked where we were heading. Embarrassed after revealing our destination, Pierre was about to launch into a defence of why we were going somewhere as crap as Benidorm, at which point a chorus of "we're going to Benidorm too" boomed out in thick northern accents.
We learned our new friends had been going to the ultimate Brits abroad resort for more years than they can remember. Relieved not to have rubbished a biker gang's favourite holiday destination, we swapped a few tales of the road before saying our goodbyes amid a thunderous roar of Harley exhausts.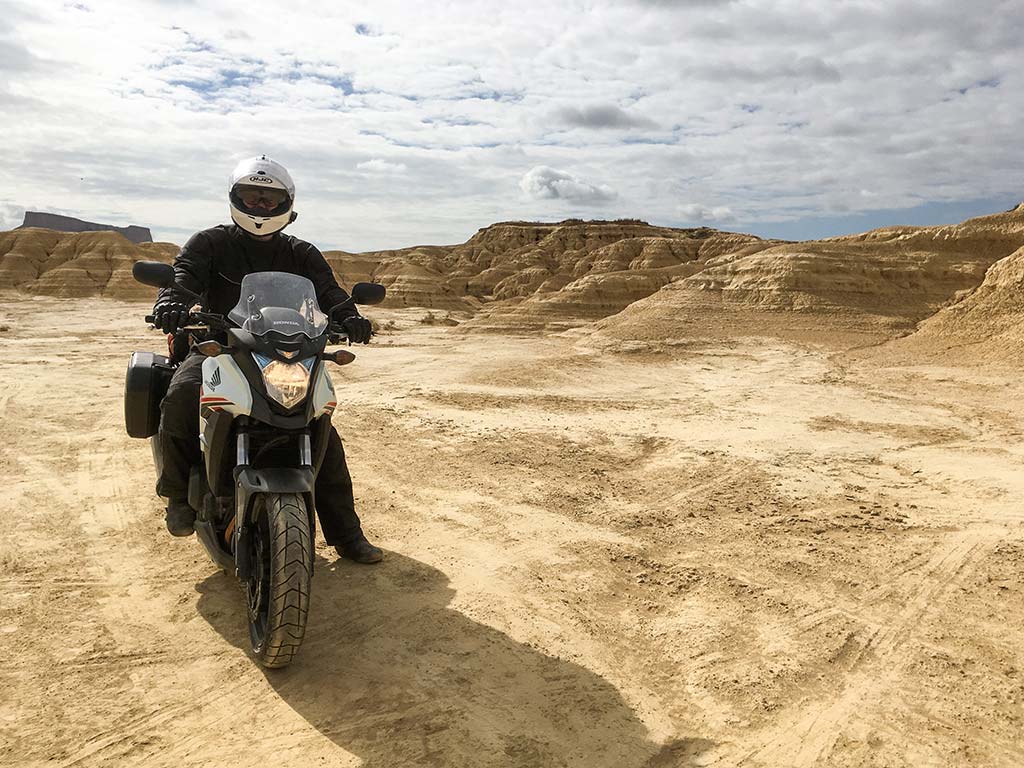 Arriving in Benidorm was an assault on the senses. I'm not sure what I was expecting to find but not anything quite so massive. It was as if someone had dumped Manhattan on the Spanish Costa del Sol. Hundreds of high rise hotels towered above us as we motored along the wide, busy streets.
Bronzed girls and guys weaved through traffic on scooters wearing only beachwear, making us feel even hotter than we were. But outnumbering them 10 to one were pensioners. Benidorm is like a Club 60-90.
The ultimate old people's retirement home by the sea. There were far more mobility scooters than motorcycles.
We spotted a sign for a campsite on one of the main roads into town and put up our tent on a gravel pitch, while being handed cold glasses of orange juice by a kind lady in the caravan next door. Feeling tired, hot and incredibly road-weary there was only one thing to do – hit the town for a couple of cold beers.
The promise of a refreshing pint lured us into a neon world of pounding music, angry-looking men with neck tattoos and groups of girls wearing very little. It was sensory overload after a week on the road. We found ourselves a quiet spot on a balcony overlooking the mayhem and made swift work of the €1.50 pints of San Miguel.

The memories from that point on are sketchy. We made friends (Facebook can testify to that). We danced in a bar (there is photographic evidence). And we ate late night junk food (ketchup stains point towards chips). But I certainly remember staring out to sea at night on the beach, trying to work out how the hell our motorbike adventure to the Alps had resulted in a boozy Brits abroad night out in Benidorm.
I wouldn't recommend waking up in a boiling tent with a hangover in Benidorm. I do, however, recommend floating in the sea for a few hours to get you through the day. And definitely try one of those English fry-ups you find on every street corner.
After a much quieter second night, we said goodbye to Benidorm and took the road north, for the first time heading towards home. Our destination for the night was Andorra, a tiny country between Spain and France in the heart of the Pyrenees. It was raining as we made the small border crossing.
We wound our way upwards, enclosed on either side by tree-covered mountains, gaining elevation as the road led us towards a campground in Andorra la Vella. We went for a wander through town that night but found very little apart from duty-free shops, so, feeling a little underwhelmed, we got our heads down early.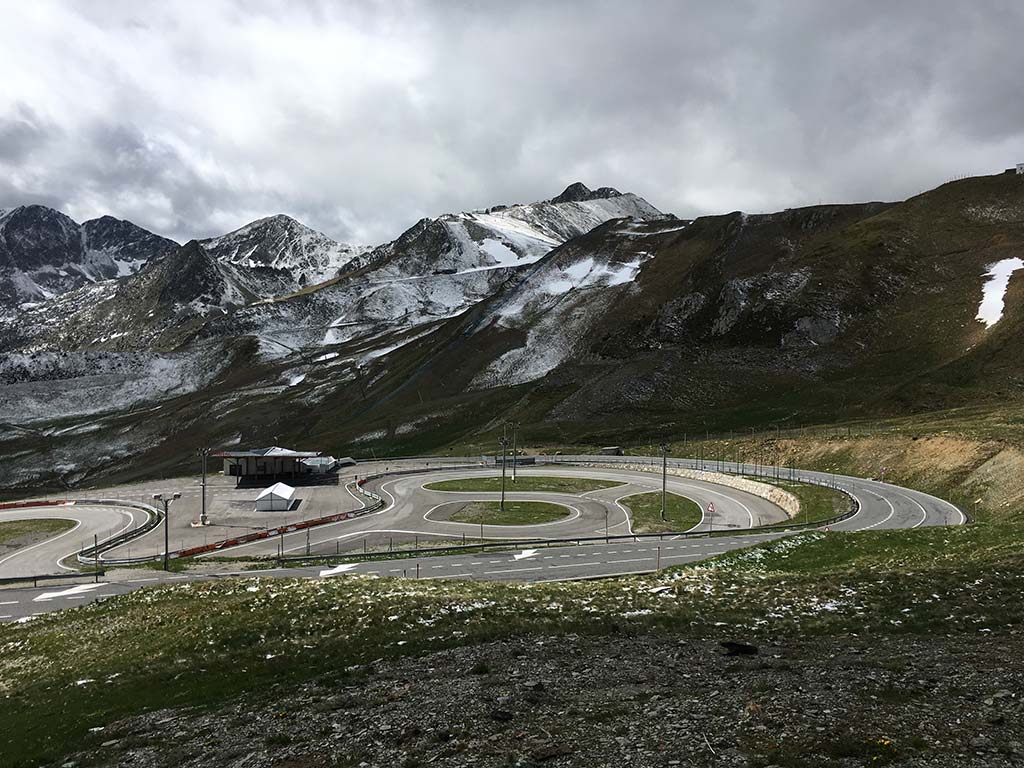 We had heard tales of switchback mountain passes carved out by silky smooth roads in this area of the Pyrenees. It promised to be the best riding of our trip so far, so it was with a mix of anticipation and dread we poked our heads out of our tent and looked towards the heavens.
We were greeted with pastel blue skies and stunning sunshine without a raincloud in sight. The game was on. There are two options when leaving the east of Andorra to enter France. A tunnel through the mountains or a road over them.
Take the road. We spent the next few hours leaning our motorbikes into hairpin turn after hairpin turn as a ribbon of road switch-backed it's way up and down the mountains. We stopped briefly to take heavily-posed photos of ourselves surrounded by snow at the top of the world, beaming smiles refusing to leave our faces in-between snaps.
Even the usually maddening motorhomes trundling along at walking pace could not ruin the fun as we played overtaking cat and mouse with the Gods of the road. It was pure biking heaven for as long as it lasted.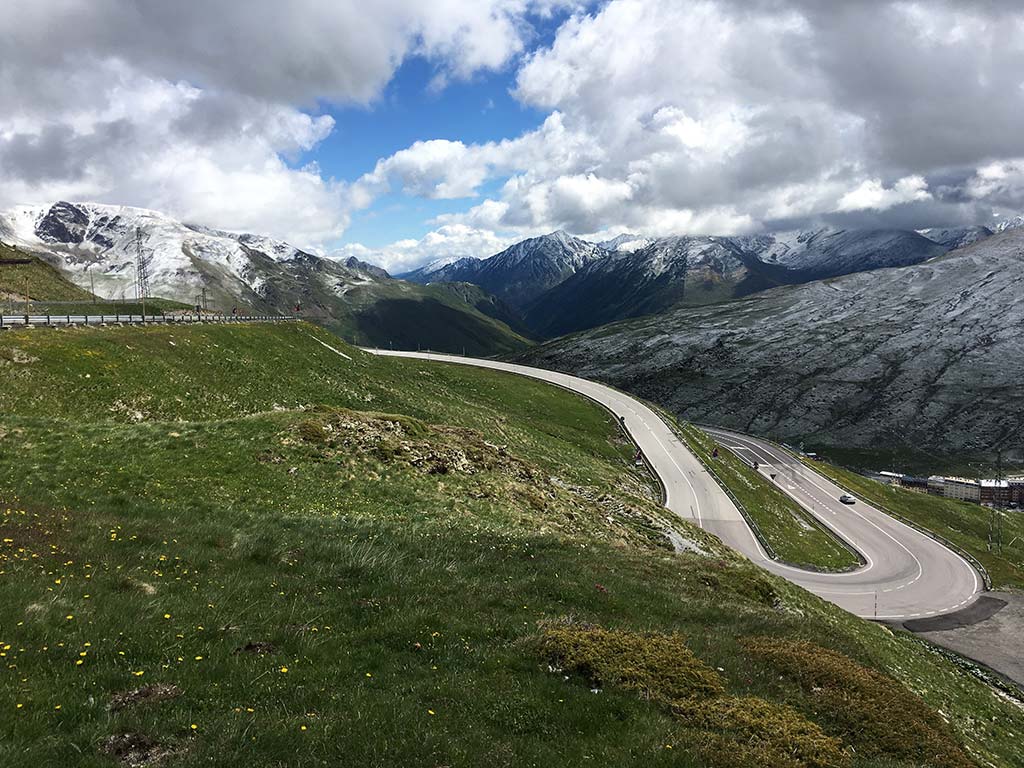 But all too soon we left the mountains behind us and were whipping through rural France. The inevitable rain met us and stayed close by for rest of the day. Completely soaked through, we abandoned thoughts of camping that night and took refuge in a hotel somewhere in central France.
We didn't know where we were and we didn't hang around long enough to find out the next morning. Our destination for the day was Pierre's mum's house in Amien. We were welcomed with a delicious home-cooked meal and felt the luxury of sinking into a comfy sofa while watching TV for the first time in more than a week.
The next day was to be our last on the road and our moods were a little lower because of it. There were definitely part of my mind trying to convince me to turn around and find yet another untraveled place to explore. But the reality of commitments at home won out over the call of the road and we saddled up for the final leg.
You can travel from Amien to Calais in a couple of hours on the motorway, but we wanted to explore the coast in the hope of finding a few final sequences of twisties. This was much to the bewilderment of the friends and family we said goodbye to that morning who seemed surprised that we would seek out a longer route simply for the joy of the journey.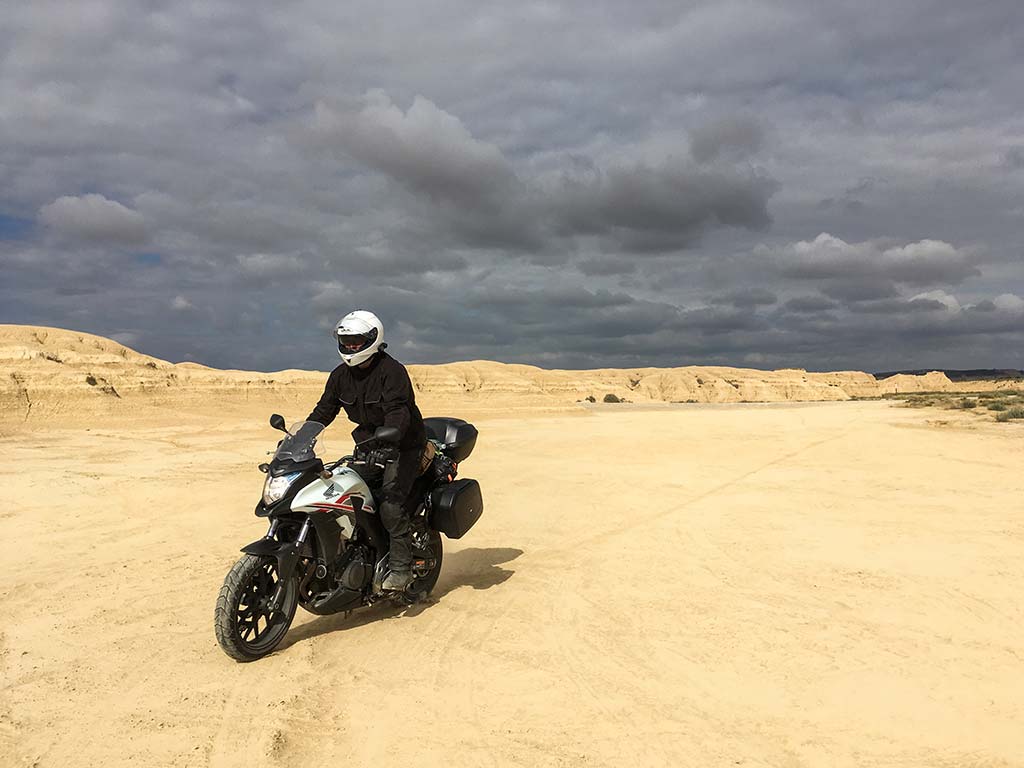 This summed up the difference between car drivers and riders perfectly for me.
We cruised through the French countryside along narrow lanes determined to soak up every last moment of our adventure. As we neared Calais, our decision to shun the motorway came up trumps as a magnificent undulating coastal road littered with twists and turns unravelled before us.
Not even holidaymakers crawling along in cars and motorhomes could dampen our spirits. Overtaking them became part of the fun as we carved through each series of turns, milking every last moment, until, all too soon, we reached the port of Calais and the ferry.
As we strapped down our bikes, dwarfing our Honda 500s was a huge BMW GS Adventure parked next to us. It sported two SatNavs, a full set of expensive metal panniers and was ridden by an older guy dressed head to toe in a BMW branded adventure suit. He looked like he was on the final leg of a world tour.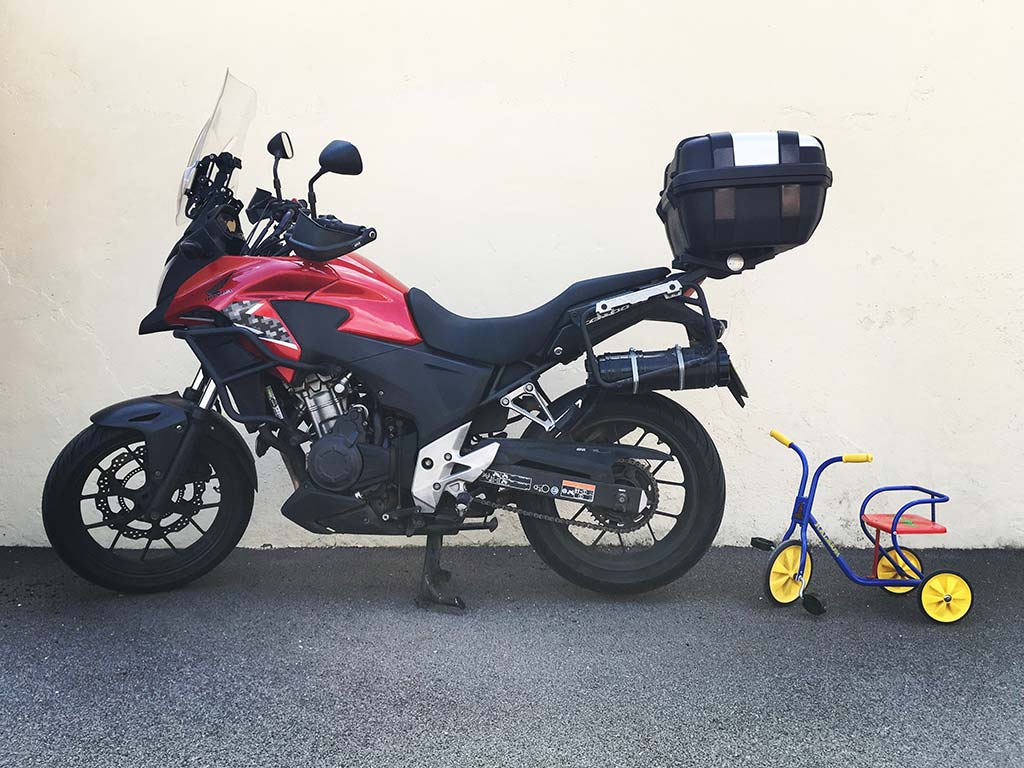 The natural chatter between bikers ensued and it turned out that, in his sixties, he was returning from his first ever bike trip abroad. He'd been riding the GS in the UK happily for over a decade, but during a moment of bravado, fuelled by a few pints at his local pub, he had agreed to join a group of friends on a trip to the south of France.
It was heartwarming to see how proud he was of himself. A trip like his, or mine for that matter, would seem nothing to a round-the-world veteran, but adventure is relative to your own experiences. For this guy, a blast through France was a journey into the unknown. He broke free of his comfort zone, conquered fears and felt that adrenaline rush of exploring new places. I could relate to this likeable chap.
---
The Bike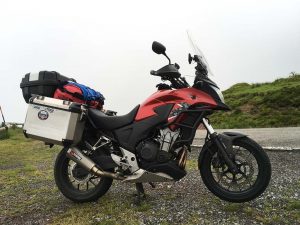 I ride a Honda CB500X. Even before I passed my motorcycle test I knew I wanted to travel abroad on two wheels. For a first bike, I needed an all-rounder that could potentially carry me across a continent and commute through London with ease, but that was manageable enough to develop my riding without biting me in the backside.
The CB500X ticks all those boxes and it helps that it looks pretty cool. For £5,500 I got a cracking little bike that will squeeze 250 miles out of a tank of fuel. It has bulletproof reliability and will do moderate off-road work. I just wish Honda had given it a louder exhaust.