Duncan McCallum throws himself in at the deep end as he explores Oregon's vast network of off-road trails
My goggles were opaque now. The fine rain had turned into a thick, cold and steady downpour that had changed the dust into a fine slippery paste. The 250 Yamaha that I was riding, one of the three 'odd men out' in the otherwise exclusively 17-bike orange crush ahead, floundered over a big rock, kicking up a small plume of once buried dust and covering my goggles with a brown film of muck. My goggles were useless now.
Despite the plummeting temperatures, I was a fraught, overheating mess. Soaked to the skin, semi-blind and at the tail end of the group (apart from the sweeper rider), I was barely hanging on to my composure. I was only 20 miles into the ride and thoughts of hopping on the chase truck at the next meet-up were already filling my helmet. It was only 9:30 am, and I was fried.
The High Desert Adventures two-day ride in the Oregon backcountry had been billed as an intermediate level ride, but as soon as I watched the trucks unload their bikes and riders the evening before, in Prineville's Best Western car park, I knew I was in trouble.
There was no doubt about it, these guys meant business. There were 15 KTMs of various sizes, from 250 two-strokes to 525 EXCs, all modified in some way or another, confirmed that I was going to have to jump straight into the deep end from the get-go. A beer and banter fuelled night soon gave way to a 6 am breakfast call and a safety briefing which was remarkably brief, even for my 'let's get on with it' European standards. I signed the disclaimer that I did not read and straddled the bike that was going to tank me across the landscape for the next eight hours.
After a respectful burble through the town and a sedate 55mph stretch of road, we hit the first dirt track. I then knew it wasn't going to be a green laning jaunt between pubs. Within seconds, the first bikes were off, doing 70+mph and kicking plumes of dust mixed with two-stroke oil high into the morning air. The qualifier came all too soon. A 30 degree rock-strewn 800m hill climb.
Using the excuse of photographer's privilege, I backed out, skirting around the monster incline to take pictures of the riders coming up the direct route. My rookie, limey weakness was now fully confirmed to the hardened group of American MX and enduro riders. "Fuck it," I thought. I had never ridden a proper MX bike before, and I wanted to survive the weekend, or at least until lunch.
The morning's status quo was quickly established. Two groups of riders from Washington State led the charge, followed by three good randomers who were then tailed by 'WR Jake' and I. Ten miles later on the heavens opened and I began to deal with my own personal challenge. Semi-blind and struggling to keep up with the group, I surged through a narrow desert, along a single track trail that was covered in deep sand.
The bike weaved between the harder edges of the two-foot-wide track, the front wheel diving into the channels left by the other riders. Deeply unnerved and gripping too hard, the pump in my forearms was now almost unbearable and my arms felt more battered than on my most trying days of rock climbing. Fear locked up my legs and shoulders as I fought to keep the front wheel pointing where I wanted it to go. The rain had now fully penetrated my gloves and was turning my hands into prunes. The blisters were already forming.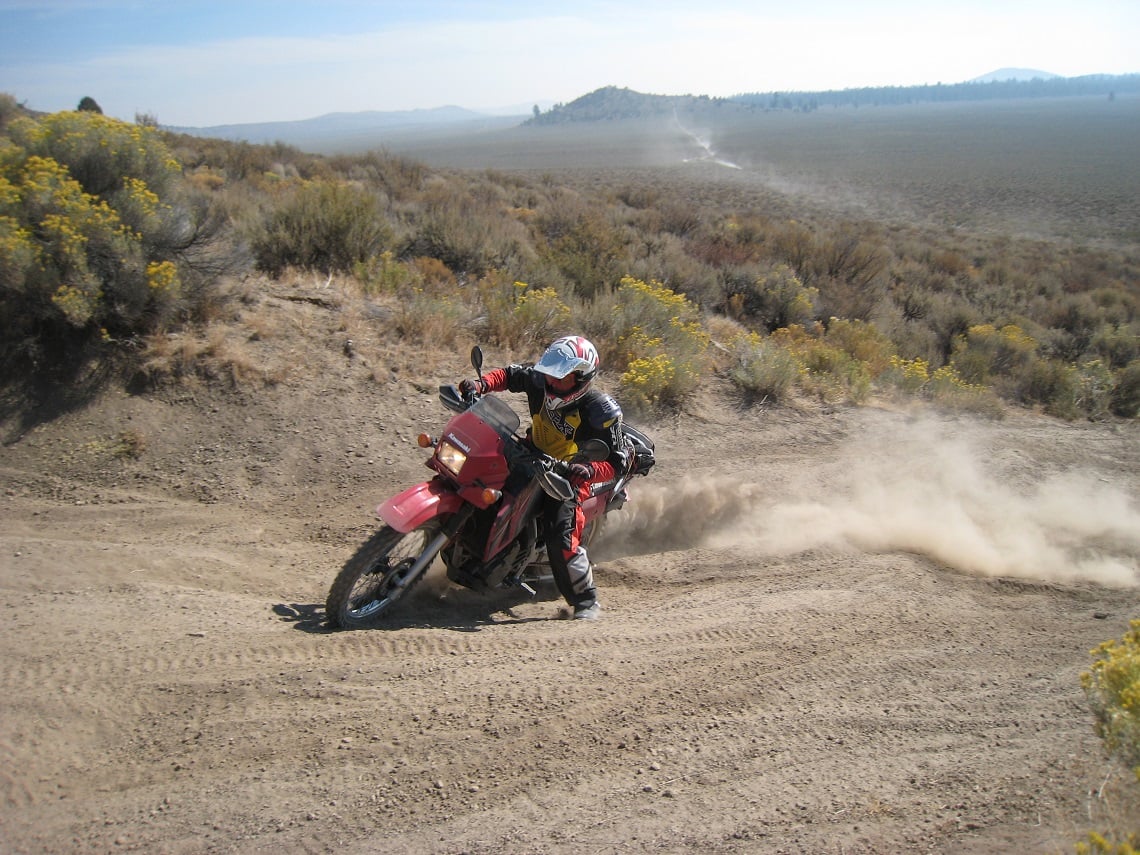 The track dived into a ravine filled with boulders and became what I thought would have made a respectably difficult double black diamond mountain bike track. The tyre-wide gaps between the boulders were peppered with short drop-offs and stuttering step-ups required, on my part, foot paddling and short bursts of power. As we climbed out of the ravine we were faced with a track through thick trees that was just over bar-width apart.
After 30 minutes of slow, hard enduro, I bumped into the group who had stalled at a tough step up and were waiting for the narrows to clear. Greg, who was acting as one of the chase riders, gave me a thumbs up and I confided in him that I was at my limit and would have a rain check on my desire to carry on when we met the truck. Two hours into the ride and I was barely hanging on. I knew I could not go on like this, sweating, soaked, pumped and struggling. I had to change something.
My goggles seemed to be performing better than most, but after another 200 metres of peering through the equivalent of a dirty shower curtain, I ditched them and went goggle-less. Taking the warning about low-slung desert pine branches seriously, it wasn't an ideal position to be in. I came to the conclusion that it was the lesser of two evils though, the other option was carrying on without being able to see, risking falling off the track and crashing.
Now, able to see and having decided to ride at my own pace, I began to steer through the tight stuff with my feet, and when it got really narrow and rocky I sat and pushed through, feathering the clutch and letting the suspension take the hits. Slowly the terrain and I started to relax.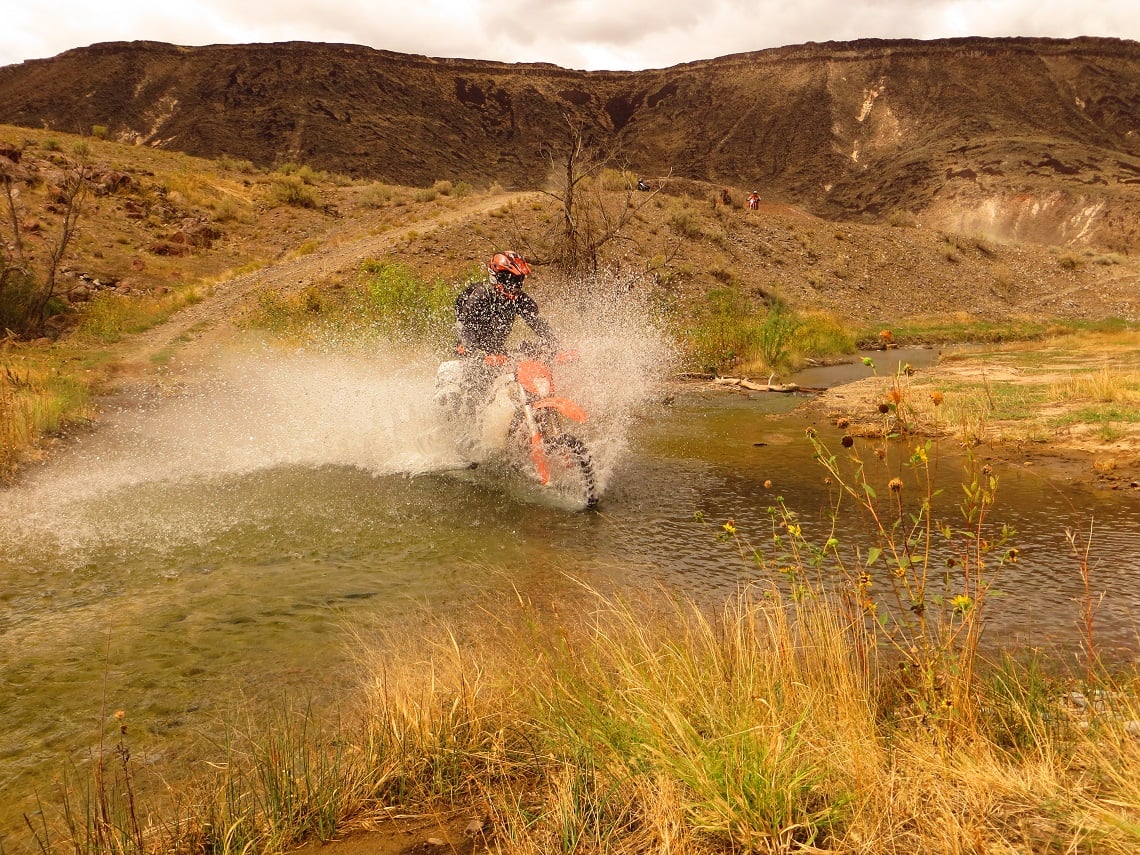 A short section of dirt road provided just enough of a respite for me to have a think about what I was doing. I began to look further ahead and let the machine move around underneath the pegs, rather than staring at the front wheel and trying to fight it all the time. Simple stuff really, and it is what I know, but it seemed to have abandoned me for a while under the pressure of the day.
I met the truck with thoughts of abandonment fading, well, at least until lunch. We dropped out of the Millican Hills, to the East Fort Rock OTV trail system and into 200 miles of specially marked and designated quad, 4×4 and motorcycle trails through a thickly forested area. After a quick refuel, we mounted up under the clearing skies and set off into the forest.
This is a motorcyclists playground as miles of inter-woven trails thread the canopy. My self-talking to had worked, and the bermed switch-back singletrack proved to be world-class riding fun. It was like riding the best mountain bike trails I had ever seen but on a 525cc monster. It's here that the KTMs fitted with Rekluse clutches shined, the bikes performing exceptionally well at slow speeds, allowing you to fully use the bars and engine torque on run-ons.

This is as close to the feeling of tree skiing you can get on an enduro, as the trees tightened, the bermed corners banked to 30-40 degrees, pushing you from one twist to the next, offering a flowing type of riding that I had never experienced before. I never imagined an enduro bike doing this, this is trail riding at its best, and people come up here to camp over the weekend just to get the chance to ride these fantastic pistes.
High Desert Adventures run a tight ship, with a backup truck carrying spares, food and fuel. Lead and tail riders navigate and sweep the trails as the days unfold. Lunch stops are often in the forest or on the trail as towns are few and far between. After a couple of hours, we cut out of the forest and headed towards the hunter's lodge hired for us in the romantically named Silver Lake.
Skirting the base of the Paulina Peak Volcanic Park, fast winter Skidoo trails took us back onto some complex and rarely used forest trails. Thick pine needles covered deep white ash and sand making for challenging fesh-fesh style riding where proper technique was required and an enforced tree endo reminded me to not let confidence get too far away from ability.
Cold, wet and tired at the 4 pm refuelling stop near Highway 31, the choice was made by the group to bail out and head for beer and showers. The alternative, another two hours of sandy trails, proved that even the best riders were in need of a rest. The prospect of a miserable 40-minute road ride seemed a safe call considering darkness fell in two hours and the margins were getting tight if something happened in the woods.
Silver Lake turned out to be anything but romantic.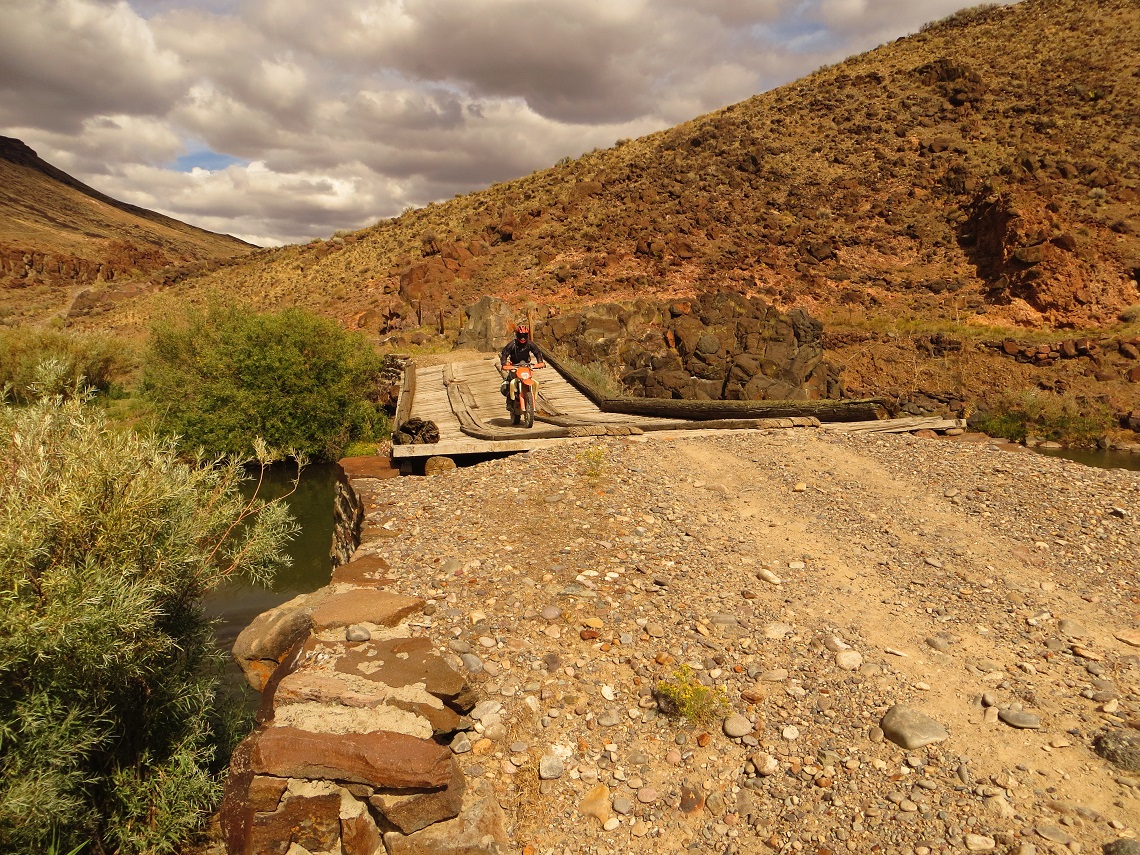 This small, once vibrant farming community was a reminder that most of the Oregon badlands, and indeed the whole of rural America, are filled with dying and depressed communities. Isolated and bypassed by long-range, fuel-efficient cars, large farms and alternative faster roads leave many a small town dying and rotting in their foundations. Abandoned buildings and businesses still filled of their owner's tools, rust and collapse by the highways.
The sense of abandonment and hopeless confusion is palpable, as drink and meth creep into the souls of those left by the side of these roads. The name of the hunting lodge helped reinforce this feeling of a dying outpost. Hells Acre 'Lodge' turned out to be an old rickety hunting cabin crammed with an odd mixture of abandoned fishing gear and random beds with dubious covers and blankets.
An enforced sense of being in it all together was compounded by the fact that there was one shower and toilet between the 17 of us. Whilst we share a common language and the veneer of a common understanding and culture, the more time I spend in the USA, the more I realise it is its youth and sheer size that seems to create its biggest contrasts and challenges.
Oregon's main high desert town was only really settled in 1850, almost within the stretch of memories of older grandparents. Whilst we were building the V&A museum and looking at the start of organised football leagues and clubs, the first dusty wretched wagon trains were still being harried and attacked by Native American tribes who were being forced and pushed out of their traditional hunting grounds; they have been there for 400 generations, European settlement is only really four generations old.
In a way, it still feels like a frontier and the prevalent attitude is still one of self-reliance, personal survival and independence from distant government interference. The recent school shooting in southern Oregon is less seen as a gun control issue and more as a mental health issue.
The fact that the tools of mass shooting are more readily at hand, seem less important than the need to feel independent as an individual and to maintain the right to bear arms under the second amendment (can you not amend an amendment?).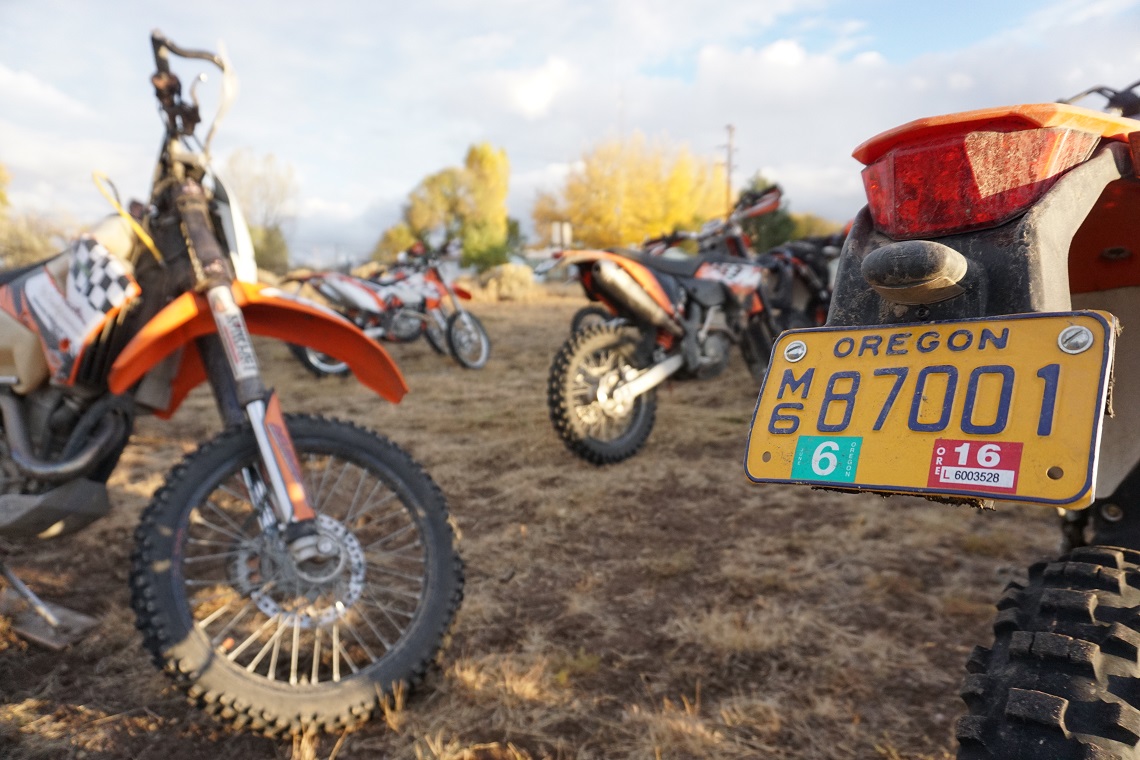 These topics and more were raised during a dinner at the excessively generous Cowboy Dinner Tree restaurant, where the alcohol-free menu consists of a 30oz steak or a whole roast chicken per person. The vodka sneaked into the lemonade, like kids at a school disco, helped fuel the debates over the impossibly large amounts of food sitting on the table. Western culture in the USA and its growing pains can be heartbreaking, but its energy and enthusiasm are equal to its diversity and contrasts.
Bend Oregon, the nearest large town of 100,000 people has 27 microbreweries, four legal cannabis dispensaries and more mountain bike shops per head of population than any other town in the state. It floats on a cloud of informed solar powered liberal activism, but stretch back east into the high desert and it's pretty easy to trip over a tough frontier spirit supported by a strong faith in God and Country.
The rain continued into the night, as did the drinking of various spirits, conversation and laughs as friendships were cemented. The biker's dorm soon groaned under the combined weight of 14 men and drying gear. The un-aired beds stank of what I hoped was stale air and not animal nests. Earplugs went in, and the snoring commenced.
The morning's wake up call was typically cowboy. The warm smell of fresh coffee drifting skywards as the sun in the dawn.
The Java quaffed, blue two-stroke smoke filled the air as the engines warmed, we stretched our limbs with the rising sun, the morning shafts of penetrating warmth soon turning into an autumnal low slung blanket of full desert morning light.
With the new dawn still fresh, many more dusty miles came, that day the bike slid, surfed and skipped through the amazing dusty landscape, volcanic plugs, craters and trails of 160 miles of bucking roaring fun. At times the bike and I felt connected. Over rock and canyon, mountain paths and rocky forest trail the day unfolded into glorious faded Kodachrome.
Trail after trail, mile after mile of Oregon's finest.
---
Want to trail ride in Oregon?
Duncan flew from London Heathrow to Portland OR. Flights can be found for £500 return if you book early. A hire car is the best way to get into the High Desert from the Oregon coast, which takes about four hours.
High Desert Adventures (www.highdesertadventures.net) is run by Greg Munn and they offer a variety of single and multi-day rides, either truck-supported or self-guided based out of Prineville OR, with some out of state tours in Colorado and Baja.
The town of Bend, Oregon offers the best accommodation and facilities and is well set up for visitors. Equipment can be bought from (www.atomicmoto.com) Atomic Moto in Bend if you forget something or want to travel light.
If you want to ride your own bike in Oregon, Moto Freight currently offers air freight from London to Portland for prices from £1,135 for a BMW R1200GS sized bike.
Visit www.motofreight.com for more details.
Extra info 
The tour was billed as an intermediate ride, however, do not underestimate the skills and fitness required enduro riding at a highish level is required even on the easier tours.
Go prepared and take a refresher enduro course if required, be ready to ride 150+ miles of off-road trails per day.
Typical adventure clothing may also be too heavy and MX gear is the better option; be prepared for the heat and dust and/or snow if you travel in early spring or late autumn.
The best seasons to travel in will be spring and autumn as the summers are so hot, late September/early October are perfect.
The locals tend to ride in MX gear and wore silk liners under their gloves to prevent blisters as the desert dust is sharp and fine.