John Norris discovers the joy of exploring the remote mountain trails of the French Alps
My friend Richard lives above his storage business on an industrial estate. A small one, granted, but nonetheless, he is surrounded by utilitarian buildings, purposeful looking vehicles, and a certain amount of scrap. By day he can be found amid the clatter of machines and people going about their working day. It certainly isn't an obvious place to go in search of pristine mountain trails, but Richard has a trump card. He lives in the Alps.
I had just arrived at the ski resort of Chamonix with the intention of enjoying some winter hiking when a photo and message came through on my phone. Attached was a picture of two very skinny motorcycles, accompanied by a caption. 'Shall I get these two out of hibernation?' it read. I hadn't planned to ride during the trip, but I've learned over the years that spontaneity can lead to the best of times, and so my reply was a simple yes.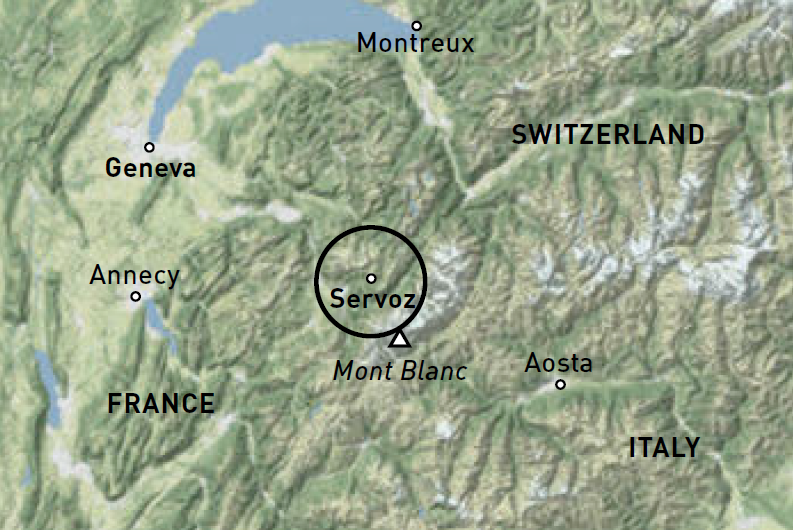 A couple of days later, I arrived at Richard's place near the village of Servoz, located just outside the Chamonix Valley. Immediately, I checked out his brace of Scorpa 125cc trials bikes.
I wasn't familiar with the lightweight machines and, as I wheeled one out of the garage, it felt a bit like a toy. Seeing my sceptical expression as I perused the absurdly small seat, Richard tried to reassure me: "You won't be sitting down except on the occasional very short stretch of tarmac." "Any tips?" I asked, still looking doubtfully at the spidery machine that barely reached the height of my hips. "Trust the bike", he said. "It's way more capable than you are."
We rode the first couple of miles on a winding stretch of tarmac through beech woods. Then, with a brief hand signal, Richard turned off the road and up a seemingly vertical stony track. Without time to hesitate, I followed. When he stopped to wait for me, I shot straight past him, my rear wheel spinning and slithering on the wet stones and mud.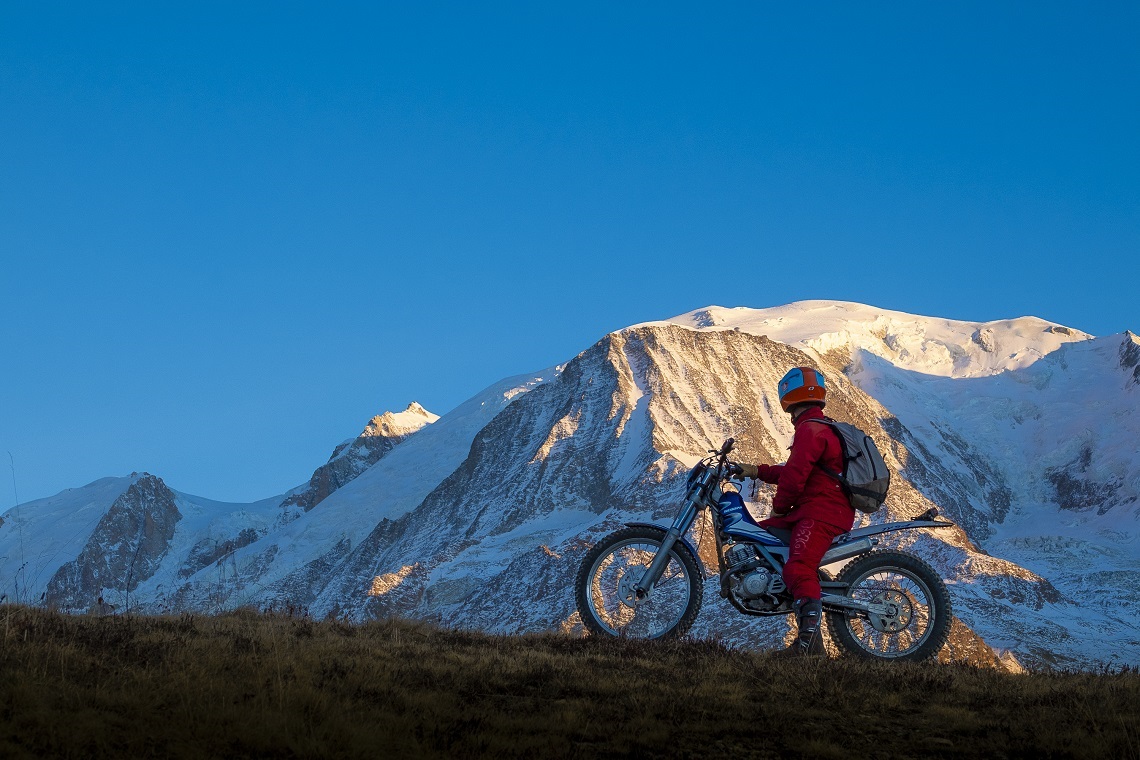 "I'm not bloody stopping if I don't have to", I shouted as I scrambled past him up the climb. At the next bend, Richard cut past me on the inside spraying wet leaves into the air. We pulled to a halt on a level patch and killed the motors. We were deep in a beautiful forest with a damp eerie fog filtering through the trees. While we chatted, the little Scorpa ticked quietly as it cooled.
"By the way", Richard said. "If you come across a 4×4 vehicle, always pull over and stop on the inside of the trail. You don't want to get nudged off a mountain road. With some of the steep drop-offs, you could go a very long way down."
We carried on winding our way up the hillside through the fog, the two bikes finding grip where I would not have thought possible. We passed Lac Vert, a beautiful lake where once I'd photographed a paraglider skimming above his own perfect reflection before he ditched in the shallows. As we climbed, the dark woods seemed to brighten and on reaching a collection of deserted alpine chalets, we could see we were about to break out of the fog and into sunshine.
Vertical rock
Ahead, the mighty vertical rock faces of the Pointe d'Anterne mountain reared into view above us. Against the blue sky, I could see the airy overhang that base jumpers use to launch into the void. Now we were riding along a sun-dried rocky trail and passing remote little chalets used as summer holiday shacks by French families.
At this time of year, their owners usually go about closing them up for winter, bolting the shutters, stacking firewood undercover, and enjoying a little winter sunshine. We found an unoccupied chalet, parked the bikes, and sat on a bench to enjoy the view. Across the valley, rising out of a sea of cloud, was the Mont Blanc mountain range in all its majesty.
The view revealed the Queen of the Alps mountain, flanked by the famous Aiguille du Midi and the jagged summits of the Aiguilles de Chamonix, as the sun dropped quickly away towards Geneva.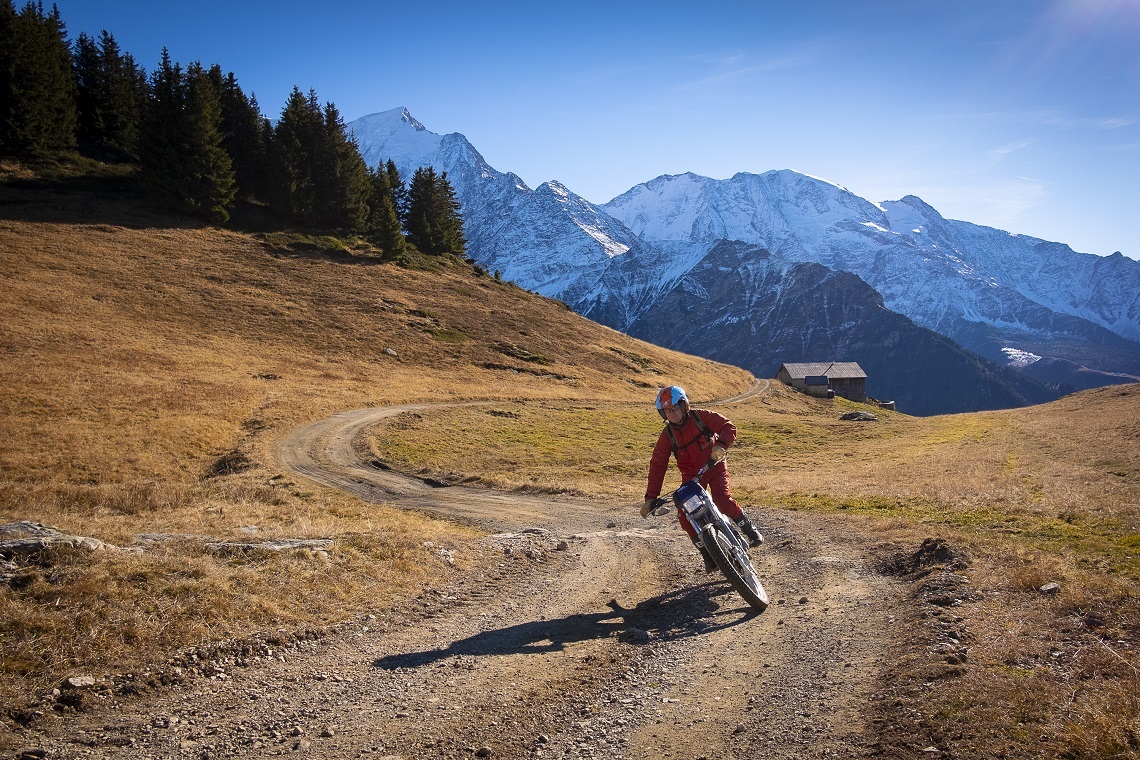 "We'd better get going. It'll be dark soon down below," Richard said, and we began the long descent passing under the ski lift cables of Plaine Joux resort and back below the tree-line. The drop in temperature was remarkable.
Soon we rolled onto a single lane tarmac road where Richard set a typically fast pace. We had a blast tearing around scores of tight hairpins although I found it a bit disconcerting that, with the bikes designed for stand-up riding, neither of us could operate the back brakes from our crouched sitting position.
Then, as I rounded a bend, I saw Richard had skidded to a halt leaving a long black mark along the road. His rear sprocket had worked loose and the wheel locked. Proving the worth of a decent tool kit, he set about fixing the issue which was thankfully our only mechanical glitch all day.
Back at the house, despite being tired and aching from several hours of riding, I tentatively suggested that if the weather was good again in a few days, we might get another ride in before the snow came. "I won't drain the tanks for winter just yet," Richard said, ever the optimist.
Back to the mountains
A week later, the weather was indeed good, if a little cold, and so down the valley I went, kitted out as I had been for our first ride in anything I could find. Hiking boots, some knee and shin pads, ski salopettes, a Gore-tex mountaineering jacket, a down jacket for emergencies, ski gloves, and so on. I also borrowed a helmet courtesy of Richard that thankfully fitted very well.
I was glad I'd wrapped up because the temperature was several degrees below zero and there was a heavy frost. While his breath hung in the air, Richard explained our ride would begin with a tortuous hairpin climb on tarmac. "Don't worry", he said. "I promise you won't run out of grip on these bikes."
He then set a blistering pace up the hillside on a road glistening with frost crystals. I've survived being a year-round motorcyclist for many years by maintaining a cautious respect for icy roads, so I was not about to personally test his grip theory. Climbing steadily at my own pace, I soon discovered the incredibly light bike, combined with its wide bars and grippy tyres, was very confidence-inspiring. But all the same, it was a relief when we left the tarmac and began the off-road adventure proper.
Remote Trails
One of the advantages of riding in the Alps in winter is the fact the tracks and trails are at their quietest. We didn't see more than a handful of 4×4 vehicles and there were no other motorcycles, just a few hikers. What we did see all over the hillsides were hunters. Hunting season for Chamois and wild boar is quite short so locals make the most of the time they have.
Typically, they wear hi-vis orange, although sometimes this features a black camouflage pattern printed on top which seems something of a pointless contradiction to me.
In any case, the bright colours are worn so hunters don't shoot each other but it didn't stop a mountain biker being shot dead one year (despite wearing bright clothing), or numerous hikers being mistaken for freezer fodder. So, I was glad the little Scorpa gave at least a whisper of warning that we were coming through.
Somewhere near Bionnassay, I pulled over for a chat with a hunter who was standing by the trail. He told me he was after sanglier (wild boar) but had only seen chamois which didn't interest him. He asked me about the bike and assured me it wouldn't be mistaken for a wild boar before we said our goodbyes and I carried on down the trail.
Some of the tracks we rode can get quite chewed up by 4×4 vehicles so, in some ways, the hard frost made the going easier. Every now and then we'd catch a glimpse of the valley floor through the trees or look up and see a snowcapped peak. And occasionally, we'd come across a tiny hamlet perched on a small plateau where the ancient buildings overlooked shaded valleys and mountain ranges.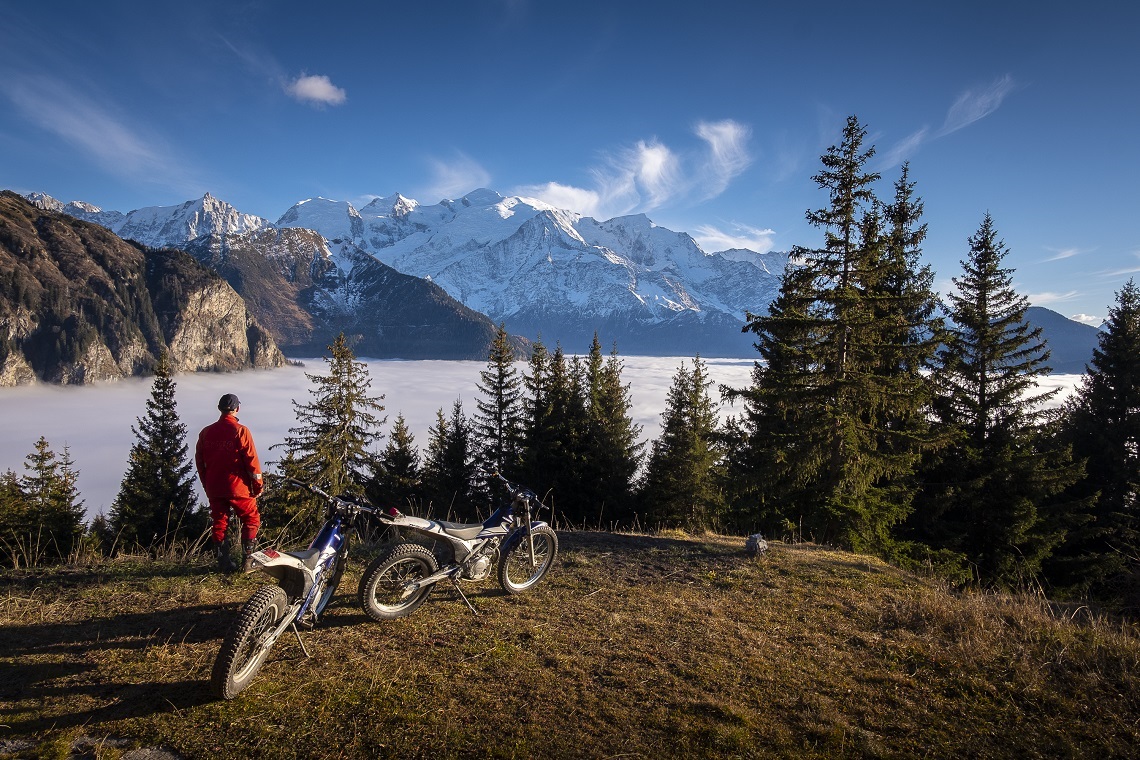 These are the kind of places that get bought and sold by word of mouth among those in the know. As we passed one such place, an elderly couple on their balcony were enjoying bread, cheese and a bottle of red. They gave a friendly nod but an invite to join them sadly wasn't forthcoming.
After riding a seemingly endless descent, we crossed the Contamines Valley and began a steep climb up the other side. Near the top of a ski lift, we paused for sandwiches and Richard produced a snifter of rosé. We raised a toast to the joys of old friendships and motorcycling in all its many guises.
As soon as we got going again, we rounded a hillside where, at an altitude just short of 2,000m, we came across our first snow. Initially, I didn't think this would be a problem given I quite enjoy riding on fresh powder. However, this stuff had fallen a couple of weeks earlier and had freeze-thawed several times until it became hard glazed ice. It now had a dusting of powdery snow on top for good measure.
It was almost impossible to walk on let alone ride a bike across but we gave it a go anyway. Frustratingly, standing up in any position left the back wheel spinning and slithering. We deflated the tyres but it made no difference. I tried sitting right back to get some weight on the rear wheel, but still no joy. The bikes simply would not move from the spot.
Walking alongside them proved almost as difficult and so much effort that we were stripping layers off and still sweating profusely. Eventually, having made little progress and with few daylight hours left, we abandoned this part of our loop and Richard picked an alternative route to get us headed for home. Once back down into Contamines, we filled up with petrol and I was amazed to see that, although we had been riding all day, we had only used about £6 worth of petrol between the two bikes.
A gem of a Bike
By now I was getting familiar with the Scorpa and I was beginning to appreciate this gem of a machine.
The front-wheel would bounce off loose rocks, skipping sideways but immediately holding its line again.
Slithering over polished rocks it would somehow always find grip and I was enjoying picking a line along the mountain trails.
Richard was right, the bike was more capable than this rider at least and it was giving me huge confidence despite my limited experience.
On the last climb of the day, we crossed the funicular railway tracks of the Tramway du Mont Blanc and topped out near Le Prarion in the ski area of Les Houches, just as the peaks of Chamonix were turning orange in the setting sun. It was a hard sight to drag myself away from, but the temperature was already several degrees below zero, and by the time we'd snaked our way down 1,000 vertical meters to Richard's garage, it was well and truly dark.
Despite the cold, I'd enjoyed an unexpected and thrilling couple of days' worth of riding in the mountains. And it turned out I'd timed my trip perfectly because, in a matter of days following our last ride, the Chamonix Valley was buried under metres of snow, and the little Scorpas had been put back into hibernation. They'd have to wait until the spring for their next adventure.