COL PLAY
Dr Mike Leahy and cohorts are on a top-secret col challenge in the French Alps, but which peak sports the best biking passes?
For the last eight years, my little brother Aidy, main mate Jez and I have toured parts of Europe together just for the love of it, on-road and off. We've randomly chosen an area to visit and then found nice mountain roads and tracks to blast around once we got there, with no specific aim other than to enjoy ourselves – and it's been great.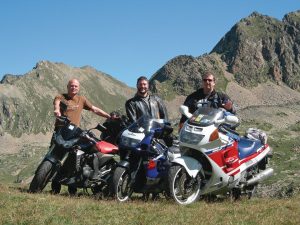 But none of us could decide which European mountain passes were the best to ride. The names of most were long forgotten, and we knew that there were some high passes which we hadn't even visited, so a plan was hatched. As we sat in the pub it all began to sound a bit Top Gear.
Three blokes with dubious riding ability and an unfortunate sense of humour choose three contrasting machines and set themselves a challenge: to ride the 10 highest mountain cols in France, compare, contrast and rate them.
The main differences between our plan and a typical episode of Top Gear were that it wasn't contrived, the results weren't going to be fixed, and we'd thought up the idea – not some 20-something metrosexual behind a desk at BBC White City. It all seemed so obvious.
The strategy, as in previous years, was to disguise six days away as a 'long weekend' (to placate our women folk) and ride as hard as we could while giving plenty of time for maintenance, repairs and liquid refreshment.
Who's Riding?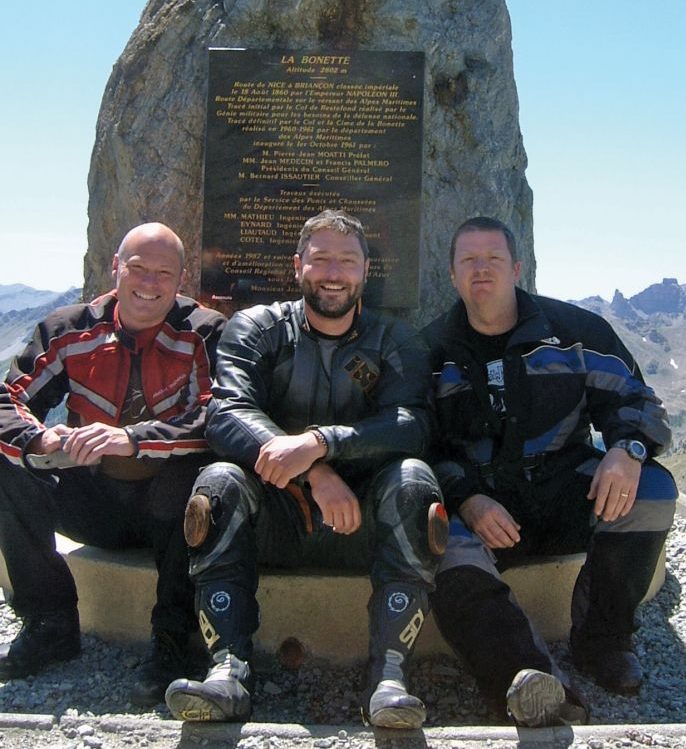 | | | |
| --- | --- | --- |
| Dr Mike Leahy, 46, lifelong bike enthusiast, virologist, exmechanic, failed TV presenter and regular contributor to ABR mag. He's worked (and ridden bikes) in around 50 countries, but rates the mountain passes of Europe as the most beautiful and rewarding roads to ride in the world – bar none! | Aidy Leahy (Mike's baby brother) Experienced paramedic, adventure travel junkie, and contributor in issue 3 of ABR. He has an uncanny ability to smile his way innocently out of just about any situation – and regularly needs to! A great riding companion, but god, he snores! | Jez Hawthorne, 40, IT consultant, ex-mechanic, two-wheeled kleptomaniac, outdoor enthusiast and all-round good guy. An experienced rider and competitor with an unusual taste in bikes (Can Ams, old Brit stuff, BSA Dandys, and 1970s Bultacos) he's a natural ABR and the best mate a bloke could ever wish for. |
And they're off!
Day 1: After an evening ferry and a quick overnight stay at Arras in Northern France we leave for Uffoltz, near Mulhouse. The route takes us through the Vosges Mountains of Alsace, a hidden gem, rarely the focus of British motorcyclists and an interesting alternative to blasting straight down the autoroute through Lyon before heading east.
Day 2: Six hundred miles of mountainous twisty roads await as we get stuck into our top-10 mountain passes. We're out by 8 am, a little later than planned, but as ever a night at the Auberge du Relais results in lots of drinking. By 9 am we're filling up in Switzerland. Not my favourite country. It's crowded, the traffic is slow, there are endless road works, lower speed limits, fuel is expensive and filtering illegal – plus they charge us road tax while we allow them to drive in the UK for free!
Our first pass will be the Grand St Bernard. At 2,469m it's situated on the Swiss border. As the road climbs, the uneven surface sweeps in long sinuous bends. There are progressively fewer cars and the road gets narrower. I brake as I enter a bend where the road crosses a mountain stream, then cross a bridge constructed of slippery wooden planks. My heart misses a beat.
The bends get tighter; the crude suspension on my Z gets bouncier as the bumps in the road become more pronounced. Another set of road works appears from nowhere. Cars and BMW GS motorcycles approach us. For some inexplicable reason, neither seems able to use any other part of the road than the very middle, making the job of overtaking cyclists toiling up the pass even trickier.
I take to the loose grit on the verge to avoid them. The Z spins its back wheel producing clouds of dust as it drifts back onto the tarmac. I smile. At the top, you can buy huge cuddly St Bernard dogs and ridiculously expensive coffee.
The Italian side is much better. Far smoother, and for Aidy on the GSXR, it's time to enjoy the long, fast, sweeping bends to the full. Locals and ramblers encourage us to crank it up as we race each other. I sense a presence, rather than hear or see anything behind me, and glance in my mirror to see a race replica on my tail.
Still riding quite fast (by my standards) I make room for it to pass as we enter a hairpin. As I am hard on the brakes an Italian-registered Aprilia RSV Mille accelerates past me and 'backs' into the corner in a dramatic drift. The rider waves to me with his left hand at the same time. That moment never leaves my memory, which is why a black RSV Mille is now a firm part of my bike collection.
Grand St Bernard: 2,469m and a score of 7/10.
Bonjour, Les Alps!
After a tedious ride across a flat Italian plateau we are finally ready to ride the first all-French top 10, which will ease us gently into some of the highest roads in Europe. Although beautiful, in the company of passes we had ridden before, the Petit St Bernard is nothing exceptional.
It starts reasonably tight, opening out as it hits highland pastures, with wide vistas and fast sweeping bends, but it isn't without excitement as both Aidy and I hit loose gravel spread across a bend and ride dangerously wide.
Unbeknown to us and a short distance behind, Jez loses the front end of his trusty old CBR 1000 and nearly bins it. We pass another Z1000 cruising along, admiring the scenery. The shapely pillion wears lightweight trainers and no socks. Towards the top, the hairpins become tighter and tighter – so tight that on a couple I'm slipping my clutch in first gear.
I feel sorry for Jez on the old heavyweight he's riding. At the French border there's an amazing variety of bikes, but just like the Italians, the French love their Z1000s. I'm told by a French rider that more Z1000s are sold in France each year than the total number of bikes sold in the UK.
Descending the Petit St Bernard is fun. Wherever I place my feet on the pegs I simply can't stop one part or another scraping on the ground. I finally pass Aidy on a tight hairpin. "Who's pretending it's a race?" he asks while smoking a fag at a beautiful viewpoint later that day with smile on his face.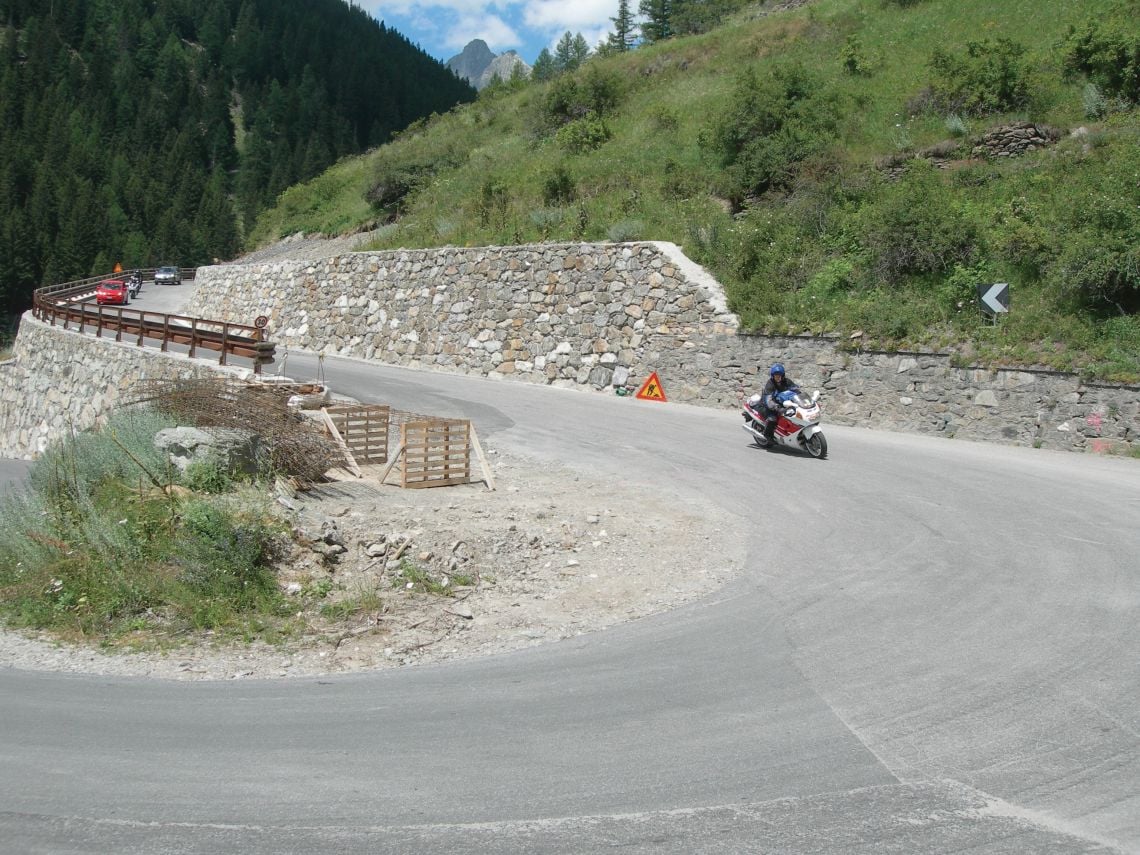 We both know that on an open road with no traffic we're both guilty of that one! God, I hope he never quits smoking. It's a great excuse to sit, relax, and take in the views. Petit St Bernard: 2,188m and a score of 6/10.
The Col de Izeran is one of the 'big ones'. In the 1960s it was the highest paved road in Europe. It's 100m lower than the gratuitous loop at the top of the 'Bonnet', and 11m higher than the actual Stelvio Pass, even if the road from the Stelvio to the nearby café may be slightly higher. By now I have calluses on my hands, and Aidy's left foot is bleeding from all the gear changing on his peaky little 750.
The road is truly rural, bumpy and narrow, with cows, bells hanging from their collars, being driven by clog-wearing farmers reminiscent of something from the middle ages. Maintaining any real speed is tricky, and I'm reminded of this when my elbow picks an argument with the mirror of a Citroen Berlingo. I stop and turn back to apologise, but the driver, a wrinkled old man simply grins and pushes his mirror back into place.
The road has a feeling of genuine exposure with steep drops to the valley below. My heart races; I'm scared of heights! Although this road is no terrain for race reps I can't keep up with Aidy, so give up chasing him and gaze at the truly remarkable scenery. With no tight hairpins and good visibility, Jez gave a score of 11/10. I found it tight, bumpy, spectacular and better enjoyed slow.
Perhaps I would have given a higher score, but the café at the top wanted €4 for a Snickers bar and served the worst cappuccino I've ever tasted. It didn't even have a bog! Col de'Izeran 2,769m and a score of 7/10
Weather or not
Then it begins to rain, which soon turns to snow – in August! Our next pass is the Col de Galibier, but because of the weather the day is fast turning into an endurance test, and the trip turning into the blur I didn't want it to become. We decide to leave the pass until the following day and stay in Lanslbourg, which is convenient, but the hotel smells of rodents. We also discover that the French can't make pizzas.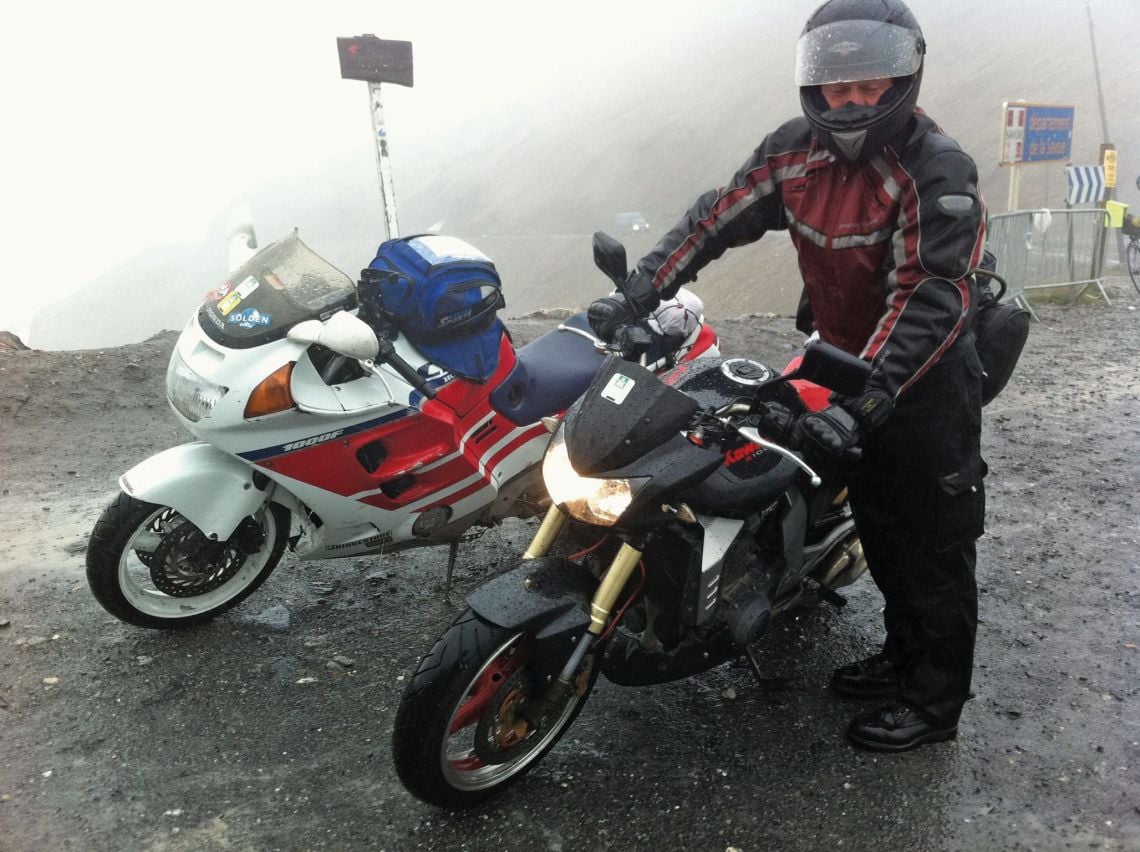 Day 3:  We set off early for a trip across the Galibier, always one of my favourites. The Tour de France will be here in three days. There are signs and pushbikes everywhere. Names are painted on the road and the atmosphere of anticipation is palpable. As we approach the road leading to the col it becomes evident that there is a 'pre-tour event' taking place and thick fog – so thick that cyclists are getting off at the top and pushing their bikes downhill.
I know that the Galibier, with its stunning glacier views and awesome road, can be sublime. But the weather can change things, and one rider's paradise is another's nightmare. I can't judge one of my favourite places on this one experience. Col de Galibier: 2,646m – score to be debated! At some point, we cross the Col du Telegraphie.
I didn't even notice it, other than that it had lovely sticky tarmac this year and wasn't too tight or challenging. I'm sure that it was nice enough, but the fact that I was unaware that I was on a mountain pass at all sort of sums it up. There are any number of amazingly scenic routes that can be taken to each of the top 10 cols, but our next target is the Col deL'Izoard.
The ascent starts with a lunatic 120mph race with Aidy (I only know that we were doing 120 because that's the speed that the rev limiter cuts the engine in third gear). I have trouble with shiny over-banding meandering all over the road, seemingly able to judge my lines to perfection, getting in the way whenever I really wanted to attack a corner. Wet tarmac and random dotted white lines don't help.
| The obligatory ABR sticker moment | Coffee or beer, Aidy? |
| --- | --- |
It's like threading a needle with a tiny eyelet. Diesel is so cheap in France that the locals also seem to like throwing it over their roads! At the top, the rough surface is falling apart. There is evidence of landslips everywhere. It feels as if the road could simply be swept away at any time. Narrow, tortuous, big exposure, full-on dramatic scenery. Not a pass to be ridden as if on a track day but in no way second rate. Col de L'izoard 2,361m and a score of 8/10 (if you're in no hurry).
I can't remember riding the Agnel pass before. It starts, as many passes do, with expansive open views. It's not steep, or particularly dramatic, but nonetheless, it is beautiful, reminding me of my cottage in the Scottish Highlands. We stop to fill up at a little garage in a small village, and while having coffee a brass band passes by.
In the company of other passes we're riding this one doesn't compare. But were you to see a road like this in the UK it would blow your mind.
Agnel 2,744m and a score of 7/10.
High times
By now that familiar blurry sensation is creeping up on me. I can barely remember what each pass looked or felt like. Perhaps this is a bad idea. Maybe cramming so many passes into such a short period of time will de-personalise them somehow.
How will I ever remember the character of each? Then we hit the Lombarde. It's stunning. No matter how many expletives I use, it can't come close to the reality. At the bottom, the road is tight and anonymous – too tight for the big old CBR 1000 Jez is riding. Of the three bikes, the Z 1000 copes best. As the road climbs it becomes narrower, almost single track.
I enter into the spirit of the road, overcook it, and nearly hit a truck, taking to the dirt verge to avoid it. As ever the Z isn't particularly flustered by a little off-roading, so at the top I decided to ride up a dirt track to a vantage point high above the pass, standing on the pegs to pick my way through the rocks.
The Z1000 may not have the best suspension or tyres for trail riding, but being compact and light with wide bars certainly helps. As I get to a dead-end and have to manhandle the bike near a sheer drop to the pass below, I'm glad I'm not riding a big, heavy BMW GS. I head off to join the others and look for a hotel for the night, but the long steep descent and perhaps my exuberant riding very nearly become my downfall. I enter a sharp hairpin and brake hard for the hundredth time. My rear brake pedal simply hits the stop. Shit! Vapour-lock.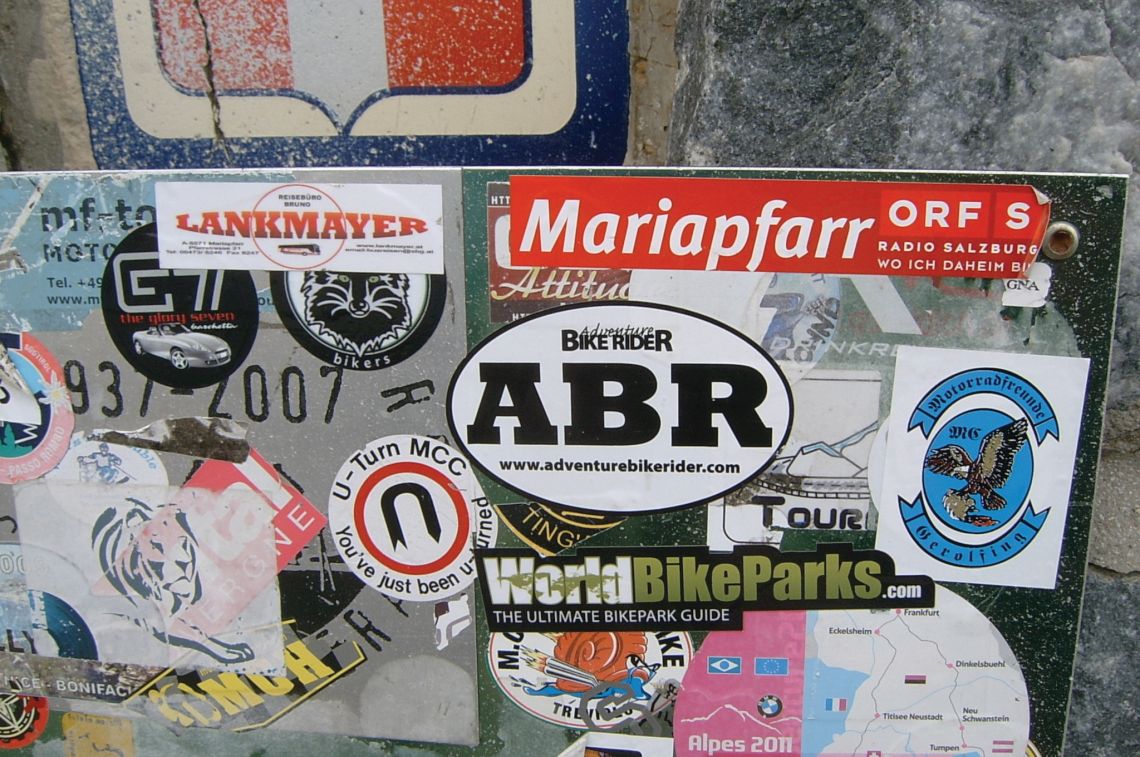 The last time the brakes did this was on the Stelvio Pass two years before. Note to self: change brake fluid annually. I limp to the hotel. Col de Lombarde 2,351m and a score of 7/10 We start our fourth day by crossing the Izoard again to have a second look at the Col du Galibier, but this time ride straight into a blizzard. I get the impression the Galibier isn't going to welcome us this year.
Based on this year's experience, we might award the pass a 5/10, but in reality, it would normally get an 8/10 score. We carry on heading for the pass most people accept as the highest in France – the Col de la Bonnet. We've been here many times before, and each time it's different. This year the tarmac is perfect. Because of its status, it's always very popular with cyclists and motorcyclists.
The top is very crowded, but the panoramic views and the steep ascent to the top of the Cime de la Bonnet are worth the ride. However, my 'new' rear tyre is squaring off. I'm really not overly impressed with the Dunlop Roadsmarts. They might end up lasting longer than the BT014s I used to fit, but within a thousand miles or so they feel terrible, and the rear wheel seems to be squirming around searching for grip.
What's the point of having a tyre that looks fine, but that has lost its performance? This is also the first time that I can feel altitude taking the edge off the power output, but that doesn't really matter on the way down. I put the balls of my feet on the pegs and try to keep up with some lunatic cyclists. Col de la Bonnette (2,715m/2,802m) and a score of 9/10. The Col de la Cayolle splits opinion. For me, it's a laugh a minute. The tarmac is very rough.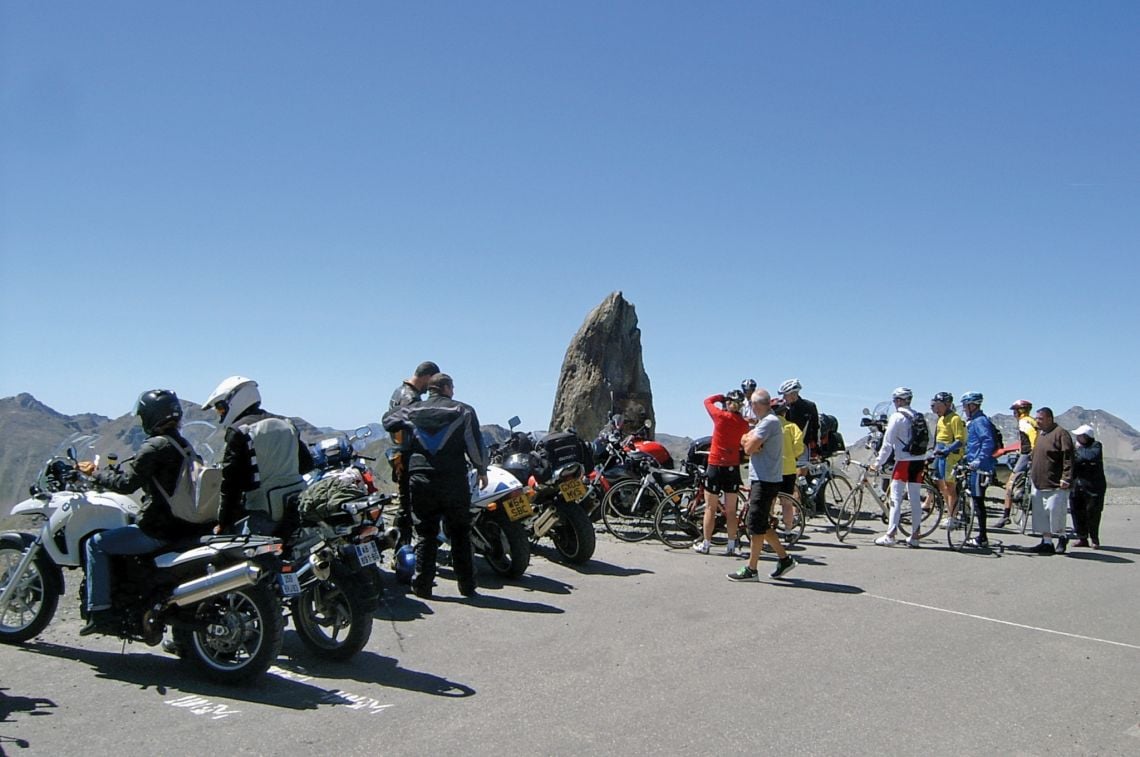 The road surface of most French passes varies each year, but this is more like an enduro track. We start in a deep gorge, following a picturesque river with stunning overhangs above us, crossing countless tight bridges. The road narrows with passing places chiselled out of the surrounding rock.
The Z 1000 suspension is crude and harsh, but I know that this pass suits me and my bike better than it suites the others'. I'm repeatedly bounced out of my seat, careful to plan overtakes so that I don't hit the castellated walls. As the pass rises the drop to the river below becomes bigger and bigger. We pass through some quaint mountain villages. My testicles ache from the repeated battering of my saddle. I stop for a coffee. The other two arrive four and a half minutes after me.
Aidy awards the pass 0/10, Jez gives it 4/10; the CBR hisses and drops coolant on the floor in disgust. Thankfully the other side was far smoother. Col de la Cayolle (2,327m) and a score of 9/10 from me.
In conclusion
Alllos 2,240m and Restefond 2,678m sort of got lost. And that sums up our trip. The Restefond got lost because it's totally overshadowed by the nearby Bonnet. And God only knows why I can't remember the Allos – although I do remember enjoying it, and I remember the 'man picnic' at the top. I think I simply ran out of superlatives.
Ironically, perhaps, one of the final passes we cross is the Col de Vars, which isn't a 'top 10' at all but was still one of the most enjoyable roads we've ever ridden, with a superb hotel at the bottom for only €45 half-board. Some might accuse us of just 'col-bagging' by aiming for our own French 'Top 10'.
However, after so many years touring the Alps we wanted to judge each mountain pass within the context of its neighbours. Did we succeed? Possibly not. But what did become blindingly obvious is that each pass cannot be seen simply as a road that crosses a mountain range.
Each one is a unique experience dependent on the weather, the state of the tarmac that particular year, your frame of mind, and the bike you're riding. And that's the key. Whether you're riding a BMW GS, an R1 or a Royal Enfield the French Alps have a lot to offer.
So do I regard our little exercise as futile? Not at all. Those four or five days were among the best of my life. After living or working in around 50 countries I still rate the French Alps as one of the most beautiful areas in the world. If you never ride a bike there you are missing biking Nirvana.
The Top 10 highest mountain passes in France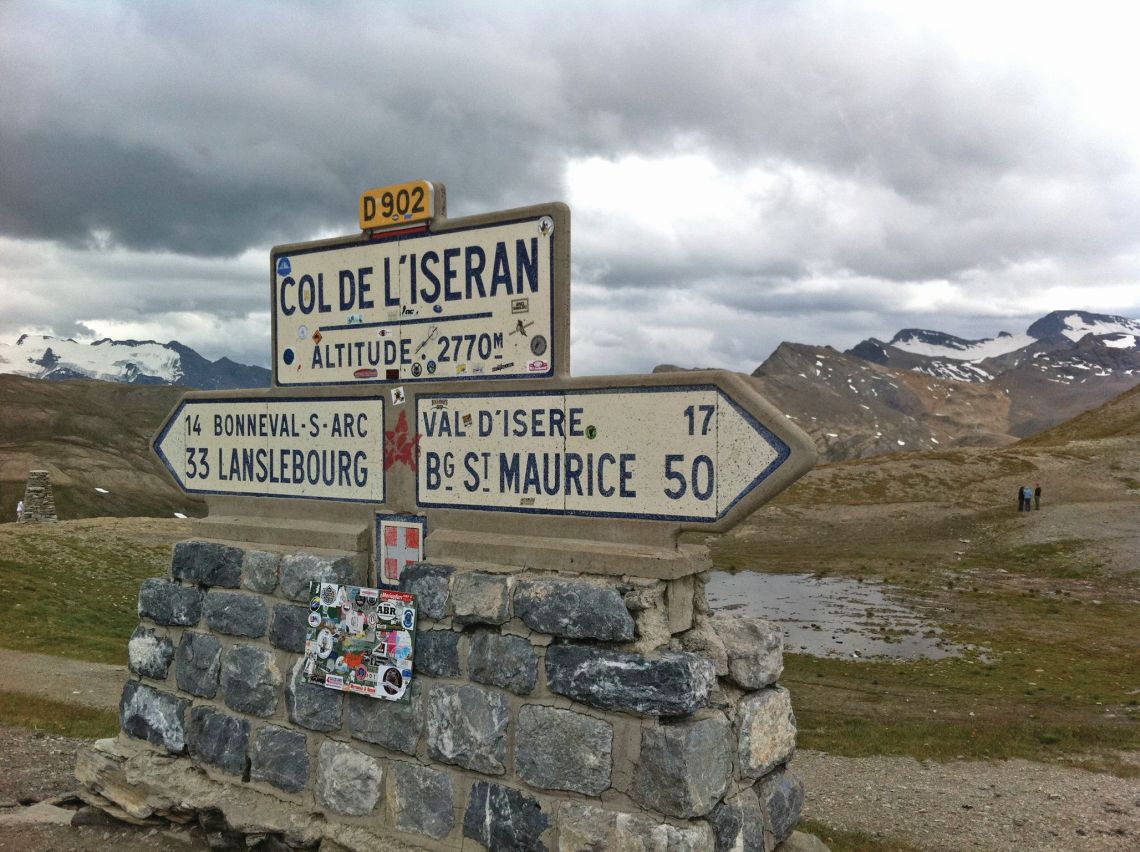 PASS
HEIGHT
1
2
3
4
5
6
7
8
9
10
Col de la Bonette
Col de Iseran
Col Agnel
Col du Restefond
Col du Galibier
Col d'Izoard
Col de Lombarde
Col de la Cayolle
Col d'Allos
Col du Petit St. Bernard
2,802m
2,769m
2,744m
2,678m
2,645m
2,361m
2,351m
2,327m
2,240m
2,188m
The Bikes
Suzuki GSXR750 S-RAD

A classically revvy Japanese race rep, with unacceptably loud exhaust, superb handling on faster roads, rock-hard seat and surprisingly good mirrors. It's Aidy's favourite Gixer (he collects them) but possibly better suited to the Nurburgring than rural France.

Honda CBR 1000

This 1989 model was an import from New Zealand and a total bargain for Jez who saved it from an early grave when some charlatan planned to stick its engine into a smart car! It's big, comfortable, reliable, powerful and smooth, but by 21st-century sports bike standards, it's hardly the sharpest knife in the drawer.

Kawasaki Z 1000

Mike's bike of choice for the last six years is the first of the 'new generation' Zs. With four silencers and bags of attitude, it's a chuckable, light, practical and simple no-frills motorcycle with an enthusiastic engine, wide bars, upright riding position, basic suspension and reasonable off-road ability.
——————————————-
Want to do this?
How long does it take?
Mike's six-day trip included travel to and from France, riding up to 600 miles in one day and around 300 on col days.
When to go?
Mike and the lads made this trip in August and still encountered snow. The general rule, though, is aim for British summertime. The weather can be changeable at any time of year, so go prepared for sunstroke and frostbite. Try to avoid weekends if possible as the passes are always busier and don't go during the Tour de France as some passes will be closed and others simply impassable due to the volume of push bikes.
How much does it cost?
Petrol isn't cheap in France; as we go to press it's 10 percent more expensive than in the UK and 20 percent more expensive than parts of Spain. Pint for pint, beer is no bargain either – so take the hint and drink wine! On a trip like this, expect to pay £400 in fuel, £45 for the ferry, £40 in autoroute tolls, £40 for a Swiss 'Vignette', £200 in accommodation, £60 in food, around £150 in tyres and brake pads, and finally £150 in beer! Of course, this could be reduced, and a longer trip wouldn't cost much more, but you're looking at roughly a grand.
Get there:
"We became sick of blasting down to Lyon on autoroutes years ago, so now take the A26 'peage' from Calais to Reims then head east on the A4 to Metz," says Mike. "From here there's a free autoroute down through Nancy to Epinal. This is easily ridden in half a day, costs only £20 in tolls, and if you think that we were daft for going so far east then you haven't yet discovered the Vosges mountains of Alsace – a bikers' paradise where you are highly unlikely to encounter another Brit. The Col de Ballon de Alsace and the Col de Grand Ballon might not be as high as the Alpine passes but they make up for it with their natural beauty, amazingly deserted sweeping roads, forested picnic sites and copious hairpins. From here it's a shortcut through Switzerland or a gentle toll-free stroll through the French countryside to the Alps and the high passes."
Accommodation:
Mike and the lads stayed in hotels and B&Bs en route. "Right at the bottom of the Col de Grand Ballon in Uffoltz you'll discover a gem: the bike-friendly Auberge de Relais, complete with a securely locked garage, potent Alsatian beer, great food, fit waitresses, and an impeccably clean room for three which costs only €75," says Mike.
Paperwork for you:
All you need is your UK licence and passport and confirmation from your insurer that your bike's covered to ride in Europe. Don't forget travel insurance, too.
Is it for you?
Like fast, sweeping tarmac? Like Alpine views and clean fresh air? Do it.
——————————————-
Pack your panniers!
ABR Mike Stevens, retail director of Cotswold Outdoor, has a BMW R 1150 GS; here are his essentials for travelling fast and light in the French Alps
Packing:
Eagle Creek Pack-It, from £7 Get organised! These colour-coded cubes and pouches will help organise your kit for easy access. The Pack-It compressor bag forces the air from your clothes reducing the bulk by up to 80 percent.
Base layer:
Helly Hansen Lifa twin pack, £39 It can be pretty hard work in the summer counter steering your way up twisties, so a good base layer is essential. This quick-drying, antibacterial one from HH will keep you dry and comfy when it's hot and act as an insulating layer when the temperature drops at the summit.
Clothing:
Mountain equipment Crux T, £30 This looser fitting technical tee looks great and keeps you cool.
Outer:
The North Face Khyber 1/4 zip fleece, £45 A superb mid-layer. Made from Polartec Classic Microfleece, it's soft, smart and warm. Ideal for wearing on colder days or on the Alpine terrace bars in the evening.
Trousers:
Montane Terra Pants, £70 Terra Pants are reinforced to prevent rips and tears and the quick-drying Tactel fabric is both water- and wind-resistant.
Gear:
Petzl Tikkina 2 Head Torch, £20 Small and handy at 80g, the Tikkina 2 has two lighting modes, allowing you to adapt the quantity of light to your situation. Great for those late evening map checks and in emergencies.
Luxury item:
Veho Muvi Atom Camera Bundle, £80 Measuring less than two inches, this is one of the smallest camcorders available anywhere. A host of mounts lets you record all the action from the road, the track or the trails. With a waterproof case, up to 40 minutes of continuous shooting time and 4GB of memory, it's never been easier to relive the moment.