In an effort to brush up his off-road skills attends the launch of the Honda Adventure Centre in the valleys of South Wales
Words: Bryn Davies Images: Craig Niven
As a young lad I was often whisked away to the valleys of South Wales to visit my grandparents who lived in a small mining town called Tonyrefail. While I wasn't old enough to ride a bike back then, I could still appreciate that the area was home to some incredible biking locations and roads. In fact, every now and then, if I was lucky, my nan and grandad would take me and my sisters for a ride up to Ice Cream Mountain, along a road that wouldn't look out of place snaking its way up an Alpine peak. We'd park in the layby on top of Ice Cream Mountain and look out across the vast landscape beneath us, my grandad pointing out various locations to me as I scoffed my double cone with a flake on top. 15 years later and I found myself standing on top of Ice Cream Mountain once more, though I had come to know it by its 'real' name by now – the Rhigos.
Whereas in years gone by I had stood in that same spot with my grandad admiring the beauty of South Wales, I now sat astride a brand new Honda Africa Twin, with Pat Jackson, former British motocross champion, pointing out the various landmarks that surrounded us. Most excitingly for me, and the reason for me being there, was the Honda Adventure Centre that sat nestled some- where in the forest below.
The Honda Adventure Centre is a new creation from the Japanese motorcycle manufacturer, and it has been set up with the intention of providing advanced off-road tuition to riders, while also getting bums in the saddle of the new CRF1000L, or the Africa Twin as it's more commonly known. Punters attend a two-day course on which they get to learn various skills in a purpose built environment, while getting to experience the off-road prowess of the company's new flagship adventure bike. While the course doesn't come cheap (costing £499 per person) you do get everything you need in that price (including a group evening meal) apart from equipment hire and accommodation which, if booked at the affiliated Ty Newydd Country Hotel, comes at a special discounted price of £59.
We had met Pat, and the rest of our 10-strong group, at the Honda Adven- ture Centre meeting point in Merthyr Tydfil. Here we had been given the low down on the running order of the next two days, and got kitted out if we required any gear. The sight of the 13 Africa Twins lined up outside the centre is one that will get the glands of any adventure hungry rider salivating, and after a quick, but informative briefing, we were off on a 15 minute road ride to the off-road area, nestling quietly on the site of an old mine by the small village of Rhigos. The sound of a herd of Africa Twins firing up and thundering out of the meeting point is a fitting way to start the day and get the adrenaline running.
While the intention of the day is to learn off-road skills, the short ride to the location in the morning provides you with the perfect opportunity to get accustomed to the bike you'll be falling in love with, and over with, for the next few days. The Africa Twin's on road credentials aren't particularly flashy, but they're smooth, un-threatening and a pleasure to ride. Though with the horn and indicator switches placed in the opposite positions to where you'd expect to find them, it's amusing to hear the riders behind you tooting away as they try and signal their intent.
The morning of the first day is spent assessing the various riders to decide which group they'll be sorted into, regardless of which course you signed up for. Depending on your competence in a few slow speed manoeuvres you'll either be filtered into Level One or Level Two riding groups. The intention of the instructors is to have those who begin as Level One riders be comfortable and confident enough off-road to join in with the Level Two groups on their next visit. The groups aren't strictly enforced by the instructors though, and if you feel that Level One is a bit too basic for your liking then they're more than happy for you to try the next step up. There is a Level Three course, but it's seriously hardcore and you need to be extremely confident in the dirt and physically fit to handle it.
So, after being assessed and me finding myself being placed in Group Two, we set off around the purpose built trails of the centre. The variety of riding here is amazing, and there are more and more trails being blazed through the thick forestry every day. As the land is privately owned the school is able to stick a path pretty much wherever they want, and each different route will see you riding a variety of terrain so that you can master the technique for any conditions you may expect to encounter on an adventure ride.
The riding starts gentle, though the pace picks up throughout the day as your confidence and competence increases. Expect to take a few tumbles, though at the speeds you're going to be travelling you shouldn't expect any serious injuries, just a few bruises and the desire to push on and make sure it doesn't happen again. I lost count of the amount of times I came off as I tried to navigate terrain that I'd had no previous experience of riding – the thought of dropping a brand new Africa Twin made me wince every time, and by the end of the day I had broken a hand guard, bent the clutch lever and displaced a rear fairing. I couldn't help but feel guilty for what I'd done.
Half way through both days, the two groups meet up for a mass ride to the New Inn in Rhigos where a buffet lunch is served for those who have built up an appetite. Stories are exchanged and it's hard not to be excited to get back on the bikes for the afternoon as the enthusiasm of every rider becomes infectious.
By the beginning of day two it was obvious that my confidence off-road had skyrocketed. The instruction that Pat was providing was giving me a new found belief in my ability and I was able to glide over trails that I'd previously chalked off as being impassible. I was most amazed at how my ability to ride sloppy mud improved, the small hints and tips that were being given by the professionals putting my poor technique right.
By the end of the course there's no other way to describe the two days than enjoyable, educational, thrilling and bloody knackering. £499 may be a lot of money, and when you factor in travel to Wales, accommodation and various other expenses, you're going to be looking at £800-plus for the two days, a figure that may well put the course out of some rider's price range. With that in mind, this is the sort of experience that I would save up for, and if you do you won't be dissapointed. For more info head to www.hondaadventurecentre.com
Putting the Africa Twin through its paces
The two days at the Honda Adventure Centre really allowed us to put the Africa Twin through its paces in a tough off-road environment. They were thrashed about, ridden through deep mud and rocky trails and they bore the brunt of many falls, some at quite high speeds. If there's one thing that everyone could agree on it was that when you're riding the Africa Twin off-road there's no sense that you're astride a big, heavy 1000cc bike, rather it handles and performs like a much smaller capacity machine in terms of competence. That is, of course, until you drop it and have to pick up all 232kg of it. After all of the crashes that I witnessed the one thing that seemed to break every time was the stock hand guards – so consider fitting some tougher, more durable aftermarket ones if you intend on taking the AT off-road.
The Level One course
While I was riding the Level Two course, there were five gents cutting their off-road teeth on the Level One course. The set-up of Level One is much the same as the more advanced course, but the pace is more beginner friendly and it's designed to get those who have never ridden off-road before feeling confident on the dirt. After speaking to the guys at the end of the two days one thing became apparent: they'd caught the bug and wanted more. "This was a fantastic experience for me as I've never really done any 'real' off-road biking before. So to start on the new Africa Twin was a big deal for me," Adrian Vaughan who took the Level One course said when asked about the Adventure Centre. "As the Director of the Black Mountains Chapter Wales (Harley Owners Group), my usual ride is an Electraglide Ultra Limited and I would never have believed that a bike as heavy as the Africa Twin could achieve as much off-road as I saw over the two days, let alone being able to do much of it myself!"
'There is a level three course, but it's seriously hardcore'
Meet the riders
Paul Dearman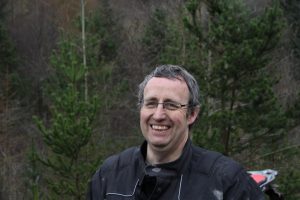 "Before the Honda Adventure Centre I had never ridden anything bigger than a 650, and certainly nothing as sophisticated as the Africa Twin with ABS and traction control, my road bike is so old it doesn't even have indicators! Maybe I'm easily pleased, but I was surprised and delighted by the way the bike performed. The instructors did a great job in continually fine tuning the experience to stretch and challenge us and to explore our own capabilities as much as the bike's."
Paul Hooper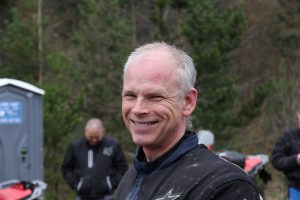 "The Honda Adventure Course was both thoroughly enjoyable and challenging. The course did not spare the bikes
in any way and the terrain was very varied and pretty full-on. The bikes felt much lighter than any 1000cc should do and performed really well. Course tuition was top-notch and well planned and paced."
Kevin Page-Wood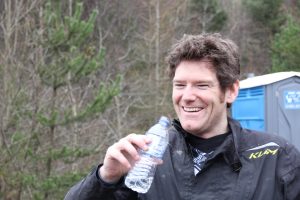 "Born in Johannesburg but grew up in Botswana riding Kawasaki KMX125. some say one of the first true adventure bikes. I think it was shit and would have preferred a KX125 but beggars can't be choosers. Moved to Dublin and have been working in IT there for four years. I booked the Africa Twin course because I wanted to test ride the bike and see if the heritage was still in the bikes DNA, oh and of course brush up on my off-road skills."
Paul Graham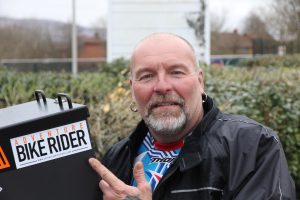 "The whole operation from when I first contacted Molly about the course until I left knackered on Friday afternoon was very professional and brilliant fun. From the meet and greet in the morning through the whole two days I couldn't fault the guys on their relaxed approach to us newbies and their riding ability and expertise. The bikes were spot on and all the kit was handed to me brand new still in its box. The hotel they recommended was very nice and not far from the venue. Yes the course is a bit expensive but if you're thinking about buying an Africa Twin and taking it off-road it is a must do."