Andy Davidson is learning to feel the fear and do it anyway as he explores Turkey and the Middle East, putting his trust in the kindness of strangers and throwing caution to the wind
I remember riding over the Bosphorus Bridge connecting Europe to Asia with a huge smile on my face. Before I left England, I used to think of Turkey as a kind of transit country. My plan was to get through it as quickly as possible because I was sure my 'real' adventure lay further afield, deep in the Middle East. I never imagined that I'd make great friends there, celebrate my birthday, overdose on tea and experience genuine kindness from so many people as well as picking up a pillion from Greece to Croatia. It's fair to say that I didn't know what to expect from Turkey, but I definitely underestimated it.
The Road To Iznik
By the time I reached the Turkish border, I'd already picked up a few fellow ABRs along the way. In Slovakia, I'd met up with my friend Rusty and his nine-year-old daughter Tamara on their old 850 GS, and our buddy Barney caught up with us in Romania on his KTM 640. The plan was for all four of us to ride to Cyprus where our mates Russ and Caroline were getting married, so we could all join in the wedding celebrations.
I just want to make it clear at this point that I love my friends; I know there isn't anything we wouldn't do for one another. Now that's been said, I can also tell you that they're a giant pain in the arse sometimes, too, and to be honest, I'm probably the biggest pain in the arse of the lot. It's very difficult to describe the intricacy of emotions that go with motorcycle travel; it's even more difficult to describe the dynamic of three close friends riding in unison. We each have our own annoying traits and habits, all of which are easily tolerated back home, but when you're together with someone on the road continuously, it can take its toll on your friendship. Despite the fact that you're on motorcycles and supposedly free, in reality, you're all tied to one another and that grinds. Sometimes, the fact that someone farts a lot just isn't funny anymore.
After spending a few hectic days exploring Istanbul, which was jam-packed with tourists, we decided to leave pretty sharpish and head south. According to our map, Iznik was close and had a huge lake, so that's where we headed. When we arrived, we found a quiet little restaurant on the waterfront with an olive grove attached to it. The owner was more than happy for us to set up camp in the grove for the night but failed to tell us that it was a favoured spot for all the local stray dogs, which spent the whole night running around, barking, growling and fighting. Luckily, we fell in with the Iznik Bike Club the next day and they invited us to stay with them.
We ended up staying in Iznik an extra two days more than we'd planned as the club members were so welcoming and such a good laugh. Their humble hospitality was inspiring, and I had no idea that we were about to experience a whole lot more of it. Our days in Iznik were filled with us all riding out to see the Roman ruins, swimming in the warm water and drinking tea, while the nights were spent in restaurants, eating delicious fruits, drinking more tea, and singing to the accompaniment of an accordion.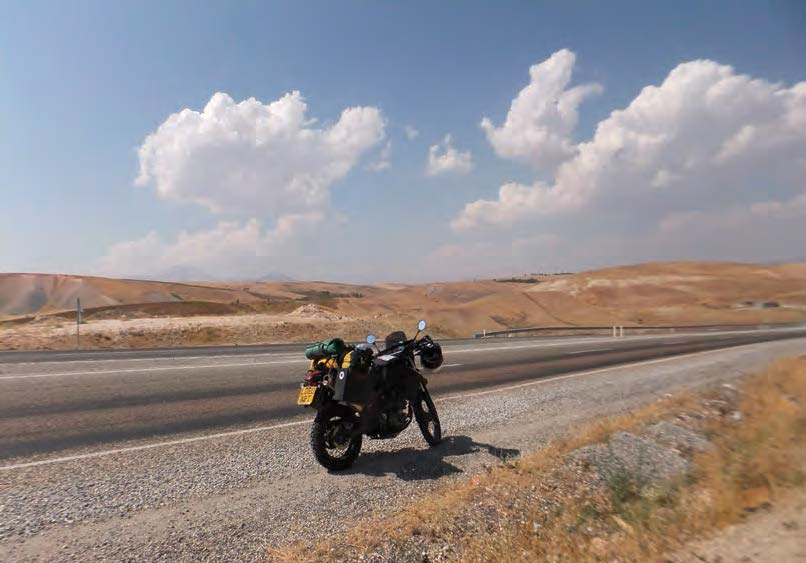 Penny Wise
We spent the majority of our ride through Turkey in this way, stopping o‡ when and where we felt like it to set up camp. In Slovakia, they have a saying: 'turn the penny twice', meaning it pays to be frugal. Rusty, being Slovakian, made sure that we turned and polished that penny every night before bed. One night we rode for two hours following Rusty up through a valley to find somewhere for all of us to sleep. He finally found a hidden outdoor restaurant, miles high, which had a deep natural mountain stream running underneath it – beautiful but freezing cold. Despite the lateness of the hour, the owners served up delicious, freshly caught fish and let us sleep in the restaurant's seating area, which floated on the stream.
Obviously, some late-night skinny dipping was in order, but the water was like ice. It punched the breath right out of us, and we couldn't stay submerged for long!
Our need for rough camping and penny watching had become a bit mental by this point. Rusty's convictions had begun to rub off on me and I was using my calculator to check the costs of everything. In the end, Barney became so annoyed with us that he banned the question 'how much is it?' and paid for most meals and ice creams just to shut us both up. The trick, I decided, was to find a balance between Barney's eccentricity and Rusty's minimalism.
With the wedding in Cyprus fast approaching, we didn't have too much time to spare either. We were 100 miles shy of the ferry port when we found out that the last boat for Cyprus was due to leave at 8pm that night and, because of Ramadan, there wouldn't be another one until the following week. Saddling up, we had just two hours to negotiate the perilous mountain twisties, sheer drops and total darkness: there was no way we were going to miss that wedding! Barney raced off ahead to see if there was some way, he could get them to hold the ferry while me and Rusty brought up the rear. We rode like maniacs, hugging those mountain cliffs the whole way and trying to ignore the fact that there was no barrier. We made it to the port for 8:24, where we found Barney, licking an ice cream. It turned out that last ferry check in was at 10pm. What was that I said about friends?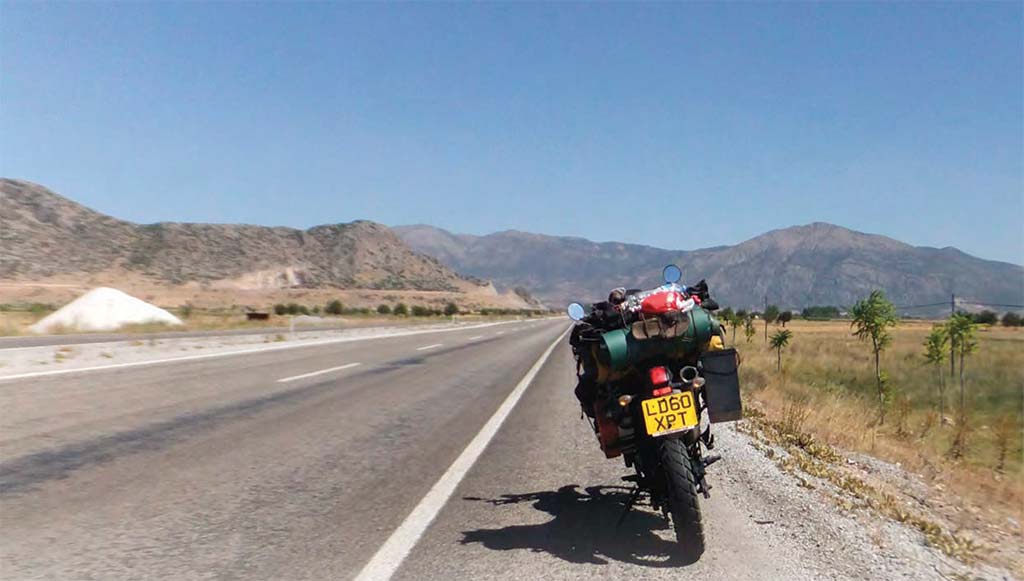 Alone Again
After the wedding and our two-week break in Cyprus, the four of us parted ways. My plan was to carry on through Turkey to Syria while Barney and Rusty were flying back home. Although we'd each had our own ideas of what it meant to travel and how to go about it, I'm glad that we rode to Cyprus together. It was a great experience and I feel privileged to have shared it with them. Looking back, I wouldn't have changed a thing. Now it was time for me to get back on the road again solo, and by the first night I was missing them already. I was used to sleeping rough and getting by, but the idea of being completely alone so far from home was still daunting.
The ferry back to the Turkish mainland docked four hours later than expected that night. I was nervous, but knew I had to keep my faith in people and the kindness of strangers; if I bottled it and stayed in a hotel, I was afraid I'd end up spending the rest of my trip playing it safe. Turning my back on the town, I forced myself to ride into the darkness, looking for some welcoming light and a place to sleep. Eventually I met a random group of guys who took me in, made me dinner and helped me set up a bed for the night in their house.
The next day, I headed to the bustling city of Antakya on the border with Syria, to try to make a decision on whether to enter the country or not. The political situation there had worsened, so I was torn. I wanted to explore Syria in depth and not just race through. I had my heart set on it in fact, but it was looking less and less like a sane plan.
I stubbornly stayed in Antakya for two nights, weighing up my options. I spent an entire day with a very wealthy chap who kindly took the time to drive me around the city, showing me to a good hotel and arranging for a friend to accompany me to the border in the morning. In return, he asked only that I rethink going into Syria. In the end, I couldn't decide what to do and so rode off for Mount Nemrut instead; I would leave Syria for a few more days.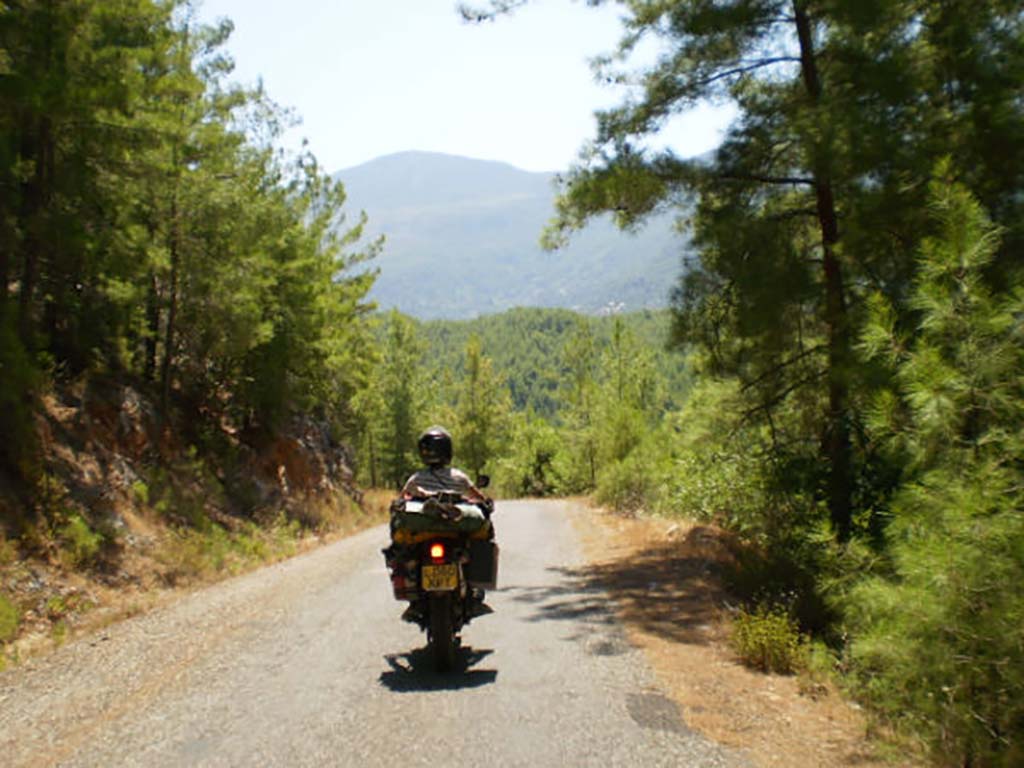 There's Wall!
At the foot of Mount Nemrut, I met a South Korean guy called Wali. We hit it of straight away, and early the next morning, hiked up the freezing, windy mountain to see the sunrise over the ancient statues on the summit. Watching the sun crawl up from behind the mountains to pour its light over us was a beautiful
sight. We ended up spending three days in Sanliurfa in a bohemian-style guest house, exploring, hanging out with other travelers, enjoying Turkish baths and eating kebabs. The evenings turned into late nights sitting atop a castle overlooking the glimmering city while downing beers and peanuts.
It dawned on me then that I'd been making life difficult for myself by sleeping rough all the time it's almost impossible to meet fellow travelers this way, so I decided to let go of my constraints and relax a little. I was sad to leave Wali and the friends I'd made in Sanliurfa but as we said our goodbyes and went our separate ways, I got that old familiar feeling of liberation, coupled with the butterflies that go with having no idea where you're going to sleep that night. It's a funny feeling making yourself comfortable somewhere and still knowing that, in a few days' time, you'll have to leave.
The situation in Syria had worsened by the time I left Sanliurfa and I had to admit to myself that I shouldn't and couldn't go. I didn't really fancy getting shot just yet; I still had other places I wanted to visit first. Syria would just have to wait, I decided. My new destination was now Northern Iraq. I didn't tell my mum where I planned to go and I wasn't going to hang about in Turkey as I knew someone would try to put me off the idea, so I just pointed my machine at the border and went for it.
I found a mass of sweaty Turkish men at the border, all fighting over one tiny booth where they could get their passports stamped. I stripped my gear off and fought my way into the pack. They were all barging and elbowing one another and I had no choice but to do likewise. Bear in mind that at this point I weighed eight stone wet and it felt like I was up against the Turkish wrestling team. Half an hour and a few bruises later, I was on the Iraqi side, sipping tea and chatting away with the soldiers.
I spent 10 days in Kurdistan, Northern Iraq, and loved every minute of it. The hard part was getting back into Turkey as there had just been some terrorist bombings a little way up north. I was bombarded with a thousand questions and asked everything from why I was there to where my parents were born. They were particularly interested in my age and the fact that I was alone on a motorcycle. All of my gear was spread out and searched and I was kept at the border for hours before the officials finally deemed that I was of no threat and let me go. By this point I'd learned to let go of that nagging fear I'd been carrying since leaving England; the fear of not knowing who I'd meet, where I'd sleep and how much I was spending. It had slowly slipped out of my skin and I think I left it somewhere in the Iraqi desert.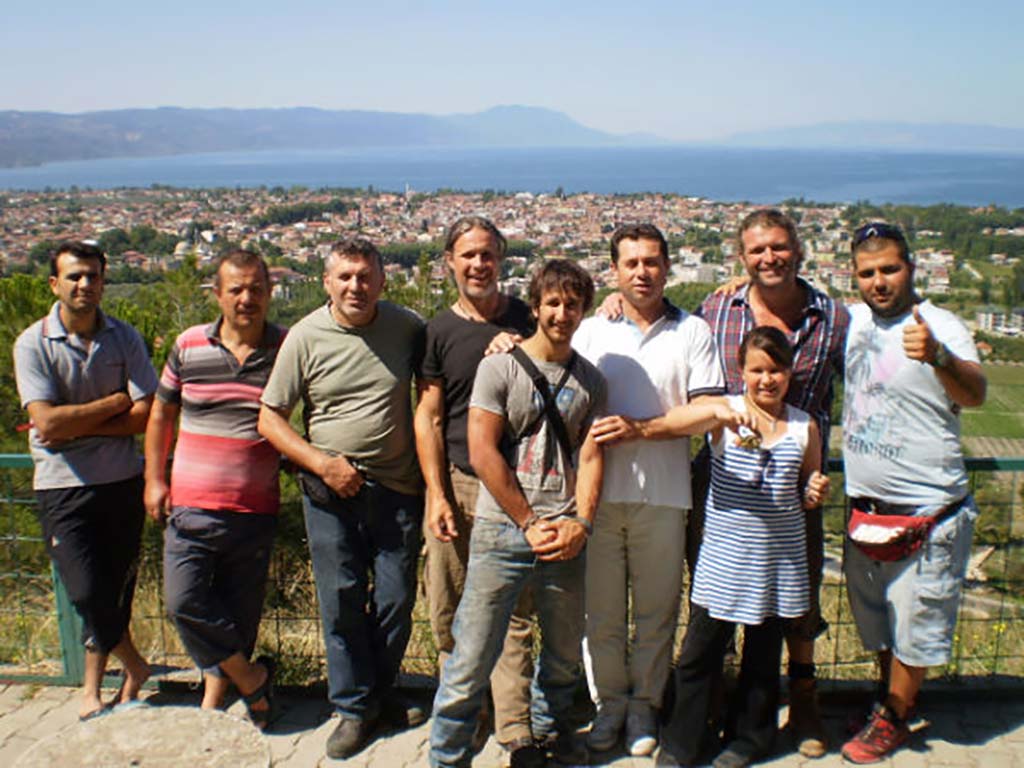 Go West!
I quite liked the idea of riding into Georgia, so kept plodding northwards. The further I went, the colder it got. I didn't pack for cold and wet weather; I'd spent most of my time in Turkey riding in shorts and flip- flops. I made the most of roadside amenities, stopping off at every petrol station I could to try to conjure up some warmth. I grew to love Turkish petrol stations as the attendants always offered cigarettes, hot tea and food, with an open invitation to sit and stay for hours.
By the time I reached Van, eastern Turkey, I was freezing cold and soaking wet. A bus-load of tourists pulled over and disembarked in their multi-coloured rain coats to snap shots of the cold, drizzly mountains before quickly huddling back inside. The bus driver warned me that the road he'd come in on and the one I was about to take would soon be filled with snow and was very cold. I changed my mind there and then. 'I haven't come all this way to ride in the cold,' I thought, 'I get enough of that riding in England!' I craved the sun and so plotted a new course on my map and headed west. I planned a route through the Anatolian Mountains to Diyarbakir and onto Kayseri to visit Cappadocia.
The roads grew longer and lonelier as the mountains stretched further and further west. I loved riding in the middle of nowhere; I had a complete sense of freedom up there in the truest sense. It was just me, my machine and my maps. Sometimes I'd ride for hours without passing a single soul. Every so often I'd slow down as I approached little villages. The rumble of the exhaust would draw out children who'd run up to the bike or wave frantically, and I'd always stop just to say hello. Each village had its own congregation of men sitting outside a house. They would beckon me in and serve tea while the kids climbed all over my bike.
Riding onwards, I passed a young chap in Kurdish dress sitting astride a donkey. I pulled over for a chat and to ask if he wanted to swap the donkey for my bike. For some reason he said no, and instead, let out a piercing whistle. Out of nowhere another guy appeared carrying bundles of grapes. We sat together for about an hour just eating fruit and gazing into the abyss.
After a few hard days of riding I arrived in magical Cappadocia. True, it's touristic, but I wanted some company and, more importantly, I was about to turn 24 and needed a drink. Two nights quickly turned into a week as I spent my time with a great bunch of people. Nick, Sadie, Donald, Sara and Miles became great friends and the fact that it was my birthday was a good enough excuse to visit the local bar every night. The six of us ended up riding around Goreme on mopeds (with a couple of near misses as Nick's throttle got stuck), driving ourselves to the underground cities in a Chevy truck and hiking through the valleys. My birthday was spent in a restaurant with new friends, topped o with birthday cake and lots of raki (Turkish sambuca) before returning to the bar, of course. We all had a great time, and I really enjoyed this aspect of travelling. It made me realise that ABR-ing didn't have to be solely filled with rough camping and riding alone.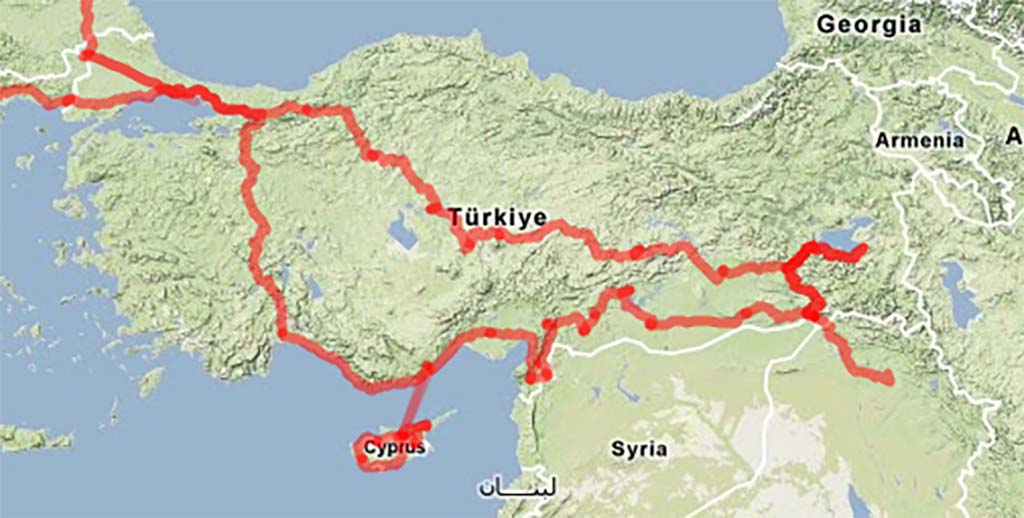 Homeward Bound
The time had come for us to all part ways, and it was a sad farewell for me as I knew I'd be riding solo again. I spent the last night at the guest house and then packed my bike early the next morning. As soon as my bum touched that seat and I fired her up, though, all thoughts of loneliness instantly dissolved, and a huge smile spread across my face; I was back on the road and free to go where I wanted. Unlike being on a coach, I could stop to pee off a cliff if I so desired, spend an hour drinking tea at a petrol station, share food with random people I met on the road, or spend time with them in the towns. I could navigate myself, appreciate true independence and enjoy the wind in my face. 'I'll never give up bike travel for anything,' I thought.
I was now on the return leg of my journey and making my way back to Greece. My 12,000-mile service was due and not wanting to have it done in the maze that's Istanbul, I opted for Duzce on Turkey's northwest coast. There I found a Yamaha dealership and a mechanic called Mehmet. It took him and his gang of mechanics nearly six hours to service my bike due to all the tea breaks, but they did an extremely professional job and took so much care while doing it.
I was sat with them while they serviced the bike, lending a hand, swapping stories and making jokes. It didn't feel like an official Yamaha dealership, it was more like a mate's garage. Neighbourhood kids we're riding in on battered bikes and just helping themselves to tools and equipment. When they were done, Mehmet took me out for dinner while the rest of the guys gave my bike a through clean. By the time it was ready, night had fallen bringing with it heavy rain. It was decided I should leave my bike in the showroom overnight and Mehmet drove me to the nearest hotel. He also arranged for the receptionist to call him when I woke up the next morning, so he could come and pick me up to take me back to the garage now that's what I call service!
As I neared the border with Greece, I pulled over to check my map for the best route to Alexandroupolis. A Turkish man appeared and randomly started pointing away at my map. He said he was going to Greece too and beckoned me to follow him. I knew he wasn't going to Greece and just wanted to force feed me food and tea, but I thought, 'why not!?' I was now in full-swing go-with-the-— ow mode. He took me to his house to meet his family and introduced me to a friend who owned a nearby hotel. I was offered a room for just £2 for the entire night, and later, ended up with a bunch of Turkish students who took me out and showed me all the local bars.
I had got on really well with Miles, one of the chaps I'd met in Cappadocia. We'd stayed in touch via email, and while in Duzce, I arranged to pick him up on my arrival in Greece and take him as a pillion through the Balkans to Croatia. This meant I had just four days to get myself to the west side of Greece, and so it was time to say goodbye to Turkey. I was sad to leave, but knew I'd see her again soon. The country offered me an amazing riding experience and I'm ashamed to say I almost missed it. The fact that I had no fixed plan or route allowed me to immerse myself in the country and its culture. Getting lost was half the fun and so many of the people and places that I stumbled across gave me moments that really made my trip.
Before riding in Turkey, I thought it was just another country to pass through, but I soon realised that the old cliché is true: it's not the destination, it's the journey.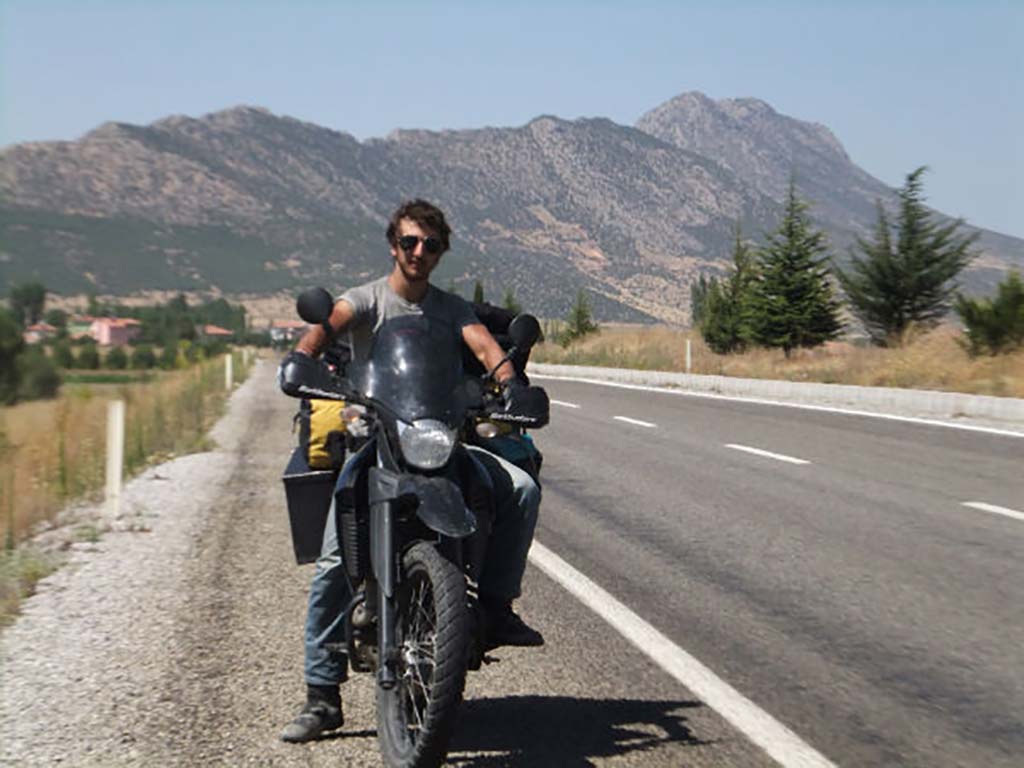 WHO'S RIDING?
Andy's adventure started in Slough in June 2011 at the age of 23. He rode through 19 countries, covered 11,000 miles and returned five months later having got as far as Erbil, Northern Iraq. En route, he entered Turkey from Bulgaria and spent three months exploring the country, travelling from Istanbul to Alanya in the south before heading east to Syria, north to Van, west to Cappadocia (where he celebrated his 24th birthday), and then home to the UK via Greece.
THE BIKE
Andy's steed of choice is a 2009 XT 660 R Enduro, fitted with a Metal Mule single exhaust, home-made aluminium pannier, Rotopax, crash bars, bash-plate, handguards, touring screen and Scottoiler. "It's reliable, resilient, doesn't give up, won't break down and just keeps going despite being dropped more times than I can remember," he says.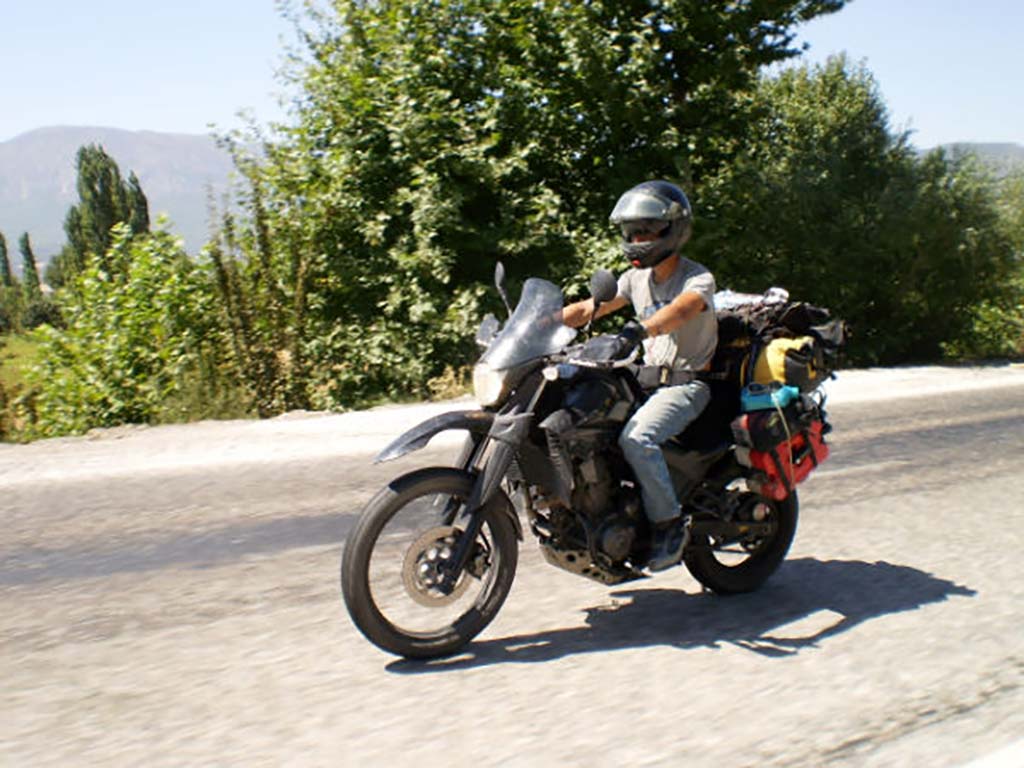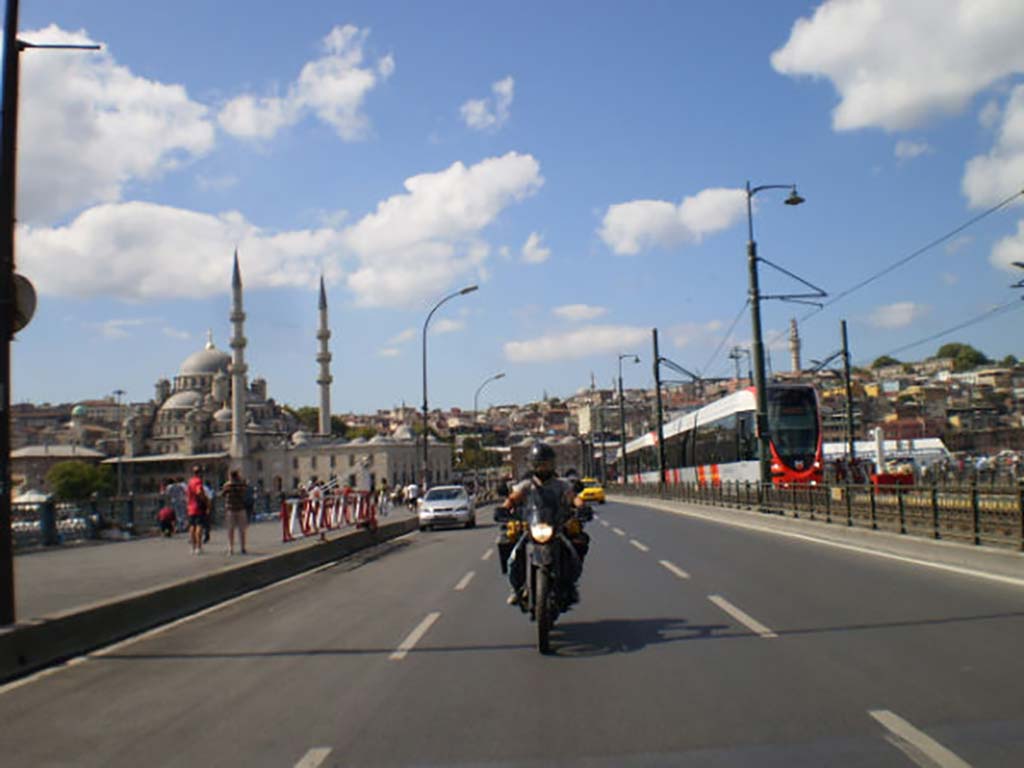 WANT TO DO THIS?
■ How Long Does It Take? Andy spent roughly three months in Turkey and covered over 3,000 miles
■ When To Go: Andy visited Turkey late-August and left mid-October. In April-June the weather's usually moderate and days are longer; mid- September and October sees mild climes with some rain while June- August is hot and coastal town are packed with tourists; November- January is mostly cold and rainy
■ Accommodation: Rough camping is easy in Turkey as the people are so friendly. There are plenty of hostels, too, if you fancy a warm shower; it's also common to get offers from families of food and a bed for the night. Andy recommends the Aslan Guest House in Sanliurfa and Cappadocia Rock Valley Pension in Cappadocia (www.hostelworld. com). It's also worth getting in touch with the Istanbul Bisiklet Motosiklet (Istanbul Bike Club), "A great bunch of guys who'll take care of you and your bike," says Andy. They also offer accommodation and can be found on Facebook and the HUBB
■ Paperwork For You: You can ride on a UK license and Andy didn't need to present his international drivers permit on entering Turkey; you do need a Visa, though, and this can be obtained it at the border. It's a very straightforward process and costs around £10
■ Paperwork For Your Bike: You'll need to inform your bike insurance company of your travel plans as many don't cover Turkey; you may also have to take out additional cover before you leave. You'll need to buy Turkish motorcycle insurance at the border, too, regardless of whether or not you have already have UK cover, but it's relatively cheap. Turkish insurance only covers you for third party and not theft
■ Is It For You? Turkey can be whatever you want it to be. The country offers countless tarmac twisties, long straight rides, tons of off roading opportunities and a million mountains with stunning views. You don't have to be a competent off-roader either, as the place is peppered with easy trails. Turkey itself is cheap, but petrol is pricier than in England. Tourist destinations and cities such as Istanbul have more expensive places to stay and eat, but there are real bargains to be had the beaten track, especially if you're willing to trust in the kindness of strangers.
TOP TIPS FOR RIDING TURKEY
■ It's always polite to accept tea when offered
■ When people invite you to sit with them for a chat, it's worth taking a few moments out of your day to do so. If you get on, it usually turns into dinner with the family or a spare room for the night
■ Take special care when speaking about the Kurdish situation. In the east, the majority of people consider themselves Kurdish and a reference to them being Turkish is quite offensive; it's also a touchy subject in the west!
■ Some of the drivers are under qualified to say the least and overturned trucks are a regular occurrence
■ Enjoy petrol stations, but go easy on the sugary tea
■ If you encounter a stray dog that looks like it might attack you, pick up a rock. If there aren't any rocks, just pretend to pick one up from the floor. The action of bending over sends them running every time