Before Ewan and Charley were famous (or even born) there was Carl Stearns Clancy, the father of adventure motorcycling. Daniel Mannion tells us more…
Having lost his taste for hard work, in 1912, Carl Stearns Clancy slung a leg over his Henderson Four motorcycle and set off to complete one full lap of the earth. The bike had a 934cc engine, 7bhp, one gear, no front brake and, to quote Geoff Hill, who repeated the feat in 2013 for his brilliant book, In Clancy's Boots
: "To contemplate it was the act of a madman; to complete it the act of a hero".
Departing Philadelphia for New York, (taking the long way round) he was joined by friend Walter Storey, and across the Atlantic they went. Their first stop was Dublin, where local traffic laws provided their first obstacle.
Storey, who hadn't got round to learning to ride, forgot which way the traffic flows in Ireland and ran into a tramcar. Battered and dazed, he continued on the fuel tank of Clancy's Henderson, as his mangled bike was carried off for repair, its mud splattered 'Around the World' slogan looking a touch ironic. It was, after all, still only day one in Europe.
The trip was funded in part by Clancy's magazine reports and, following some recuperation and repairs to Storey's bike, he had a bit more to write about as they sailed to Scotland, rode into England and then across to mainland Europe.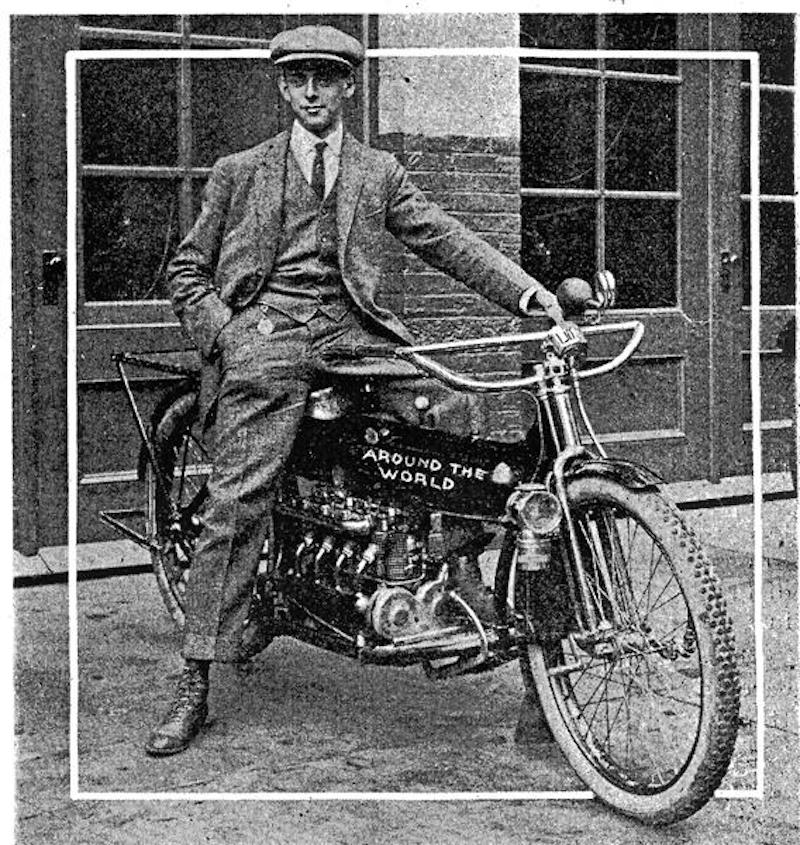 Following a two month stay in Paris, Storey returned to New York. Though disappointed to lose his partner, Clancy had established a Henderson franchise. His commission on the deal secured the funds to complete the trip.
However, recurring pressures on his finances ensued throughout Europe, Africa and Asia. Government officials applied creative charges every time he got near a border and the slightest courtesy of the locals was invariably followed by an expectant outstretched palm.
Bone rattling roads were a common feature of the trip, but perhaps surprisingly the worst came once he'd got back to America. Heading from San Francisco to Portland, dressed in suit and tie, he forced his way up and over rocky mountain ridges, across flooded plains and through muddy trails deep enough to devour rider and bike.
Having put 18,000 miles under his wheels, Carl Stearns Clancy rolled into New York, 10 months after setting off, as the first person to have circumnavigated the globe by motorcycle.
Clancy's lap of the Earth has inspired two books from authors who have repeated his adventure, most recently In Clancy's Boots by Geoff Hill. In 2012-13 bikers around the world took to his route to commemorate the achievement 100 years on in the Clancy Centenary Ride.  He died in 1971, his status as a pioneer in adventure motorcycling assured.
Tell the world you're an adventure bike rider

We're excited to reveal our latest, limited-edition range of ABR T-shirts, designed to celebrate the simple pleasure of exploring the world by bike. With five new designs in a range of colours, now is the right time to spruce up your riding wardrobe.
After our previous designs flew off the shelves, we've decided to open pre-orders for the new T-shirts, giving you the chance to guarantee your limited-edition adventure biking T-shirt. And we're giving you the chance to bag some serious savings when you buy two or more T-shirts at the same time, which you can discover HERE.
So, don't miss your chance to bag a brand-new, limited edition ABR T-shirt by pre-ordering today HERE.