Motorcycle jackets represent one of the most important pieces of kit you'll invest in and if it's not right for you, it will become apparent very quickly. That's why it's important to make sure you buy the right product first time round.
At the same time, the textile jacket market is extremely saturated with such a wide range of price points making it hard to actually judge what you do and don't need.
To help you out we spoke to Martin Brown, director at motorcycle clothing and accessories store, Bike Stop, to find out everything you need to know about textile jackets under a very respectable price point of £200.
ABR: Do you have to spend a ton of money to get a decent jacket?
Martin Brown: Of course it depends what you really mean by 'a ton', but there are some great jackets with plenty of features (both safety and comfort) below £200. For safety you should always get a jacket with standard CE-approved armour in at least the shoulders and elbows/forearms. If a back protector is not included, you should also look out for an interior pocket that holds back armour.
With regard to comfort, the best features for protection against the weather are removable layers such as thermal liners and waterproofing. These also add to the flexibility of the jacket in that it can then be worn all year round or at least for the seasons you mainly ride in. There are then comfort features such as adjustable arms and waist (to keep the jacket 'snug' when different layers are worn). Plus some jackets offer additional venting and a zip around the waist to attach it to trousers for increased protection and comfort.
ABR: What should I look for in a textile jacket?
MB: The majority of customers looking for textile want to have the ability to ride in all weather. As I have already mentioned, the options are the levels of standard armour included and the amount of weather protection offered through a waterproof outer layer or a separate waterproof 'drop liner'.
ABR: What will be different in a sub-£200 jacket when it's compared to a more expensive one?
MB: As you spend more the levels of safety, comfort, and protection increase. For example level 2 CE armour versus level 1, a standard back protector, better quality stitching and harder wearing, more technical materials. With regard to weather protection, the main differences lie in the quality of the waterproofing and 'breathability' of the waterproof membrane – GoreTex is viewed as the ultimate in terms of this and includes a five or even six-year warranty. Additional features with more expensive clothing may include extra reflective panels/strips and storm and/or adjustable neck closures.
ABR: How can I ensure I get the best fit?
MB: With clothing (and helmets) there is really no substitute for trying the items on. Each company's sizing varies by a considerable amount so there can be a large difference between RST and Dainese for example. We have complete size guides for all companies on our website and it's one of our most popular pages! The most common buyer's error is that they lean to a larger, more comfortable fitting when it's key to ensure that the garment fits snugly to ensure that the armour is kept in the best place to protect you, even when layers are removed.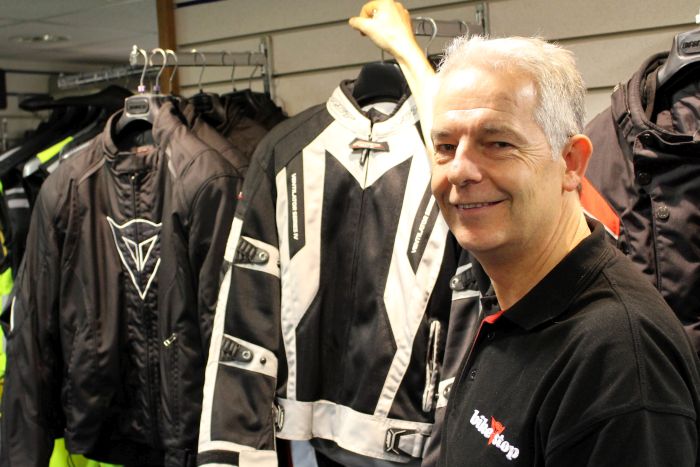 ABR: Are textile jackets more protective than leather jackets?
MB: No and yes! In terms of safety no, over many many years there is still no better abrasion protection than leather and that's why all the racers wear it. In terms of weather protection, then textile is better with its waterproofing and climate control for warmth and cooling.
ABR: Is the armour included in jackets any good, or should I buy it separately?
MB: You should always make sure that it's CE-approved. There are two basic levels, 1 and 2. Most jackets at this price will be level 1. You could then consider upgrading to level 2 but the key extra item would be a back protector.
ABR: Why does my jacket say it's waterproof but it still feels like it's leaking?
MB: The balance with waterproofing is the corresponding 'breathability' – a plastic bag offers 100% waterproofing but is also 100% non-breathable and you would get wet from sweat, a phenomenon named 'boil in the bag'!

Bike Stop has over 30 years of experience in the world of motorcycle clothing and accessories. With a wide range of clothing in stock and regularly trained and knowledgeable staff on standby, it's an excellent place to visit if you're looking to buy a new jacket. For more information visit www.bikestop.co.uk