BUILDING THE DREAM PART 1
So, you've got your steed and permission from her indoors, now all you need are the bits to make your bike fit for an RTW (or a midnight jaunt to Tescos). In the first of a beginner's guide to bike prep we ask Robert Wicks for his six essential extras in building the ultimate adventure bike…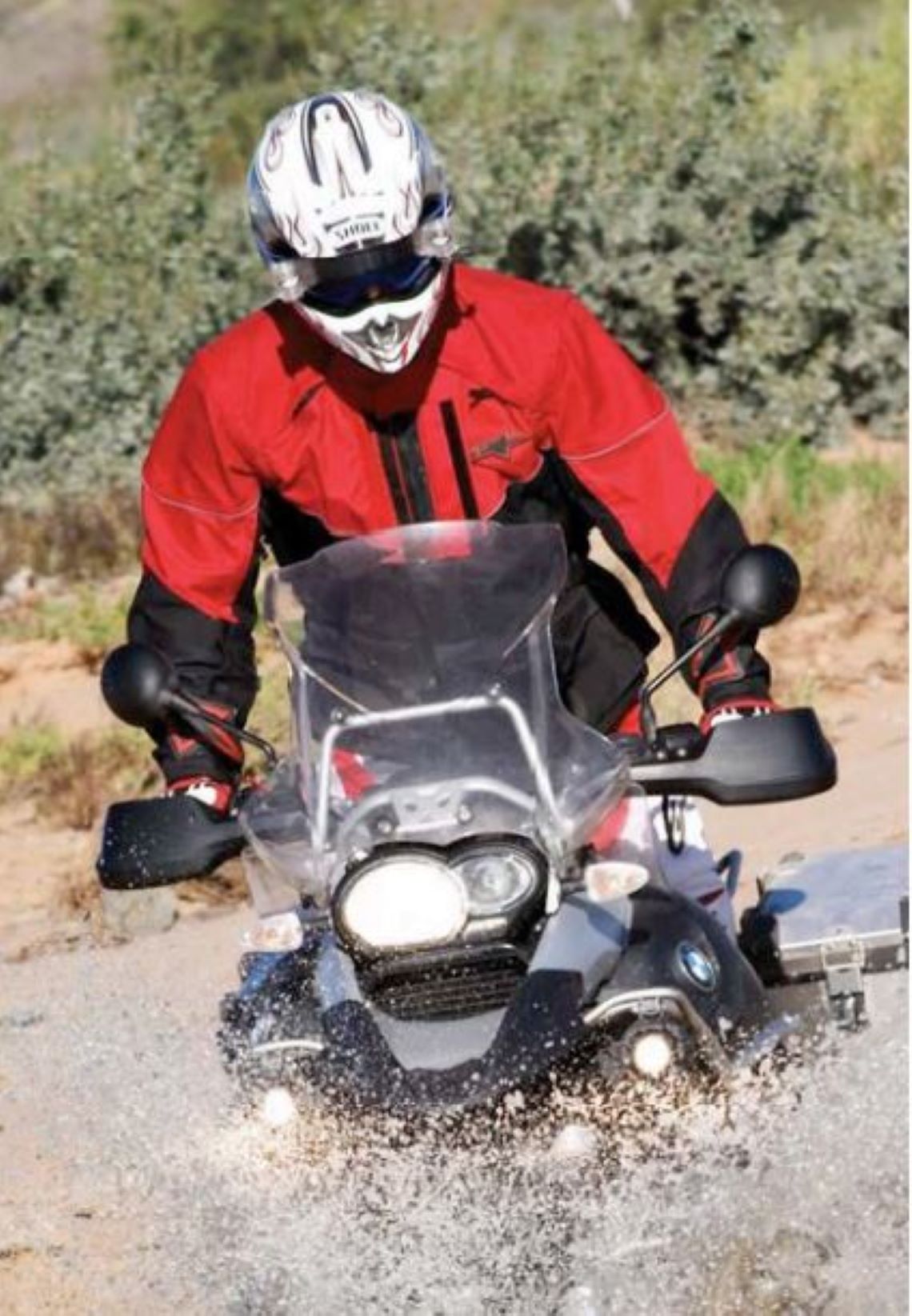 Taking the plunge and buying an adventure bike is just the first step for any aspiring traveller. To get the most out of the bike you're going to need to make a series of modifications. This will enhance your level of comfort and protection, improve performance and handling and ultimately make for a better all-round riding experience.
Before setting off on a spending spree, research what modifications other people have made to the same model, the reasons these were made and why they did (or didn't) work out as planned. Some modifications may be purely cosmetic while others may be considered necessities, so choose wisely to keep the weight down.
As you develop your bike the six most important elements to consider are:
Ergonomics and rider comfort
Safety and protection
Bike performance Cockpit
Luggage system Personal equipment
Ergonomics and comfort
Adventure riding can be physically demanding. It's important that you should be able to ride all day and ideally not feel any aches or pains. Discomfort of some description is likely to mean some kind of problem with the interaction between your body and the bike, which is the last thing you need on a long-distance ride.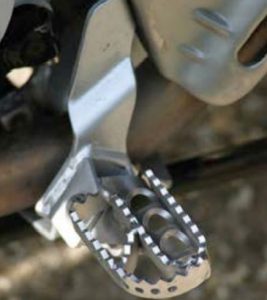 Basic bike set-up is a crucial element in your pre-trip preparation and it would be foolhardy to assume that the bike is 'good-to-go' without reviewing the basic set-up.
A good starting point is to ensure that you can easily go from the sitting position to the standing position and vice-versa. Much of this ability is determined by the position of the handlebars and the size and position of the seat. How well you're protected from the wind will also make a difference, as well as the interaction your feet have with the foot pegs and your hands with the levers. You should also be able to move backwards and forwards freely on the seat. It's essential to experiment and get the bike set-up in a way that you feel comfortable – but be sure to do this over a few days' riding. Pay particular attention to the following components to ensure the best ergonomics and comfort:
Suspension settings
Seat
Windshield and spoiler
Handlebars and risers
Foot pegs
Lever and pedal extensions
Safety and protection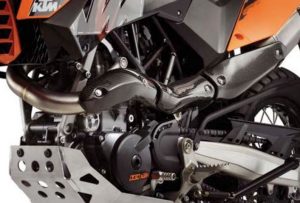 Whether it's a trip to Morocco or a RTW odyssey, your bike will need an increased level of protection, to shield vulnerable parts that could be damaged during a crash or by coming into contact with rocks, mud and dust. Aftermarket catalogues will entice you to consider a vast array of items and it's easy to go overboard, so choose wisely and look at what other people have done with the same bike to protect the key parts. Focus your attention on:
Crash bars
Hand protectors
A good-quality sump guard
Headlight, radiator, and fork protectors
Performance
Various items can be replaced or enhanced on your motorcycle, to improve its performance. A bigger tank will give you an extended range, specific tyres will suit the terrain you're going to be covering, and an aftermarket exhaust will boost performance and reduce weight. The best performance enhancements to consider investing in are:
A larger fuel tank
Better-quality tyres
Better wheels and brakes
An aftermarket exhaust
A high-quality chain and sprockets
Cockpit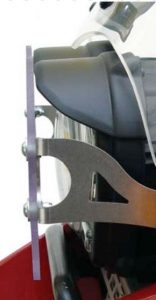 Out on the road, the cockpit is your new office so it needs to be set out in a way that works best for you at all times. Base the contents of the cockpit on the type of trip you are planning. The navigation equipment needs to be positioned so it's easy to read and you're able to maintain a focus on the terrain ahead. Additional navigation equipment should also leave the bike's main instruments such as the rev counter, speedometer and warning lights clearly visible. Large or heavy accessories are best on a frame fixed mount, while lighter items can safely be carried on a handlebar mounting. Pay attention to:
GPS units
Mounts
Trip metres
Road books and route notes
Maps
Radios
Associated power considerations for all of the above
Luggage system
How to successfully carry your gear is a key consideration as you're going to be living out of your panniers for the duration of the journey. Almost irrespective of the type of trip you have planned, you will essentially need a combination of the following luggage options:
Secure storage – this is an important issue when touring on a motorcycle and having peace of mind to leave your luggage mounted to the bike is vital
Convenient storage – for essential items that you need quick, regular access to like money, maps or your camera
Cool storage – this can be handy for items like medication, batteries and camera film
Protective storage – motorcycles vibrate even on excellent roads – now add gravel, dust, and rain and you have a very hard environment for your camera, video camera and GPS. Too much dust and/or vibration and you may just find your equipment failing in the middle of a once-in-a-lifetime trip. Special protective equipment bags and boxes are available that offer moisture, vibration and dust protection
Bulk storage – to carry items that simply don't fit in your other luggage like clothing, sleeping mat and spares. Whatever you choose make sure it's waterproof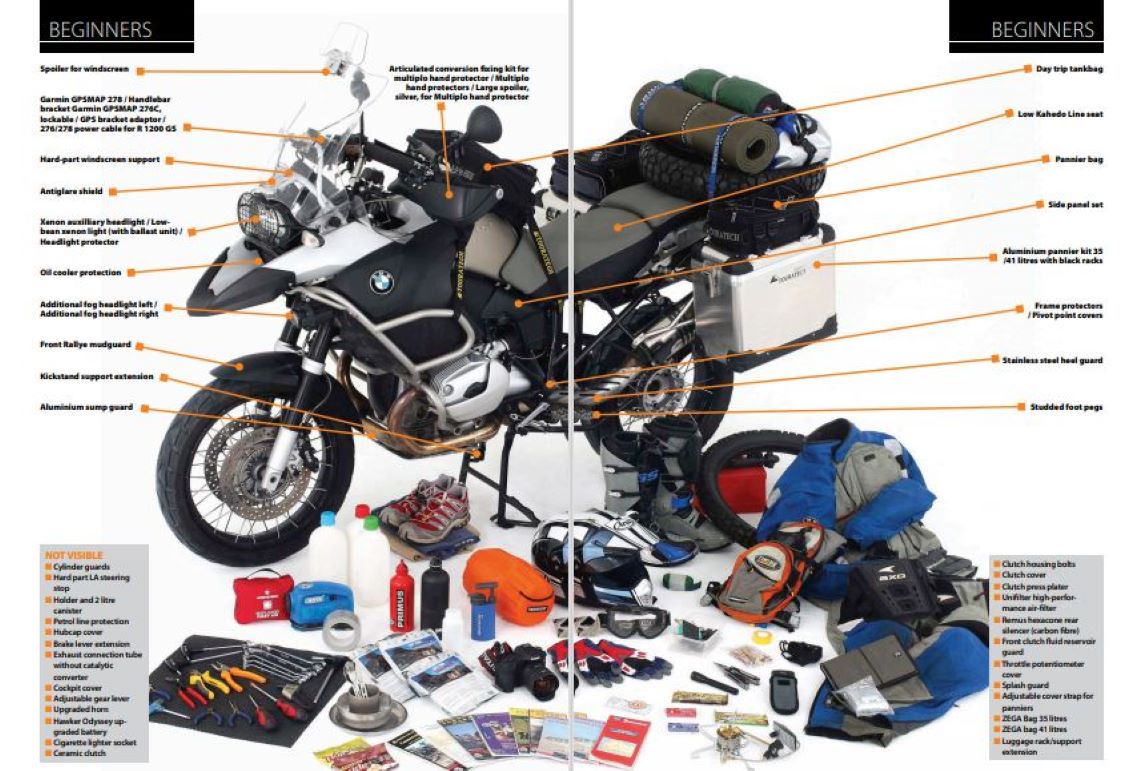 Personal equipment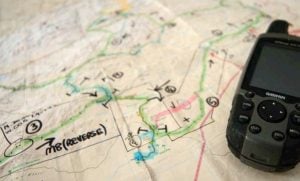 Having a well-prepared bike won't count for much if your personal equipment's not up to scratch. Your kit will need to protect you from the elements and minimise the impact of an accident which can make all the difference to an overland adventure. Hopefully by the time departure beckons you will have had the opportunity to wear and test all of your essential gear – there is little point in throwing a new pair of boots on as you head off on the adventure of a lifetime only to find they are half a size too small. Your gear may need some adjustments and subtle modifications can make all the difference on a long ride. Think about:
Helmet
Jacket
Trousers
Boots
Gloves
Base layer
But it's not only about having the right riding gear. You'll be spending a fair bit of time off the bike too, whether that's asleep, eating a meal or exploring the sights along the way. Your personal gear is just as important and there are some key choices to be made when it comes to the basic must-haves:
Tent
Stove
Sleeping bag
Sleeping mat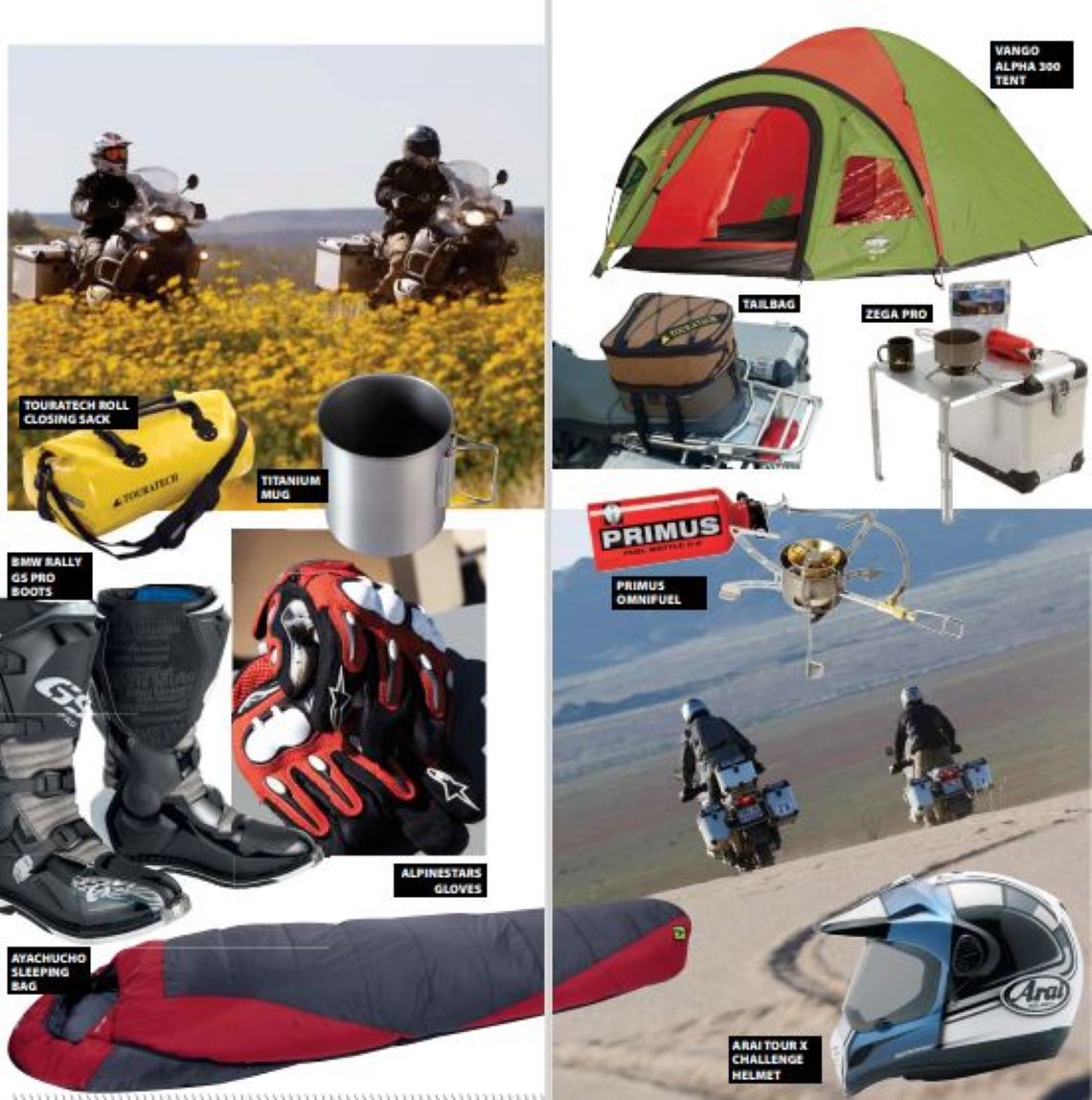 Pre-trip preparations
Try to get all your preparation and modifications done around three months before you set off. This will avoid any early failures that might happen with modifications; don't trust new parts until you've trialled them for at least a month, ideally on a short test-run over similar terrain to that which you're expecting to cover, to see how things hold up.
On your bookshelf…
Robert's the author of acclaimed adventure biking books Adventure Motorcycling and Adventure Riding Techniques. His third in the series, Building the Ultimate Adventure Motorcycle, is available now from all good bookshops priced £19.99 or visit www.haynes.co.uk
Who's riding?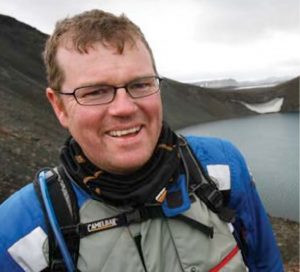 Born in South Africa where his adventures first began, Robert moved to the UK 10 years ago. He's travelled to more than 50 countries including the likes of Mozambique, Iceland, Peru and Japan. An avid outdoor enthusiast and keen photographer, Robert has summitted Kilimanjaro, is a qualified paragliding pilot and a part-time super hero (not really).