This year we've teamed up with Bridgestone to bring you a series of incredible coast to coast rides throughout the British and Irish Isles. For our first instalment, we head to Scotland, to ride from the North Sea to the North Channel, which connects the Irish Sea with the Atlantic Ocean
In the last issue of Adventure Bike Rider magazine, we told you all about an exciting new series of features that we're introducing for 2019. Together with Bridgestone, we've plotted out four incredible coast to coast rides throughout the British and Irish Isles, with one each for Scotland, England, and Wales, and then another that'll take us coast to coast on the Emerald Isle.
We're kicking things off with our Scottish instalment, which is a wonderful 246-mile long route through an area of the country that's often overlooked – the Southern Uplands.
Starting in Eyemouth on the east coast, just a few miles north of the border with England, this journey will take you through Scotland's least populous region, past historic towns, along babbling rivers, through remote valleys and forests, and into Scotland's highest village, before you reach the country's most southerly point, the Mull of Galloway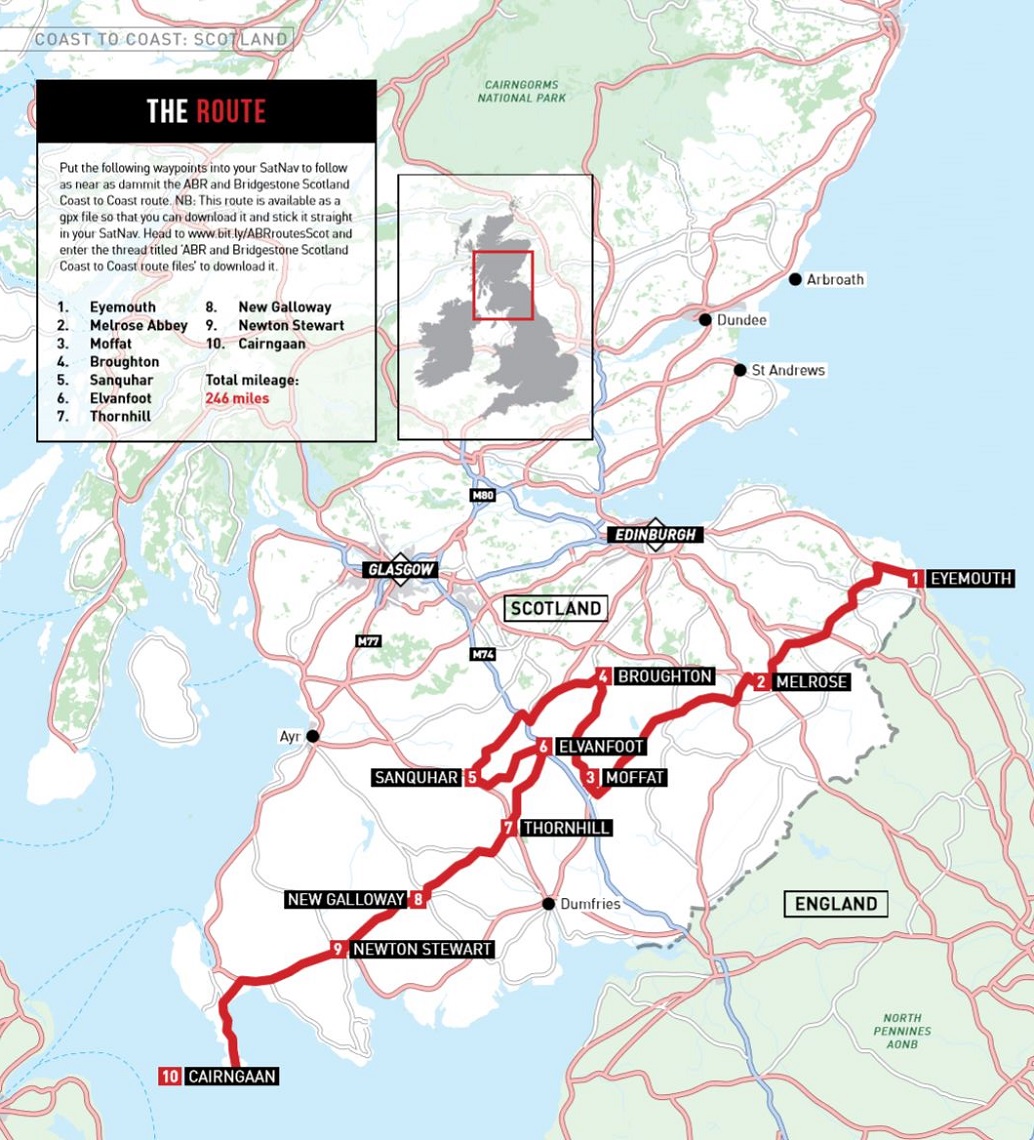 When a trip to Scotland is in the offering, it's all too tempting to blast through the Southern Uplands on the A74(M), but to do so would mean missing out on some of the best roads that the country has to offer.
Of course, with so many people flying through this sparsely populated area of the country, it means that you'll come across very little traffic on the ribbons of tarmac that criss-cross their way through the mountain ranges.
While we plotted this route from east to west, it's just as charming to ride it from west to east. It's doable in a day, though if you want to really take your time and enjoy the ride while exploring the various sights and attractions, then you'd be best off taking two days to ride it, choosing Moffat as your overnight stop.
Starting from the seafront in Eyemouth (throw a few pennies at the arcade for old times' sake), we head out of town towards the A1, a busy road that's rather unremarkable save for the fact that it's the UK's longest numbered road, connecting London and Edinburgh over a distance of 410 miles.
We're only on it for a couple of miles before taking a left, beginning our long and wonderful journey west across the magnificent and remote Southern Uplands.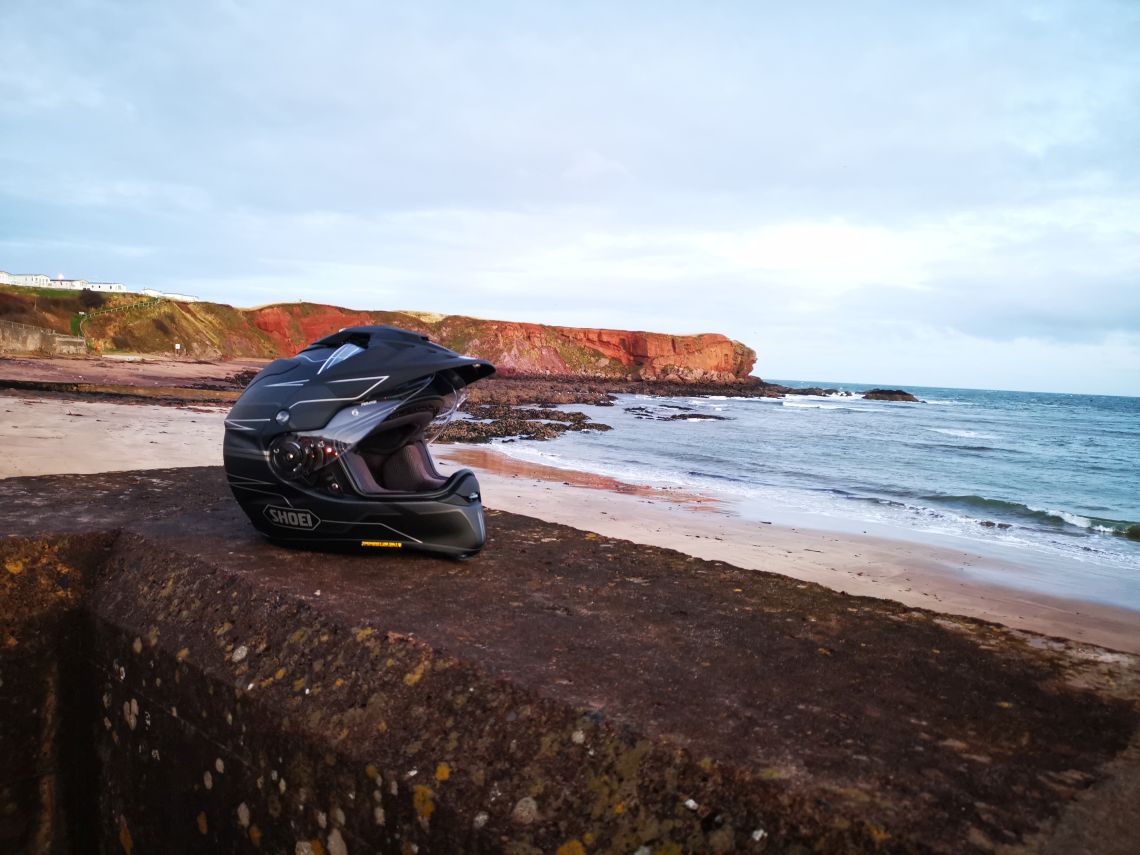 Between Eyemouth and Melrose, the going is easy, and the scenery is pleasant, but in the distance the beautiful peaks of the Eildon Hills rise to the south of Melrose. Anticipation for what lies ahead builds as you approach them, but before we head into the mountainous terrain of the Southern Uplands, it's worth popping into Melrose for a quick look around.
It's a beautiful town, and a visit to the abbey is recommended. Interestingly, Robert the Bruce, King of the Scots during the First War of Scottish Independence, requested that his heart be buried here, and it was, in the chapter house.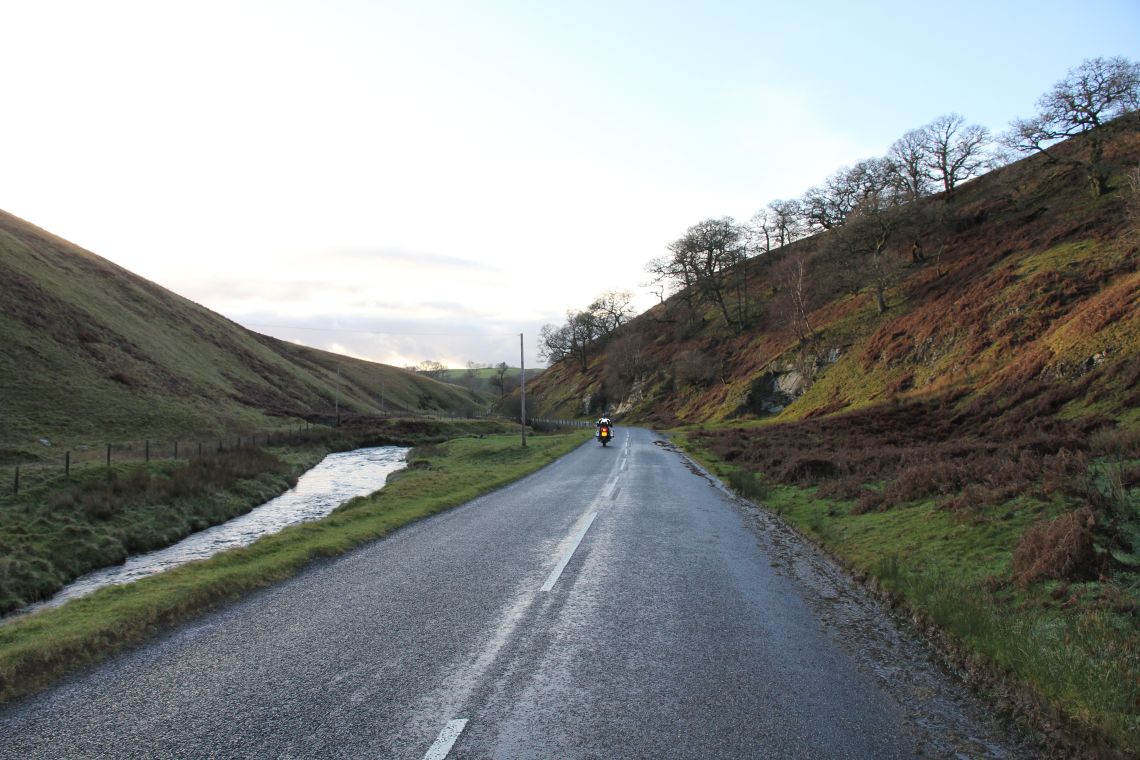 The journey from Melrose to Moffat is when this ride really comes into its own. Start off by passing Abbotsford, the home of Sir Walter Scott, the famous Scottish novelist and playwright, before following the River Tweed and Yarrow Water.
Before long, you'll be riding the wonderful A708 that twists and turns with the bends of the river, eventually leading to the scenic St Mary's Loch. From St Mary's Loch, the ride to Moffat is fantastic, continuing on the A708 as you drop into a dramatic, steep-sided valley.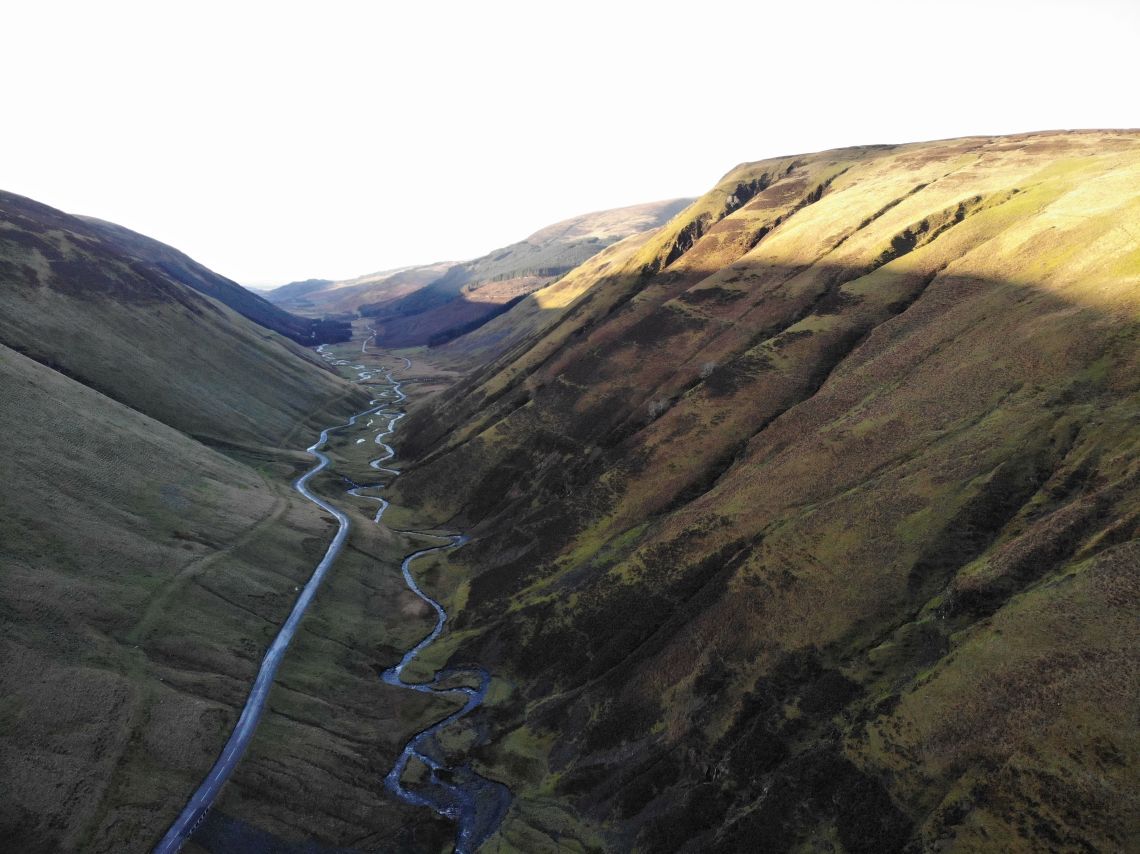 Moffat is known for being the centre of motorcycling in southern Scotland, and it seems that no matter which road you take out of the town you'll have a blast riding it. Our route takes you north, the brown road sign as you leave the town reading 'A701 Scenic Trail to Edinburgh' giving you an idea of the road that lies ahead.
While we don't follow the route all the way to Scotland's capital, for 24 miles we travel through the stunning Moffat Hills to Broughton.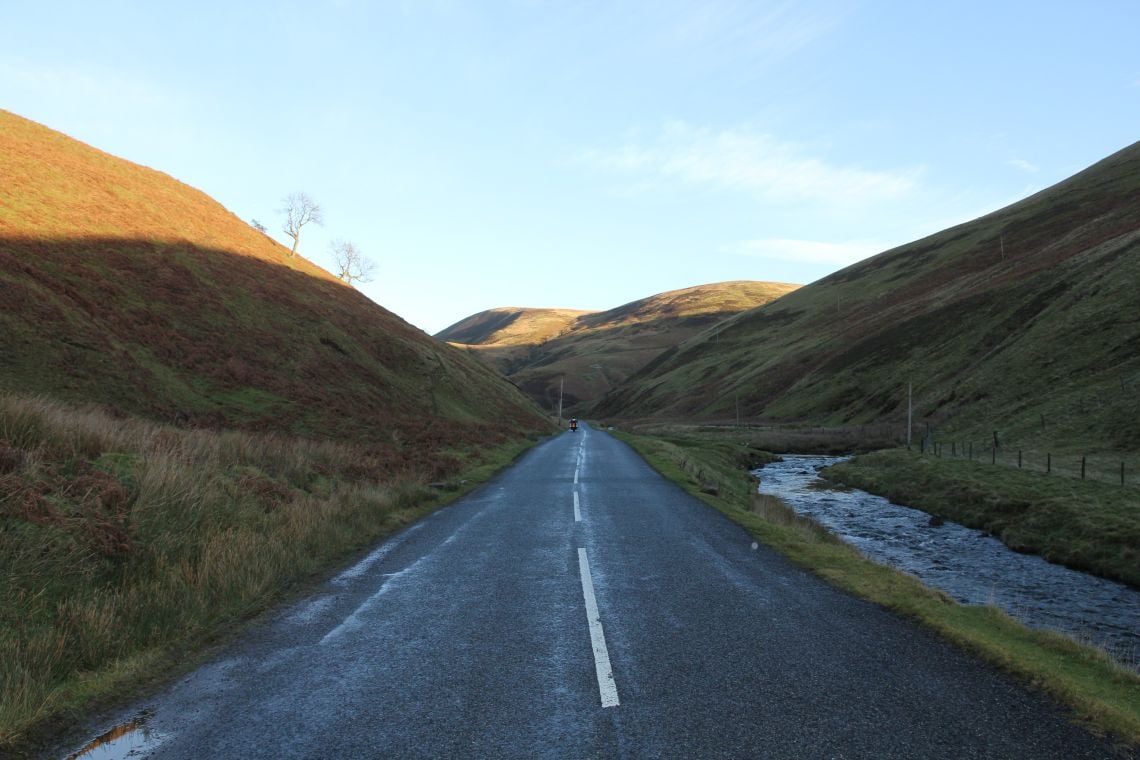 And things just get better and better as we head west from here, with an incredible three-pass ride just over the other side of the motorway. Zig-zagging down the Lowther Hills, this 50-mile portion of the route is simply outstanding, and you'll be tempted to turn back and ride it again.
From north to south, we ride the Crawick Pass, the Mennock Pass, and the Dalveen Pass, with the Mennock Pass taking you through Wanlockhead, the highest village in Scotland and home to the Museum of Lead Mining, an attraction that's well worth a visit.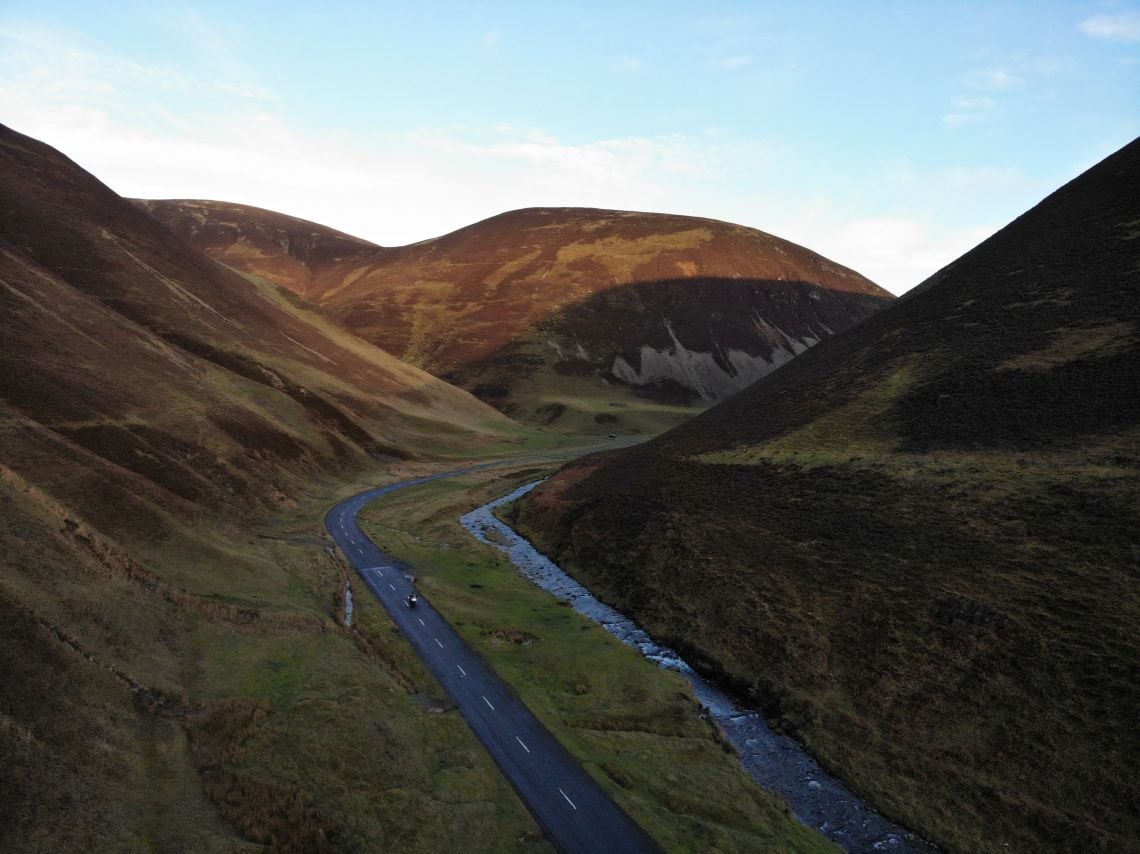 After the incredible riding of the three passes, you'd be forgiven for thinking that this route can't possibly offer you much more – but you'd also be wrong. After reaching New Galloway we follow The Queen's Way, marked as the A712 on the map, which carves its way through Galloway Forest and past Clatteringshaws Loch.
While our route takes you in and out of Galloway Forest Park, it's well worth taking some time to explore the beauty of the area that's so remote that it became the first place in the UK to be granted Dark Sky Park status in 2009. A Dark Sky Park is an area that's kept free of artificial light pollution.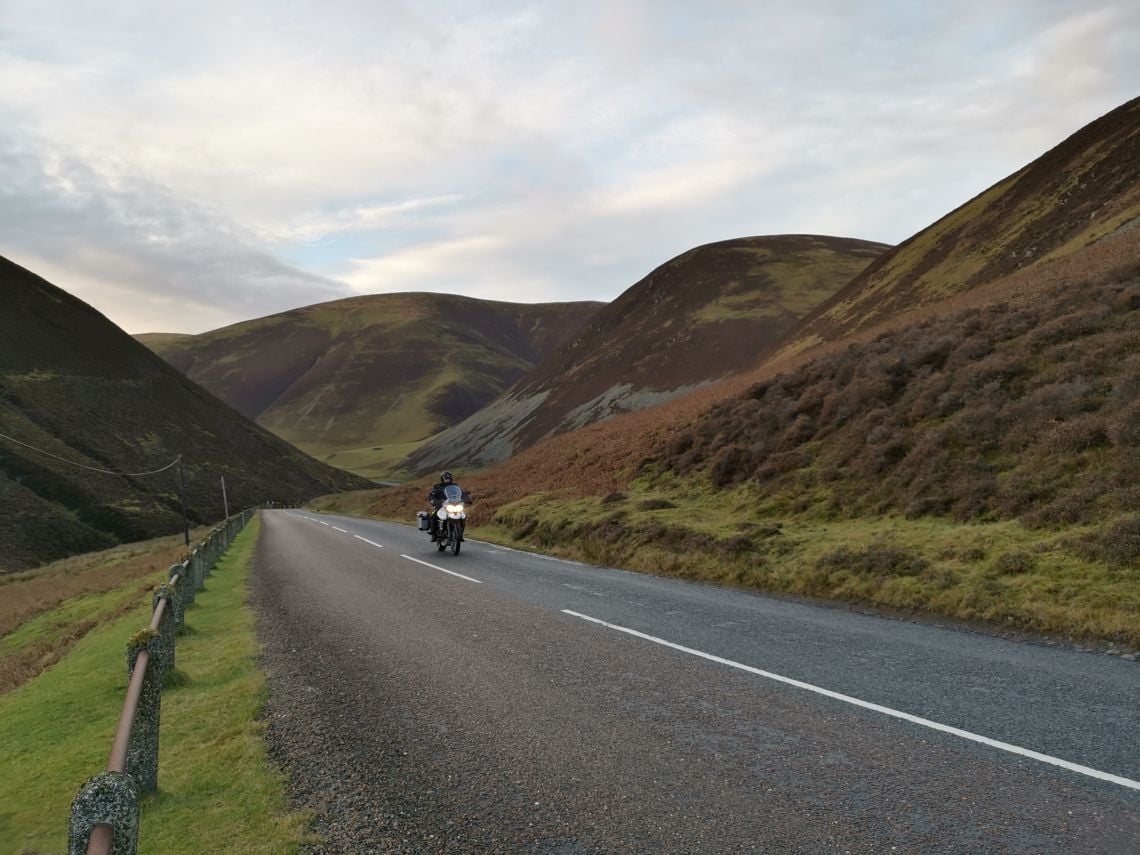 Of course, this wouldn't be a coast to coast route if we simply stopped after Galloway Forest Park, and so we continue onwards, on the home run now and to the Mull of Galloway, Scotland's most southerly point. This remarkably unspoilt spit of land feels like it's managed to avoid the attentions of mankind, save for the few lines of tarmac and the lovely lighthouse that sits on the cliff tops.
Upon reaching this, you'll have finished your ride, hopefully smiling from ear to ear. If you've got it in you, tackle the 115 steps of the lighthouse and, once on the top and on a clear day, you'll be able to see England, Scotland, Ireland, and the Isle of Man. If you haven't, you'll be pleased to know there's a café.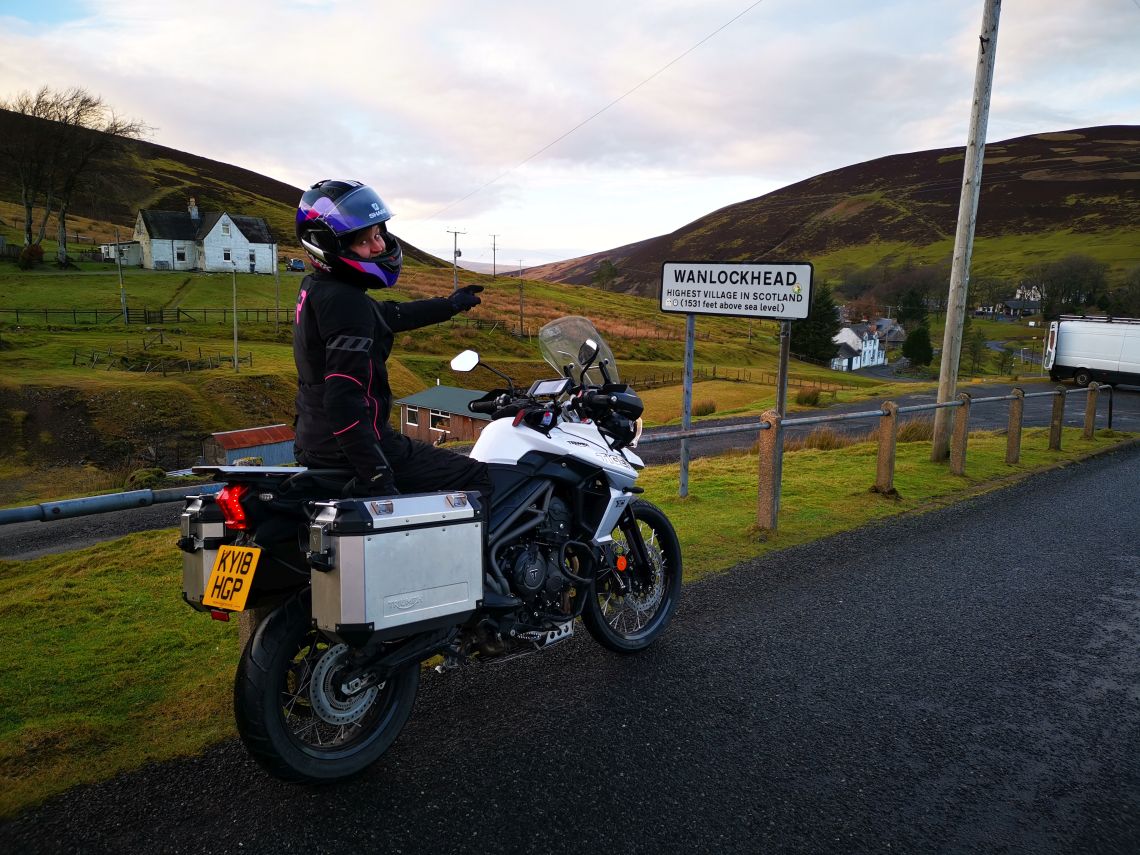 The Tyres
We collaborated with Bridgestone to create this amazing route to celebrate the company's adventure tyre, the Battlax Adventure A41.
The adventure bike-specific A41 takes over from the excellent A40 and offers improved grip in all conditions (vital when riding the varying quality and often-wet roads of southern Scotland).
It also comes with improved handling in corners and maintains the long-lasting tradition of the A40.
We fitted the A41s to our long-term Triumph Tiger 800 XCx, and we've covered thousands of miles on the tyres, both solo and two-up, plus we've been on launches in a rain-soaked Spain and checked them out on and off-road in the dry conditions of Morocco.
If there was a single word that would sum up the tyre's performance in all of the above conditions, it's 'superb'.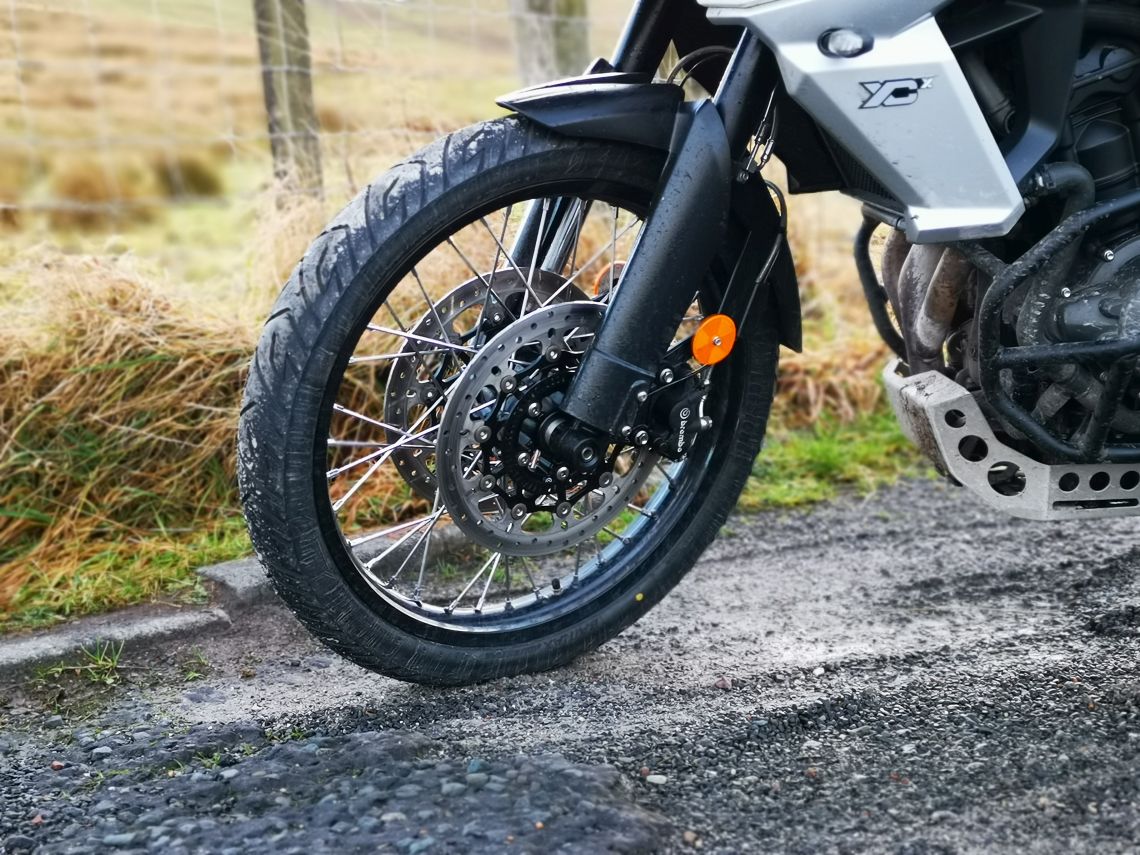 Competition time
We've created these Coast to Coast routes in order to celebrate the launch of Bridgestone's new Adventurecross AX41 tyres, which will be launched later this winter. So, throughout this series, which will run through to our July/August 2019 issue, we've teamed up with Bridgestone to give you the chance to get your hands on some truly incredible prizes worth up to £1,500!
After each of our Coast to Coast routes have been posted, we'll provide you with gpx. files so that you can go and ride them for yourself. Once you're riding them, make sure you take some pictures, as it is these that will enter you into the competition.
Simply send your best snaps from your Scotland Coast to Coast ride to [email protected] with the subject line of 'Bridgestone Coast to Coast Competition' to enter.
You'll have until 11:59 pm on August 31, 2019 to submit your photos, and you can enter as many times as you want. After this, we'll select the winners by choosing our favourite images.
There will be two categories of the winner – those who take a picture of a bike with Bridgestone tyres fitted along one of our routes, and those without Bridgestone tyres.
The prize breakdown is like so:
With Bridgestone tyres fitted:
1st: Full, head to toe RST kit, including an AGV helmet – approximate value £1,500
2nd: Overnight stay for two at the Lake Vyrnwy Hotel, followed by a day at the Mick Extance Off-Road Experience – approximate value £1,000
3rd: AGV adventure helmet – approximate value £500
Without Bridgestone tyres fitted:
1st: AGV adventure helmet – approximate value £500
2nd: A day at the Mick Extance Off-Road Experience – approximate value £250
3rd: Pair of RST Adventure Boots – approximate value £125
So, what are you waiting for? Get yourself over to www.bit.ly/ABRroutesScot and enter the thread titled 'ABR and Bridgestone Scotland Coast to Coast route files' to download your gpx. file and get riding!