Last issue we heard from Lisa Morris and Jason Spafford ahead of their trip from South America to Alaska. Having crossed the Atlantic by cargo boat, we catch up with them to see how they got on with the crossing…
How was the ship journey down to South America?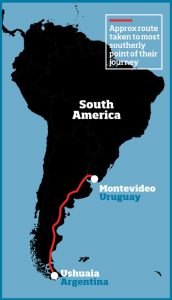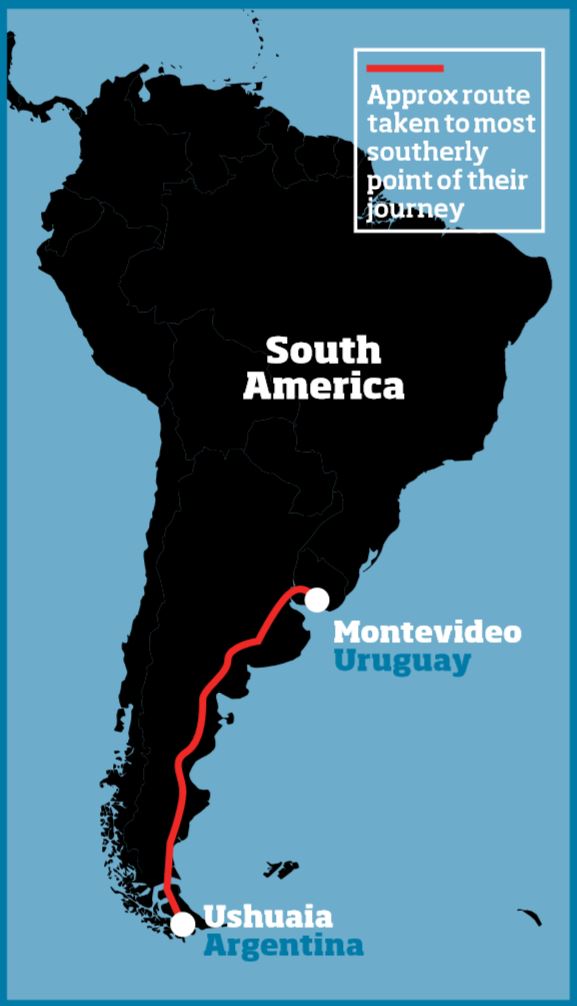 Despite the odd days of gusting winds up to 60mph and lashings of monsoon rain, the seas stayed calm over the Atlantic, even in the notoriously boisterous Bay of Biscay. Occasionally the crossing was so smooth we'd go out on deck to check we were still sailing.
We were incredibly lucky spending four weeks under blue skies and in blazing hot sunshine for the most part.
How long were you at sea for?
The best part of a month. We boarded on 17th February and disembarked on the 16th March, only a two-day delay on top of the 25 days scheduled voyage – 6,906 nautical miles sailed in total.
How big/fast/powerful was the ship?
The Grande Amburgo was a magnificent 214 metres long and 32 metres wide, weighing in at just shy of 45,000 tons, with all her cargo. Her engine reached around 25,000 bhp – 520 times more powerful than my bike. No less than 55,000 litres of diesel (four-stroke, eight-cylinder engine) were consumed each day. When the ship reached an optimum speed of 17 knots, her braking distance was more than half a kilometre.
What did you do all day to occupy yourselves?
We practised Spanish with the crew, which was as revealing as it was amusing; exposing what an enormous language gap we needed to bridge should we ever hope of being understood, let alone conversing in Latin America. In the evenings we often lay on top deck for some spectacular stargazing. It was a real treat with no light pollution. The routine was broken up with the odd emergency drill. We were also taken on an official visit inside the noisy engine room, received a Q&A briefing inside the bridge and given a one-off tour of the bow.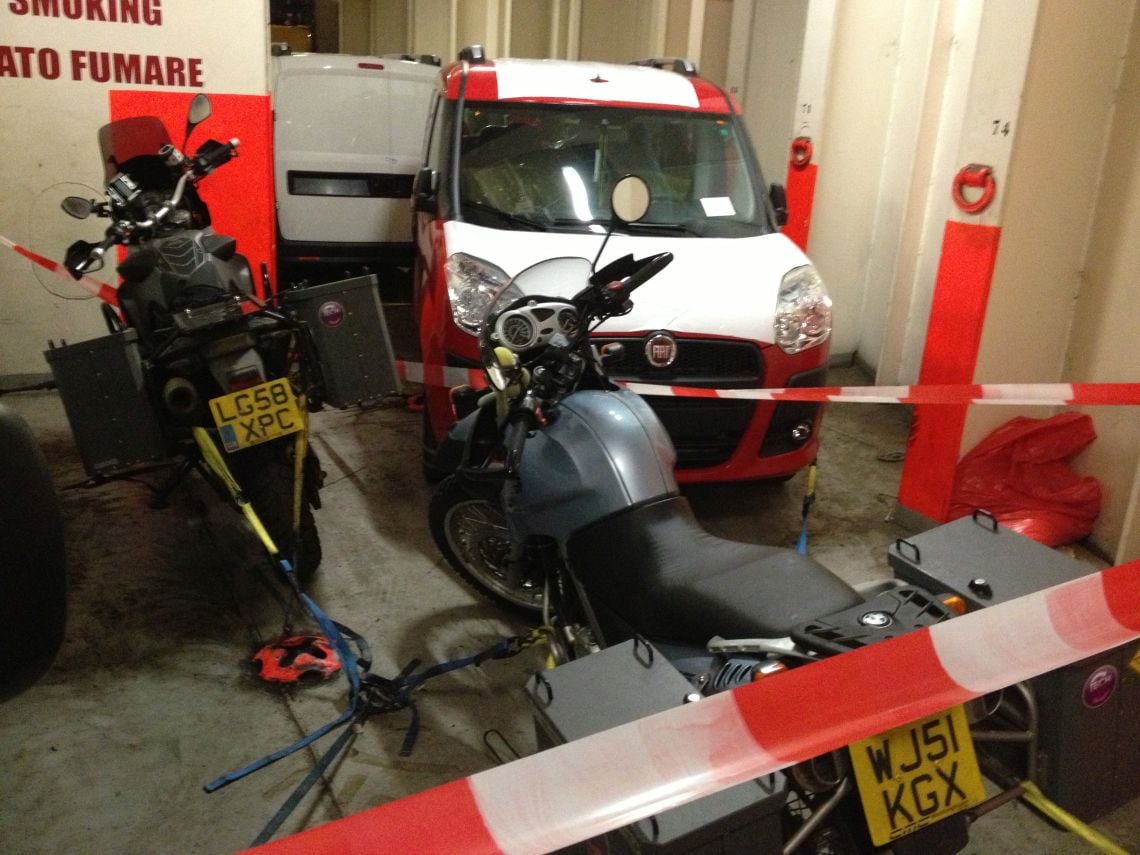 What was the food like?
Rocco was the Italian cook on board; we consumed his full culinary repertoire; three-course meals, three times daily where good table wine always seemed to be the order of the day. We ate a lot of fresh bread, bowls of pasta, seafood and veggies in sizeable portions although were offered a variety of meats every day.  We didn't get desserts that often, but the food was tasty, we never went hungry.
What were the living quarters like?
The passenger mess room was similar to a common room at a college's sixth form. Light and airy, comfy seating area, a few tables and chairs with a big screen and DVD player mounted in a high corner. We had access to drawers full of books, playing cards and board games. Although we opted for a cheaper cabin with no porthole, it was air-conditioned with an en suite, had unlimited hot water, bunk beds and ample storage with secure locks. We watched movies in the cabin as each came fitted with a large TV screen.
And the staff; did you have much to do with them?
Our ship was a working vessel for a twenty-eight strong crew, a male mixture of mostly Italian and Filipino, one Romanian and a Bulgarian. The Captain, Carlo, asked us not to over-engage his crew with idle chat. Fair enough, they all had a job to do. The other uniformed crew members were polite but busy with work. It was the Filipino guys that made more of an impact on us. Rodolfo for example was one of three ABs – able-bodied seaman – and always taking an inquisitive interest in us. Brian catered for us non-stop and Michael, the youngest at 25 years old seemed to like spending his free time chatting to us, talking books and discussing the life, culture and people in the Philippines.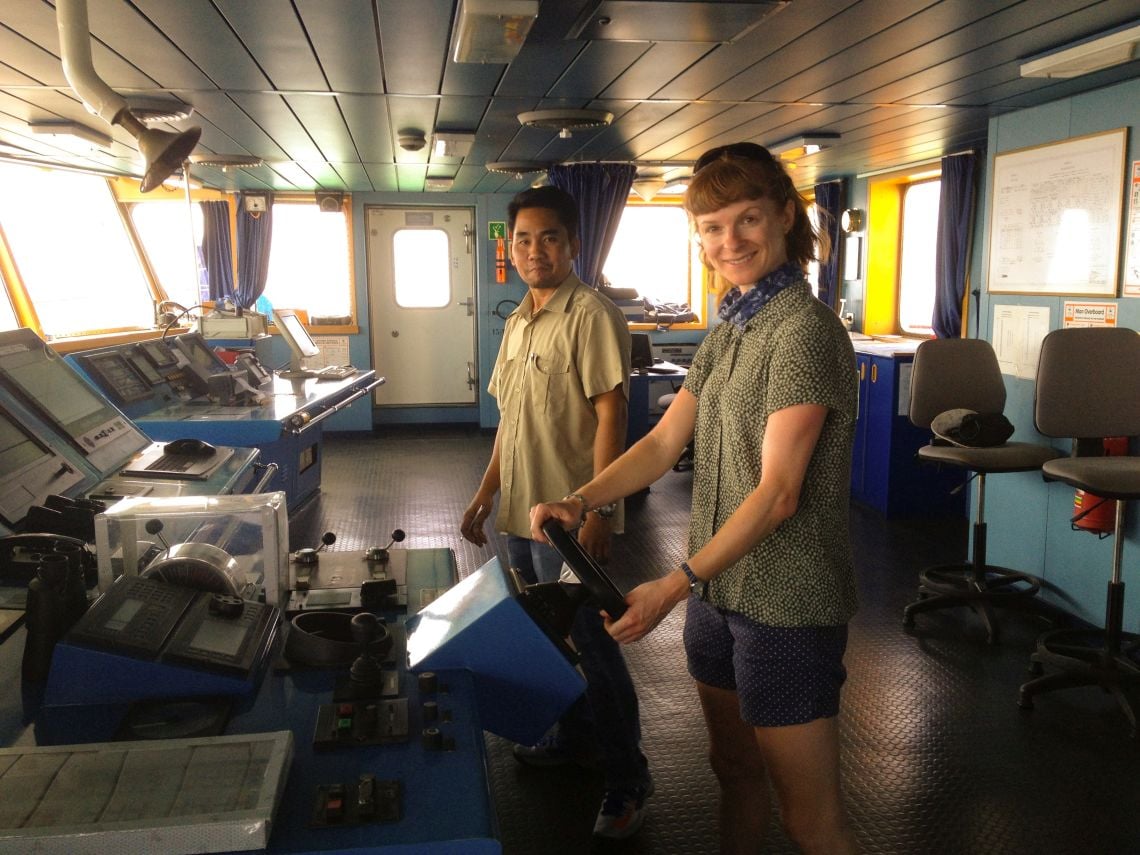 And what about the other passengers; who were they, where were they heading?
Although we were expecting closer to twelve passengers, Ludwig at 28 and his similarly aged girlfriend Christelle were the only two on our crossing with us. Despite his German name, Ludwig was French and like a lot of Europeans spoke good English. Christelle was more reserved and relied on Ludwig to translate. Both made very good company. They planned to revisit some family in Argentina and tour South America in their motorhome for a year.
Any incidents along the way?
The only real incident that occurred was some petty theft to our bikes by dockworkers coming onto the boat in a Brazilian port. A couple of low-value items were taken; our fault as we shouldn't have left them on the bikes, although I was more gutted when someone helped themselves to my beloved mascot monkey. We'd enquire about a cage to secure our bikes next time.
Are you glad you did it this way rather than air freight?
Definitely! Aside from the money saved by taking a container ship compared to air freighting the bikes and us, it was a chance to really relax after a frenetic period at home. Flying fish accompanied us alongside pods of dolphin, flocks of black kites and the boat's topside had an invasion of butterflies and moths near the tropics of Brazil. We took in some interesting sights at docks in Senegal, Brazil, Argentina and Uruguay. Disembarking was straightforward with immigration in Montevideo; they efficiently processed our paperwork in half an hour and we were on our way. We'd certainly recommend the 'ride on, roll-off ' experience. It was a real first and colourful way to kick start our motorcycle adventure.
What next?
We disembarked at Montevideo in Uruguay and head straight through into Argentina making our way – fairly quickly due to the prospect of snow and ice – down to Ushuaia. Admittedly, we have left it a little late in the season to be heading south when most riders are heading north. At the most southerly point, we can then take some time out. We'll ride northerly up through Patagonia and criss-cross the borders of Argentina and Chile to see the best of both on the way up. After that, it's into Bolivia, Peru, Ecuador and Columbia. Once we've meandered through Central America, we'll wind our way through the States and Canada before reaching Alaska, all things being equal. If body and budget allow, who knows, we may carry on and ride all the way home!
To keep up to date with Lisa and Jason's travels visit; www.twowheelednomad.com.