BMWf800GS
With no major news in their adventure line up for 2016, BMW has refreshed both the F700GS and F800GS and Alun Davies was on hand for the press launch
It was always going to be a tough job for a BMW salesman to enthuse a customer into buying an F700GS or F800GS when there was the all conquering and highly desirable 1200GS just a few showroom paces away. That job would have become a far more difficult proposition over the past few years now that PCP finance deals have become so popular and closed the affordability gap with monthly payments. It may be £90 extra per month for the big GS (F800GS £99/month; 1200GS £189/month) but the sales line "well Sir, for £21 extra per week you could be the proud new owner of a 1200GS," is very tempting when you're standing in a plush, warm showroom salivating over all the new, bright and shiny metal.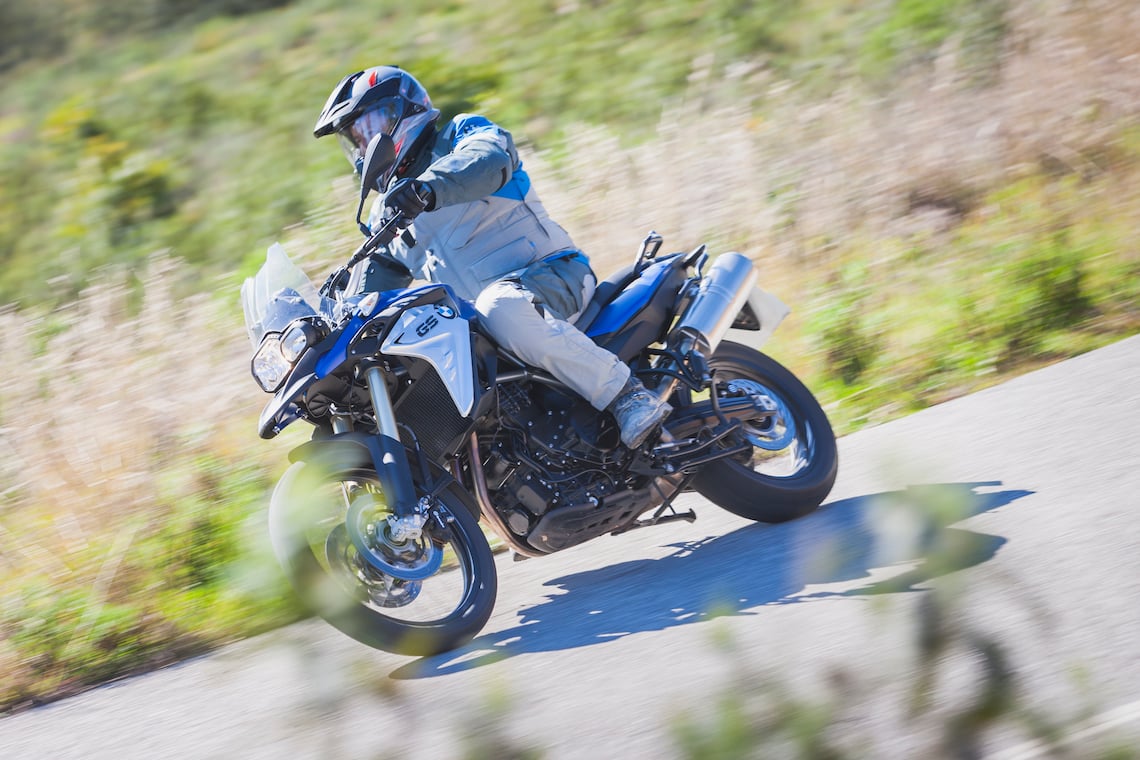 Photo: Alun Davies
Anyway, BMW thought that it was time to reintroduce the forgotten 700 and bridesmaid 800 with a little touching up here and there and a big emphasis placed on their long standing capabilities, reliabilities and features with a press launch in Portugal. And who was I to turn down such an invite, especially so when the route had been planned by Dakar legend Simon Pavey.
I've a big soft spot for the F800GS. It was during a European adventure with a mate on an F800GS back in 2009 that I made the decision to launch a motorcycle magazine named Adventure Bike Rider. In fact, that very same BMW became the front cover model for Issue One.
The 800 hasn't changed much from the original bike that hit the showrooms back in 2008 and for 2016 models it's steady as she goes with a few minor cosmetic enhancements and, more importantly, a range of five different seat height options to make the bikes more manageable for all shapes and sizes.
That's hardly front page news, but then what's not to like about a good value bike that's high on versatility, comes with proven reliability and offers a good return on MPG?
Throwing a leg over the 800 it occurred to me that I'd sat on a bike with a very similar feel and profile not so long ago on a launch in South Africa. Indeed, sitting on the 800 BMW felt very similar to the new Honda Africa Twin. It's a high perch alright but the layout of the hand, arse, foot triangle, coupled with the slim profile makes a very firm statement that this bike is built for both on and off-road riding.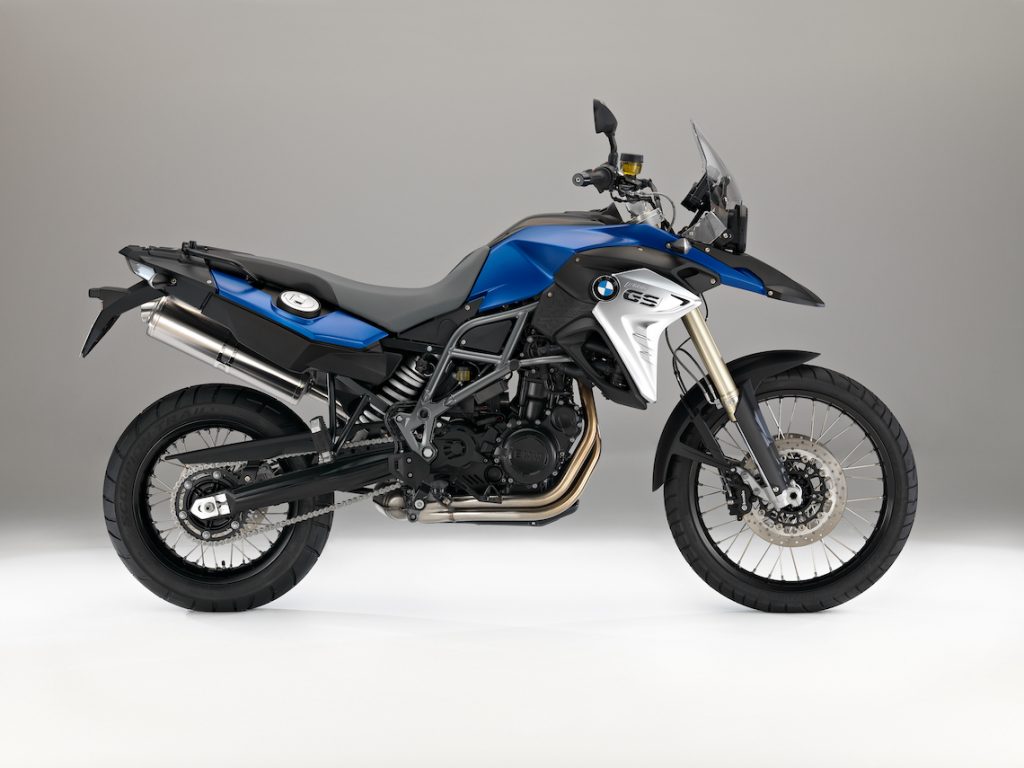 Photo: Alun Davies
The bikes come equipped with an electronically engaged Enduro riding mode plus three additional suspension settings and both the traction control and ABS can be switched off, just the job when riding in the dust plumes of Simon Pavey.
Setting off through the built up coastal strip of the Algarve provided time to reacquaint myself with the 800 before we hit the mountain roads and a Dakar inspired off-road trail. It didn't take long to get back into the swing of the bike and start appreciating what a competent machine it is. Comfy, great visibility, decent wind protection, smooth gear changes and just enough poke to make quick overtakes a no fuss event.
Up in the hills the fun really began and we were able to stretch the legs of the 800 on fast sweeping bends and ultra tight switchbacks before hitting the dirt. The sun was shining, the temperature just right and it's at times like this when I start thinking, do I really need all that extra bulk and performance of a 1000cc plus adventure bike? The 800 is far from being a missile but it's nimble enough and holds a cornering line to boost rider confidence.
The other aspect I'd all but forgotten is just how capable the 800 is off-road. Some of the trails we were taken on raised the blood pressure of the inexperienced off-road riders amongst us, non more so than when our 'leader' took a wrong turn and got lost up the best trail of the day. More getting lost on press trips is what I say.
Specs at a glance
Price: From £8,850 Engine: 798cc in-line twin Torque: 85bhp @ 7,500 Power: [email protected],750rpm Weight: 191kg dry Suspension: Upside down 45mm forks; single adjustable rear shock Brakes: Front – Twin 300mm floating discs, dual piston calliper: Rear – 265mm disc, single calliper. ABS. Wheels: Wire Spoke Tyres Front – 90/90-21; Rear – 150/70-17 Tank Capacity: 16-litres Seat Height: Standard 880mm Low options between 850mm and 820mm Colours: Blue; Lightweight Uni; Blackstorm Metalic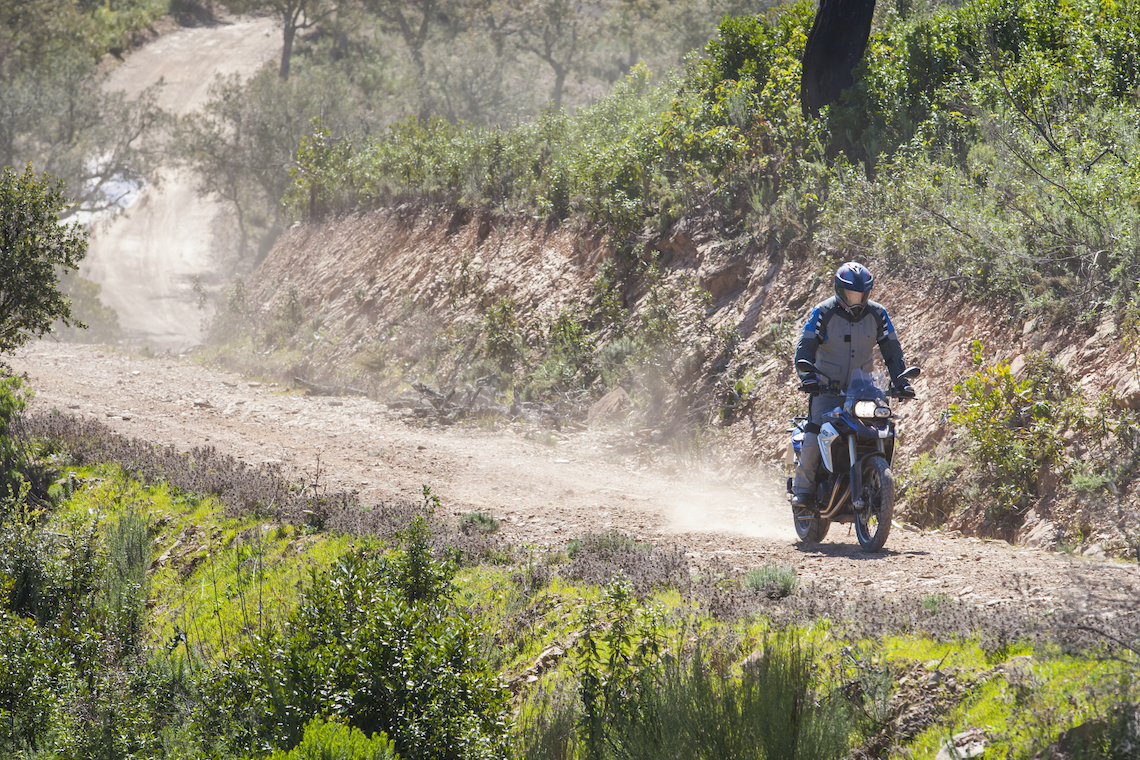 Photo: Alun Davies
Models
F800GS Base Model £8,850
F800GS Rallye £9,355 – includes heated grips, hand guards, computer, centre stand and pannier fastenings.
F800GS Rallye LS £9,355– Low seat and suspension version of Rallye with no centre stand or pannier fastenings.
F800GS Blackline £9,475 – as with the Rallye plus black styling, LED indicators and tinted screen
BMWf700GS
Stepping off the 800 and onto the 700GS I was immediately taken by how much smaller and lower the bike felt.
Confusingly, both machines share the exact same 798cc engine with the 700 pushing out 75bph as opposed to the 85bhp of the 800GS. The 700 also feels a lot gentler to ride with nothing much to excite or scare, and as such would make a great first bike for a new rider.
Adopting the same riding stance as on the 800, the lower profile of the 700 became apparent when I almost ripped my toes off mid-corner on the first switchback. A swift foot positional change later and it was back to free flowing fun, though I did miss the extra power of the 800.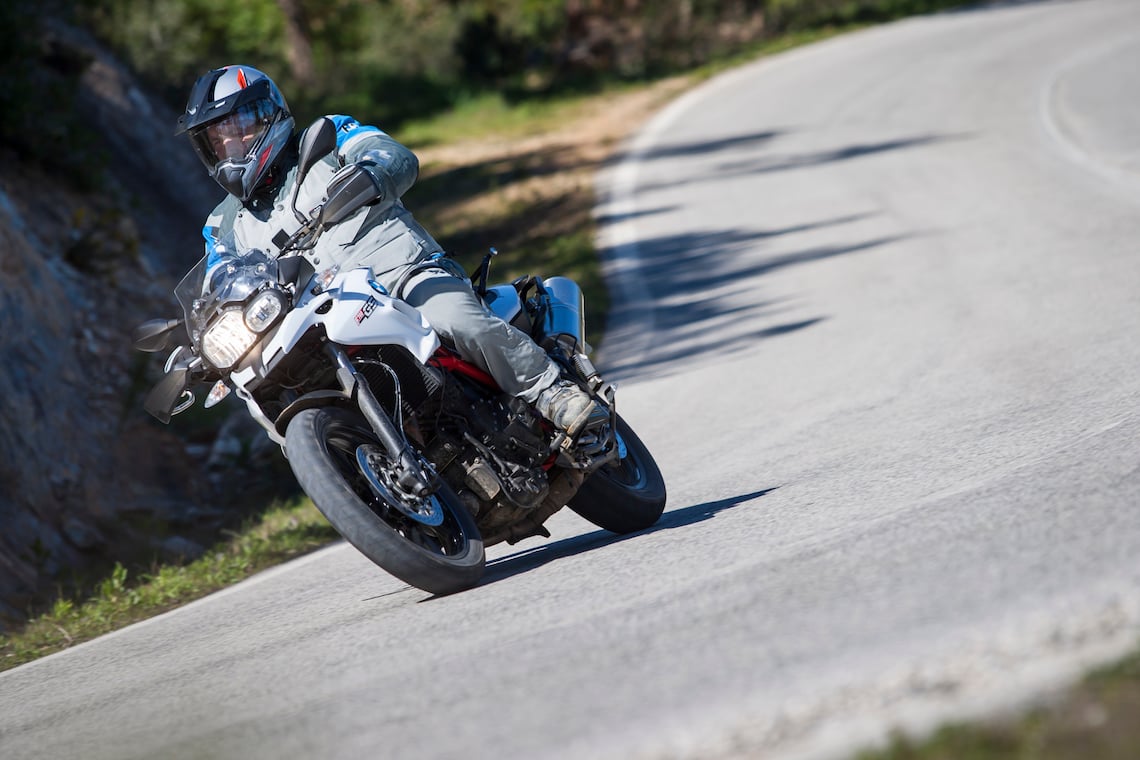 Photo: Alun Davies
One of the aspects I really like about riding both of these bikes that the on-road fun was gained from using the full range of the engine unlike with the larger, faster, more powerful 1000cc machines where you rarely get to use the upper levels of performance.
With a 19in cast front wheel the 700 is definitely more road-worthy than the 21in spoked dual-purpose 800 and it's only when you get to ride the machines back to back that you truly notice how much difference that extra two inches make in control, handling and general ability to cope with rough conditions.
In summing up, I never really understood the reason why BMW had a 700cc version of the F800GS. However having now ridden these bikes back to back there is a surprisingly vast difference in the machines. The 700 is the clear choice for the fist time rider, it's lower, 5kg lighter and is such a non-threatening bike to ride it's a great introduction to life spent in the saddle. Let's put it this way, if my son just passed his test then I'd like to see him on a F700GS.
On the other hand stepping back on the F800GS has reminded me just how good a bike it is. For a mid-range dual purpose machine it's right up there with the best, if not the best, and other than possessing ballistic performance it's as versatile as they come – great for touring and commuting, plus it's a pretty spacious pillion carrier to boot.

Photo: Alun Davies
Specs at a glance
Price: From £7,815 Engine: 798cc in-line twin Torque: 75bhp @ 7,300 Power [email protected],500rpm Weight: 171kg dry Suspension: 41mm forks, single rear adjustable shock Brakes: Front – Twin 300mm floating disks, twin piston caliper: Rear- 265mm disc, single piston caliper. ABS. Wheels: Cast aluminium Tyres: Front – 110/80-19; Rear – 140/80-17 Tank Capacity: 16-litres Seat Height: Standard 820. Low options 790mm and 765mm Colours: Orange, Grey, Lightweight Uni
Models
F700GS Base Model £7,815
F700GS Rallye £8,275 – Includes heated grips, hand guards, computer, red frame, centre stand and pannier fastenings.
F700GS Rallye LS £8,275 – Low seat and suspension version of Rallye with no centre stand or pannier fastenings.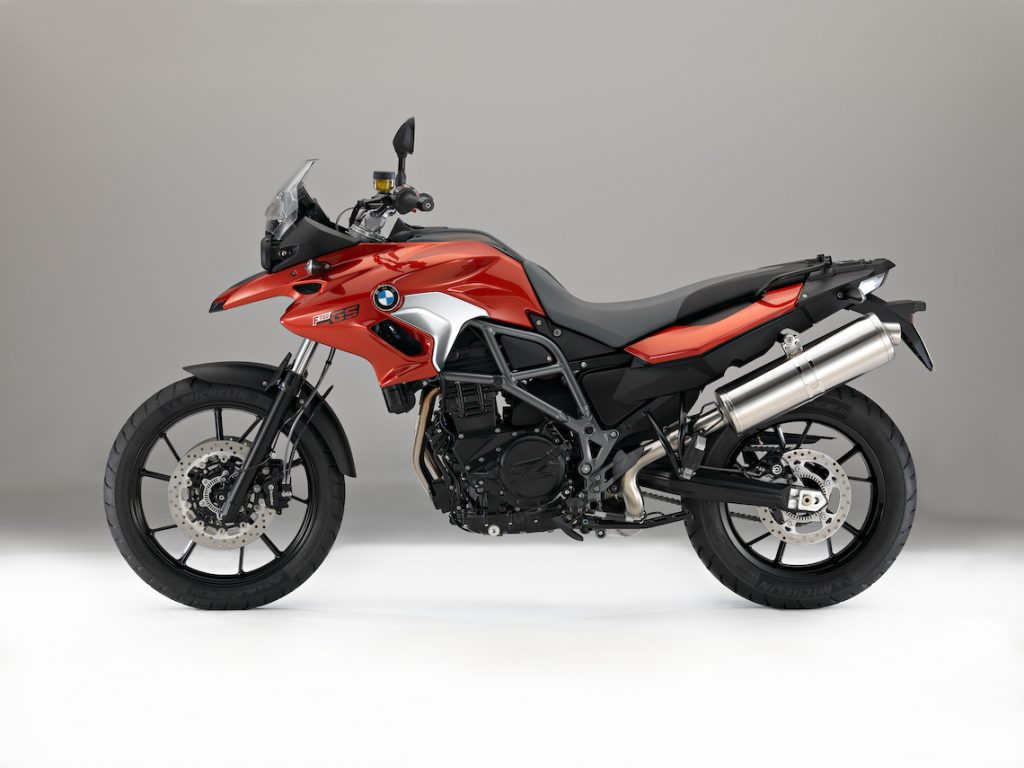 Photo: Alun Davies
'the 700 is the clear choice for the first time rider'