With a new water-cooled boxer twin looking to be a cert in 2013, the R 1200 GS Rallye is likely to be the last in the line of the famous air/oil-cooled GS range. Should you wait for the all-new version or buy now and take advantage of the current great-value BMW promotions?
The Review
Back in the early 1980s, the island of Guernsey was described as 'a rock in the English Channel with 50,000 alcoholics clinging to it'. as a young man with a summer to fill, it occurred to me that this would be the perfect location to find seasonal work and energetically engage with the local culture. Maybe I'd even bump into Oliver Reed, who was in residence at the time, and said to be making even the most hardened face-in-the-gutter local appear as a clean-living, god-fearing teetotaller.
As it happened I did bump into Reed along with Phil Collins and Paul Rodgers (the former lead vocalist of the bands Free and Bad Company) plus, I had my 15 minutes of fame serving lunch to Judith Chalmers as she filmed an episode of Wish You Were Here…?, a TV holiday programme from the 70s and 80s. exciting stuff, eh? But not even the terrifying experience of Judith stripping down to her bikini for poolside aperitifs or Reed's dribbling offer of an arm wrestle could compare to my first scary encounter with a BMW GS.
Back then, drink-driving was not viewed in the absolute anti-social and criminal manner that it (quite rightly) is now, but even so I still shudder and cringe at the memory of agreeing to ride pillion behind a local who'd drunk way to much of the indigenous Bucktrouts brew to celebrate buying his new R80G/S adventure bike. It was possibly the most stupid thing I've ever done in my life as the guy drove like a lunatic when dry and with more than a nod to the Kamikaze when under the influence.

Anyway, other than being part of an event where my legacy looked certain to be a stain on a granite wall, this all-new Beemer with a 797cc flat-twin boxer engine and duel-purpose on/off-road ability was a revelation and the talk of the island's biker community. However, the Guernsey consensus was the concept would never catch on, which in retrospect was definitive proof of the level of intoxication present on island back then.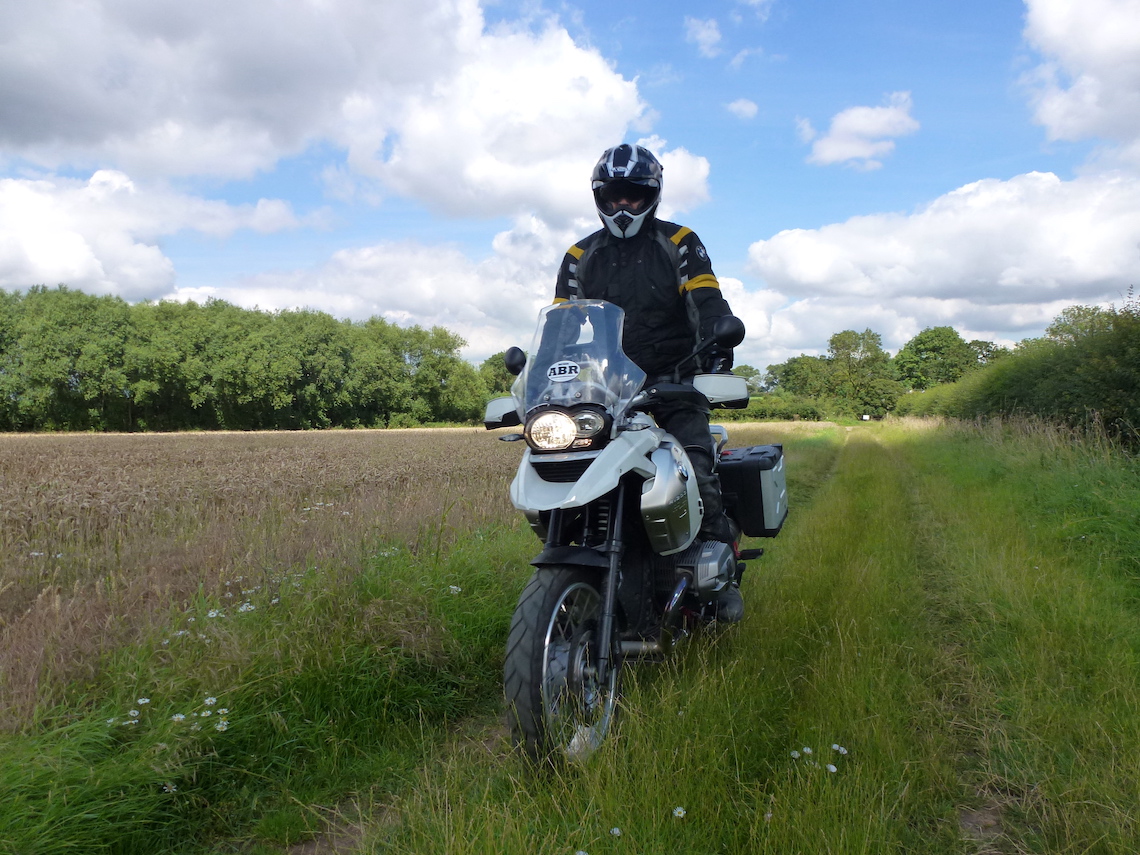 Fast forward to a distinctly more sober June 2012 and if we discount sales of motorcycles below 125cc, 'adventure bikes' are now the best-selling genre of two wheelers in the UK, with sales trouncing those of supersports, touring, naked et al. And, after a couple of months where it was knocked off the top spot by the new Triumph explorer, the BMW R 1200 GS, the current descendent of the original R80G/S, is back to claim its crown as the best-selling large capacity motorcycle in the UK.
Based on the above stats it's difficult to argue against the GS range having changed the course of motorcycle history or that they've been the catalyst for the host of new big trallies from manufacturers that have taken a very long time to make an appearance at the big bike adventure ball. To put another way, if you're considering buying a new adventure bike, it's worth remembering that with the GS you get over 30 years of factory product line development, plus the knowledge and experience that comes from having sold way in excess of 500,000 units. No other big bore adventure bike comes anywhere near offering that.
About five years ago, I had my first test ride on an R 1200 GS and, if truth be told, could not understand what all the fuss was about. The clunking, agricultural feel of the gear box and – when coming to a GS from a sportier direction – the underwhelming delivery of the boxer engine had me scratching my head in amazement that these bikes were so popular.
However, circumstances came about in early 2011 where a good mate needed to sell his 2008 model GSA (the A being the 'Adventure' version of the standard GS) very quickly and having trawled through dealers for an immediate cash sale he made yours truly his last call of the day. He offered the bike at the highest price he'd been quoted by a dealer that day, which translated into a deal I could not refuse. In short, I became the owner of a 1200 GSA by default rather than choice.
Over the course of the next couple of months, the GSA performed its magic and I slowly but surely fell for all its quirky charms, discovering a level of comfort and performance from which it was going to be very hard to prise me away. I was a convert, but also firmly of the opinion that the big Beemer was one of those bikes that grows on you over time rather than being an object of instant affinity. And then came my first encounter with the BMW R 1200 GS Rallye in early 2012.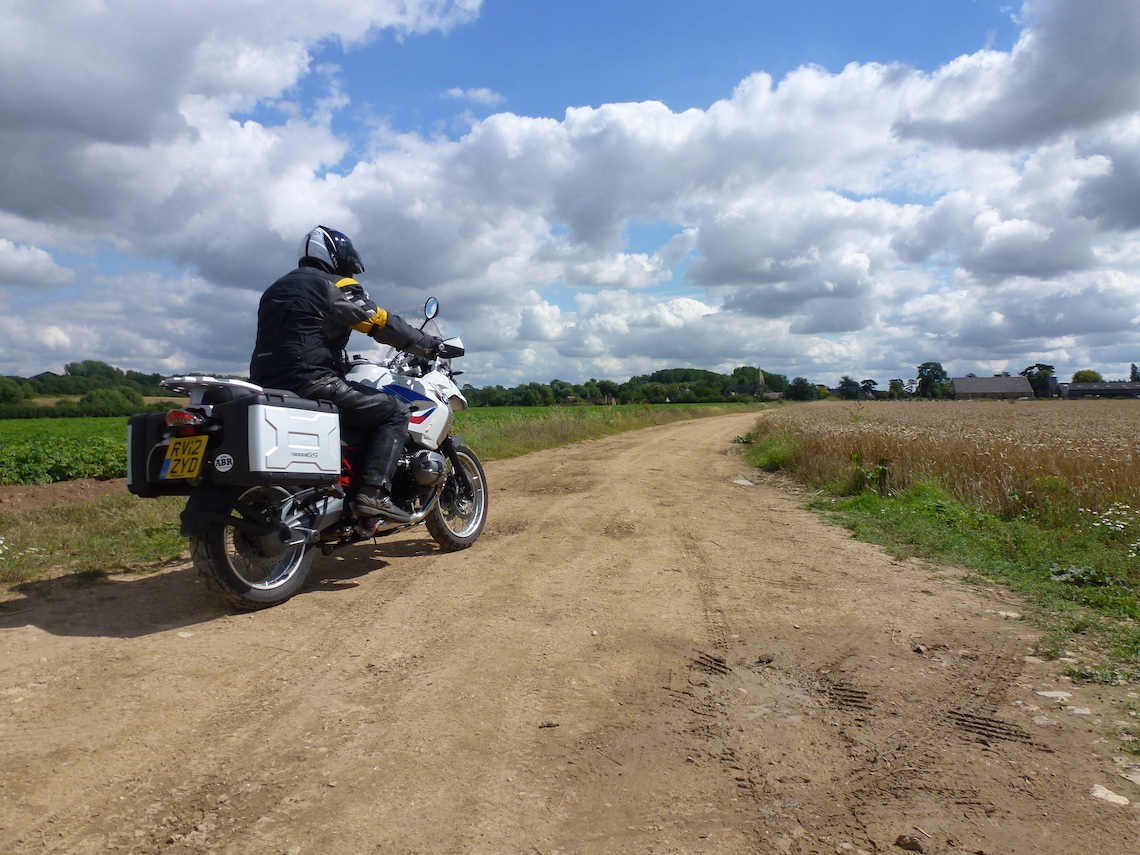 While I'd always thought that the GSA was a good-looking machine in a brutal, muscle-bound but balanced sort of way, the standard GS never had the same appeal. In my eyes it was the motorcycle equivalent of the guy who works out his upper body but neglects to train his legs with the overall effect looking unbalanced, unattractive and just plain odd. But that's not the case with the Rallye. The cosmetic changes, which include an Alpine White colour scheme sporting the Motorrad Motorsports colours, coupled with a black engine and forks, plus a striking Magma Red frame totally change the appearance of the GS making it into a head turner and an object of instant desire.
Colour schemes aside, the main difference between the power plant on my 2008 GSA and the current range is the introduction in 2010 of the cylinder head design from the high performance HP2 Sport, which essentially replaced the older high cam and rocker layout, to a full double overhead cam unit. These changes meant little to my non-technical grey matter but the fact that I can quote them means I can nod like a works mechanic when the subject is brought up at a bike meet. What interests me more is that, on paper, it equates to a 5 percent increase in power to 110bhp, a small rise in peak torque and more revs with the redline up from 8,000 to 8,500rpm. In short, it all sounds distinctly underwhelming.
For the more technically minded reader, BMW has also introduced larger diameter valves at intake and exhaust, and they both lift higher. There's also new cast-aluminium pistons, larger throttle bodies, a higher capacity air-filter, a change to the intake manifolds, a reduction in final drive ratios and shifter refinements in the gear box. The company also tinkered around with the exhaust system by modifying the internal silencer and adding an electronic exhaust flap. For non-technical readers, I can tell you now that when you fire up the Rallye all the above bodges translate into a beautiful exhaust roar that'll have you scaring young children and grannies at traffic lights and a much-improved free revving throttle response. So far so good, and it gets better…
On the road the combined effect of all the changes and modifications are nothing short of stunning to the point where I'd recommend anyone in love with and riding a pre-2010 model GS to take a trip down to your local dealer and book a test ride now. Although on paper the performance increases appear underwhelming, in reality they combine to offer significantly improved responses in all the areas a GS rider is likely to appreciate. The Rallye feels and is instantly livelier from the off; the acceleration is crisper and stronger and the bike is far happier when revving near the redline. And get this: the gearbox is smooth, and combining the words 'smooth', 'gearbox' and 'GS' is something I never though I'd do.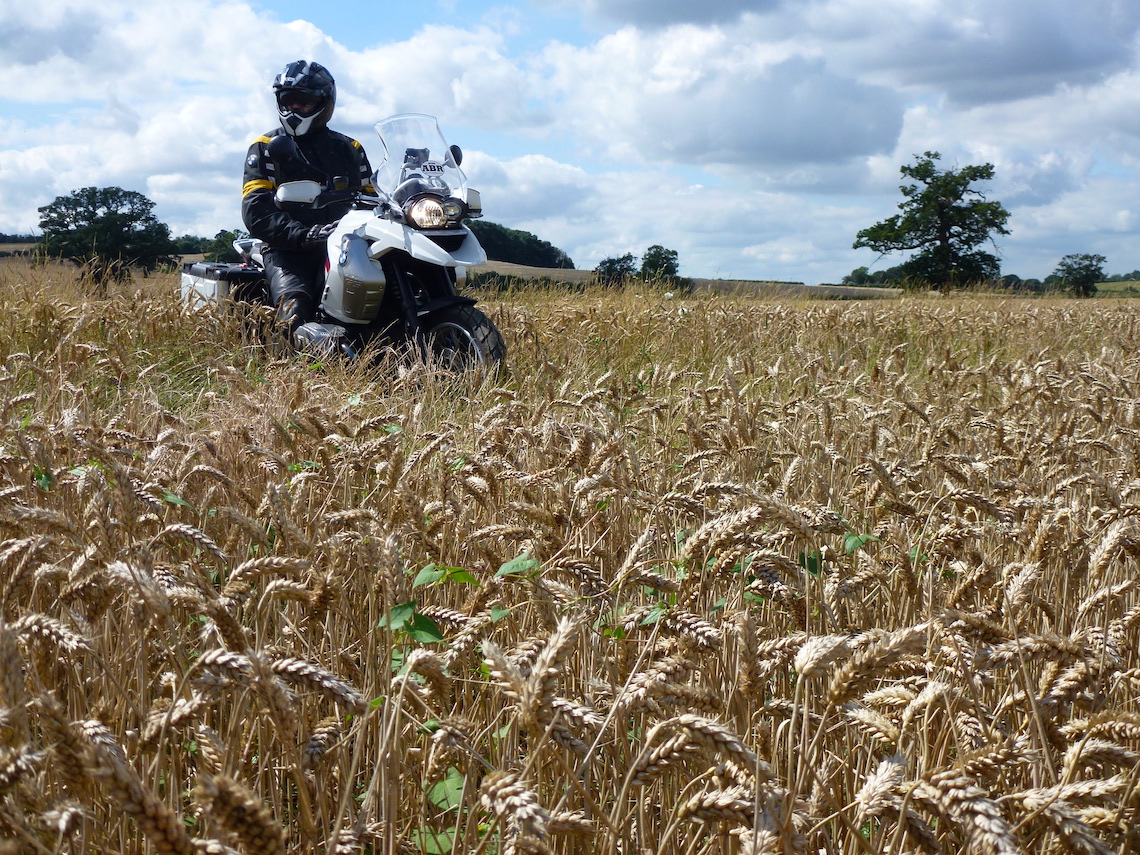 What BMW has managed to achieve with the 2010 upgrade and Rallye styling would be the same as if the company had taken an unfit 50-year-old bloke with a bad haircut who eats and drinks all the wrong stuff and sent him packing into the Bavarian Alps for a six-month stay at boot camp. The result would be a well-groomed 50-year-old stallion of a man who looks 10 years younger and hikes enthusiastically up hills without breaking sweat.
Quick Spec
MODEL: BMW R 1200 GS Rallye
PRICE: £12,145
CAPACITY: 1,170cc
MPG: 45-50 mpg
TANK CAPACITY: 20 litres
RANGE: 220 miles (approx)
MAX SPEED: 125mph (claimed)
POWER: 110bhp at 7,750rpm
TORQUE: 88lb ft at 6,000rpm
TRANSMISSION: Shaft
SEAT HIGHT: From 790mm (full lowering kit) to 870mm
WEIGHT: 209kg (dry) 234kg fully fuelled and road ready
WHEELS: 19 in front; 17 in rear. Spoked
SUSPENSION FRONT: BMW Telelever
SUSPENSION BACK: Electronic Suspension Adjustment system
BRAKES: Double discs 305mm front; single disc 265mm rear
COLOURS: Alpine White with Magma Red Frame
OPTIONAL FACTORY FITTED EXTRAS: Tyre Pressure Control £205 – Anti Theft Alarm £200 – Integral ABS (Partial/Switchable) £1,000 – ASC (Automatic Stability Control) £305
Off-Road
On a recent press event at the BMW off-road centre in South Wales we were presented with the entire GS range and effectively told 'do your worst'. This in itself is a credit to BMW which, if taken on face value, has a level of confidence in its big bore adventure bikes that I've yet to experience with other manufacturers.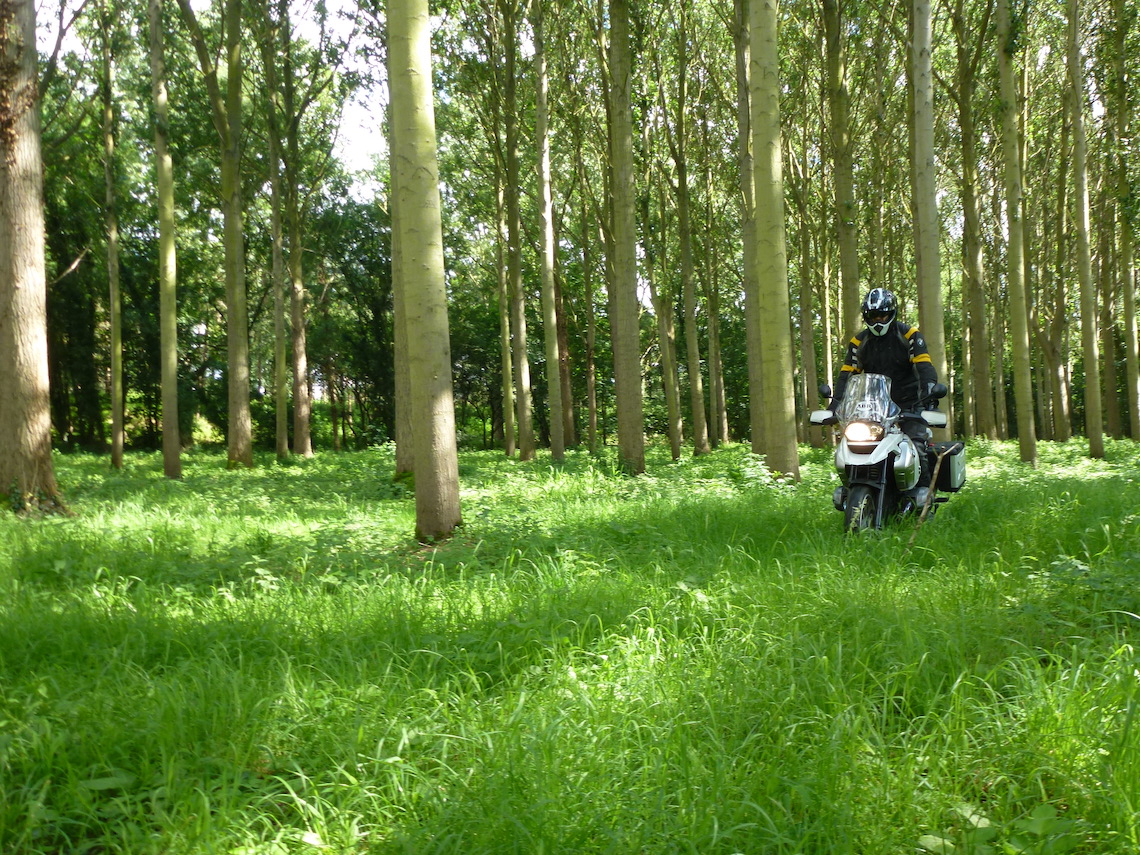 Most of my time was taken up on the new 650 Sertao, but I also had the opportunity to check out the performance of both the GS 800 and – fortunately for the purpose of this feature – the 1200 Rallye. Suffice to say that the off-road performance of the Rallye is in complete contrast to what you'd expect from a bike of this size and weight. In the right hands this bike is capable of taking on terrain which 90 percent of riders will never attempt and do it in style. The balance and weight distribution is superb and the range of suspension settings is spot on for almost all occasions below competition level.
With a confident and experience rider at the controls there is no green lane in the UK that would be off limits to a 1200 GS.
Accessories
The Rallye comes with a range of BMW accessories as standard including heated grips, spoked wheels, hand protectors, chrome exhaust, on-board computer, LED indicators, centre stand, left and right pannier fastenings and electronic suspension adjustment (ESA).
How Versatile is the BMW R 1200 GS Rallye…
AS A COMMUTER? The poise and balance of the GS never ceases to amaze me and living in Stratford upon Avon – a town very often grid-locked with tourist traffic – the big Beemer has had plenty of opportunity to show its credentials as a cross-town commuter. The result is that I've never once thought I'd rather be on another big cc motorcycle.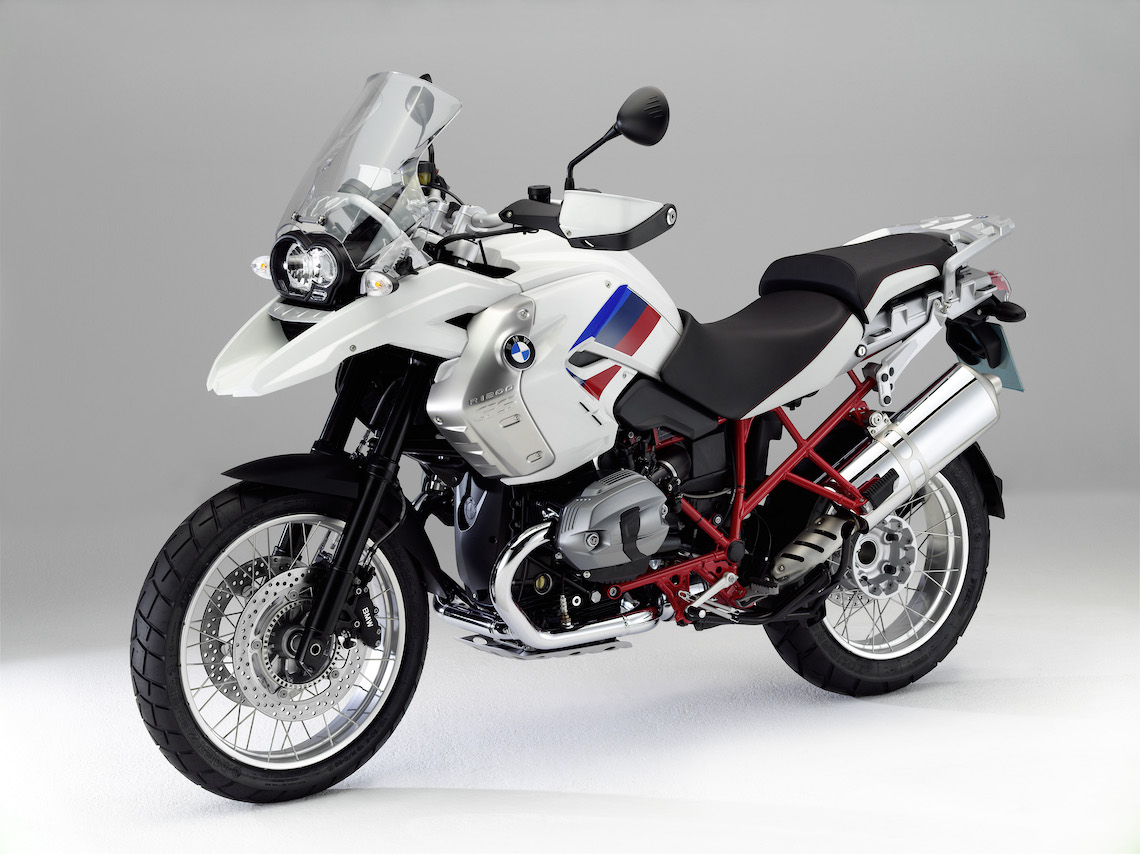 AS A WEEKEND TOURER? It's said that you know when you've bought the right bike when you smile every time you open the garage. With that same sentiment in mind, I smile every time I look at the GS and think of the long weekend ahead.
AS AN OFF-ROADER? As always, I'd better qualify this by saying that riding a big, heavy bike off-road has more to do with the competence (and balls) of the rider than the qualities of the bike. That said, most owners never get to test out their GS on anything more technical than graded forest roads and would therefore be blown away by the performance of this bike on terrain where you'd be hard pushed to even walk. Once again, the performance and balance of the GS defies it's bulbous looks and bulk.
AS A CONTINENTAL ROAD TOURER? From the moment I opened the throttle on a modern day GS (2008 GSA model) I've been blown away by the quality and comfort of the ride. Fully loaded with a pillion or solo it's as close to taking a trip on a magic carpet as you're going to get on an adventure bike and big, long-distance days in the saddle are events to look forward to.
AS AN RTW OVERLANDER? We've all witnessed the potential of the GS as an RTW overlander on mainsteam TV following the adventures of Charley and Ewan. At a guess I'd say there have been more RTW adventures launched on BMW GS motorcycles than any other model and I'd have no qualms setting off on one today – if only!
AS A PILLION CARRIER? I've yet to have a single complaint from a pillion and keep getting plenty of requests to go out for rides on the weekend, which says it all really.
Conclusion
The mile-munching comfort and excellent handling that has long been a feature of the GS range was given a boost by the performance improvements in 2010 and has now been turned into an object of desire with the Rallye refinements.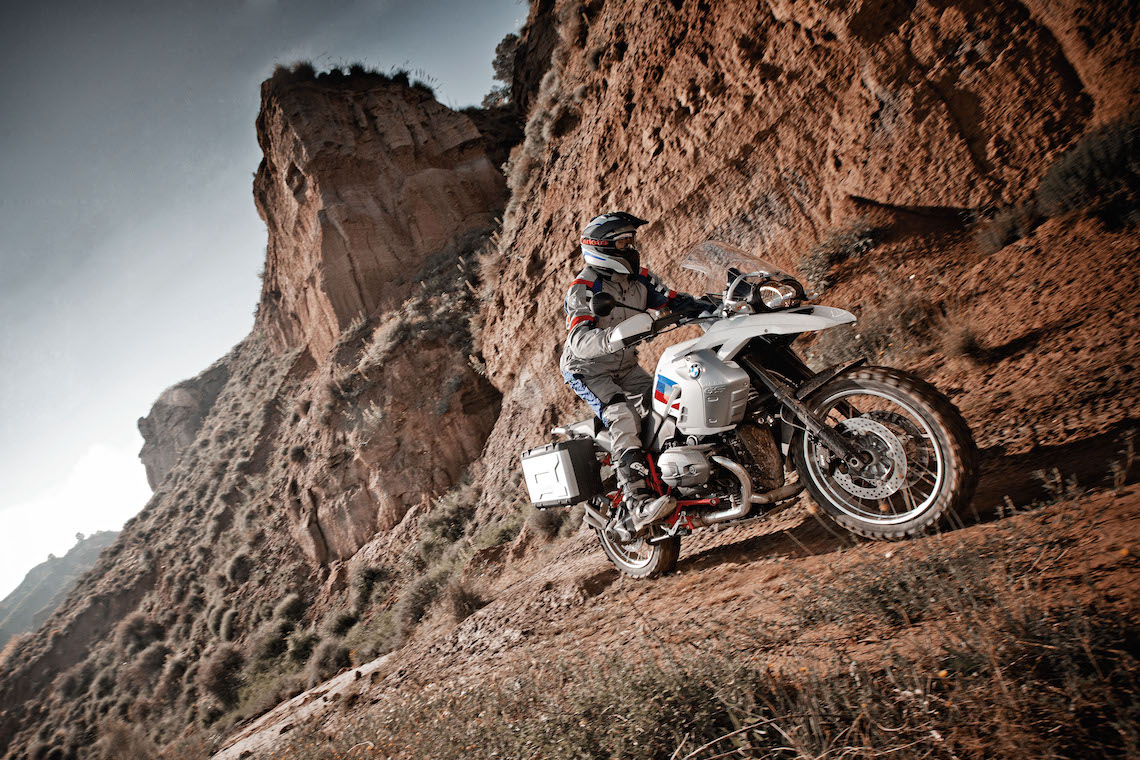 If you're looking to buy a big-cc adventure bike then there's a lot of choice out there right now. There's the blistering performance of the Honda Crosstourer and Triumph Explorer; the quality and versatility of the Yamaha 1200 Tenere; the more road-orientated features of the Kawasaki Versys 1000 and Ducati Multistrada, or the off-road prowess of the KTM 990. And of course, there's the rumoured water-cooled GS due for release some time in 2013.
However, if you're looking for a motorcycle that genuinely does it all (in the right hands) to a standard that's yet to be bettered then with the current deals available from BMW I can't think of a better bike than the R 1200 GS Rallye. Let's put it this way: if I were told that the Rallye was going to be the last bike I would ever own, I'd look forward to a long and happy life.