Rose Crompton rounds up bike-related stats and facts to make your pulse race with fear, excitement or downright bewilderment. Prepare to be enlightened…
The most…
irritating road users
We know what you're thinking, but despite popular motoring stereotypes, it wasn't bus drivers (four percent), 'white van men' (18 percent), or pedestrians (one percent) that came top of a list of annoying road users as voted for in a recent survey.
Over 20,000 AA members were asked 'which road users make you most angry when driving?', and the top answer from motorists was an overwhelming 45 percent agreeing that 'other people in cars' is what grinds their gears the most when on the road. So, it's not just us lot on two wheels that find them a pain in the arse then?
Speaking of two wheels, motorcyclists came in near the bottom of the survey with a saintly six percent. Those drivers who did cite bikers as an irritation fell into either the 65 or over age group or young drivers between 18 and 24. It seems that, regardless of age, jealousy's a terrible thing…
The most…
football fanatical bike
You'd really have to love Wayne Rooney to want to buy and ride this blinging bike in public. Rooney collaborated with custom bike design company Lauge Jensen, to create this cruiser, which is adorned with 21 black diamonds and a single high-clarity white diamond on the shift rod. An autographed 'No 10' shirt is mounted and lacquer-sealed onto the petrol tank and the rear mudguard depicts and image of Rooney celebrating the goal that secured Man-U the 2011 premiership title against Man City and was subsequently named 'Best Goal' of the season. It's a bit lost on us to be honest, but we're sure it'll make sense to any die-hard Man-U fans out there.
All these – ahem – tasteful personal touches were designed and approved by Rooney himself, so in that respect this is probably the most self-indulgent motorcycle on the planet. Ever the giver, though, it was sold at a sports memorabilia charity auction held by Bonhams in February this year. As the gavel fell for the final time, the bike sold for a whopping £43,250 (that's equivalent to 3.7 brand-new water-cooled BMW R 1200 Gs in case you're wondering). And if the rumours are true, it's also equivalent to just 6 percent of Rooney's weekly salary from Man-U. Imagine going bike shopping with that man.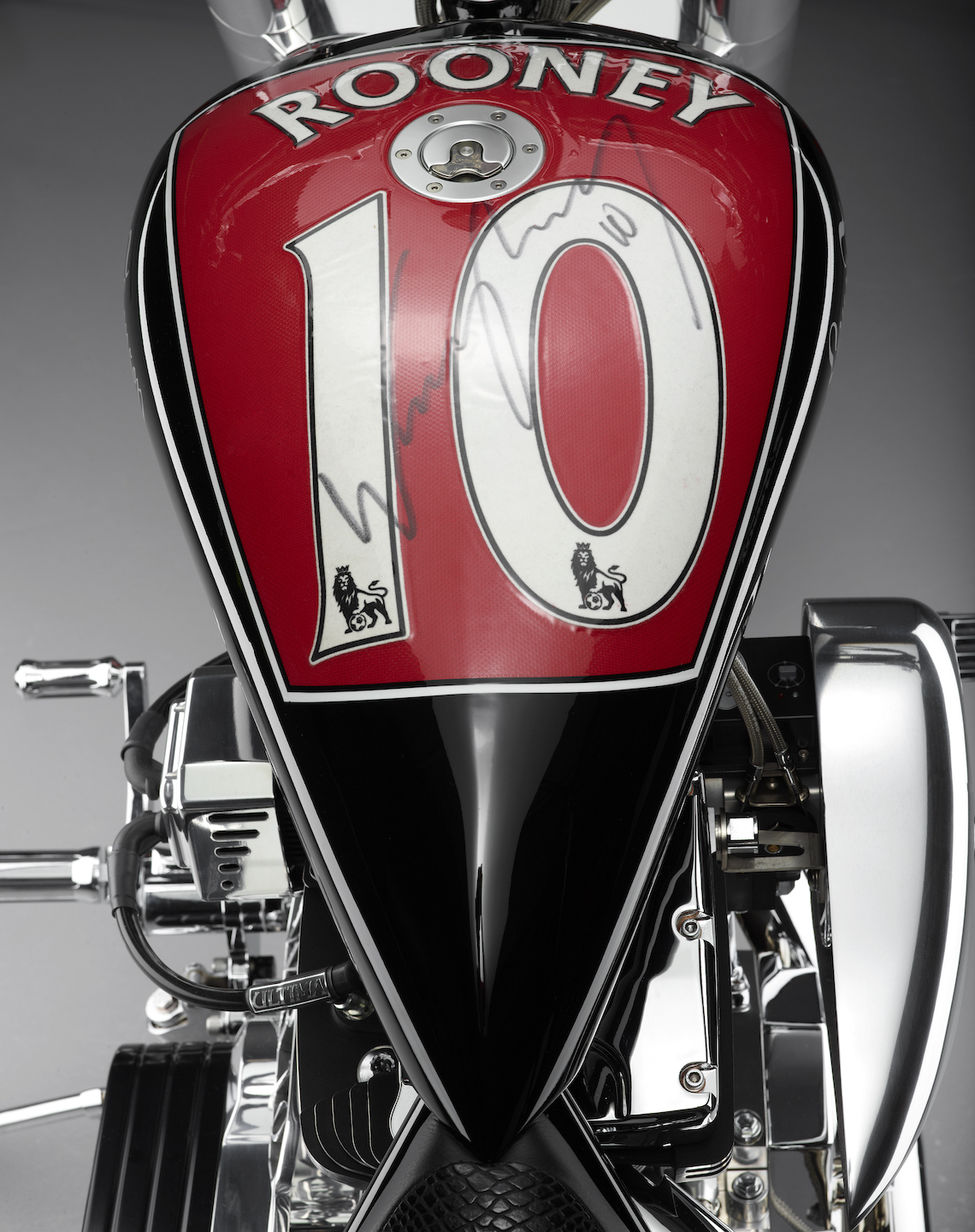 The most…
romantic ride out
A marriage proposal traditionally involves one guy and one girl, but in America, they like to do things big and what better way to say 'I love you' than with a traffic-stopping display of bike-inspired devotion? Over 700 riders were involved in this recent romantic stunt, which brought a Los Angeles freeway to a standstill, so that one of the riders could propose to his girlfriend.
Groom-to-be Hector Martinez had reportedly been planning to pop the question to girlfriend and pillion, Paige Hernandez for months. After organising a sunny Sunday ride out with conspiring fellow riders, Hernandez (aka 'Tank'), led the procession of bikers onto a busy Californian highway before calling everyone to a halt, hopping off his bike and getting down on one knee, setting off a pink flare in the process. Luckily, his pleasantly surprised pillion said 'yes'.
Unluckily the California Highway Patrol didn't see the romantic side, branding his actions as 'reckless'. The couple were soon tracked down after a video of the proposal was posted on YouTube.
Charges of impeding traffic, dangerous driving or conspiracy to commit a crime are all pending as police investigate. See the video here, www.youtube.com/watch?v=6RgYG7IZyMg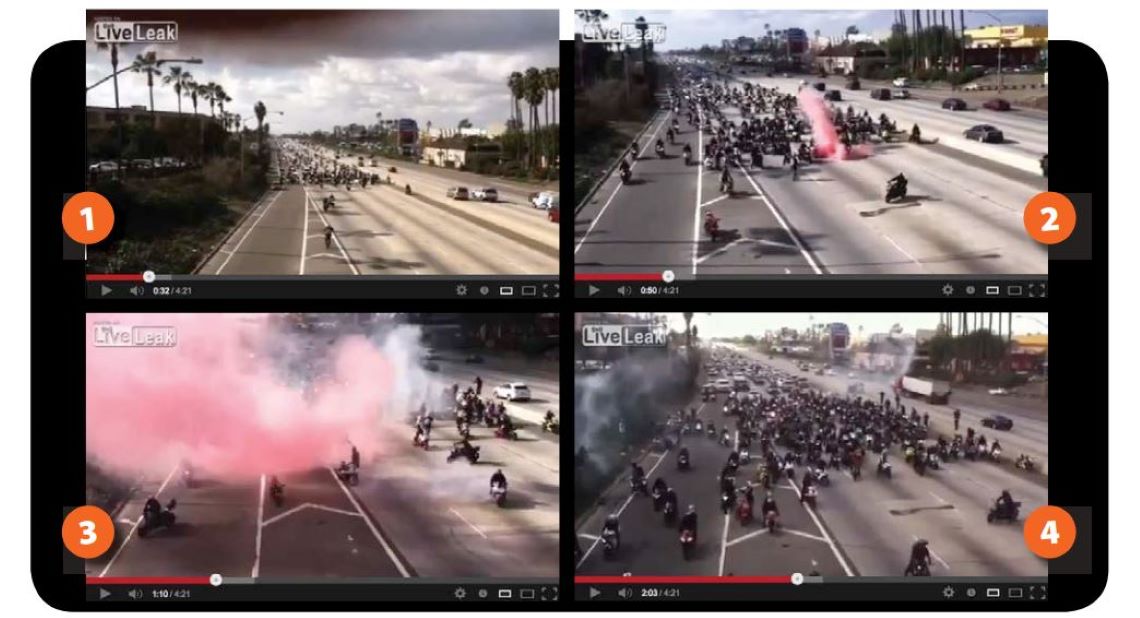 The price…
of petrol a decade ago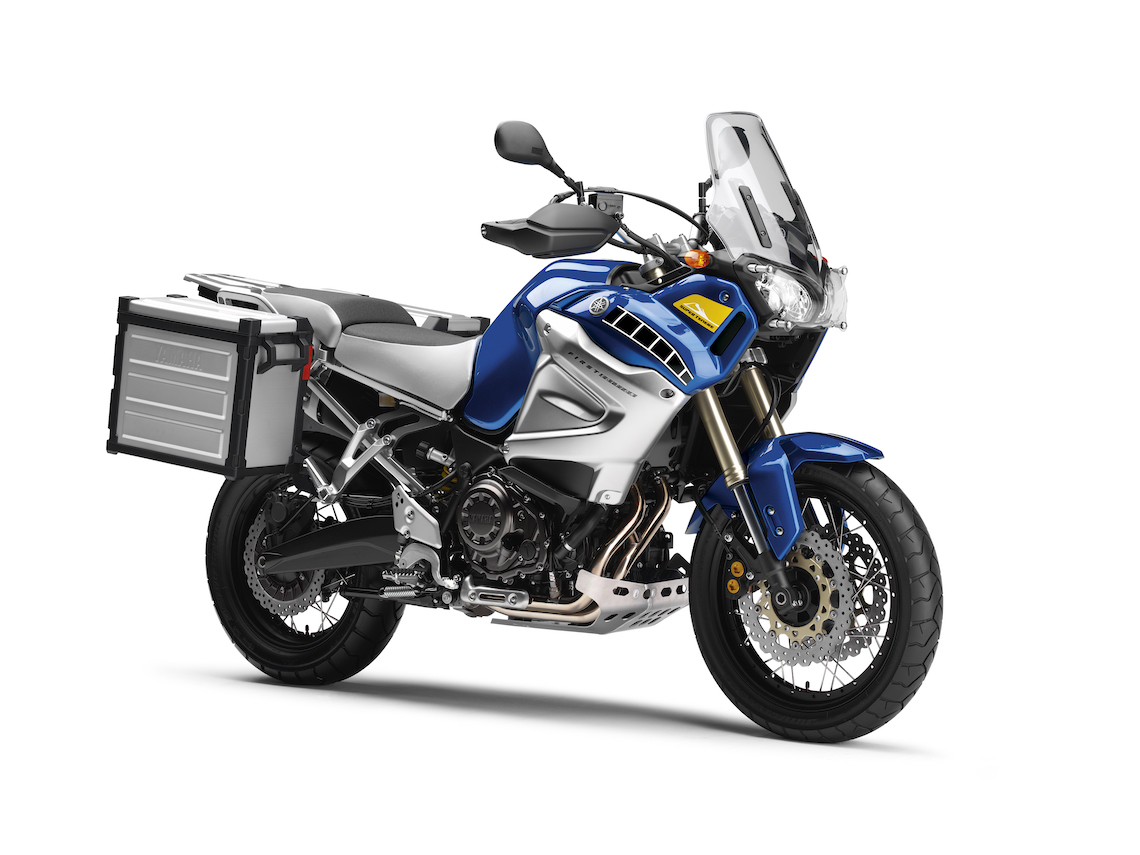 Brace yourself, because what you're about to read may make you physically sick. Ten years ago, the cost of unleaded petrol was just 69.9p per litre. This means that back in good old 2003, you could have filled the six-gallon tank of a Yamaha XT 1200 Z Super Tenere for under 20 quid. Today, with the average price of fuel being £1.37 (as we go to press), it costs £37.40 – nearly double that – to fill the same fuel tank. We'll leave you now, to sob into these pages in peace.