Bryn Davies rounds up some stats that will make your pulse race with fear, excitement or downright bewilderment. Prepare to be enlightened
First… journey to the North Pole by motorcycle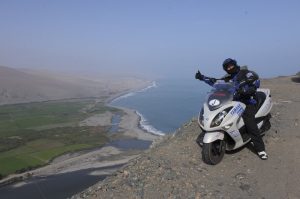 On April 20 1987 Shinji Kazama became the first person to reach the North Pole by motorcycle. The Japanese adventurer rode through sub-zero temperatures (often as low as -43oC) on a Yamaha TW200 which had to be specially adapted to deal with the extreme weather. The TW200 was fitted with freeze resistant-tyres and seat and the carburettor had to be specially adapted to allow for freezing-cold starts. The journey to the North Pole came two years after Shinji gained the world record for highest altitude reached by motorcycle. He managed to get his Yamaha 6,005m up the north side of Everest (to put that in perspective, it's twice the height of Europe's highest pass, 62 Big Bens, or a staggering 6,422 BMW GS 1200 Adventures!) So far, the record remains unbeaten. In 1992, Shinji also became the first person to reach the South Pole by motorcycle. Some people are never satisfied!
Longest… jump on a motorcycle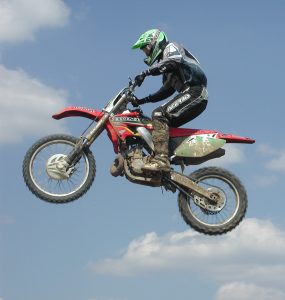 On 19 March 2008 Australian motorcycle daredevil Robbie Maddison set the world record for the longest motorcycle jump, covering a distance of 346ft on a Honda CR500. This huge jump smashed Robbie's existing 2007 record by over 20ft. Leaping over 100m on a motorcycle is a pretty amazing feat, but even more so when you consider Maddison was hospitalised with a gashed hip and punctured stomach just weeks before performing the stunt. Maddison (or 'Maddo' as he's appropriately known) also holds the world record for longest jump on a 125cc (67m) and the longest jump with a trick, covering 80m with Superman seat-grab squeezed in.
Deadliest… road in Britain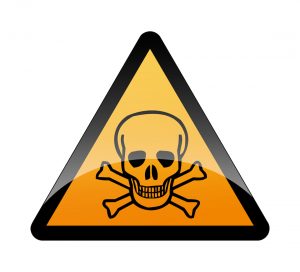 Last issue we told you about the deadliest road in the world, The Yungas 'Road Of Death' in Bolivia; but what about closer to home? While its name isn't as bowel-looseningly scary as its Bolivian counterpart, the A537 – or the 'Cat and Fiddle' road as it's known locally – was named Britain's deadliest road this year after a survey by the Road Safety Foundation. The road, which stretches for around 7.5 miles between Macclesfield and Buxton in the Peak District, is extremely popular among motorcyclists because of its frequent severe bends. But as with most fun things, there's a catch. Since 2001 there have been 264 casualties reported along the stretch of road with a staggering 70% of them being motorcyclists. Many of the motorcycle accidents have been put down to poor cornering/ manoeuvring, failure to judge vehicle speed/distance and speeding, so that said, if you're sensible on the road and don't try anything stupid, the A537 could be a good day's ride out.
Tallest… bike in the world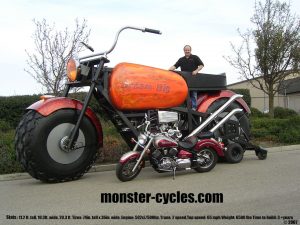 So you think you've got a big bike, eh? No matter what you ride you can bet it's not as manly as Gregory Dunham's monster from California. Dunham finished building the world's tallest bike, aptly named Dream Big, in 2005.
It's a massive 11"3 tall – the wheels alone are 5"9 – and 20"4 long, weighing in at 2.9 tonnes. It boasts a humongous 8.2 litre V8 engine, which does a weedy 65mph and just one mile to the gallon. It's unlikely you'll see Dream Big chugging down Route 66, though. The fuel tank only holds three gallons of fuel, just enough for showcasing events. Lifetime biker Dunham began building the bike in 2002 for a bet; three years and $300,000 later, he was the proud owner of the world's tallest bike and the envy of all his mates down the pub.
First… person to do a backflip on a motorcycle
Completing a double backflip on a motorcycle is considered an impossible manoeuvre by most bikers, but try telling Nitro Circus star Travis Pastrana that. On 4 August 2006, Travis pulled off the first ever competitive double back-flip during the Best Trick stage of the XGames Freestyle event after footage emerged of him performing the stunt in his Nitro Circus show. The double backflip earned him a 98.06 – the highest score ever awarded for a Best Trick at the games. Afterwards, Travis vowed never to do one again – yeah right! He whipped out his signature trick in the 2010 XGames and bagged a gold medal. Travis also holds world records for the most backflips performed on a motorcycle in 30 seconds (seven!) and the longest ramp-to-ramp car jump (82m!).
Fastest… blind person on two wheels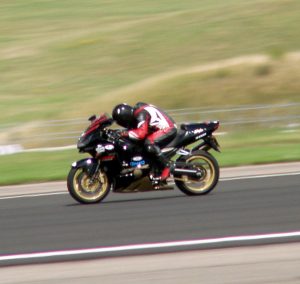 Some people never let anything in life slow them down. In 1997, Staff Sergeant Bill Baxter lost his sight after contracting a rare disease while on service with the army in Bosnia. He battled with the virus for three years before going completely blind in 2000. Faced with this, Bill decided to not only build a new life but a better one and set about learning to do things he'd never done before, like skiing and running the London Marathon. On 2 August 2003, Bill Baxter set the blind solo land speed record on a motorcycle, reaching a top speed of 164.87mph on a 1200 cc Kawasaki Ninja. He's since become the first person to ride blind solo around a GP track, completing a lap of Donnington in 7.15 minutes on his Ducatti 695. Bill's actively involved in several charities including St Dunstans, Wireless for Blind People, Action for Blind People, and Vista Blind. For more information on Bill and his amazing achievements visit www.blindbaxter.com.
Longest… motorcycle in the world
If you're a size king, spare a thought for Brit Colin Furze, creator of the world's longest motorbike. Completed in 2008, the bike's a staggering 46ft, 3″ log (14.03m) – that's an equivalent to 1.5 double decker buses! We suspect cornering's a problem…