BLACK BEARS AND MOTORBIKES
Lawrence Bransby and his son Gareth are embarking on an 8,500-mile trip to Archangel and Murmansk, Russia. Along the way they encounter members of the Russian Black Bears Motorcycle Club, who make them honorary brothers. What follows is a memorable four days' riding…
Our first night with the Black Bears was spent camping in a field about 18 miles east of Vologoda; the next, in club member Alexi's apartment in the town of Kotlas where this story begins.
Alexi's apartment
It's one o'clock in the morning. Eight Russian bikers and two wives/girlfriends, Gareth and I fill every available space in Alexi's small apartment. His 17-year-old daughter sulks in the bedroom playing a video game, resentful of this sudden invasion of her space. Three-litre plastic bottles of beer have appeared, as well as cognac – the drinking has begun. As if out of nowhere, Russian sausage, soft cheese, sliced tomatoes and bread are put on the table and roughly chopped with a wicked looking sheath knife with a bone handle.
A girl sitting pressed against me on the couch – early 20s, dark hair with a lock dyed red, which hangs over her forehead – leans over me and with beery, sausage-laden breath murmurs huskily in my ear, "You're going to have a Russian experience." The warmth of her body against me and the intimate, beery way she spoke makes me wonder whether this Russian experience might involve things of a fleshly nature and whether they will blow my head off with a shotgun if I refuse.
The other girl sits quietly, almost haughtily (she doesn't speak to us at all, I think because she has no English) and I realise she was the one I saw emerging from the outside sauna the previous night, her pert breasts braving the cold.
Then a type of ravioli, a Russian favourite, is brought to the table and someone drenches it with sour cream. People lean forward and help themselves; a fork is pressed into my hand and voices encourage me to eat. I do and it is delicious. In the corner of the room, the TV continues to play some badly acted local soap, as it has done since we got here, part of the mutter of background noise. The talk, mostly in Russian, is about the ride that day, the accident. One bearded biker has a thick layer of sour cream spread on his nose – an effective remedy for wind and sunburn, they tell us.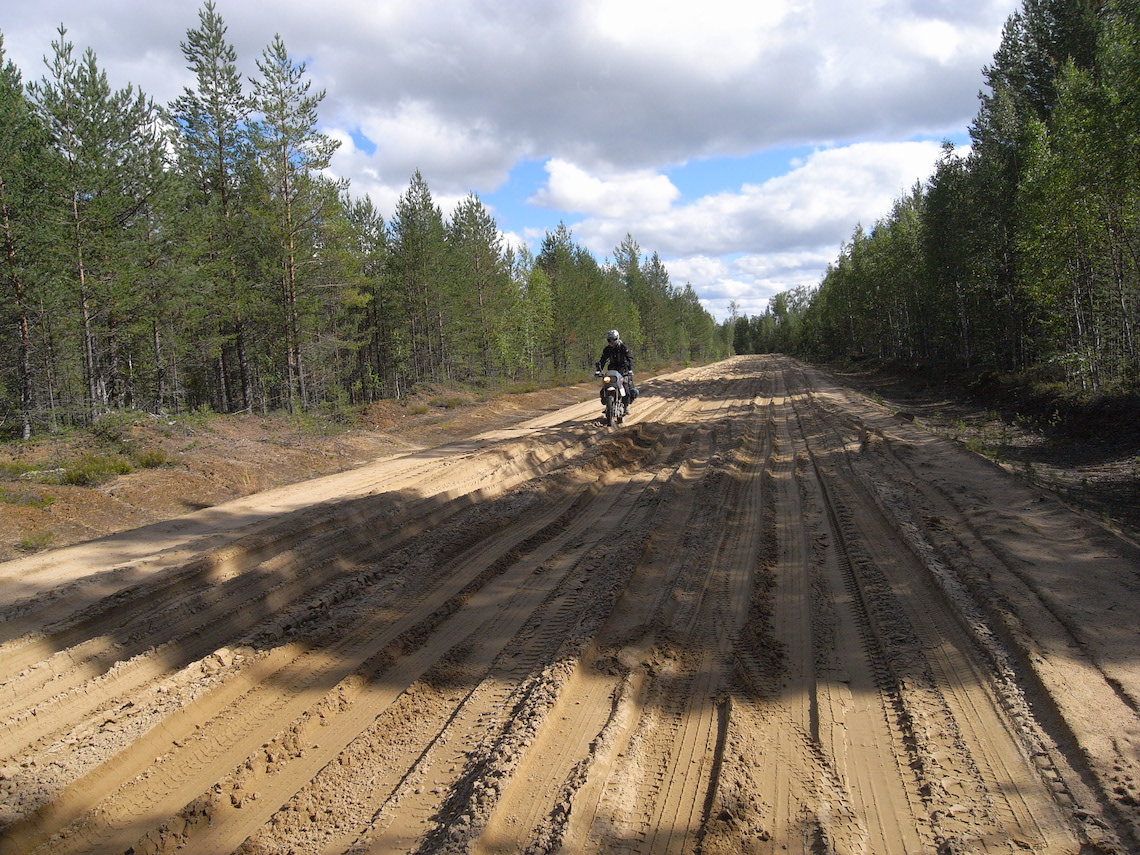 More beer is poured and then the bottle of cognac is cracked open. After a while, I quietly excuse myself and head for the bedroom. Two bikers lie in sleeping bags on the floor. Alexi's daughter still sits stoically at the computer, playing games, ignoring us. They have all insisted that Gareth and I sleep in the double bed.
Then, before I can get to sleep, a phone call: one of the member's bikes has broken down 25 miles outside Kotlas. Alexi leaves us to take his dilapidated van to rescue it and the riders. Later, another phone call: one of the biker's bits of luggage had shifted because of the bad road surface and come into contact with his exhaust pipe, which caused it to catch fire. His mate, riding behind, saw the fire and accelerated past him to wave him down but in the ensuing confusion, they both crashed.
Some damage to the bikes and some broken ribs but the pair decided to carry on (although they would backtrack 120 miles to the main road so they wouldn't have to ride the long sections of dirt)
The next day, another early start and a long, hard 12 hours' riding – 400 miles, but such a joy. Even the long sections of dirt were enjoyable in a way – testing but seldom dangerous for Gareth and me on our big trailies. Sasha struggled somewhat on his road bike and on a number of occasions I thought he was about to crash, legs flailing, bike slewing this way and that when he hit a particularly large ridge of sand but, fortunately, he never went down. Probably about 60 miles of the 400- odd we did today were on dirt; it rained a little during the morning, which at least helped to settle the dust.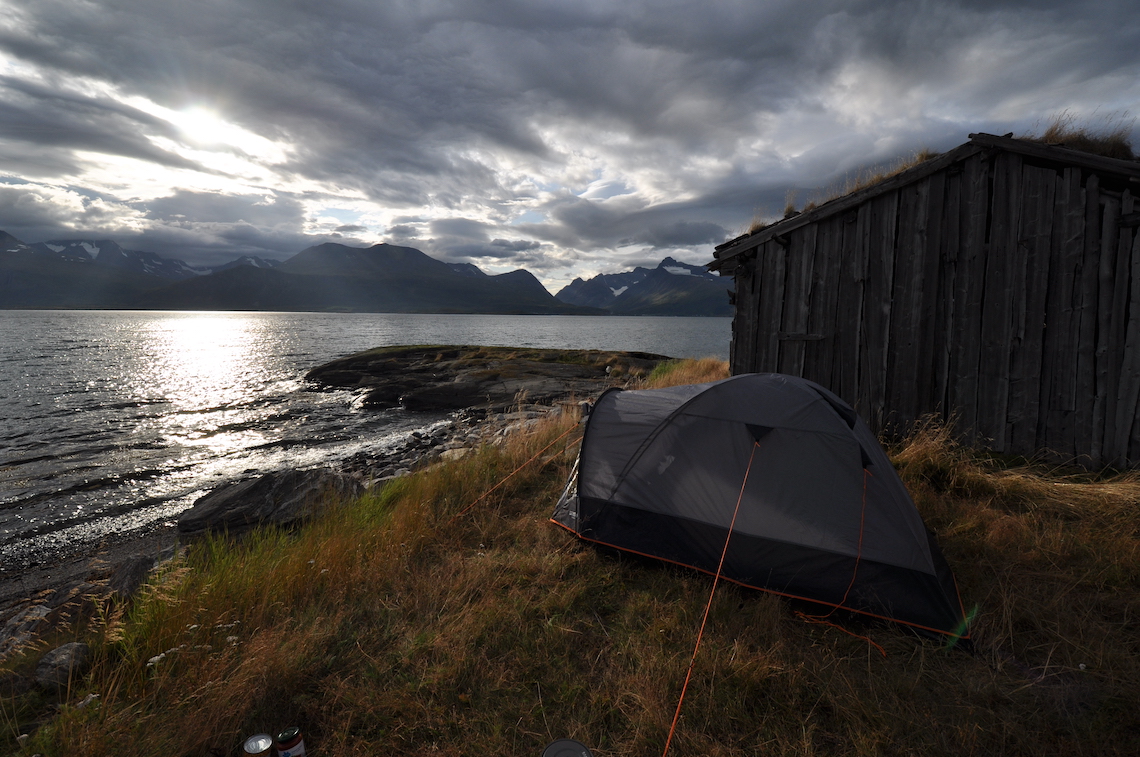 As we made our way north, the trees became shorter and less thickly self-seeded, their growth stunted by the long, cold winters and weak summer sunlight; the Sevdvina River, alongside which the road makes its way north, was wide and shallow, the water level very low at this time of the year but still beautiful and slow-flowing. As we neared Archangel, we linked up with other motorcyclists along the way, many of whom we recognised from our camp in the field two nights before and who greeted us warmly.
We passed Archangel, stopping to drink a toast of vodka from a motorcycle indicator lens, then on further north until we took a soft sandy track that led us onto the beach, the heavily laden bikes slithering and roaring and throwing up high rooster tails as we struggled through the sand to our camp, shaded by a grove of low pine trees, the White Sea just 40 yards in front of us. Across a small bay, the smoke from Severodvinsk was visible in the distance. (We only realised later that we were camping in an area restricted to foreigners and were liable to arrest and a hefty fine – Severodvinsk is where the Russians build their nuclear submarines and, obviously, a rather sensitive place!)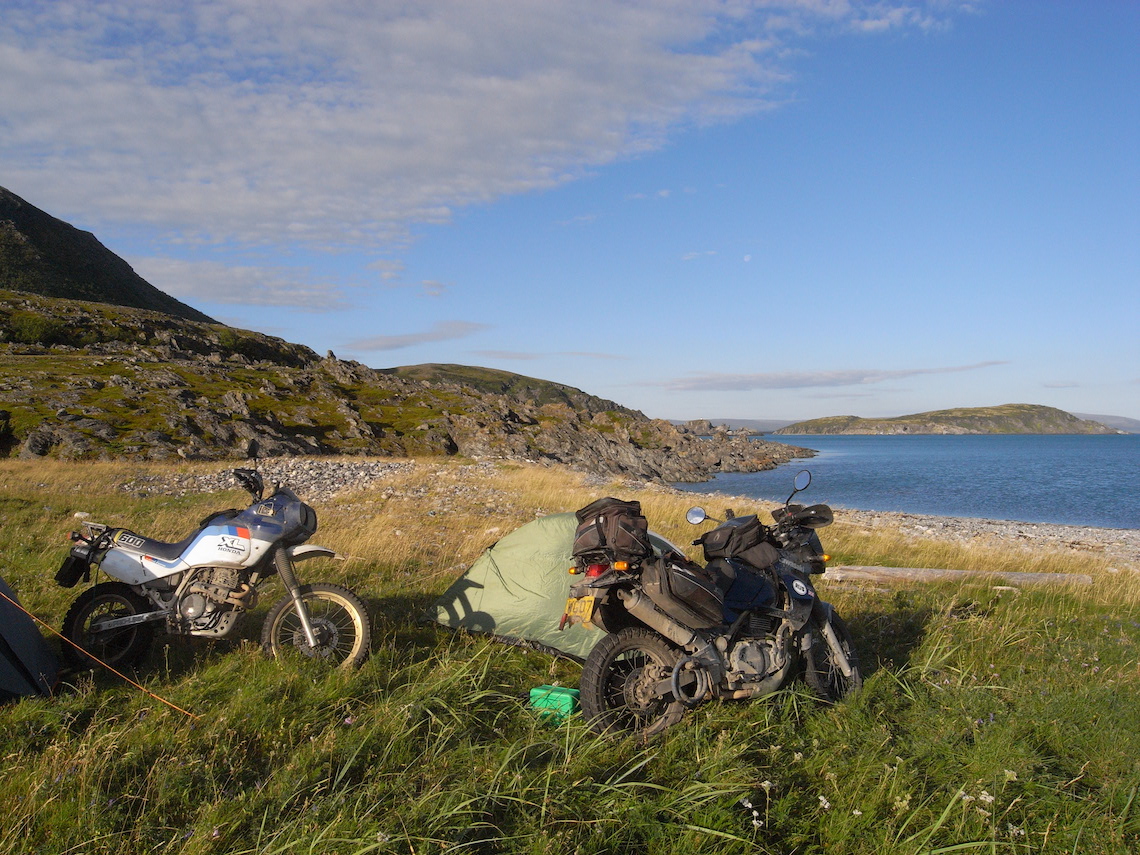 It was 10pm before we had the tents up, the sun still well above the horizon where it seemed to hover while the earth turned slowly beneath it for hours of twilight at this high latitude – 64.5 degrees North, just south of the Arctic Circle at 66.6 – and, even though it was mid-Summer, the temperature dropped very quickly at night or when the wind blew. A driftwood fire was lit; rock music was playing, powered by a small generator, and potatoes were cooking in the massive cast-iron samovar, which had been transported to the beach in the back of a van along with a more than ample stock of booze.
News had come through that another two bikes had crashed on the way: Daniel and his wife Anastasia were evidently barged by a 'red-neck' in a car; a few of the bikers decided to rough him up but, in the push and shove, trying to manoeuvre the offending car off the road by barging it with their bikes so they could get at him, two of the bikes crashed and Anastasia fractured her leg.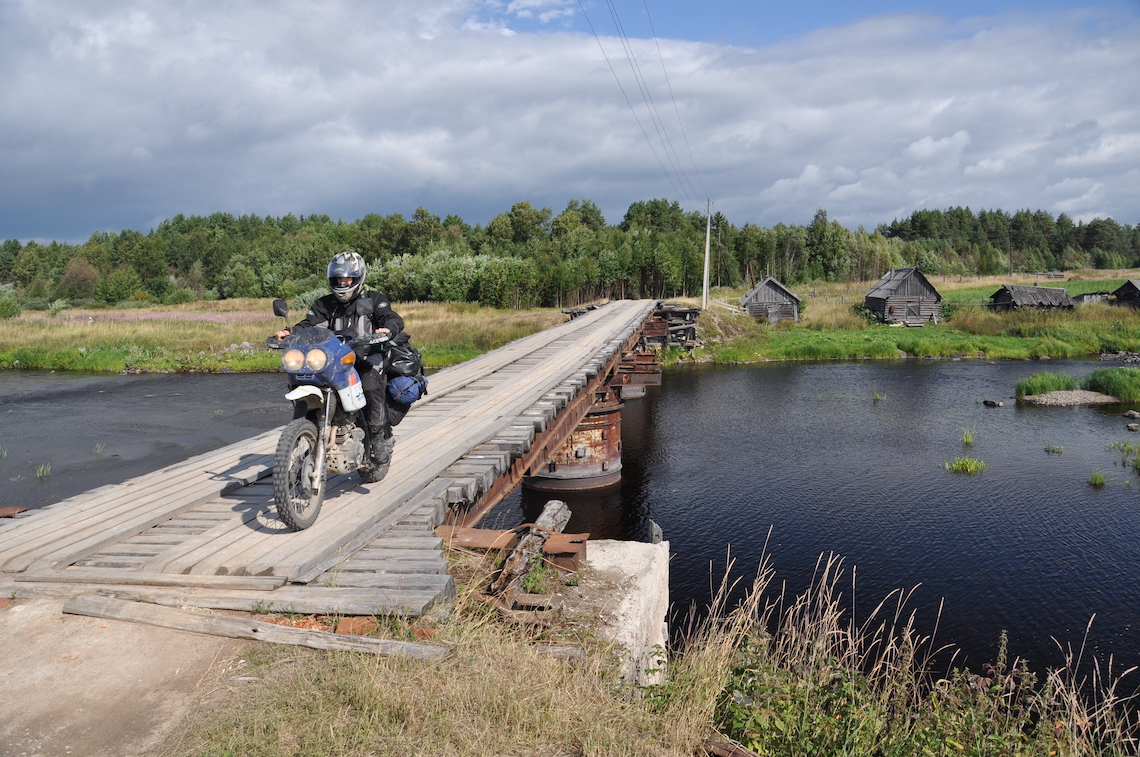 It had been a long, hard day and, with the noise of Russian voices all about, rock music beating into the night and the fire flickering in the darkness, I retired for the evening, filled with a sense of satisfaction that this was what we had come to Russia for. And it was so good that my son was sharing it with me.
Mind mapping
The following day was a well-needed rest day spent socialising with our new friends. We were tired and it was good to take a break. The distances we had had to cover through Russia were vast and required long and hard riding; in retrospect, we probably needed another two weeks to do the route justice: time to explore more, to savour the countryside at a slower speed, meet more people, pause more often.
Gareth was still determined to find a route from Archangel to Murmansk following the White Sea coast. A brief look at the map suggests that this is logical – the alternative is a 1,200-mile route, which dips far to the south then west and finally north again to Murmansk. But all the small roads seem to end in the wilderness or double back to the main road after heading purposefully in the right direction for a while. We had both seen a 'road' of sorts that went the whole way but, on closer inspection, it turned out to be a railway track.
While pouring over the map after breakfast, we were joined by about eight Russian bikers, all of whom had opinions about the viability of the route. But the consensus was clear: it was impossible. One told us that a year or so ago five bikers from Moscow attempted it but only two made it through and one died on the way. I don't know whether that is apocryphal, though. They told us that the topography between Archangel and Murmansk alternates between islands of dense forest surrounded by lakes and swamp. One commented wryly that, when looking at small roads on any map of Russia, one must treat them as little more than pictures on a page: they look good but in reality many of them do not exist at all – just in the minds of the authorities who would like there to be a road there so they draw it on the map – something we discovered for ourselves later in the trip.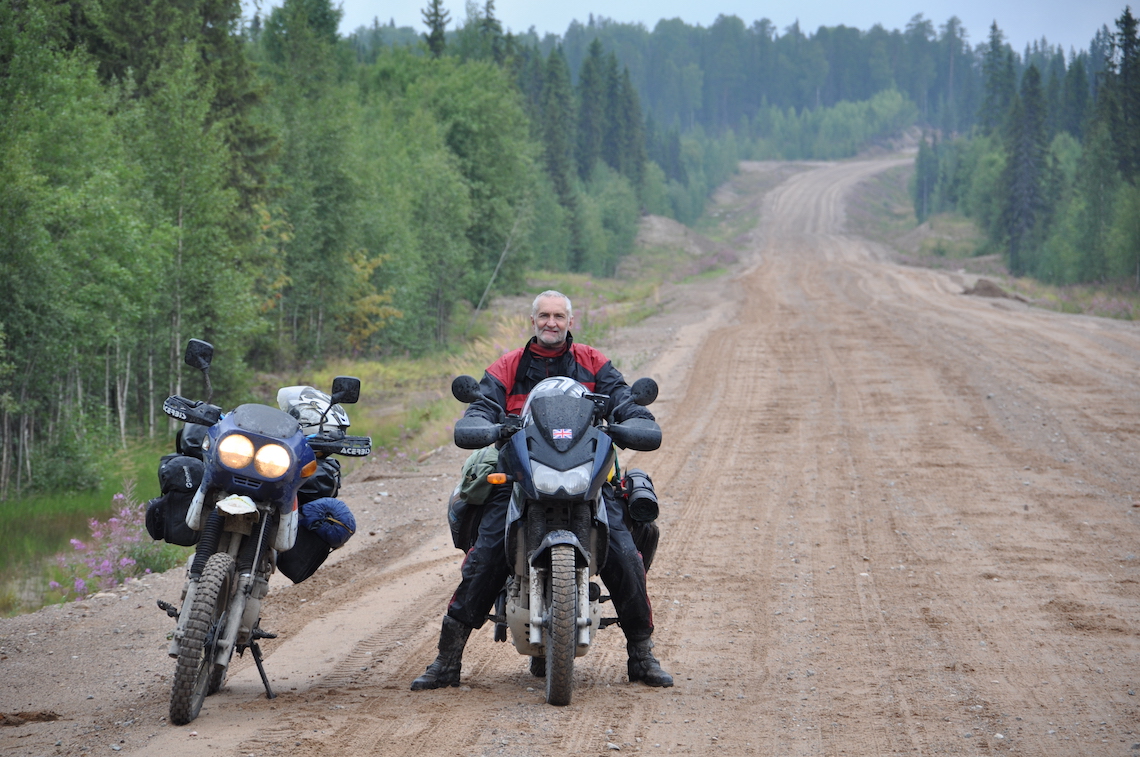 Brother Bear
The rest of the day was spent mixing with the bikers who went out of their way to talk to us, examine our bikes, ask about our journey, about England and, more importantly, what we thought of Russia. The fact that we are father and son travelling together was greatly respected by everyone. As the drink started to flow and their inhibitions towards us and attempting to speak English lessened, grizzled bikers approached us and shook our hands warmly, sometimes without a word being spoken but their eyes made us welcome; sometimes their comments were translated by those around us whose command of English was a little better. At other times we would communicate with snatches of words and gestures but the gist of the communication was apparent – like when one large, tattooed biker approached us, pointed wordlessly to each of us in turn, indicating father and son, pressed his hand against his heart and then hugged us tightly to his massive chest. When he let us go, there were tears in his eyes.
We met Walter whose nickname we were told is 'Killer'. Later when he had moved away from the group around us, Malvina (she who'd lolled against me on the couch at Alexis's flat and spoke of us having a 'Russian experience') told us almost sotto voce that he, Walter, is the Black Bears' 'killer'. We didn't understand and asked her what she meant. Again, seeming to look furtively about to make sure no one was listening, she said quietly that sometimes the bikers come into contact with criminal gangs and need his 'assistance'. For what, she didn't say and we didn't want to ask. The almost conspiratorial way she told us spoke volumes, though.
And we met Konstantine, whose brother had been murdered in the UK a few years ago. He wanted to say something to us and asked one of the bikers who spoke English to translate: "When I first learned that you were from England," he said to us, "I felt aggressive towards you." The translator explained to us about Konstantine's bother and how he died in the UK. Then he continued, "But now that I know you, I feel differently." He hugged us, pressing us against a tattoo right across his barrel chest saying: "The Great". He pointed to it and said tearfully, "For my brother." Later in the afternoon, Gareth and I took the unladen bikes for a fast and invigorating ride along the low-tide beach until a heavy burst of rain drove us back. One very inebriated Russian biker, who had managed to get his Africa Twin onto the beach, proceeded to ride it drunkenly for 100 yards before he crashed it. He was not particularly happy about his cracked plastic and bent crash bars, looking at them through drink-blurred eyes as if wondering why they were shaped like that. He needed help getting his heavy bike over the low, very soft dunes back to camp when he buried it down to the engine in the sand.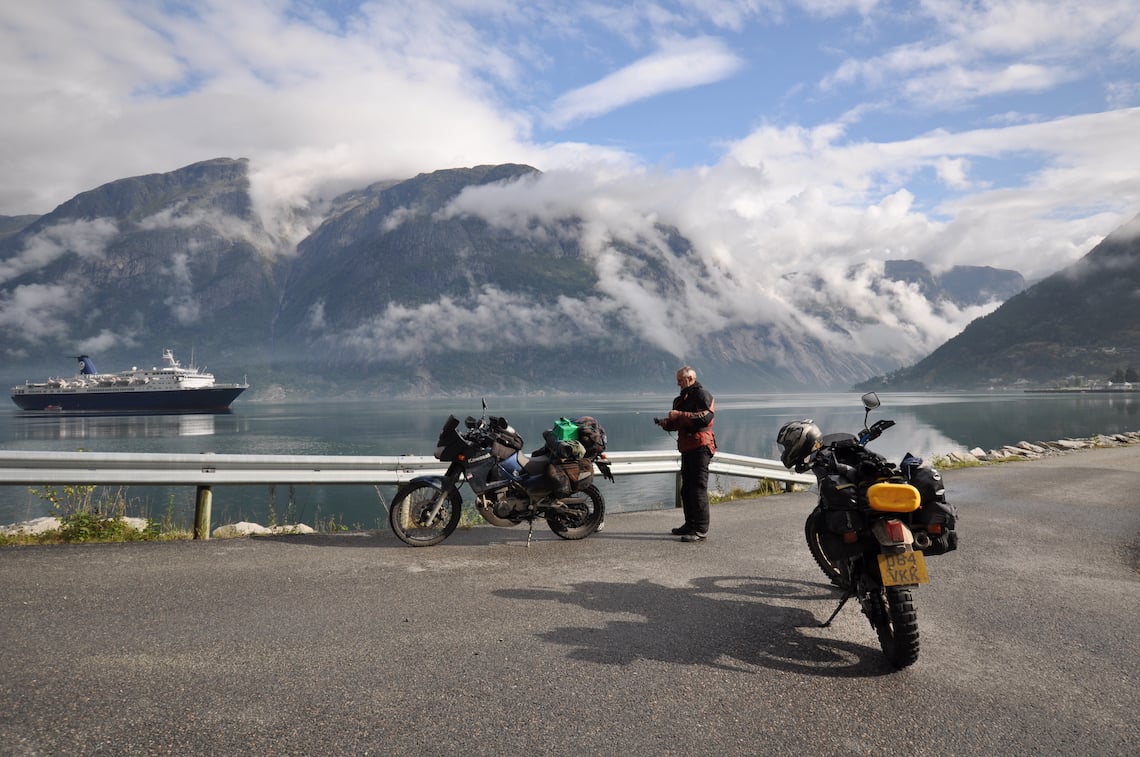 Blood on the moon
Back at our tents, Gareth commented on the tremendous sense of camaraderie and fellowship we could sense among club members. Almost as if they band together, wearing their club insignia and distinctive leather cut-off jackets as a kind of defence against a system which has broken down – the state on the one hand, criminals and perceived enemies on the other. The feeling of brotherhood seems to give them not only protection in numbers but a sense of belonging in a country they feel has lost its way and is ignoring the ordinary man in the street.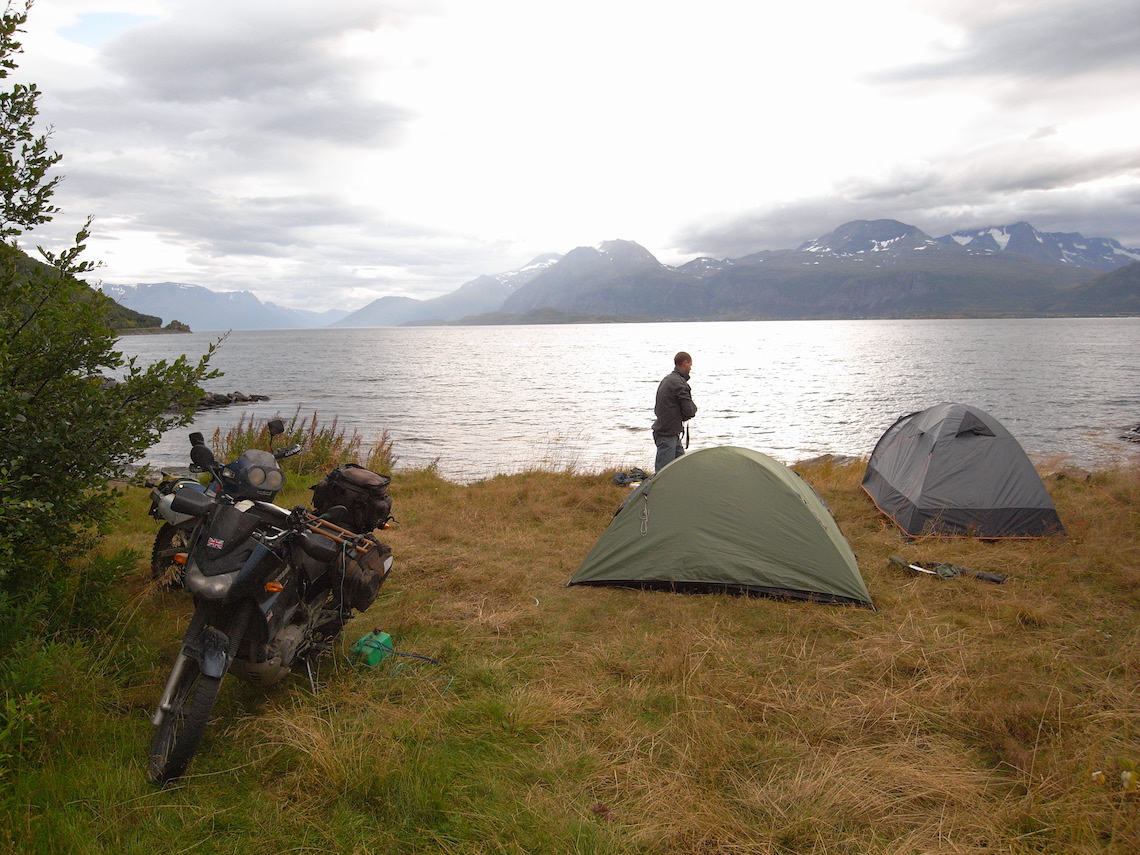 But behind the acceptance of us into their midst – because without doubt, they welcomed us into their fraternity and made us one of them in a way that was most moving – both Gareth and I had a sense, a feeling, just below the surface, that anything could happen. A wrong word or gesture was the brooding potential for violence or something – just what we could not say – especially with people the worse for drink as many of them were. But never towards ourselves; we never felt anything but complete acceptance, a brotherhood of bikers. Strangely enough, later that night that something we'd felt simmering just below the surface materialised – although we obviously knew nothing of it then.
What happened was that, later that night, two men were badly beaten up by a group of the bikers. Gareth saw it – I was otherwise occupied. Evidently two locals had come into the camp intent on selling drugs. The Russian bikers took exception to this and beat them up rather badly.
Afterwards, while they were staggering away, they came across the 11-year-old son of one of the bikers and, in revenge, hit him over the head with a large stick, knocking the boy to the ground. Later, around the camp fire, Malvina, in her breathy, tactile way, assured us, "It's okay – they are still alive!" Sasha, standing next to the fire with us, said with a grin, "But they don't have their own faces anymore." A little while later, Walter sat next to Gareth and me and showed us his bloody hands. He spread his fingers and considered them with apparent satisfaction. And then, with a glint in his eye and a satisfied smile, he said, "Blood – not mine!"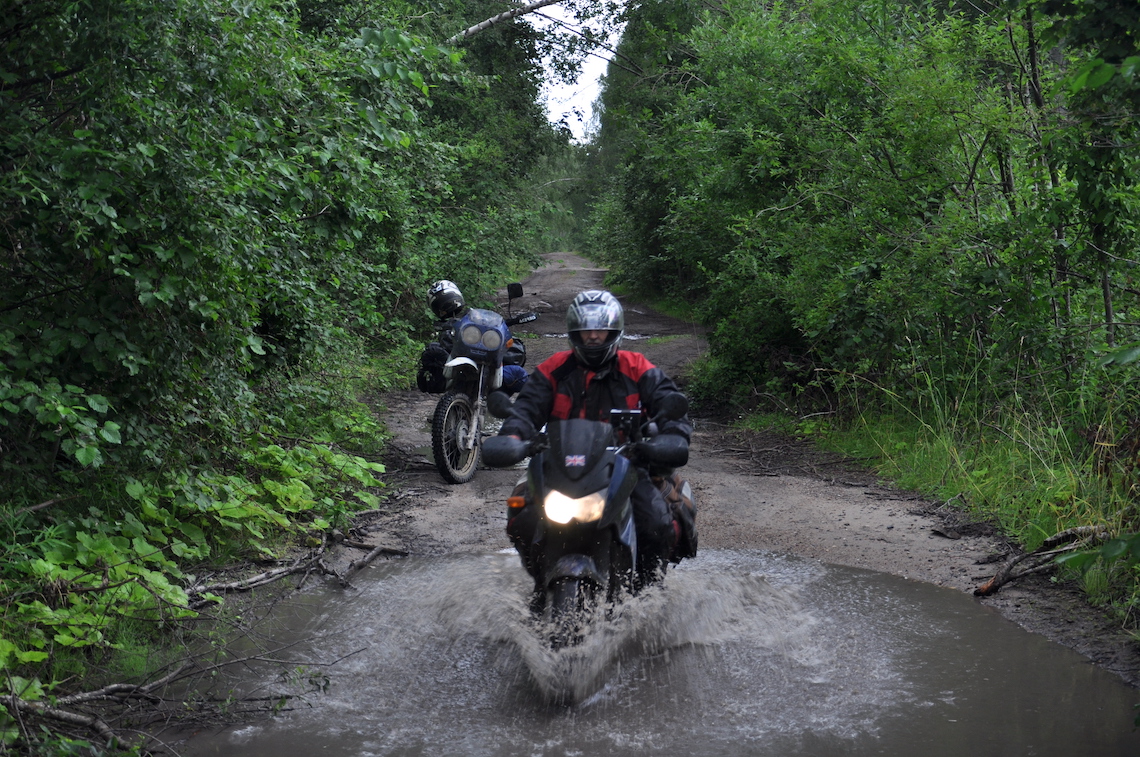 At midnight, exhausted, my senses and emotions overloaded from the experiences of the past few days, I crawled into my tent to sleep. The next day we would begin the long ride to Murmansk, not knowing that we would quite innocently stumble into another area forbidden to foreigners and shortly be arrested…
The bikes
Lawrence's bike: Kawasaki KLE 500
Having already completed one trip to Russia and another to Albania, Lawrence had no doubts about the abilities of this bike to get the job done. It tackled sand, dirt, mud, gravel, potholes, detours and long days in the saddle without so much as a murmur. That is, until he bottomed out on an unmarked dirt road somewhere between Russia and Finland, losing his sump plug in the process and quite a bit of oil. Luckily, some quick thinking and a spot of epoxy saved the day. "By the time we reached Norway's beautiful E6, both my tyres were illegal, especially the rear, which was almost smooth," says Lawrence. "The rear brakes were down to the metal but we couldn't stop to try to find a motorcycle dealer for the necessary repairs because of our tight time schedule. I got into the habit of only using my front brake and riding defensively so I wouldn't have to make any emergency stops!" he confesses.
The KLE 500 has now done 45,000 miles including a recent trip to Morocco and according to Lawrence, the engine as never been touched. "Never once have I had to top up oil, water or air on any of my trips. The only thing to break in 45,000 miles is the choke cable on our Morocco trip – brilliant bike!" he says.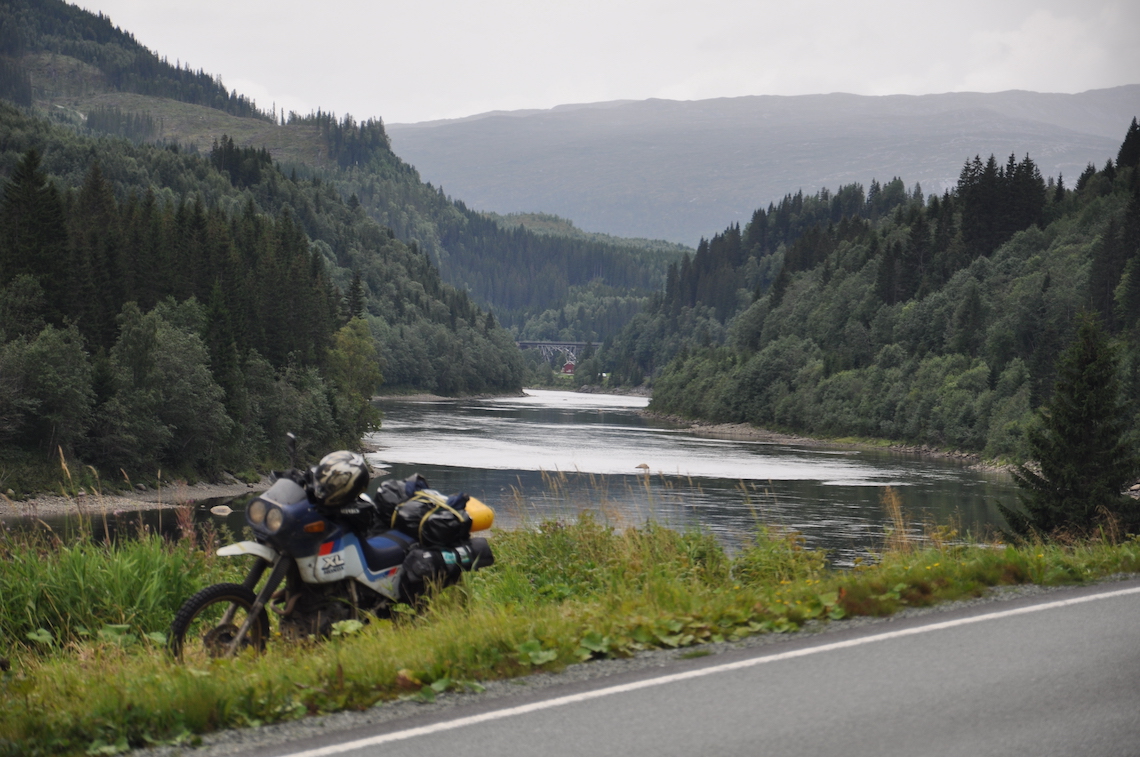 Gareth's bike: 1987 Honda XL600
This also coped admirably with the 8,500-mile ride, despite Gareth's love of riding off-road. But he looks after the Old Lady carefully, checking and making adjustments at the end of each day's riding as well as keeping to about 60mph, which Gareth feels is the best way to look after its interests.
Gareth has now reluctantly sold the Honda XL600 and bought a KTM 990 Adventure Sport; he's just returned from an exciting 5,000-mile trip into the mountains and desert of Morocco with his dad.
Want to do this?
How long does it take? Lawrence and Gareth took about a month to make the round trip from the UK to Russia, riding out through France, Germany, Poland, Lithuania and Latvia and returning via Norway and Denmark, but this wasn't riding at a leisurely pace. The pair covered 250-300 miles a day on the outbound journey and Lawrence says he wishes he'd allowed for more time to explore Russia.
When to go? Lawrence and Gareth made their trip in late July/August, which is the warmest time of year to visit; January/February is the coldest. Expect to get rained on, though.
Get there: Flights to St Petersburg are available from most major UK airports starting at around £150 return.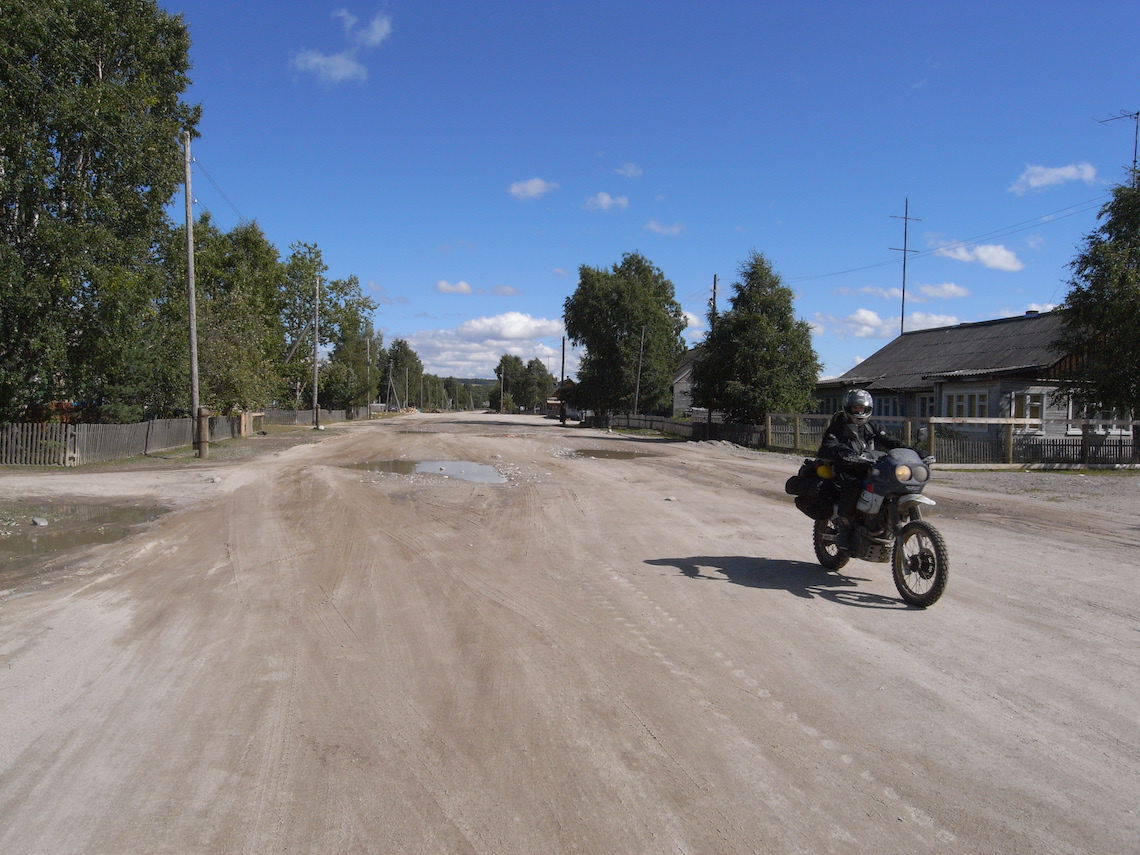 Fly or hire? If you've got the time, stamina and inclination to ride to Russia, the route Lawrence and Gareth took covers some interesting European countries. If you're short on time, however, it takes around four hours to fly from the UK to St Petersburg. If you'd prefer to take your own motorcycle, James Cargo Services Ltd suggests flying into Helsinki and riding across the border, because Russian customs formalities are very complex for transporting a bike into the country on a temporary basis. James Cargo can transport a BMW R 1200 GS to and from an address in Helsinki for £575+VAT each way. See www.jamescargo.com.
Accommodation: When they couldn't find accommodation in cheap hotels, Lawrence and Gareth camped off road – there are few proper campsites in Russia. If you happen to stumble into a restricted area you'll simply be refused a room (which is probably a good thing, because if you insist, the police are called and you end up with a large fine and a great deal of time wasting, as Lawrence and Gareth found out.) Added to this is the fact there are no warnings of restricted areas, so it's worth looking into accommodation and route planning before departure. Outside the major cities, the locals are welcoming and generous. Be prepared to be invited into their homes and offered tea, cakes and, of course, a large tot of vodka if you stop near habitation.
Paperwork for you: You'll need a visa to enter Russia and these are not the easiest to get hold of, so allow yourself at least a month before you travel to secure one. You'll need an invitation to apply for a Russian visa and most hotels can provide one free or for a small fee; if you're not staying in a hotel, you can buy an invitation from most travel agents for around £20-30. To ride in Russia, you'll need a valid UK drivers licence, an international drivers permit, and your passport. Russian motorcycle insurance can be bought inside Russia.
Paperwork for your bike: You'll need your motor insurance certificate and V5 registration document or hire bike paperwork, plus an International Registration Certificate if you're going outside any English-speaking areas. You'll also need a carnet for your bike if taking your own.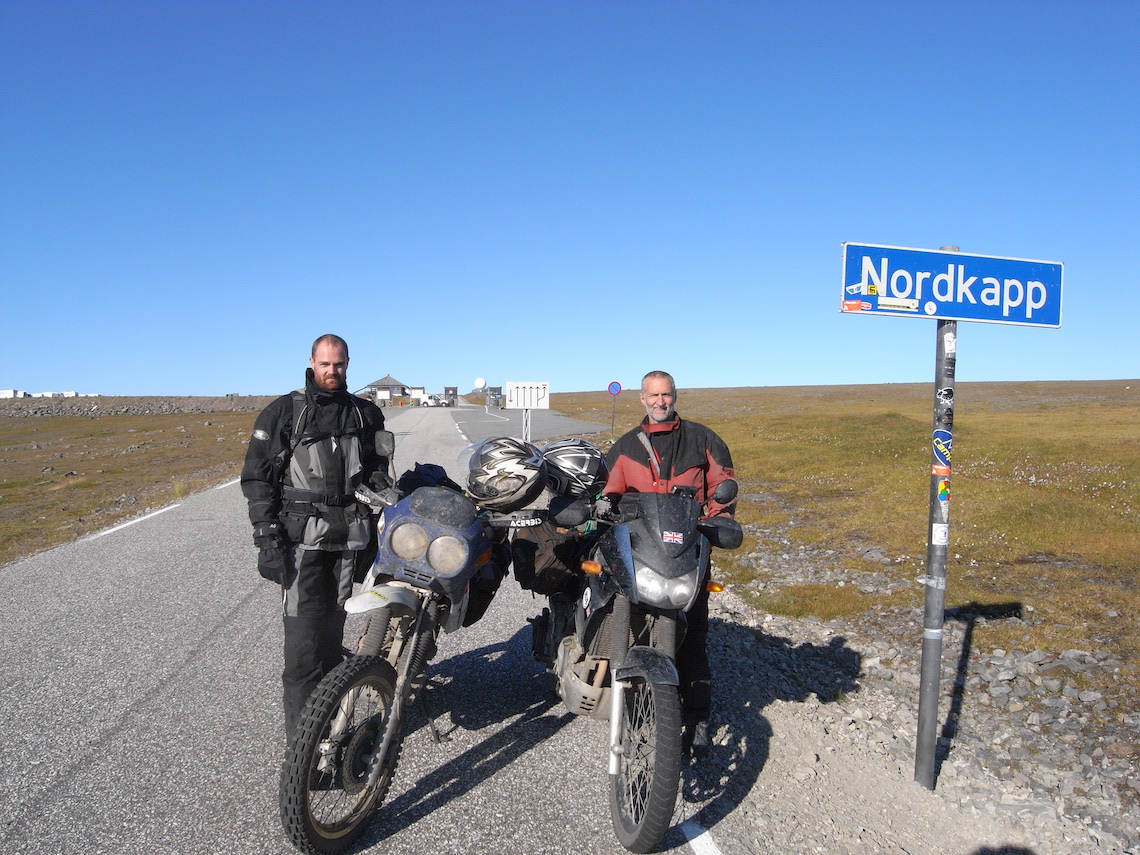 Is it for you? This isn't an easy trip to make. The riding can be challenging and so too can the local laws and customs, but if you're the sort of person who can roll with the punches and embrace unusual situations as and when they arise, these rural parts of Russia offer a unique and breath-taking riding experience.
Five things you never knew about Russia
Russia is so huge it spans nine time zones
Despite its size, the country has a population of just 143 million, putting it roughly on a par with Bangladesh, which as a land mass would fit into Russia more than 116 times over
1,100,000 Russians lost their lives in the defence of Stalingrad; that's more than the total combined losses of Great Britain and America during the whole of WWII
It's illegal to drive a dirty car in Russia… presumably this goes for motorcycles too!?
Over 40 percent of Russians are regular smokers, which will no doubt make Putin's new ban on lighting up in public places a bit of a party pooper. The ban comes into effect as of 1 June 2013 and covers places such as cafes, restaurants and communal areas in public buildings
Who's Riding?
Published author Lawrence Bransby has completed three trips into Russia over the past four years. "The journeys were eventful in that my first trip, on an old BMW 50/5, had to be aborted in Lithuania after visiting Kallingrad as the bike broke down daily on the way," he says. "I then bought a KLE 500 and attempted the trip again, aiming for Murmansk via Norway; this trip was wonderfully successful. The trip with my son was made last year. On this ride we went further into Russia and rode back via Norway and Denmark. It was absolutely fascinating and a highlight of my life." Lawrence initiated son Gareth into adventure motorcycling fairly early in life when, in 1997 aged just 17, he took him on a three-month trip across Africa on a couple of old Yamaha XT500s. Since then the pair has racked up many miles together. Gareth's first bike was a Suzuki 80 bought for him when he was seven years old, "He and I rode our bikes through the miles of plantations around our village in Ixopo, Natal, as he was growing up," says Lawrence.
To read the full account of this exciting journey (combined with Lawrence's first two bike trips into Russia), check out Venture into Russia: Three Motorcycle Journeys, available on Amazon, Kindle Books priced £1.74. Also available is Trans-Africa on Motorcycles: A Father's Diary, which tells the tale this father-son duo's three-month ride across the Dark Continent. For more, see www.Lawrencebransby.co.uk