Have an adventure, in Benidorm? Alan Howard argues that you can…
I admit that I'm a bit of a snob…..about bikes (exotic, Italian….), and about how I like to holiday and travel…. usually independently and with a long, cross Europe motorcycle journey somewhere on the agenda, but for this holiday, I was tasked with booking an on-line 'package' holiday, somewhere 'sunny and warm', 'not too far', and 'not too expensive'.
However, I was hoping to combine this trip with some kind of motorcycle adventure, and wondered to myself, 'is it possible to go on a basic package holiday to the Costa's, but still have a snob-busting motorcycle adventure holiday, and, all at a sensible cost?'
My wife had never been on the back of a motorcycle before, but I assured her that my passing of the Institute of Advanced Motorists motorcycle test earlier in the year made me so much safer(!). She agreed that we could hire a motorcycle and spend a few days of our holiday exploring on two wheels, instead of being consigned to a tour coach, so my hopes soared.
The Package Holiday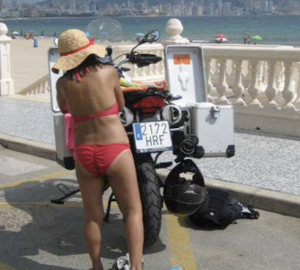 I needed to book the cheap package holiday, which is relatively easy on lastminute.com. I managed to miss a brilliant five-star hotel deal on the Costa del Sol, and eventually opted for a 'top secret' hotel on the Costa Blanca, which turned out to be the four-star Sun Palace in Albir, near Alicante for just over £400 per person including flights, car parking and B&B.
The 'top secret' part of the last-minute web usually offers great value, but you don't find out exactly which hotel it is until you have paid. So that is when I discovered that the hotel is actually 45 minutes from Alicante, but VERY close to Benidorm. My heart sank. Benidorm. Really? (Ed: we can feel your pain)
Renting a bike-check before you book the holiday! Next, bike hire. I looked online for motorcycle hire in the Alicante area.
I wanted something big enough to be interesting to ride, but not a GS Adventure or Harley (heavy and expensive). As it turns out, there isn't much choice, and nowhere that close to Benidorm (unless you want a scooter).
Fortunately, after a bit of web searching, I found that 2 Wheel Travel cover the Alicante area, and I booked a BMW GS 650 for four days, which came with two side panniers and a top box, all for 300 euros, including third-party insurance and another forty euros for two helmets (avoids carrying your prize lids onto the flight and getting scratched in overhead locker).
However, the bike pick up point was back in Alicante, about 45 minutes' drive (that's 50 euros taxi fare or 2-3 hours linking up various buses on public transport). I opted for the taxi, but it made the bike hire a lot more expensive, so worth checking bike availability BEFORE you book the holiday.
Benidorm and the GS 650 Sertao
There were two issues. First: Benidorm (I was imagining a built-up metropolis, full of loutish Brits, English pubs, English breakfasts, packed beaches, with no redeeming features). Second: four days on a wheezy BMW single (relatively slow, with poor handling, ugly, no redeeming features). Right?
Wrong…
We discovered that, yes, Benidorm itself is a kind of 'Britain-on-Sea', but if you avoid the bars, pubs and clubs set back behind the beach, and take in the beautiful, wide, sandy beaches (particularly Playa Poniente to the south of the bay), and the clean streets and promenade and the friendliness of the locals, you cannot fail to be charmed.
Outside of Benidorm, travel inland or along the coast roads, and you discover the most beautiful villages perched high in the mountains. If you take the CV-755 from Altea heading west, you travel along a smooth surfaced, twisty mountain road, lined with orchards and small settlements, until you arrive at the pretty village of Guadalest, which perches precariously on a crag and is topped off by a ruined medieval castle, (it also has a Muslim quarter, museum, and strings of souvenir shops and cafes).
Continue on the CV-755 and turn off south to visit the time-warp village of Penaguila, consisting of ochre houses huddling round the 16th-century church, and is bordered by a steep ravine, which houses the eco-gardens of the Jardin de Santos. Stunning.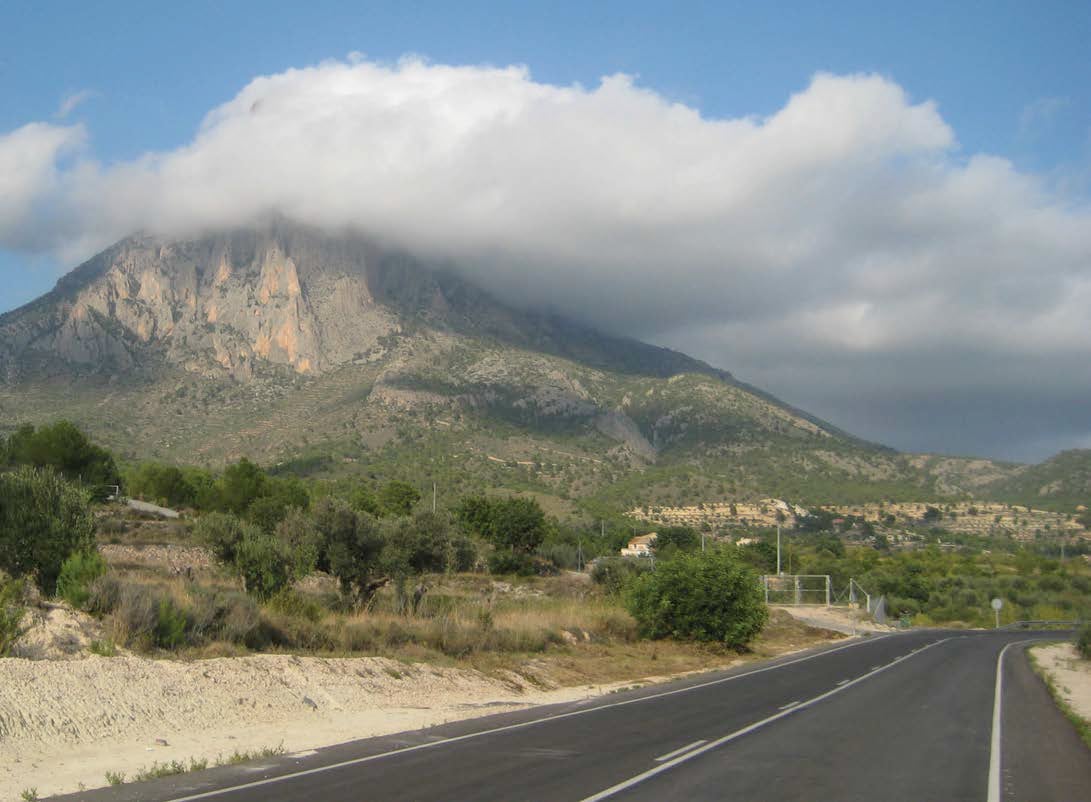 Or head NE on the N-332 national road, (yes the AP7 motorway is quicker, but is a toll road), and the scenery, including the mostly Romanian ladies that ply their trade along the N-332, is more pleasant. Stop off at the impressive Penyal d'Ifac; a vast, sheer rock rising out of the sea next to Calpe (it used to be a pirate lair but now houses a national park that has a winding path that passes through a long rock tunnel to the summit).
It is worth following the N-332 further northwards, and into Denia. At Denia, take the scenic coast road east, twisting over scrubby hills, past the Natural Park of Montgo, through the whitewashed village of Xabia, and up to the rocky headland/lighthouse at Cap de la Nau. Continue down the narrow twisty ribbon of smooth tarmac, through the pine forest to the tiny and beautiful cove at Granadella.
We arrived at the cove at Granadella just as the light was fading, but it was still worth the trip, and definitely worth packing a swimming costume and taking a plunge in the clear waters to explore the rocky pools on each side of the cove.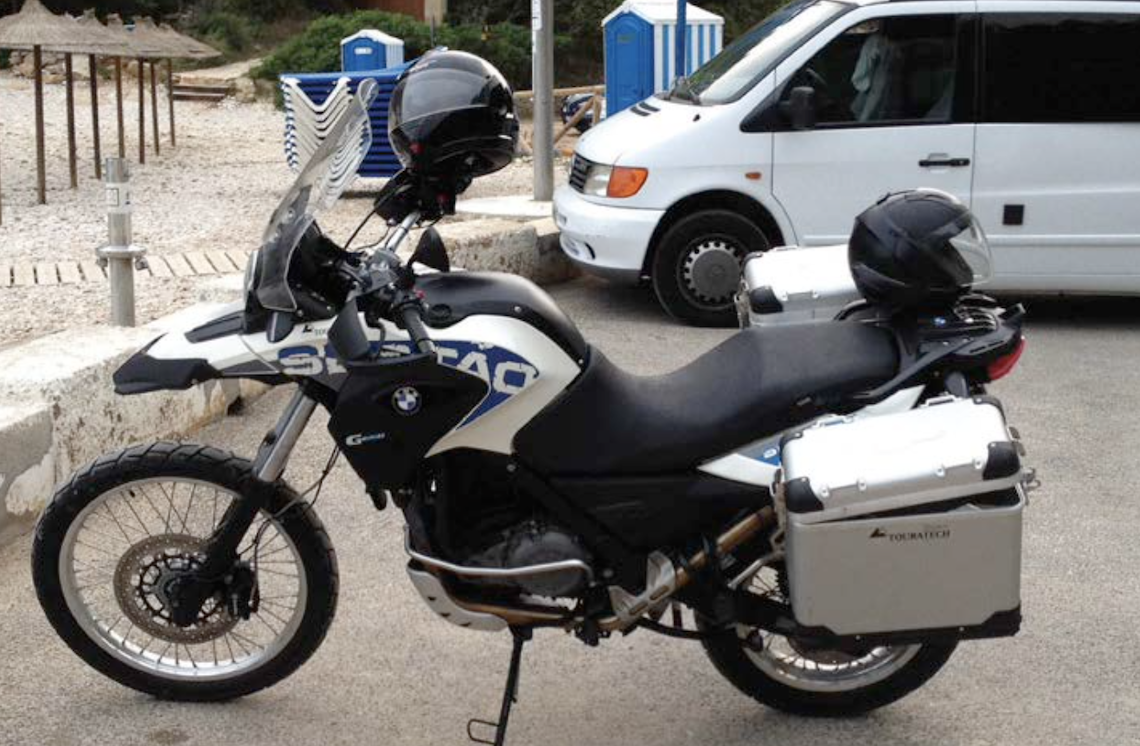 So what about the BMW Sertao? It's not a real GS is it? Too light, too small, not enough bhp for a serious motorcyclist. Well, here's the thing, on the roads that we travelled (including a few gravel road excursions), or to visit some point of interest (the waterfalls and natural pools at Callosa, Fonts d'Algar off the CV-755 again ), the little BMW was simply brilliant: light enough to manoeuvre easily when the going was loose, more than quick enough for the snake-like mountain roads, (and slow enough not to scare my wife), long suspension travel to soak up any bumps where part of the roads had fallen away, and hugely frugal with fuel… plus its ample panniers swallowed up all of our bike gear and helmets allowing us to lock everything up safely and head for the beach in the afternoons to wash off the road dust. Brilliant.
Diamond in the rough
So in summary, even if you are a little snobbish like myself, you can do a package holiday and combine it with a bit of motorcycle adventure (rather than hauling your own bike and gear across the channel and riding for two days to get there). You may discover the 'diamond in the rough', as we did in and around Benidorm, and you may also discover a little gem, like the BMW GS Sertao.