ABR's expert of all things two-wheeled answers your questions.
Question
Hi Dave,
I bought a used Suzuki V-Strom before the world turned upside down last year. I had all sorts of touring plans that had to be cancelled so I'm determined to make up for that as soon as I can travel. My question is this, what luggage should I get to tour with? It's a major expense that I only want to spend once.
Cheers, Douglas
Answer
There are a lot of luggage options out there Douglas. A quick browse online will reveal a wide selection of bags and boxes that come in various shapes, sizes, and materials, all designed to carry your essentials on a motorcycle tour. I'll explain the differences between the three main types of luggage to consider: soft bags, plastic boxes, and metal panniers.
Soft luggage
Soft bags are a great choice if your trips involve riding off-road. They are less obtrusive than hard panniers which helps when navigating tight lanes. And, if the bike goes over, which it probably will, they will take a beating. They also won't be as prone as hard luggage is to twisting metal wracks, or even your bike's frame, if you crash.
Security can be an issue with soft bags if you plan to leave your bike unattended, especially in busy cities where a thief with a knife can get easy access to your belongings. One solution is to attach a lockable steel mesh cover over your bags. Pacsafe is a well-known make of these.
A lot of soft motorcycle bags are waterproof these days, but I would always recommend using inner bags for your clothes, document, and electronics, just to be on the safe side.
Plastic clamshell cases
Hard plastic side cases and top boxes are another options. They are usually lockable which provides some security for your belongings, and good quality ones from brands like Givi should also be waterproof.
They come in all different shapes and sizes to suit your needs. Some are rounded and are designed with aerodynamics and looks in mind, and others are simply rectangular cases made to carry as much gear as possible. Those with a rounded shape will hold less and will be slightly more awkward to pack your gear into, but they look good.
Plastic side cases tend to open sideways like a clamshell, hence the name, which isn't a big chore. However, this can result in your possessions spilling out onto the floor when you open them up if you haven't packed them carefully enough.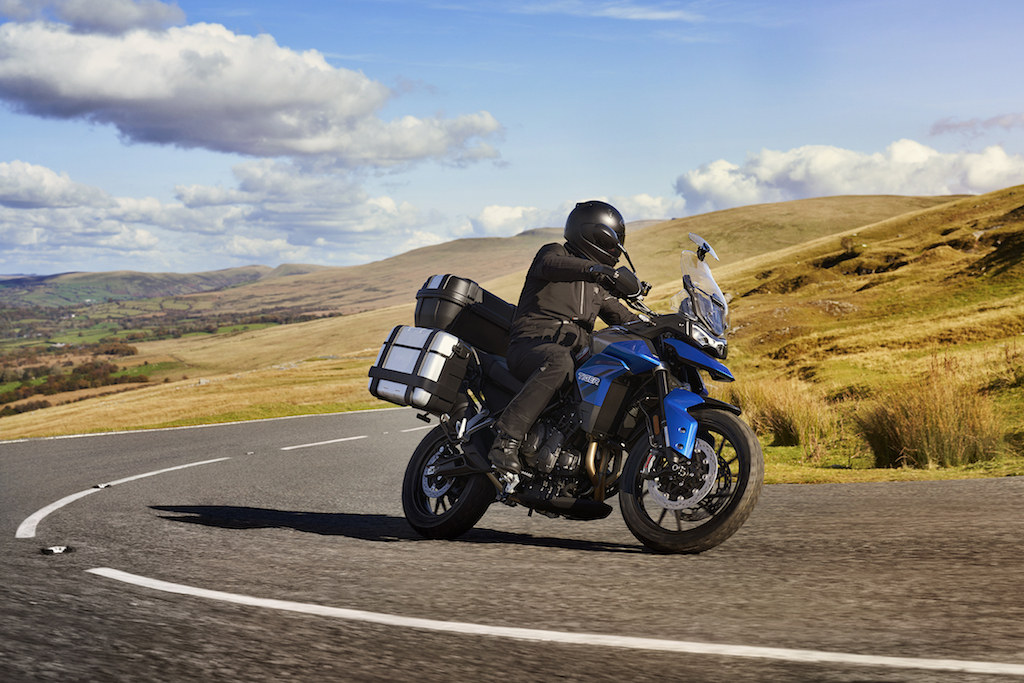 Aluminium boxes
For the ultimate adventure look, you'll want to go for aluminium boxes. They're big, rectangular, and will swallow everything including the kitchen sink.
Like plastic cases, they lock to your bike and provide security for your belongings. Most come with hooks of some sort on the outside to tie tents and dry bags to, leaving even more room inside for your essentials. Aluminium boxes also tend to have lids that open upwards, providing easy access to your gear without the threat of it all spilling out.
If you're planning on camping, aluminium boxes make life more comfortable. They can be used as a seat around a campfire (also sit on a pillow to reduce backside numbness) and as a table for food prep. They can even be used as a handy platform for your camping stove.
Some riders love the adventurous look of a full set of aluminium luggage, while others prefer the more subtle curves of plastic cases. And, some swear by soft bags, especially on the trails. Which you choose will depend on the type of riding you do and your personal taste. Enjoy the travels on your V-Strom.
Got something to ask Dave?
Send in your bike-related questions to [email protected], and if we publish yours, you'll get a free subscription to ABR.