James Oxley travels to Austria to explore some of the best riding on offer in motorcycle manufacturer KTM's backyard.
The last time I rode a motorcycle in the snow, I lost control on black ice and crashed. My Honda Africa Twin high-sided, throwing me from the saddle like a bucking bronco. I was lucky to escape with only a broken wrist and a bruised ego. Unfortunately, my Africa Twin was a write-off. 
Nine months later, I found myself about to ride through ice and snow again, the first time since the accident. I'm not afraid to admit I was quietly shitting myself as I sat shivering in the saddle of a KTM 790 Adventure. At that moment, some advice my eastern European motorcycle instructor had given me when I was learning to ride popped into my head. 
"You can ride through rain, wind, all sorts of weather on a motorbike, no problem James," he said in his Romanian accent. "But in the ice, leave the bike at home, drive your car, be safe." 
It was advice I should have heeded nine months previously, and I certainly wished I could follow it right now, but that was impossible. You see, I was sat on top of a snow-covered mountain in the Austrian Alps with only one way down. 
There hadn't been any sign of snow the previous night as I rode up a twisting, muddy track in the rain to my cosy Alpine mountain lodge. I ate rich food, drank strong beer, and even joined in with some singing over dinner, oblivious to the fact the snow was beginning to fall outside.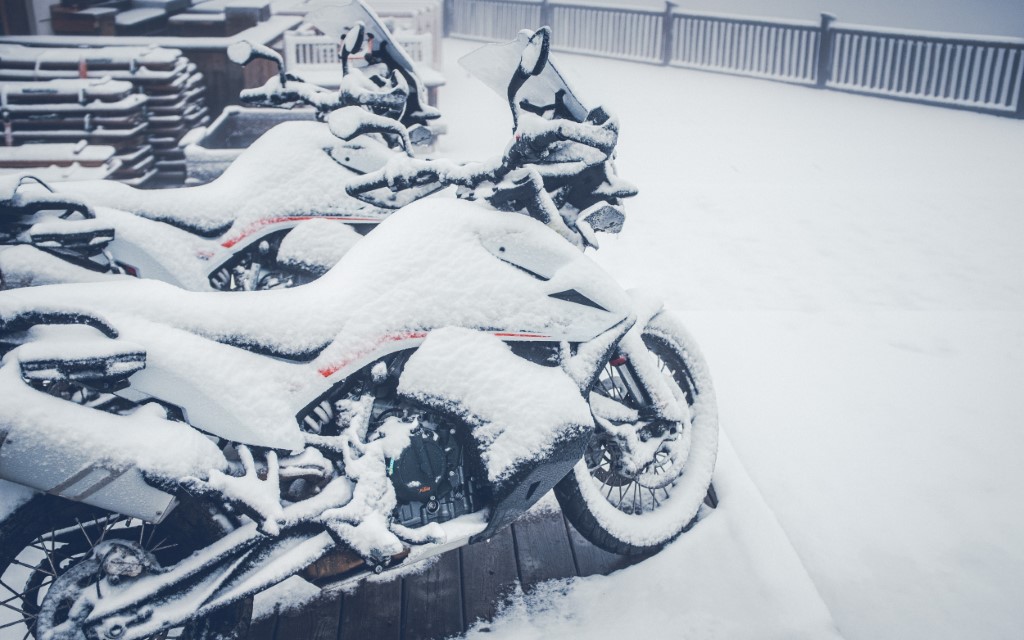 The next morning, I awoke to a world blanketed in brilliant white. Unhelpfully, and rather sadistically in my opinion, my brain chose that moment to replay a series of unpleasant images of me hurtling down the road on my face from nine months earlier. 
I tried to bury those thoughts as I put on my motorcycle gear and then cleared the snow from my bike. After all, I'd ridden in all-weathers for years before the accident. I used to enjoy the challenges winter riding provided. But fear is often irrational and at that moment I was the epitome of the saying 'once bitten, twice shy'. 
Not that I could admit my fears to anyone around me. I was in the midst of a motorcycle tour of Austria led by the good folks at manufacturer KTM. We'd spent the past few days riding magnificent mountain passes, kicking up dust off-road, and generally having a jolly good time on two wheels. 
As you can imagine with a company whose mantra is 'Ready to Race', riding with the guys and girls at KTM isn't for the faint-hearted. Among our group was a former desert racer and even the nice chap from the marketing department was handy on two wheels. It somehow didn't feel right to admit to these folks that my stomach was flipping somersaults in fear.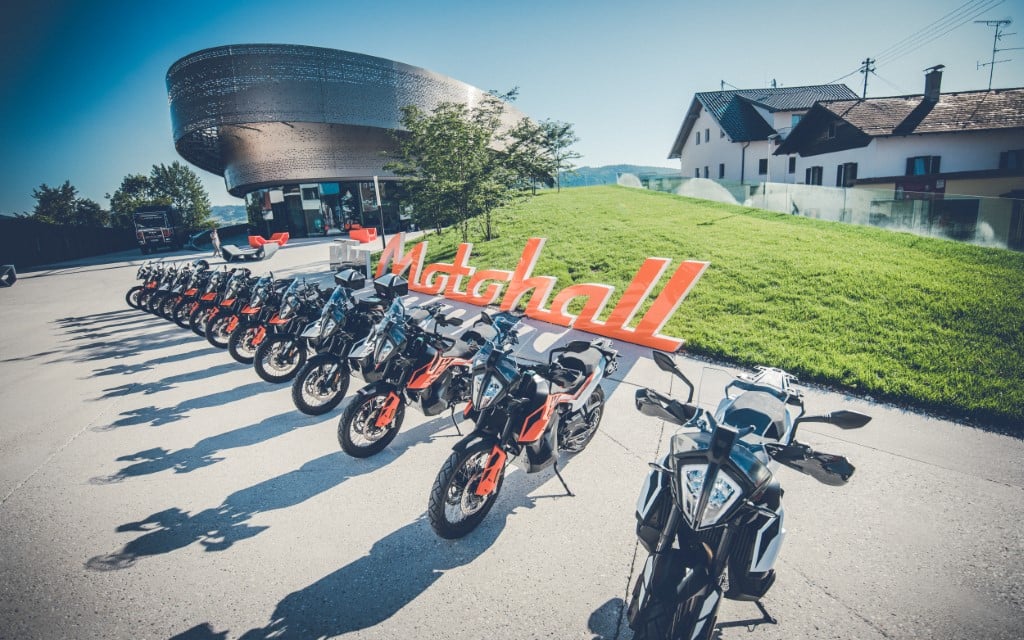 However, I've learned over the years, perhaps foolhardily, that in circumstances like these the best approach is to stop overthinking and just to get on with things. So, I dropped the 790 Adventure into first gear, stood up on the pegs and rolled downhill. For the first few metres my butt was clenched tighter than a walnut, but soon enough muscle memory kicked in, my body loosened up, and the fear was replaced by the thrill of sliding down a muddy track on a snow-covered mountainside in Austria. I mean, it beats the hell out of being sat in an office. 
When I reached the bottom, I had a big grin on my face and felt the urge to turn around and do it all again. But it was time to move on. The folks at KTM had plenty more fun roads for us to ride. 
Earlier that week, I'd flown to Austria along with a gaggle of motorcycle journalists from across Europe at KTM's invitation. We were there to ride the firm's latest mid-sized adventure bike, the 790 Adventure, on a three-day tour of the country.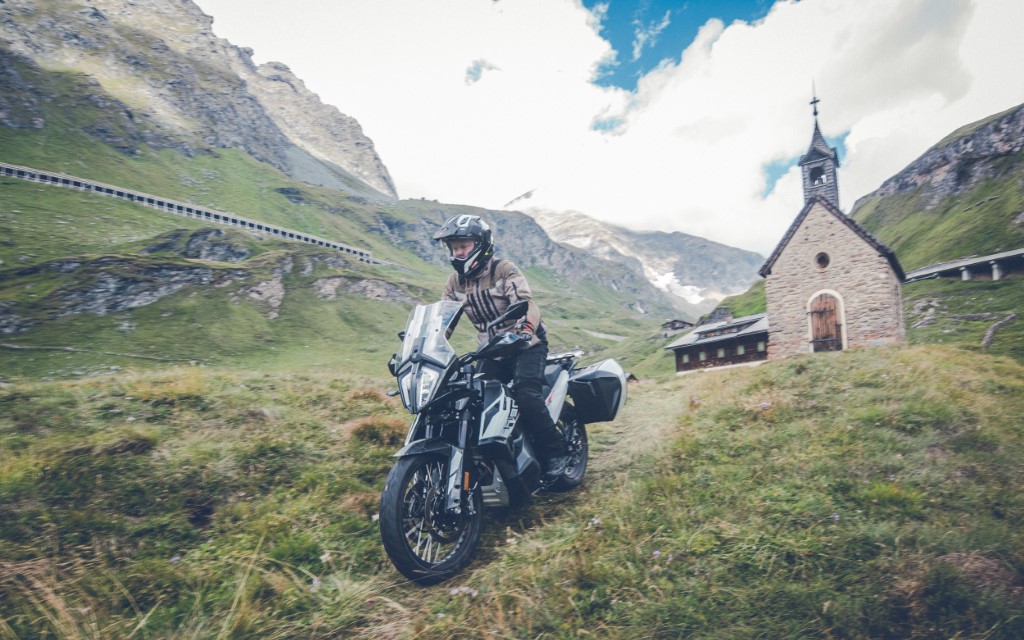 The timing of the media event was unusual. The press launch of the 790 Adventure, and the more off-road focused variant the 790 Adventure R, had only taken place a few months earlier. It was very soon to be going to so much effort to promote a bike that had only adorned the front covers of motorcycle magazines a few months earlier, including ABR. 
Reading between the lines, it seems that sales of the off-road-focused R model had exceeded KTM's expectations, while the standard road-biased 790 Adventure, while still seeing healthy sales, hadn't sold quite as well as KTM had hoped. Which brings us to Austria. 
The manufacturer's aim was to put the road-focused version of its mid-size adventure bike in the spotlight by organising three days of riding the 790 Adventure on some of the best roads Austria had to offer. This included the mighty Grossglockner High Alpine Road, one of the most exhilarating mountain passes in Europe.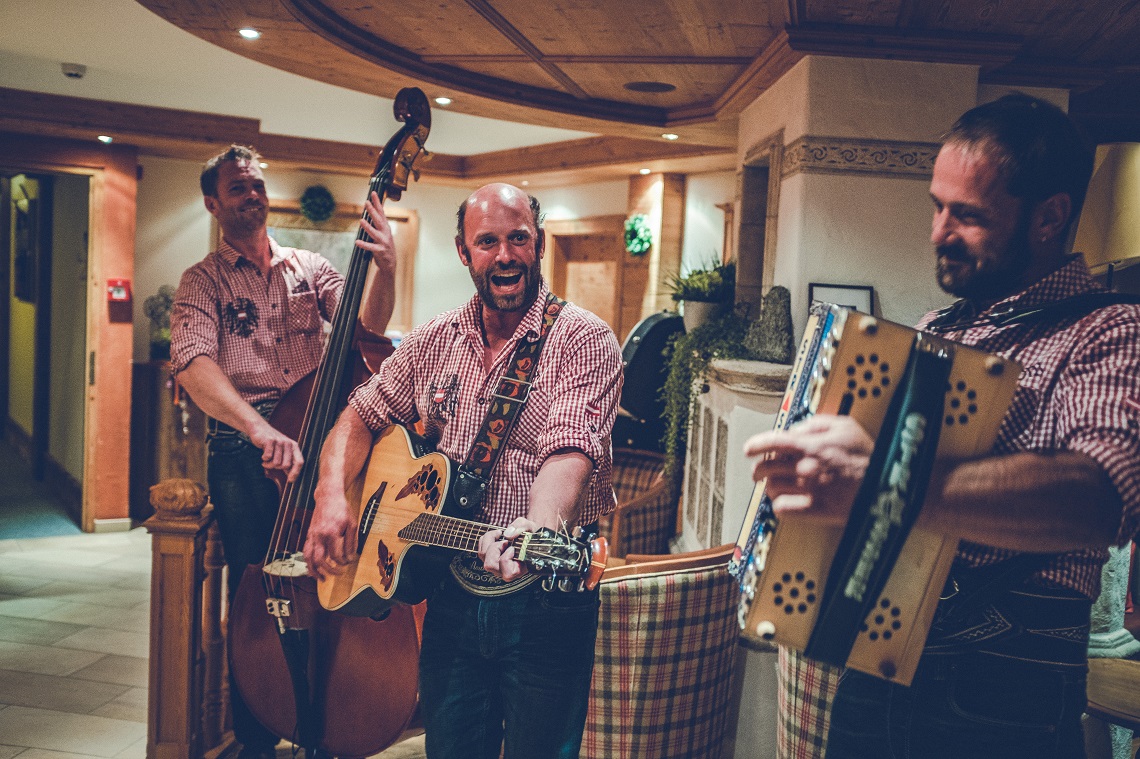 I was interested to discover how the 790 Adventure fared over consecutive days on tour but for me, how the bike performed was secondary. Adventure Biker Rider's bike tester Julian Challis had already written an excellent in-depth review of the bike, which was published in a previous ABR magazine. Instead, my main motivation for attending this three-day event was to ride with the team from KTM. If anyone knows the best roads to ride in Austria, surely it's them. 
I arrived in Mattighofen, Austria, surprised by the fact one of the world's leading motorcycle manufacturers is headquartered in such a sleepy little town. With a population of about 6,500 people, a sizeable number of those work for KTM, travelling each day to one of the huge factories dotted around the area. 
However, cruising along the town's main road, you'd be forgiven for thinking you are in any non-descript Austrian town until you stumble across the stunning KTM Motohall. This hugely impressive building opened in May 2019 and acts as a visitor centre, museum, and a meeting place. It's a homage to all things KTM past and present, featuring a fascinating display of the manufacturer's motorcycles, stretching back to its very beginnings. It's certainly worth a visit if you're a KTM rider or simply interested in motorcycle history.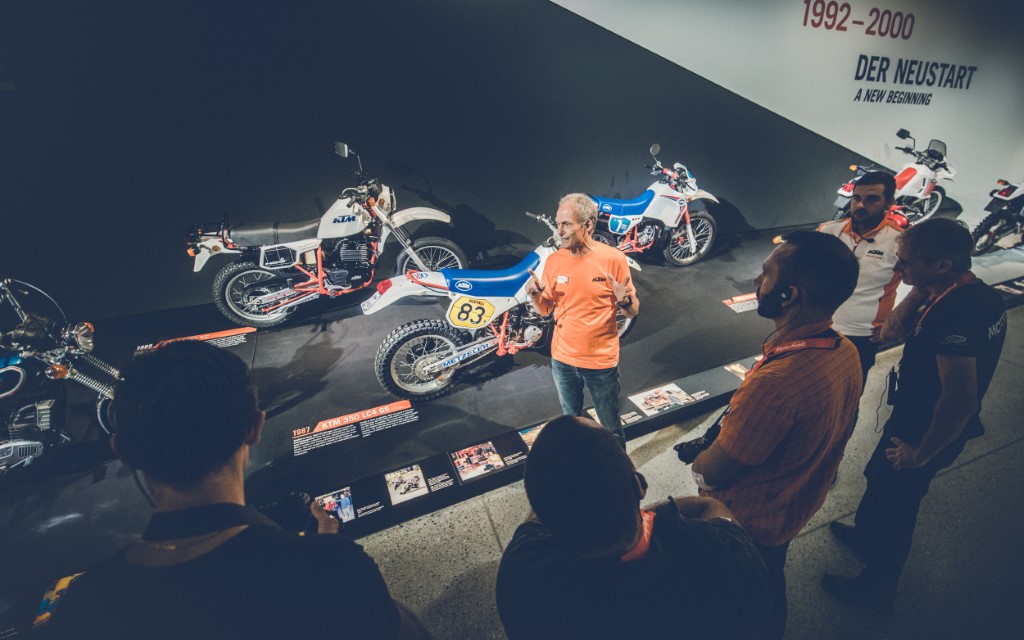 We spent the morning exploring the Motohall, but as fascinating as it was, my eyes kept being drawn to the row of 790 Adventures stood gleaming in the sunshine out front. I was itching to get riding. The plan was to spend the next two and half days travelling a 500-mile loop through Austria, living off the bikes and stopping at a different location each night. 
After lunch, I packed my gear into the KTM touring cases fitted to my 790 Adventure. With a combined storage of 62l, there was plenty of room for three days-worth of clothing, toiletries and electronics, so much so that I disconnected an additional waterproof luggage bag that was located where a top box usually sits. 
We'd been warned that the first 70 miles or so of the journey would be a bit dull before we made it to the mountains. Well, the landscape may have been flat, but we were in KTM's backyard and our lead rider, Andreas, was showing off his local knowledge. 
The sun was shining and the sky was a brilliant blue as we rode south from Mattighofen, flying along traffic-free country roads, carving our way through lush, green fields, and passing through picturesque towns and villages. 
The pace was swift yet relaxed which meant we had plenty of time to get used to the bike and soak up our surroundings. Soon enough, mountains came into view and we were confronted with our first view of the mighty Alps in the distance. It wouldn't be long before we'd be riding as high as one of the glaciers on those snow-capped peaks. 
The rest of the day was spent riding along silky-smooth roads through scenery that flitted between Alpine meadows and thick, dark forest. We passed east of the city of Salzburg and kept heading south, deep into the Austrian countryside. Andreas was certainly taking the scenic route and I was thankful for it.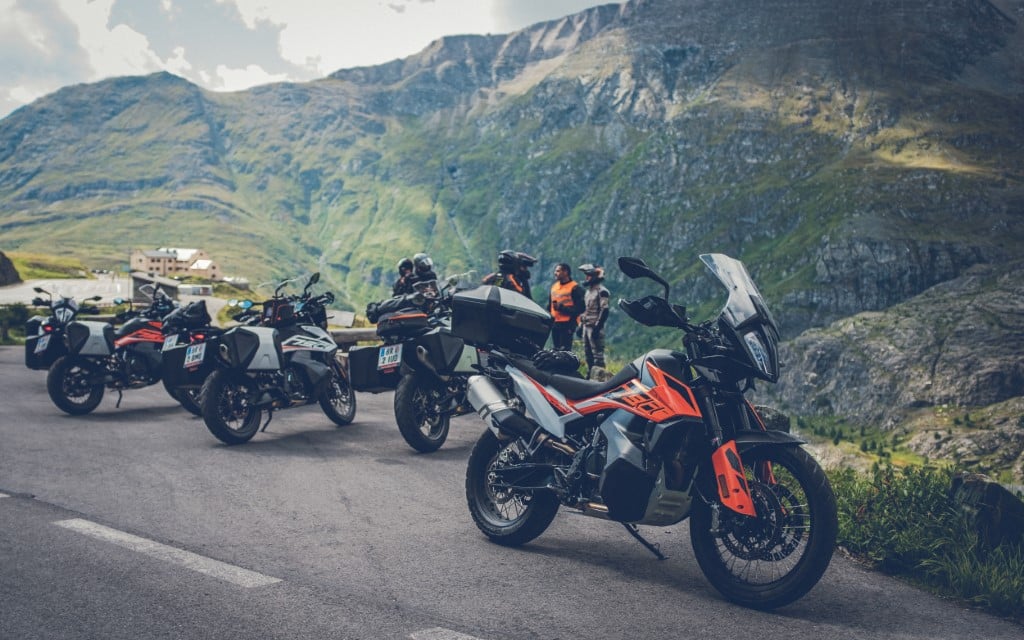 We spent the night at a hotel in the Saalbach-Hinterglemm ski resort, reliving the afternoon's ride over dinner and drinks. It was tempting to hit the bar after the meal and talk bikes with the other journalists, but I was determined to get my head down early. Tomorrow we would be leaving at 7am to ride the mighty Grossglockner, arguably Europe's most exhilarating mountain road. 
Praying for sunshine, I woke up to light drizzle the next morning, but there was no chance a little rain could dampen my excitement. We arrived at the toll booth and queued to pay. €26.50 Euro for the day for a motorcycle, the Grossglockner isn't cheap but it is worth every penny. 
Andreas had ridden this road many times before, so instead of simply whizzing up the mountainside, we waited a few minutes for a lull in traffic. Then, at the perfect moment, we switched on our engines and roared upwards. 
The Grossglockner High Alpine Road more than lives up to its reputation. It's a silky ribbon of twisting tarmac that wriggles around 36 turns, through one of the most spectacular mountain landscapes on earth. The Grossglockner mountain itself is the highest in Austria, rising to 3,798m, and is surrounded by several 3,000m peaks. 
The 790 Adventure was in its element. A nudge of counter steering and the bike swooped into corners, its Avon TrailRider tyres clinging to the tarmac as if they were on rails, the bike's cornering ABS and traction control no doubt playing a role. In turn after glorious turn I would pick my line, hit the brakes, arrive at the apex, and then gun the throttle out of the corner and up the mountainside. The 790's 95bhp engine providing more grunt than I could safely use.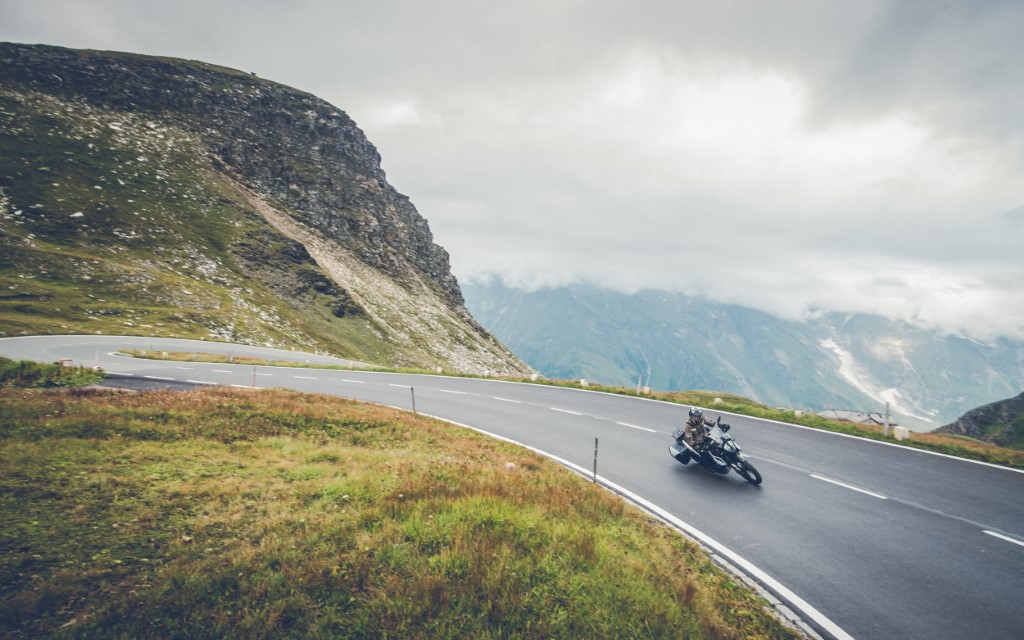 It was proving to be an agile and fun bike to ride in the twisties. The 20l fuel lank slung low below the fairing either side of the engine resulted a low centre of gravity that made the bike feel incredibly stable. The 790 Adventure certainly isn't top heavy. 
All too soon we neared the top of the Grossglockner. It was here we turned off the main road and climbed a twisting cobbled path to the Edelweisspitze. Sitting at 2,500m, it is the highest point of the mountain road and provides awe-inspiring views from the roof of Austria, or so I'm told. The Edelweisspitze was unfortunately shrouded in a thick curtain of cloud when I was there. 
We rode on and made our way to a busy spot overlooking the Pasterze glacier near the top of the mountain. It's a spectacular sight, but rather spoiled by the busy car park, restaurant and crowds of tourists milling around. I understand that I was contributing to those crowds, but the hustle and bustle made it difficult to stop and contemplate the vastness of my surroundings. 
However, I was able to reach peak contemplation a couple of miles down the moutain when we left the road and played around off-road on some ground next to an old chapel. It was a beautiful spot surrounded by a ring of mountains where I took a few moments to take stock and thank the heavens I ride.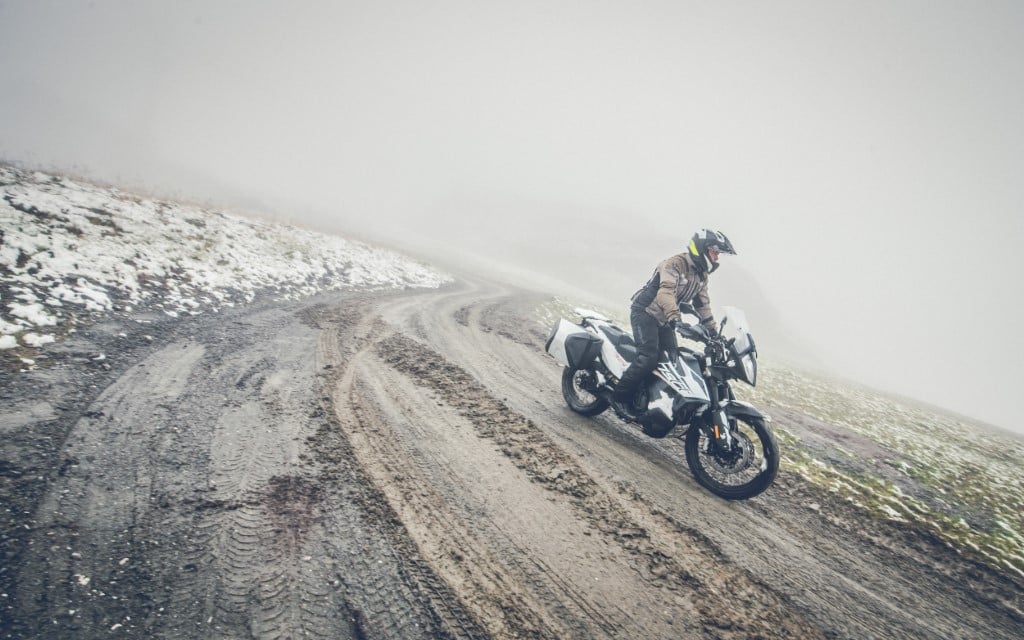 By now the weather had cleared up as we raced down the southern side of the mountain, carving our way through sequences of tight turns that were now bathed in sunshine. The Grossglockner is a magnificent motorcycling road and one I'd highly recommend making the pilgrimage to at least once. 
Our pack of bikers headed south along country roads towards the picturesque medieval city of Lienz, where we swung back north through yet more beautiful countryside into Tyrol, Austria's most western state. 
It was here we climbed up yet another sequence of tightly twisting turns, this time along the Gerlos mountain pass, stopping for a few minutes to admire a view of the spectacular Krimml waterfall from a distance. By now the rain and cloud had returned. With temperatures plummeting, we quickly moved on to our destination for the night, an Alpine lodge near the Zillertal Valley, nestled at the top of a mountain. 
It was raining hard by the time we turned off and wound our way up a tightly curving road. The hard surface soon came to end and our tyres scrambled for grip on an unmade track. 
Visibility was down to a few bike lengths, it was pissing down, and the surface was muddy, wet, and damn slippery. I could see the rear wheel of the bike in front spinning and sliding in a desperate search for grip as it navigated yet another slick, steep hairpin turn with no barrier, and what I assumed was a steep drop below (I had no idea, there was no visibility).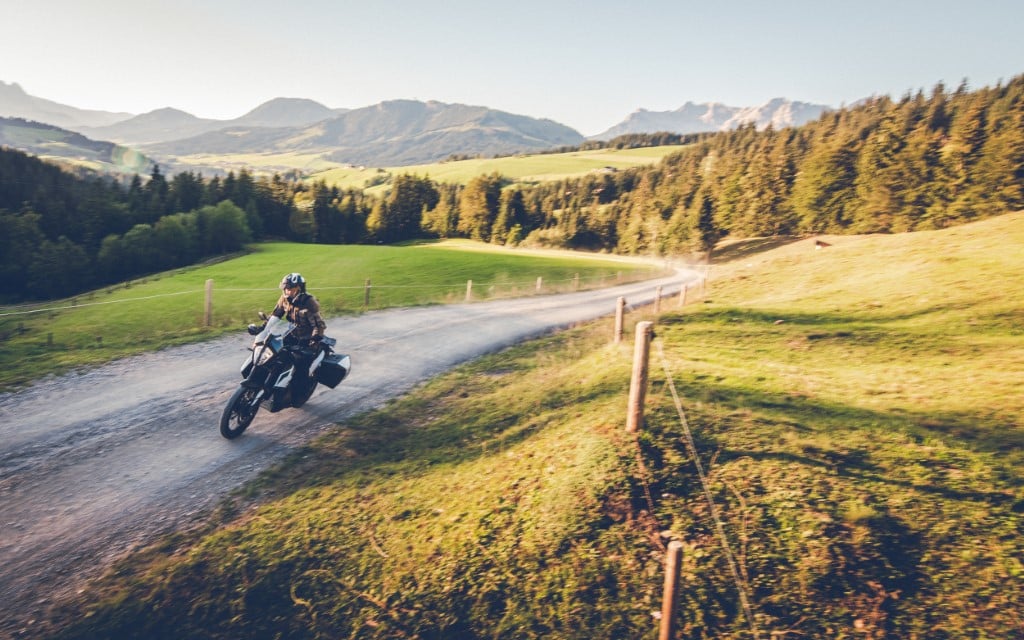 At this point, I began to understand what a good bike the KTM 790 Adventure is off-road. In a tricky situation, it was such an easy bike to ride. It holds its weight so low down that you don't feel like you're on a heavy adventure bike. That low centre of gravity, seemingly perfect balance, and the technological wizardry behind the off-road engine mode, all combined to make getting up the mountain a lot of fun. I don't think I would have enjoyed myself anywhere near as much had I been on a bigger machine. 
Further up the track, I came to a fork in the road. I didn't have a clue which path to follow. Frustratingly, I'd lost sight of the fuzzy red glow of the bike in front's rear light a few seconds earlier. There seemed to be tyre tracks going both ways. I sat there for about 30 seconds pondering the decision until another rider in the group came up behind me. He studied the ground and picked out the thinner indent of a motorcycle tyre in the mud in the left-hand fork. It was the right decision and, a few minutes later, we parked up outside the lodge pleased to have finally made it to the top. 
That night, while I enjoyed plenty of rich food, strong beer, and the warmth of Austrian hospitality, it snowed outside. The next morning, as I slid down the mountainside, I was yet again impressed at how the 790 Adventure handles tricky riding conditions. 
Once safely at the bottom of the mountain, we headed north through Tyrol before turning east and dipping into Germany, a few miles north of the Berchtesgaden National Park. By this stage of the trip, we had all got used to the bikes and riding with each other, so inevitably our speed increased. It was joyful whipping along traffic-free country roads. There were no hedgerows or houses to block our view of the way ahead, just open fields affording great visibility.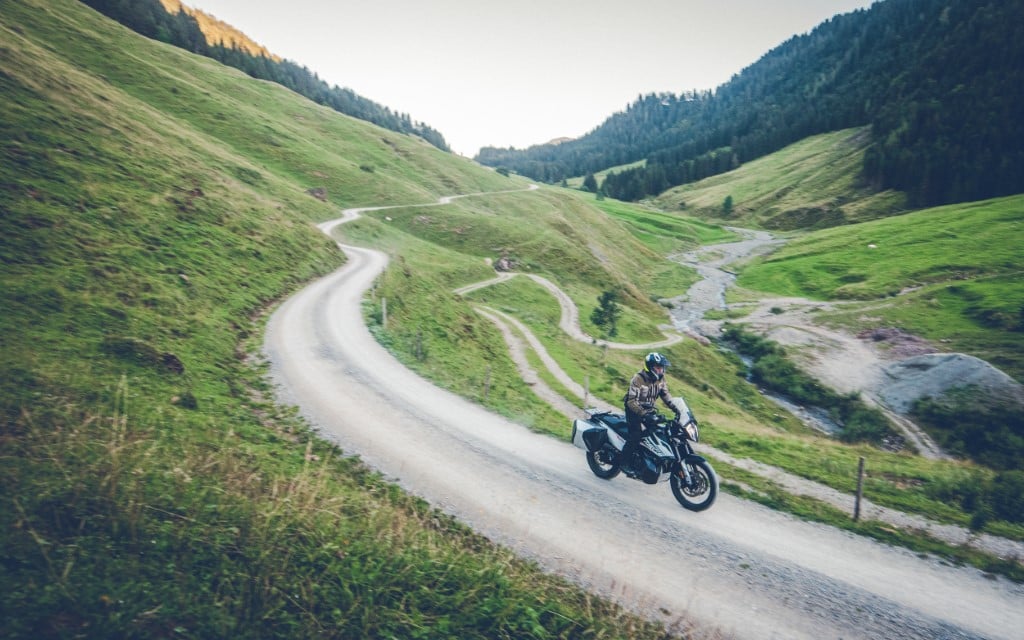 I pushed the 790 Adventure harder and harder, trying to find its limits in the corners, but no matter how hard I tried it simply would not run out of grip. The day passed by in a blur of brilliant roads and picturesque views, until we neared the city of Salzburg. It was here we jumped on a motorway. Yet again, the KTM was at home, comfortably cruising along at high speed, its leggy sixth gear letting me know the bike would be happy doing this all day. 
It was with a pang of sadness that we cruised back through the streets of Mattighofen and parked up outside the KTM Motohall. I reluctantly stepped off my motorbike one last time. 
I was grateful to have experienced a sensational three days of riding, following a selection of the KTM team's favourite roads, amid some of Europe's most spectacular scenery. 
I was also grateful to the 790 Adventure. Its poise and balance in tricky conditions had helped me overcome the fear of riding in snow and ice, a fear that had lodged in my mind since the accident last year. It is an outstanding adventure bike and one that I would love to have in my garage. 
Want to ride in Austria?
I flew from the UK's Heathrow Airport to Munich in Germany, where I picked up a hire car and drove the two-hour journey to KTM's HQ in Mattighofen, Austria. However, there are a number of motorcycle rental companies in Munich, enabling you to start your journey there. Alternatively, some of the journalists on my trip flew to Salzburg. The city is less than an hour from Mattighofen which also has a number of motorcycle rental companies. 
Flights to both cities from the UK start from around £60 depending on when you travel and how far in advance you book. 
Due to snowfall in the mountains, I'd recommend travelling in late spring, summer or early autumn. However, ensure you keep a close eye on the weather whenever you go as snow can fall unexpectedly, as I discovered. 
If you're planning to ride the Grossglockner High Alpine Road, keep in mind that it closes over the winter. The road is open between late April/early May and late October/early November, depending on weather conditions. Make sure you check the www.grossglockner.at website before you travel for the latest conditions and road status.
The Bike
I spent three long days in the saddle of the KTM 790 Adventure in sunshine, rain, wind, and snow. I rode it along fast, twisting mountain passes, along dirt and gravel roads, on motorways, and through busy traffic. It proved to be an outstanding motorcycle that is adept in all riding situations. It may well be the best all-round adventure bike I have ever ridden. 
My only gripe is with the seat. I found it on the hard side for a bike that has been designed for long-distance touring. Apart from that grumble, it is a formidable machine. I'd highly recommend booking a test ride.