Bryn Davies and James Oxley check out 18 of the best adventure helmets
Currently in the UK, there's only one thing you're required to wear by law when riding a motorcycle. That is, of course, a helmet. It's certainly advisable to wear other protective gear every time you throw your leg over the saddle, but if you're going to ditch one piece of kit, don't make it your lid (even if you're riding abroad where it's not a requirement).
In fact, according to studies undertaken in the US, traumatic brain injuries are the most common type of injury for motorcyclists, so it pays to make sure you've got some protection for your noggin, and the best you can aff ord. There are numerous styles of helmets on the market, but in this issue of Adventure Bike Rider magazine, we're going to be looking at a type of lid that's become synonymous with the rugged, world-traveller look, and that's the adventure helmet. Characterised by a peak on the top, ample ventilation throughout, and an extended chin bar (much like a motocross helmet), the adventure helmet is aggressive-looking and, to be honest, downright badass.
The thing with adventure helmets, though, is that they're often not the most practical. The peak, unless excellently designed (which is something you only tend to see on helmets costing £200 and above), will catch the wind at motorway speeds. The extended chin bar, too, isn't so welcome during winter months, when cold air is allowed to freely enter the lid.
For their drawbacks, they do have their uses, though. While the peak can be an annoyance, they're excellent at keeping foliage away from your vision when riding off-road on nadgery green lanes. They're also far superior to internal sun visors when it comes to preventing sun glare – something that's essential when riding into a sunrise or sunset. The extended chin bar offers a more comfortable environment during the warm summer months, and if the temperature drops then a good helmet will come with a chin skirt that you can fit to keep the cold air out.
Features of an Adventure Helmet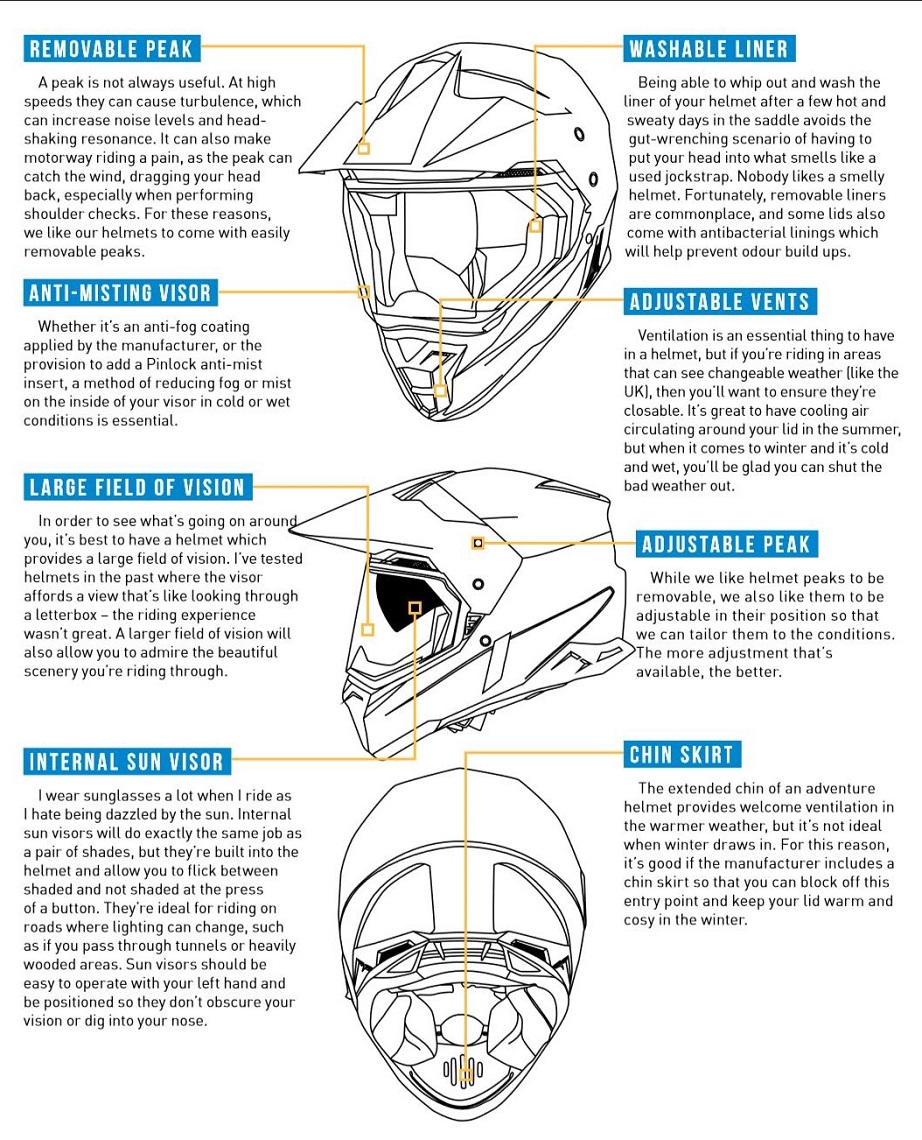 So, what should you look for when buying a new adventure helmet? First and foremost is that it's a genuine lid and has passed relevant safety standards (see the box out for more information on this). There's very useful information online about how to spot a fake helmet, and it'd be worth brushing up on this before you consider buying a 'genuine' Shoei for under £100. This said, all legal helmets on sale in the UK and Europe will meet approved safety standard.
This means that even the cheapest helmet in this group test will offer a level of protection that meets a certain set of criteria. As you move up the price scale, the introduction of better quality components and shell materials tends to mean more protection, though this isn't always the case. The government-funded SHARP scheme (sharp.dft.gov.uk) proves this, with some cheaper helmets performing better than more expensive counterparts in the scheme's independent tests.
Unfortunately, SHARP will not test adventure-styled helmets at this point in time, but the website is a great source of information to get a feel for a certain brand and how well they are rated in that aspect. Safety aside, perhaps the most important thing you should consider when buying a new helmet is the fit of it. Much like poorly fitting boots, a helmet that isn't right for your head shape can make your time in the saddle a miserable one.
Pressure points can become uncomfortable at best and distracting, leading to headaches and lapses in concentration, at worst. On the flip side, a helmet that's too big for you will compromise how much protection it can offer you. Other features, such as all-day comfort, weight, a good field of C vision, effective ventilation (which you'll need if you're planning on wearing the helmet off-road), styling, the design of the peak, and the price all come into the equation, but there's no definitive answer to the question, 'what's the best helmet for me?' as fit is a feature that trumps all and there's no one-size-fits-all option.
With all of this in mind, read our reviews first, make a list of the helmets that appeal to you and then head off to somewhere where you can try them on. Only after you've squeezed your head between the cheek pads should you make the decision to buy.
LS2 PIONEER MX436
From £100.00 – www.ls2helmets.com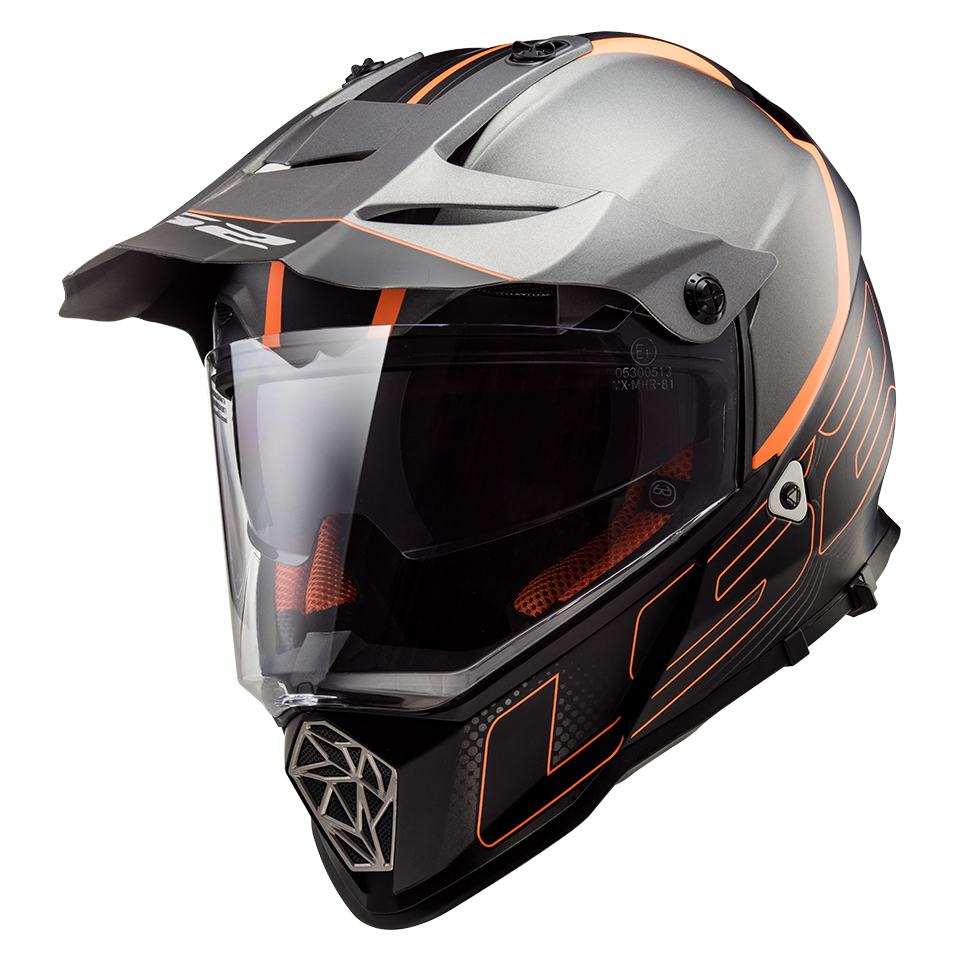 At £100, the LS2 MX436 Pioneer is the cheapest helmet in this review. Having been around since 2016, it consistently impresses with a remarkable combination of quality and value for money. I've said in the past that this lid sets the benchmark for budget helmets, and that continues to be the case to this day. For £100, you get a lot of helmet, and the whole package has been bundled into an attractive shell that's made from a proprietary blend of polycarbonate, thermoplastics, and LS2's own specially-developed Kinetic Polymer Alloy. These three materials come together to offer a light, yet strong shell that meets both ECE 22.05 and DOT requirements.
Not only does the Pioneer look good, but it performs well in most situations. The peak has a large amount of adjustment and does a good job of blocking overhead sun, though it will catch the wind like a sail at 70mphplus. The cheek pads and inner linings are removable and soft to the touch, while the ventilation on offer is good. Last time I tested this lid, I mentioned that one area for improvement was the visor, which lacked Pinlock mounting points. LS2 appears to have listened and on the latest model, they're present. An excellent addition.
While the helmet does perform excellently considering its cost, and if you're shopping in the budget end of the price scale it's a superb buy, there are a few areas for improvement. The helmet features a series of always-open vents on the side of the chin and on the brow, which are great on warm days, but not so desirable on cold, wet rides, and I would have liked to have seen closable brow vents instead. Because of these vents, the helmet is also very noisy.
IN A LINE: Excellent value for money. ABR Rating 8/10
FRANK THOMAS FTAS001 ADVENTURE SPORT
£119.99 www.frank-thomas.co.uk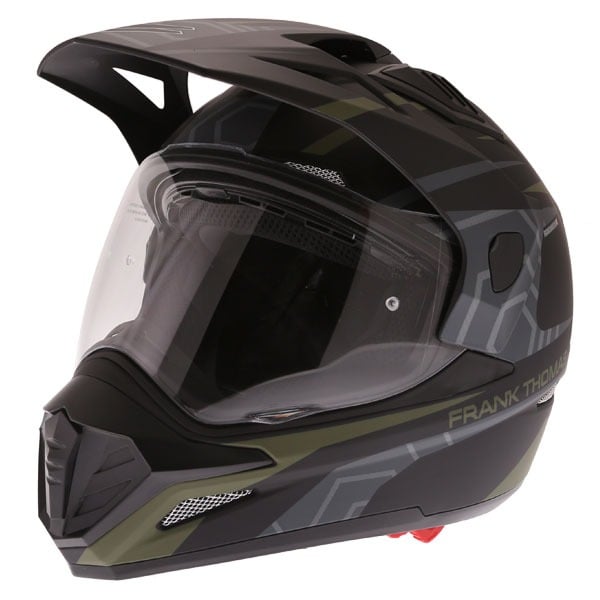 At £119.99, we have the Frank Thomas FTAS001 Adventure Sport Helmet. Along with the LS2 Pioneer MX436 and Nitro MX670 Podium, it's one of the cheapest in this review and is an attractive proposition for those riding on a budget or dipping their toes into adventure riding. If looks were the only measure of performance, the Frank Thomas would score well, with the colourways being designed by the Italian firm, Franzan Design.
Despite its low price, the helmet comes well featured, housing a peak, an extensive ventilation system, an internal sun visor, Pinlock mounting points on the visor, and a removable, washable inner lining. In use, the lid performs better than I expected a helmet of this price to. It's comfortable, has ample ventilation and the internal sun visor is both well placed and simple to use. While the peak, which is nonadjustable, does catch the wind, particularly when doing shoulder checks, I've experienced worse-designed peaks before.
That said, it could do with sitting a bit further down to provide more sun-shielding, as it's almost useless in its standard position. The field of vision isn't particularly large, and while the ventilation is extensive and the chin and head vents can be closed, there are six other venting points that are always open; great for summer riding, not so much for cold, wet winter days where water will penetrate. The always-open vents also lead to the lid being very noisy indeed.
IN A LINE: A good entry-level lid with some limitations. ABR Rating 6/10
NITRO MX670 PODIUM
From £119.99 www.bickers-online.co.uk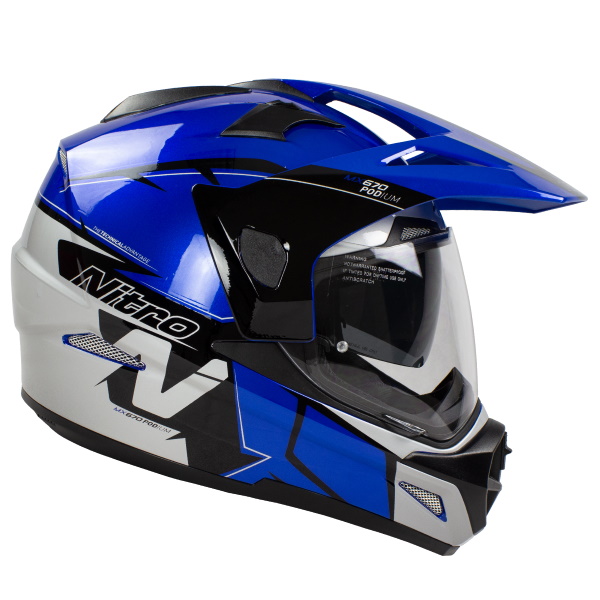 At £119.99, the Nitro MX670 Podium is the last of our three cheapest helmets in this group test, though if you want it in a fancy graphic scheme (blue, red, or orange) you'll pay an extra tenner. At both prices, the MX670 Podium offers a fine array of features, and if you choose the graphic colours, it's an attractive-looking lid. The multi-poly shell is based on Nitro's existing MX620 motocross helmet, and the off-road influences are immediately noticeable with the well-extended chin bar.
To complete the look, a non-adjustable peak sits above a scratch-resistant visor, which comes Pinlock ready (though an insert isn't included). An internal sun visor is also present, and this is well situated, dropping down far enough to cover all of your vision, but not far enough to hit your nose. It's also easy to use, thanks to a rocker that's placed on the left-hand side of the collar.
The MX670 Podium excels when it comes to ventilation, and that's thanks to the extended chin bar and a combination of nine vents (two of which are closable) and four exhaust vents. Combined, these features make the MX670 Podium a very pleasant summer helmet, though this does come at a cost. In cooler months, your head will get cold quickly, and they also mean that the lid is one of the noisiest I've used – good earplugs would be essential if you were to choose the MX670 Podium.
IN A LINE: You'll find good value in the MX670 Podium, though it's very noisy. ABR Rating 6/10
ACERBIS ACTIVE DUAL SPORT
£124.95 www.adventurebikewarehouse.com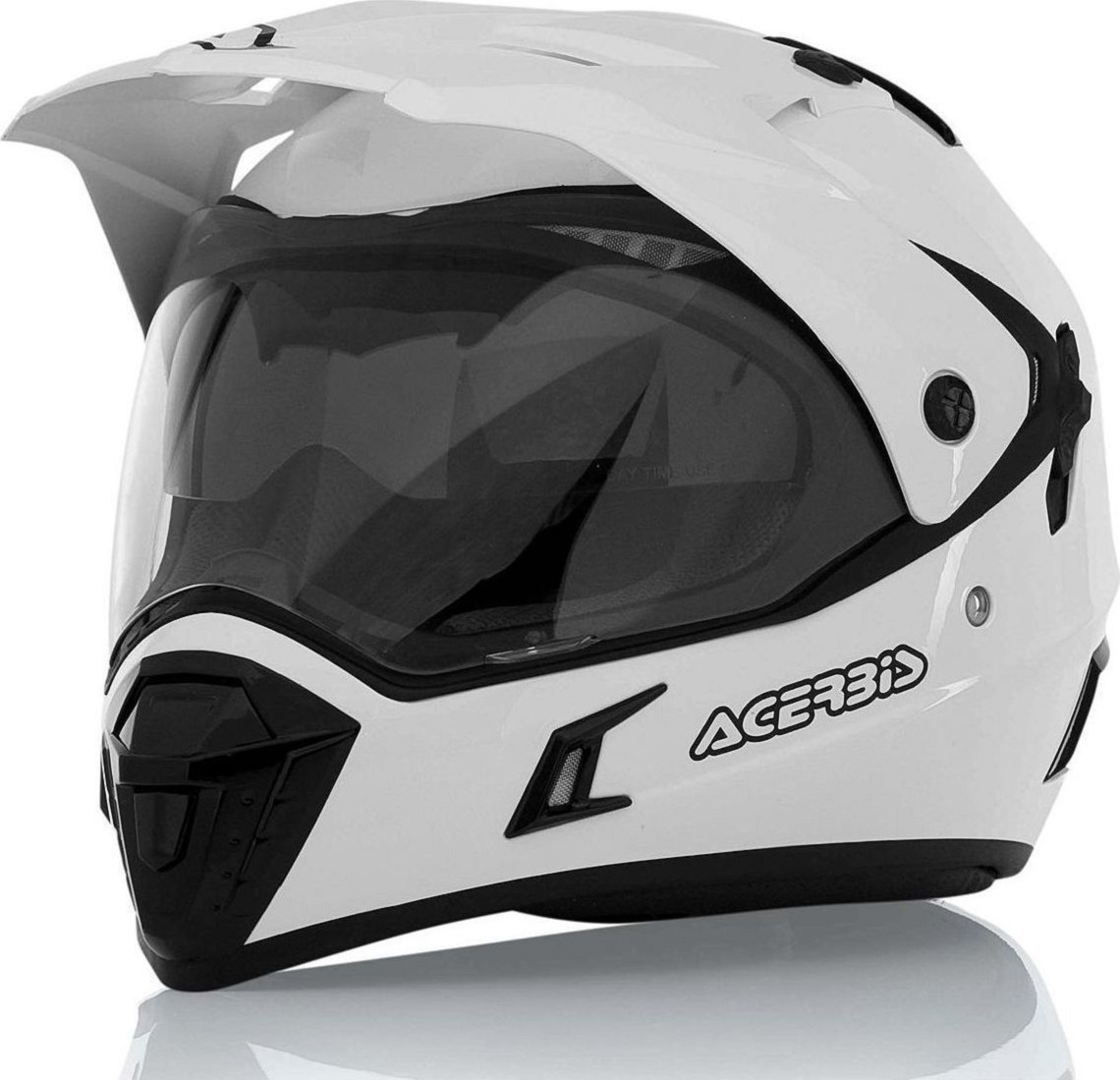 The Active Dual Sport is the newest adventure-styled helmet in Acerbis's lineup, retailing at £124.95, though I've found it for around £80 online. When it comes to the peak, the one found on the Active Dual Sport is among the best and also worst on test. In use, it rarely catches the wind, even when shoulder checking at motorway speeds, which is quite impressive in a helmet of this price. But at the same time, it's positioned in such a way that it's of little practical use on the road, providing minimal protection from the sun overhead.
With that in mind, it's fortunate then that the Active Dual Sport comes with an internal sun visor. This is easy to operate thanks to the well-placed slider on the left-hand side of the lid, though to get the visor to drop fully into place it's a bit of a struggle, with our slider being very stiff for the last portion of the sliding movement.
The helmet comes with a removable chin skirt as standard so that you can keep cold air out. When the mercury rises, you'll want to remove it as the closable chin vent is complimented by just two non-closable vents on the top of the head, and the lid runs pretty warm. In all, the Active Dual Sport is a good option for those looking for a cheaper lid. It has some nice features though it lacks refinement in areas.
IN A LINE: A nicely-priced adventure helmet, though the peak is frustrating.
ABR Rating 6/10
VEMAR KONA DESERT
£149.99 www.tri-motive.com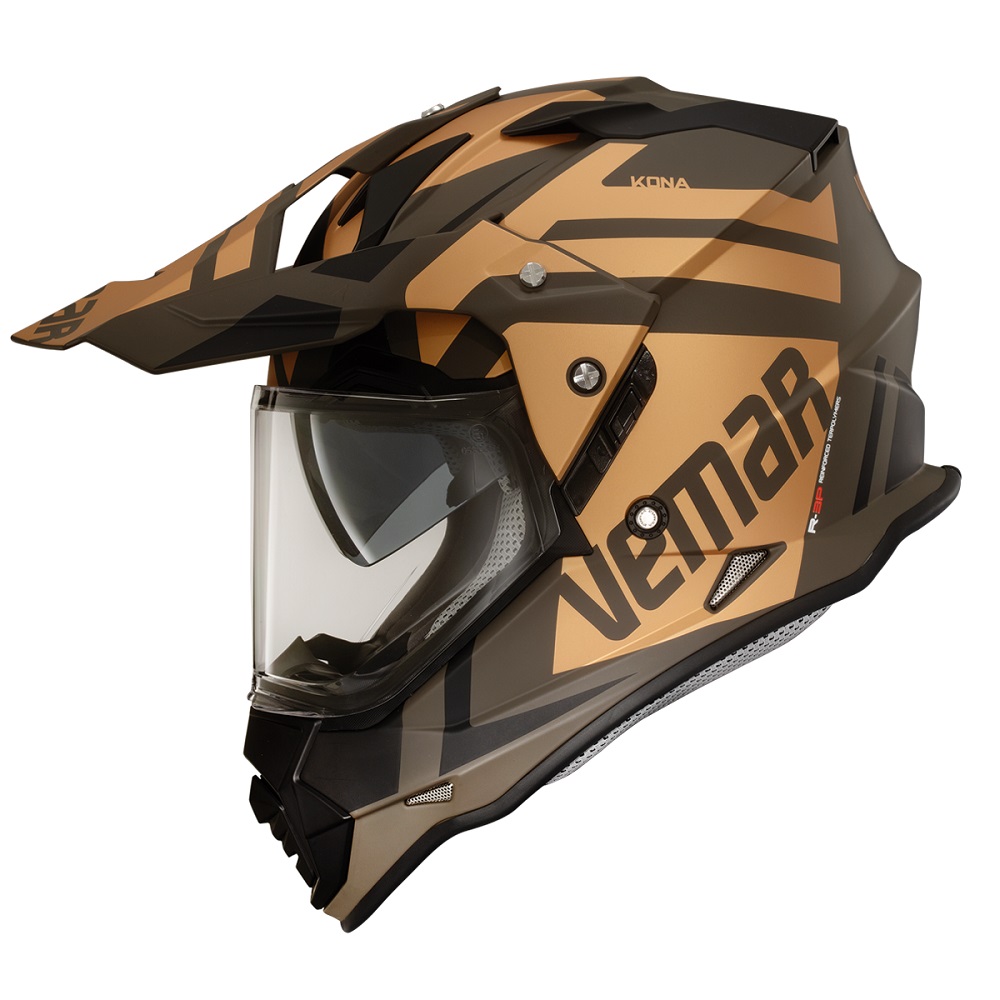 The Kona Desert is an entry from Italian helmet brand Vemar. I must admit, I'm not awfully familiar with the company, but reading up on its history, Vemar has been around in one form or another for 40 years, so there's a strong heritage in the brand. The Kona Desert is Vemar's aggressively styled adventure helmet, and it's been based on the Taku, the company's motocross lid that's designed purely with off-road riding in mind. This being the case, the off-road styling of the Kona Desert is immediately obvious.
The chin bar drops down low and is extended more than the other helmets in this review. It's great when you're working hard off-road, allowing a lot of air through, but it also comes with an effective chin skirt for when you want to close things up. The chin bar can be a bit of an annoyance though, being positioned low enough to hit your chest when you tilt your head down. It's not something I do a lot, but it's noticeable. The peak on the Kona Desert is of a decent quality when you take the price of the helmet into account. While it's non-adjustable, it is removable, and the default position is effective at shielding your eyes from sun glare and for brushing foliage aside.
At motorways speeds, it catches surprisingly little wind when performing shoulder checks, though it does have a sail effect for head-on gusts. This in mind, for long motorway journeys, you'd be better off removing it and storing it in your luggage for the motorway miles.
IN A LINE: Good performance and style at an attractive price.
ABR Rating 8/10
CABERG X-TRACE
From £159.99 www.cabergcares.co.uk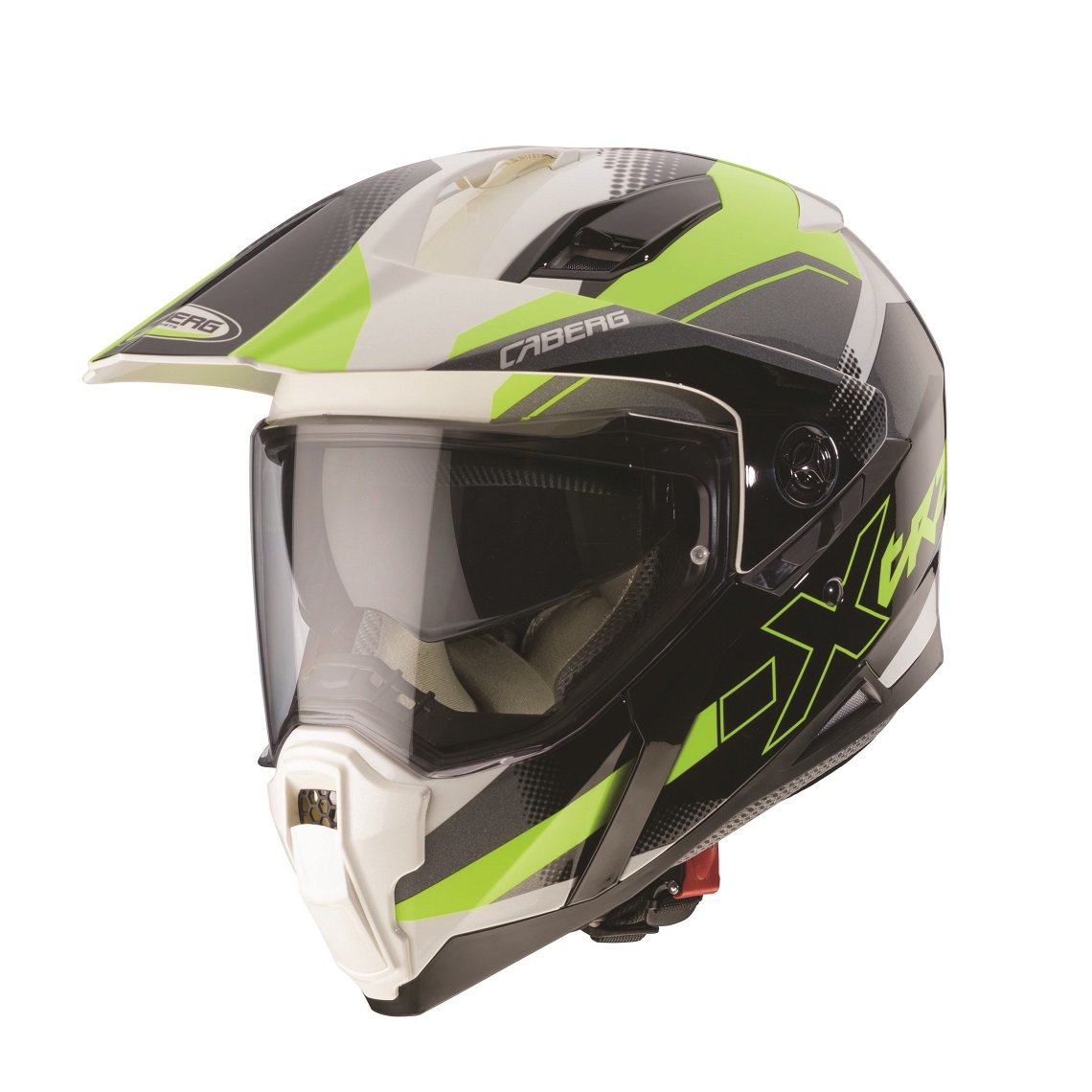 At £159.99, the Caberg X-Trace represents great value for money. Not only is the X-Trace one of the best looking adventure-styled helmets on the market, it also performs well. The peak, while non-adjustable, is well designed and offers a good amount of protection from sunlight, while also causing minimal turbulence. It will catch the occasional breeze, particularly when shoulder checking at motorway speeds, but you'll soon figure out which head positions are responsible for the drag.
An internal sun visor is also present, though it takes a while to accustom yourself to the position of the operating mechanism. Ventilation is provided by a simple but effective chin vent and two closable brow vents, and you get a large exhaust vent on the rear. One of the main reasons I liked the X-Trace was just how light and unrestricting it feels when worn.
If there's one thing that's going to put you off buying this helmet, it's that it suffers from something that seems to be common in most of the Caberg helmets I've tested over the years, and that's a short chin bar. If you've got a pronounced chin, then you'll find that it will touch the helmet, making it more uncomfortable to wear and also restricting ventilation. With this in mind, it's well worth trying this helmet on before you buy it.
IN A LINE: A great value-for-money helmet.
ABR Rating 8/10
BELL MX-9 ADVENTURE MIPS
£189.99 www.bellhelmets.co.uk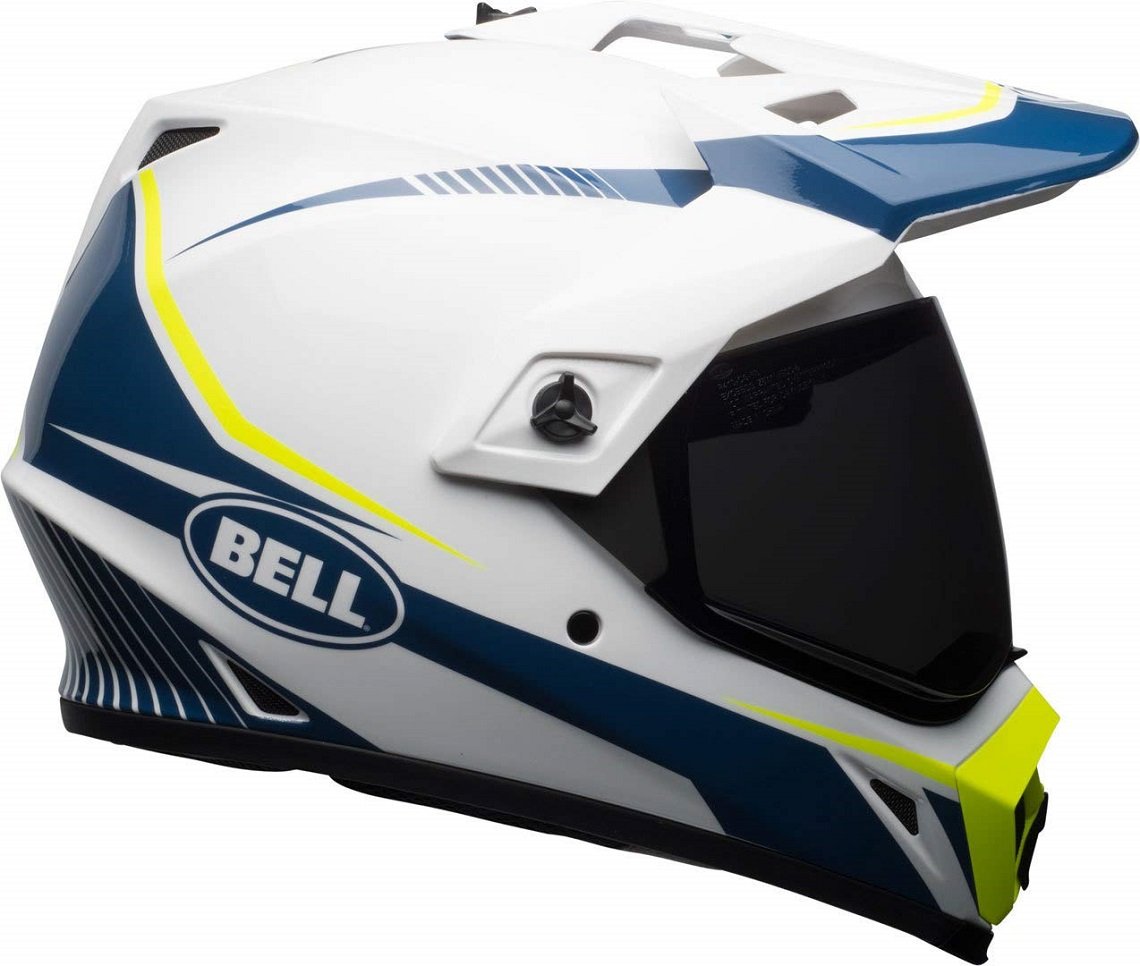 Bell has an excellent reputation as a helmet manufacturer and the company's lids consistently perform well when put to the test by SHARP, the government-funded motorcycle helmet safety testing scheme. The MX-9 Adventure was originally introduced to the market in 2015 and it's since been updated to include MIPS technology, which stands for 'Multi-directional Impact Protection System'. Like 2015's offering, this complies to ECE standards, and it's also been given the ACU Gold approval.
Essentially, MIPS is a low-friction membrane between the helmet liner and the EPS that allows a level of rotation, helping to reduce rotational forces on the head. I can't vouch for the effectiveness of such technology, but have spoken to US neuroscientists who have suggested it's worthwhile, and it's so thin it makes no difference to your wearing experience. Safety aside, the Bell MX-9 Adventure is a bit hit and miss. As an offroad helmet, it offers great value for money and will suit you well, but if you're going to be spending most of your time on the tarmac, particularly on motorways, you may find the drawbacks of the helmet's peak too limiting.
It's a lovely-looking lid and it's comfortable to wear, but the peak creates a lot of drag around the 70mph mark, especially when performing shoulder checks. It's fortunate that the peak is removable, then. Ventilation-wise, the MX-9 is well equipped for warm summer days, and it coped well with trail riding. On the flip side, the two, large brow vents are non-closable, so you'll have to deal with a cold head in winter, and a wet head when it rains. These vents also mean that the MX-9 is a noisy lid.
IN A LINE: Great for warm-weather trail riding, not so much for touring.
ABR Rating 7/10
PREMIER X-TRAIL MO
From £199.99 http://www.bellhelmets.co.uk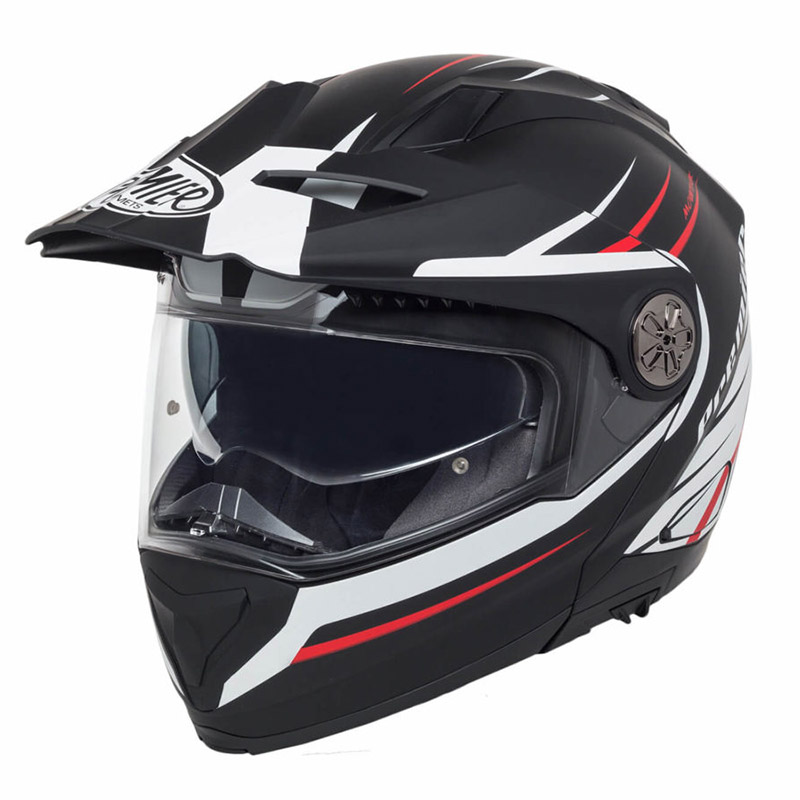 At £199.99, the Premier X-Trail is one of the more reasonably priced helmets in this test and is £40 cheaper than the next cheapest flipfront adventure helmet (the Scorpion ADX-1 Horizon). It's a sturdy and comfortable lid that comes from a company that has been making helmets since 1956. The main feature on the X-Trail is the flip front, which makes the helmet a tempting touring choice (it's always nice to be able to lift the chin bar when you stop for fuel or pay for a toll).
The mechanism is operated by a single button system and this is easy to use with one hand. The lid isn't dual homologated though, so if you want to ride with the face open, you won't find that here. The visor affords a good, wide field of vision, and this is coupled with an internal drop-down sun visor for when you're riding in sunny conditions. This sun visor is easy to operate, though I found that it didn't retract all the way back into the shell of the helmet, sitting in my peripheral vision, and it also shimmers in certain light conditions, which can take some getting used to.
The peak on the helmet is nicely placed and well designed, causing minimal drag up to motorway speeds, though it does have a habit of wobbling in the wind, which can be a distraction. Ventilation is provided through a closable chin vent, two top vents and an exhaust vent. These provide a decent amount of air-flow, though you'll work up a sweat when working off-road. As it's a flip front and an adventure helmet, the X-Trail is a noisy lid, so you'll want to make sure you invest in some good earplugs
IN A LINE: Nicely-priced flip-front adventure helmet that performs well.
ABR Rating 8/10
SCORPION ADX-1 HORIZON
From £239.99 www.bikerheadz.co.uk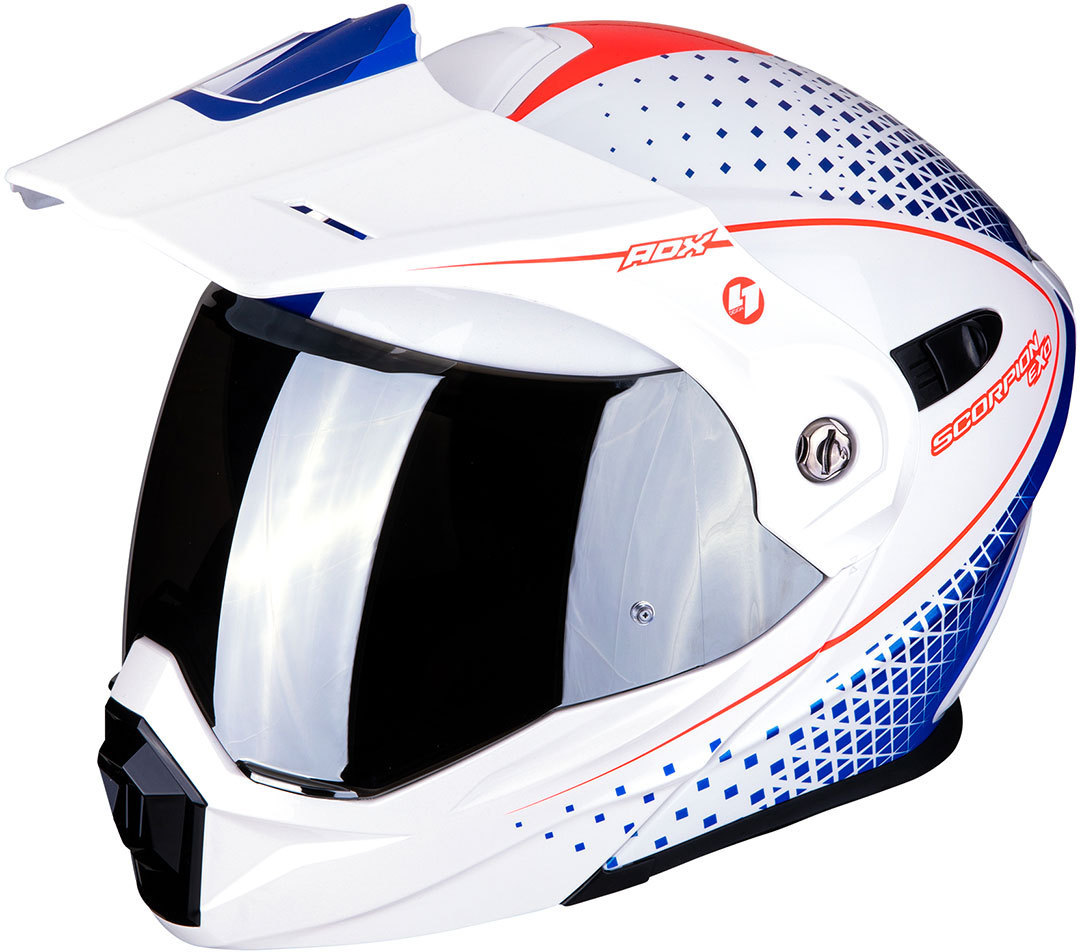 Flip-front adventure helmets seem to be all the rage these days. Offering the convenience of a modular lid and the styling of an adventure helmet, they're an attractive proposition. If you've got your heart set on a flip-front adventure helmet, the Schuberth E1 tops the price scale at £599.99, but for £300 less you've got the Scorpion ADX-1 and the Premier X-Trail to choose between. In the Scorpion, you get a polycarbonate shell and a number of features to make it worth checking out.
The ADX-1 Horizon has been designed to be a true modular helmet. With the peak on, it's rugged and ready for the trails, take the visor off and the aperture is wide enough to fit a pair of goggles in as well. Remove the peak and you've got an aggressive-looking road lid with a convenient flip-front mechanism. On paper, this combination makes for a winning formula (in theory, this one helmet should cover all of your needs), but the reality of any modular helmet is that there are shortfalls across all intended uses.
However, these shortfalls aren't as pronounced on the ADX-1 Horizon. The peak is actually very good for a lid of this price, cutting nicely through the air and being positioned well enough to offer good protection from overhead sunlight and debris on trails. It will catch the wind at motorway speeds, but not as aggressively as other helmets in this price range. For a flip-front lid, it's also pretty quiet, and the field of vision afforded by the large visor, which also comes with a Pinlock, is exceptional. The helmet does run warm though. If you're a keen off-roader and you're going to be working hard on the trails, the single chin vent and crown vent won't cut it in terms of ventilation.
IN A LINE: An excellent price for a good flip-front adventure helmet.
ABR Rating 8/10
NOLAN N70-2 X
£249.99 www.motogear.co.uk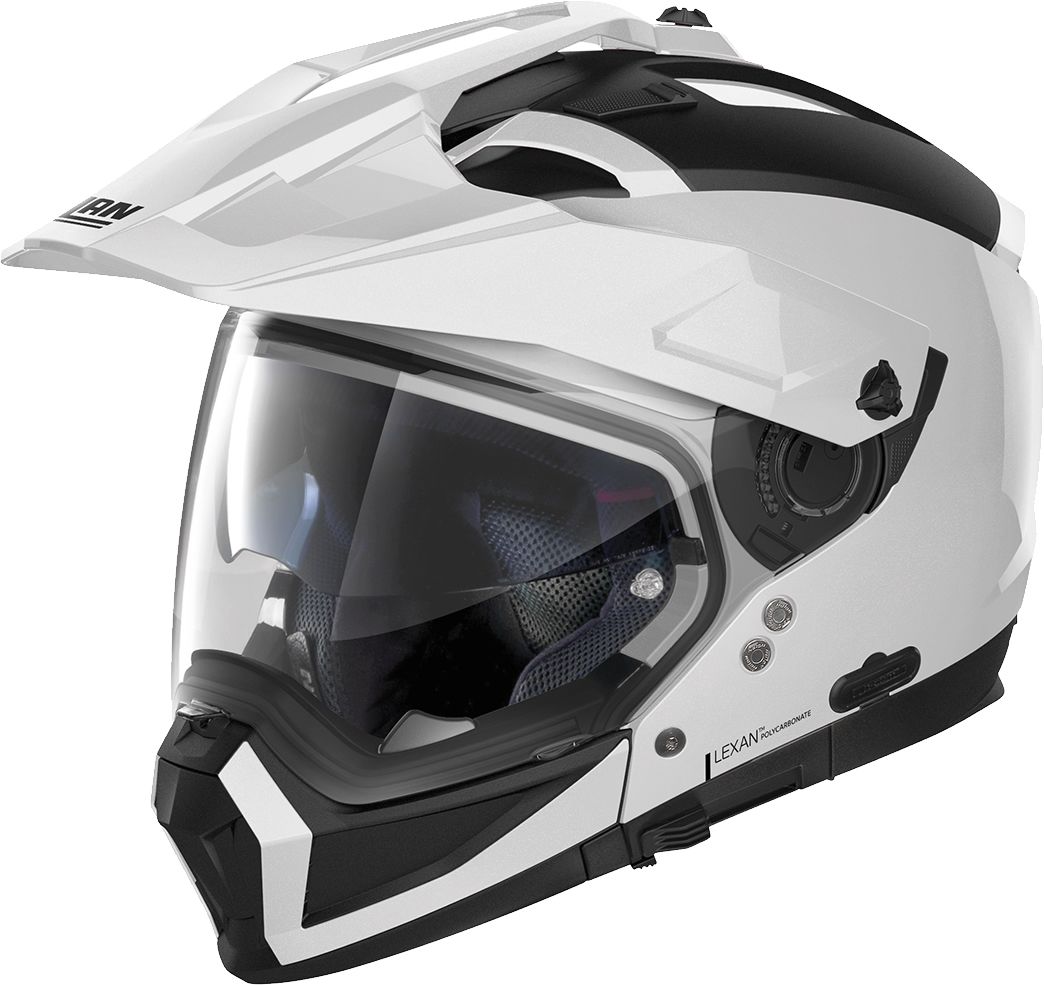 The most noticeable feature on the Nolan N70-2 X is the removable chin bar which can be unclipped and detached from the helmet completely in one swift movement. It's the first time I've come across a lid with this feature and I admit I found myself asking the question, why? The conclusion I came to was that Nolan has attempted to create the Swiss army knife of motorcycle helmets with the N70-2 X. Along with the chin bar, you can also remove the peak and visor, allowing for a number of different helmet configurations. Simply, the Nolan is an adventure helmet, a touring helmet, and an open face helmet all in one.
Detach the visor, whack on some goggles and you're ready for off-road adventures. Remove the peak and you have a road touring helmet. Or, detach the peak, chin bar and visor and you have an open face helmet. I covered around 500 miles wearing the Nolan, mostly with all the pieces attached, and it performed very well. It is comfortable over long distances and it is relatively quiet for an adventure helmet. It provided effective venting, a wide field of vision, an effective sun shield, and features an excellent peak that suffered from little or no buffeting or sail effect.
On the subject of the drop-down sun visor, the operating mechanism is nicely placed, though it's a nightmare to retract when you're wearing gloves. This is down to the tiny release switch, which is located on the collar of the helmet, being too small and fiddly. Tipping 1.9kg on our scales, the Nolan is also a heavy helmet, although that weight did include a built-in comms system. In reality, I didn't particularly notice the weight, even during a four-hour motorway journey.
IN A LINE: The Swiss army knife of adventure helmets.
ABR Rating 7/10
ICON VARIANT
£257 www.partseurope.eu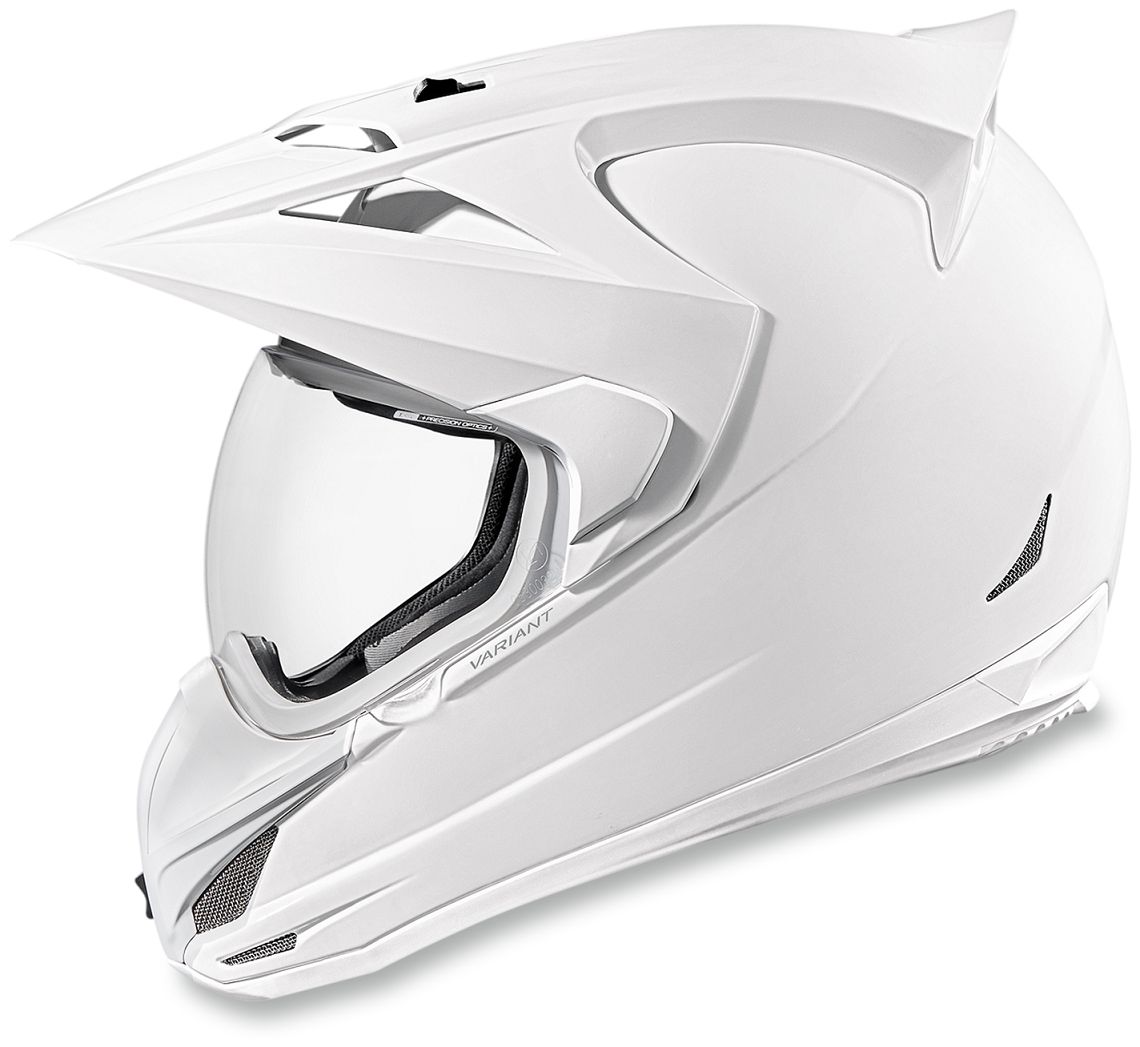 While I've not seen an Icon Variant on UK roads, the American based firm's kit is popular over the pond, and for good reason. Reasonably priced and highly specced, Icon kit seems to always turn heads with its unique and stylish designs – the Variant, for instance, looks more street fighter than MX hero, and it comes in a wonderful array of colours and graphic options. Let's get right to it and say the Variant is a great adventure-styled helmet. It has all the hallmarks of a quality lid and, as it's been in Icon's range for the best part of 10 years, the company must be confident in its design.
Wind tunnel tested for aerodynamics and quietness, it will come as no surprise that the peak on the Variant is one of the best at this price point. It catches minimal wind and is positioned near perfectly to provide shielding to the eyes. Noise-wise, it's good, but not great, on par with similarly-priced lids. The Variant excels in ventilation, with a large venting system on the chin that can be switched between closed, to barely open, to wide open, allowing a great flow of air. Just above the visor, there are two more closable vents, while a further two closable vents have been incorporated into the peak, and air is scooped into these incredibly effectively. Two small exhaust vents complete the system.
If there's one disappointment, it's that the visor doesn't come with Pinlock mounting points (though the visor does afford a very good field of vision). Instead, it's coated with Icon's fog-free performance coating. This seems to work well in most circumstances, but experience has told me that in the worst of weather, a Pinlock is desirable. The lid can also be a bit hard to get on and off due to the stiffness of the shell, and some may be wishing the Variant had an included sun visor (it doesn't).
IN A LINE: An excellent adventure-styled helmet with very good road manners.
ABR Rating 9/10
AIROH COMMANDER
£299.99 www.bikeittrade.com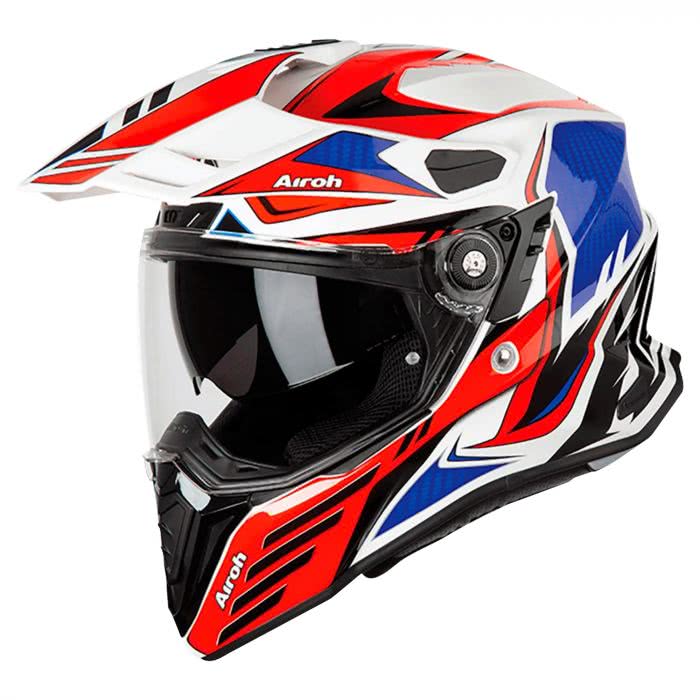 Founded in 1986, Italian company Airoh has a great reputation, particularly for its off-road helmets. For this review, we've been testing out the Commander, the brand's adventure offering which makes use of a high-performance composite shell and has received an ACU Gold sticker. Even for an adventure helmet, the Commander has aggressive styling, clearly taking inspiration from Airoh's off-road range, with its well-extended chin bar and huge visor aperture.
On the road, the Commander performs well. It's comfortable, nice and light to wear, and the visor, which comes with a Pinlock insert as standard, provides an excellent field of vision and it snaps shut with a satisfying click. The helmet is relatively quiet for an adventure-styled lid, and the peak is nicely designed from an aerodynamic point of view, catching minimal wind at motorway speeds. The drop-down sun visor is a nice touch, and it's well-positioned and easy to use, even if the operating mechanism is a bit stiff.
Ventilation is OK, though not as plentiful as you'd expect from such an off-road-looking helmet. You get a closable vent on the chin bar and a small closable vent just above the visor. I would have also preferred the peak to have been adjustable, or just better positioned. As it is, it doesn't provide much protection from overhead sunlight. Usability is also hindered by the fact that you need an allen key to remove the visor. Not a deal-breaker, but an annoyance.
IN A LINE: A solid helmet that's quiet and comfortable.
ABR Rating 8/10
NEXX X.WED 2
From £329.99 www.factoryagencies.co.uk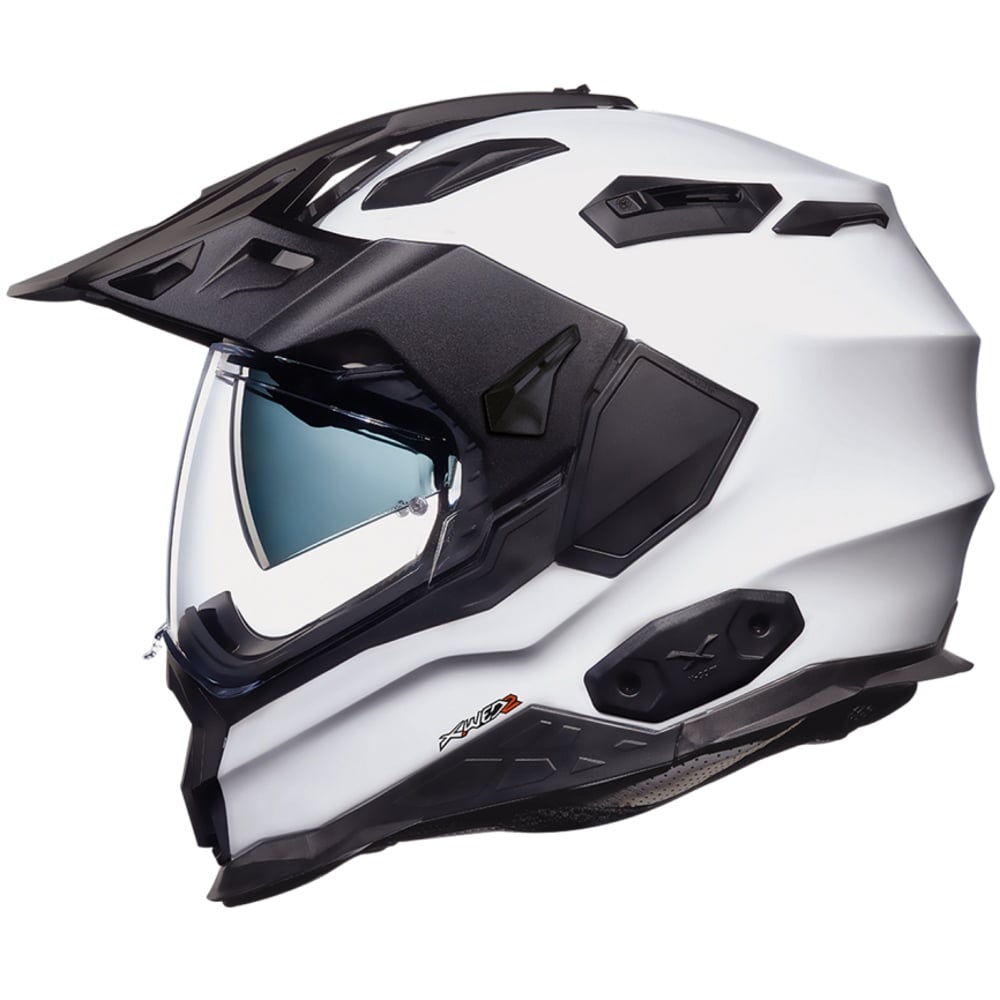 The X.WED 2 is the successor to the popular X.D1 adventure helmet, which we reviewed in issue 36 of Adventure Bike Rider magazine. Back then, we praised the X.D1 for its versatility and lightweight nature. The peak on that old model was like a sail, though, and the ventilation wasn't particularly effective. It's fortunate, then, that NEXX decided to look at the X.D1 and improve it in almost every way.
The peak is the first feature of the X.WED 2 that's noticeably better. Redesigned for better aerodynamics and a lighter weight, it performs well, even up to motorway speeds, though it does start to catch sidewinds when doing shoulder checks at that speed. The peak is adjustable and well placed, and like the old model, it also comes with a handy peak extender if you want more coverage, though I'd have preferred a more hassle-free method of attaching and detaching it (you have to fiddle around with two tiny screws).
The ventilation on the X.WED 2 has also been rethought, with the two, closable head vents being repositioned to allow for better air intake, and a new three-position vent under the peak. The chin vent also has a new design (and comes with a nifty mesh attachment for really warm days), and the EPS liner now features more channels in which air can circulate. The changes are welcome, and the X.WED 2 performs well here, but the vent under the peak is a bit tricky to operate with thick gloves, as you have to squeeze under the peak to use it.
The X.WED 2 comes with an internal sun visor, which is easy to use, though I would have preferred it to drop down half a centimeter more, while the main visor offers an excellent field of vision. The helmet also comes with a Pinlock insert.
IN A LINE: The X.WED 2 takes the good from NEXX's X.D1 and adds to it.
ABR Rating 9/10
AGV AX9
From £399.99 www.agv.co.uk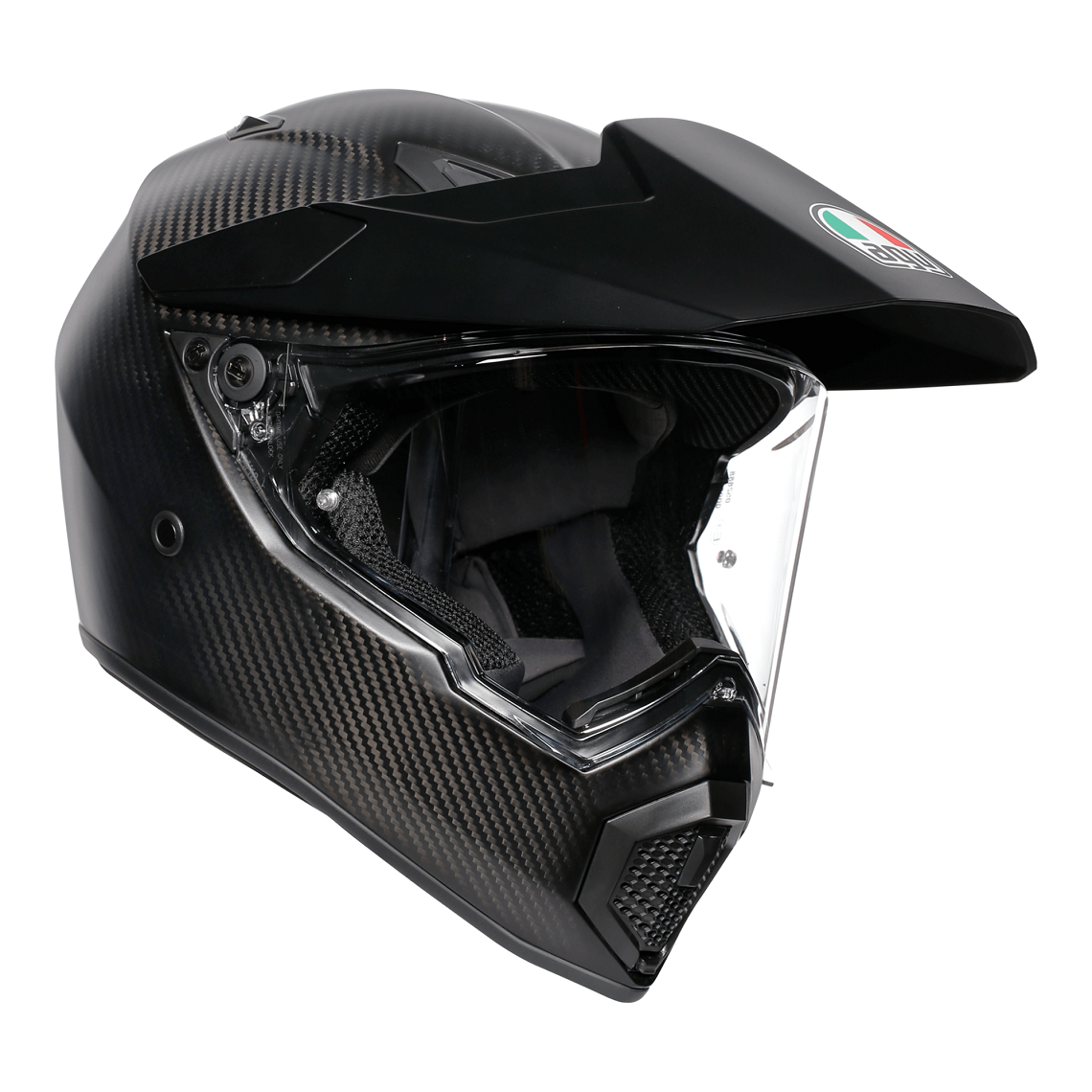 AGV chose to update its popular off-road-focused AX-8 adventure helmet with the AX-9, a version that offers more comfort and touring capability on the road. The first thing I noticed about the AX-9 was its prominent peak. Sitting high and proud, it's certainly one of the larger peaks you'll see on an adventure helmet. When riding at motorway speeds, I had to crane my neck back further than I ever really would before the wind lifted that peak and wrenched my head backwards. However, the peak did have a habit of catching the wind when I made quick glances over my shoulder to change lanes.
In terms of positioning, there's minimal adjustment, but it provides good coverage from overhead sunlight. Overall, the AX-9 proved relatively quiet for an adventure helmet, offered a wide field of vision, and was extremely comfortable. Why is high-speed performance important in an adventure helmet? Mainly because many of us take them on tour where a lid needs to perform just as well on a French toll road, as it does on mountain twisties, or the military roads of the Alps.
AGV was well aware of this and has produced a helmet that performs strongly on and off-road. As well as using the AX-9 for commuting up and down the M5, I've worn it in the oppressive heat of the Thai jungle, where the superb venting kept my head cool, its removable chin guard air vent proving particularly useful. I've also built up a sweat riding in the AX-9 off-road in Italy, where it felt lightweight on my head, kept me cool, and was overall a joy to wear.
IN A LINE: A superb helmet that performs on and off-road.
ABR Rating 9/10
BMW GS CARBON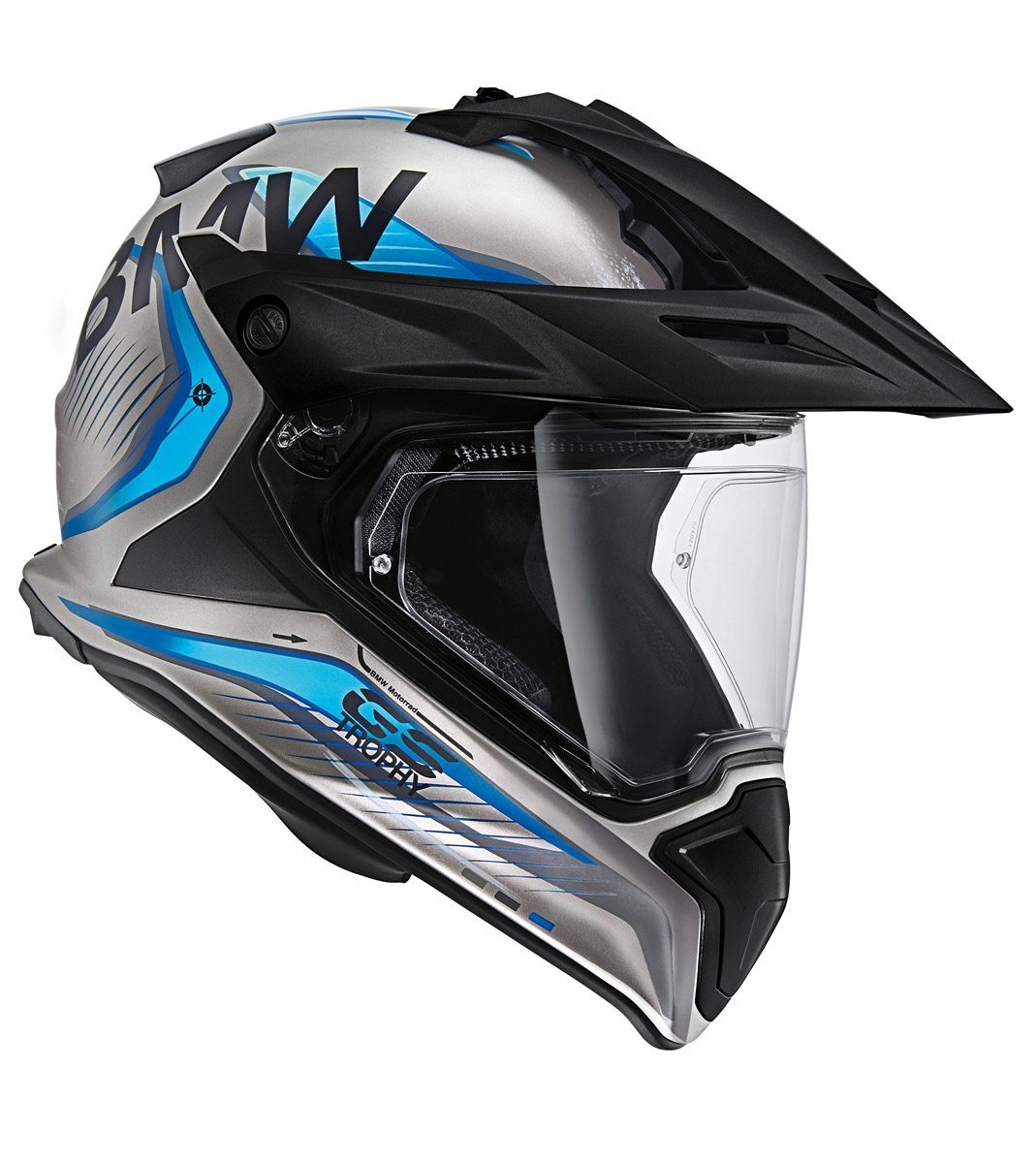 With the BMW GS being the bike of choice for many adventure riders, it only makes sense that BMW offers a whole range of kit to complement its machine. Along with boots, gloves, and a textile suit, the GS Carbon helmet is a great addition for those who want to proudly display their brand loyalty, though the quality of the lid and subtle BMW branding (unless you opt for the colourway to the right) make it a worthwhile choice for those on different machines.
Retailing at £475, the GS Carbon is one of the most expensive lids in this test, but it's one of the best performing, too. The GS Carbon takes a less is more approach to adventure helmets, providing a refreshingly simple set up that foregoes accessories like an internal sun visor in favour of a lightweight and faff -free user experience. It's one of the lightest helmets in this review, and this leads to a very comfortable wear all day long (the helmet performed excellently on a recent 17-hour day in the saddle).
The field of vision provided is superb, and the visor comes Pinlock ready. The chin bar is extended more than on most of the other adventure helmets in this review, providing ample ventilation alongside the closable chin vent and a large brow vent. The peak is well-positioned and cuts through the air surprisingly well at motorway speeds when you consider its prominence. It will catch the wind while performing shoulder checks, but not too aggressively, and it wasn't enough to put me off wearing the helmet on many motorway miles.
IN A LINE: Lightweight and top quality, an excellent helmet.
ABR Rating 9/10
SHOEI HORNET ADV
From £449.99 www.shoeiassured.co.uk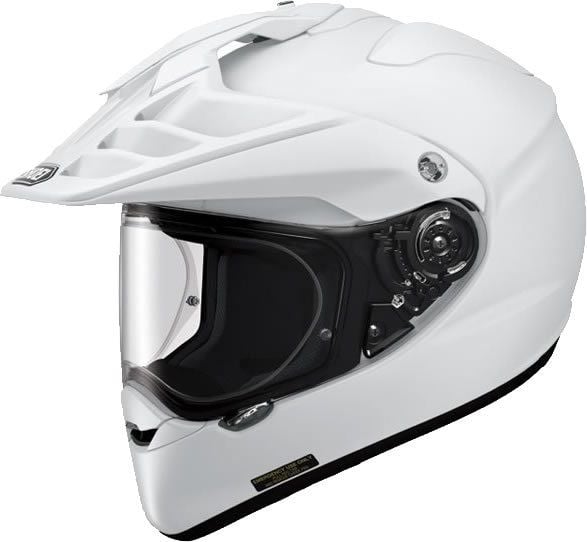 Inevitably, when performing group tests such as this one, there'll be one or two products that become your favourites and you end up wearing them more than the others. For me, the Shoei Hornet ADV is that. I've fallen for this lid, so much so that it's been my go-to adventure-styled helmet for the past five years. I'm on my second one now.
The Hornet ADV is Shoei's flagship adventure helmet and, at £449.99 it's placed near the upper end of the price scale, though there's undoubted quality throughout. The Hornet makes use of an organic fibre, multi-composite shell in various layers to provide impact protection, and a multi-density EPS liner for added shock absorption, while the interior is lined with Shoei's 3D Max-Dry liner. In terms of ventilation, the Hornet excels. The chin vent is effortless to operate and the chin bar is extended enough to help further.
Two closable brow vents allow for further air intake, though the switch can be a bit of a fiddle, and an excellent vent located on top of the peak performs well. The peak on the Hornet is arguably the best in the adventure class, battling it out with the superb Arai Tour-X4 for the title. It's very well designed when it comes to positioning and streamlining and you'll have to travel at some pretty high speeds (read 'illegal') for it to start causing any turbulence. It's also designed to be in-fitting with the rest of the helmet's aesthetics.
Perhaps the only downside is that it's not adjustable, though I've never felt the need to move it. All in all, the Hornet ADV is an excellent helmet. It offers a fantastic field of vision through the visor (which comes with a Pinlock), is supremely comfortable, the peak is up there with the best around, the ventilation is good, and the helmet is relatively quiet for an adventure-styled lid. The lack of a sun visor is a notable omission, though one I can overlook.
IN A LINE: My go-to adventure-styled helmet. It's excellent.
ABR Rating 9/10
ARAI TOUR-X4
From £499 www.whyarai.co.uk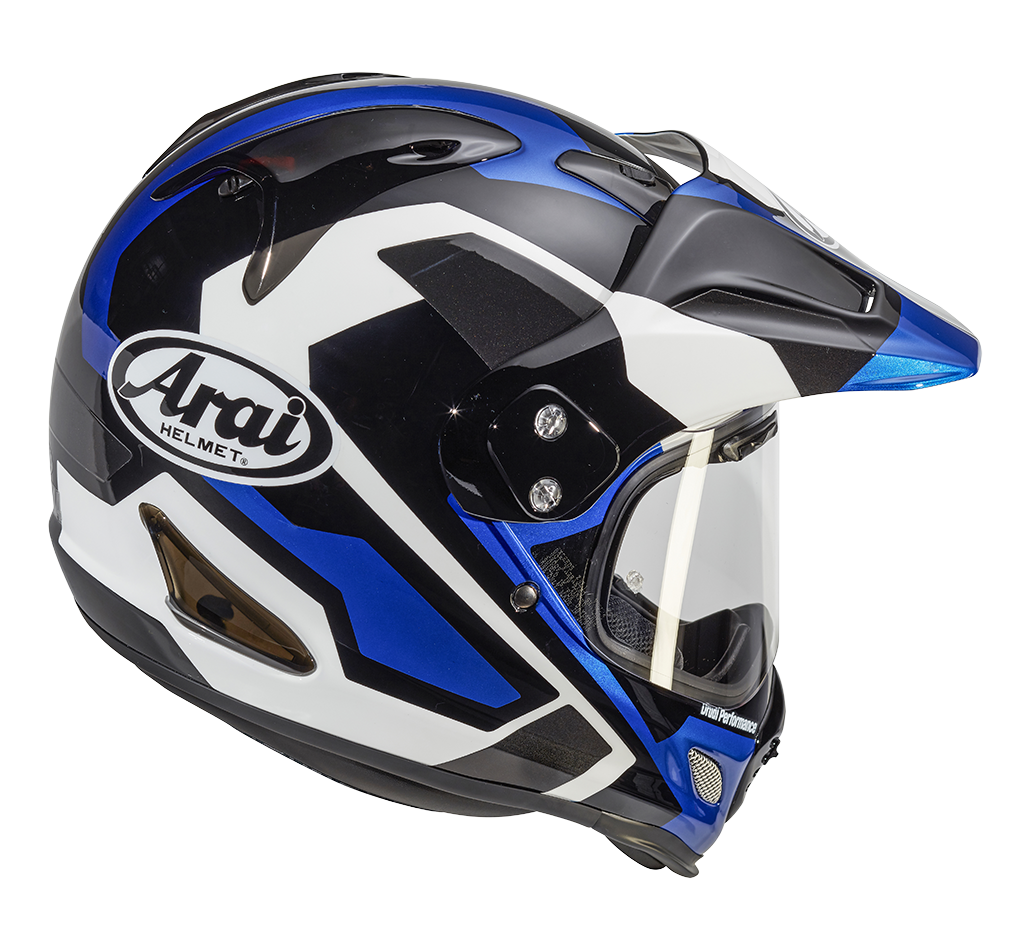 Perhaps unsurprisingly, the Arai Tour-X4 is amongst the most expensive helmets in this group test. It's a lid that's been seen as the pinnacle of adventure-styled helmets over the years, and for good reason. As with all Arai helmets, the Tour-X4 doesn't feature an internal sun visor, which can be seen as a frustration, particularly if you're riding through a lot of dark Alpine tunnels where sunglasses will leave you almost blind. But that's where my frustrations with the lid end, as everything else about the Tour-X4 is genuinely a delight.
The internal lining is soft and comfortable, the ventilation is superb, the peak is exceptional, and the finish and quality of components is class-leading. In my eyes, the Tour-X4's closest rival in terms of overall quality, comfort and performance is the Shoei Hornet ADV. While the Shoei will be a little easier on the wallet (and it's the helmet I've found myself wearing the most over the past five years), the Arai just about edges it.
There's just no denying the build quality of the Tour-X4, it feels solid, it feels well made, it's comfortable all day long, and the thing that sets it apart is its excellently designed peak, which is so aerodynamic that it provides very little resonance or drag, even when performing shoulder checks at motorway speeds. Put simply, if money is no barrier, the Tour-X4 is a helmet that you'll be proud to own and happy to wear. If money is, then get yourself a piggy bank and save up, you won't be disappointed.
IN A LINE: Typical Arai quality; one of the best adventure helmets on the market.
ABR Rating 9/10
SCHUBERTH E1
£599.99 www.bikerheadz.co.uk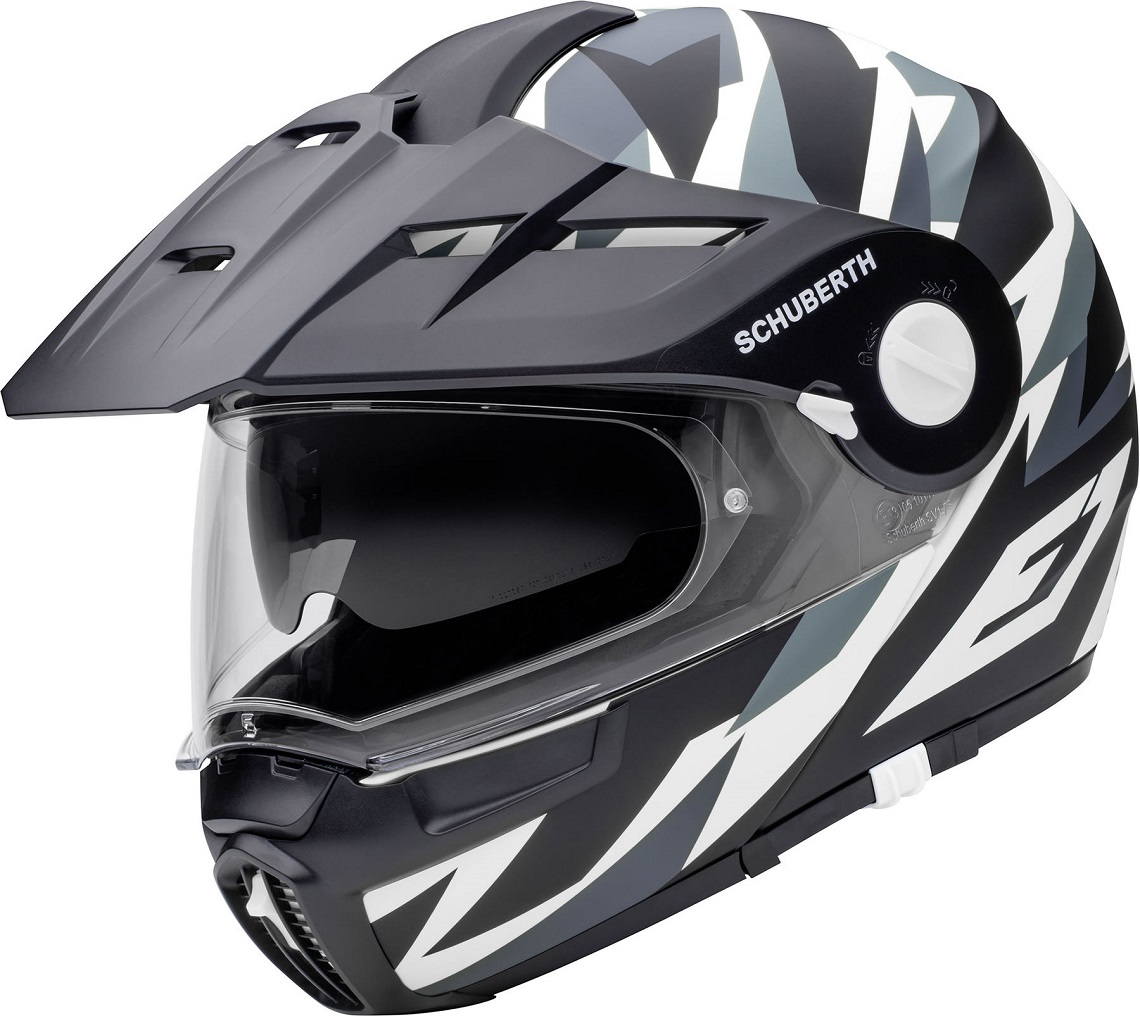 The Schuberth E1 doesn't come cheap, but that eye-watering price tag is mainly down to its flip-front technology and the amount of development that's gone into making this wonderfully versatile lid. Over the past few months, we've worn the E1 on an oval track at speeds of 180mph, we've ridden across the Alps and through Ireland, and we've used it on a two-day course at the Honda Adventure Centre for some intense off-road action. It's safe to say that in all situations the E1 is a good helmet, and the flip-front just adds to its versatility and comfort.
Although it performed well in all conditions, it didn't truly excel in any. At high speeds, the peak was responsible for head shaking resonance, and on the off-road trails, the lid runs a little too warm for my liking. There are ventilation points aplenty, but the chin bar isn't as pronounced as on other adventure helmets, cutting off a major source of fresh, cooling air.
You can, of course, flip the lid up if you want to cool off (and I did, many times), but then you don't reap the protective benefits of an adventure helmet when riding in the dirt. Despite this, on the A roads it was a pleasure to wear, and I suspect that this is where most users are going to take it. The internal sun visor is quality and simple to use, the peak offers a good amount of sun protection, and the comfort, at least for me, is top class.
IN A LINE: A versatile helmet that's more road-focussed.
ABR Rating 8/10
A word on safety standards
All helmets sold within the UK must comply with British Standard BS 6658:1985 and carry the BSI Kitemark. Those that don't must comply with the UNECE Regulation 22.05 or comply with any standard accepted by a member of the European Economic Area. For those of you reading from the US, you'll want to make sure your helmet complies to either SNELL or DOT standards. For added peace of mind, look for a lid that also bears an ACU (Auto Cycle Union) gold sticker. This means the helmet has been subject to rigorous testing and has been certified as good enough for racing on metalled surfaces.
The history of helmet laws
It was back in the 1930s that research began into just how many lives could be saved by wearing a crash helmet while riding a motorcycle. An Australian neurosurgeon by the name of Hugh Cairns had performed a post-mortem on the body of TE Lawrence (more famously known as Lawrence of Arabia), who had died as the result of a motorcycle accident. Cairns' findings concluded that, of the 1,884 bikers who had been killed on British roads in the two years leading up to World War Two, two-thirds had suffered from head injuries. Based on Cairns' findings, the army made it compulsory for all despatch riders to wear motorcycle helmets, and fatalities from accidents consequently fell from over 200 to just 50, and that was back when helmet technologies weren't as advanced as they are today.
Why buy an adventure helmet?
Adventure helmets are characterised by their extended chin bars and peaks. If you're planning a world-crossing voyage on two wheels where you'll be working hard off-road, or you're heading green-laning, then the benefits of a peak and an extended chin bar are obvious. Increased ventilation will be required when working up a sweat, and the protection from the sun/dust/foliage dangling across trails provided by the peak is desirable. But what about if you're mostly a road rider? What's the point of an adventure helmet if the peak is going to be a nuisance on motorway rides, and you don't really need the benefits associated with an extended chin bar? In reality, a peak is just as useful on-road as it is off-road if you're riding with the sun overhead, especially so if you're riding into the sunset. Internal tinted visors will do a job, but they never block out the type of glare that has you squinting all day. In a similar fashion, when out riding in the summer, it's so easy to overheat, and so any and all ventilation on a helmet is welcome. Plus, there's the small and insignificant fact that adventure helmets look damn cool, especially when worn on an aggressively-styled adventure bike!