Bryn Davies rounds up a selection of boots suitable for your next adventure
It might sound like common sense but when it comes to buying a motorcycle boot, the first thing you should consider is the fit. The quality of components used, the amount of protection provided, even the amount of grip the sole gives, are all unimportant if you've bought a pair of boots that don't fit the shape of your foot right. Unfortunately, there's not much consistency with manufacturers boot sizing and so you'll find that a size 7 made in Germany (where feet are typically wider) will be completely different to a size 7 made in Italy (where they're usually narrower).
Ill-fitting boots will make your life in the saddle miserable, too tight and you'll restrict blood flow to your tootsies giving you freezing toes in cold conditions. On the flip side, boots that are too loose will make walking uncomfortable increasing the likelihood of blisters and you won't have as much control when it comes to braking and using the clutch. For these reasons alone we advise that you take a trip to your local bike shop where you'll be able to try on the boots you like before you buy them, be it in the store or online.
With that in mind, as you read through the following reviews remember what fits our feet and what we consider to be the best buy might not be the best for you if they don't fit well. Make a shortlist of the features you need in a boot and then match that list with boots that cater for those needs – then buy the ones that fit best. Follow that advice and you'll always end up with the best pair of boots for you.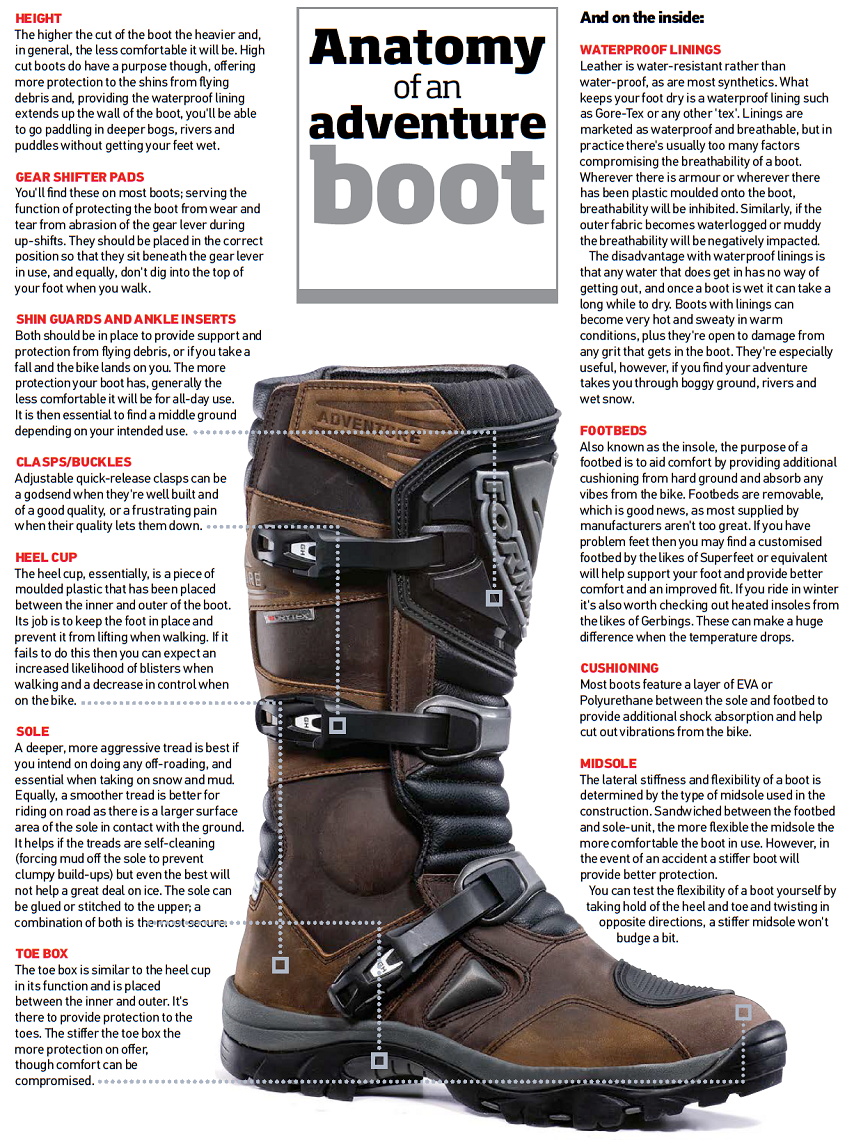 ---
How To Make A Motorcycle boot
Bryn Davies heads to Germany to see how a pair of Daytona boots are made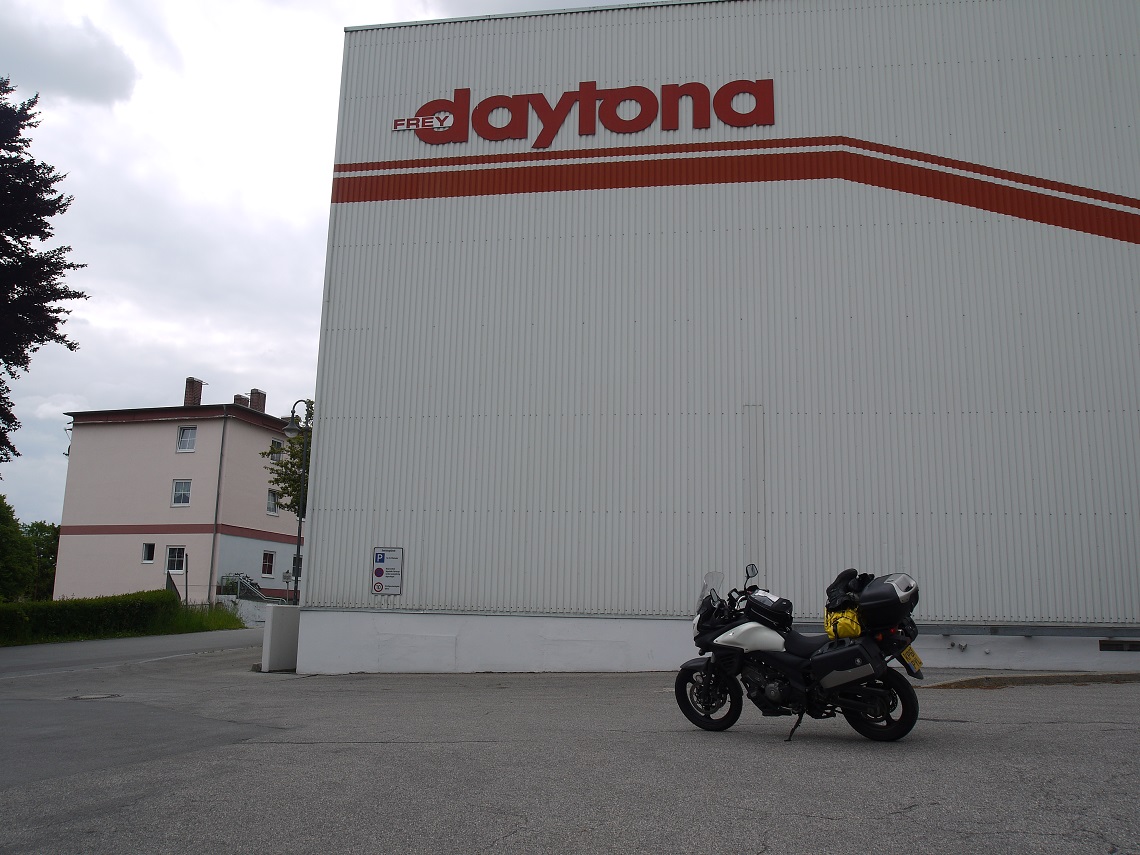 As part of this issue's boot review, I took a ride over to Germany and to Daytona's factory in Eggenfelden, just to the east of Munich. The purpose of my visit was to get to grips with the manufacturing processes involved in making a motorcycle boot and also to witness first-hand the amount of work that goes into making Daytona products.
I was greeted at the factory by Reinhard Frey, CEO of Daytona Frey, who gave me access to every part of their factory, explaining each process in manufacturing a motorcycle boot. It was surprising to hear that virtually every part of the boots are made in the Daytona factory, save for a few components such as the soles, which are made in Portugal. While some manufacturers might be happy to outsource the manufacturing of all of the components on their boots, when things are made in-house it's easier to keep tabs on the quality of what's being produced.
My tour started at the beginning of the assembly line, where the plastic components were being moulded. From there we moved into the room where all the leather is cut into the shapes and sizes to be stitched together by the long line of seamstresses.
Daytona makes boots using two types of leather; cowhide and kangaroo. Kangaroo leather can be made extremely thin, whilst still maintaining the strength and abrasion resistance you'd associate with cowhide. It doesn't offer much in terms of keeping your foot warm however, so you'll only find kangaroo leather used on small areas of the boot. Below (image 3) you can see the leather store at Daytona, the colourful skins are dyed kangaroo hide.
In the same way that the leather is cut into shape for the boots, huge rolls of Gore-Tex are also cut to form one of the most important parts of a touring boot; the waterproof membrane. Daytona uses two types of Gore-Tex in their boots; a standard Gore-Tex membrane and a thinner, less warm Gore-Tex XCR membrane for boots intended for use in warmer climates.
The cuts of leather and Gore-Tex then go their separate ways and the Gore-Tex lining is stitched into the shape of the corresponding boot and the seams are heat-sealed to prevent any leakage. While this is happening the leather cuts are also stitched together, with the zips put in place, and the Daytona logo is embroidered on by a machine.
Toe caps are then ironed onto the Gore-Tex membrane to add protection from long, sharp toenails. Similarly, ankle padding and shin guards are pressed onto the leather uppers ready to be moulded into shape later on.
The upper leather is then glued to the lining and by this point, the boot is beginning to take shape. The heel cup is 'activated' by heat to form the supportive and hard cup that we mentioned in the introduction to this boot review. The leather is softened so that it can be stretched around the relevant 'last' (a design form that the shoe uppers are secured on during manufacturing) and the midsole (which is also moulded in the factory) is then glued into place. Waterproof models will then be sealed around the Gore-Tex lining.
By now the boot looks almost complete, it's just missing a sole. The sole edge is sketched into the boot to allow it to be applied in the perfect position and the leather is roughened up to allow it to stick to the sole easier. The sole is coated with an adhesive, and the upper with a chemical that reacts to give a very strong bond.
The sole and upper are then put together and heat-activated and compressed. This is where the sole becomes attached to the upper. The boot is then de-lasted and checked over for any defects while all loose threads get tidied up. Any messy glueing is wiped up and the leather and soles are cleaned. One final quality check ensures that the boots meet the high standard before being boxed and sent out.
In total it takes between 6-8 weeks for Daytona to make a pair of boots from start to finish, and depending on which model is being made there are between 90 and 150 different processes. After all of this, if cared for properly, Daytona boots will last for roughly 100,000 miles, though the Gore-Tex membrane is likely to leak at around 80,000. When this happens you can get your boots repaired by sending them back to the factory and they'll replace the waterproof lining and the sole making your boots almost as good as new (these repairs will cost half the price of the new boots).
(1) Walls are lined with these moulding blocks to produce the components for various models and sizes (2) Freshly moulded gear shifter pads (3) The Daytona leather store (4) Sheets of leather are cut into the relevant shapes and sizes (5) After the Gore-Tex lining has been cut and sitched the seams are heat sealed to prevent any leaks (6) Finished Gore-Tex linings with protective toe guards in place (7) The cuts of leather are then sewed into place by a long line of seamstresses (8) The Daytona logo is embroidered by machine (9) The upper of the boot is taking shape (10) The 'last' determines the overall fit and shape of the upper (11) Freshly made midsoles, the metal shank helps provide support and largely determines the flex point of the boot (12) The boot on the left has been sealed to make sure it's waterproof (13) The adhesive on the sole and boots being heat activated (14) Daytona CEO Reinhard Frey (15) The end result, a finished pair of boots
---
Aldi Touring Boots
SRP £29.99 – www.aldi.co.uk
Every now and then Aldi will sell motorcycle clothing and accessories, and while some of their kit is great, other bits clearly show why the stuff is so cheap. These Aldi Touring Boots, however, aren't too bad and hold their own against other 'budget' motorcycle boot options, even those that are £40-£50 more expensive.
Granted, these aren't the best boots for anyone planning on doing any off-roading, as they're predominantly designed for road touring. The grip on the sole, while acceptable on tarmac, isn't good enough off it, and my feet were slipping off the pegs every time I stood up.
The waterproofing in the boot reaches just above the ankle, meaning that if you're going to be paddling through water that's a couple of inches deep don't expect to stay dry. The outer material also wets out quickly and you'll find your boots getting heavy and your feet getting cold as the water cools.
In terms of protection, there's not really much to talk about because, well, the Touring Boots don't offer much at all. There's a thin layer of padding around the ankles, but the boots aren't particularly supportive and lack any proper armour.
However, where the boots lack in protection they excel in comfort, both on and off the bike. In all, it's hard to argue a case against the Aldi Touring boots at £30.
They're not going to last you as long as a pair of Daytonas and they're not the most protective boots on the market, but they're comfortable and if you can't afford any more you won't be too disappointed.
In a line: For £30 you can't go wrong.
ABR Rating – 6/10
---
Spada Trek WP
SRP £89.95 – www.spadaclothing.co.uk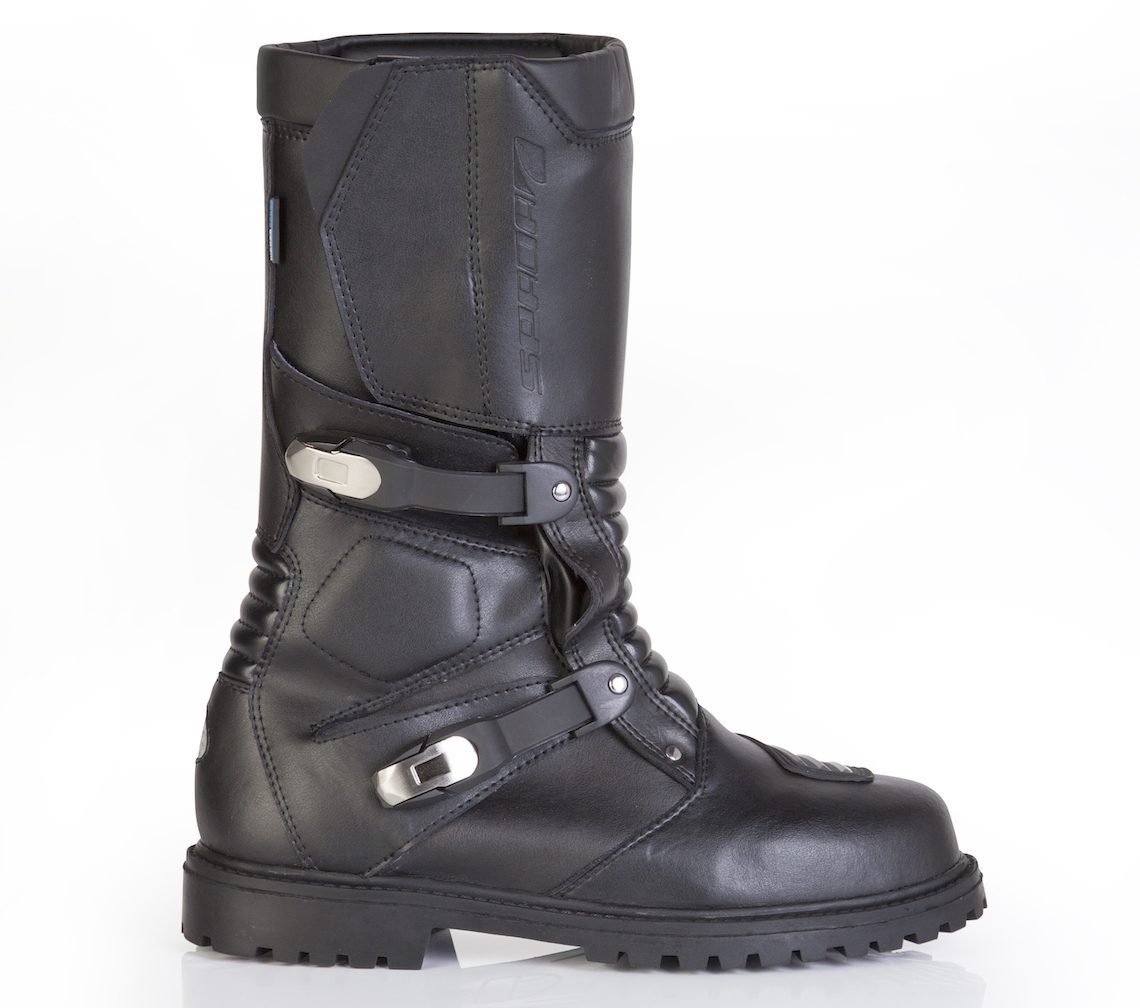 For £89 the Spada Trek WPs may seem like an attractive boot, they've got the enduro look and they feature a deep lugged sole which should perform well on those muddy trails, but that's where the good stuff ends. On closer inspection, these boots are let down by poor quality of components and workmanship.
First of all, the sole. While it does have a grippy tread pattern there is no substance to it, particularly under the arch of the foot so you'll feel everything from pebbles to the foot-pegs of your bike and they will wear away especially quick. On our size 11's the gear shift pads are positioned in the wrong place so they don't actually protect the boot from the gear shifter and as they're on the flex point they dig into the top of your foot when you walk and the buckle fasteners are not robust enough.
The waterproof booty liner will keep the wet stuff out but it's free to move about the boot and on more than one occasion it has followed my foot out when I've taken the Trek WP off. Water is free to enter the space between the booty and the outer material where it will pool up, while the waterproof lining will stop it from wetting your feet, they'll get cold and breathability will be inhibited.
In all the Trek WPs are a disappointing pair of boots, especially when you consider that the rest of Spada's range is good value for money. You get little to no protection or support and the overall quality of the boots is lacking.
In a line: Good off-road grip but poor overall quality.
ABR Rating – 4/10
---
RST Adventure
SRP £100 – www.rst-store.com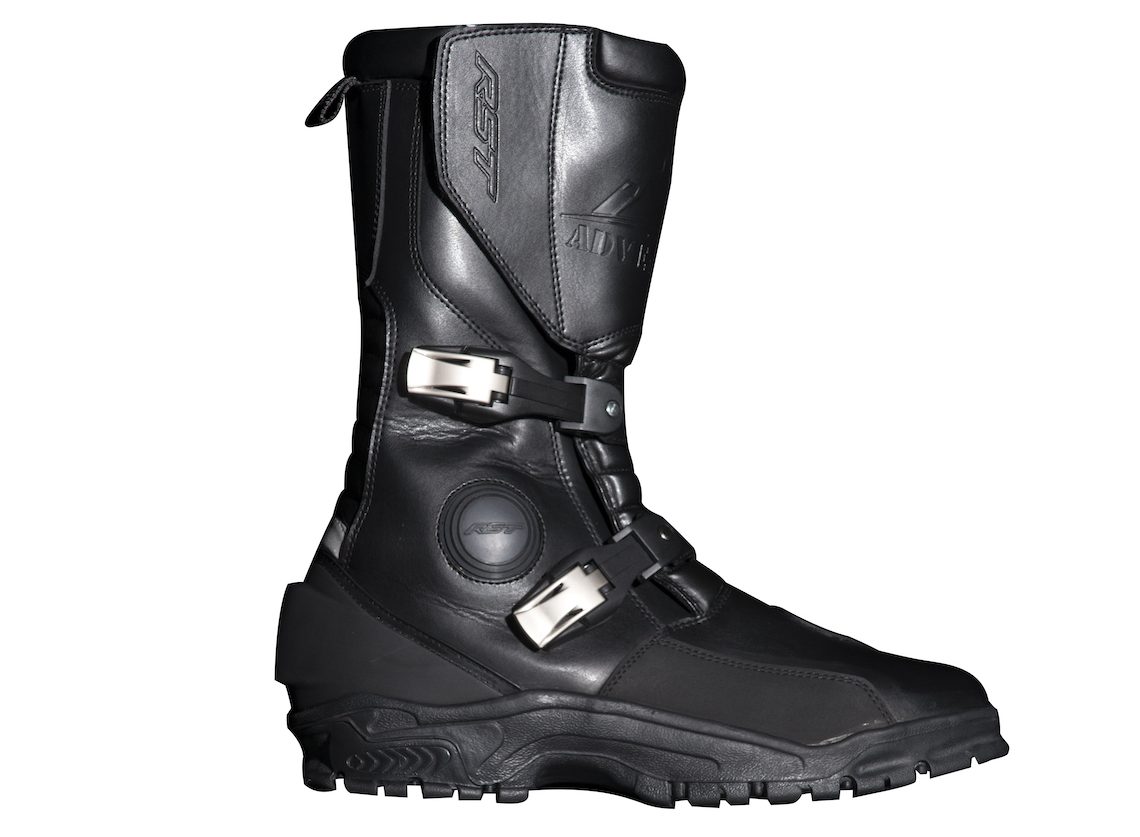 I've been wearing the RST Adventure boot for over six months now, in all conditions and I have to say I'm quite impressed with them. First and foremost they're immensely comfortable; snug and easy to walk in. The two clasps are also quick and easy enough to fasten and I can't say as I've ever desired a third.
Grip on the pegs is perfectly acceptable, and up on the pegs they allow quite a bit of forward and lateral movement, which wouldn't make them very suitable for more serious off-road adventures, but for easier trails they are perfectly suited.
It would be hard to argue that they are completely waterproof, as after a long stint in the rain you can start to feel the moisture seeping in. They do seem to keep out the cold however, and with a thick pair of socks are perfectly adequate for winter use.
The boots have stood up reasonably well to wear and tear, though they do now look a little tired and tatty, plus, the top lip of the rubber sole has started to come away from the boot – where the toe meets the sole – which you kind of expect for a boot of this price range.
That said, these budget manufacturers have to be careful; £100 is cheap for a boot, but it's still a lot of money in real terms. And at that price you still expect a boot to last at least a season, preferably two or three.
There is then the danger of a false economy with these 'cheaper' boots. As they are, the RST Adventure are a decent boot; comfy, snug and supportive, though if there was one complaint it would be that they're not very stylish.
In a line: Decent boot for the money; Comfortable and warm.
ABR Rating – 8/10
---
Probiker Touring Comfort WP
SRP £139.99 – www.getgeared.co.uk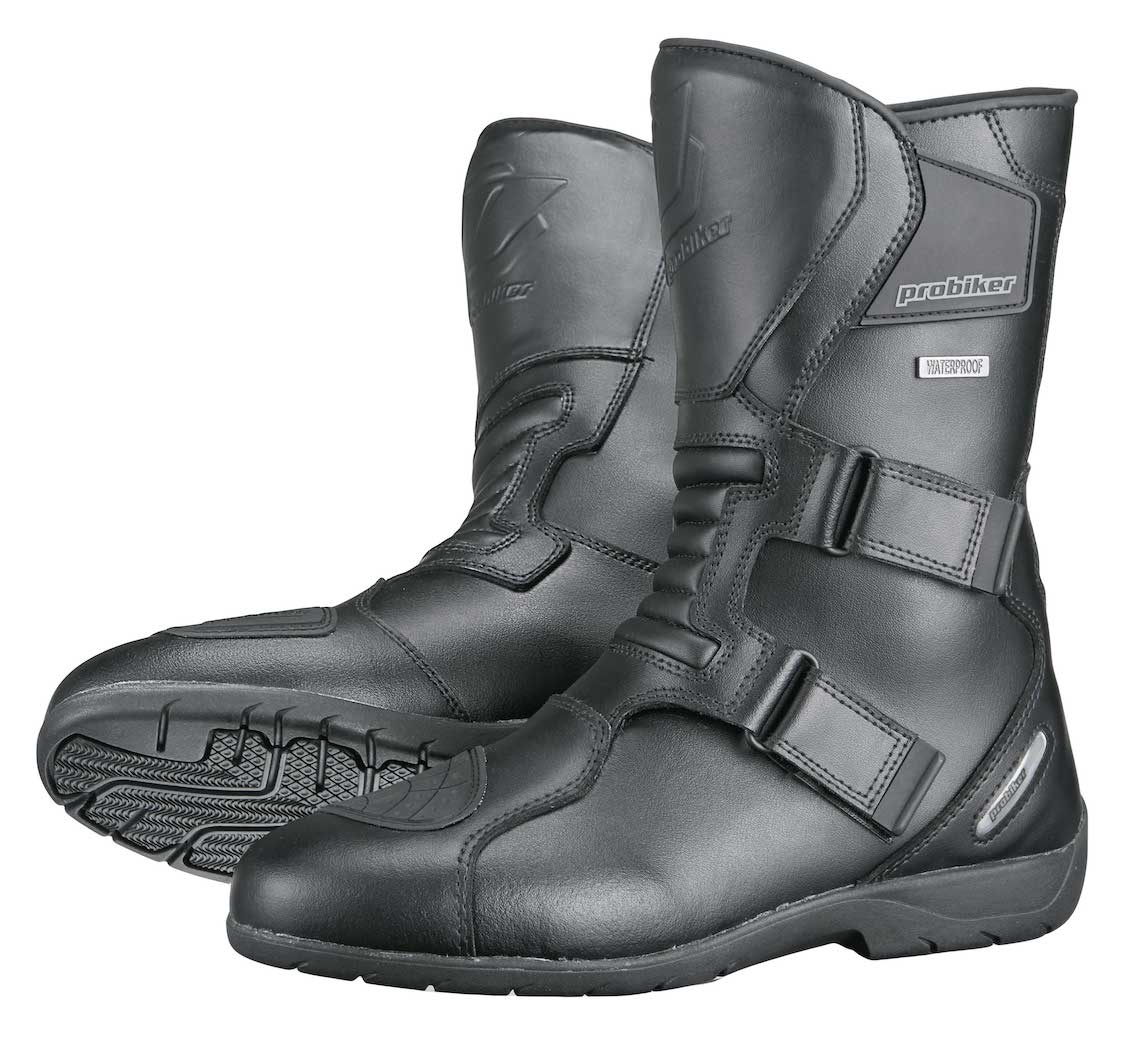 As the name suggests, both waterproofing and comfort are the main focuses of the Probiker Touring Comfort WP boots. The SympaTex membrane does a good job of keeping the water out, rising a few inches above the ankle to provide plenty of cover for any water you're likely to come across on the road.
The sole unit offers a good amount of grip on-road and it'll suit you fine if you're wanting to dabble in a bit of green-laning in dry conditions. We found that the sole showed signs of wear a bit sooner than we would have liked. Comfort-wise, these boots are okay, they're not fantastically comfortable, but they are flexible enough to make walking, shifting gears and using the rear brake easy enough.
There's also a nice amount of padding and protection on the shin and ankles while the heel cup is nicely stiffened. One of the main things you'll notice about the Touring Comfort WPs is the Velcro straps in place where you'd expect to see buckles. I like this as too often on boots of this price you get sub-standard buckles that break before they should, with Velcro you get all the flexibility of an adjustable buckle with a lessened chance of them breaking.
For on-road touring, these are a great budget option. The sole may show signs of wear a bit quicker than we would have liked, but they're comfortable, waterproof and they have a nice amount of protection and support.
In a line: A good on-road touring boot for the price.
ABR Rating – 7/10
---
W2 4 Dirt Adventure Boots
SRP £159.99 – www.tranam.co.uk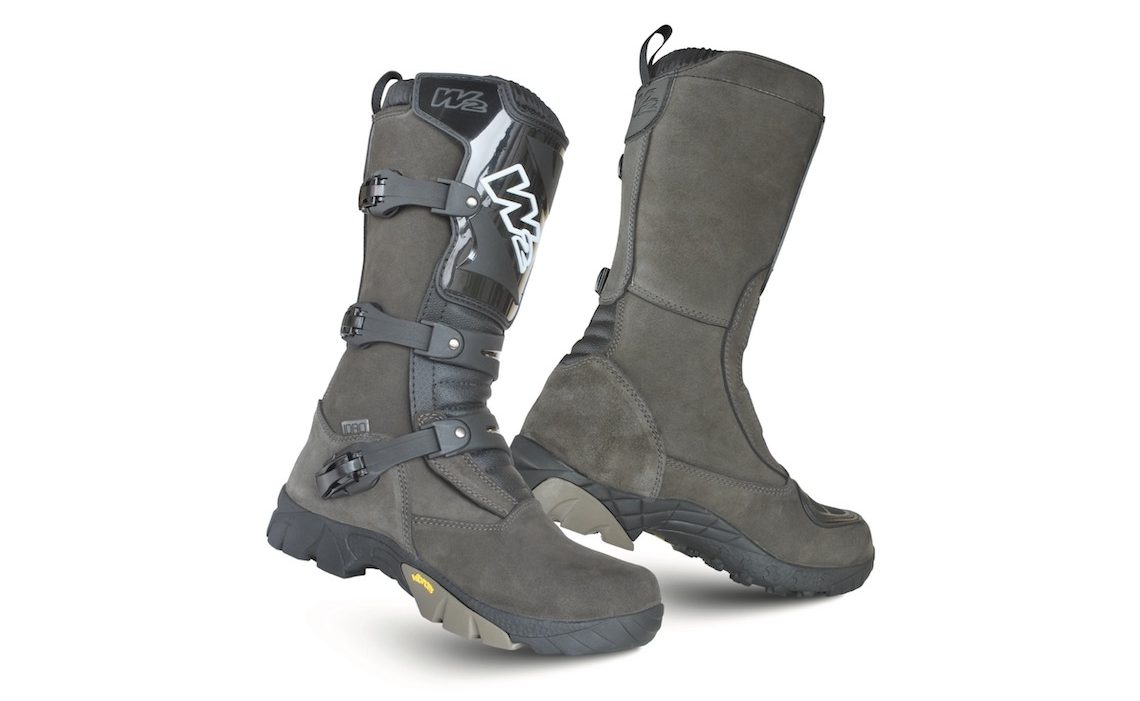 If you're in the market for a full-height adventure-style boot and your budget is limited then the W2 4 Dirt Adventure boots are as good a place as any to start. In short, these boots are well-constructed, durable, comfortable, look the part and are great value for money. From the ground up there's a tried and trusted Vibram sole unit.
The tread pattern and compound is not the company's top mud-plugger, but it is good enough to keep you and your bike upright should you need a dab, paddle or push on wet, slippy ground. The high degree of forward flex means these boots defy their looks and are comfy for extended use and walks.
The upper is constructed of 3mm thick suede and is secured around the foot and lower leg via three Motorcross-style quick-release adjustable buckles and a small Velcro tab at the top. Should they break or wear out the buckles are easily replaceable; a feature we like.
The shin is protected by injection moulded plastic protectors and you get a high-wear gear change patch. When measured against the far more expensive Alpinestars Toucan the protection is inferior but good enough for us to place our trust in.
Protection from the elements is via a waterproof, windproof, breathable membrane, the name of which is new to us, but we've found it to be as effective as higher-priced 'tex' brands on test. At this price, the W2s are a recommended buy.
In a line: Excellent value-for-money adventure-style boots.
ABR Rating – 8/10
---
Falco 411 Mixto
SRP £169.99 – www.tri-motive.com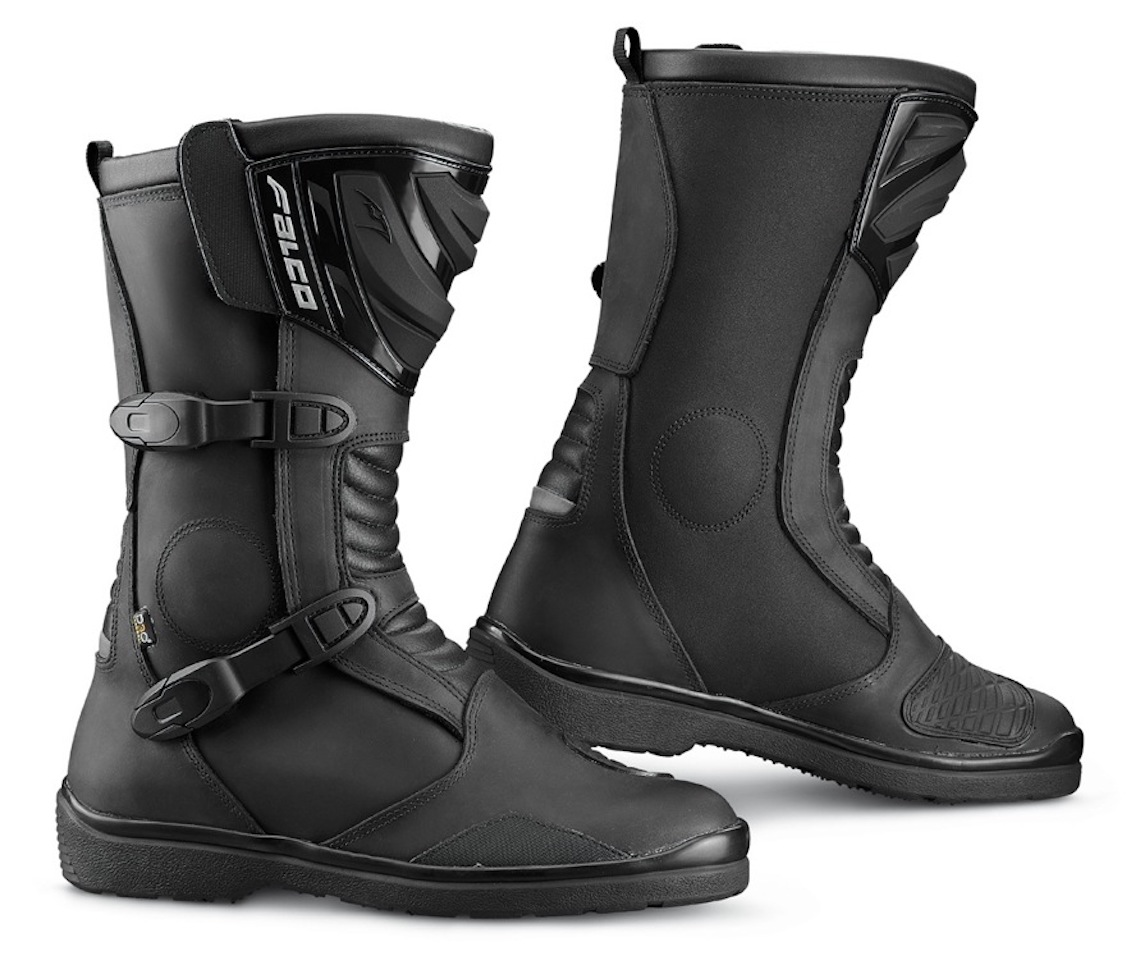 I wore the Falco 411 Mixto when I rode over to Germany in May, covering some 1,200 miles in mostly heavy rain. As touring boots go, the Mixto were excellent. Comfortable both on and off the bike over extensive periods of time (16+ hours) and genuinely waterproof even when being barraged with the wet stuff day after day. This is down to the use of a High-Tex membrane which comes up to the top of the second buckle on the boots.
It's waterproof and plenty high enough for any puddles you're likely to encounter outside of river crossings. The outer of the boot tends to wet out quite quickly, meaning that the leather will saturate and get cold quickly when it's raining. For winter touring I'd definitely recommend adding some heated insoles and some thick, warm socks as they can get quite cold.
The sole is excellent on-road, providing plenty of grip and performing well enough on easy gravel tracks – even in the wet. Where the Mixtos come into their own is in the comfort department. The fit is spot-on for the size and the inner lining is soft and feels great.
There's enough flex in the boots to make them comfortable for excursions around the town, with there still enough support under the arch to allow for standing on the pegs. Protection is provided through D3O armour inserts in the ankles, stiffened toe boxes and heel cups and a plastic shin guard.
The only negative is that after the deluge in the rain they did look noticeably second-hand and losing a bit of shape.
In a line: Comfort is the name of the game here, I can see myself wearing these for a long time.
ABR Rating – 8/10
---
Forma Adventure Boot
SRP £184.99 – www.factoryagencies.co.uk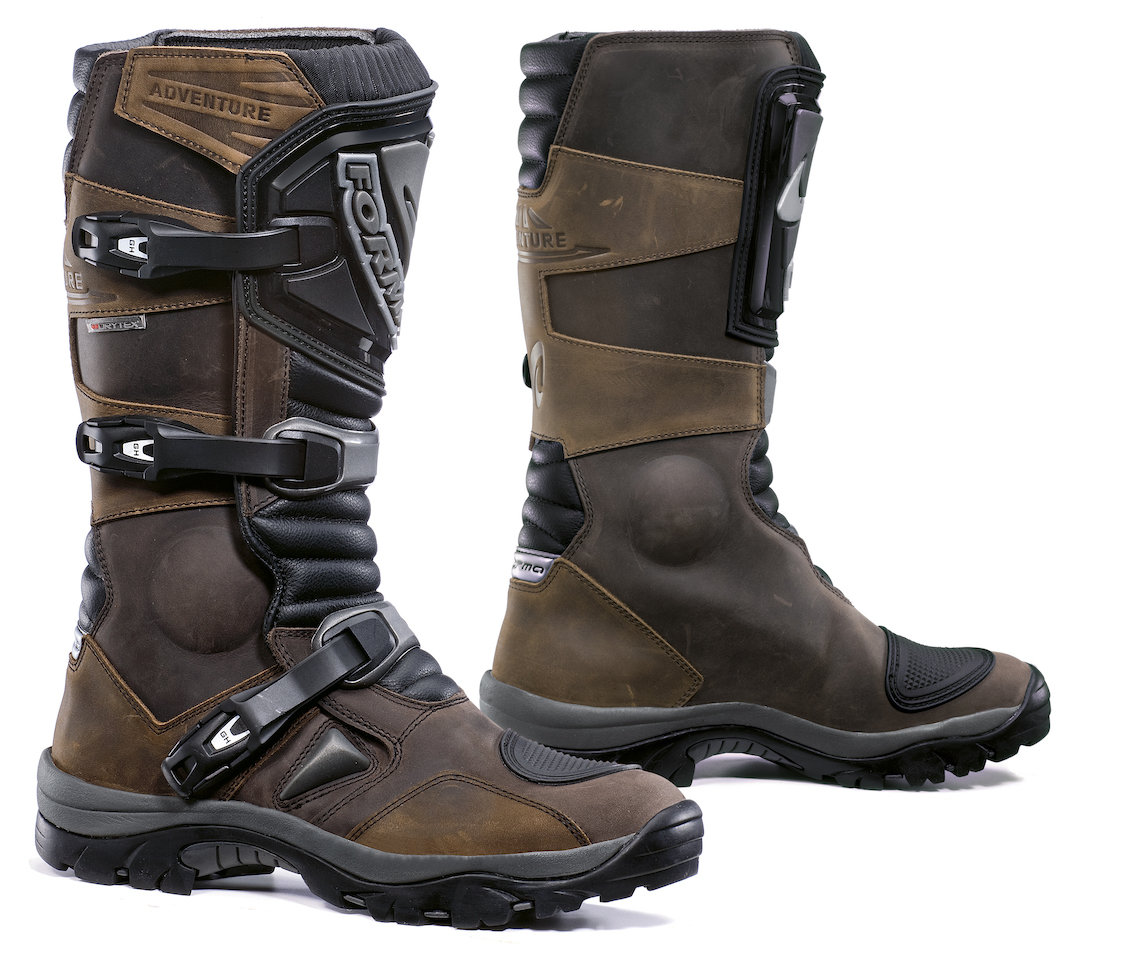 These Forma boots cropped up on a forum thread one day and from the pictures appeared to be one of the best looking adventure boots on the market. They're made in Italy out of oil-tanned leather and come with a waterproof liner.
Two colours are available; brown or black, with us opting for the brown, on appearance alone. In the flesh, they look just as good. The buckles are a little plasticky, but the rest of the finish is top-notch. Comfort was compromised by the slighter tighter sizing, so a bigger size than you usually take would be recommended. Otherwise, ankle and shin support is good.
They're not an out and out MX/adventure boot in the vain of Alpinestars or even the Sidi Adventure, but they are a nice solid boot, much more support for example than the RST Adventure boots I've also been wearing, or even the BMW boots below.
There's a great video online of them being tested for waterproofing by an American firm; www.atomic-moto.com/Forma-Adventure-Boots_p_788.html, and, just as they did for our testing, seemed to hold up nicely to wetting. The boots are nice and light, and comfy to walk in as well.
There's not much else to say other than that if you want a well-made boot, with a more rugged look than the rest – something a bit different as well – then the Forma are an excellent buy. Just don't forget to remember to order a bigger size than you would normally have. The Italians must have small feet. Or squashed feet. One or the other.
In a line: Good looking boot that won't break the bank.
ABR Rating – 8/10
---
BMW Gravel
SRP £255 – www.bmw-motorrad.co.uk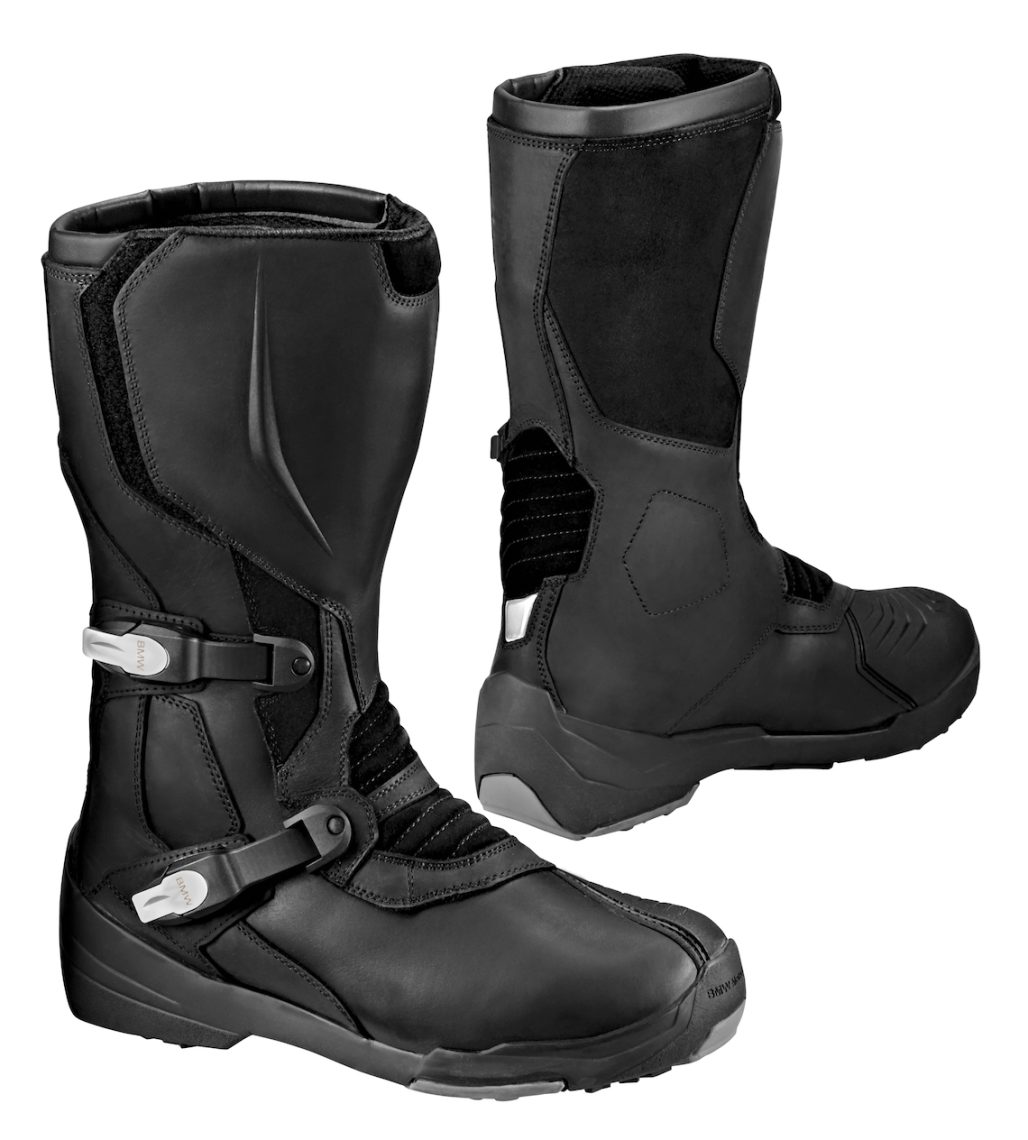 The BMW Gravel takes over from its predecessor the Santiago and features a few updates to make it stand out as a brilliant crossover touring/enduro boot. As well as slightly modifying the appearance of the boots, BMW has changed the sole unit, binned the metal toe caps in favour of a rubber bumper and ditched the elasticised closure at the entry to the boot for a more rigid, supportive design.
Personally, I really like the new look of the boot and although it's not particularly flashy it does have an understated aesthetic and classy appeal to it. We don't buy boots just because they look good though, so how do the BMW Gravels perform? Very well actually. The boots are immensely comfortable straight out of the box and there's a seemingly perfect amount of stiffness and support provided by the midsole and the tough upper.
The two aluminium buckles are the same ones that you'll find on the Santiago's and we've not had any problems with them over the years of wearing them, though they do seem to scuff a little too easy for our liking. The new sole offers great grip on-road and it'll serve you well on your drier green lanes. The boots feature a top-quality Gore-Tex lining and your feet won't be getting wet in these (unless, of course, water comes over the top).
The BMW Gravel is a worthy successor to the Santiago boot, it's very well made, looks beautiful, is incredibly comfortable, excellent on-road and acceptable off-road. It comes highly recommended by ABR.
In a line: Superb comfort from day 1 – excellent touring boots.
ABR Rating – 8/10
---
TCX X-Desert GTX
SRP £279.99 – www.tcxboots.com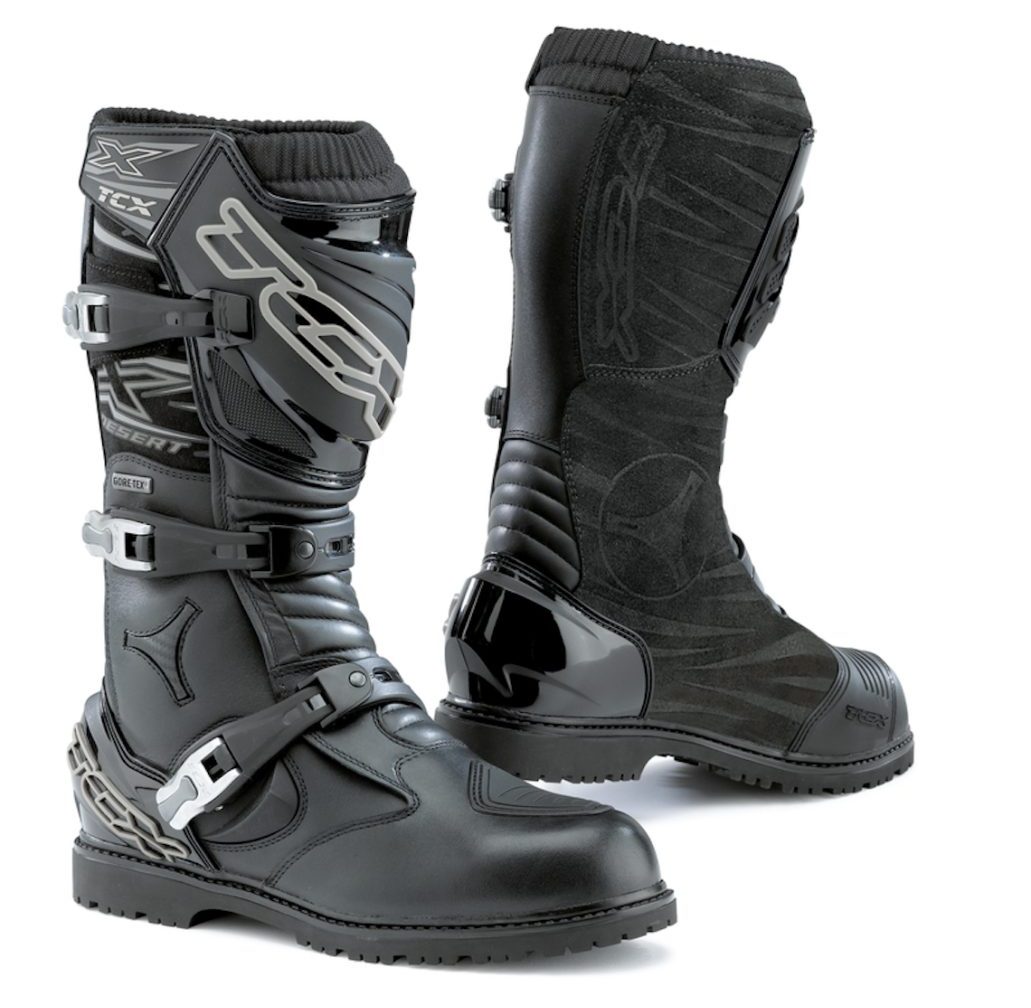 The TCX X-Desert's have your typical beefed up adventure look to them and feature a top-quality Gore-Tex membrane for protection from water and a number of reinforced and padded areas for protection from hard objects.
From the bottom up these boots make use of an enduro-style sole that has been designed to offer grip on and off-road, particularly in wet conditions, and it does its job perfectly. The upper is made from a quality full-grain leather that has been treated with a durable water repellent to prevent it from absorbing water and wetting out.
The adjustable aluminium buckles are strong and durable and there's ample protection throughout the boot in the form of PU inserts on the ankles, a reinforced heel cup and toe box, a PU shift pad and a PU shin plate.
In use, the boots feel a little stiff and clumsy at first but this feeling goes away after you wear them in a bit. After a few uses, they'll become incredibly comfortable. The Gore-Tex membrane provides protection from rain and snow, though it can make the boot run a bit warm in hot weather, something to be mindful of if you're planning a summer tour.
In all the TCX X-Desert GTX boots are brilliant adventure-style boots, and if you're against shelling out over £300 for a pair of Sidis or Alpinestars then you certainly won't be disappointed with these.
In a line: A premium product at a premium price. Highly recommended.
ABR Rating – 8/10
---
Sidi Adventure Gore
SRP £314.99 – www.feridax.com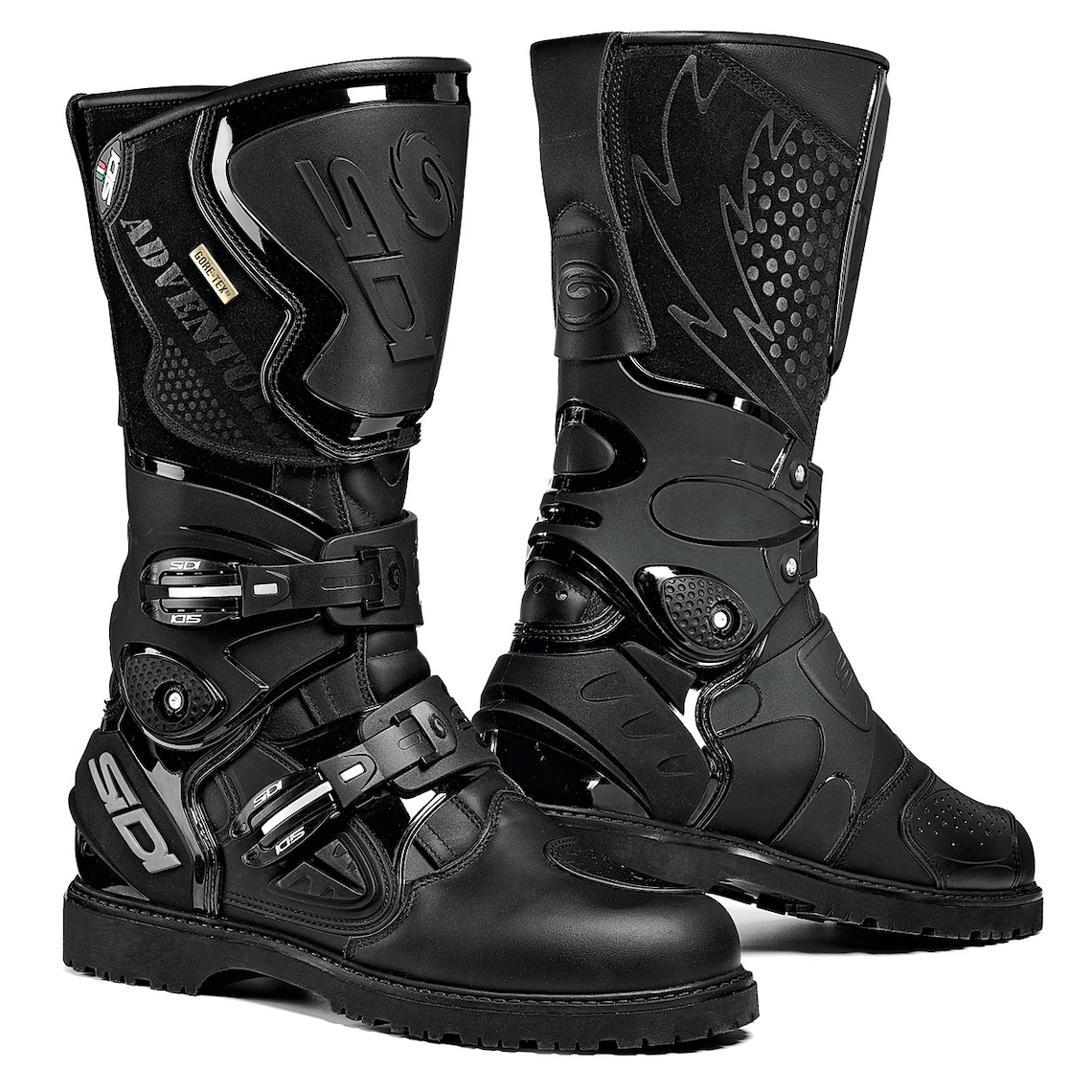 The Sidi Adventure Gore boots are, in our opinion, one of the best pairs of boots when it comes to looking after your feet on a motorcycle journey. They look fantastic, come with great features and offer all daylong comfort.
If I have a complaint it's that the soft rubber compound used on the sole wears out far too fast for my liking, but then if you want a superb level of grip both on and off-road that's the compromise you're going to have to make. From the ground up the sole is almost an exact copy of the top-spec Vibram units found on up-market hiking and climbing boots, which means great grip on tarmac and good traction off-road, plus the tread is self-cleaning.
The midsole is spot on in providing good fore and aft flex for all-day comfort and enough torsional stability for a good level of underfoot support and protection. In short, the perfect compromise between comfort and protection.
The upper is especially well made, with a combination of quality split-grain leather, plus thermoplastic mouldings in high-impact areas such as the heel, shin and ankle. The boots are secured using twin motocross-style clasps – with no-fuss adjustment and slick operation – and a large Velcro adjustment tab at the calf. The fit is excellent if you've got a standard size foot and lower leg proportions, though wide feet and thick calves may unfortunately struggle.
The boots are fully waterproof thanks to a Gore-Tex liner and have managed to keep my feet dry on river crossings.
In a line: One of the best adventure boots on the market. They offer it all.
ABR Rating – 9/10
---
Alpinestars Toucan GTX

(Best In Test)
£349.99 – www.alpinestars.com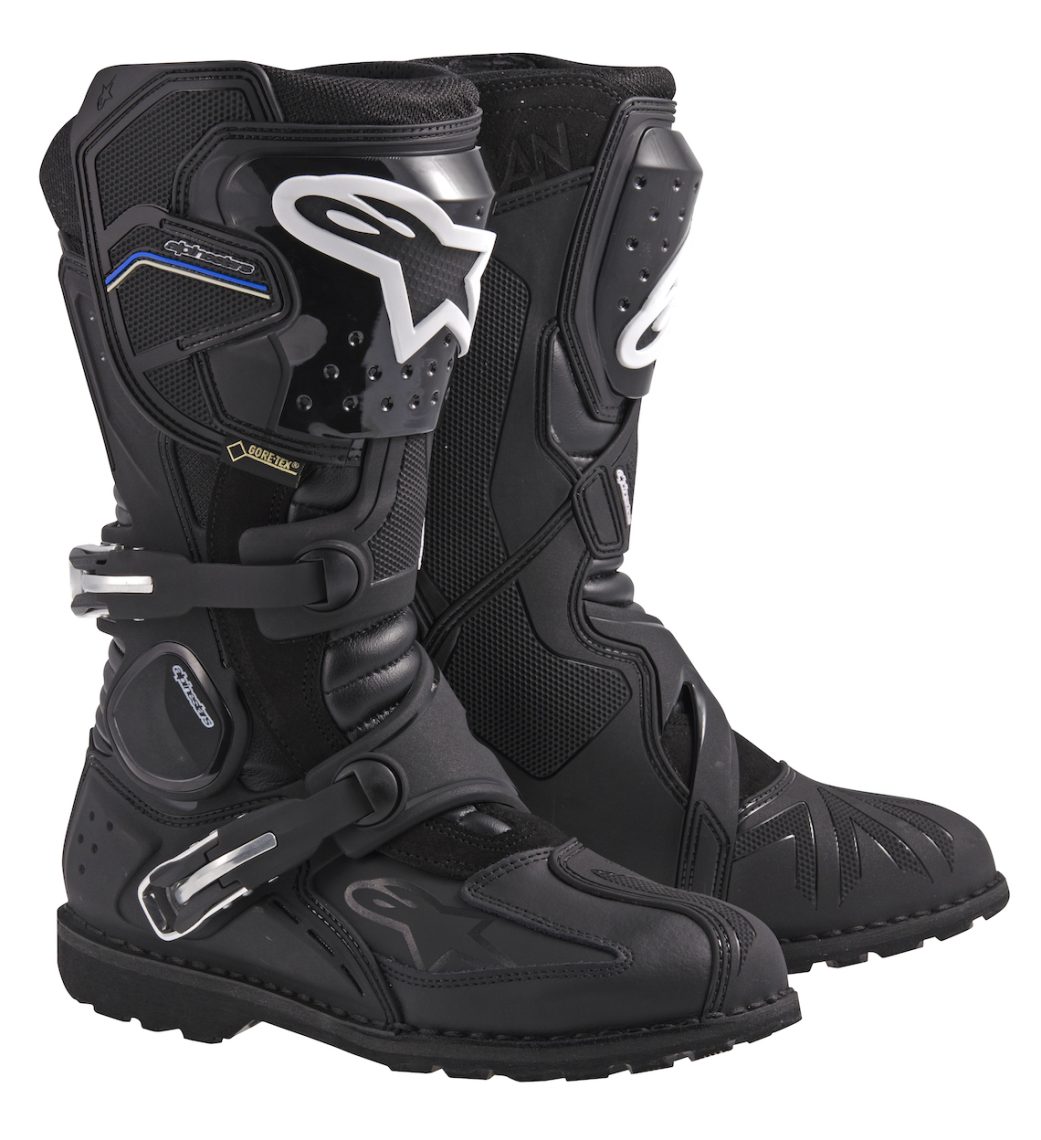 For foot protection and support, with the exception of the Sidi Adventure Gore, there are no other pairs of boots in this review that match up to the Alpinestars Toucan GTX. These are like fortresses for your feet and if you're looking for something that will offer your foot, ankle and lower leg as much protection as possible, all while being comfortable to wear then you can do no wrong in checking out the Toucans.
While the Toucans don't compete with the Daytonas or the BMW Gravels when it comes to comfort, for a boot that's focus is so clearly on protecting the foot from twists, bumps and impacts from debris they're surprisingly comfortable.
They do run a little warm thanks to the high amount of armour and the Gore-Tex lining that both end up insulating the foot, but there are some nicely placed vents towards the lower end of the boot that offer a small amount of ventilation to stop the boots from becoming real foot furnaces.
The sole of the boot is perfect for off-road riding with deep-cut lugs making the Toucan perform especially well on wet, muddy trails. The arch of the boot has also been reinforced to make standing on the pegs comfortable – a great touch. While the focus is more off-road than on they still perform well on tarmac and although they may seem a little clumsy at first after a few rides wearing them in they will become more forgiving and changing gear and brake control will be easier.
In terms of quality, these boots are excellent. From the neat stitching to the bombproof buckles, the top-of-the-range Gore-Tex lining to the moulded plastic protection panels, everything feels well crafted and like it's built to last.
It was very hard to choose between the Alpinestars Toucan and the Sidi Adventure Gore for the ABR Best in Test accolade.
They're both superb adventure boots and at the end of the day your choice will probably come down to which one fits you best, but I found that the Toucans offered slightly more protection and were more comfortable, which is why they're our Best in Test.
In a line: Fortresses for your feet, brilliant adventure boots.
ABR Rating – 9/10
| | | |
| --- | --- | --- |
| Grippy sole aids in the wet | Good shin protection | Good quality buckles |
---
Daytona Trans Open GTX
SRP £419.99 – www.tranam.co.uk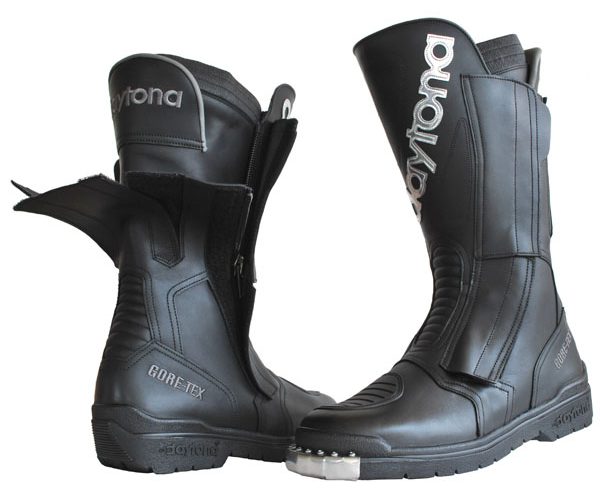 The Trans Open GTX is a full leather enduro-style touring boot with a Gore-Tex membrane, which, for their size are a surprisingly lightweight and supple pair of boots. On closer inspection, it's hard not to appreciate the well thought out design and the quality of all of the components that come together to make a boot that not only works perfectly but also looks good too.
The upper is made from top quality Italian leather, while the non-slip enduro soles are grippy in dry and wet conditions, featuring metal toe bumpers to provide protection in this high wear area. The absence of buckles allows the boot to fit effortlessly under your trousers and the adjustable calf region means you'll get a comfortable fit no matter how chunky or thin your legs are.
The lining is incredibly soft and the comfort provided is fantastic. Something to be aware of is that the sizing of Daytona boots is quite large and I had to go down a size for mine to fit me perfectly.
When it comes to motorcycle boots you really can't go wrong by buying Daytona. They're still manufactured in Germany and the Trans Open GTX is a testament to the skills of the bootmakers. It's beautiful to look at, supremely comfortable to wear.
Yes, they are expensive, but if you buy these they'll last you a lifetime and they perform excellently when you're in the saddle.
In a line: The Trans Open GTXs are fantastic boots and incredibly comfortable. Were it not for the price they would have been in the running for best in test.
ABR Rating – 9/10
---
Final Verdict
Summing up overall impressions of the boots we tested…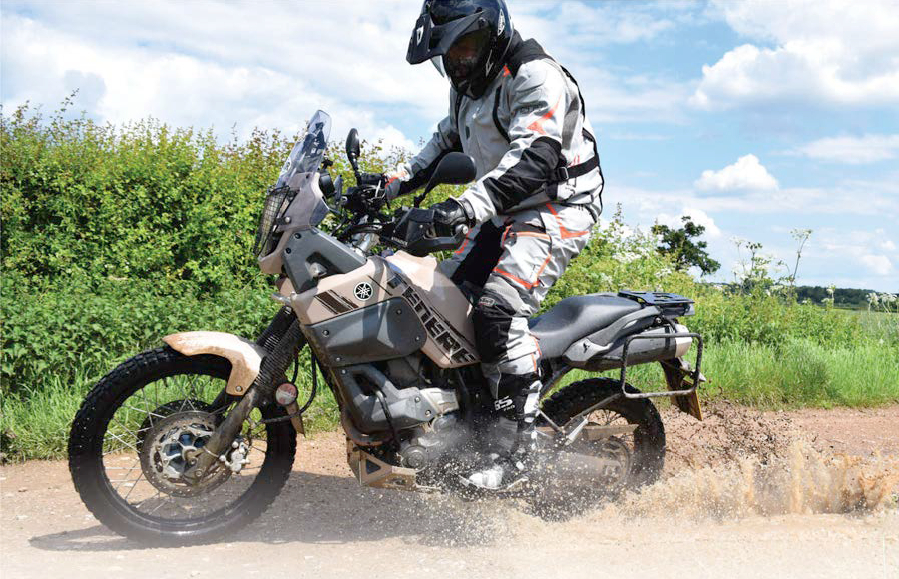 While we've rated the boots out of 10 in five different categories there are still occasions when one boot might be better than the other irrespective of their 'out of ten' rating. The Aldi Touring boots represent excellent value for money at £30. They're not the most well made of boots by any stretch of the imagination, but if you're purely into road riding and are just starting out then they'll do for you.
Similarly, the W2 4 Dirt Adventure Boots are a great value, entry-level adventure boot. For road touring in warmer climates, I can't recommend the Falco 411 Mixto boots enough. They're light, airy and most importantly comfortable for long days in the saddle – only rivalled by the BMW Gravel and Daytona Trans Open GTX boots in that respect. If I had to choose a boot that I would wear day in/day out then it would be the BMW Gravel, for their seemingly perfect compromise of comfort and protection.
As we move into the more expensive end of the price scale the TCX X Desert GTX boots offer a great alternative if you don't want to splash out over £300 on a pair of Sidis or Alpinestars. Speaking of which, when it came to choosing the best in test it was a close-fought battle between the Sidi Adventure Gore and the Alpinestars Toucan GTX boots. Both are superb, well-made products and neither will disappoint.
When it comes to the Daytona Trans Open GTX, we love them, we really do, but that price tag is a killer. That said, if you look after them they'll last forever, and, as far as comfort goes, they're impossible to beat.