Throughout the year Adventure Bike Rider rallies are held all over the country as a means for like-minded riders to get together and have a laugh, Big Al recounts the antics of this year's West Wales ABR Rally.
The West Wales ABR Rally Weekend went off without a hitch. It was a good turnout again with lots of people showing up on all sorts of machines. Most people made it down to West Hook Farm on the Friday afternoon, and some keen folk were even there on Friday morning and had already started on the red medicine! Apparently, they were getting into the party spirit. 
On Friday evening the skies opened and it rained so we all retired to the barn to cook our food and get to know each other while swapping tales of homemade plum brandy and pear schnapps. The night flew by and it seemed to take forever to reach the tent back in the field (I'm sure someone moved it to the other field). 
Saturday morning was taken up with the rideouts and our 'guides', Agent Orange and Quick Nick lead the troupe around different parts of west Wales with one or two riders deciding to enjoy their own route and explore west Wales at a more leisurely pace. I didn't have my bike as I had to bring the car down with all the grub and the Saturday night raffle prizes, so Tefl on Snr kindly offered me the pillion seat on his.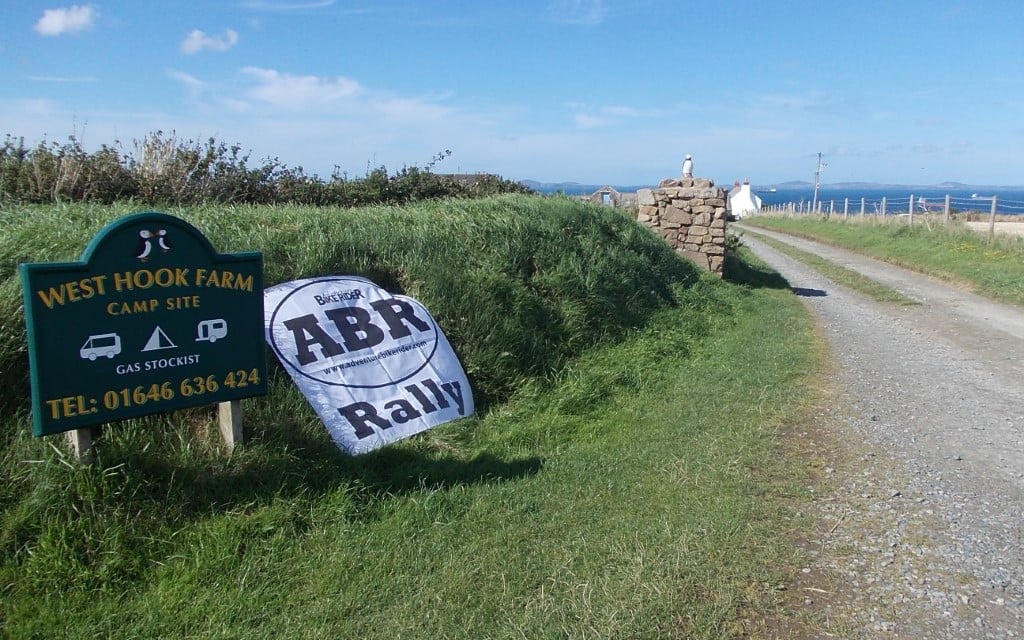 Lunch was provided by Cath and her crew at the Three Horse Shoes pub in Cernarth Falls (thanks Cath), and after being fed and watered Teflon and I went back to the campsite with Nick to prepare the cawl and set the tables for the evening in the barn. And what a night it was! The atmosphere was fantastic with everybody having a bellyful of cawl, with cheese and bread. We made plenty, as we always do, and there was even enough for breakfast and dinner the next day. 
This year we had a special award, 'The Sore Arse Award', to commemorate the rider who had done the most miles on a bike in the year gone. And this year it went to Peter who has done 14 thousand miles since March! Fantastic Pete, well done! 
After the cawl we had special guest Phil Harries from Blood Bikes Wales who gave us a short talk on how the blood bikes operate, and how all the fundraising is achieved to keep this fantastic group of people running the bikes from year to year. Well done Phil and thanks for attending! 
The raffle this year, along with the food, raised £620 for Prostrate Cancer Wales. Next year's West Wales ABR Rally will be in aid of Blood Bikes Wales, who do a sterling job delivering blood 24/7, 365 days a year. Anyone wishing to join the blood bikes please look up your nearest blood bike representative. 
The raffle prizes were donated by all the local businesses and some private people, one, in particular, was a rocking chair handcrafted by friends of Rob and Karrie of West Hook Farm, it was a work of art and and raised £200 on its own. Of course, there was one problem, how was it going to be taken home? Geoff came to the rescue in Thunderbird 2, his trusty old Fiat Ducato and dropped the chair off on his way home on the Sunday.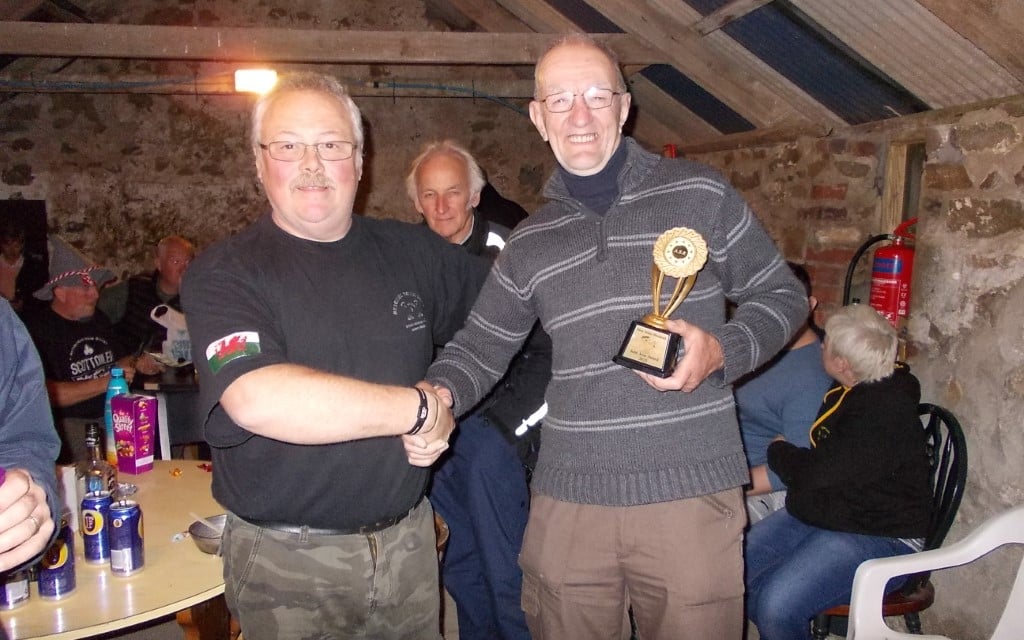 After the raffle in the barn, it was time to retire around the fire pit overlooking the estuary while putting the world to right over a few beers and some red medicine, I do also remember something about a few bottles of Jack Daniels cherry whisky being passed around the tables with Griff and I topping up our tankards just to keep the cold out. And it worked wonders! I went to bed with a smile on my face and cawl in my belly ready dressed for breakfast in the morning. 
Sunday morning was the usual early breakfast for some, and bidding their farewells to new friends made, exchanging telephone numbers hoping to meet up once again for a rideout and a brew in the near future. I would like to take this opportunity to thank everyone who attended this year's rally because if it wasn't for you guys there would be no rally. I look forward to seeing you all again in 2016 for the West Wales ABR Rally in September.
---
Get Involved… ABR rallies this year
The West Wales Weekend Rally is just one of many ABR rallies taking place throughout the year, organised and run by members of the Adventure Bike Rider forum.
Head on over to www.adventurebikerider.com/forum to get involved and check out the upcoming events, meets and rideouts that are being organised.