Riding Techniques
Mastering gravel trails part one
KNOWING HOW TO PROPERLY RIDE GRAVEL TRAILS IS A SKILL THAT ANY ADVENTURE MOTORCYCLIST NEEDS TO KNOW, AND IN THIS TWO-PART SERIES YOU'LL LEARN EVERYTHING YOU NEED TO BECOME A PRO ON THE PISTES
The mere thought of riding in gravel conjures up mixed emo- tions in riders, from sheer fear to a wide grin. Which reaction you have is likely borne through your personal experiences, level of knowledge about gravel, riding confidence and riding skill level.
So, what is it about gravel that can be challenging for some? Well, it's got real potential to be slippery and to get you sliding sideways, and to most uninitiated riders, those riding condi- tions are a pure nightmare.
The thing with gravel surfaces is that it is highly likely to be a combination of all the above conditions. As you ride over it, it is probably going to change, from one second being comparatively grippy, to the next where it could be all over the shop.
To be in control, you need to know what the surface is doing, how it is changing. To do that, you need to be going at a speed where you can read the changing conditions. The faster you go, the less time you have to plan your riding for the conditions and vice versa. However, increasing speed has a tendency of sitting the bike upright which can help stability.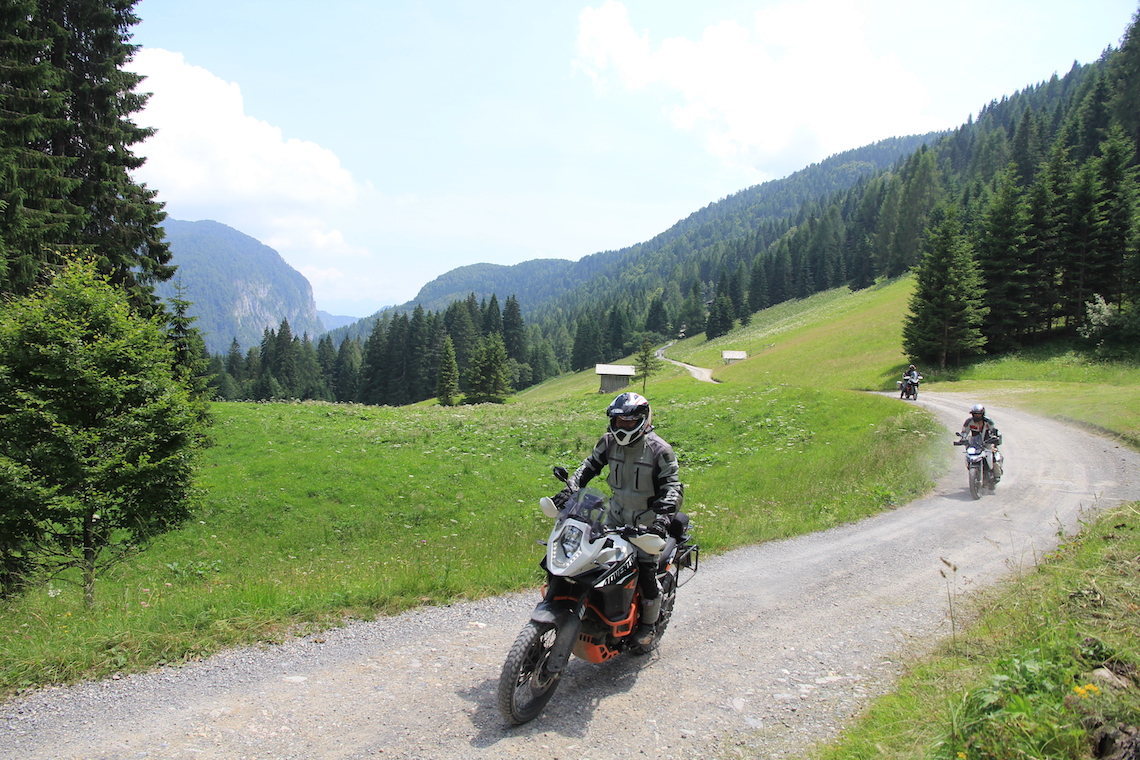 If you go too slow then this could affect your bike's stability and balance. As Renton says in Trainspotting, "It's a f*****g tightrope Spud!" So ultimately, you need to modulate your speed to ensure it's correct for the changing surface grip level.
When riding, to be in balance, your focus (foveal) vision needs to be looking at the horizon at head level in the distance. You need to train your peripheral vision to read the surface, direc- tion, etc. so that your focus vision can help keep you balanced.
To ride on any slippery surface, you ideally need three things in place:
1. To be looking at the balance point as described above.
2. Weight should be over the back wheel to help the drive wheel get grip (this is why standing up is better as you can move more weight around to balance the bike).
3. Sit the bike up using smooth power delivery – do not throttle hard or brake hard if you can avoid it.
So, that's just an introduction to balance and speed when riding on slippery surfaces, steering and stopping also need to be controlled. In the next issue of Adventure Bike Rider we'll build on these skills and learn how to control these critical areas on gravel.
WHO'S WRITING?
Clive is the owner and chief instructor at Moto Scotland, the UK's largest off-road motorbike training school. He is an A.C.U. national assessor and commercial coach in off-road riding. IAM and Police Bikesafe qualified, Clive is also a master practitioner in N.L.P. (life coaching). His passion is to help riders become even better.
Photography
Stabilisation
OTHER THAN YOUR CAMERA, IF THERE'S ONE PIECE OF KIT YOU SHOULD BRING ON YOUR NEXT TOUR TO ENSURE STUNNING IMAGES IT'S A TRIPOD. PHOTOGRAPHY EXPERT SIMON THOMAS EXPLAINS JUST WHY THAT IS
PHOTOGRAPHER: SIMON THOMAS
The bike is already heavy; I want to carry less gear, not more. Do I really need to carry a tripod? Yes!
Yeah, it's a pain in the arse, but when you're heading out the door for your next big ride, strapping your tripod onto the back of your bike is essential if you're serious about capturing great shots.
Camera movement is a photographer's nemesis. No matter how dramatic the lighting, or how stunning the backdrop, a blurry image is a fail. Clip your camera to the top of a securely fixed tri- pod and you're on your way to a sharp and professional image.
In the photo in this piece I had Lisa make half a dozen passes before feeling happy that I'd captured the shot I'd envisioned
in my head. Using my tripod meant that I could compose the shot and make small but controlled alterations to get the image I wanted. There was lots of light for the shot, so the tripod wasn't critical based on a slow exposure. I wanted to ensure that I captured Lisa and her bike crisply but I also wanted to capture the size and scale of her surroundings and add some blur by zooming the lens out as she rode towards me (a technique that I described in issue 38 of Adventure Bike Rider).
Panning (rotate the camera through a range of motion) is vital if you want to create powerful action shots, that really capture movement. It's a difficult technique to master if you're relying solely on a steady hand, but using a tripod makes this far easier and more fluid.
Bear in mind a tripod can also hold a video recorder and eliminate shake, something that's crucial if you want to create professional looking clips. But it doesn't stop there, if you're using a tripod you'll also be able to shoot far better close up shots of your bike or parts, and if you're shooting with a telephoto lens or shooting wildlife or landscapes.
Trust me on this. Yeah it's extra effort, but the results will confirm to you why its worth it.
WHO'S WRITING?
Simon and Lisa Thomas have ridden their way into a life that most of us can only imagine. This year is their 13th year on
the road and in those years the duo has amassed an insane 420,000 miles on their ride through 78 countries and six continents. Along the way they've traversed 27 deserts, survived a broken neck in the Amazon Jungle, cheated death and become professional photographers, writers and public speakers. www.2ridethworld.com.
Here's the info for the above image of lisa:
Camera body: Nikon D3 Lens: VR 150mm f/1.4 Focal Length: 50mm Focus Mode: Auto AF-Area Mode: Single VR: OFF
Aperture: f/3.5 Shutter Speed: 1/5000 second Exposure Mode: Manual Exposure Comp: -0.33 Metering: Matrix
ISO Sensitivity: ISO 200 White Balance: Auto Speed light/Flash: Fired Active D-Lighting: On
Picture Control: [NL] NEUTRAL Base: [NL] NEUTRAL Sharpening: 2 Contrast: 0 Brightness: +1 Saturation: 0 Hue: 0
Legal
The legality of tyre mousses
JUST HOW LIKELY ARE YOU TO BE STOPPED IF YOU'RE RIDING WITH TYRE MOUSSES? AND ARE YOU EVEN BREAKING THE LAW? ANDREW DALTON EXPLAINS IT ALL…
Q. I read your previous article about mousses with interest. Do the police actually have the power to detain my bike and check whether or not I have mousses in? I keep valves in my wheels and there is no obvious method of testing whether the tyres have mousses in them.
John.
A. For those of you who missed the piece on the law of knobbly tyres, I was of the view that mousses, whilst useful, did not meet the construction and use tests and are therefore, techni- cally, illegal. John asks the question "so, will I be caught?"
The police do have the power to stop you for any reason, but being mindful not to be accused of harassment, they usually record one, such as asking you to produce docu- ments. For a bike which has been out on the lanes it could be to stop you to tell you that your number plate is obscured, and at this point you have the 'attitude test'.
If you are pulled over by ordinary car (i.e. not a police pursuit vehicle) and the officer gets out of the car wearing a black rather than a white cap then the reality is that whilst they have exactly the same powers as a road traffic officer, with one exception relating to high speed pursuits, they are unlikely to be fully versed in road traffic law. Obviously, they will know that you need to be displaying a number plate and the police national computer check will soon reveal whether or not your bike is insured and taxed. All constables have a working knowledge of road traffic law.
If you catch a road traffic officer on a bad day and you are running your bike on mousses you could be in for a significant amount of inconvenience, but not a huge amount of difficulty.
If the officer thinks that your tyres are suspicious and he puts a pressure gauge on them, a tyre with mousses will read zero. The police officer would then have grounds for impounding the vehicle as, in his opinion, it would be dangerous to take on the road. The tyre itself is unlawful under the construction and use regulations. The police officer would be well within his rights then to take the for further examination, either by an officer authorised for vehicle inspection, or another suitably qualified civilian vehicle examiner to explain this mysterious 0 psi. The police officer would be using his powers in a way which a magistrates' court would find reasonable.
Depending on the mood of the officer, he could either impound the vehicle there and then, tell you that if you moved the bike again you would be committing a further road traffic offence, and if you started the bike up he would nick you for a further offence of taking a vehicle onto a road with defective tyres. He could tell you to have the vehicle recovered, or he could issue you with a vehicle rectification notice. Whichever way he does it, he can make your life difficult. If he does not have a tyre pressure gauge then there is no obvious defect on the machine, the machine is not objectively dangerous, and he would have no such powers. In short, you take a calculated risk when you ride a bike on the road or the byways with mousses.
The chances of an officious police officer having the knowledge and equipment to make a charge stick are small. However, if you combine mousses with a small and illegal number plate, a bad attitude, a noisy pipe, and inconsiderate riding, then you make yourself 'nick-bait' and being nick-bait is best avoided.
WHO'S WRITING?
Andrew Dalton is an ex-despatch rider turned solicitor and barrister with over 20 years experience in the field of motorcycle law. He is a regular motorcyclist running an R1200GS and an AJP240 green laner and a is regular European and UK rider with well recognised expertise in both British and European motorcycle law.
Fitness
Adventure Bike Fitness
GET BIKE FIT IN 2017 WITH THIS SIMPLE YET EFFECTIVE TRAINING PLAN
Having introduced leg exercises into our circuit in the last issue of ABR, it is important to start including some muscle balance into your workouts. The human body needs to be bal- anced in all areas to give you the best musculature to cope with your riding. This issue will start to work your upper body and, in particular, your chest area. In the real world you'll use your chest muscles when you push yourself up on the bars when standing, or when you are dealing with rougher terrain and soaking up some more vigorous movement from the bike.
Beat That Chest
The exercises here focus on three main muscles: the pectorals, the triceps and the anterior deltoids. You will have probably done this classic exercise in the past, but you may not be aware that modifications can be built into your circuit to work different areas and to prevent the workouts from getting repetitive.
The Classic Press Up
This can be done on the road and works the muscles mentioned above. Again you should start with muscular endurance repetitions and sets, so 15 reps and 3 sets, with 30 seconds rest between sets.
Start with your arms straight and slightly wider than shoulder width, feet together and, most importantly, your back straight and backside down. There is a degree of core stability involved here, so you gain in that respect too. Lower yourself down for one second until your chest nearly reaches the floor (for guidance – the height of a fist)(1), hold one second (2), then push up for one second to the start position (3). Maintain a straight back and backside hold throughout the 15 reps. If you have access to a mirror, check your form and adjust if needed. You are looking to 'lock' your posture and should only be moving the shoulder, elbow and wrist joints during the press up.
Modifications
You can incline and decline press ups to provide variety and target upper or lower areas of the pectorals. Incline press up will target upper regions of the pecs and all you need do is use a chair or stair to press on. Make sure the chair will not move when performing the exercise!
Conversely, you can reverse these by putting your feet on the chair in the same press up position and this will target lower areas of the pecs. These decline press ups may need to be attempted when you gain muscular endurance adaptation after 3 or 4 weeks, as they are more challenging.
Use one of the press up activities above to integrate into a circuit of excercises that build with the quad activities we showed you in the last issue of ABR. A circuit is where you alternate muscle groups, so one leg set (squats) followed by one chest set (press ups), and perform each muscle group exercise three times in total. The idea is to build up your circuit with the exercises in subsequent issues, implementing a 30 second rest between sets.
Ask Dave
ABR's resident expert of all things two-wheeled answers your questions
Q. Hi Dave,
I'm planning a trip over the water from Plymouth to Santander in Spain then back through France via the tunnel to UK. It will be my first trip off UK shores and I'm a bit unsure on bike loading on the ferry and tunnel. What will I expect and will I need to bring straps to secure?
Graham.
A. Everyone has the same doubts the first time they take their bike abroad, Graham, so let's see if we can banish them. We have covered this subject in the past, but it's a good time to repeat the advice as so many have similar plans to look forward to at this time of year.
Your route into Spain will be with Brittany Ferries who are one of the best ferry companies to travel with. Upon board- ing, the crew will give exact instructions where to park your bike. A warning here, there are usually a lot of bikes and they will park you quite tight in the hold.
Before you go, make sure you have a bag packed with what you'll need during the crossing. This saves time after securing your bike and means you'll have less to carry up the endless flight of steps to your cabin.
When it's time to disembark most of the bikers unstrap their own bikes. It's very easy to do but if you're not comfortable attempting it then a member of the crew will help you out. Then it's time to get ready for the organised chaos of many bikes all trying to get off at the same time, everyone wants to be out in the Spanish sun!
The tunnel is much easier. Again, follow the staff's instruc- tions upon boarding the train. There is no strapping needed as it's surprisingly smooth when moving.
Just park at a 45 degree angle, pop the bike on its side stand and leave it in gear, then stand and look at it for the next thirty minutes as there is nothing else to see or do. Time to read your copy of ABR mag?
Have a great trip mate, it's far less complicated than you think!
A crew member will then place a cushion on your bike seat and put a substantial ratchet strap across it, keep an eye on them and make sure they don't overtighten and damage the seat. I find it best to park the bike on the side stand for this, the tripod effect that's created is very stable, and that's what you'll want to prevent your pride and joy from toppling over on rough seas.
For extra security add a ratchet strap of your own from the nearside of the bike to the floor strapping point, this will stop the bike sliding under the main strap if the crossing gets a little rough.
Got something to ask Dave?
Send in your bike related questions to [email protected] and if we publish yours you'll get a free subscription to ABR!