Married with a house and sensible 8-5 jobs, Mike and Amie Tornincasa decided they needed a shake up. Six months later they were on their way from their home in sunny California to Tierra del Fuego aboard a 2004 Suzuki V-Strom. We join the adventure in Mexico…
When Amie and I met in college, it was our shared sense of adventure that attracted us to each other. We loved to travel, and whenever we had any free time, we would set off to a new destination. As life tends to go, we found ourselves with a mortgage, working 8-5 with only two weeks' vacation a year. It wasn't enough for us and we always knew that someday we would have to do something big.
The idea of travelling the length of South America was first born with my best friend Adam in high school. We wondered what it would be like if we drove south every day until the road ended. I came home from work one day and proposed the idea to Amie. "Let's quit our jobs, rent our house and leave everything behind. Let's ride a motorcycle to the furthest southern tip of the world – Tierra del Fuego, Argentina!" Once I had the idea in my head, I knew it was something we had to make happen.
Besides the obvious challenges we faced in saving for the trip, we had to let all of our friends and family in to our new life plan. It didn't go over well with most. Relatives told us we'd be kidnapped and our fingers would be mailed to our parents for ransom. In the end, we realised that everyone had their own ideas of the dangers we might face. We both were confident that any real adventure in life is never going easy, but were willing to take the risks to feel like we were living our lives rather than having our lives lived for us.
Wheels of fortune
In the beginning, we weren't sure if we needed a dirt bike or road bike. We envisioned mostly dirt road, and possibly gaps where there was no road at all. We started off with a KLR 650, but after a long day's ride, Amie could barely move her legs and we realised we'd need something more comfortable. This led us to the Suzuki V-Strom, already fitted with a Corbin seat (happy Amie).
We left Northern California on 1 October and were in Mexico two days later. Crossing the Tijuana border was arduous, hot and seedy, but very doable for a naive young couple like us. After a couple hours at the border importation office, we were on our way flying, down the Pan-American Highway through the border resort towns like Rosarito and Ensenada. It was a surreal feeling to know that we wouldn't see the US again until we'd ridden our motorcycle to the very end of the world.
Soon after passing through the border towns, the road opens up to desert. The scenery is amazing through the Sierra Columbia National Park. Riding there is one of the best day's motorcycling I've ever had; great roads, amazing varied scenery and no traffic or sign of man-made anything. This was one of the longest stretches without gas on our entire trip. We'd been told to carry extra gas for this stretch of road, but somehow that slipped our minds. Fortunately we found an hombre who was selling gasoline out of one-gallon milk jugs in the back of his house – saved! We spent our first night in Mexico on the beach in our tent enjoying some Powerbars under the moonlit sky.
From the top of Baja it's beautiful desert stretches and a mild 70 degrees until you reach the beach town of Santa Rosalia. Just south of the town there are some of the most amazing little coves and beaches with crystal-clear blue waters and plenty of Palapas. When you think of a Corona commercial, this is where they are made.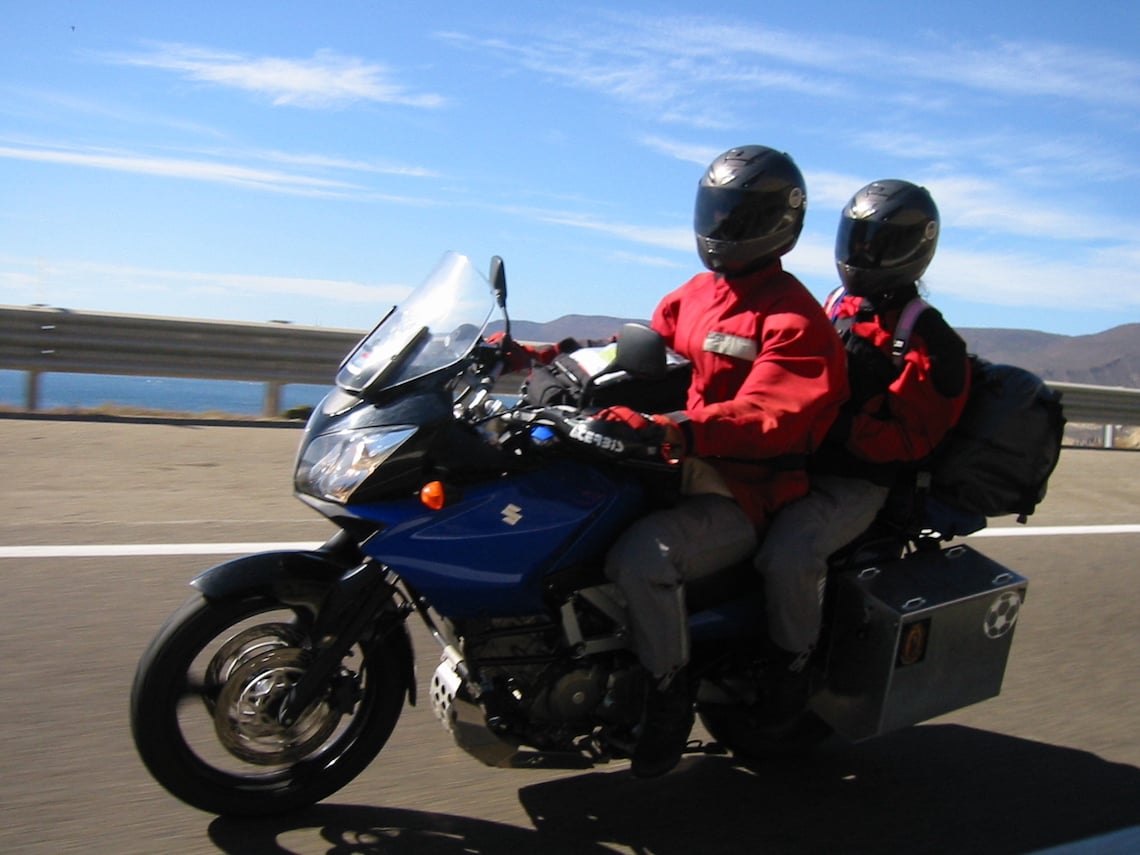 Mainland Mexico
At the end of the Baja stretch we took a Ferry to mainland Mexico, Mazatlan via La Paz. The ferry to Mazatlan costs us about $70 (£44) dollars per person and $120 (£75) for the motorcycle. Ouch! La Paz is a tourist town and we were instantly hit with overpriced motels and food. I somehow found a reasonable hole-in-the-wall motel for Amie and I, which to this day she claims was a converted prison cell.
The roads were different from what we'd got used to in Baja; more obstacles and dangerous riding conditions. It was intense and stressful, but more like what I'd been expecting to see in Mexico.
We received lots of waves and smiles form the locals as we passed and enjoyed an interesting roadside concoction of coconut, lime and salt from a very jolly lady. Sayulita, a trendy little beach town just north of Puerto Vallarta, is lined with little taco stands and bars. We relaxed a few days there, enjoying some downtime with some good food and cold beers; a recharge. By now, thoughts of our jobs, home and life's stresses had started to subside and we really felt we'd begun our journey. No schedules, no redundancy. We were getting into the groove and it felt fantastic.
We were warned and soon faced with the reality of the tope, vicious speed bumps which required us to stop and Amie to dismount just so we could clear them. The topes were the catalyst for a load-lightening exercise that was long overdue. By the time we were halfway through Mexico we'd given an old man our gas stove, lost our propane gas tank off the back (bungee failed), given away our sleeping pads and most of our clothes, and I was even tearing pages out of books as I read them.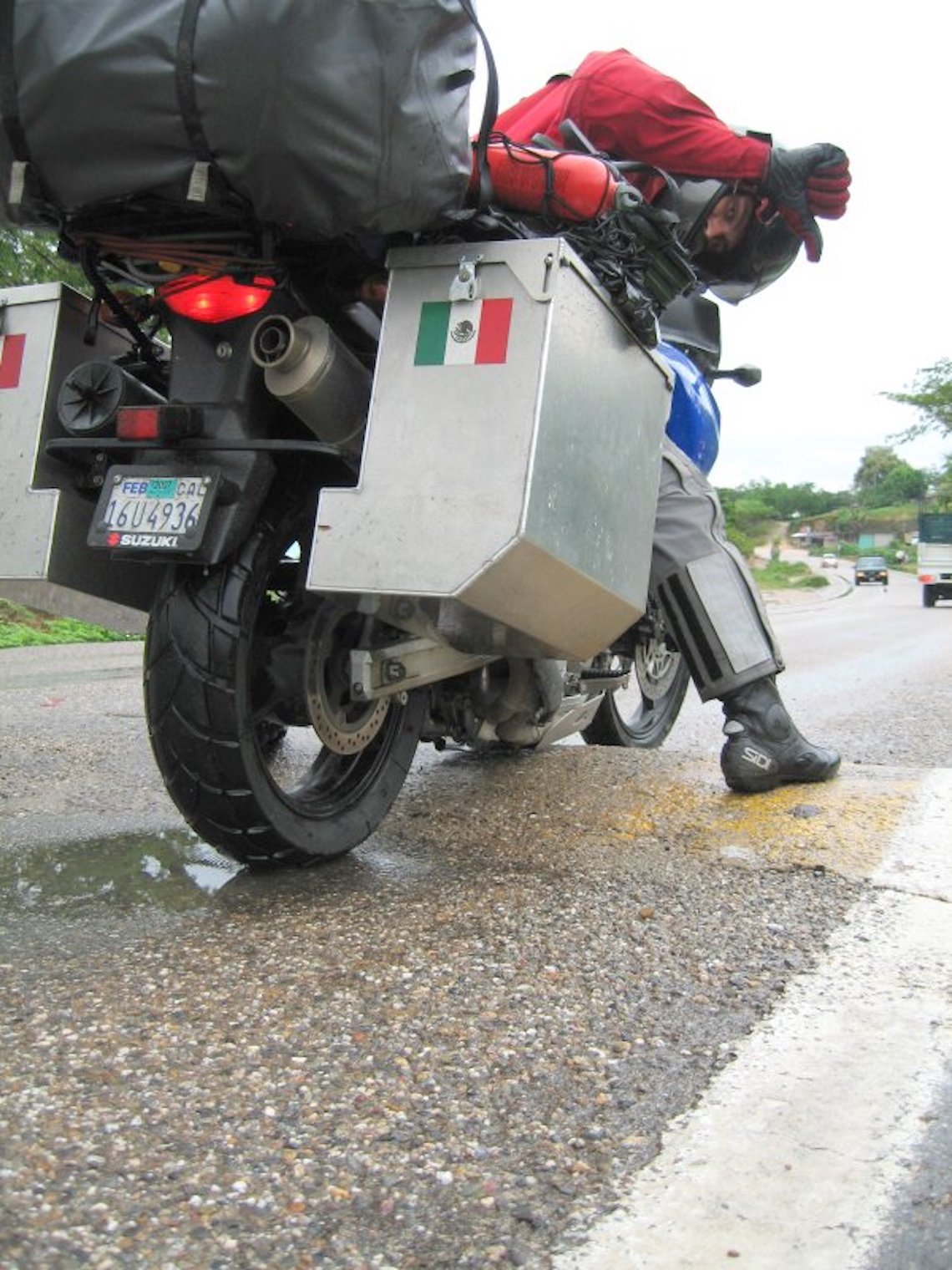 Sexy accommodation
Further south around the state of Michocan, the terrain changes to lush jungle. The land is beautiful, dotted with agave, coconut and banana plantations and everything is green and freshly watered with the many rainstorms that pass through. Even travelling during in the dry season we got a soaking; one day it came down so hard that the steps up to shop doors looked like river rapids! Visibility is very low when it's raining that hard. It's like driving with no windshield wipers or defroster. Besides the rain we had giant potholes, livestock and the unmarked topes to contend with. By the end of the day's riding I was mentally and physically drained from scanning the highway and squinting my eyes for hours on end.
We had heard that the pulsa butone (sex motels) were a great option for the traveling motorcyclist in Mexico because each room has its own private garage. No one wants to park their car outside a sex motel, so patrons have garages to keep their cars hidden from prying eyes. The first sex motel we stopped at was called 'The Pines', an interesting, Arabic-themed palace-looking affair. Everything is designed to be as discreet as possible. You pull your bike in to a little drive-up window and park it under a covered garage, which you pay for by the hour. It was actually one of the cleanest-looking motels we stayed in. Amie didn't mind much as long as we pitched our tent on top of the bed!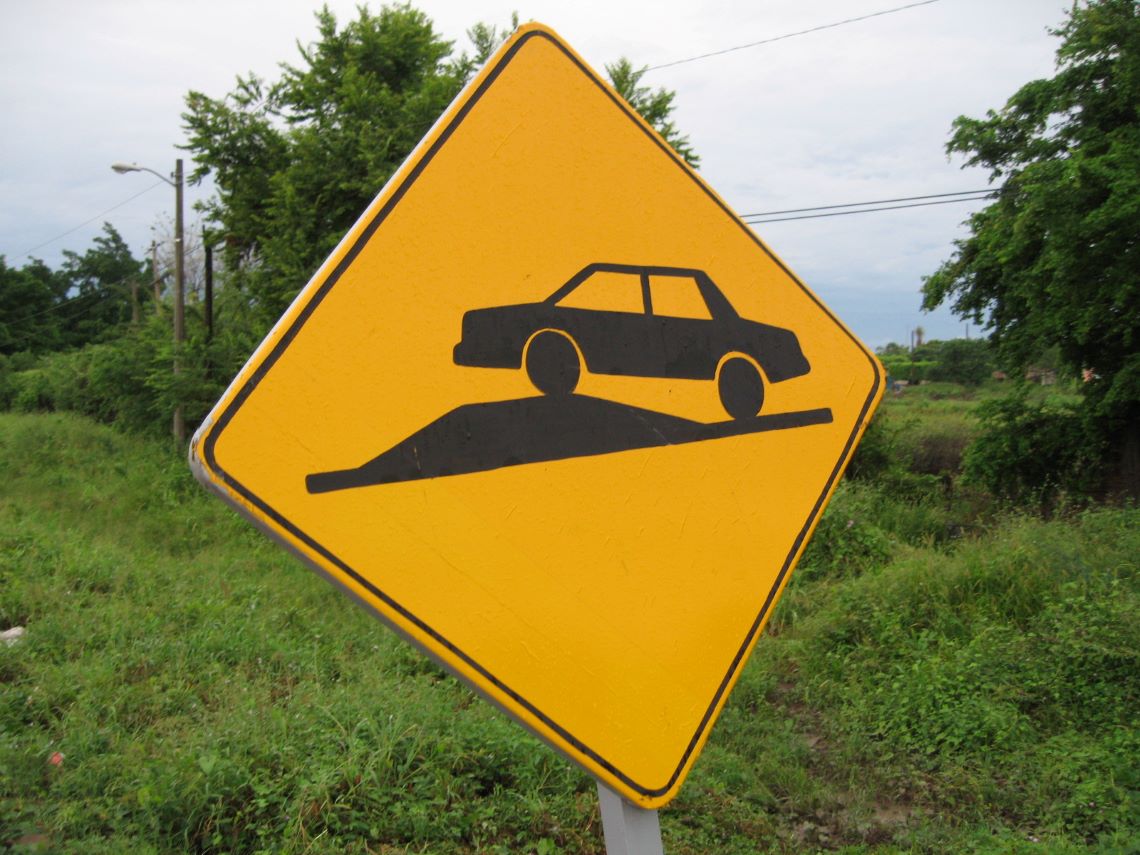 The further south we went, the more the people would look at us, both with smiles and stares. Very few people actually approached us, but we'd occasionally get questions of admiration and interest, mostly from younger boys. There are very few motorcycles over 250cc in Mexico; I'm sure that made Yosh really stand out. On arriving in Acapulco we decided to find an 'American' restaurant in the city center to get a break from typical Mexican fare, but crossing through Acapulco in the rain was a nightmare. The road was riddled with what seemed like a million crater-like pot holes, a ton of VW bugs zipping and honking, and endless water, which splashed up on us in great waves. To get out of town, we had to ride through a lake that completely submersed the oil cooler (Amie waded through it), and just as we emerged at the other side the bike died. I didn't think any water made it into the exhaust, but it wouldn't start. After a couple of minutes she roared back to life and we were back on the road. Close call!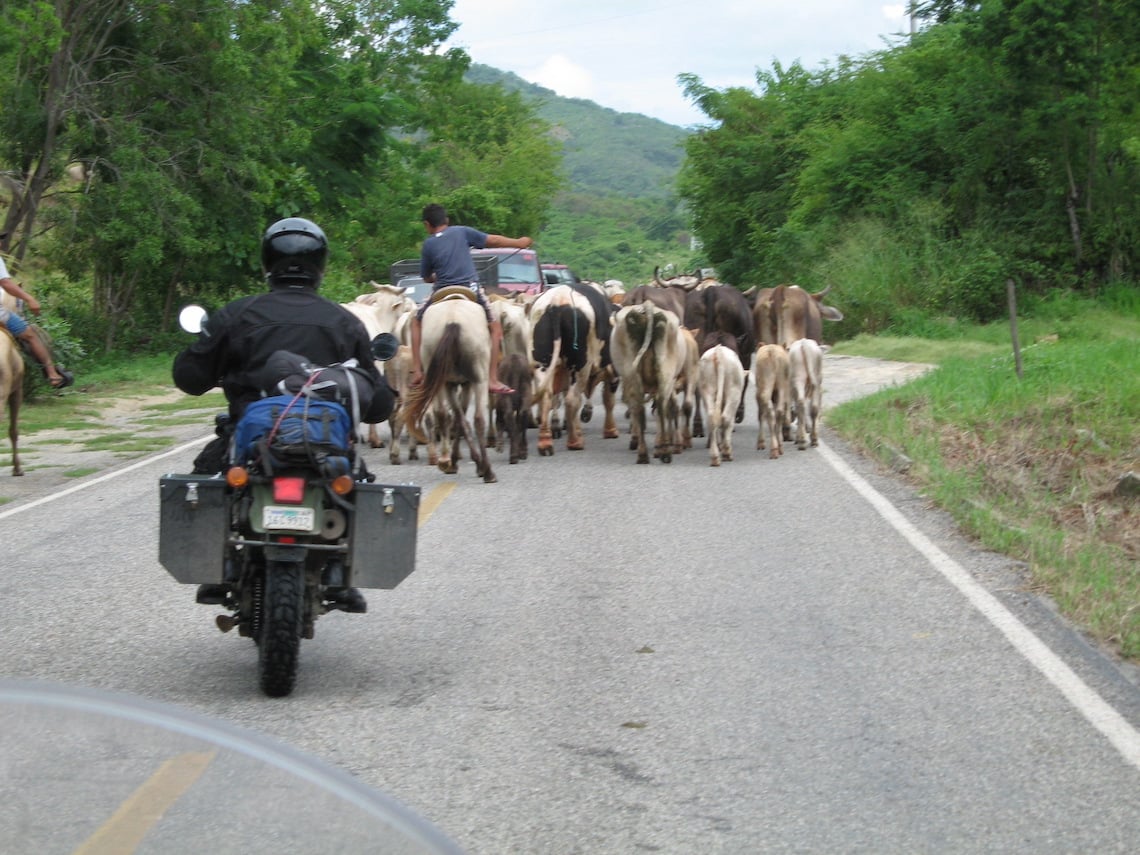 These aren't the ABRs you're looking for…
We encountered all kinds of road blocks. Riding through Oaxaca there was a teachers' strike. I guess the teachers in Oaxaca weren't getting paid, so there was this giant blockade set up with nail boards, blocking the only road through town in both directions. With some logical conversation, I was able to convince them to allow us to pass and I quickly taught Amie how to say buenos suerte, which means good luck, as we passed by all of the protestors.
By now I'd learnt how to talk our way through police and military checkpoints. Whenever stopped by the police or military I'd quickly start the conversation with a question which would distract them from their original intentions (namely bribery). An easy one I would go with a lot was asking how close a particular town is. Depending on the time of day, I'd choose a town just out of reach by dusk. Before the police or military would ask anything I would say, "Amigos! Quantos kilomitros a Puerto Escondido?" (friends, how many kilometers to Puerto Escondido?) They'd scratch their heads, ask each other, argue a bit among themselves, by which point I'd say, "80-100km? Porfavor, dios mio, necessitamos que ir rapido! Es tan tarde!" (please, my god, we've got to go, it's so late!) It sounds funny, but it was amazing how often this jedi mind-trick worked. Almost every time, they would wave us through encouraging us not to waste another moment at the checkpoint.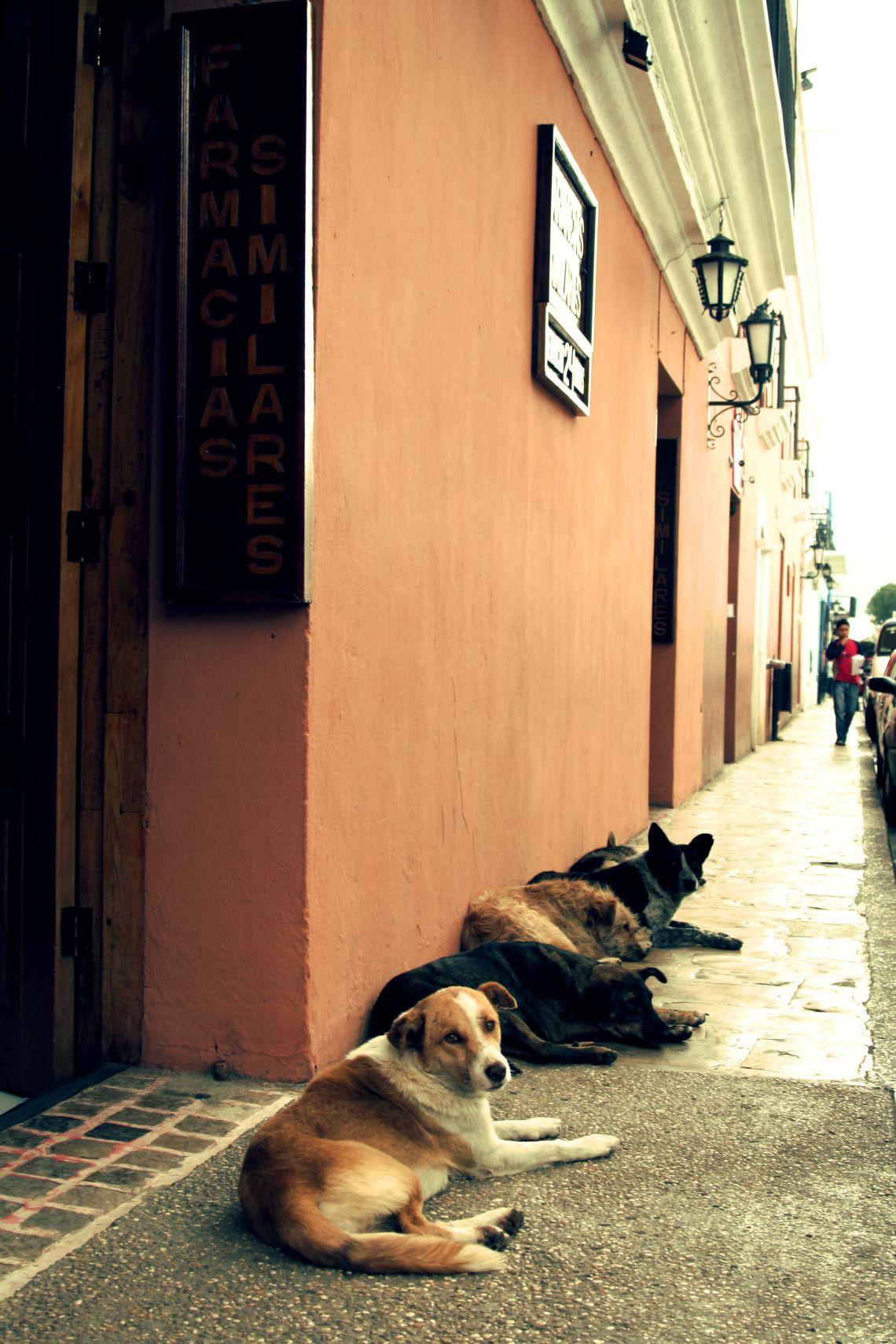 My Spanish got pretty good all things considered. I enjoyed talking with the local folk. It seems if they know English pretty well, it annoys them to hear someone speak Spanish badly, but if they don't know English (often the case), they loved that I tried. To be fair, I wouldn't even say I was proficient in Spanish, just good enough to get by. One thing we did that really enhanced our travels was once we got to Guatemala we set up home base with a local family and took a week of one-on-one language lessons. It was not only great for our language advancement, but also a great way to get to know some of the locals.
The entire state of Oaxaca is really nice. Crossing the border from Gurerro we could see immediately that the people are still poor but coping better it seemed. One of our favorite Mexican beach towns was Puerto Escondido. There were definitely gringo-centric parts, but it has a city center with good food, nice beaches, big waves for surfing, and lots of friendly people.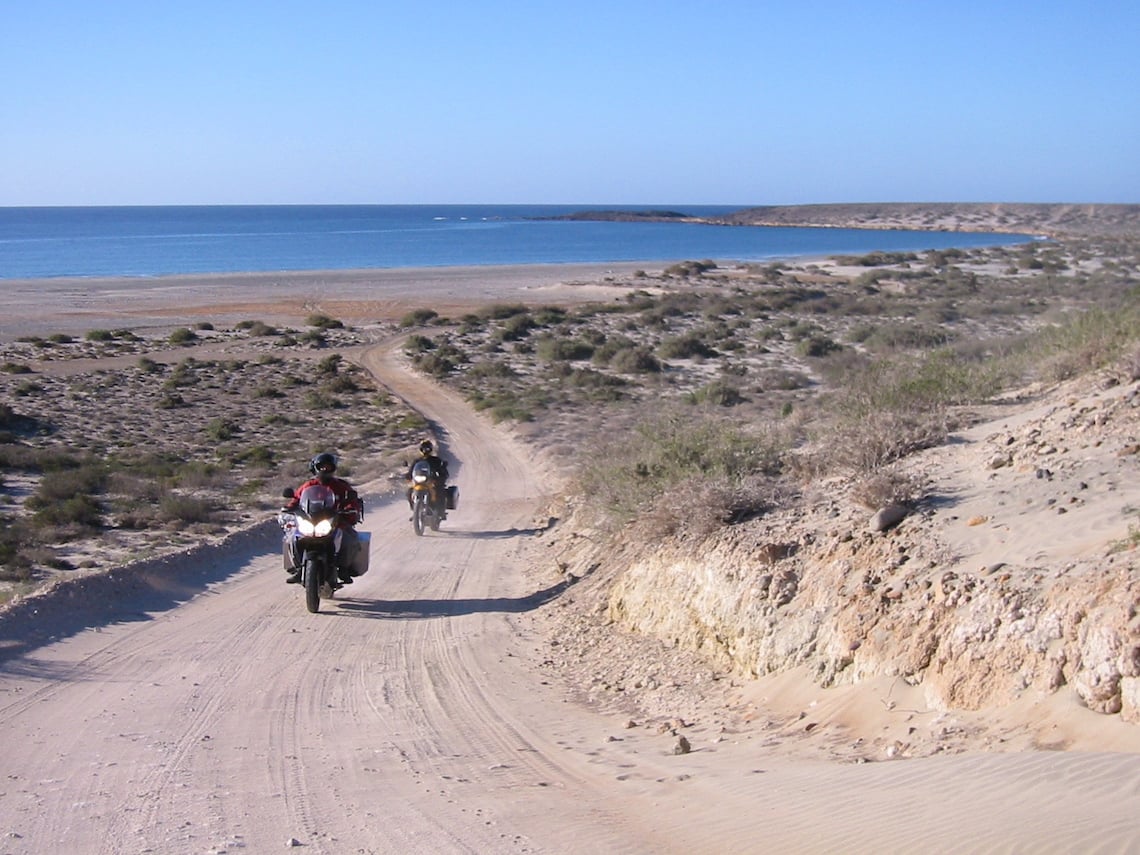 Local delicacies
The whole time we were in Mexico Amie was practically living on bottled water and snacks her mom had packed her; she was afraid of Montezuma's Revenge. I was more adventurous. One dish that stood out was like a giant quesadilla, but made with a rustic corn tortilla and stuffed with chorizo, queso, and some type of brown spicy sauce. It was cooked on the street in front of us over a wood-burning BBQ-type stove. Quesadilla con pollo was another favourite – a chicken taquito with cheese and lettuce on top. I also ate a lot of choriqueso – literally a combination of chorizo (spicy sausage) and queso (cheese), and that about sums it up. A big bowl of spicy sausage covered in melted cheese. My heart still hasn't forgiven me for that one!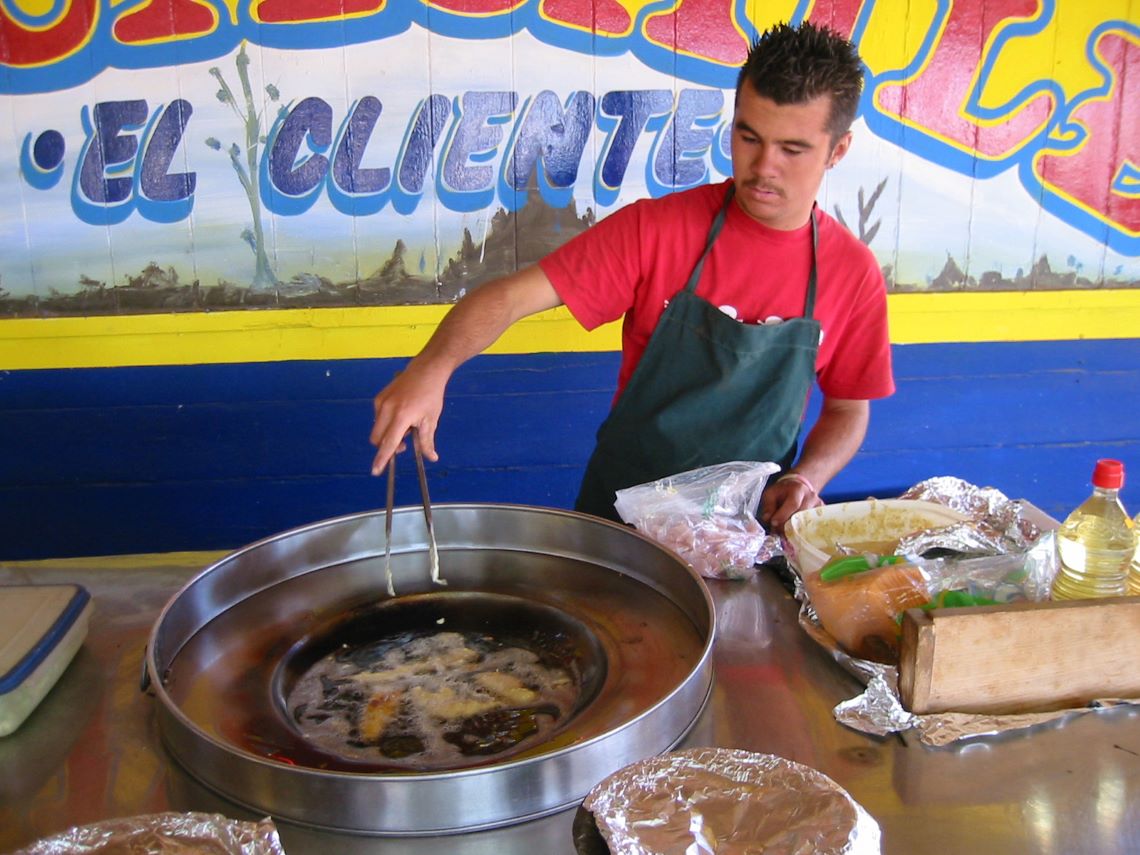 By now we were two thirds of the way in to Mexico. Amie and I were having a blast and well into our new routine of no routine. We adapted pretty well to life on the road. The tough times were stressful, but they soon passed and immediately turned into great memories. We hadn't had three weeks off work in at least five years, and it felt awesome.
We decided to zoom through the high risk malaria zone near the low lands just outside of Chiapas and challenge ourselves with a 400-mile day. We pointed the bike at San Cristobal de las Casas which is an awesome colonial town at nearly 2,500m elevation (read: no mosquitoes). Our 400-mile day fell short when Amie started to suffer from heat exhaustion. Fortunately we found a hotel with AC to cool her down. A couple hours in AC, a cold shower and lots of fluids and she was ready to go again. It's amazing to think the gear we wore in Mexico in 100 degree weather, is the same gear we'd later wear in Ushuaia, not far from the Arctic Circle! The town we ended up staying in was Tuxla-Gutierrez , which had a festival going on in the city square. Once the sun went down we were able to walk around and enjoy some live music, tasty tacos, quesadillas and Modelos.
The neighboring state to Oaxaca is Chiapas, which takes you up into the mountains. I tried to talk Amie into going to Palenque Mayan ruins, but she wasn't too keen on the jungle setting as it's mosquito heaven. They are known to be some of the best ruins and were very close to where we were passing through. I hated to miss that opportunity; I also wish we'd taken the chance to see Copper Canyon. From what I've heard, don't make the same mistake we did – make sure you get there!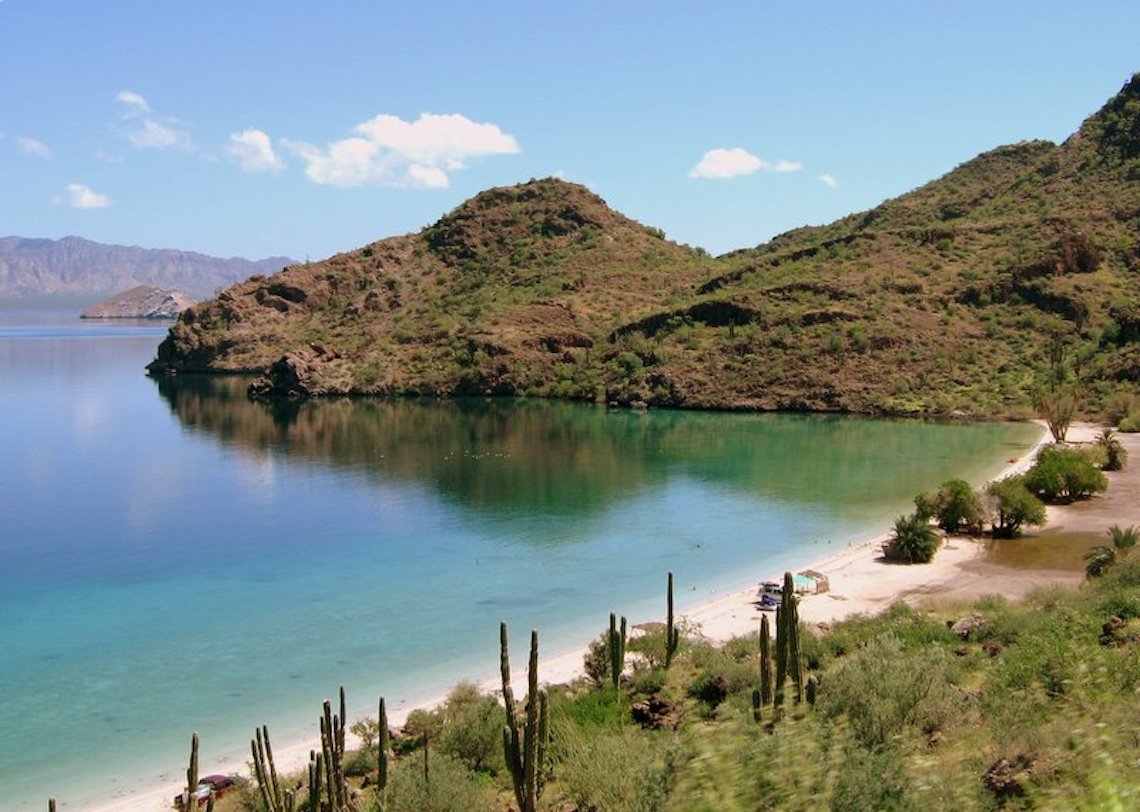 Climbing into the mountains of Chiapas was incredible; we were surrounded by natural beauty on perfect pavement. The more we climbed, the cooler it got. Soon we were riding through the clouds at a nice low 70 degrees. The steep mountainsides turned in to terraced fields of indigenous corn and we noticed native people climbing the road with either chickens or sticks in their hands or on top of their heads. They all wore thick black skirts and heavy woven traditional poncho tops. It was as if we'd climbed the mountain and arrived in another land, and the riding was fantastic.
City life
San Cristobal de las Casas is a great city. It's lined with cobblestone streets, beautiful buildings, cathedrals, parks and a ton of shops, cafés and restaurants, and the buildings are all painted in striking colors. The sky was bright blue with billowy white clouds when we arrived and the town was filled with life and energy… the coffee is amazing, too (which perhaps explains the enthusiasm!).
San Cristobal was the last city we visited in Mexico. From there we crossed the border into Guatemala. Finding our way out of the city was very confusing, as with many of the larger Mexican cities there doesn't seem to be a single direct road running through the town. The terrain on our way out of Mexico was beautiful. It was clear looking at the stunning hillsides of corn that this is place where the people live off the land quite comfortably.
Suddenly, the peaceful natural scenery changed and we felt like we'd entered a giant street fair, right in the middle of the road! It was rammed elbow-to-elbow with people and we were forced to make our way through with Yoshita at walking pace. There were people everywhere, little booths and chaos! Then it dawned on us that we'd just crossed the Mexico-Guatemala border. There were a few ladies on microphones with some old synthesizers who were singing their hearts out to Mexican tunes. It was deafening madness and I'm still unsure as to what all those people were celebrating at the border crossing.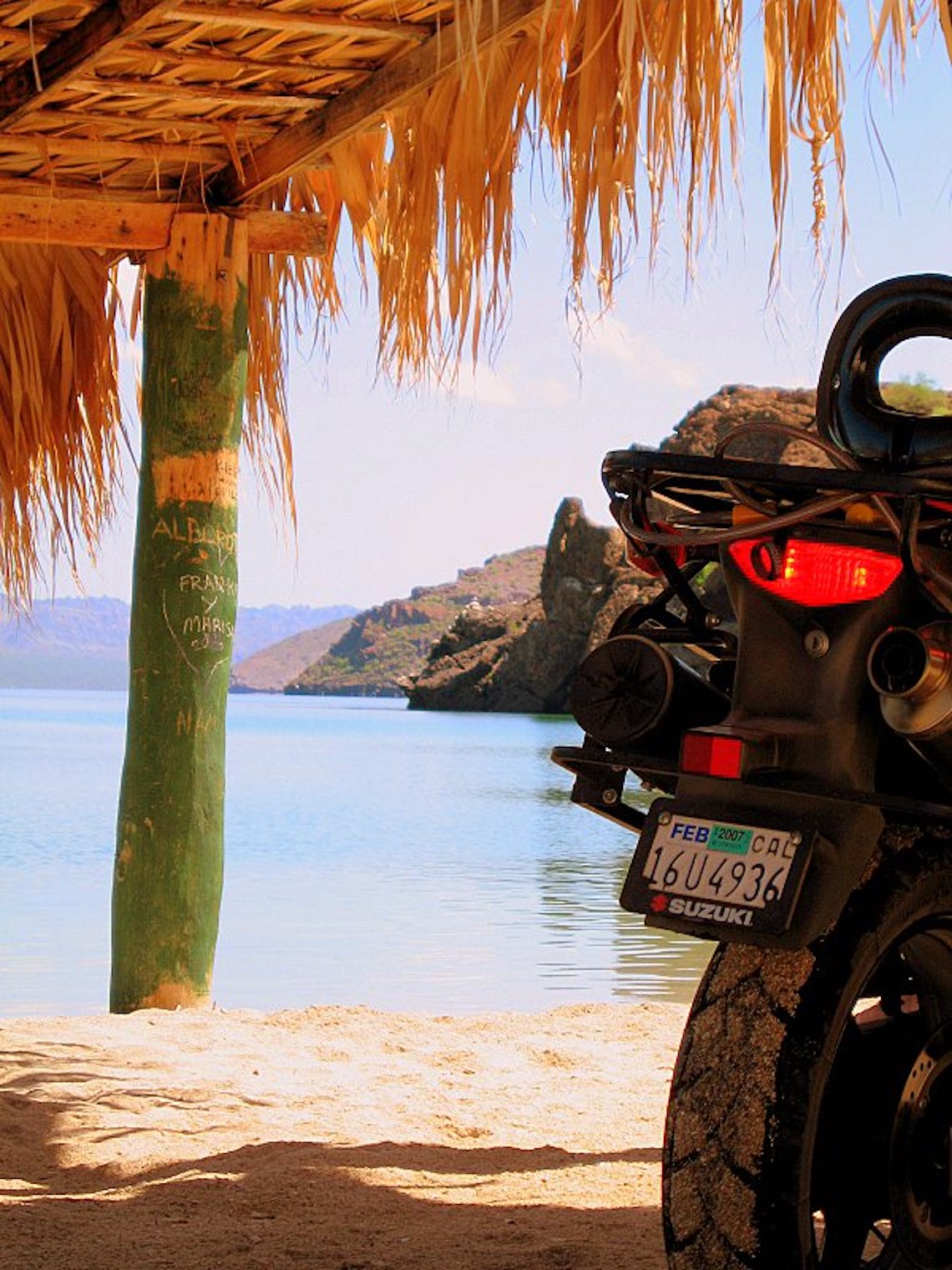 And so went our four-week trip from California to Guatemala. What really stood out for us was the natural beauty of the Baja peninsula, the Pacific coast along Michocan and Oaxaca, as well as the cloud forests and colonial towns of Chiapas. Mexico has so much to offer; I'm certain we'll make it back.
The bike
We called our 2004 Suzuki DL650 V-Strom 'Yoshita' because 'Yosh' is the Japanese for 'enthusiastic' and 'ita' for a little Latin flair. She was the two-up bike of choice for us. We wouldn't have had it any other way. We bought a used KLR in preparation for the trip, but after test rides, re-sold it for the DL650. The v-twin and fuel injection made for a far smoother, more comfortable ride.
Know Mexico
There are a few things to keep in mind about Mexico. Firstly, go careful with the food and water. Only drink bottled wherever possible. Americans call diarrhea you can get from Mexican tap water 'Montezuma's Revenge.' With food, it's a good rule to try and only eat meat that's been recently cooked and avoid raw vegetables as they can collect a lot of the Mexican tap water.
Mexico has a wet, hurricane and hot season which you should try and avoid. October – November is perhaps the best time to go, after the rains have ended and everything is still green; early spring is hotter and dustier.
The road conditions vary widely, but one constant hurdle is the topes (speed bumps). They are cheaper than a traffic cop or light, I guess. There seemed to be at least a couple (not always marked) on the highway on the way in to and out of each village or town. With the laden bike we had to stop at almost every one to save the bashplate (which we had to get re-welded twice).
When we rode through Mexico in 2006, the drug wars had just started, but we were lucky enough to not have any troubles. Since then, the situation there seems to have escalated so I'd advise doing some research on the subject to know which regions or towns to avoid.
An interesting fact about Mexico is that all of its gas stations, Pemex, are government regulated, which means you don't have to worry about being ripped off on the price of fuel.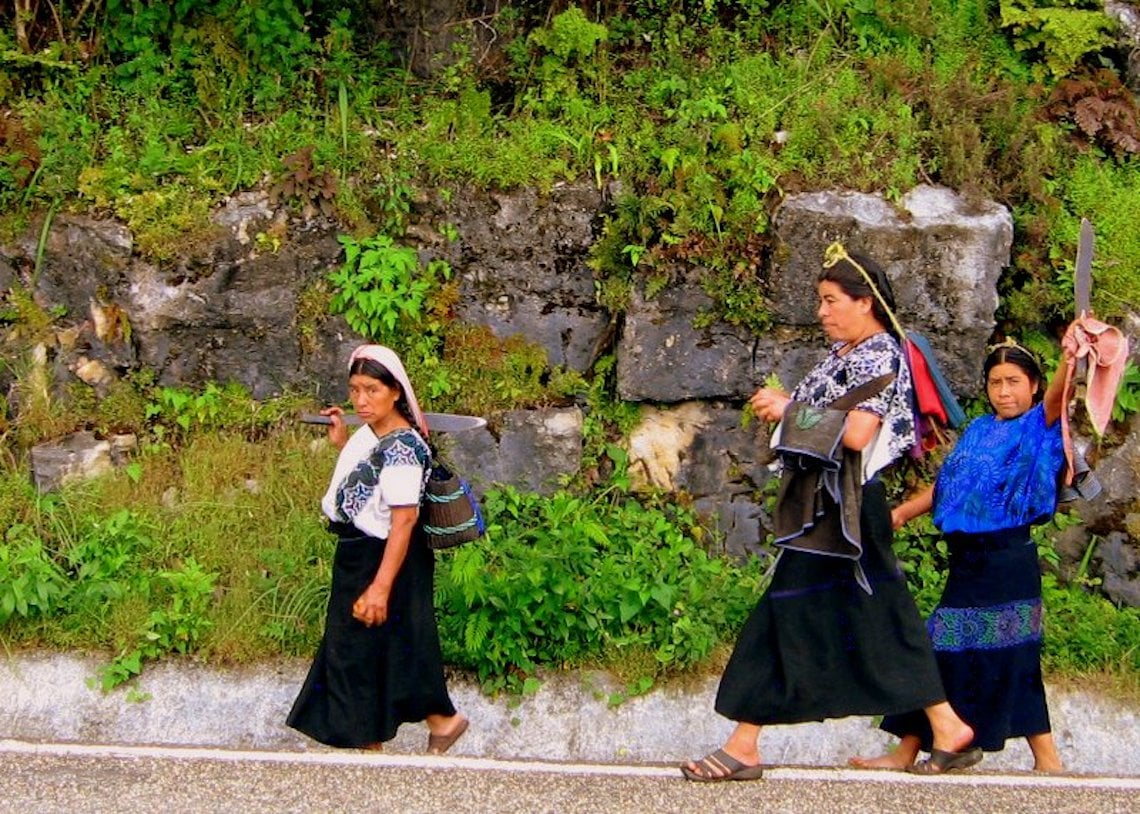 Who's riding?
Amie is a 27-year-old computer scientist. She was lucky enough to grow up with world travel and two-wheeled adventure. When she was 14 she rode her bicycle with dad and sister down the west coast from Canada to Mexico.
Mike is a 28-year-old Silicon Valley sales person. He was lucky enough to have a dad who was in to dirt bikes. Mike's hobbies include old Chevys and Vespa scooters; he's covered most of Europe on a 1965 Vespa 150cc.
Must-have Mexico
Tinted visor – the sun can be extremely bright
Good mosquito net or tent. Bugs are bad… scorpions are worse
Toilet paper. Bring your own. It's hard to come by even in motels
Waterproof gear
Imodium – for the inevitable diarrhea
Swimsuit and sunscreen – there are too many beautiful beaches you don't want to miss
Dummy wallet – save yourself from corruption and carry only a day's worth of money on your person, along with some expired credit cards and driver's licence. Keep your valuables stashed on the bike
1-2-gallon gas can for Baja
Spanish phrase book
Fox motorcross leather gloves (breathable mesh top)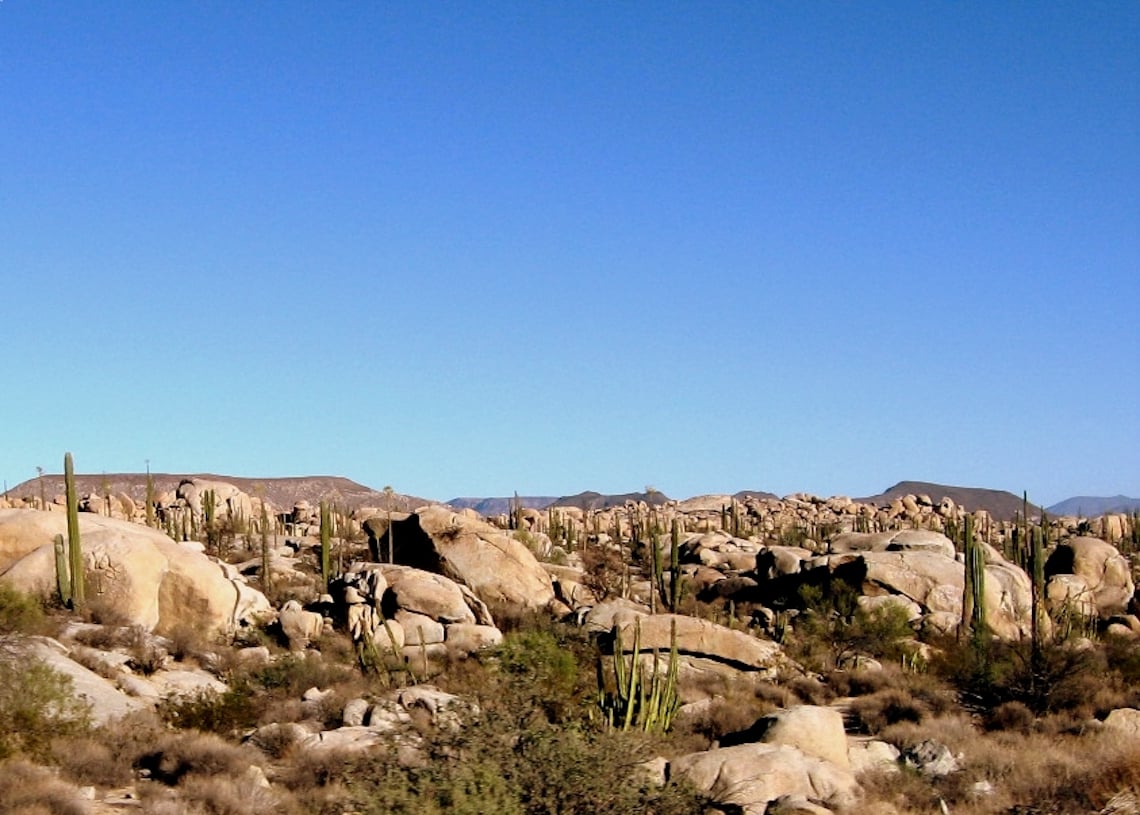 Top 5 tips for ABRs going to Mexico
Invest in a good bash plate with as much clearance as possible!
Make sure your gear is waterproof. It gets wet
Carry a couple of extra gallons of gas through the Baja
Use Jedi mind tricks with Cops and military checkpoints – distract them with questions like, "is it about 50km to the next town?"
Avoid riding at night! The roads are full of unbelievable obstacles, like animals and topes
Return your vehicle import sticker when leaving the country!