A HOME-GROWN ADVENTURE
Don't have the time or money to ride round the world, or even to Morocco? Richard Simpson of the Trail Riders Fellowship puts the case for a mini-adventure you could have next weekend
You wouldn't be reading ABR if you didn't fancy a motorcycling adventure, but equally, pulling a Ted Simon or attempting to cross the Simpson might seem a bit extreme… at least organising it in time for next weekend at any rate.
However, the good news is that there's an adventure that you can have here and now, by exploring the historic road network in your area or another part of England and Wales.
Some of those roads are, at least in part, covered in tarmac. Others remain pretty much as they were 200 years ago. Sadly, an increasing number are currently closed to motorcycles but, that said, there are still plenty of places out there where you can immerse yourself in local culture and history – your local culture and history – and maybe immerse yourself in the local mud, too.
Like most things in our countryside, the British road network is the result of planning rather than evolution. And thanks variously to the canal, the railway and the motorway, some of the dead ends in the evolutionary chain still remain in place for us trail riders to explore.
Take the Fosse Way for example. This Roman superhighway connects Lincoln with Exeter. Originally the Roman boundary between the 'civilised' conquered territory and the rest of Britain (Fosse means 'ditch') and later a vital line of communication, most of the route can still be followed by motorcycle to this day. The northernmost portion is now the modern A46, but lengthy parts remain unsurfaced yet accessible as 'Byways Open to All Traffic' (BOAT) crossing Gloucestershire and Wiltshire before returning to tarmac on the approach to Bath.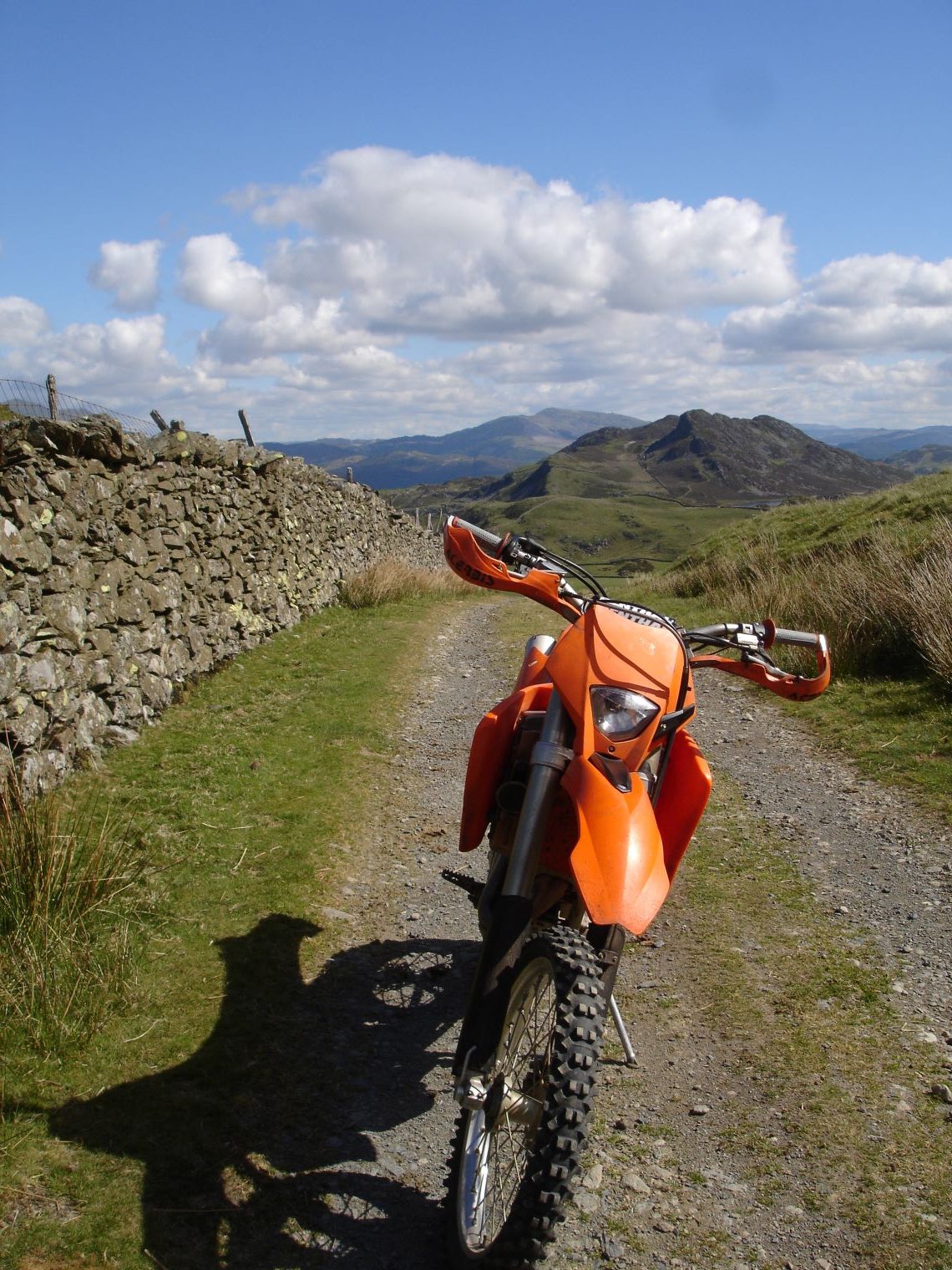 In its passage through Wiltshire, the Fosse Way crosses the line of an even more ancient road, the Neolithic Ridgeway. Originally, this route connected The Wash in Norfolk with the Dorset coast, passing always as the name suggests along the highest routes so travellers would be safe from drowning in swamps or being ambushed in the wildwoods that filled the lowlands. Parts of it are now footpath or bridleway only, other fragments are tarmac roads, but some good portions of it, particularly in Wiltshire, are unsurfaced trackways and open to vehicles, in the summer months at least.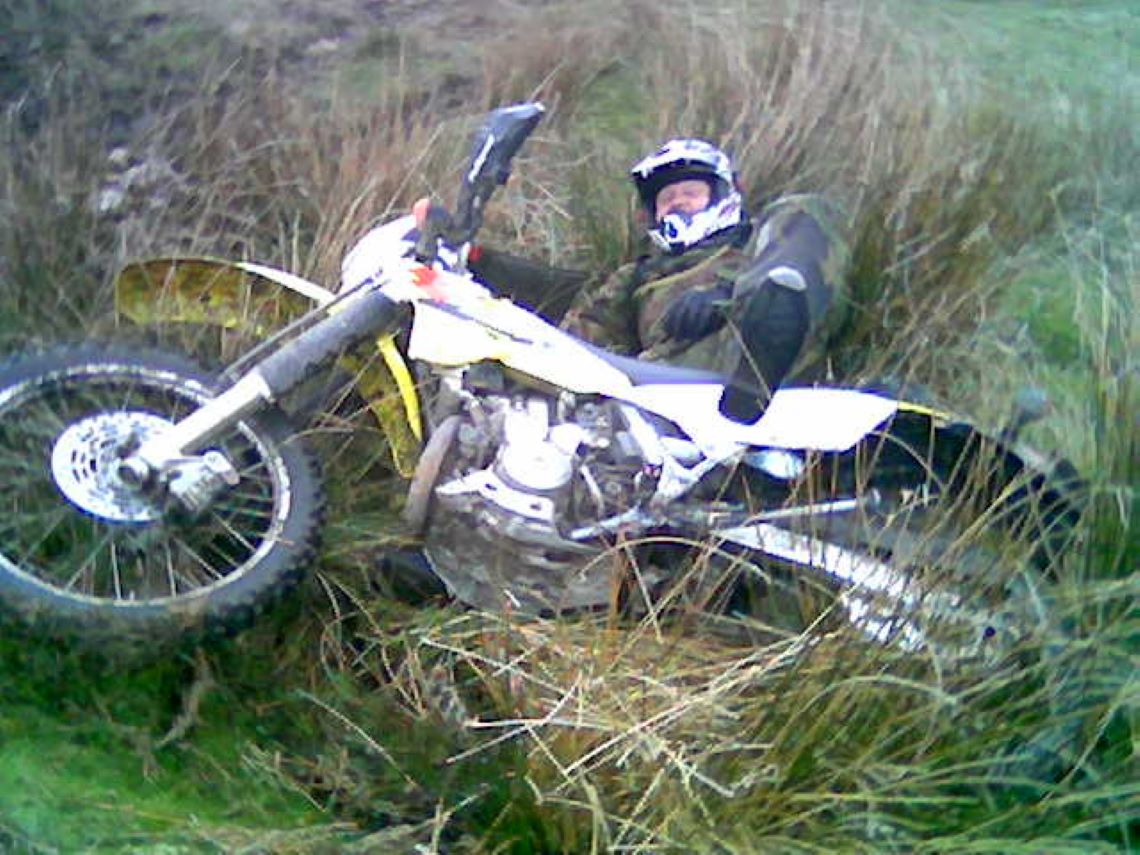 Originally also part of the Neolithic Ridgeway, but much 'improved' from Roman times onwards is the modern-day Peddars Way in Norfolk. Again part of this route remains unsurfaced and open to motor vehicles.
These are just three of England's historic routes which are navigable (at least partly) by motorcycle; there are many more. The old drove roads of Salisbury Plain such as the Oxdrove, for example, along which cattle were once herded to London's Smithfield market; the Bullock Road in Cambridgeshire which fulfilled the same function as the Oxdrove, and the Coffin or Corpse Roads which can be found at various places in the country along which, prior to the Reformation, the bodies of those who'd died in remote locations were carried so as they could be buried in consecrated ground.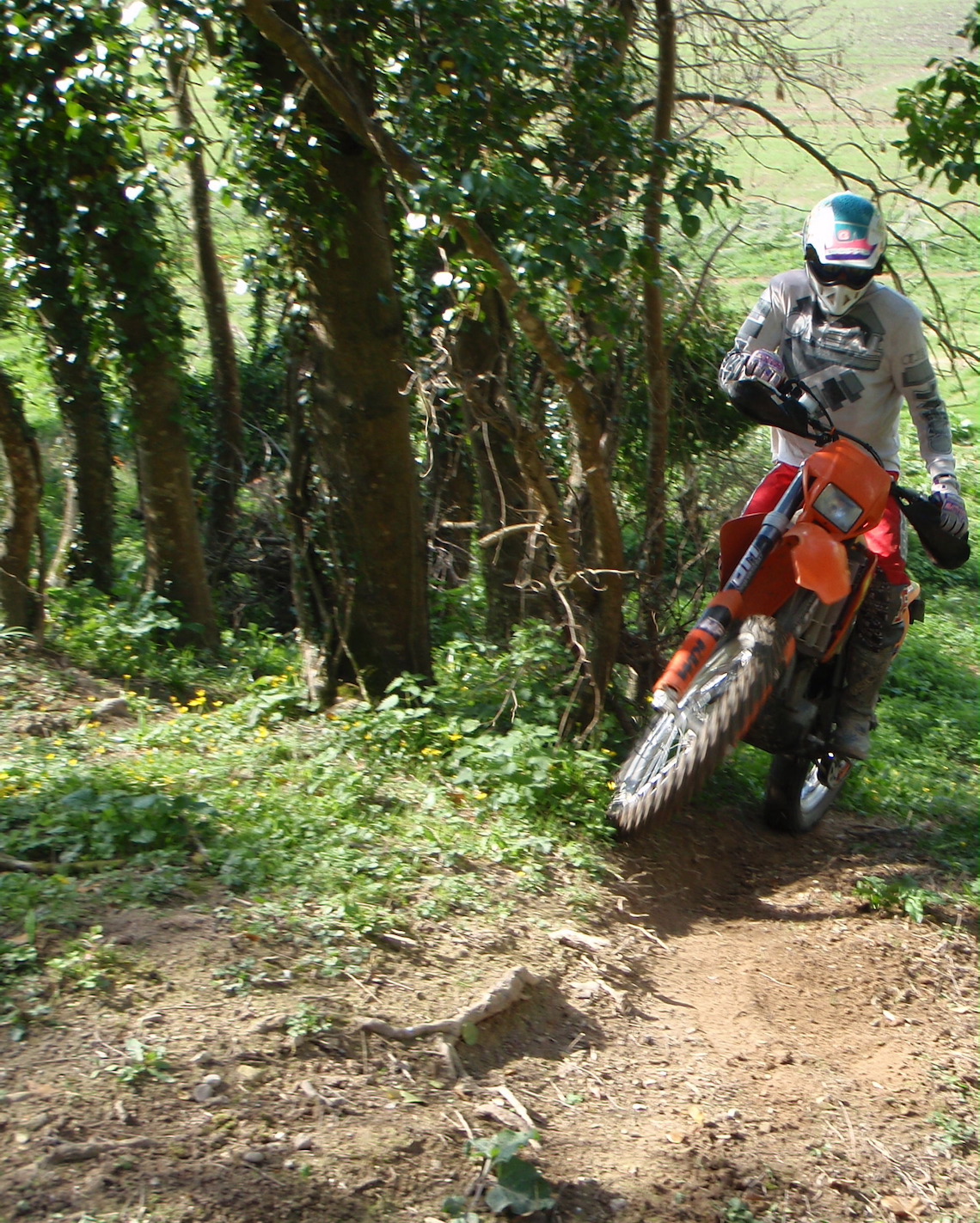 There are many other routes which for various reasons have fallen out of general use and repair yet retain vehicular rights and these can be found all over the country. Where you say? Half the fun of uncovering the Pilgrim's Way or the Salt Road is in the research and planning – so get to it!
How to find them
Your best clues are to be found on Ordnance Survey maps of the areas you are interested in. Routes marked as Byways Open to All Traffic (BOAT) have vehicular rights, unless they have been subject to Traffic Regulation Order (TRO), which is indicated by signs or notices on the ground. Most Other Routes With Public Access (OPRA) will also have vehicular rights, unless they happen to also be footpaths, bridleways or restricted byways.
Footpaths (FP), bridleways (BW) and restricted byways (RB) generally don't have vehicular rights, although this isn't always the case, so it's sometimes worth further investigation. The Trail Riders Fellowship can offer guidance with this too.
You can check the status of routes with the local County Council. BOATs will be on the Definitive Map, and are the responsibility of the Rights of Way department. OPRAs are generally Unclassified County Roads that will be on the List of Streets and come under the Highways department.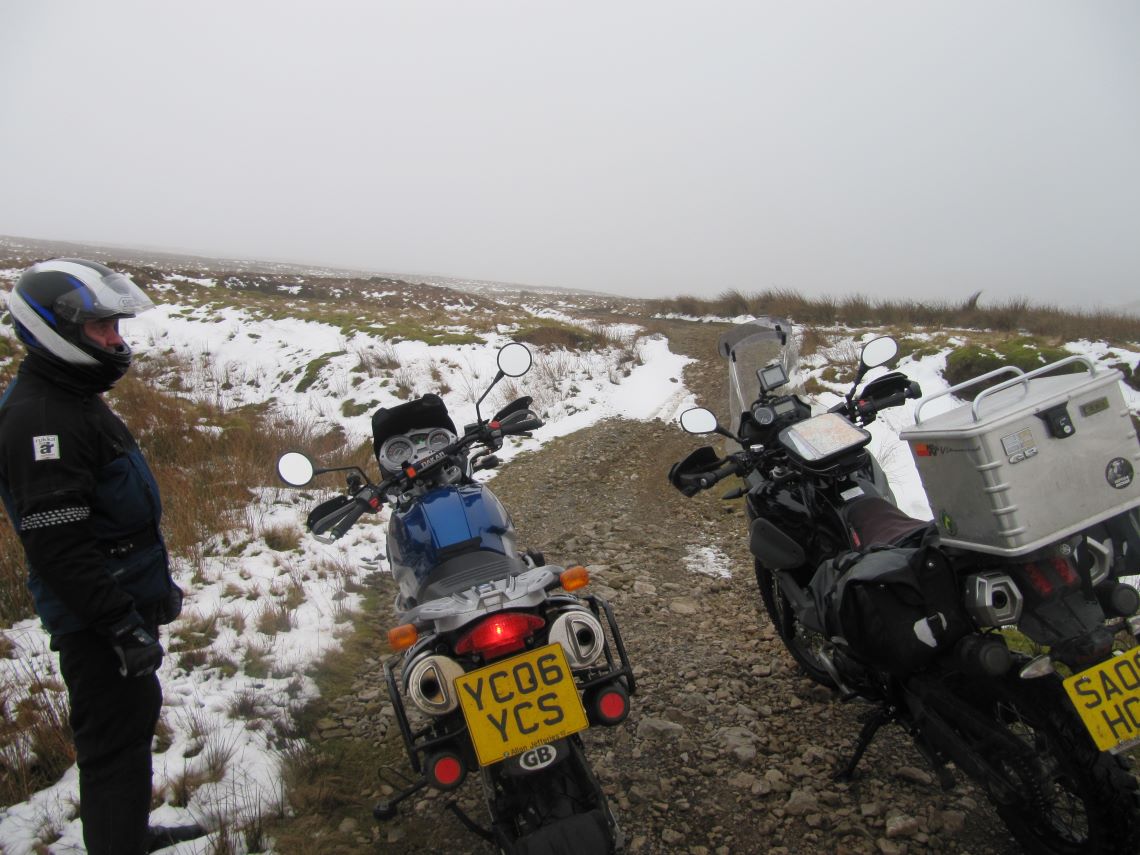 How to ride them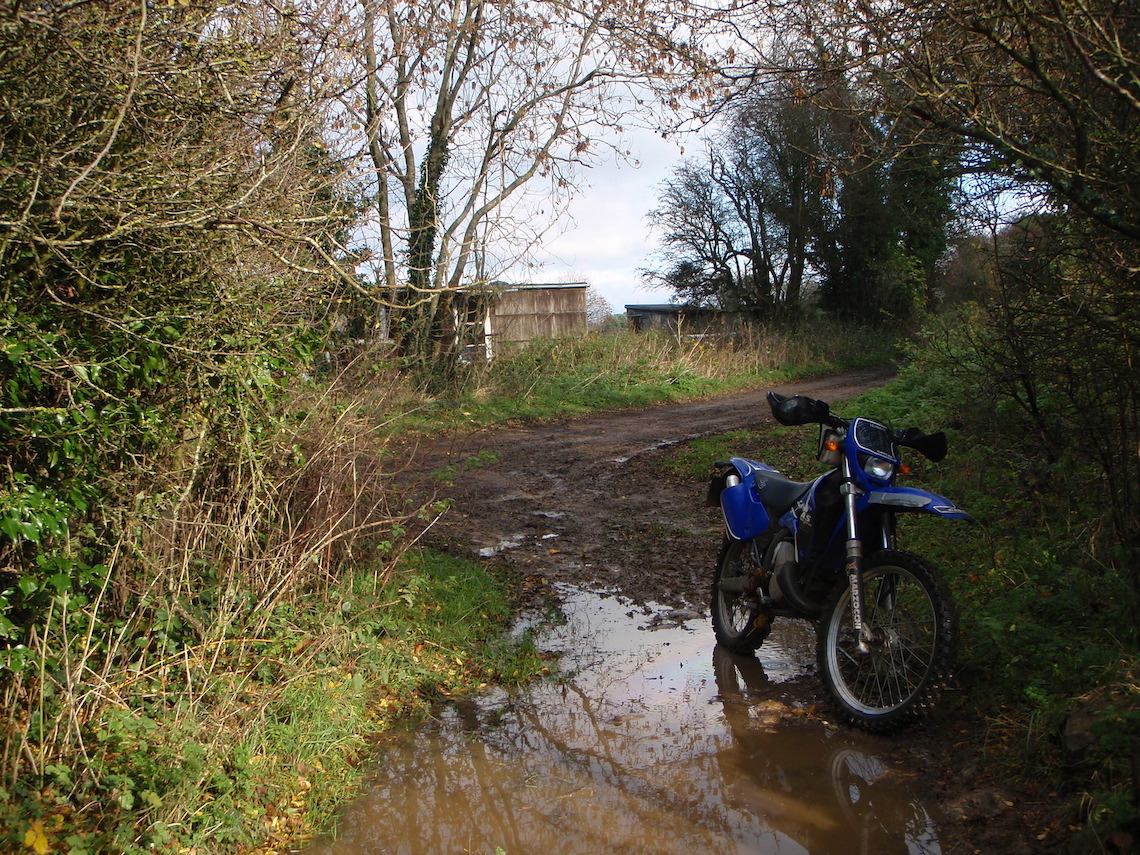 These routes all count as public places in traffic law terms, so it's a case of road-legal riders and bikes only. You also need to remember that there's a small minority of landowners and other local residents who take issue with the 'problems' they deem are caused by 'scramblers' and use this as grounds to get these trails closed to bikes. Please don't give them any more ammunition than they already have. Ride quietly, stop for horses, avoid damaging fragile surfaces, and try to be as friendly as you can to other users. The TRF has published a useful Code of Conduct, which can be found at www.trf.org.uk.
What to ride on them
A trail bike! Conditions vary widely and can range from decayed tar through to gravel where roads have been subject to use by tractors and other heavy machines in winter. Fords and fallen trees are also sometimes encountered and occasionally these 'roads' can seem more like bottomless swamps; you'll need to tailor your choice of machine to your ability, the season and the terrain.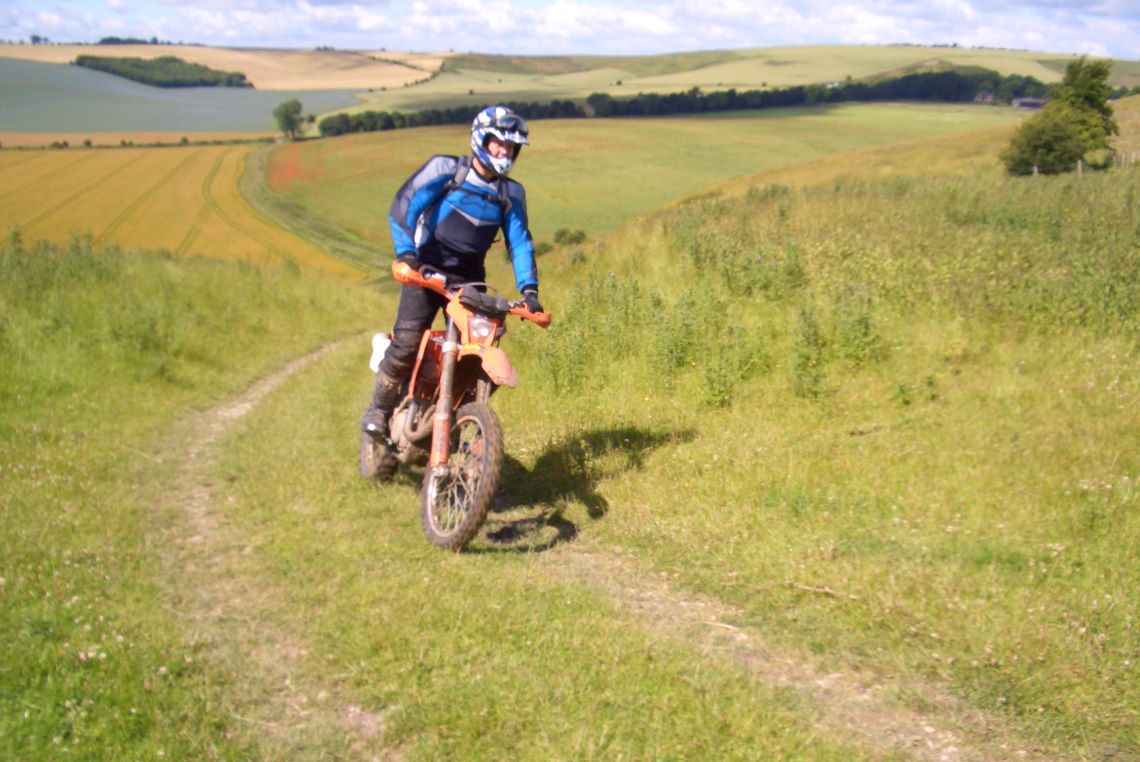 In the summer, many routes can easily be tackled on just about anything except a full-on sports bike. But remember, you may fall off and have to pick it up again. More challenging routes are best tackled on specialist machines; you don't need a KTM EXC, but it can certainly help in some situations! In winter, specialist trials or enduro tyres are a must, and the correct choice of tyre can transform the performance of both bike and rider.
The biggest single mistake is to choose too big and heavy a bike: the tougher the terrain the more inappropriate a heavy, powerful bike becomes for the inexperienced rider. A 250 cc machine is more than enough for most of us, and the BMW GS1200 is certainly best left at home in all but the driest of conditions.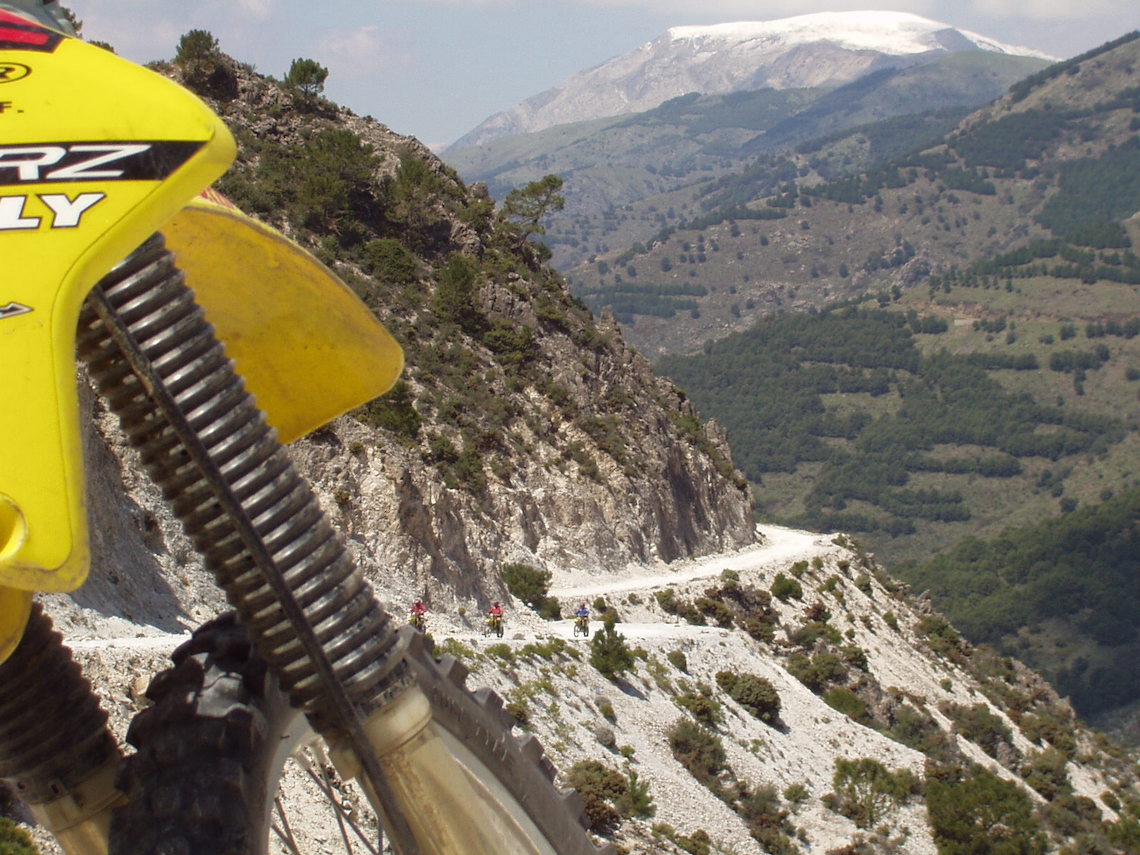 What (not) to wear
It's as easy to be over-dressed as it is to be over-biked. Trail riding is a physical activity, usually involving water, and leather is about the least appropriate material for the job. A 'wicking' bottom layer is a good start, with an armoured and ventilated textile suit on top. What's in between is a seasonal choice, but a motocross-style body belt is an essential fitment.
Many riders use motocross gloves year-round, and perhaps carry a warmer pair of mitts for use on those long, cold road sections.
Your most essential equipment is a good pair of motocross boots, with 'gripper' rather than 'slipper' soles. Top the lot off with a helmet: a road-type full-face will make you very hot, very quickly, so most experienced trail riders use either an open-face lid or a specialist vented motocross helmet and goggles. A dual-sport helmet that incorporates a detachable peak and a visor but can be used with goggles is also a popular choice.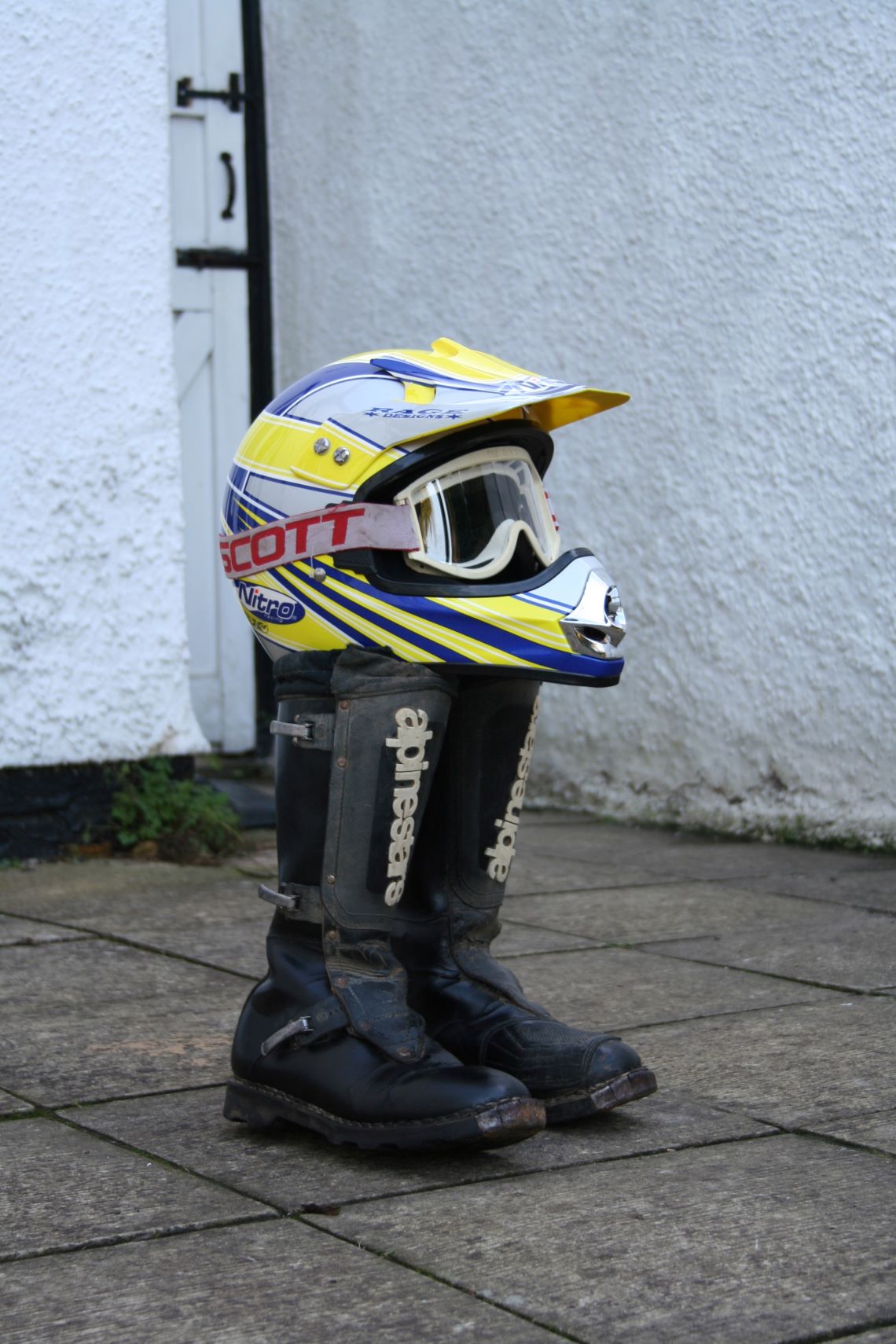 What to take
You're not crossing the Sahara, but you will still get thirsty. A hydration pack is the most convenient solution, and good old 'council pop' (tap water) the most versatile drink, as you can also use it to wash muddy goggles etc.
Energy bars will help restore you when you begin to flag after picking your bike up out of the mud, and you'll need money to buy more substantial food, and fuel, along the way. Maps (ether paper or electronic) are a must and so is the means to keep them dry.
Punctures and breakdowns happen often in trail riding as bikes are being operated in what engineers would call an 'arduous environment'. The means to change a spark plug and fix a puncture are a good start, and WD40 is always useful. If your bike doesn't have a good set of handlebar lever guards then a spare clutch lever can be handy.
Don't neglect your personal safety: it's not a wilderness but the British countryside can still bite. A mobile phone is essential if you are on your own and a basic first aid kit could be useful someday.
Where to next?
The first step for any aspiring trail rider should be to join the TRF. This is the only organisation dedicated to keeping the old roads of England and Wales open for motorcyclists. For just £40 a year you get access to a huge amount of experience and knowledge via a forum and a monthly publication. The TRF operates a network of 45 local groups, each of which organises activities and keeps an eye on the lanes in its own area. Nationally the TRF has enjoyed considerable success in keeping countryside routes open to motorcycles over the past 40 years and retains some of the nation's leading experts on rights of way among its membership. Find out more about the TRF at www.trf.org.uk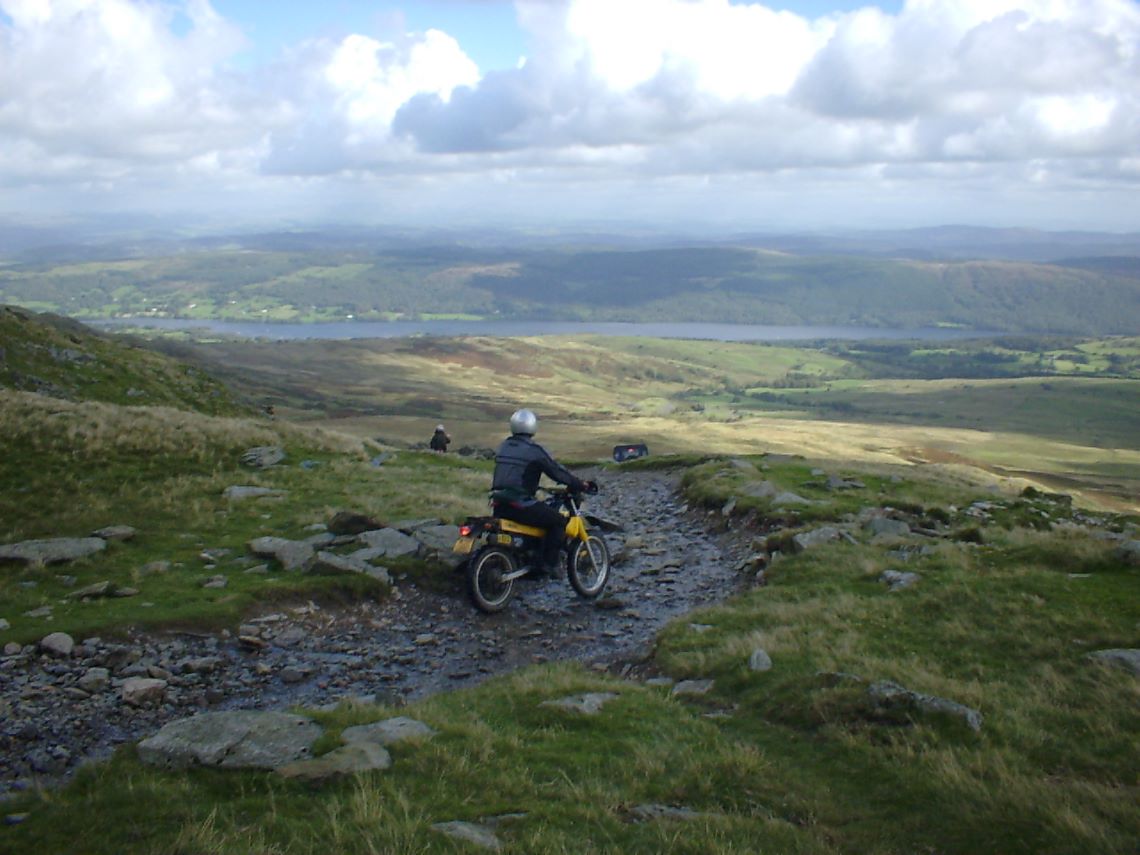 ABR reader Mike Garwood on why he loves getting grubby on his DR-ZE
When I saw people in muddy clothing with muddy bikes gathered at a petrol station as I went in to pay, I realised they were having more fun than me and my girlfriend that day. So my better-half soon acquired a Yamaha Serow and some months later I had a Suzuki DR350 (which, after much swearing in my garage, soon found itself back on eBay) to be replaced by another Suzuki: a new DR- Z400E. It's a bit heavier than the European alternatives, but also more durable and less maintenance-intensive.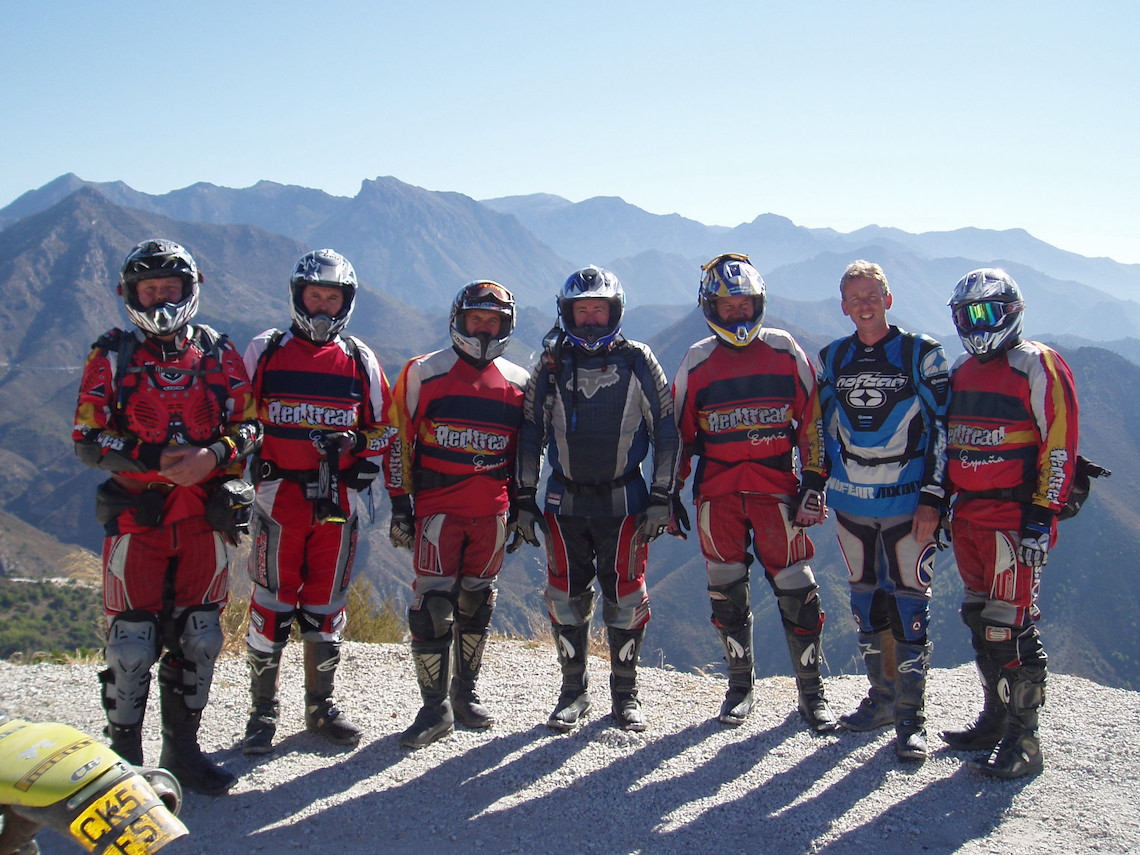 So I had a bike and someone to ride with, but where were all the green lanes?
I soon came across the TRF; after going to a local group meeting and asking a hundred stupid questions I now don't have enough time to ride all the new routes I've discovered! Without the TRF, trail riding would be less than half the fun.
The best part of greenlaning could be the scenery, it could be the camaraderie, it might be the feeling of exploring remote places, especially the first time doing a new lane or whole new route. All of these are great feelings but for me it's the variety of riding. With the rear tyre searching for grip, climbing steep banks, negotiating tricky ruts, fords and deep sand that can try to snatch the bike away from you, all this adds another dimension to riding, and improves road skills, too.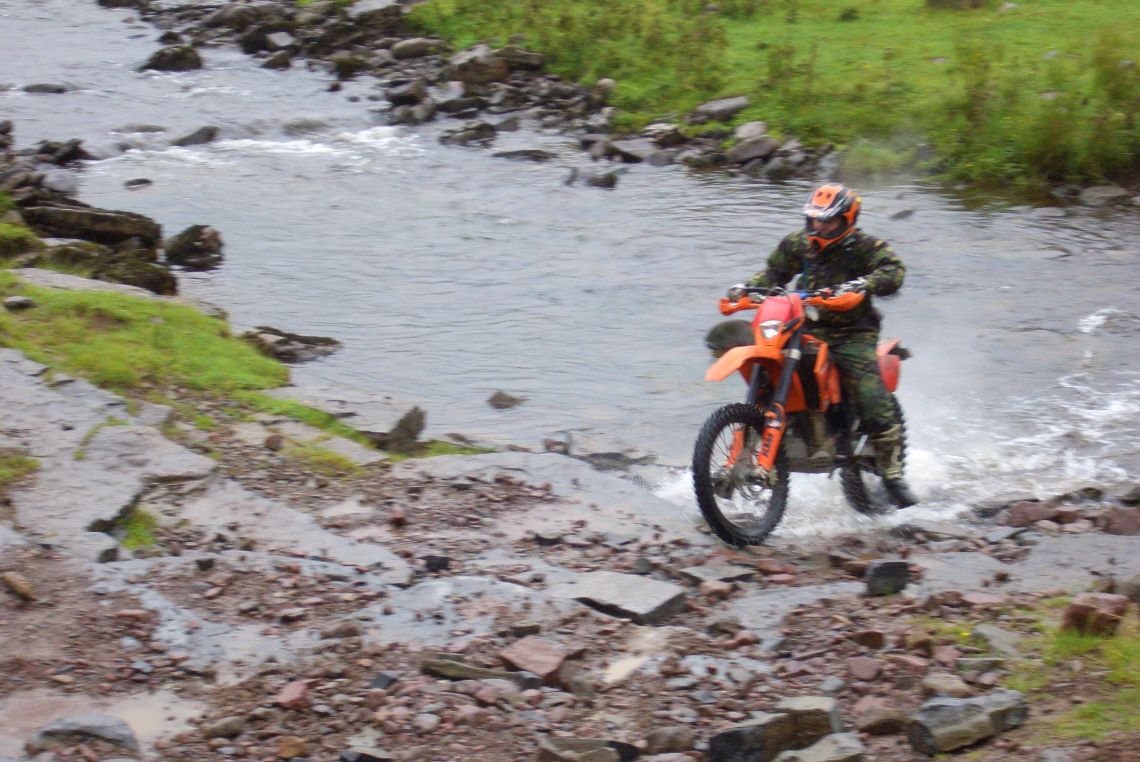 My favourite places to ride include anywhere that I can get into narrow winding tree and shrub lined-lanes. The famous sunken lanes of the south west of England are perhaps the ultimate challenge of slow speed, control and concentration, with rocks ready to bump you off line. Steep ascents, especially rock or gravel, provide thrills and spills aplenty, and there's an abundance of that in mid and north Wales. If you've been there to ride the roads you'll know how stunning the scenery is, too. In East Anglia, you can travel through sandy heathlands and forests, and then cross the fords; in Essex, you can wade through clay to the wide open spaces of the fens. Put all three together and you've one incredible day's riding.
ABR reader Stephen Halsall aka Minkyhead shares his green-lining passions
I'm 53 now and started riding bikes when I was a kid. Me first off-road excursion ended on a Puch Maxi while trying to jump a drainage ditch using a house brick and a plank of wood as a ramp. Let's just say I got the calculations slightly wrong – about 20 feet wrong! Undeterred, at 17 me first proper road bike was an XR 125 Sammy Miller replica. That too died in a ditch – stupid boy!
A host of bikes followed over the years. I've never been a natural talent off-road. I took up trail riding late with an XR 250, which I rode for about five years before I bought myself a DRZ. I've been riding in the TRF for about 10 years now. I've always wanted to get up the Gap Road at Brecon Beacons, which is open in the spring and fall, with me feet up, but I've never managed it. I've been there four or five times, and boy is it slippery when it's been raining!
I really love riding in West Yorkshire, too. Me favourite trail runs alongside Lake Coniston where the view is stunning. I've also done the Yamaha off-road school in Wales, which was a good weekend.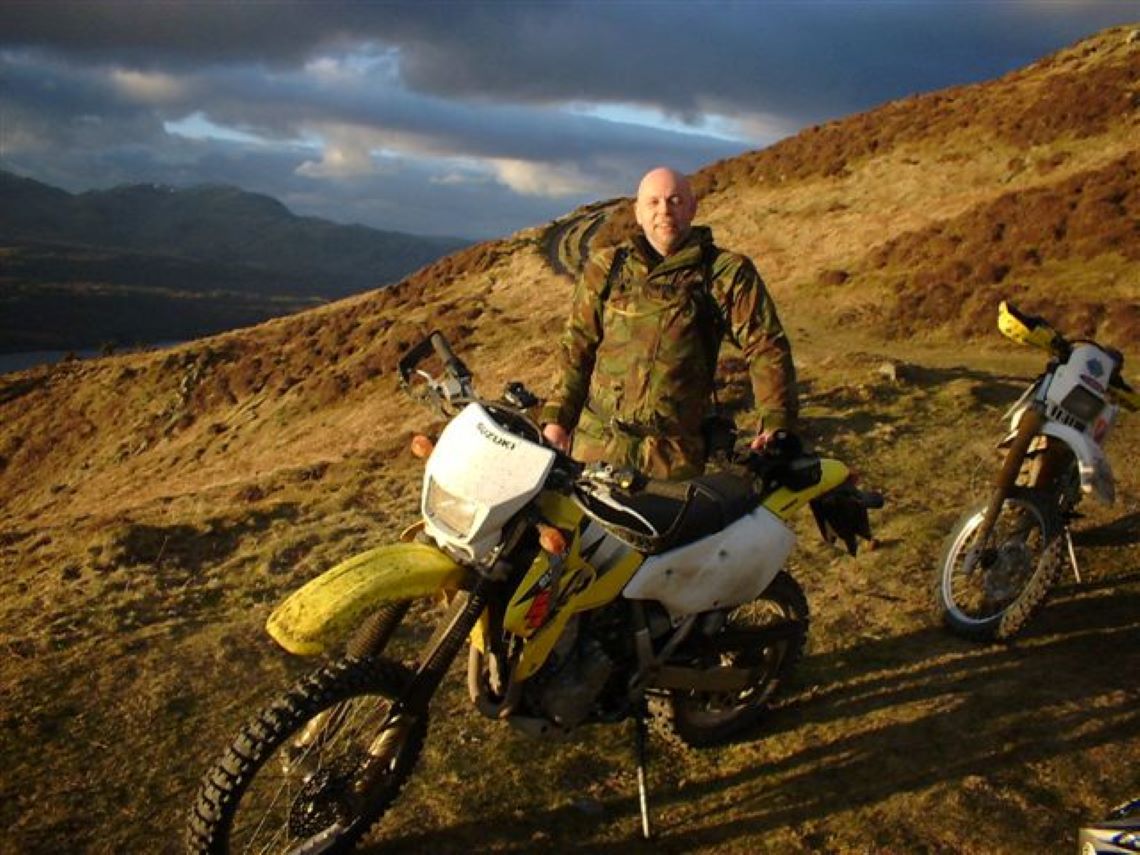 I've taken the odd bump in me time but me luck ran out 18 months ago and I broke me shoulder, broke the bike on a rock step, and to cap it off, got me foot trapped in the spinning rear wheel, chopping me toes badly. I was unable to ride off-road for a good while due to a weak arm and shoulder, and it really shook me confidence and me wallet. Not for long though. I was soon back at the TRF and have hooked up with the local big trailie club…
I've now got meself an XT 660 and am getting used to it. I've had some pretty posh bikes in me time but I really love this thing. I've had to lower it slightly for off-road l. I've gone for 14 /46 gearing, which for me is almost the perfect compromise as the 15 /45 road gearing is way too tall both on and off-road. These mods have helped me get to grips with it much better off-road. I've also met loads of guys from the ABR forum – The Barnman, Lanacster Mick and James 'The Iron Butt' to name but a few – and had some real fun days out.
To hook up with fellow trail riders in your area, share routes and arrange ride outs, go to www.adventurebikerider.com and say 'hi!' on the forum – we'll see you there!
Lane maintenance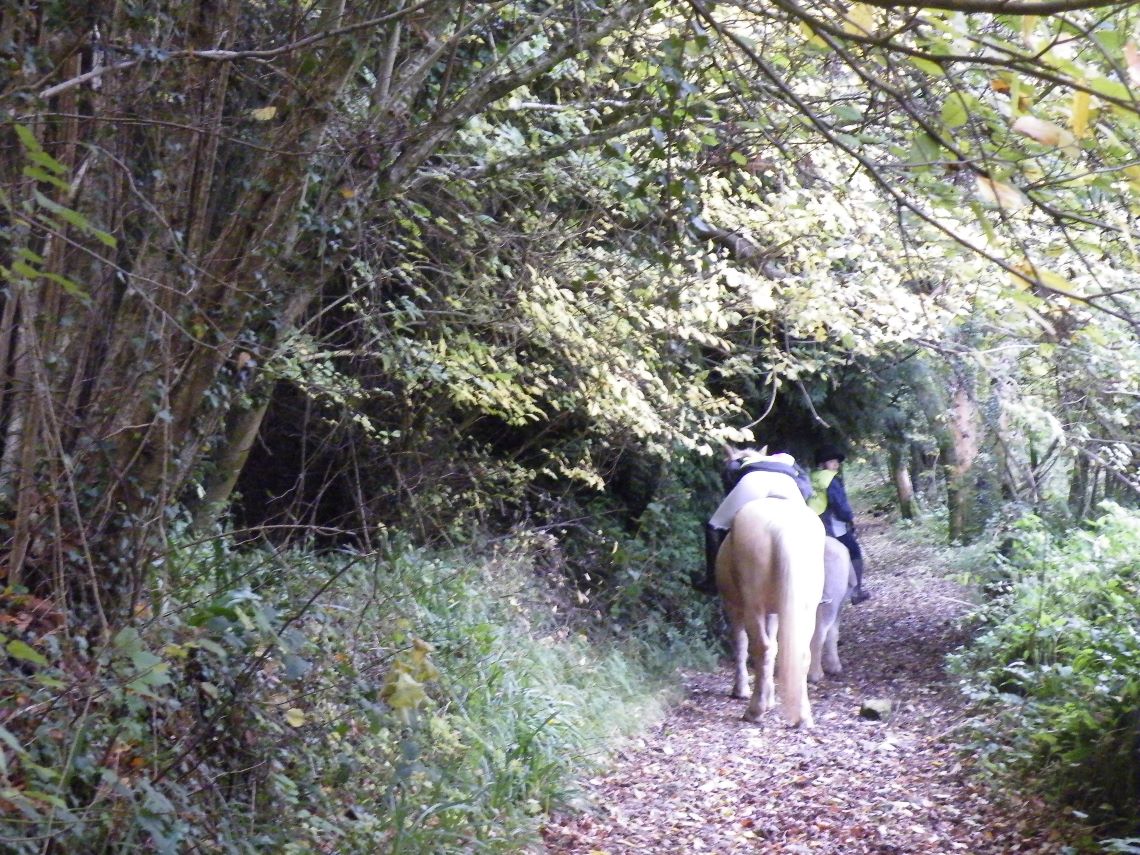 The TRF believes in access for all, and is actively engaged in the physical preservation of public rights of way with vehicular rights. TRF members contribute to the upkeep and maintenance of the trails they ride by cutting back the vegetation in the autumn, to clear a path for all to use. Most TRF groups organise working parties to deal with 'problem' lanes in their areas.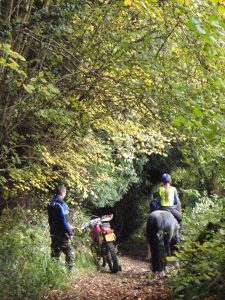 These problems can range from encroaching branches and undergrowth on underused lanes, to water damage caused by lack of maintenance to wayside ditches. In some parts of the country lane surfaces are damaged by heavy machinery, or there may be incidences of irresponsible users deviating from the track and trespassing on surrounding land.
In all these cases the TRF co-operates with the authorities, local landowners and other user groups in restoring the lanes to a usable condition.
The work is carried out in a sensitive manner and at a time of year when it will not have an adverse impact on wildlife, like nesting birds for instance.
Horse events
The TRF is a major player in the equestrian world. Members provide mobile support at a large number of important horse events in and around the county. Taking part in these events raises money for the work of the TRF in keeping rights of way open for all, and demonstrates to the public that responsibly-ridden motorcycles mix well with other countryside users.
The TRF works at two main types of horse event: horse trials and endurance.
At horse trials the TRF team circulate around the jumps on the cross-country course, collecting score-cards and returning them to a central point. The relatively easy terrain makes score-collecting an ideal introduction to trail riding (you go around the jumps, not over them!). However riders must be vigilant of competitors' horses, which circulate the course at race speed.
Endurance events involve bike riders setting out in several small teams of two or three to mark up a route through woods, parks and farmland, which can be up to 100 miles long in total. Many of these routes are private trackways, footpaths and bridle-ways that are otherwise closed to motorcyclists. The route is re-ridden and checked just before the event starts with gates being unlocked and opened, and the TRF members remain on hand for the duration of the event to deal with incidents that can range from course markers disappearing to horses getting lost in the woods, and then demark and close the course immediately after the last horse has passed.
The horse event season runs from March to October, and many TRF groups are active doing this work during this time, with new riders always welcome.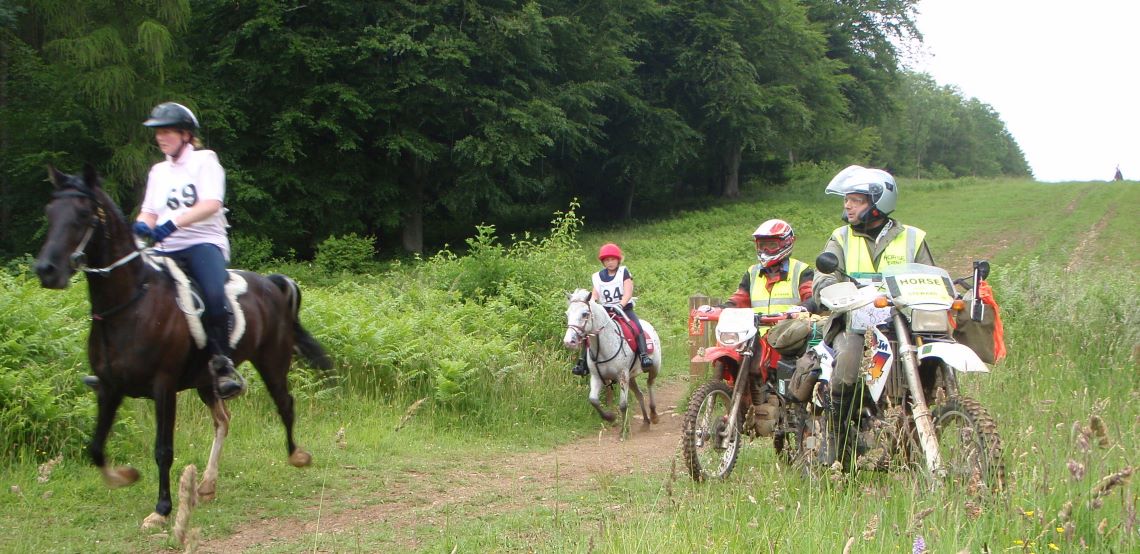 Rights of way research
Enclosure maps are a vital historical resource. Many maps, including the one pictured, have been preserved by donations from
the TRF. Our right to use Britain's ancient road network is enshrined in law, much of it dating back to the time of the Enclosures when the medieval 'three-field' system was carved up into the patchwork of smaller fields that we recognise today. With communal land gone, designated rights of way were set out to allow people to walk or ride about their business (footpaths and bridleways) and travel by carriage or transport goods in wagons (byways). Other historic routes are far older, with some of the most significant trackways dating back to pre-Roman times.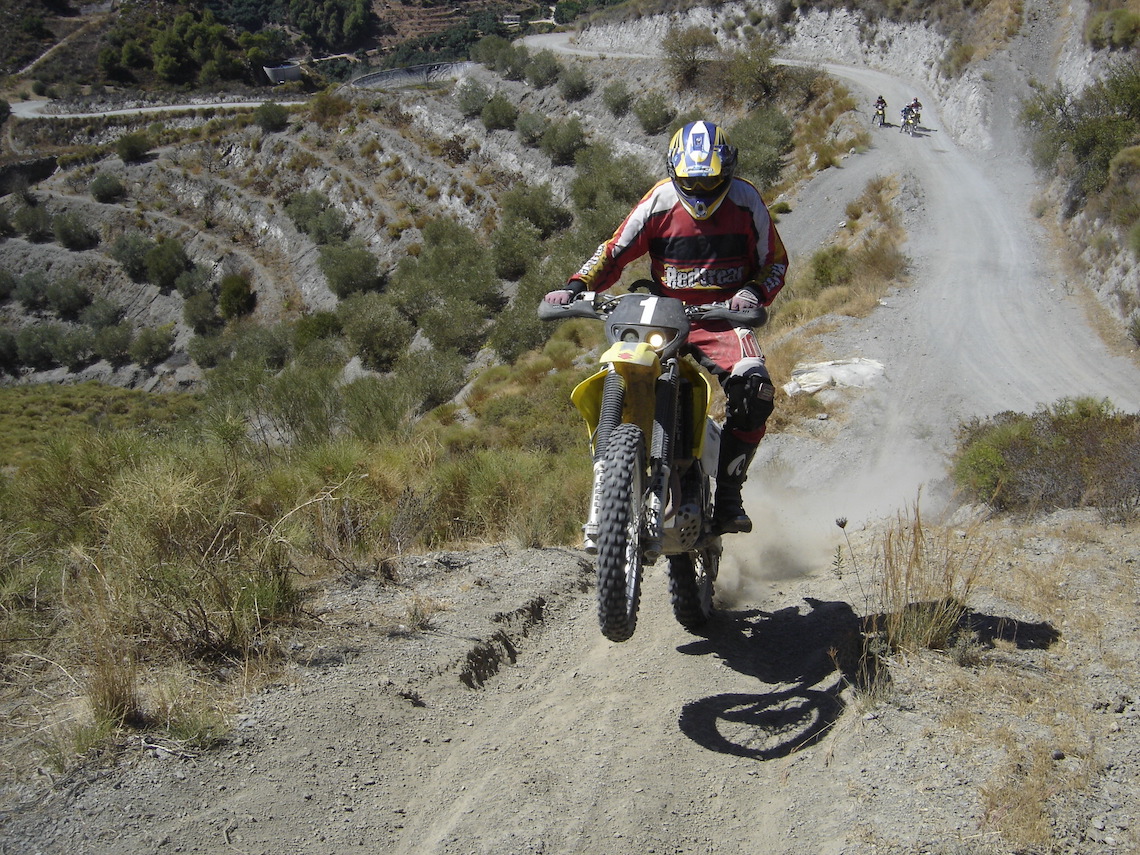 Researching these historic rights is an interest in itself for many TRF members, and the TRF group is in many cases a leading light in this aspect of historical research. There's nothing like discovering that that muddy farm track seemingly leading off to nowhere is actually all that remains of the old coach road to London, and that the construction of a nearby canal or railway was what relegated it to byway status.
Many TRF groups have made donations to their local county records office to ensure that historic maps are preserved for all to use in the future.