Emily-Jane Brain and Sam Manicom check out stuff to fill the gaps in your bookshelf and places to while away your time online
TITLE: India – The Shimmering Dream AUTHOR: Max Reisch REVIEWER: Sam Manicom
This is one of the most fascinating motorcycle travel books I've read to date. In my opinion, it's right up there with Robert Fulton's One Man Caravan, my favourite ABR read, which is the highest praise I can give any book.
So what makes it so good? It's the tale of two Austrian lads making the first successful attempt to ride a motorcycle from Europe to India. The very likeable Max and his pillion Herbert battle this virgin adventure with very little advance information; no motorcycle magazines, books or websites to swot up on in those days! The best they can do is a book written over three decades before about a journey by camel through part of the same area.
These aren't their only problems. The lads make their attempt in 1933, on roads that are often no more than tracks in the sand, two up on a Puch 250cc.
Max's writing style is friendly and descriptive, and the book is dotted with black and white photographs which really help to set the scene. He writes about the hassles of trying to get sponsorship, and then the weight of responsibility that having sponsorship gives. He clearly describes how they kitted the bike out, dealt with borders and admin, the trials of riding the deserts and their encounters with nomads and tribesmen.
The two of them come very close to death on more than one occasion and the ins and outs of how they deal with these situations helps to make this book a riveting read.
£12.95, www.panther-publishing.co.uk
TITLE: Ghost Towns of Route 66 AUTHOR: Jim Hinckley PHOTOGRAPHS: Kerrick James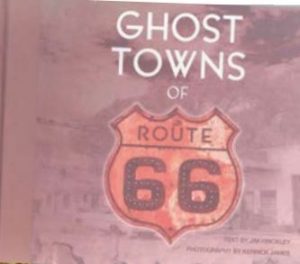 There's something hauntingly nostalgic about Rout 66. Its roadside is littered with the leftover dreams of a bygone age, charting America's expansion westward, from the Pacific to Santa Monica, California. These iconic images are captured in fantastic detail in Ghost Towns. The snapshots of abandoned bars, petrol stations and dinners, left like time capsules, perfectly capture a moment in America's history when 66 was the lifeblood of the small townships through which it passed. Besides its evocative photography, this coffee table volume's also a practical guide for trip-planning, with points of interest flagged up in each town and state along the route and directions to point you towards the best photo ops. Definitely not one to take on tour with you, but a great aid to plotting a ride through America's past.
£16.99, www.voyageurpress.com
TITLE: Short Way Up AUTHOR: Steve Wilson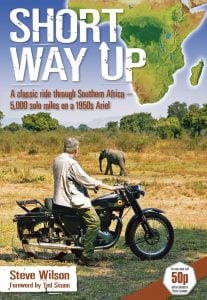 If, on occasion, you find that deep down a certain part of you identifies with the trials and tribulations of Mr Victor Meldrew then Steve Wilson's take on ABR-ing is sure to strike a chord and raise a wry smile. Determined to have one last big adventure before giving in to the bus pass, Steve buys a 1950s Ariel and sets out to ride it from Capetown to Zambia and back again, shortly before his 66th birthday; this is the story of his African odyssey. There are a few disadvantages to taking a bike that's nearly as old as you through some of the most remote places in the world and Steve encounters nearly all of them during his 5,000 mile trip, not in the least getting his hands on some pretty illusive spares. The bike isn't his only hurdle, however. Language barriers, border guards and local culture are a continual source of bafflement, all of which Steve tackles with gusto, if not always the utmost patience. The upshot is a funny and honest account of one man's solo efforts to traverse the Dark Continent on a bike that's more set in its ways than its rider. The perfect antidote to all those rose-tinted travellers' tales.
£19.99, www.haynes.co.uk
WEBSITES
www.sahara-overland.com
ABR and adventurer Chris Scott has been exploring the Sahara since 1982; this site represents the last 30 years of his desert experiences at the touch of a button. If you've got aspirations of carving track marks in the dunes then this is the place to get informed and inspired. Here you'll find maps, routes and Sahara trip reports as well as a wealth of detailed and super up-to-date news about the countries, and all of Chris' handbooks and DVDs to purchase, too.