ENTER THE KINGDOM OF ADVENTURE
With its high mountains, parched deserts and spectacular coastline all linked with endless adventure riding opportunities, Morocco is the Mecca for UK-based adventure bike riders. In this definitive ABR special our team of experts and novices highlights the best of what the country has on offer
A word from the Ed…
I first visited Morocco back in the late 1970s and have since been back many, many times. I've scaled the High Atlas during the heat of the summer and climbed high-altitude ice walls in the winter. With a mule for company, I headed off one spring to hike through the spectacular and parched Jebel Sahro region. I've slept out on the dunes with the scorpions (they're pussy cats really), rafted down fierce white-water rivers, rock climbed in the mighty Todra Gorge and more latterly fulfilled my 'Dakar-esque' ambitions by riding 2,000kms of the finest off-road terrain at speeds that both scared me witless and shot my adrenaline levels into orbit.
And after all that, if there were only one country in the world I could return to, then in would be Morocco. I've often thought what is it about this this North African 'Kingdom' that makes it such a special place, not only to the adventure bike riding community but for hikers, climbers and all other types of adventurers? Is it the areas of jaw-dropping, natural beauty, or a culture that offers such foreign sights, sounds and smells that it assault and delight our western senses? Is it the hustle and bustle of the cities? The vast wide wilderness of the desert or the welcome and kindness you'll find from its peoples? In truth, it's not any one thing about Morocco, it's everything.
The country has changed since I first went to Morocco over 30 years ago. For example, the fabled city of Marrakesh is now full of the sort of new-build apartments you'd find in Manchester, or London, and they've even paved the fabled Jemaa el-Fnaa square. But don't let that put you off. The centre of Marrakesh is still full of storytellers, snake-charmers, acrobats, musicians and dancers, and if you're really lucky you might just be there when the Blue Men of the desert troop up by camel.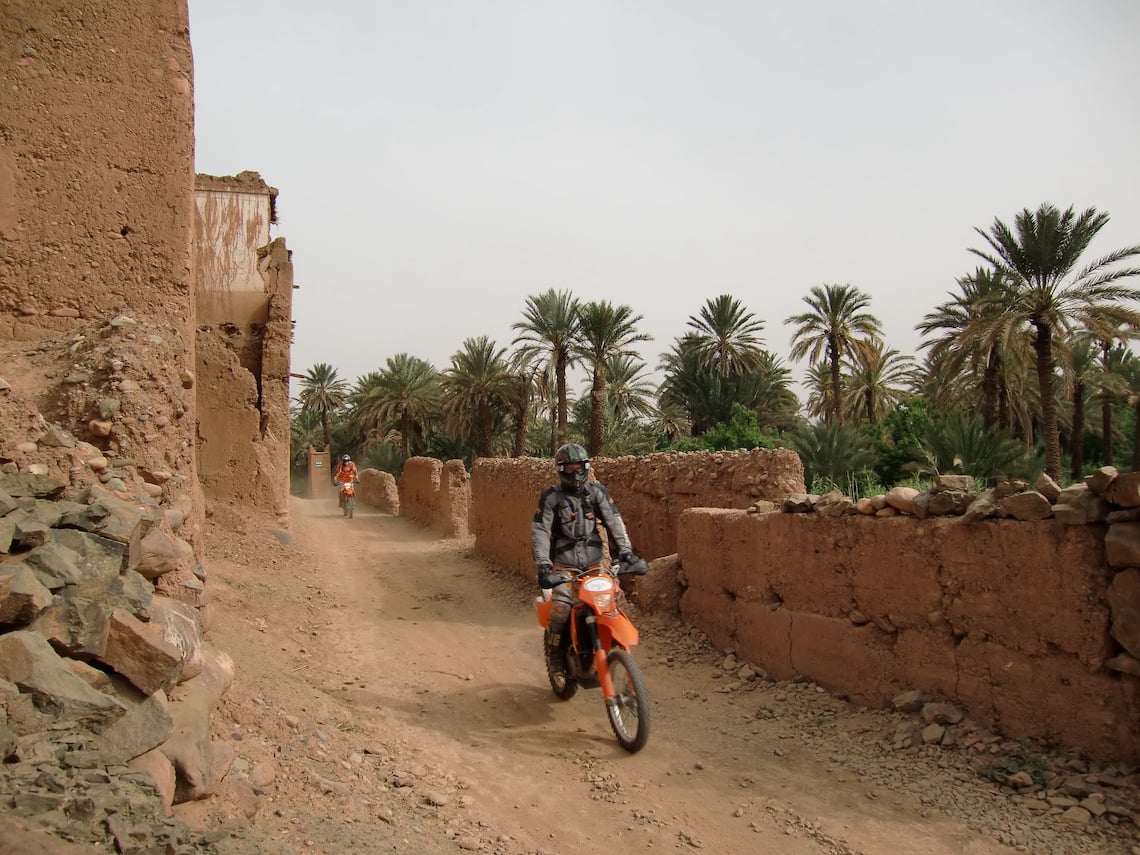 Away from the cities things haven't moved so quickly. Yes, there are tarmac roads where there was once a scorched piste and there are luxury hotels where there were once only Bedouin tents, but then travel only a mile or so off the beaten track and you'll be transported back centuries and riding through terrain where the locals still live nomadic lifestyles and the modern world has yet to make its mark.
In this Moroccan special we've gathered together a team of experts to offer the sort of advice that takes years to acquire. Chris Scott, the Saharan motorcycle legend, has set out his two favourite routes, one for beginners and the other for desert pros. Tim Cullis, a rider whose knowledge of Morocco is unsurpassed, offers practical advice on how to get there, the dreaded paperwork, and what to do when you arrive. Mick Extance, the UK's most successful Dakar rider, tells you how to ride the dunes, rocky trails, piste and sand.
In addition to our experts we've rounded up a group of ABRs aged from 19 to 72 who have been there and done it on bikes ranging from new GSAs to old and aged DRs.
The only thing left to do is for you to plan that adventure trip of a lifetime to Morocco and come back and tell us all about it on www.adventurebikerider.com
Must Ride Morocco
Chris Scott, author of Motorcycle Handbook and Morocco Overland, has spent 30 years exploring northern Africa. We asked him for two must-ride routes – one hardcore, one novice. Both incredible.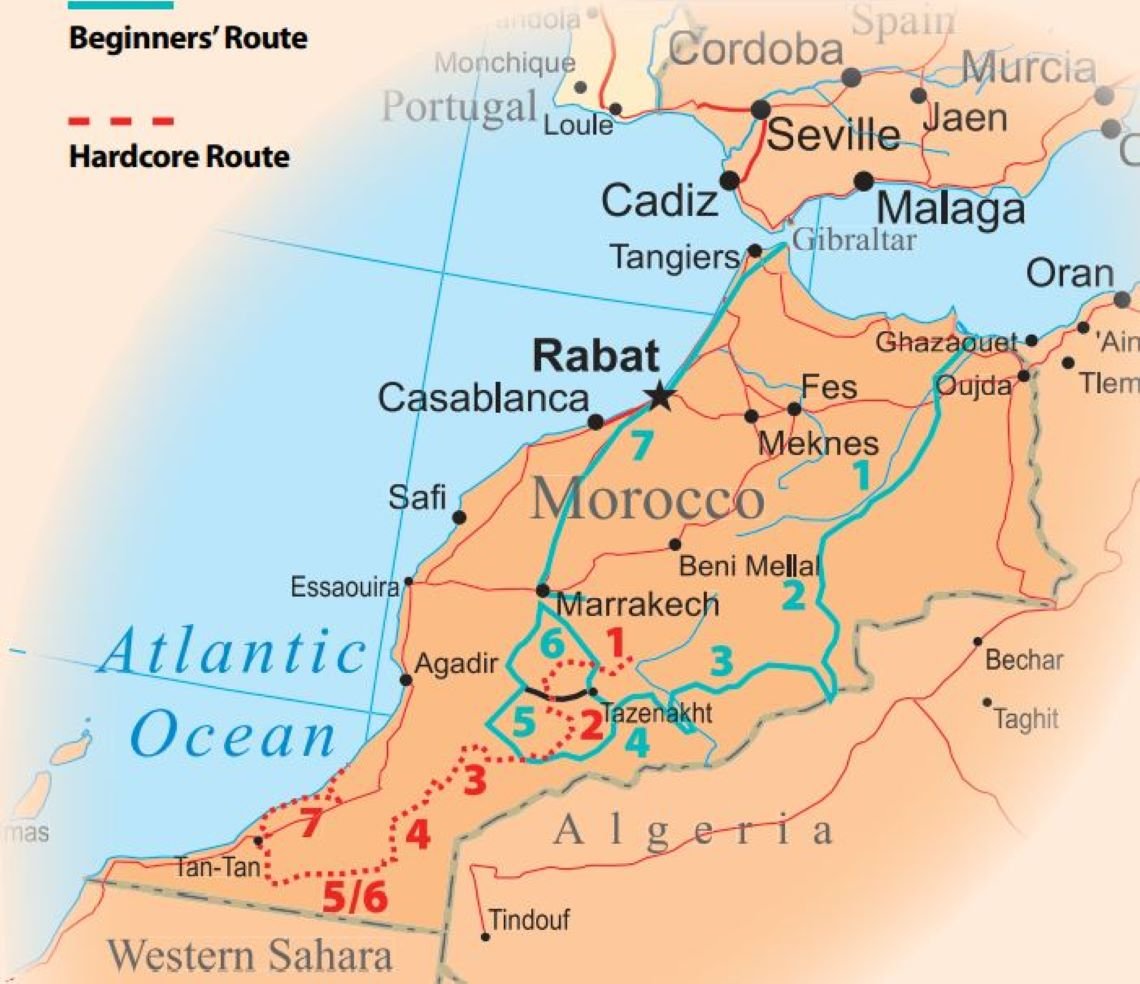 Morocco: Beginners' Route
Seven days, 1,675 miles, all tarmac (all towns have hotels)
Day 1
Start: Nador Port
Finish: Missour
Miles: 200
Once through the port and heading out of town, you're finally on the road in Africa! The ride to Missour is nothing special, but quiet Nador Port is less stressful and closer to the desert
Day 2
Start: Missour
Finish: Merzouga
Miles: 210
Cross the Eastern Atlas to the dramatic Ziz Gorge; suddenly you're in the desert. The day ends at a cozy lodge overlooking the dunes of Erg Chebbi on the edge of the Sahara
Day 3
Start: Merzouga
Finish: Zagora
Miles: 205
Nose around Erg Chebbi until you get stuck, then head west between the ranges for lunch in Alnif or Tazzarine, before turning south into the Valley of the Kasbahs and a hotel in Zagora
Day 4
Start: Zagora
Finish: Foum Zquid
Miles: 170
Zagora is hassley; Foum is on another planet and the ride there is out of this world. Lunch in Tazenacht then backtrack through the Taguerghoust Pass down to Foum Zquid where the Sahara unrolls before you
Day 5
Start: Foum Zquid
Finish: Taliouine
Miles: 200
Head into the open desert – the next town is Timbuktu, 1000 miles away. Enjoy lunch in Tata then head for the hills along the brilliant climb via Tleta and Igherm
Day 6
Start: Taliouine
Finish: Marrakech
Miles: 150 or 200
Whether you take the Tizi-n-Test or the busier Tizi-n-Tichka over the High Atlas, it's going to be a fantastic, bend-swinging finale to your ride in southern Morocco
Day 7
Start: Marrakech
Finish: Tangiers Med Port Miles: 390
Hit the road early and by tonight you're back in Spain, left with some amazing memories and wondering, 'was that really just seven days in Morocco?'
Morocco: Hardcore Route
Seven days, 812 miles (30 percent tarmac) Light enduro / trail bikes only
Day 1
Start: Ouarzazate
Finish: Taliouine
Miles: 110 (40 tarmac)
A warm-up piste to Azenal sets you up for what could be a snowy 8,300ft transit over the Jebel Sirwa to Askaoun, followed by a thrilling spin down the bitumen twisties to Taliouine
Day 2
Start: Taliouine
Finish: Tata
Miles: 122 (48 tarmac)
A spectacular ride, winding through the Anti Atlas along gnarly, palm-lined canyons and past lost villages, all the way down to the gob-smacking desert floor
Day 3
Start: Tata
Finish: Igmir
Miles: 125 (50 tarmac) Another packed day of piste-bashing through the palm-clad Tazougzerte canyon up onto a plateau, then back down to Timkyet, Afella and along more stony river beds to Igmir
Day 4
Start: Igmir
Finish: Assa
Miles: 70 (15 tarmac)
A steep climb out, then drop right back down to the desert, jump over the N12 highway like Steve McQueen (optional) and follow a remote untracked valley to end up in Assa. Not as easy as it looks
Day 5-6
Start: Assa
Finish: Tan-Tan
Miles: 170 (60 tamac)
Even with 60 miles of tarmac, with complex route-finding, aim for an overnight along this remote desert route south of the Jebel Ouarkaziz, following the former front line of the Polisario war
Day 7
Start: Tan-Tan
Finish: Sidi Ifni
Miles: 125 (50 tarmac) After some sandy inland stages, this is the classic Atlantic run along the tidal sands to Sidi Ifni, so you'll need to time it right. Job done – new tyres, please!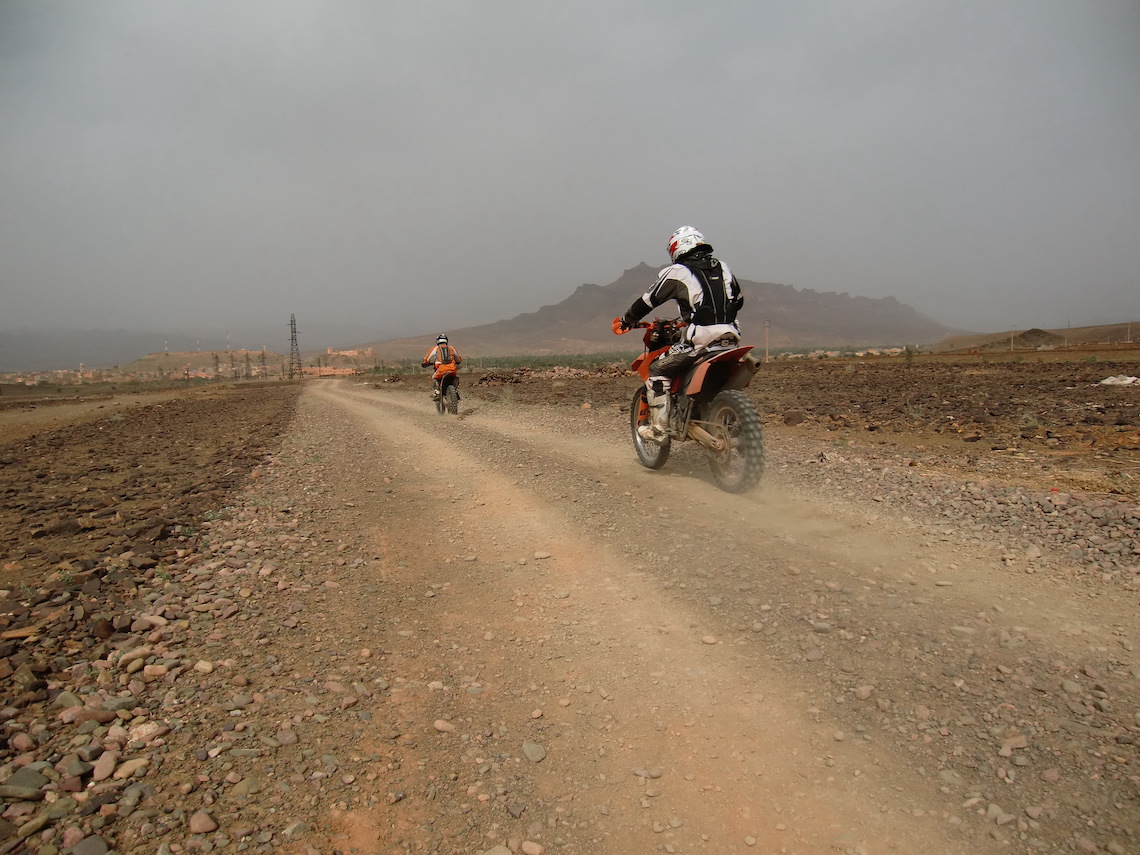 Bikes Aside… these are the top to-dos in Morocco
Go to Marrakesh and visit the Kasbah, the souks (markets) and Jemaa el-Fnaa square; check out the snake charmers and monkey handlers
Get your chops around a pigeon pie, traditional tagine, and boulfaf – very tender lamb's liver kebab cooked in spices – yum!
Treat yourself to a traditional mint tea somewhere posh like Mamounia (www.mamouina.com), don't forget to sample the pastries, too!
Get friendly with the locals in a tradition hamam (public bath). Up-market, westernised hamams can be found in Riads and most luxury hotels, but for the real deal go to one near a mosque
Swap two wheels for two feet and try trekking in the High Atlas
Take a camel across the dunes and once you're there, spend a night under the stars in a Berber-style tent. See, www.desertcampmorocco.com
Catch the sunset in coastal Essaouira. According to gear editor Bryn Davies, it's the most beautiful in the world

Pack your Panniers
ABR Mike Stevens, retailer Director of Cotswold Outdoor, has a BMW R1150 GS; here are his Morocco kit list essentials
So you're off on the big trip to Morocco. It doesn't matter whether you're travelling alone or with friends, the kit you take can make or break the trip; it has to be up to the job to meet all the riding and climate conditions you're likely to face, from warm northern cities to cooler dessert and mountain passes.
Camping kit needs to recognise the contrast in temperatures, too, and do the job in hostels and hotels as well as in the wilds of the Atlas. To quote Kevin Sanders, MD of GlobeBusters, RTW expert and Cotswold kit tester: "Everything must do two jobs"
Camping
Tent: Vango Apex 2011, £190
Small and light, it easily fits in a pannier, but with plenty of living room for one bod. Its large side opening makes getting in and out in bike kit or prepping food really easy – Cotswold supplied Simon Pavey with one on the 2010 Dakar and he swears by it. Need we say more? If you're looking for a bit more space then take a look at the Vango Halo 300 (£170) at just under 4kg it won't upset an adventure bike's handling or take up too much space, but it will accommodate three riders and all your kit in comfort
Sleeping Bag: Mountain Equipment Xero 350, £250
It's comfortable when freezing in the mountains but won't boil you alive when sleeping in the townships. Its small pack-size and .73g weight means you can also take a liner (£13) which will boost the temperature rating and can be used on its own in hostels when required
Sleeping Mat: Mountain Equipment Helium 3.8, £45
Will ensure you have a comfy night's sleep without giving away too much space in the pannier
Stove: MSR Wisperlite (£90) and the Primus ominfuel, £145
For this trip it has to be a multifuel stove and these are proven, easy to use and reliable. If you want more flexibility spend the extra on the ominfuel as it can be used with screw thread canisters as well as the included liquid fuel bottle
Cooking and eating: GSI pinnacle soloist cook set, £55
Keep it simple and take a look at this GSI cook set, then back it up with a simple chopping board and your trusty Leatherman and everything you need is there to prepare a meal in the wilds. A Sea to Summit X-bowl (£10) and cup (£8.50) will take up little space as amazingly they fold flat after use
Safety: Lifesystems Endurance 12hour, £9
This will keep the biting nasties away all day long. Katadyn hiker Filter (£70) is an easy hassle-free solution to water filtration. An even cheaper solution is Chlorine tablets (£5) just don't forget the neutralising tablets (£5) to remove the taste!
Clothing
Base Layers: Ice breaker Tech lite T, £43 Quick-drying and ant-bacterial. They will act as an insulation layer when things get colder but also wick sweat away from the skin to keep you cool and comfortable when the going gets tough in the heat. Made from Marino wool and cut for comfort it will work well as a T-shirt off the bike as well as a performance layer on it
Shirt: Mountain Hardwear canyon shirt, £45
A firm favourite and the classic trekking shirt. Packed with useful features this shirt is practical but smart enough to wear to an embassy, tribal gathering or an evening out
Trousers: Montane Terra Pant, £70 Packable and lightweight but tough. Rugged, water resistant knees and backside make these trousers practical while camping yet cool enough to wear around town
Jacket: Berghaus ignite Jacket, £100, or Rab Generator Pull On ,£110
Firm favourites with Kevin Sanders and Simon Pavey these Jackets provide a mega-warm insulating layer that won't bulk up under your bike gear but is also cosy enough to pull on in a chilled evening around the fire. The synthetic, damp resistant insulated fill is also really light and packs down small
Luxury item: Tilly Hat, £56 Water-resistant, bombproof and wide brimmed – it's suitable for all seasons and conditions. Protecting you from wind, rain or sunburn on the beach. The classic T3 will even float!
How To…
Whatever the terrain, Dakar legend Mick Extance has tackled it and come out laughing on the other side. Here are his tips for riding Morocco's five main surfaces…
… ride sand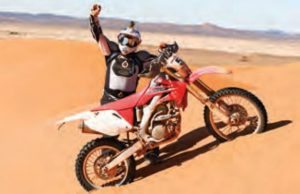 Soft sand is always a nice challenge. You need to tackle it with confidence. Carry a bit of speed with your weight towards the back of the bike and let the bike move around underneath you. This will keep your front wheel light as it will naturally try and dig into the sand. Commitment is key here. Don't try and be too precise with your lines. Try to avoid grabbing that front break and keep to higher gears to smooth it out. Keep everything as light and fluid as possible, otherwise you'll be fighting against the bike, and trust me, that's exhausting work!
…ride open piste
There's plenty of open piste to go at in Morocco. The salt lakes are stunning and provide an opportunity to blast off those cobwebs! Beware, though; it's easy to gain speed quickly on these tracks and you must always be ready for wash outs and soft sand. Tinted goggles are a must here. You can go for hours at this pace so it's important to find a comfortable position on the bike that you can maintain. Standing position is fine as you can see well ahead but keep moving around on those pegs so as not to stress out your joints. Sit down occasionally where possible to rest and enjoy the stunning scenery. Give plenty of space to the rider in front as these tracks can get dusty.
… ride rocky terrain
Again, you'll find lots of riverbeds and rocky mountain tracks to cover in Morocco. These need to be respected; it's easy to damage yourself and the bike if you're not paying enough attention or trying to go too fast. Ride at your own level and at a speed that's comfortable for your abilities. Stand up and look well ahead to spot the easiest lines. River beds are great fun, but beware: the terrain can change quickly and dry rocky river beds can soon become wet river crossings or muddy bogs – that's what we love about Morocco!
…ride dunes
The dunes are one of Morocco's big draws and can be great fun but must be respected. Always pick a landmark before you go in as it's very easy to lose your bearings. Also beware of sand blindness. This a bit like getting snow blind. It makes it difficult to see the edge of the dunes and whether you're going up or down them. Always look for the hard-packed side of the dune. This is the windswept side and can be spotted easily by the ripples on the surface. Always ride up at an angle so you can abort more easily or reach the top at an angle rather than going straight over. Remember you don't know what is on the other side! Always make sure you have plenty of water in your camel pack and never ride alone.
…ride the Medina
These are great places to ride through and enjoy the hustle and bustle of Morocco's small towns; they're a great place to get photos, too. Always ride slowly and be ready for donkeys, mopeds and small children wanting to give you high fives! Look out here for fuel stations if you're in need of filling up. They're not always easy to spot as they're often just a couple of barrels and a man with a jug.
Above all, it's important to respect the country and the terrain. Morocco's a wonderful pace and the locals are al ways willing to help. Enjoy the culture and the hospitality they will afford you, and have a great trip!
Want to ride Morocco with Mick?
Mick Extance Off-road Experience takes riders to Morocco twice a year from £1,995. For an itinerary, 2012 dates, and to book your place, see www.mickextanceoffroad.com or call 07809 464 050
My Morocco
Who's riding?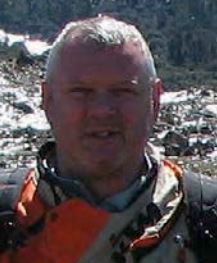 Name: Ian Davis
Age: 53
From: Wiltshire
Occupation: Performance Coach
About: Started serious biking three years ago
and has toured France, Spain and SA. Would like to do the States on a Harley and ride to China via India and Nepal; dislikes French Motorhome divers
The bike
KTM990 Adventure (Katey) Comfortable on long rides and at speed, its no-nonsense ruggedness and reliability coupled with heated grips and touring windshield make it the perfect Morocco machine. Its pathetic 160-mile tank range and Metzler Karoos tyres are annoying; Pirelli Scorpions would have been better
Word to the wise: Invest in a windproof balaclava
The scene at the border post at Fnideq resembled a scene from a post-apocalyptic B-movie. Intense floodlights split the darkness, casting harsh shadows as throngs of men and women in flowing jalabas mingled with cars, caravans and motorhomes, all jostling for position. Slowly we weaved our bikes through the haphazard mass of humanity and after negotiating passport control, we finally slipped south into our big adventure.
Following a night of relative luxury at a hotel in Fnideq we set off for the ancient city of Fez. The early sunny promise however soon faded as clouds snuffed out the warmth, and with it, our enthusiasm. As we climbed higher and higher into the Riff Mountains, the contorted roads deteriorated, the sky grew dark and the rains came in.
By lunchtime our backsides were sore, we were soaked through, tired, cold and had little time to admire what must have been spectacular scenery as all our energies were focused on keeping two wheels on what had become a mud track. The 'gentle run down to Fez' I had predicted was now almost a battle for survival as cars, trucks and motorhomes sped past us on blind curves, spraying mud everywhere.
At about 6pm we finally rolled into Fez to be greeted by rush-hour traffic. Seeking sanctuary in our scruffy but comfortable hotel, we dried off and promptly collapsed.
The next day dawned bright and warm. We spent it exploring the wonderful and charismatic Old Town and Medina with its narrow streets and aromatic stalls, colourful images and evocative sounds. After a good night's sleep and a bit of bike maintenance we hit the road and headed towards the desert, but not before riding up through the pine-covered hills south of Fez in a lazy, warm spring morning with snow on the ground and the scent of cedar. The excellent road surface took us all the way through the 'Switzerland of Africa', the Alpine-like towns that line the route to Ilfrane, such a contrast to the ancient Fez. Turning left onto the N13 we enjoyed some great riding as the near-empty roads swept majestically southwards towards the ever-waiting Atlas Mountain Range.
As the shadows began to lengthen we decided to find a place to spend the night, our first under canvas. About 20 or so kilometres south of Midelt, we took a right up a dirt track leading into the Parc National Haute Atlas and found a suitable place to set up camp. The air was cooling by the minute as the sun sank behind the mountain peak to the west. Under a full moon, with a stomach full of camp stew and a roaring fire, Robin and I drank whiskey from our hip flasks, smoked our pipes and talked utter rubbish until it got too cold and the fire began to die.
The continuing ride south brought us to the Oases du Zizz and its lush valley of palms, interspersed with mud dwellings and the smoke from cooking fires that follow the snaking river for miles towards Rissani. From here the final push south into the desert and the dunes at Erg Chebbi was just an hour away.
As we approached Erg Chebbi the dunes seemed more like a scene from a science fiction movie, rising reddish-pink from a black foreground. The ride into our destination, Merzouga was a battle of wills as Kamikaze 'guides' tried to sell us camel rides, chasing our bikes down on their scooters and trying to cut us up to make a deal. Opting for a bit of peace and quiet we rode out of town and into the desert where we pitched camp for the night.
The sunset was a glorious event, like a fading fire which left the night cold yet spectacular under crackling stars in a black velvet sky.
The sounds of the Meuzzin in the distance and the coming to life of the desert birds woke us the next morning. We reluctantly broke camp in our desert paradise and set off across the thick sand, keen to test our knobblies and off-road skills. My test lasted about 30 feet before I hit a patch of sand so soft and deep, the heavily laden KTM just sunk up to its bashplate. Several attempts at escape just made things worse until a local lad on a Chinese scooter skimmed across the sand, leaped off and pulled me backwards out of the hole, sending me on my way in another direction. My blushes were not spared as he then skimmed past me, sitting side saddle, barefoot, no helmet, and a fag hanging out of his mouth.
We left the desert and headed back to the Atlas Mountains. The ride up the Todra Gorge was spectacular with some seriously narrow, precarious roads with deadly drop-offs. We spent the night at the top of the Gorge at an Auberge. Our host, a lonely Berber, couldn't have been more welcoming, concocting a goat soup followed by a goat stew with fresh stone-baked bread.
A night in Quazarzate and a ride up the scenic route to Marrakesh was the plan for the next day. The back road to the Ochre City seemed to defy the map, which indicated that the first section was unpaved and the second paved; in fact the reverse is true. The riding became increasingly rugged until the road was no more than a 4WD track. The fun continued hour after hour, riding on hard, rough, dry roads. Although not without its challenges, this wasn't the most taxing event of the trip and I allowed myself to drift into a trance-like state of Nirvana, which was almost my undoing as I rounded a bend at 55mph on the outskirts of a small village and hit a 10m-long patch of deep mud. The KTM did a pretty little pirouette, my heart did a Texas two-step and somehow gravity, momentum and my guardian angel worked their collective magic and I popped out onto the hard stuff again chastened but intact and somewhat more alert.
We spent the night in Marrakesh before heading on to Casablanca. The whole trip took 19 days and we completed 3,000 miles. The people were great, the atmosphere memorable and scenery simply stunning. My advice? Just go!
Who's riding?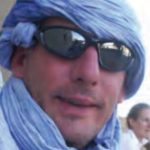 Name: Tommy Foy
Age: 53
From: Leigh, Lancashire, now living in London
About: likes ABR-ing (of course!), camping, fishing and reading adventure books. Currently enjoying The Rugged Road by The resa Wallach and partner. Dislikes being unable to recognise forum friends when meeting at rallies. Currently well into the planning stages of a trans-Africa ride for 2012
The bike
BMW 12 GSA Third in a line of GSs, this being the first GSA. Offers good protection and performs excellently on tails, even on road tyres. Its weight and cost of servicing are downsides
Word to the wise: 'The early biker catches no bugs' Get up before sun-up to avoid the mozzies
After 193 bike miles, a ferry crossing, a border crossing, and a five-Euro bribe, I arrived in North Africa, utterly alone. Setting up camp in Chefchaouen in the Rif Mountains, 63 miles south of Ceuta, the smell of the marijuana fields drifted faintly across the valley. Tomorrow I'd be riding down to Fez.
I woke to prayers being called, echoing around the mountains. It was raining again and 4am Morocco time. Packing up my kit, I put on my still-wet riding gear and continued over and around the Rif Mountains. The dense cloud and lashing rain made it impossible to see my speedo. The roads rapidly deteriorated until there simply wasn't any; knee-high torrents had washed the tarmac down the mountainsides and rivers were running into villages. Like it or not, I was off-roading.
A hundred miles or so later I began my descent into dryer weather, swerving to avoid an unofficial road block. I wasn't stopping for anyone, official or otherwise. Eventually, I arrived in Fez and found a vacancy at Hotel Sofia where the chef, maid, porter and guard all kindly offered to clean my bike! After travelling only 163 miles, I began to wonder if I'd overestimated my ability to complete the following day's 344 miles over the Atlas Mountains. 'Please no more rain!', I prayed.
Escaping from Fez early, I set off towards the mountains. I was now used to the rain and had adapted various drying techniques such as riding with my arms and legs spread when I hit a break in the weather. It seem to work. Once over the Mid Atlas, the rain cleared and to my surprise the Atlas roads were amazingly well constructed. They made the best riding yet, with good twisties and long runs.
En route to Erfoud, I left the Tarmac to go off-road, crossing Oued and encountering some large boulders in deep, fine sand along the way. I then bottled it and rejoined the road. I easily located the campsite using given gps points from my camping guide book. The people in the south were much friendlier than in the north and it was dry, finally, in 31-degree heat! On arrival I booked a 4×4 safari and camel ride into the Erg Chebbi dunes to drink tea with Nomads and sleep under the stars.

After my day off the bike, swapping two wheels for four legs, and enjoying an awesome light display of shooting stars across the desert's night sky, I woke at 5.15am in time for a spectacular sunrise. Once reunited with my moto, I hit the road again to Quarzazate via the beautiful Todra Gorge. I put my off-road skills to the test again on an 8km piste connecting Todra and Boumaine du Dades, but quickly returned to the pot-holed road when the repercussions of a breakdown dawned. It was late and I had broken the fundamental rule not to ride at night. I decided to pull over and luckily found a respectable roadside hotel. It was the first day I hadn't reached my planned destination and vowed to make up the lost miles to Marakesh via the Tizi-n-Tichka Pass the next day.
The roadside hotel in Boumaine du Dads treated me like a king – I loved it! Setting off the following morning I could see the snow-peaked mountains ahead getting closer. I followed signs for Telouet as the road slowly changed from tarmac to gravel. When the gravel became rocks and the trail near vertical, I remembered my Dad's advice before I left: 'take no risks'; it was too late. The pass was too narrow and steep to turn the heavily laden bike around. There was no going back. I was now confronted with two forks, one reasonable path with a no-entry, men-at-work sign and a steeper, rocky path. Unfortunately, I was directed up towards the latter.
I remembered reading in a guide book that said, 'if in doubt, keep the revs on and bounce your way up'. A moment later I was down. The front and back wheel of the bike stuck in two, almost perfectly made ruts, and as it fell it hit the rocks with full force – ouch! The gradient of the pass and weight of the bike made it difficult to pick up. Adrenalin pumping and all alone (or so I thought) I began to remove my luggage from the bike. Just then three Locals conveniently appeared to help. The sand too deep to ride through, I had to walk the bike up in first gear to flatter ground and instructed the helpers to bring the luggage. Although suspicious, I tipped the helpers and was on my way with hurt pride and a broken-looking bike, hopefully only cosmetic.
The 30km pass improved along with my off-roading skills. I breathed a sigh of relief and and felt a sense of achievement, but was also thinking 'nearest BMW dealers, Casablanca'. Soon after, I located a beautiful Riad in Marakesh and wished the wife was with me to share the experience.
Two days later, having successfully completed the now-sealed Tizi-n-Techa Pass, I was on my way home. I'd have liked to have carried on through Western Sahara and Mauritania, riding south all the way to South Africa, but I had my wedding to attend. Instead, I turned the bike around and headed north towards Casablanca. Two weeks after my incredible adventure, having survived everything Morocco threw at me, I wrote my bike off on the M25. The lesson? Feel the fear and do it anyway. You're just as likely to take a spill here as there. You might as well have some amazing memories to go with the cuts and bruises.
Who's riding?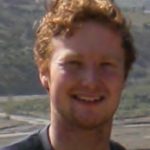 Name: Marco Mills
Age: 19
From: IOW, currently living in Leeds
About: Studying Geography and History at Leeds University. Hobbies include flying and is undertaking training with RAF with hopes to become a fast jet pilot after graduation. Keen on Mondo Enduroand Sam Manicom's books
The bike
Yamaha XT600 E Chosen mainly for its simplicity, economy and bullet-proof engine, it comes highly recommended by renowned desert rider Chris Scott. Despite a worn-out clutch plate in Morocco, it's dead simple to repair. Tweaks included a 23-litre plastic fuel tank, giving a range of about 240miles, a heavy duty bash plate and a pair of Continental TCK80s
Word to the wise: I rode from IOW to Morocco, despite all the naysayers' remarks. Don't let anyone tell you your dream trip can't be done!
By around mid-afternoon I reached a plateau at snowline on the fabulous Moyen Atlas. The residents of the remote Berber settlement looked surprised to see me; I got the impression that few (if any) motorcyclists had ever made it this far. I reckoned that I had about 75 miles of fuel remaining – enough to get me out of the mountains, but not if I remained lost for long! Luck was on my side, though, and catching sight of a truck in the distance, I flagged it down to ask for directions. The driver confirmed that I'd strayed off course but pointed to a track which would lead me out of the mountains to a town where I'd find fuel. Relieved, I set up my camp for the night just in time to catch the most fantastic African sunset over the backdrop of the mountains.
Over the next couple of days the scenery began to change; I was entering the more desolate and arid south. Arriving at the town of Missour, I decided it was time to hit the pistes, inspired by Chris Scott's Morocco Overland. I gathered enough supplies to last a few days and set out across the wonderfully barren Rekkam plateau for some proper off-road riding, Dakar-style. With literally hundreds of tracks leading in all number of directions my basic GPS came into play. After getting hopelessly lost on one occasion, I decided to retrace my tracks. Along the way I found a littering of my equipment, including my tent, spread over several miles of desert. Getting lost isn't always a bad thing, it seems.
At the town of Boudenib I decided that one last piste would be in store to connect me with the town of Erfourd where I'd have a few days R and R. This piste was different from the others with its large sandy areas. I enjoyed the challenge but my fun was short lived on discovering that I'd worn out my clutch plate. The piste was around 100km long and I reckoned I'd only covered 55km of it. I was on the fringes of the Sahara, an area that the locals call the "Grey Desert". To make matters worse I hadn't seen a sole since leaving Boudenib and it was baking hot.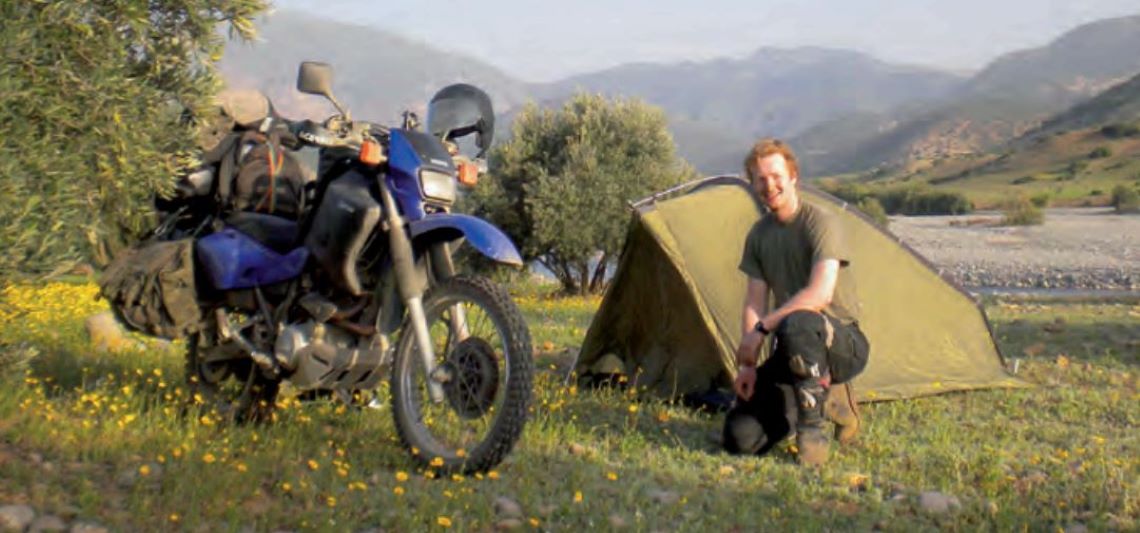 Having stupidly left my spare set of friction plates at home, assuming, wrongly, that I wouldn't need them, I realised my only option was to ring the embassy in Rabat. A lady answered and said she would get a garage to call me. Fantastic! I wasn't going to perish in the desert after all. Half an hour later, my phone rang and I was connected to an Arabic-speaking gentleman (this was proving more of a challenge than I first thought). I tried French, English, pigeon Arabic all while struggling with a particularly weak signal, in the end he just got fed up (I don't blame him) and put the phone down on me. Another hour passed, another phone call, this time in French, but again I failed to convey any coherent message. On the third occasion the embassy was back on the phone allowing me to explain that I was on a piste between Boudenib and Erfourd; "Well," she said, "there are hundreds of pistes in the desert. Can you see any landmarks?" to which I replied, "sand" (She no doubt was finding me hard work). On a final call from the garage (this time in English) I was relieved to hear that they would indeed come out to search for me. Their arrival five hours later was welcomed (the £45 phone bill less so), but at least I wouldn't run out of water and have to crack into my last tin of sardines.
A few days after my escape from the desert and forking out for new clutch plates in Erfourd, a collision with a local car driver meant I just couldn't afford to continue my Morocco trip. The last week of mishaps had cost more than I'd spent in the first three weeks of the expedition. I decided my only option was to slowly make my way back home, nursing a nasty road rash, but thankfully, no broken bones. Although I had to cut the trip short, I'm already looking forward to the possibility of undertaking a trans-African journey once I complete my degree.
Who's riding?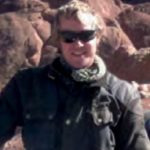 Name: Toby MacGregor
Age: 24
Likes: people and his dog, Flick; being inspired and creative; making people smile and going on mini adventures.
Dislikes: bureaucratic BS, jumping through hoops and old nails left on roads. Aspires to tell all bikers to slow down and to rid the world of evil bungee ropes (while also exploring it on two wheels)
The bike
MT350 Harley Davidson Stongest bike in the world, though it's a tad heavy. Farkles include a fleece saddle cover; re-jetting the carb; a 12v cigarette charger for i-things; inch spacers for the forks and a mini compass glued onto the dash, among others
Word to the wise: Get yourself a Hennessey Hammock: the biggest camping revolution since pop-up tents
After several months of freedom riding through western Europe, I found myself standing on the great rock of Gibraltar, gazing over the Mediterranean. I could see Africa's coastline in the distance when a heart-pumping realisation dawned upon me: I could ride to Africa! I rang my father and asked him to sell my car.
I learned the importance of good navigation early on. Day two in Morocco, I treated myself to a new Michelin map. For me, this trip wasn't a commute from A to B. Every day was a new adventure. While making my way south along Morocco's West coast, I was invited to live with many kind families whose way of life hadn't changed for centuries. I got the chance to fish with some lads in their little dinghy boats made from truck inner-tubes and dig vegetables from farmers' fields.
I met so many wonderful people along the way. One chap, a Bonvillle / Landy owner called Richard Kirker, invited me to stay at his Riad in Marrakesh after meeting me on an Atlas pass. After a few fantastic days exploring the ancient city, he let me leave some of my gear there so I was free to ride more challenging mountain trails. With hundreds of ancient trading roads and eye-popping climbs to choose from, I set out from the manic maze of Marrakesh towards the snow-covered peaks Richard had marked on my map.
The route climbed through the foothills, snaking high above ever-steeper valleys. Once the asphalt ran out, I ventured as far as I could up a snowy track high into the white mountains before eventually loosing the battle for traction and reaching a point where I could go no further.
Heading down the mountain to warmer climates, I explored the most amazing forest roads and trails. As the afternoon was closing in, I kept my eye out for a good camping spot. After months on the road, I'd perfected the skill of finding two trees of just the right width apart to tie my hammock. Just as I was lying back in my hammock, taking in my new surroundings, some curious kids from the village approached. There must have been 10 or so, aged from four to 13. After volunteering to bring me jam and bread and helping me collect tinder, we all sat down to share our meal around the campfire. The kids told me about their lives in Morocco, and I told them about my life in the UK. As it was getting dark and I started to grow tired, the little tribe formed a neat hand- shaking queue to say goodbye, and then scampered off home.
The following day I returned to Marrakesh. Picking up the rest of my kit, I said goodbye to Richard and set out to the mountains southeast, to the desolate landscape near Quarzazate that stands between the green fertile land of northern Morocco and the unforgiving sand of the Sahara. Following the mighty Gorges du Dades, the river cuts through outcrops of bulbous golden sandstone. I planned to ride a good stretch off-piste over mountains peeking at 3,000m towards the small Shepherd town of Imilchil. It wasn't the best time of the year to cross, as sections on the top could be impassable through snow, but it was all Michelin green for 'scenic', plus it linked up nicely with more scenic routes to the north.
Meandering up the twisty river road, I passed many ancient mud brick villages hanging on to the fertile land provided by the river. I spied a great place to camp on a scenic beach at the foot of the great sandstone giants. After a frosty night I crossed the river and several miles later joined a road which zigzagged steeply, climbing high out of the gorge then twisting back to reveal a breathtaking viewpoint over the valley.
After a few exhilarating hours climbing ever-changing shades of dirt I found a smooth rhythm. Picking the perfect line, gears and cornering and with the breeze on my face, I played the summit game several times thinking, 'this must be the one', only to get further and realise there was another and then another. As I climbed the temperature dropped. The deep blue sky was replaced by a roof of white. I drifted through clouds you could almost reach out and touch and patches of snow and ice made it difficult to distinguish where snowy trail ended and sky began. Enjoying every second, I flew further and higher.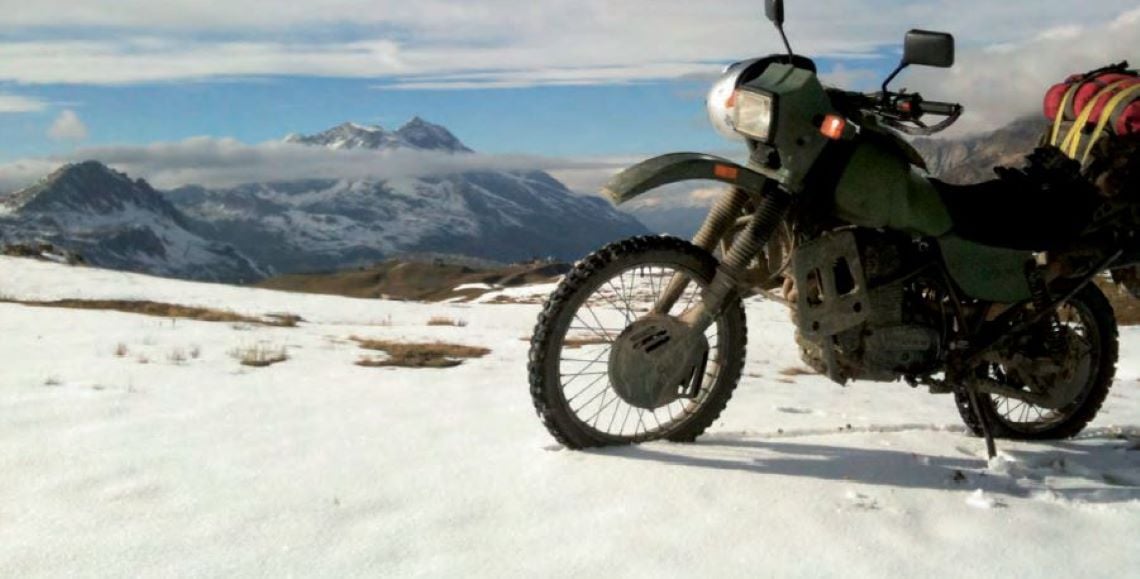 Eventually the trail levelled out to a plateau and I spotted a low stone hut, the first sign of life I'd seen for several hours. As I pulled up, a man walked out to greet me. Abdulla spoke fairly good English as well as a little French and Spanish. We immediately got on well, glad for each other's company. We ate a great lamb soup and chatted, smoking and playing drafts on the back of my map case for what must have been the best part of the afternoon. A little while later we decided to ride down to the next village of Tizi-n-Ouano, to see what supplies we could muster.
Once we got to the town, Abdulla took me to the local 'bar'. As there was no alcohol being served it was really a large room with everybody sipping sweet tea and smoking around a central fire. Being a guest, the well-weathered shepherds kindly shuffled out a space near the fire for me and I gave out a few cigarettes.
Traditionally Berbers wear a Jalaba, a practical warm robe with a hood. As I was the only one not in vogue, I asked Abdulla where I could find of these cosy-looking getups. Fifteen minutes later after trying on a few I'd found my match. It also worked like an invisibility cloak. Suddenly I fit in and with my hood up I was free to wander the town like a local. It was just as well I'd invested when I did as we got caught in a snow blizzard on the way back to the hut.
At around 6am the following morning, I woke to what I first thought was Abdulla shaking me, but turned out to be an earthquake! With a deep, earthy rumble reverberating angrily around the tiny hut, I bolted up, imagining that at any minute the roof would come crashing down around our ears as the clifftops collapsed on our heads. Thinking 'this is it!' I shouted out in panic. But the only sounds coming from Abulla's side of the hut were snorts of laughter as he explained that it was nothing to worry about and promptly went back to sleep.
My experiences in Morocco were made possible thanks to the wonderful people I met along the way. I'm forever thankful to all those who made my dream a reality. There's so much to be said for travelling on a shoe string. You're open to so much more and all of this is just out there, waiting to be discovered…
Who's riding?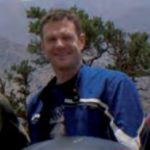 Name: Stan Shires (son)
Age: 40
From: Lower Swell, the Cotswolds
About: Riding since age of 16 (Yamaha RD50) current bike is a 2001 Honda Blackbird but rides wife's Harley 883 Sportster on sunny days. Would love to go to the Road Races in NI and if time and money were no object, off-roading in Africa; South America with dad and the States with best mate. Plans to ride the Florida keys with Mrs S in Easter 2012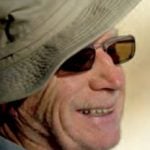 Name: David Shires (dad)
Age: 72
From: Hook Norton, Oxfordshire
About: Notable trips include riding a Harley with Mrs Shires on the back from Alaska to San Fran for their retirement trip; doing the Sahara on a XT600; France to Egypt via Jordan and Syria on a FJ1200; Morocco on a Gold Wing GL1000; the Himalaya on an Enfield Bullet and Peru on an organised trip. Also flies planes for fun. ABR ambition is to ride Africa, north to south
The bikes
Yamaha XT660 Comfortable at sensible cruising speeds and good handling allows confidence on mountain passes
Honda Transalp More comfortable than the XT at steady speeds thanks to its twin cylinder engine and larger fairing
Word to the wise: With the rise of the internet, it's so easy to be adventurous. Half an hour online and you'll have flights, a bike and your first hotel sorted. Don't go to the Alps; go to Morocco!
This was our second trip to Morocco. Having taken the ferry route before, we decided to maximise the riding in Africa this time by flying into Agadir on the Atlantic coast and hiring a couple of bikes there. The best thing about Morocco is that it's so close but feels so far away. Desert, Atlas Mountains, camels, donkeys, and ancient cities unchanged for centuries and palm trees in an oasis.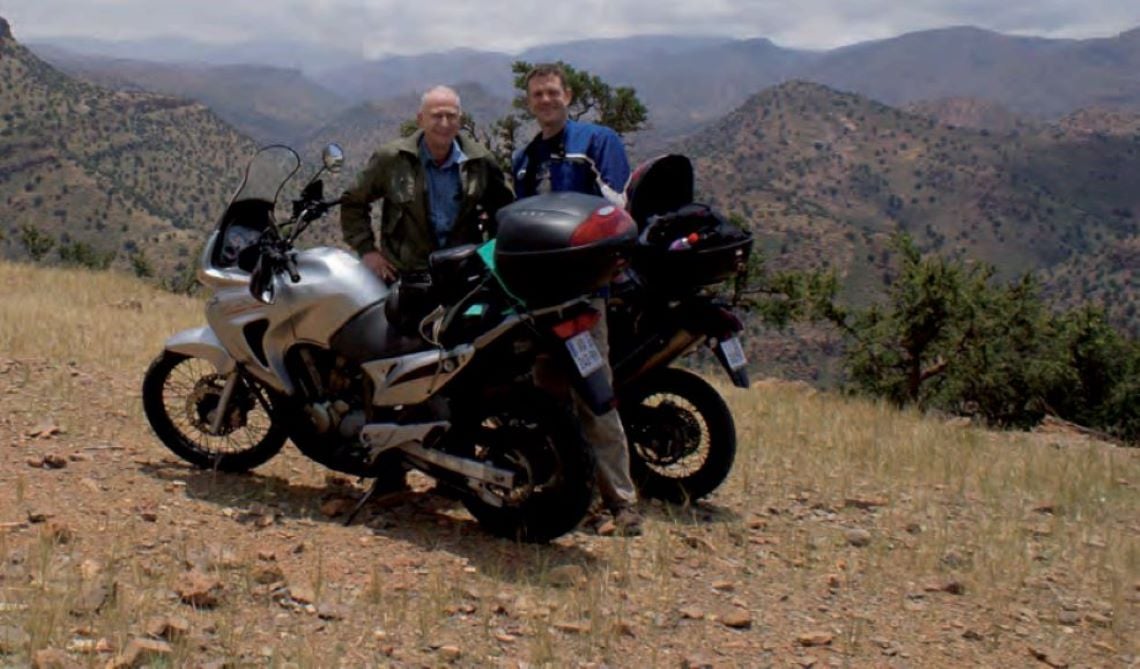 Besides the bikes, there was no great plan for the trip. In fact, we'd only booked a hotel for the first night, so after collecting the bikes and heading over there for a beer, the next 10 days were open to anything and Morocco was out oyster.
The bike rental owner had recommended a route around the part of Morocco in which we'd be staying, but with our Michelin road map spread our before us the temptation was too great. We ignored his suggestion and immediately left the coast for the Anti Atlas Mountains.
The roads in Morocco are simply amazing. You'd think that a developing economy would have terrible roads, but the truth is they put ours to shame. Every ridable asphalt surface looks as though it was freshly tarmacked last week in the finest bitumen available to man. The mountain twisties go on for miles and miles and miles in perfect condition. Not only that, but the views are to die for, and these heavenly biking roads are virtually empty. You can literally ride the most perfect mountain pass in the world for an hour and see just two vehicles.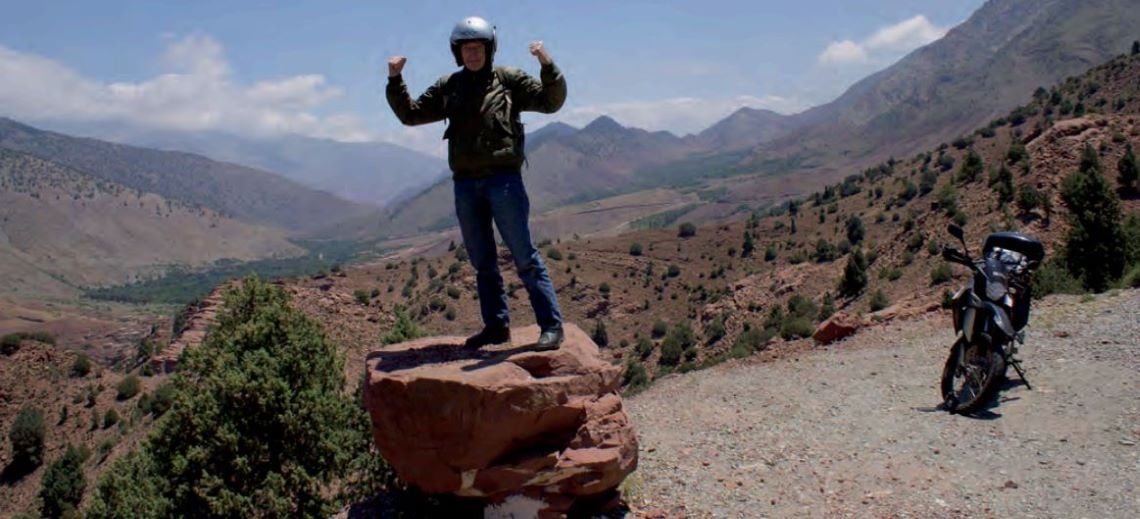 During the afternoon the weather took a turn for the worse and I was glad I'd had the foresight to pack some last-minute waterproof trousers. As the rain closed in we suddenly found ourselves riding in dense fog. Checking the weather forecast on the hotel TV later that night, we decided to change our route and head north to Marrakesh. That's the benefit of not having a plan. You can change it.
For me, Marrakesh was something of a disappointment. I suppose this was because I went with high expectations. Having taken in the sights while getting lost in the ancient city and smelling how leather is made, I felt like I'd ticked the box that is Marrakesh. So the next morning we headed out on the bikes again.
It's a wonderful feeling knowing that all you're going to do today is ride. We took the route south out of Marrakesh towards the Atlas Mountains. My dad's been all over the world but he'd never been to the High Atlas before and I was really pleased that we'd be riding virgin territory together. We took the Tiz-n-Test Pass, a four-hour ride following the path of a river. Twisting and turning on the perfect tarmac, only stopping for pictures is truly the best way to leave your troubles behind.
The next leg of the trip was a day-long ride down the Valley du Draa along the Tizi-n-Tinififft Pass. This is the road that if followed to the end takes you to the edge of the Sahara. This is another amazing route which traces the path of a river bed. Riding down the Valley du Draa highlighted the importance of taking an up-to-date travel book. Dad had brought along the 1989 version of the Lonely Planet, which described Zagora where we planned to stop that night as a "small village with one road". It is, in fact, a thriving, burgeoning town that's gone through lots of expansion in the last 22 years!
The next day we rode back up the Valley du Draa to Ouarzazate. We had cutting from a travel magazine that showed the one place we knew we really wanted to stay at in Skoura: Sawadi, an oasis with 9 acres of exotica walled gardens. The signs from the town of Skoura were woefully inadequate, but eventually, after conceding help from a very enthusiastic local guide, we arrived at Sawadi, which is nothing short of paradise. There's a gorgeous pool, a shady Bedouin tent to relax in, and we both treated ourselves to a massage in the spa. The evening meal was excellent, too, but be prepared for the bill if you order house wine! If you ever want to get away from it all I have never been anywhere like it (www.swadi.ma).
We were now heading back towards the Tizi-n-Tichka Pass (Chicken Tikka Pass is easier to pronounce and remember, I find). By way of a meaningful detour we stopped off at Ait Benhaddou. This impressive site has been used in many films including The Mummy and Gladiator. The 'Chicken Tikka Pass' is simply another amazing road – hours and hours off never-ending bends on perfect tarmac.
We also stopped off in Essaourira, another place my dad had never even heard of before our trip. I found the ancient Medina there a blessed relief in comparison with the hectic one in Marrakesh. Jimi Hendrix hung out in Essaourira and spent a few drug-fuelled months here; we stuck to beer and the excellent sea food.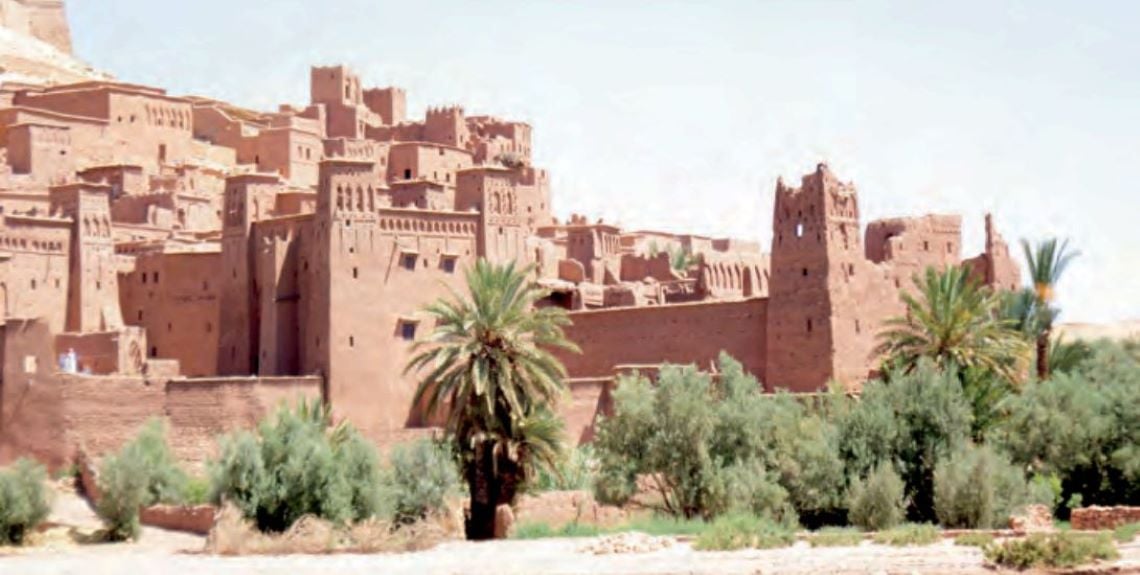 The port at Essaourira is very picturesque and standing at the quayside, you can watch boats land their daily catch and the then the subsequent auctions where restaurants decide what to have on the menu that night.
Our last night was spent back in Agadir where we enjoyed a 'farewell Morocco' meal and talked through the highlights of the trip. Then we started planning the next one. The week after we got back from Morocco, dad went off on a five-week trip in India on a Royal Enfield Bullet. Now he fancies Peru, proof you're never too old to become a serious biker.
Who's riding?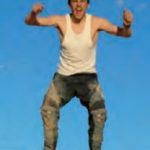 Name: Richard Jenkinson
Age: 27
From: East London
Occupation: 3D artist
About: Since passing the test three years ago, motorcycling has become an obsession and now com mutes by bike as well as having done the Alps, raced Enduro, green-laned, and now tackled Morocco. When not riding, bike maintenance is a priority – easier said than done in a garage with no electricity
The bike
Suzuki DR350 After seeing 'Mondo Enduro' I knew the Suzuki DR350 was the one. Light, simple, cheap, and while excelling at nothing, there's not a lot it can't do. And this one was free! After a bit of love, some carb work and a few choice modifications (Acerbis tank, bar risers, plastics, sheepskin, and a custom luggage rack), it was adventure ready; the forks are from an early RM250, in case you're wondering
Word to the wise: For a rider's eye view of Morocco to really whet your appetite, check out our trip video, http://vimeo.com/25547960
April and May's 2011 Bank Holiday bonanza, with an extra one thrown in for the Royal Wedding (cheers for that), meant that with a bit of careful planning, me and two of my mates could get a maximum total of three weeks off work, and we were determined to make the most of it. So, the three of us, me (Rich), on my trusty DR350; Ollie on his Africa Twin, and Jesse aboard his Dominator, planned to ride from the UK to Morocco and back again.
Although we're all a relatively sprightly 20-something, our steeds are getting on a bit in bike-terms. In fact, Jesse's is the same age as him! Before we left, all preparation work to the bikes was carried out by us, mainly for budget reasons, but also to make sure we'd be fairly well prepared for any repairs that might need to be carried out once we were on the road. The route we had planned was devised to pack in a much of Morocco's varied landscape as possible, in a relatively short time. Working our way south over the High Atlas as far as Ouarzazate, we were then intending to ride back north via Erg Chebbi.
The long journey to the desert had taken us through the incredibly lush Rif Valley, high above the clouds of the Atlas Mountains, across beautiful barren lunar landscapes, both under baking hot sun and inside hail storms. It's fair to say that the weather in Morocco makes it a tricky place to be prepared for all conditions. The bikes had generally been running excellently, with the exception of an electrical fault on Jesse's, caused by an earlier collision between me and him (the jury's still out on whose fault it was).
Our Atlas route started in Midelt and ended in Boumalne Dades (MH1 in Chris Scott's excellent Morocco Overland). Most of it had been on unsurfaced piste. Highlights so far had been following the partially destroyed trail along a valley riverbed, not knowing if the conditions were going to get better or worse, with only enough petrol to keep on going forward. It had all ended well later that night with a bottle of rum next to the campfire, and we'd agreed it'd been the best day of riding in our lives so far.
The desert, however, was the bit I'd been really looking forward to. Vast open spaces that are almost impossible to comprehend and massive flat plains, only interrupted by the cliffs miles away on the horizon. From Tagounite, after successfully crossing a large river, the pistes rapidly changed from surfaced roads to rocky trails, and before long we arrived at a checkpoint. We stopped and had our names and registration numbers taken down by a friendly man. Realising that this was a necessary way of checking who exactly goes in and comes out of the desert (or not), was both a comfort and a wake-up call.
Soon we were blasting across the rocky plains. It's an unfamiliar feeling of freedom, riding flat-out, without worrying about what might be around the next corner. That is, until you realise you haven't spotted a fast-approaching ditch, bottoming out your suspension and almost throwing you over the handlebars. Stopping for a photo opportunity, we all agreed that this was the most remote part of the trip. We were miles away from the nearest village and hadn't seen another person in hours. Right on cue a local man on a Chinese 125, probably on his daily commute, pulled up along side us and asked if he could borrow a 13mm spanner!
Gradually, the rocks gave way to soft sand, which called for a very different riding style. I quickly became very pleased with my choice of bike, all of the slow motorway struggling was now totally worth it, as the DR coped brilliantly with even the deepest sand.
Ollie was having a hard time with the Africa Twin, though. There's no getting away from the fact that it's a heavy beast of a bike. With any change in direction, the front wheel would dig in and plough straight forwards, causing a tumble, and there's only a certain amount of times you can pick that bike up by yourself!
Ollie did an amazing job of wrestling his bike through the sections of deep sand, especially in the 35-degree heat. And it provided a good laugh for me and Jesse! Getting stuck in the wet sandy mud of a riverbed for three hours wasn't part of the plan either and caused us to rethink our route across the desert.
The final destination for the desert leg of our trip was the dunes of Erg Chebbi. Since the start of planning this adventure, we'd all wanted a target, something concrete to strive for, and hopefully, get a sense of achievement when we found it. The desert artwork by Hannesjörg Voth was the perfect 'burried treasure'.
Following directions and GPS waypoints from Tim Cullis' website, Jesse and I made a detour while en route to Erfoud. Navigating to the first of the structures, the 'Stairway to Heaven' was relatively straightforward, literally a straight line on the GPS. Only the patches of feche-feche and the muddy river crossing made it slightly tricky.
The stairway was constructed in 1984 (the year I was born), and being a big fan of Led Zeppelin, it was the obvious choice to visit first. It seems such a bizarre structure to be out in the desert, literally miles away from the nearest road, but once you've scaled the steps you begin to understand why. It's the highest point until you reach the mountains on the horizon gives you a spectacular view and feeling of remoteness.

Collecting Ollie from a cafe in Erfoud, we made the final push to the famous dunes. Crossing the 'Black Desert' to get there was an experience I won't forget. It feels like you can almost see the curve of the earth as you ride in a perfectly straight line for miles over the volcanic sand. With the the sun casting huge 'god-rays' through the clouds behind us, it was a dramatic climax to our trip. Gradually the red dunes started to grow out from the horizon line and on arrival, the unbelievable happened. It started to rain!
Saddened by the realisation that this was now the beginning of the end of the trip, we made our way north by road. The two highlights for me in this section of the ride were exploring the cedar forest around Azrou (coming face-to-face with a big baboon as a result), and the following beer at the hotel bar that night; we'd run out of rum a long time ago.
I made a deal with my freebie bike before we left for Morocco: if it completed this trip, and got me back in one piece, I'd ask nothing more of it. It would be allowed to retire in comfort. But, seeing as absolutely nothing went wrong with it (apart from a snapped cable, not its fault), I ashamedly admit to not withholding my side of the deal. We've already started planning our next trip, and it'd be rude not to go on the DR.
Anatomy of Morocco
A: The coastal plain to the west of the country is generally flat and uninteresting, however the coastline itself is often pretty. Casablanca is a gridlocked uninteresting business centre but the imperial cities of Fez, Marrakech, Meknes and Rabat – all of which have at some time been the capital of Morocco – are worth a visit if you have time
B: Morocco has four main mountain ranges from north to south, these are the Rif Mountains, the Middle Atlas, the High Atlas and finally the Anti-Atlas in the south. The best biking roads in the mountains are the three Atlas ranges. The roads in the Rif are often less well surfaced
C: To the East of the middle Atlas and the south of the High/Anti Atlas lie the hamadas – stony semi-arid 'desert' with excellent pistes (tracks) for 4WD cars and motorbikes. There's a small area of dunes near Merzouga and another near Zagora