As we ride our way into 2019 it's time to start planning the year's adventures, so what better way to get you inspired than a grand showcase of some of the best two-wheeled tours and events across the globe
1 – Explore Colorado's best roads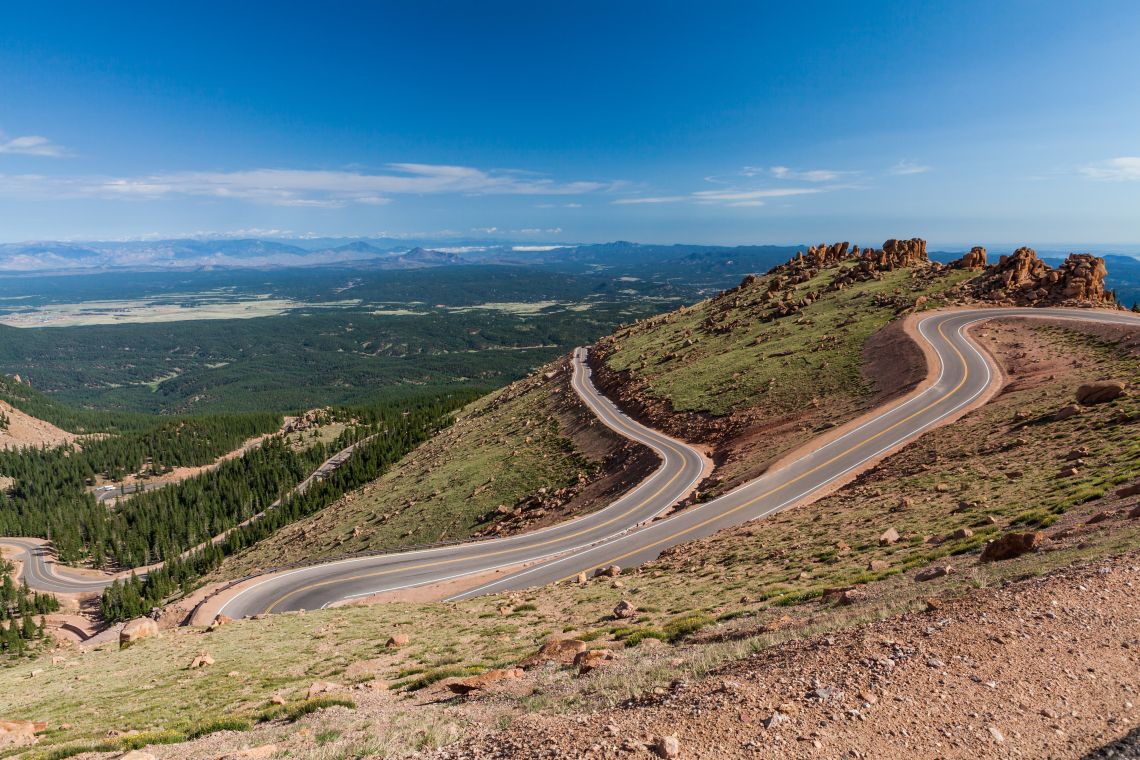 What is it?
A 13-day tour that takes you on some of the most thrilling and beautiful roads in Colorado. Starting in Scottsdale, Arizona, the ride will take you into Colorado and the Rocky Mountains. Along the way you'll ride such iconic roads as Million Dollar Highway, Independence Pass and Pikes Peak.
Why should I do it?
If you want to discover the best-tarmacked roads to ride in Colorado, you'll find them here and you'll also get to see the many historic sights of the old West.
What level of experience do I need?
The tour is entirely road-based, so as long as you have your licence and a will to explore a new location, this trip is suitable for all riders.
How can I do it?
Adventures in Arizona offers a 13-day guided tour on Harley-Davidsons, starting and ending in Scottsdale, Arizona. Accommodation, bike rental, bike insurance, and various excursions are included in the price of £4,200 (£4,464 for a rider plus a pillion), leaving airfare, fuel and food as additional expenses.
The Colorado Tour is due to run between 17-29 August 2019, and you can head to www.adventuresinarizona.com to find out more.
2 – The Pony Express route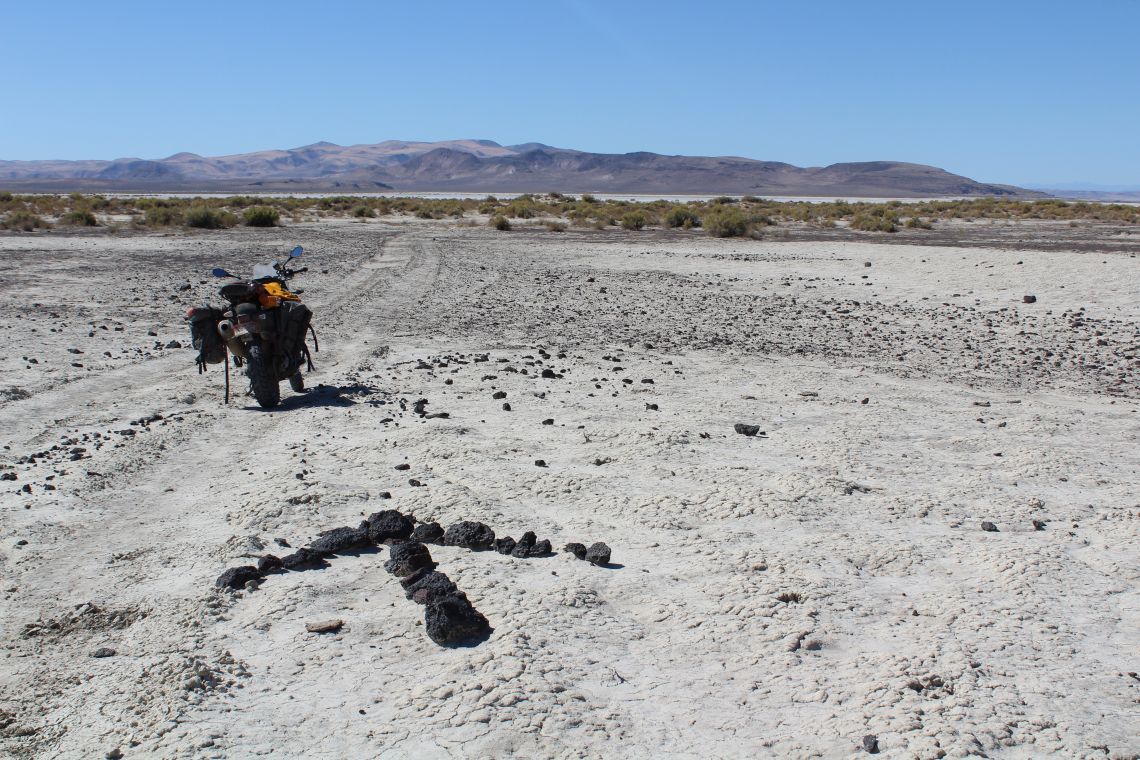 What is it?
The Pony Express Trail is a historic mail route that runs between St. Joseph, Missouri and Sacremento, California.
This route follows in the hoof prints of the riders of the Central Overland California and Pikes Peak Express Company, and the section between Provo, Utah and Reno, Nevada is almost entirely off-road, taking you through some of the most rugged, isolated and beautiful landscapes in the western US.
Why should I do it?
History, scenery, and phenomenal riding are just a few of the reasons. It will leave you addicted to riding remote, lonely roads through the American West. Oh, and you might see a UFO.
What level of experience do I need?
At least some off-road experience is required as, while the vast majority of the route is along easy dirt roads, some parts of the ride are demanding.
How can I do it?
Plan on about eight days of riding from Provo to Carson City, Nevada. 106 West Adventures will be leading a tour of the Pony Express Route in 2019, where you'll get a professional guide, bike hire, camping equipment (you'll be camping for a minimum of two nights), hotel accommodation where possible, and fuel.
You can find out more details at www.106westadv.com.
3- Inspiring Iceland

What is it?
A circumnavigation of Iceland taking in the best roads and sights that the Land of Ice and Fire has to offer. Here, volcanoes meet glaciers, whales swim off the coast and wild horses roam the remote interior.
Why should I do it?
Iceland is a remarkable place, and the best way to see it is from the saddle of a motorcycle. From whale watching off the dramatic coast, to riding in some of the most rugged and beautiful landscapes on Earth, you can't fail to feel inspired.
What level of experience do I need?
The quality of the roads is variable, with there being the opportunity to ride a few well maintained gravel roads, but there's nothing too technically challenging to be found on this ride.
How can I do it?
A circumnavigation of Iceland can be done in a couple of days, but by rushing it you'll miss out on the things that make this route so amazing.
Getting your own bike to the island is a longwinded affair, so World on Wheels offers a 14-day tour of discovery around the island, where you'll be guided to the country's most amazing sights and along the best roads.
Head to www.worldonwheels.tours to find out more information.
4 – Tour The Himalayas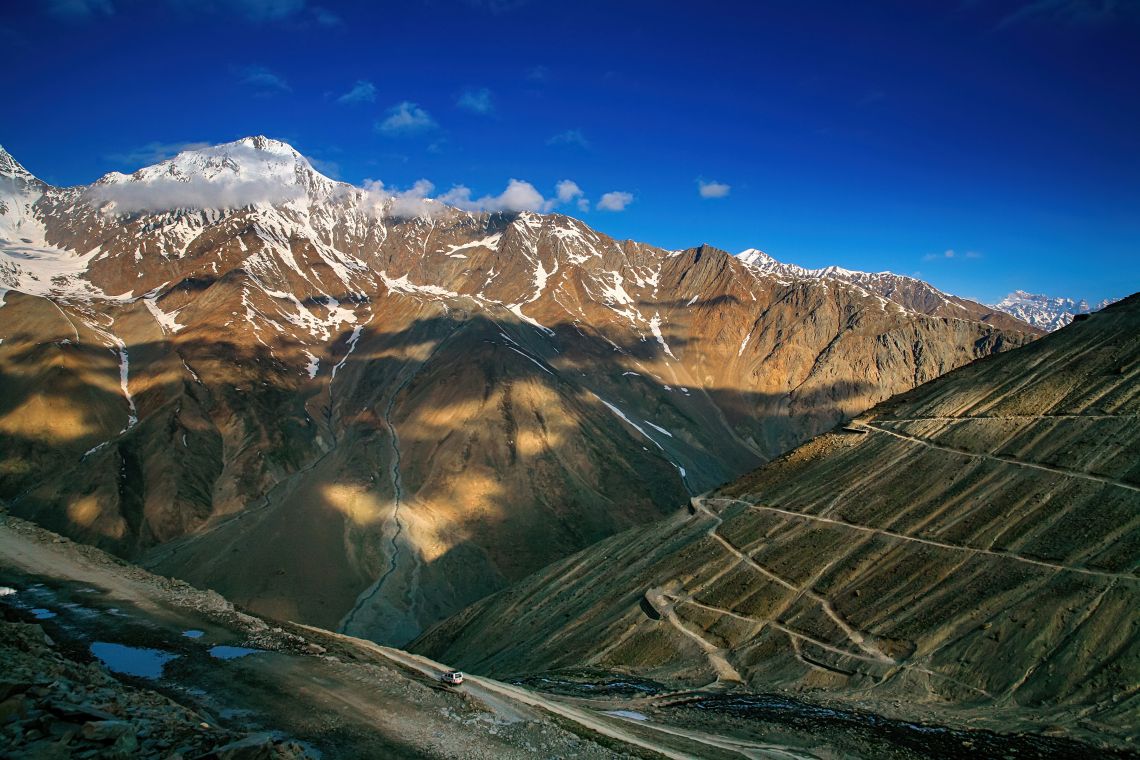 What is it?
Take on the world's highest mountain range on this two-week tour through the Himalayas. Riding out of Delhi you'll head up the incredibly beautiful Spiti Valley before tackling some of the most forbidding mountain passes around, such as the 4,590m-high Kunzum La Pass.
Why should I do it?
If the draw of riding in the Himalayas isn't enough to pull you in, how about the promise of world-class scenery, fascinating culture, some of the most awe-inspiring roads around, and the chance to feel like a true adventurer?
What level of experience do I need?
Road surfaces vary from good to 'what road?' so you'll need to feel confident in your ability to tackle rough road conditions – though you'll grow into it during the ride.
How can I do it?
If you fancy tackling the world's highest mountain range from the saddle of a Royal Enfield, British Bike Tours offers a twoweek trip from Delhi; the Himalayan Motorcycle Tour – The Ride in the Sky.
The trip, which runs between 15-29 June 2019, includes bike hire, train tickets, tour guides, support vehicle, accommodation, and meals for £2,200.
For more information you can head to www.motorcycletours.co
5 – Trail riding in the Sierra Nevada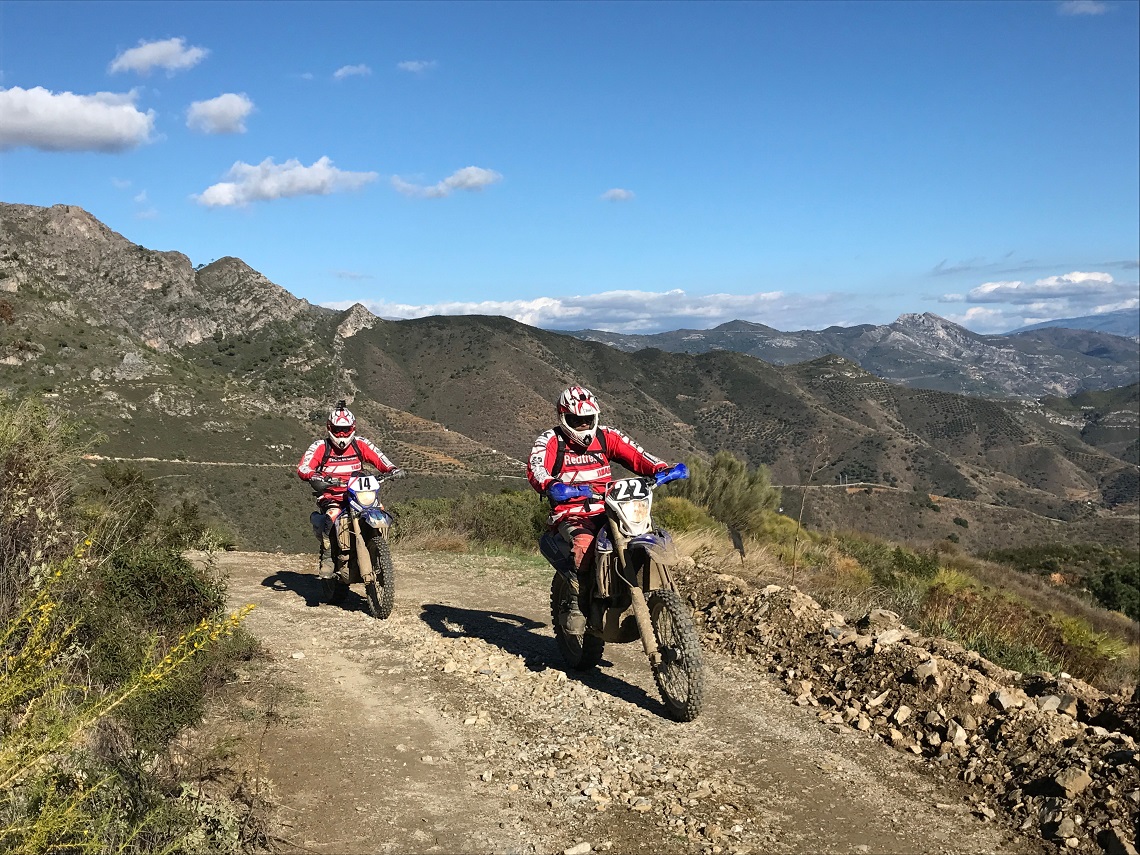 What is it?
The Sierra Nevada Tour is a two-day off-road trip through Spain's highest mountain range, taking you on a network of dirt roads that sprawl across the magnificent mountainscape. You'll have the choice of a Yamaha WR450F or WR250F, and over two days you'll cover approximately 372 miles.
Why should I do it?
It's the ideal setting for you to explore Europe's third highest mountain range, the Sierra Nevada Mountains, in southern Spain. Expert guides know all of the best trails, and you'll be riding hard in the day, but relaxing in comfort at night.
What level of experience do I need?
Redtread is upfront about the fact that this isn't a tour for beginners, stating that you must have been riding road bikes competently for four years, you must have done off-road riding and be of sportsman/clubman ability or above, you must be relatively fit, and you must be a team player.
How can I do it?
The Sierra Nevada Tour is available throughout April, May and October, costing £745 per person. For that, you get accommodation, two full days of riding, bike hire, fuel, lunch, kit hire, and a support vehicle to carry your luggage between evening accommodations.
Visit www.redtread.com to find out more.
6 – The Alps Motorcycle Tour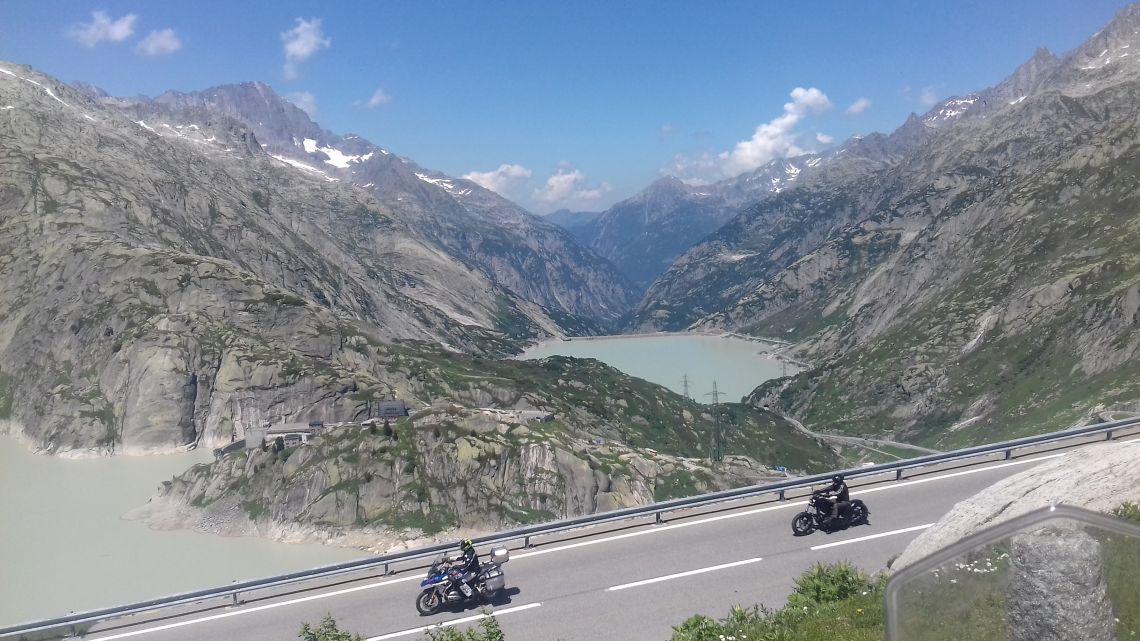 What is it?
This epic tour will take you on a circle from Calais, through the iconic Black Forest of Germany before dropping into the Alps where you'll tick off the biggest and best passes, before hitting the French Riviera. After this, you'll head north until you eventually reach Champagne. From Champagne it's a blast back to the UK via the Euro Tunnel.
Why should I do it?
If you're looking for a guided tour that takes in the best roads that the Alps has to offer, this is it. For 13 days, you'll twist and turn your way up and over the highest and most remarkable mountain roads in Europe, all the while soaking in the worldclass views that the Alps have to offer.
What level of experience do I need?
You'll be riding over numerous, intense mountain passes that'll demand your full attention, and while there's no off-road on the trip you'll need to have the bike fitness to remain in the saddle for 13 days (though there are two rest days).
How can I do it?
The Alps Motorcycle Tour runs between 12-14 July 2019, and costs from £1,250. Included in this is a return crossing on the Euro-Tunnel, 12 nights' accommodation and two experienced guides.
Head to www.motorcycletours.co for more info.
7 – Yamaha Off-Road Experience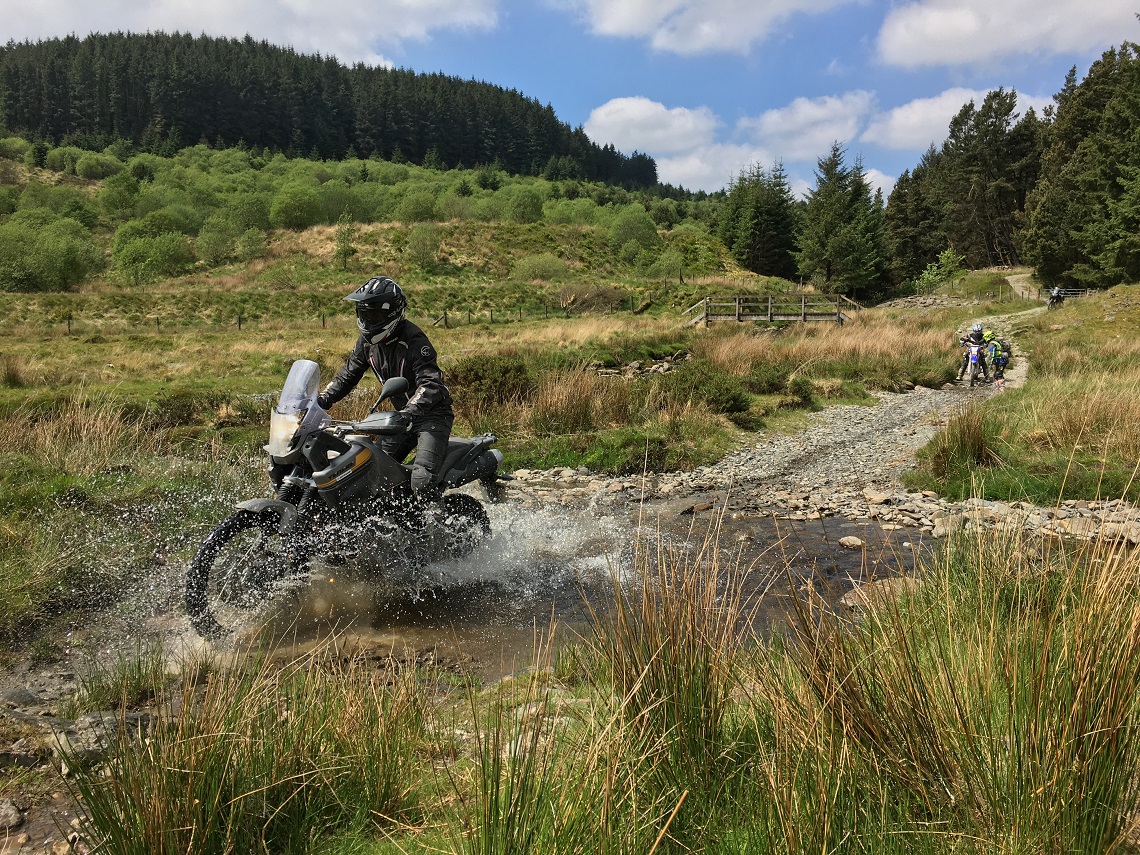 What is it?
Hone your adventure riding skills with expert tuition from some of the most respected names in the world of off-road motorcycling.
Why should I do it?
Whether you're a complete newcomer to off-road riding or you want to master your technique, getting yourself on an off-road riding course is one of the best things you can do. It'll increase your confidence in the saddle, allow you to ride safer by ensuring you've got your technique nailed, and it'll open up a whole new world of adventure riding to you.
It's also ideal for those who aren't particularly confident in the dirt but would like to book on to an adventure tour in another country.
What level of experience do I need?
The beauty of off-road riding schools is that it doesn't matter how much experience you have, you can always learn something new.
How can I do it?
The Yamaha Off-Road Experience is based in Llanidloes, Mid Wales, and there are a number of courses you can get yourself booked on, including the Yamaha Ténéré Experience, which will see you learning big bike off-road skills on a Super Ténéré.
Head to www.yamaha-offroad-experience.co.uk for info.
8 – Off-Road on Portugal's Silver Coast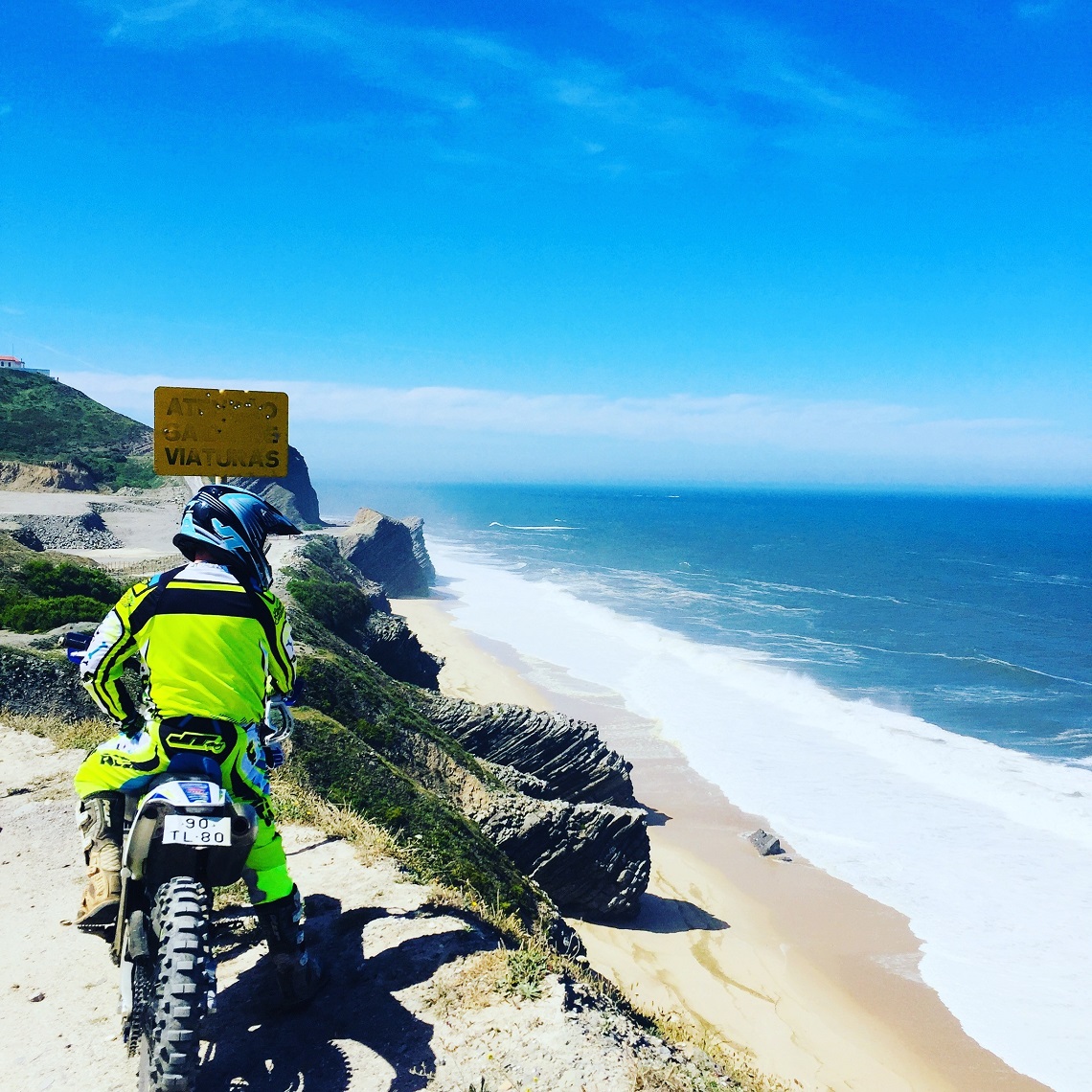 What is it?
Figueria da Foz, which is about halfway up the coast of Portugal, is home to a vast network of dirt trails that are perfect for riding. With agreeable weather for most of the year, if you're after a break from the drizzle and damp of the UK's green lanes, you'll find it here.
Why should I do it?
Pristine beaches, perfect conditions, and miles upon miles of incredible biking… if you like trail riding, you'll love what's on offer here.
What level of experience do I need?
To make the most of your experience trail riding on the Silver Coast, it's preferable to have at least some off-road riding under your belt. There's a variety of trail difficulties, but this is all about getting out on the amazing dirt and sand!
How can I do it?
Intrepid Trails offers tailor made riding packages around Portugal's Silver Coast, which include hire of Sherco 300 bikes, protective gear, fuel, and a tour guide.
Accommodation can also be arranged in a cool hostel (which was rated in the top eight in Portugal), a four-bed villa, or a quaint apartment.
Flights to Porto or Lisbon are affordable and regular, and you can find out more info about Intrepid Trails at www.intrepidtrails.com.
9 – Winter sun In Morocco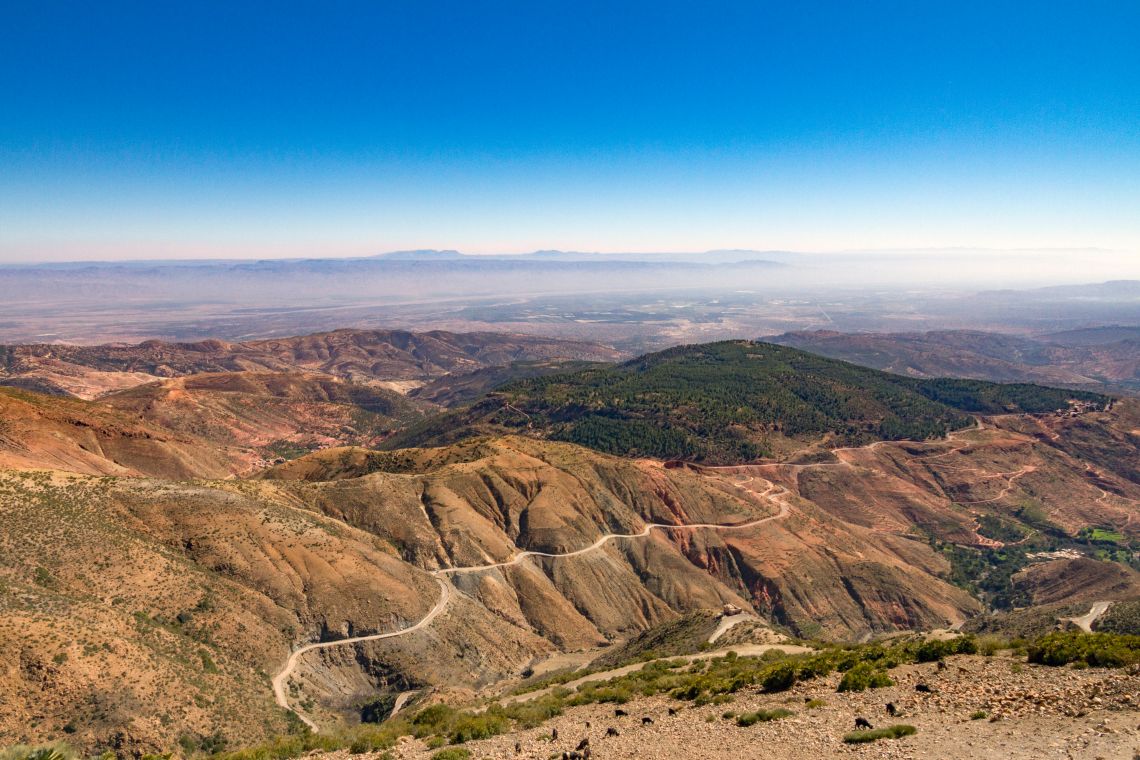 What is it?
As the gateway into Africa, Morocco is an adventure motorcyclists' playground. From the exciting paved mountain passes of the High Atlas Mountains and the thrilling dirt roads all over the country, to the sand dunes of the Sahara Desert, there's something for everyone in Morocco.
Add in the friendly locals and the vibrant culture and you're in for one heck of a trip.
Where is it?
Being separated from Europe by the 7.7-mile wide Strait of Gibraltar, Morocco is the most easily accessible African country for riders in the UK.
Why should I do it?
It's during the autumn, winter and spring that you'll find the best riding, giving you the ideal excuse for getting away from the typically cold and wet UK weather.
How can I do it?
Getting your own bike to Morocco usually starts with an arduous slog through Spain which eats into your valuable riding time in Morocco. Fly and Ride does the hard yards for you by transporting your bike to southern Spain, where regular flights will reunite you with your machine in Malaga. From here, it's a short ride to the ferry terminal of Algeciras.
For more information, head to www.flyandride.co.uk.
10 – Trail ride in Mid Wales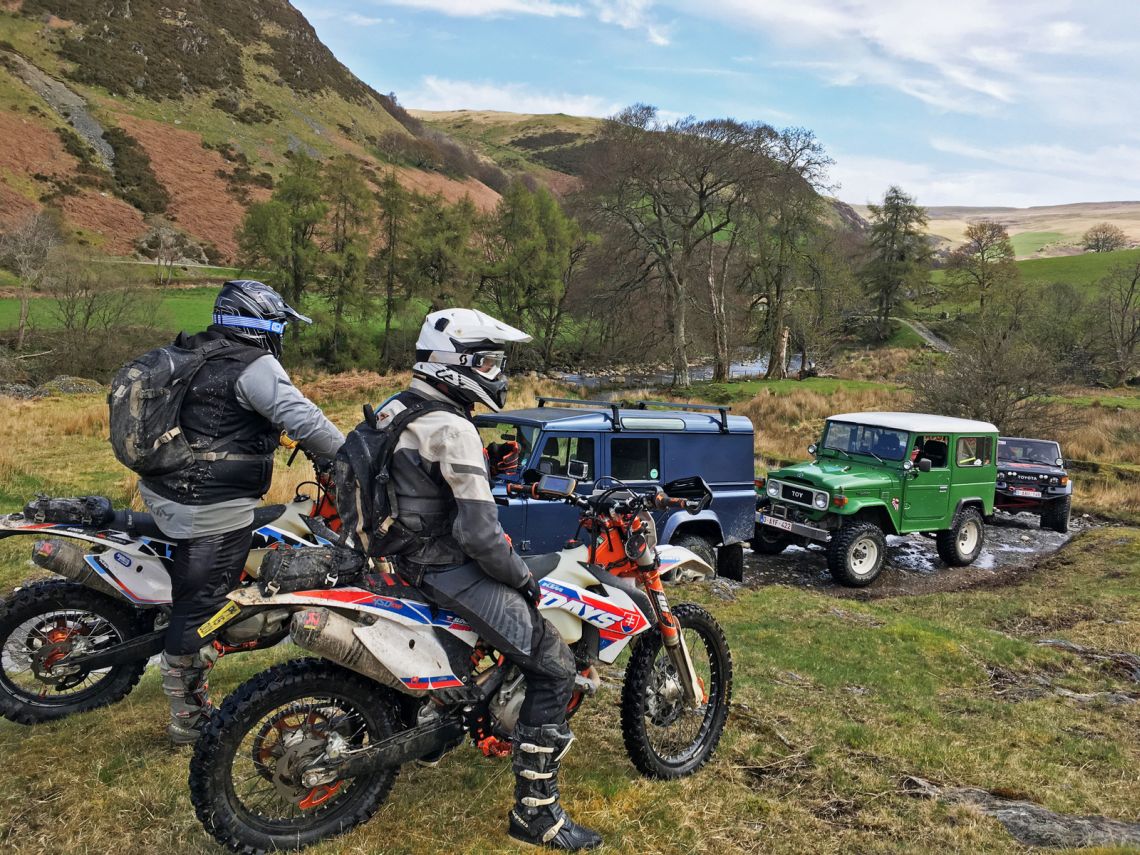 What is it?
Explore the incredible trails of Mid and South Wales using the luxury Llanerchindda Farm as your base. With easy access to some of Wales' best green lanes, it's the perfect place to get your off-road fix in the UK.
Why should I do it?
From Llanerchindda Farm you'll have easy access to some of the UK's most beautiful and remote scenery. From a riding perspective, you'll be within a tyre toss of the famous Strata Florida and Sarn Helen green lanes, where you can ride hard in the day and relax in comfort at night. Llanerchindda Farm can also put you in touch with local guides.
What level of experience do I need?
The roads around Llanerchindda Farm as equally as impressive as the list of green lanes, so there's no reason why any adventure bike rider couldn't enjoy themselves here.
How can I do it?
Llanerchindda Farm offers a number of different accommodation types with prices varying between them. The farm itself has a map room with master maps that clearly show rights of way, secure bike storage, spray wash facilities, a workshop, a drying room, a range of spare parts, and an on-site enduro practice area.
Head to www.cambrianway.com for more info.
11 – The Honda Adventure Centre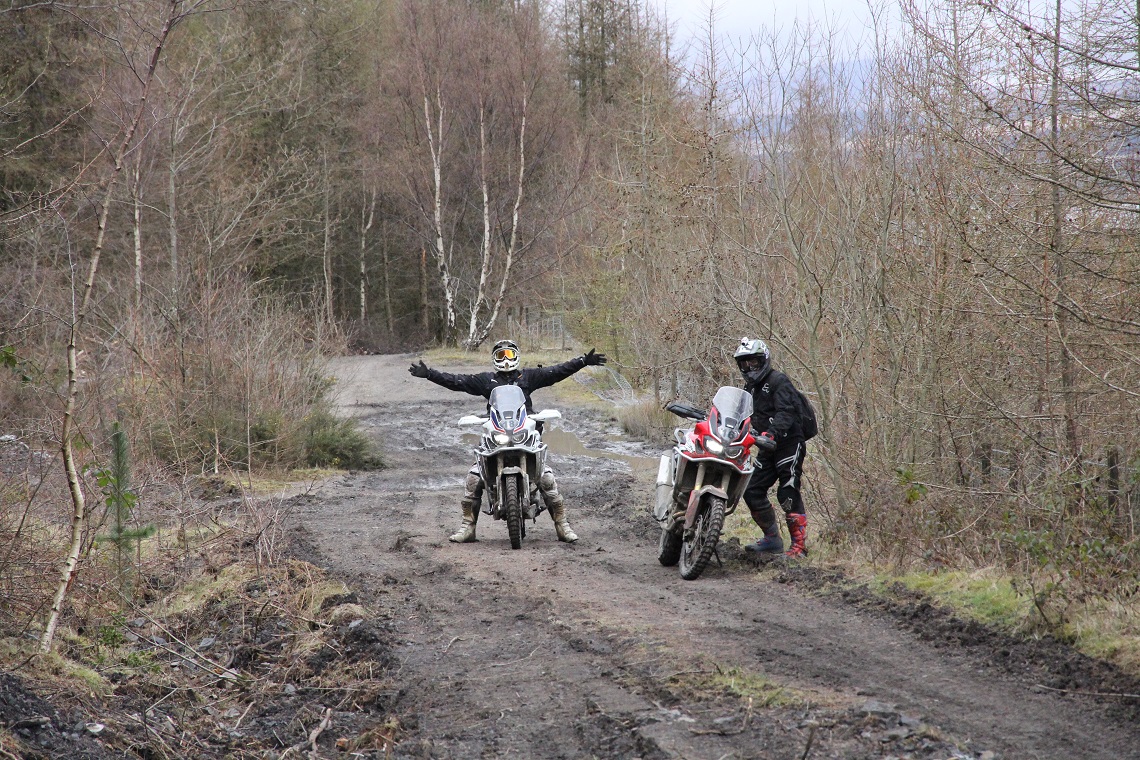 What is it?
Learn how to ride your big bike off-road with tuition from Honda's team of experts, spearheaded by four-time motocross world champion and legendary instructor Dave Thorpe.
Why should I do it?
A course at the Honda Adventure Centre is ideal for those looking to build their confidence in the dirt and also for those looking to take their off-road riding to the next level. It'll also give you the opportunity to ride a big adventure bike off-road that isn't your own, so there's less heartbreak if you drop it on a hill climb or in a rut.
What level of experience do I need?
It doesn't matter if you've never ridden off-road before or if you consider yourself a pro, there's always room for improvement, and who better to learn from than the actual pros?
How can I do it?
The Honda Adventure Centre near Taunton offers three two-day courses ranging from Level One (for those new to off-roading) to Level Three (an advanced course covering complex and technical exercises) for £499. You'll be let loose with current model Africa Twins and CRF 250 Rallies, be fed with a pub lunch, and have an evening dinner covered.
For more information head to www.hondaadventurecentre.com.
12 – ABR Festival 2019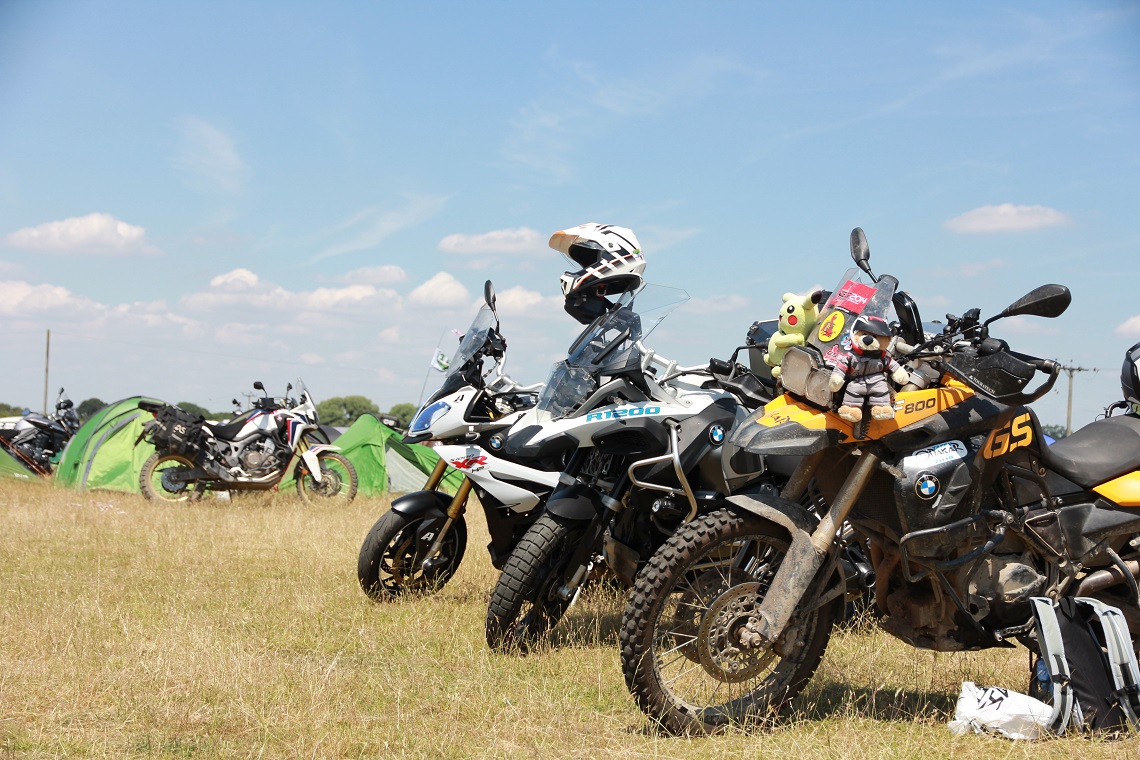 What is it?
The Adventure Bike Rider Festival is the adventure motorcycling event to go to in 2019 (even if we're a bit bias). Thousands of adventure motorcycling enthusiasts will be welcomed to Ragley Hall, Warwickshire, where there'll be test rides, an onsite adventure course, an adventure park, access to an enduro course, live music, cold beer, and plenty of good cheer.
Why should I do it?
This event is for anyone who rides! Motorcycle manufacturers will be there with their test fleets, there'll be on-site big bike-friendly courses, live music, talks from big names in the ABR world and all-round good vibes for the weekend.
What level of experience do I need?
Absolutely none! Even if you've just passed your bike test you'll be more than welcome to come to the Adventure Bike Rider Festival.
How can I do it?
The Adventure Bike Rider Festival will be held on the weekend of the 12-14 July, at Ragley Hall, Alcester, B49 5NJ.
Early bird tickets will be available this winter for weekend passes, which include camping, and you can get yours.
Head to our website at www.adventurebikerider.com and navigate to the 'Festival' tab.