Ian Neubauer does battle with soaring temperatures, kamikaze kangaroos and the very real threat of dehydration as he explores Australia's Northern Territory
It was meant to be 'soft' adventure. Six days of self-guided motorcycling nirvana on 600 miles of sealed roads connecting Kakadu, Katherine and Litchfield, three of Australia's most drop-dead beautiful national parks.
Meticulously planned over six months to coincide with the dry season in the 'Top End', clear blue skies, rainless days and perfect riding conditions were practically guaranteed.
But what I got instead was a self-guided survival course on the 1,001 ways the Australian Outback can bake you, shake you and basically suck the life out of you before sunrise – a trial of heat, thirst, sand and sun in an unforgiving country home to the world's largest population of saltwater crocodiles, kamikaze kangaroos and the most technically challenging gravel roads I have come across in more than 20 years in the saddle.
Last grog before Kakadu
About 60 miles out of Darwin I pulled into a roadhouse on the Arnhem Highway where a billboard warns commuters this is the 'last take away alcohol before Kakadu'.
I had only been on the road for an hour, but felt like I'd been riding all day – a by-product of 30C-plus heat, air that is so dry it had already cracked my lips in two places and an 80mph speed limit I felt obliged to stick to despite buffeting winds because where else could I ride this fast in Australia without getting booked?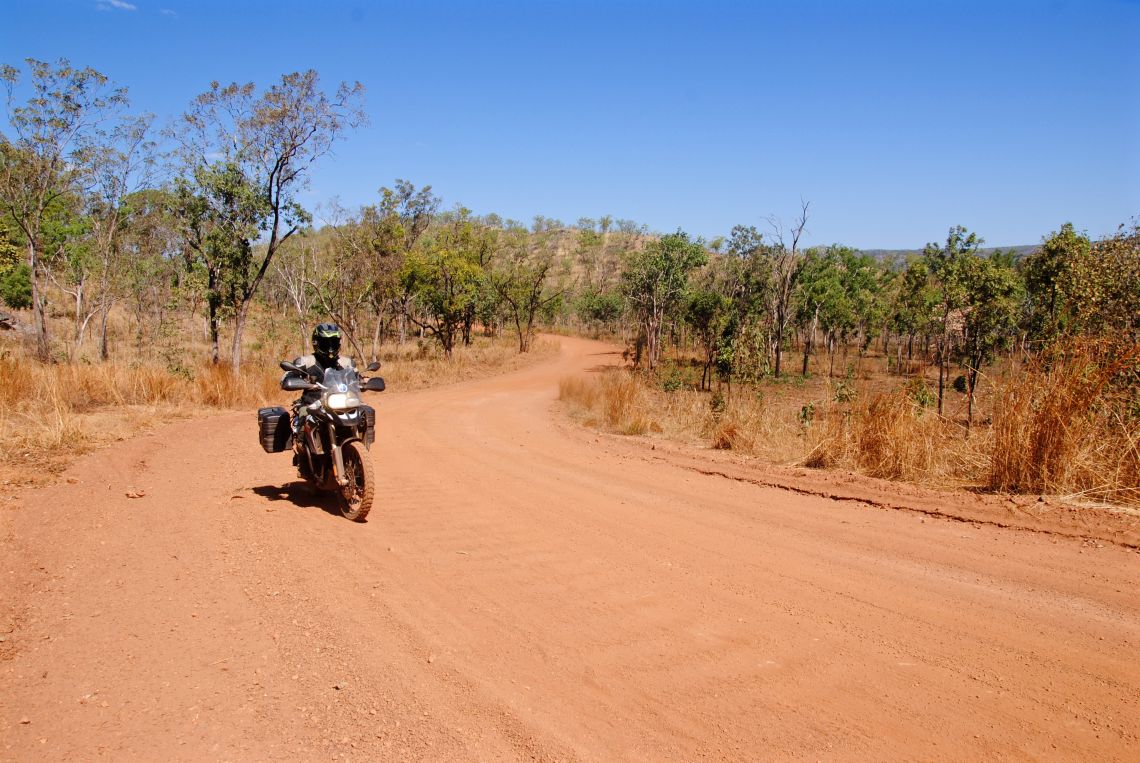 I grabbed a meat pie and some cold water and topped up my fuel even though I had only consumed six litres since leaving town. "Fill up every time you pass a petrol station," warned Jude at Southern Cross Motorbike Tours in the city of Darwin. "Believe me, the last thing you want is to get stuck out there at night."
"Why? Dingos?" I asked, referring to Australia's wild dog.
"No. It gets really cold at night this time of the year. You'd freeze to death first."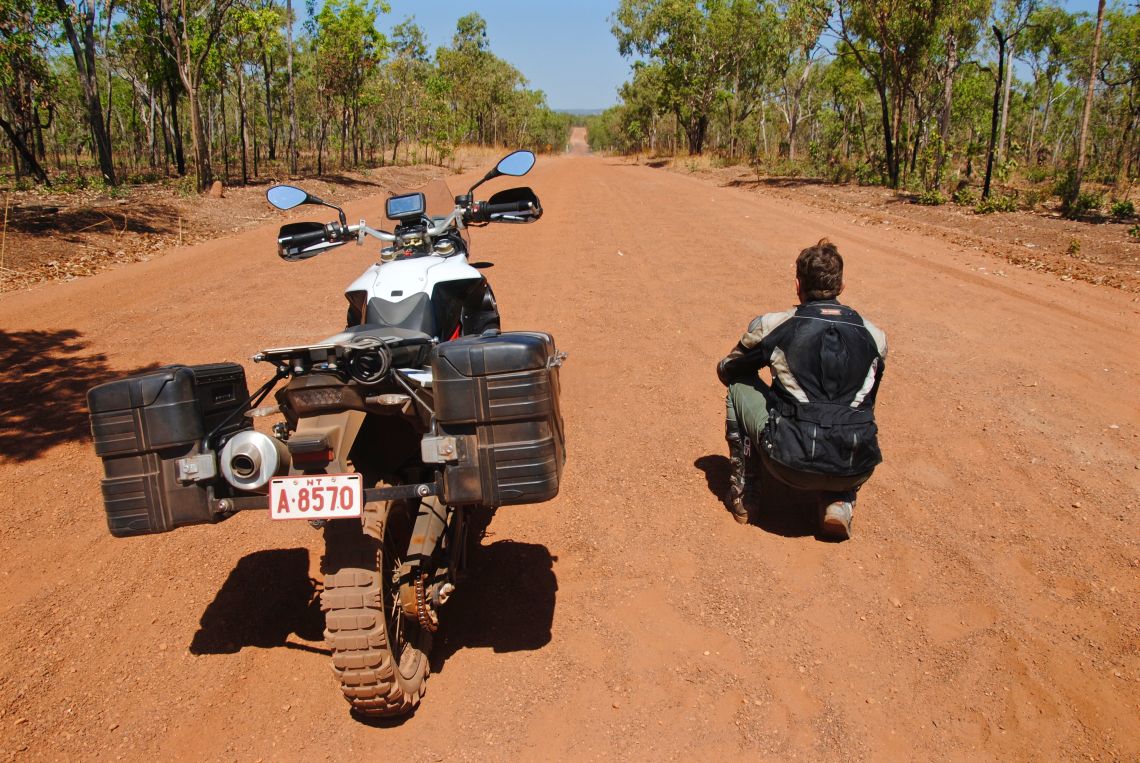 The Arnhem Highway is long and lonely, a blisteringly hot strip of tarmac that cuts through an ever-changing landscape of savannah woodland, stone country and wetlands.
I shared the road with holidaymakers in their 4x4s, schools of bloodthirsty chickenhawks pecking at kangaroo roadkill and dreaded road trains – massive trucks that haul up to four triple-axle trailers that are so long they create pockets of turbulence in their wake strong enough to blow a fully-loaded touring bike into a crocodile-infested swamp.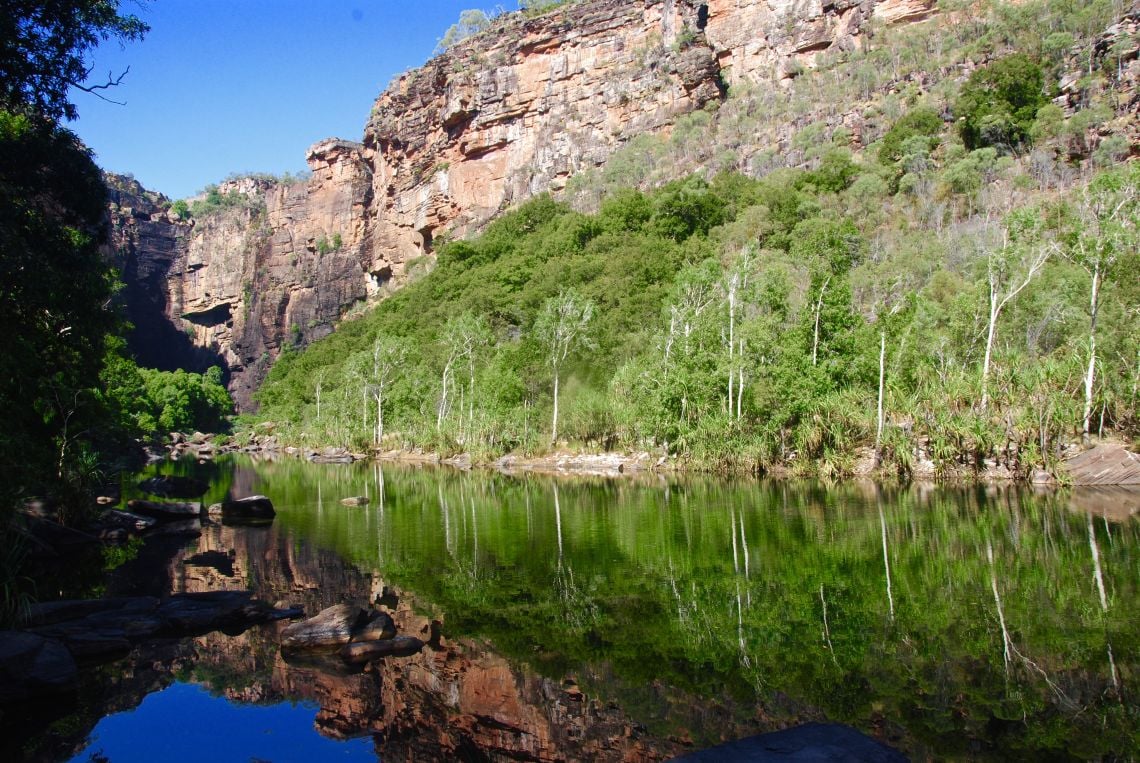 The man-eaters are masters of subterfuge and nearly impossible to see. But it's a given they'll see anyone stupid or drunk enough to ignore the yellow 'no swimming' signs posted before all rivers and floodways I pass – part of the government's 'Crocwize' safety campaign.
According to the Royal Darwin Hospital, the number of people eaten alive by saltwater crocodiles in the Territory is on the rise: 16 since 2004 compared to only 10 between 2004 and 1971 when croc-hunting was outlawed.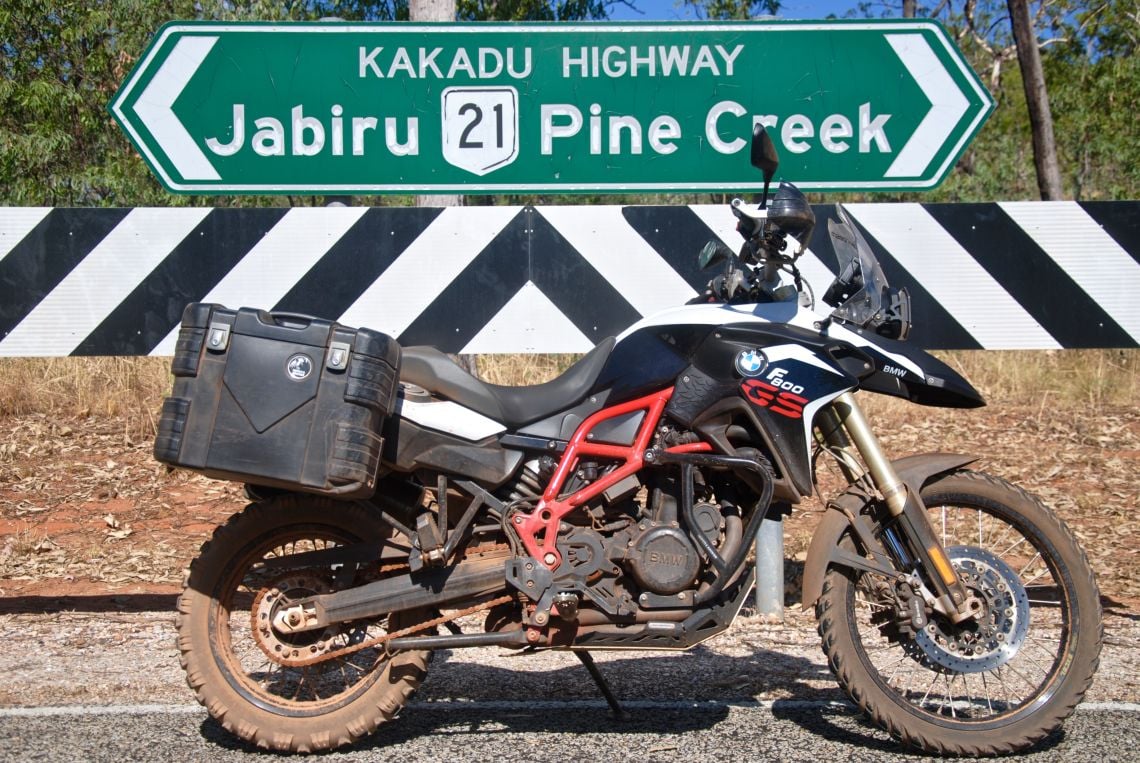 It's 5 pm when I'm pulled over for a breath test by a copper outside of Jabiru, the only township in Kakadu. My plan was to fuel up here and ride another 25 miles further west to Cahill's Crossing on the East Alligator River. But the copper warns me to call it a day.
"It'll be dusk soon and that's the most dangerous time to be on the road because that's when the kangaroos are most active. Most of us won't drive at this time unless the vehicle has a roo bar," he says, pointing to the oversize bull bar on his paddy wagon.
"There are tonnes of wild donkeys around here and wild pigs too. Those pigs are short but they're solid muscle. Hit one of them doing 100 on your bike and it'll be the last thing you'll ever do."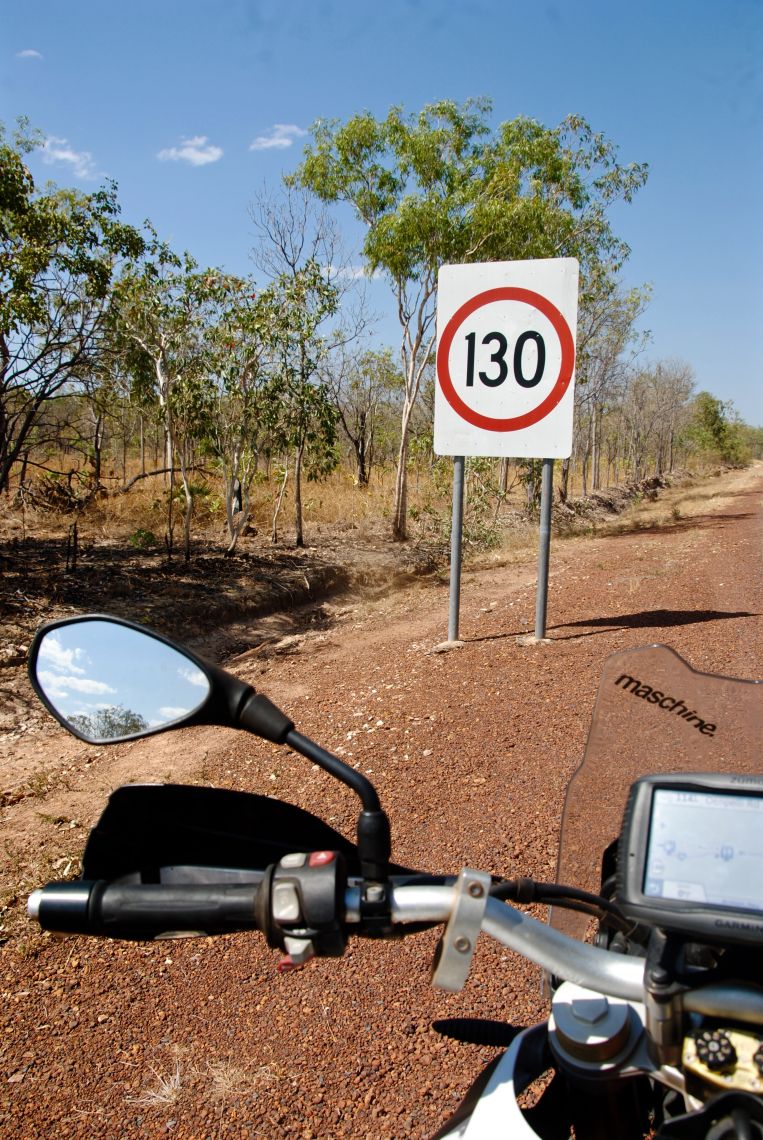 I took the copper's advice and met peter in the carpark at a nearby Lodge. Among a sea of 4x4s and camper trailers I spot a solitary motorbike: a 20-something-year-old BMW R100 GS Paris Dakar with high mudguards, 35-litre safari petrol tank plus a mini-roo bar and roo grill protecting the headlight – for all the good it would do.
Tied onto the back seat are a large backpack, a swag, fishing rods and a camping stove – basically, everything you need to survive in the bush.
The owner's name is Hub, a crusty old petrolhead who rode all the way from the city of Brisbane, a distance of 2,200 miles, in only three days.
Hub was sat at the bar, pissed as a fart, and boy did he have a bloody mouth on him. Here are a few random snippets from the drunken conversation that follows: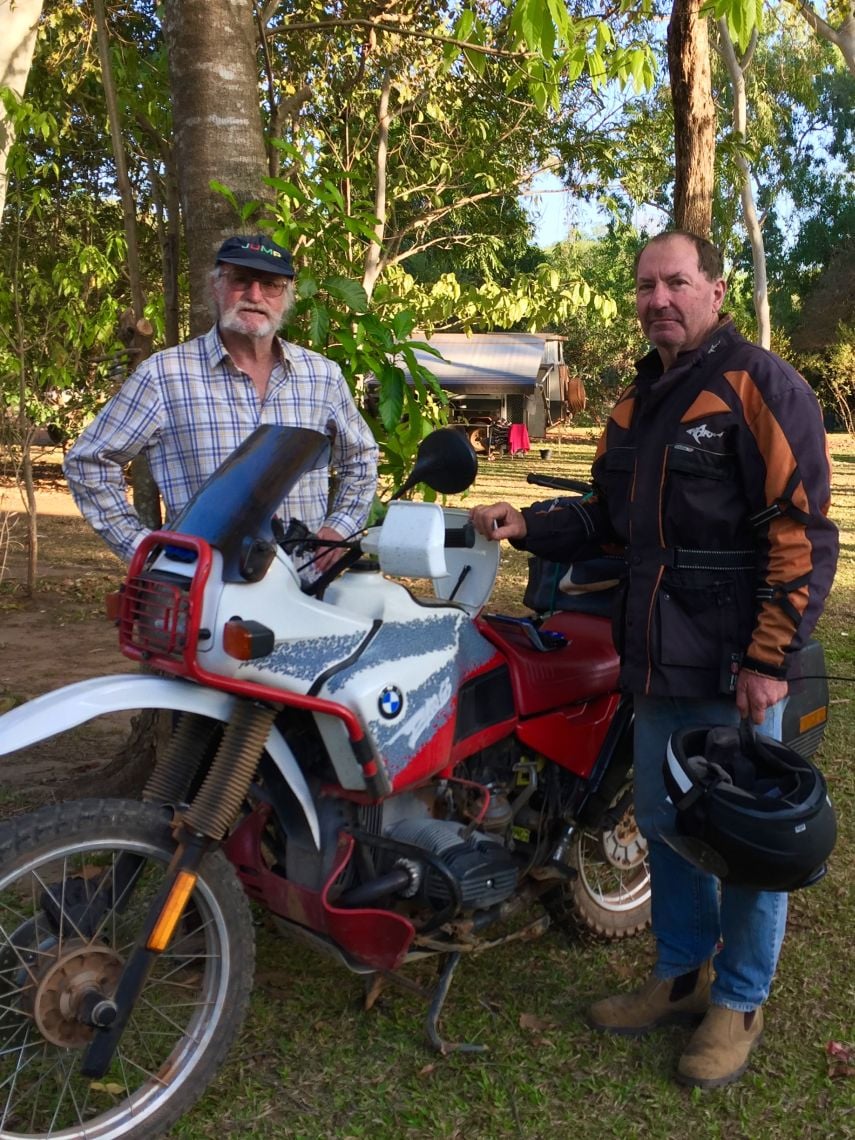 "BMW stands for Bloody More Work. Last night she broke down and I had to pull the bloody gearbox apart and replace the seals. I finished work at two in the morning. I've been on the piss ever since."
"My bike, it's a bloody mobile hotel. There's a bloody kitchen sink in there and a pub full of piss."
"I'm on the road to nowhere."
"I'm into the three Bs. Bikes, beer and babes, though the babes are getting rare as my showers nowadays. I thought you were a Shelia on that pretty white bike before you took off your helmet. Talk about a dramatic twist. Ever seen that movie The Crying Game?"
Dying of thirst
The following morning, my GPS told me it was only a 35-mile ride along the Kakadu Highway to my next overnight stop at Condamine. But I had two detours to make today. The first was Nourlangie Rock, a sandstone escarpment made famous for the rock art painted by the Aboriginal tribes that once lived in Kakadu.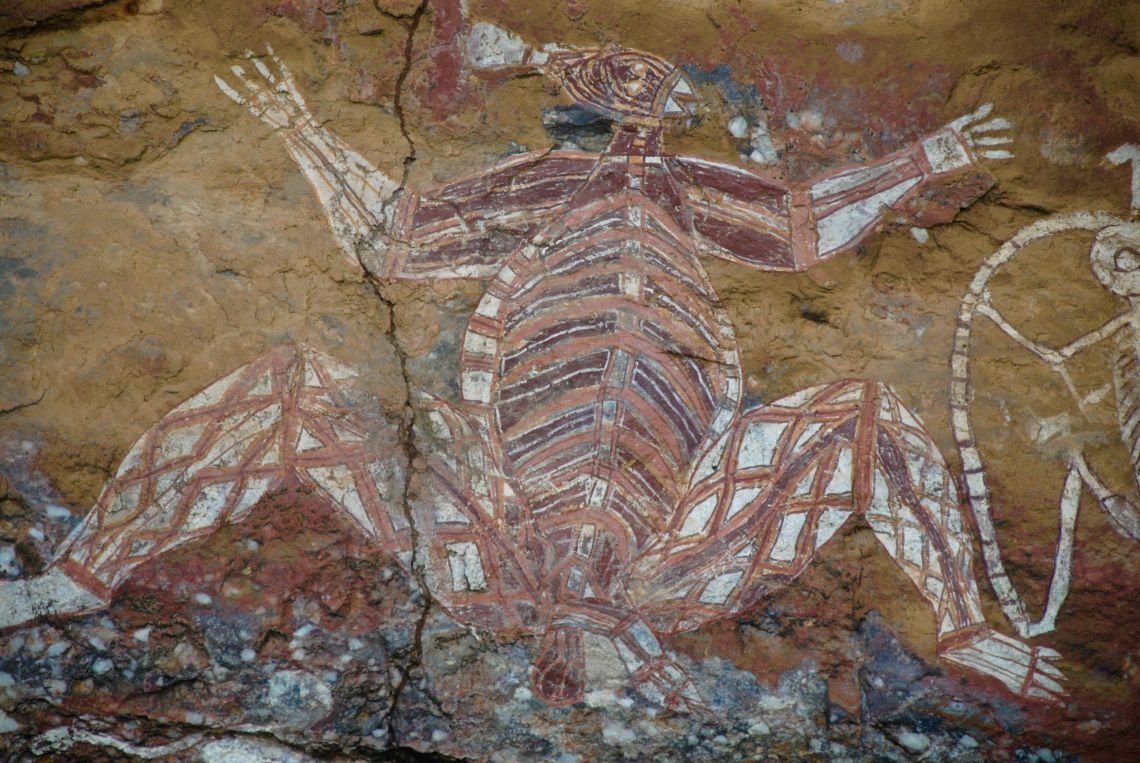 I saw depictions of kangaroos, barramundi, goannas, turtles and legends like Lightning Man, a spirit man with a band of lightning in his arms and stone axes on his knees and elbows to make thunder. Some of these paintings are more than 40,000 years old, which makes Nourlangie the oldest museum in Australia.
The rock art sites are only a half-hour walk from the carpark at Nourlangie. But doing any kind of exercise in that kind of heat is taxing and you need to constantly drink water. By the time I got back to my bike I was parched, but both my water flasks were empty.
A sign on the toilets advised the water was not potable, so I rode on for half an hour until it got to the point that I was so thirsty I could no longer concentrate on the road. With no other option, I found a bit of shade, parked my bike and stuck out my thumb.
The first car that passes, a van full of French tourists, stops to see what the problem is. "Run out of fuel?" the driver asks.
"Water," I gasp. "I need water."
The Frenchies pulled over and got a 40-litre water container out from the back of their car. I filled one of my flasks, drank it, filled the other flask, drank that too, then refilled both flasks, thanking them repeatedly between desperate gulps.
One of the Frenchies filmed the whole thing on his phone while chucking in French commentary about some wild man they found dying of thirst in the Australian bush that's probably clocked up a million hits on French YouTube by now.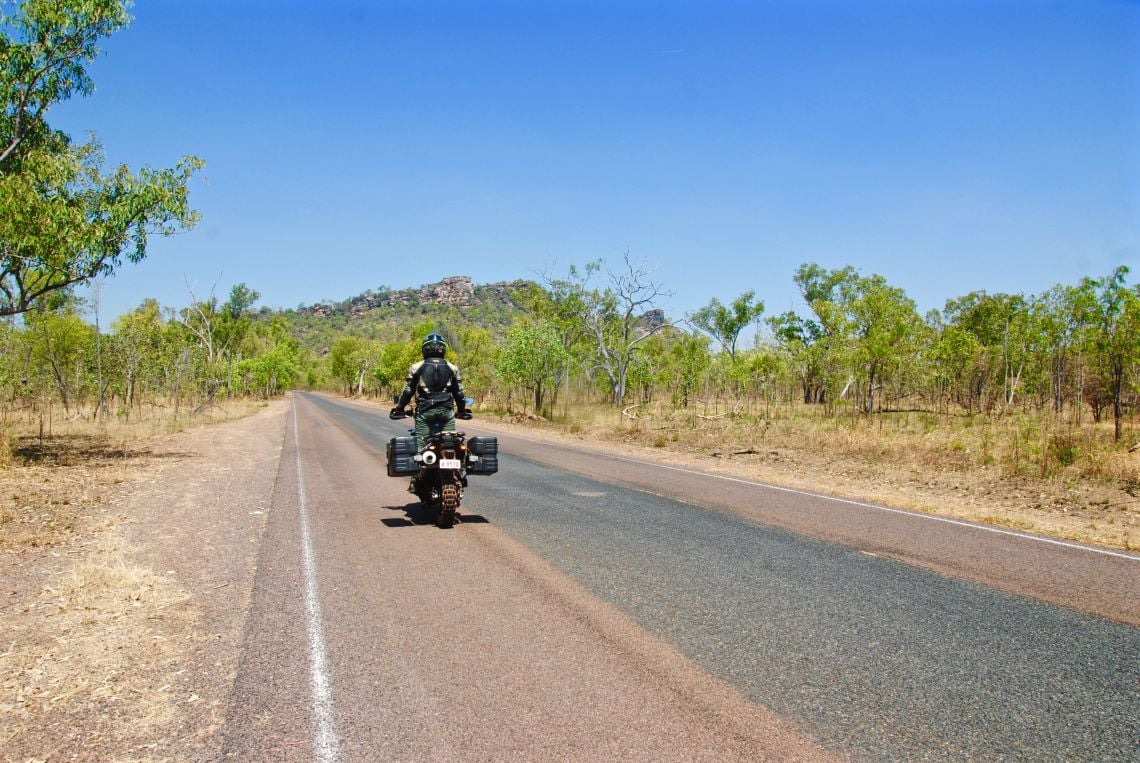 After the show had wrapped up, I got back on the road and followed the Kakadu Highway another 10 miles south to the turnoff for Jim Jim Falls, an iconic waterfall that cascades 259m over the Arnhem Escarpment into a plunge pool cut straight out of the Garden of Eden.
It's a 40-mile run on gravel to Jim Jim, a stretch I could normally do in less than an hour. But my GPS reckoned it would take me more than twice that time. A minute into it I understood why: the road is awash with corrugations (ripples carved into the sandy surface by road trains and 4x4s).
The best way to handle corrugations, Jude advised, is to lean back and ride as fast as possible so your wheels go over the tops of the bumps. But try doing that on a road that swivels through the countryside like a giant Australian centipede, a very poisonous insect found in these parts.
I found it impossible to change lines on the corrugations and every time I hit a curve I started to drift and risked coming off. So, I sat at 25mph, feeling the sharp sting of every God-damn corrugation on the road.
It took me 90 minutes to reach the carpark, and another 45 minutes on foot to reach the falls, by which time I'd run out of water again. 'Not to worry', I told myself. 'I'll refill my flasks at the spring of the waterfall'.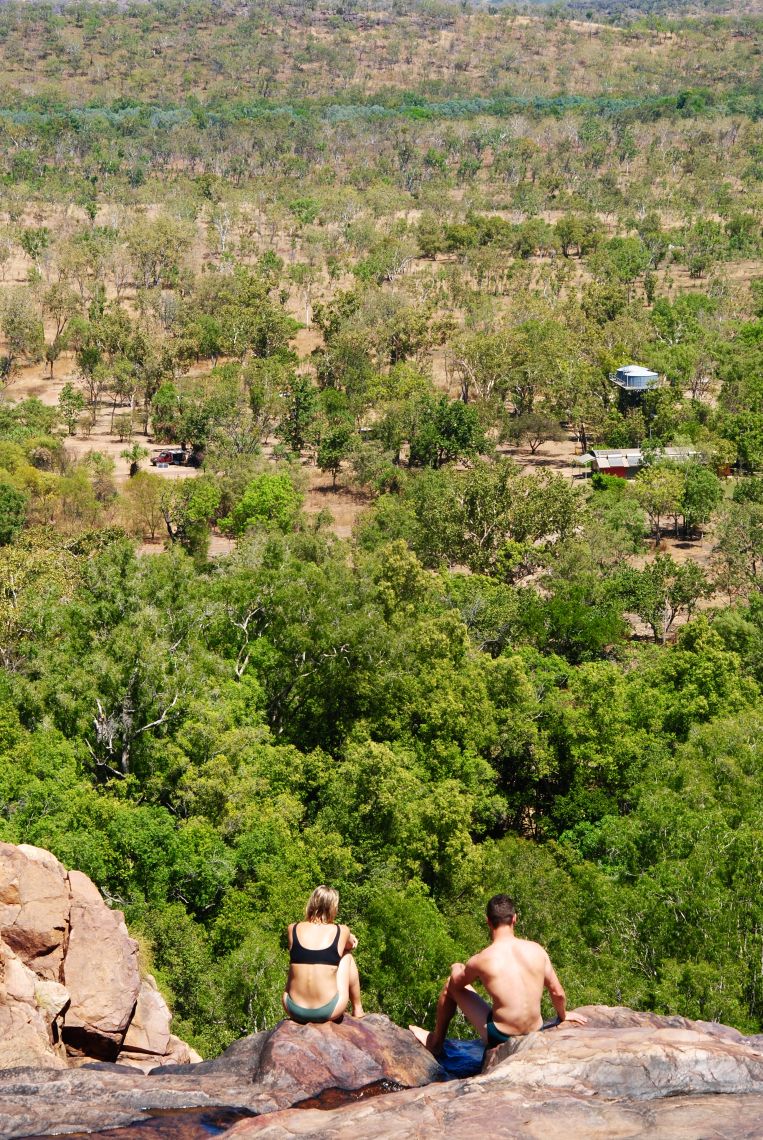 But I'd forgotten one important thing: most waterfalls in the Territory dry out during the dry season. And while the plunge pool at the base of Jim Jim is great for a swim, the water is stagnant and not potable.
Once again, I had no choice but to throw myself upon the mercy of holidaymakers, this time a young family from the UK who gave me half a litre of water for the walk back to my bike. In 2014, a German tourist was not so lucky.
After walking back from the falls on the hottest day of the year, he was found dead next to an Emergency Positioning Indicating Radio Beacon he'd activated in the carpark.
No cure for corrugations
I needed to cover 150 miles to reach Katherine, gateway to the 13 stunning flooded gorges of Katherine National Park. But I also wanted to visit Gunlom Waterfall, which Jude reckons are the most beautiful swimming holes in the Territory.
Gunlom lies at the end of a heavily corrugated 20-mile-long gravel road. I reached the carpark within an hour and then followed the steep walking track to the top of the falls.
What I saw there blew my mind – a series of 15 or 20 rock pools interlinked with mini-waterfalls and filled with the freshest, bluest water I'd ever seen.
The large waterfall that pours 100m into the plunge pool below had run dry, but the ledge offers incredible sweeping views of dramatic rock escarpments of Kakadu.
After a refreshing swim, I found a shady spot near the ledge and shut my eyes. An hour passed before I woke up. With no more time to spare, I skedaddled down to my bike, geared up and shot off.
This time I took a devil-may-care attitude on the gravel, flying over corrugations like it was nobody's business until a tiny misjudgement followed by a major overcorrection on a patch of soft sand saw the Beemer's handlebars lock and this reporter hit the dirt.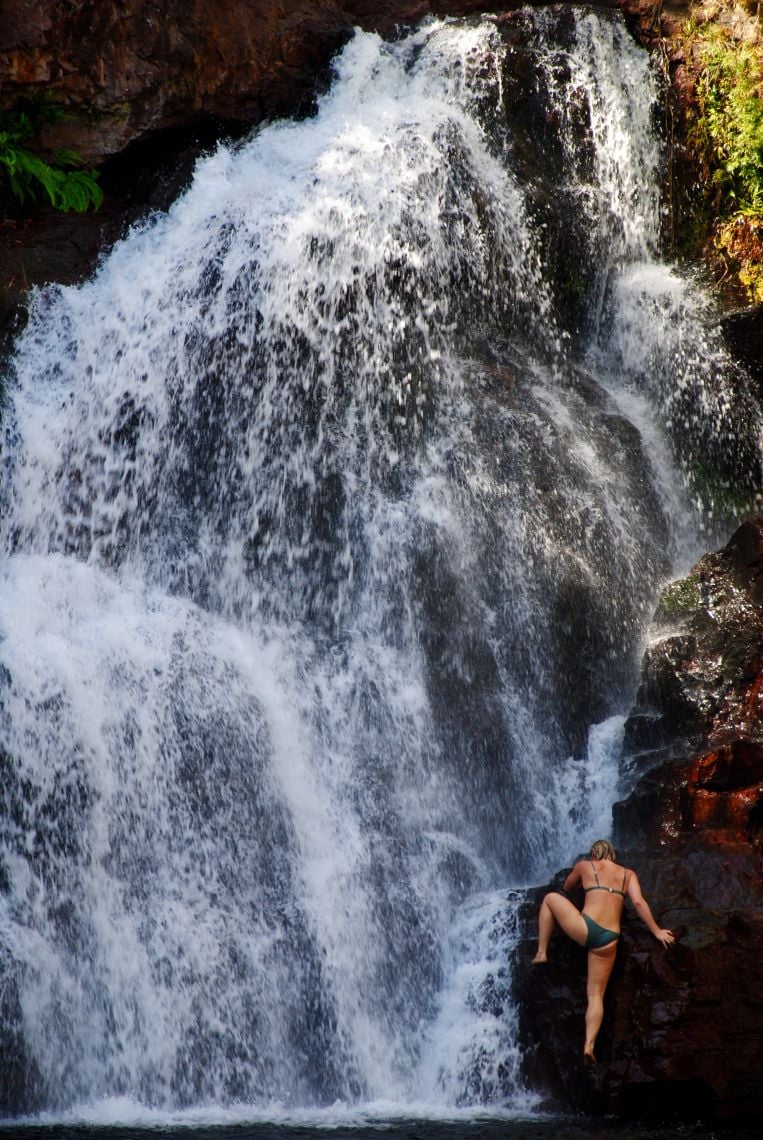 I wasn't hurt by the impact but getting my 200kg machine back upright and facing the right way proved extremely difficult in the powder-like sand. Attempts to ride my way out not only failed but buried the Beemer's rear-wheel even deeper in the sand.
It left me with no option but to dig a runway with my bare hands and fill it with leaves and bark to give the rear tyre a bit of purchase. A friendly Territorian called Kevin, who works as a road grader with the national parks, drove by at the very last moment to snap a photo and offered to drive behind me in case I came off again.
"I've been grading roads in the Territory for 52 years and I can promise you this," Kevin said, "There's no cure for corrugations. Fix 'em up and the next road train passes, they just come back again like bloody mushrooms."
By the time I got back to the highway, it was close to 3 pm and I was still 100 miles from Katherine. I dropped the clutch and smashed it, punching it all the way up to sixth gear on long desolate straights and arching into bends with the kind of peg-threatening lean only successive days of fast riding can breed.
Then, without warning, three kangaroos crossed the highway about 100m in front of me. I came to a screeching halt, pulled over and ripped off my helmet. My heart was racing.
I could feel my pulse in my hand. Riding a motorbike in roo country is Russian Roulette and the only way to mitigate the risk is to ride well below the 70mph speed limit.
I called it a day when I reached Pine Creek, a tiny town 55 miles north of Katherine where I smashed a brontosaurus T-bone steak and an unknown quantity of lager at a pub before crashing in a dodgy motel next door with lime-green wallpaper and a maroon-coloured bedspread.
The following morning, I decided to altogether remove Katherine from my itinerary and head north to Litchfield National Park instead, cutting my riding distance over the next two days in half but doubling the amount of time I had to chill at swimming holes I passed along the way.
Nevertheless, near-death experiences continued to dog me all the way back to Darwin. On one occasion, a wind gust caught the peak of my helmet, nearly garrotting me with the chin strap and temporarily blinding me, forcing me to come to a dead stop in the middle of a highway.
Another time, two emus came out of nowhere and ran alongside me until, in a mad break with their logic, darting in front of me to cross the road. And I nearly died of boredom when my ride came to an end I had to wait seven bloody hours at Darwin airport for my flight back to Sydney.
As I sat there waiting, a poster for the Territory's latest advertising campaign, C U in the NT (no, really), catches my eye. "The Top End is different from the Bottom End," it reads. "No shit", I say to no one in particular. "Try it on a bike."
---
Risk it yourself
Southern Cross Motorbike Tours in Darwin offer a range of guided adventures ranging from one-day runs down to Litchfield National Park to 10-day Territory-wide tours on BMW GS series or learner-approved Suzukis. For a GS800 with a guide, backup vehicle, meals and accommodation, expect to pay £370 per day.
Or go your own way with a straight rental at £760 per week. Their long-weekend special where you pick a mid-size Beemer up on Friday and bring it back on Monday is only £250.
For more info, visit www.southerncrossmotorbiketours.com.au or call Jude on +61 (08) 8985 1681.